Raspberry curd is a tart and delicious raspberry filling made in less than 15 minutes. Try this bright fruit curd with cheesecake, yogurt, pound cake, ice cream, or toast! You'll find so many ways to use this raspberry curd recipe!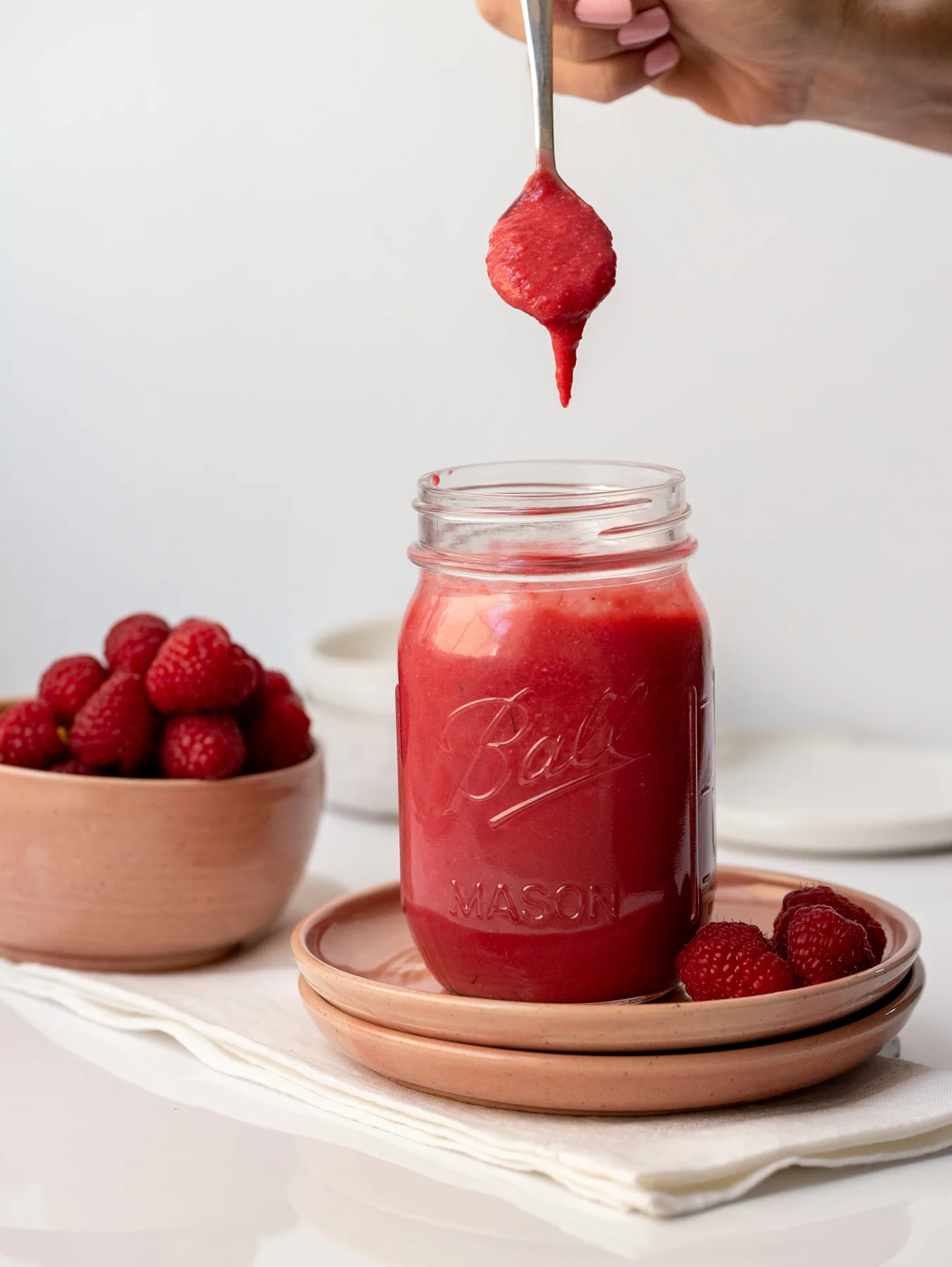 Fruit curds are a type of sauce made with fruits that are sweetened with sugar and thickened with eggs and butter. Raspberry might not be the most common– lemon curd is– but this raspberry sauce is delightful.
Its deep pink color is stunning and adds flair to any dessert. But don't just use this as linzer cookie fillings or macaron fillings, give it a try on top of ice cream or brighten your breakfast with yogurt and raspberry curd. So many possibilities!
If you love this raspberry curd, try my recipes for these delicious curds: orange curd, meyer lemon curd, grapefruit curd, lime curd, or even microwave lemon curd. Which fruit curd recipe will be your favorite?
Once you get hooked on preserving at home, you'll enjoy so many of these recipes from my canning collection.
Ingredients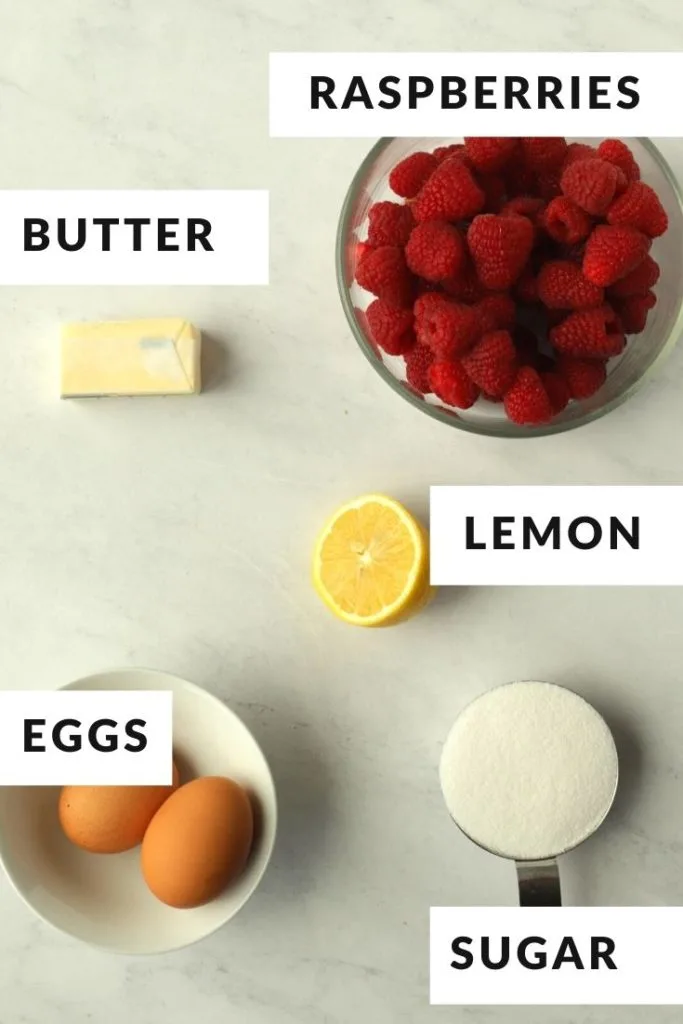 Raspberries: Fresh berries are my suggestion so that you don't worry about the added water content but you can defrost frozen raspberries instead.
Sugar: Depending on the sweetness of your fresh raspberries, you may not need the full amount of sugar in the recipe. Taste and see for yourself.
Eggs: Eggs help bind fruit curds and are a valuable part of this recipe.
Lemon: Lemon juice brightens the flavor so don't omit the half lemon in the recipe. Bottled lemon juice works in a pinch but fresh is my preference here.
Butter: Butter creates the smooth and creamy texture we all love about curds. Unsalted butter is great, but if you only have salted butter that is fine too. Set the butter out on the countertop to let it come to room temperature before using.
How to make Raspberry Curd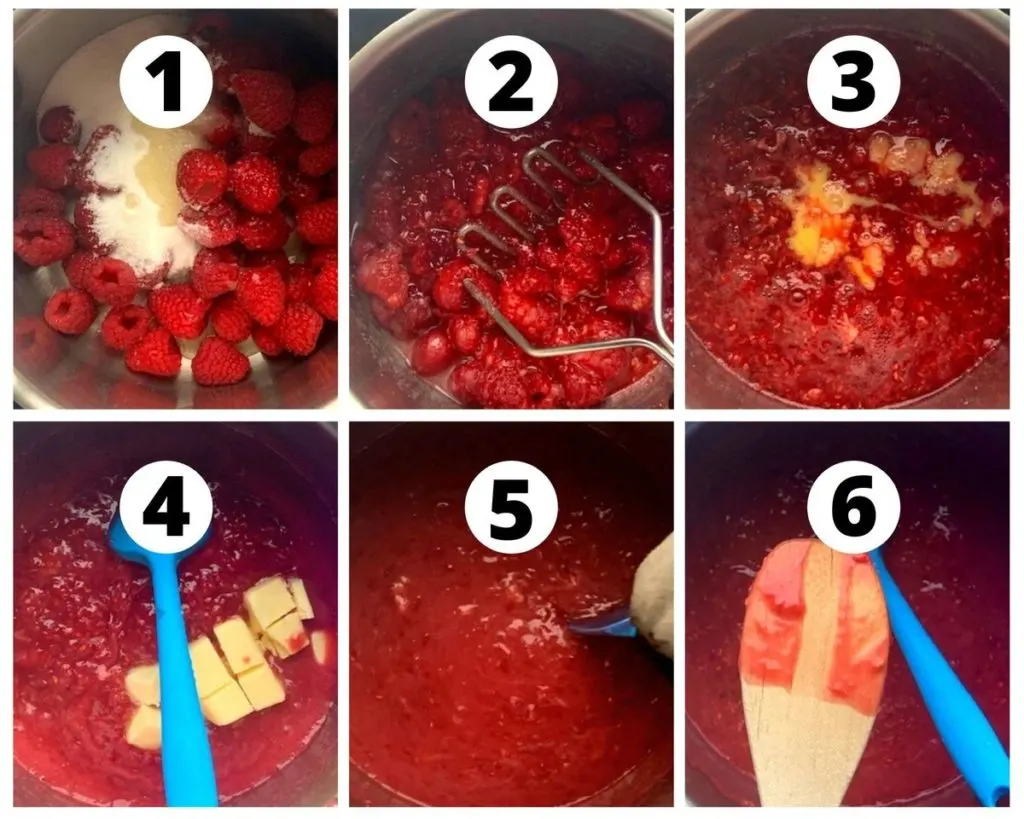 Combine the raspberries and sugar in a sauce pan over medium to medium-low heat. Stir to dissolve the sugar.
Mash the berries with a potato masher. The berries will break down easily- no food processor needed.
Add the whisked eggs (no need to separate into yolks and egg whites) before the mixture heats up too much. You don't want to scramble the eggs (which will happen if you shock the eggs by adding them to a boiling mixture). Cook the egg mixture, stirring continuously, until the egg and raspberry mixture comes to at least 160 degrees F.
Add the butter once the eggs are fully cooked to a safe temperature. Stir well with a wooden spoon or rubber spatula.
Continue to cook on medium heat for a few minutes until all the flavors meld together.
Test for doneness with a wooden spoon. Cover the back of the spoon with the raspberry curd then swipe your finger across it. If the line stays put, then your curd is cooked and will thicken nicely as it cools.
Cooking the eggs in the curd
An important part of cooking homemade raspberry curd is making sure that the eggs are cooked completely. Food safety rules recommend cooking any mixture with eggs to a minimum of 160 degrees F.
Use a food thermometer to check on the temperature. I often find that the eggs rise in temperature very quickly and I am ok if the temp is higher than required.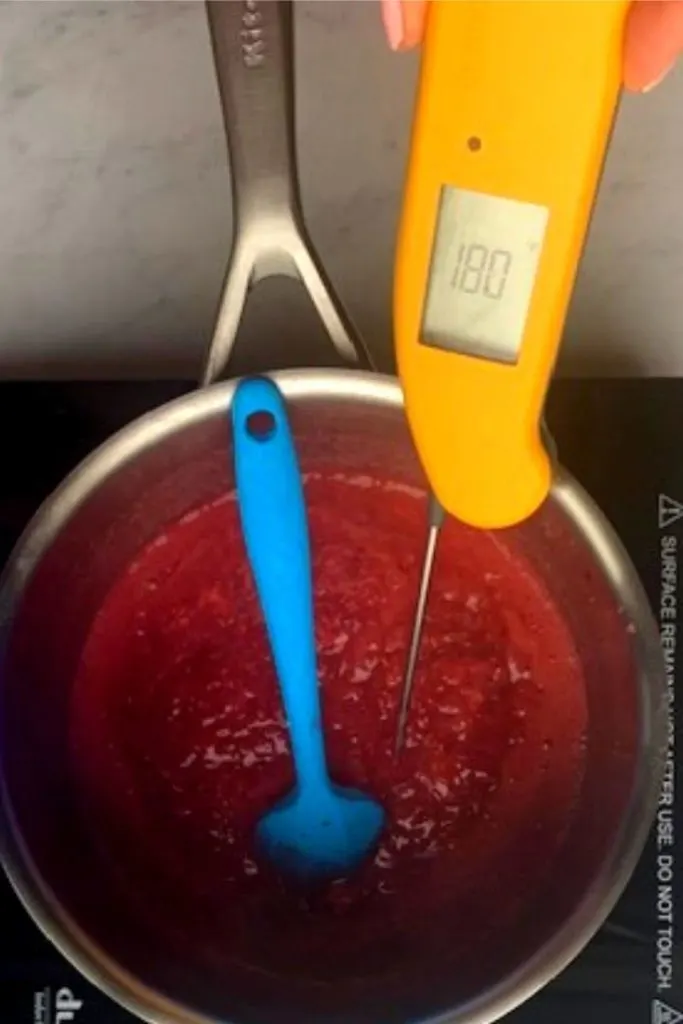 A smooth raspberry curd
You'll need to strain the seeds from your raspberry curd after it cooks to make the curd smooth. Use a fine-mesh sieve or a fine mesh strainer for this step.
The curd is thick and it will take a little effort to push the curd through the sieve, leaving the seeds behind. Work with a small amount of the fruit sauce at a time.
I find it most helpful to set up a large mason jar, use a canning funnel, and then lay the sieve (or strainer) on top. Stir while pushing downwards so that the curd ends up in the mason jar and the seeds and any lumps are left behind.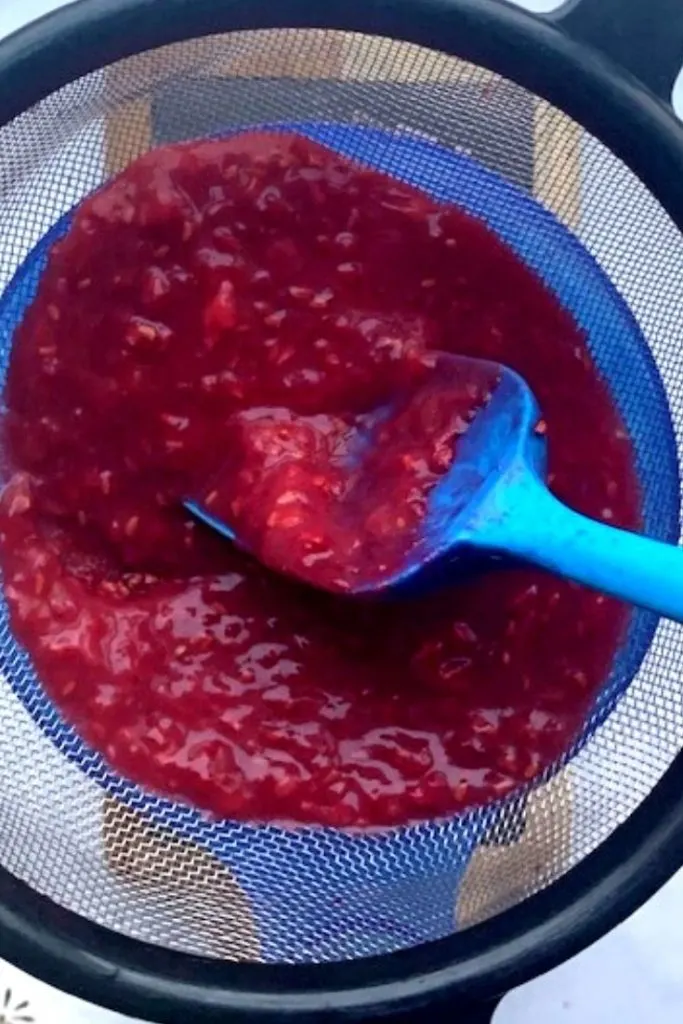 Tips and Tricks for Success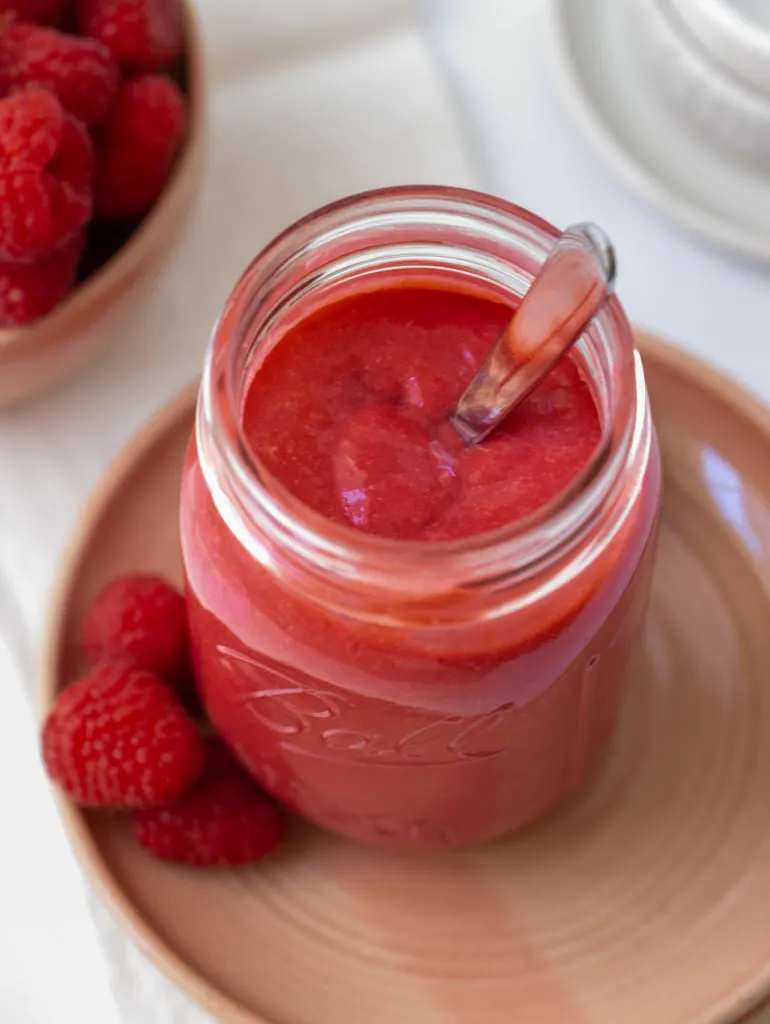 Is this curd gluten free?
Yes, all the ingredients in this raspberry curd are gluten free.
How can I make a vegan curd?
Eggs and butter do not fit in a vegan diet. If you would like to make a vegan curd, follow this recipe for vegan lemon curd. You can use the same technique to make a vegan raspberry curd.
Can I use frozen raspberries?
Yes, you can use frozen raspberries. First defrost the berries in a strainer and let any excess moisture drain into the sink. You may need to cook the sauce a few minutes longer to reduce the moisture content before adding the eggs and butter.
Do I need a double boiler to make curd?
Fruit curds may be made using a double boiler. A double boiler is the set up where a small amount of water is brought to a simmer in a saucepot. A second pot is placed on top and all the ingredients are cooked in that second pot, above the simmering water. This is a very gentle cooking method and is great for curds because the eggs are less likely to overheat or cook such that they scramble. It is not necessary though to use a double boiler. I used a single saucepan for this recipe and had great success.
Why do I have to strain the curd?
You'll use a sieve or a strainer to remove the raspberry seeds and any lumps that may remain in the curd. It is a tedious step but very helpful. If you'd rather process the entire cooked mixture in a high speed blender, you could make your curd smooth in that method instead.
How to store raspberry curd:
Store the cooked raspberry curd in an airtight container in the refrigerator for a week to 10 days.
Can I freeze curd?
Yes, curd freezes well. Store in air tight containers in the freezer for 3 to 6 months and then defrost in the refrigerator.
Ways to use Raspberry Curd
The opportunities seem endless when it comes to ways to use your raspberry curd, especially in a dessert recipe. Here are some of my favorite: Pair with scones or muffins for a British tea party, mix with plain yogurt and top with granola for breakfast, use as a macaron filling, sandwich between cake layers in a decadent layer cake, fill a baked tart shell with raspberry curd and top with meringue and whipped cream, spoon over vanilla ice cream, add to a fruit and cake trifle, spread a thin layer in a grilled cheese with brie.
As an Amazon Associate I earn from qualifying purchases.
Yield: 16 oz
Raspberry Curd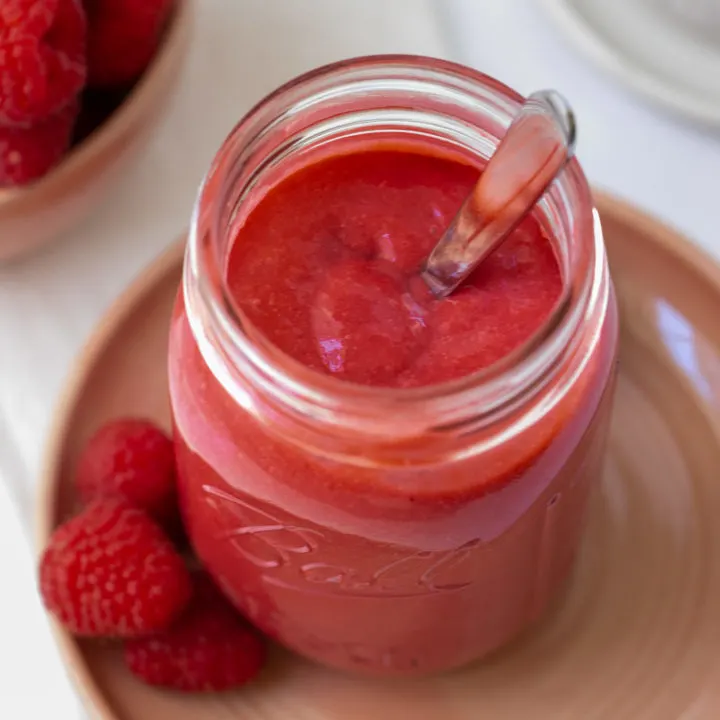 A smooth and tart raspberry fruit curd
Ingredients
2 1/2 cups raspberries
1 cup granulated sugar
2 eggs, gently whisked
2 oz butter, cut into cubes
1/2 lemon juiced
Instructions
Add the raspberries, lemon juice and the sugar to a medium saucepan on medium heat. Stir as the sugar dissolves.
Pour in the whisked eggs and keep stirring. Cook until the mixture starts to thicken. Use a cooking thermometer to check the temperature. It must be at least 160 F for the eggs to be cooked.
Add in the cubes of butter and continue to stir. Cook for another 2-3 minutes. Coat the back of a wooden spoon with the curd. Run your finger through it. If the curd stays in place (and doesn't run back together on the back of the spoon) then your mixture is thick enough.
Remove from the heat and let it cool for a few minutes. Press the curd through a strainer (sieve) to remove the seeds and any lumps. Store in the refrigerator.
Notes
You may use frozen raspberries. Defrost them completely first to remove any excess moisture.
If you have a double boiler you may use that set up for making curd, but it is not necessary. A double boiler lets the curd cook more gently and may take a few extra minutes.
If any parts of the egg scramble you will remove the lumps when you strain the mixture. Don't panic, it is ok! Stirring constantly helps to avoid any pieces of the eggs overcooking.
To avoid the eggs scrambling, add the eggs before the fruit and sugar mixture heats up too much. Or, temper the eggs which means that you add a small amount of the hot liquid into the whisked eggs, stirring constantly, then add that mixture back into the fruit curd.
Store in the refrigerator for no more than 7-10 days.
Recommended Products
As an Amazon Associate and member of other affiliate programs, I earn from qualifying purchases.
Nutrition Information:
Yield:
32
Serving Size:
1/2 oz
Amount Per Serving:
Calories:

47
Total Fat:

2g
Saturated Fat:

1g
Trans Fat:

0g
Unsaturated Fat:

1g
Cholesterol:

15mg
Sodium:

16mg
Carbohydrates:

7g
Fiber:

1g
Sugar:

7g
Protein:

1g
This data is provided by Nutritionix and is an estimate only.
Here is the Google Web Story for Easy Raspberry Curd.
Pin with me!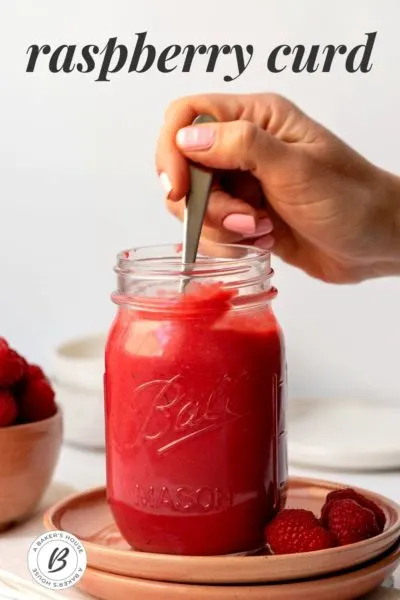 Be a Good Cookie Fundraisier
I'm participating in the 5th annual Be A Good Cookie fundraisier event run by Julie Deily of The Little Kitchen. She organizes a group of bloggers who want to make a difference through baking and recipes to raise awareness for the need for funding for continued pediatric cancer research. We support Cookies for Kids' Cancer.
In past years I've made strawberry pudding cookies and pink heart shaped Spritz cookies in the spirit of Valentine's Day.
Did you know that cancer is the #1 cause of death of children by disease in the U.S. There are 40,000 U.S. children actively battling cancer right now. The National Cancer Institute's budget for childhood cancer is less than 4%. It's such a small number and that's why we got involved.
Unfortunately, cancer doesn't stop for a pandemic. Children are still being diagnosed with cancer. It's imperative that we raise awareness and continue to raise funds to fund the ongoing pediatric cancer research!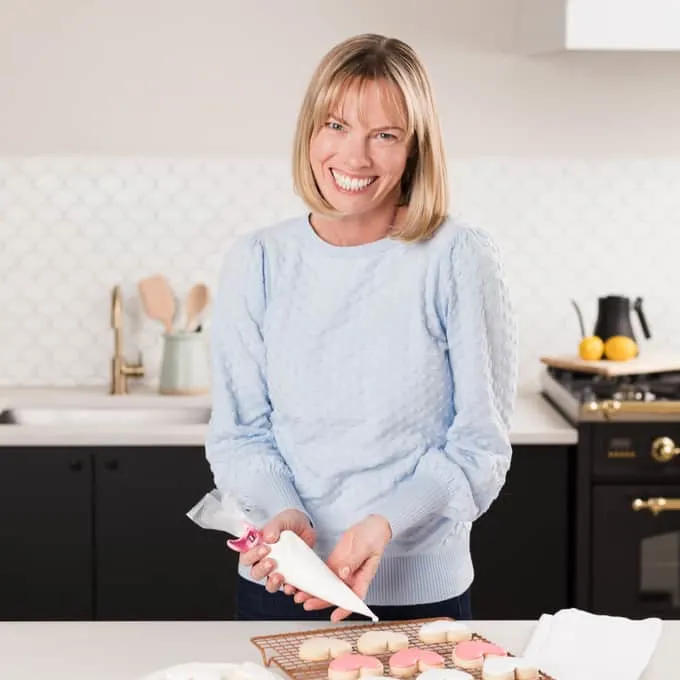 Holly Baker started the food blog, A Baker's House, in 2011. She is the writer, recipe creator, and photographer for the site. Holly loves to bake and shares recipes for gluten free food, canning recipes, as well as traditional desserts too. Her recipes and food photography have been highlighted by BuzzFeed, Reader's Digest, and She Knows.