Heart shaped spritz cookies are the perfect way to celebrate Valentine's Day with a sweet bite! These pink cookies are naturally dyed with freeze dried strawberries so that no artificial coloring is needed.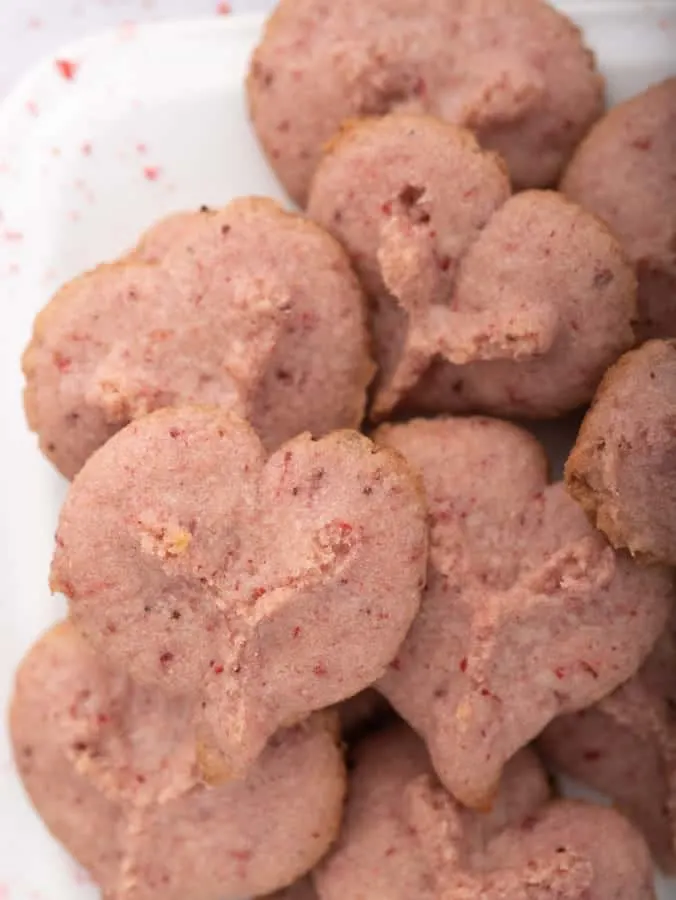 As an Amazon Associate I earn from qualifying purchases.
If you only use your cookie press once a year at Christmas, this is your reminder to dig into your cabinet to find your press! You can dust off your cookie press throughout the year with recipes for pumpkin cookies, flower cookies and Christmas cookies.
How to make pink cookies without food coloring
Pinks and reds are the colors of Valentine's Day! Of course our heart shaped cookies will be festive and fun to join in on the celebration. Making pink cookies without food coloring is done with the use of freeze dried strawberries. Freeze dried food isn't difficult to find– it is in most grocery stores. I found this package of freeze dried strawberries at Target.
By the way, make sure you have FREEZE dried and not just plain old dried berries. Freeze dried food is completely dehydrated to the point that it is light and airy.
(Actually the process is quite different between the food preservation two methods. Freeze dried foods are frozen first, then dehydrated in a neat feat of science– I always associate it with food astronauts might have!)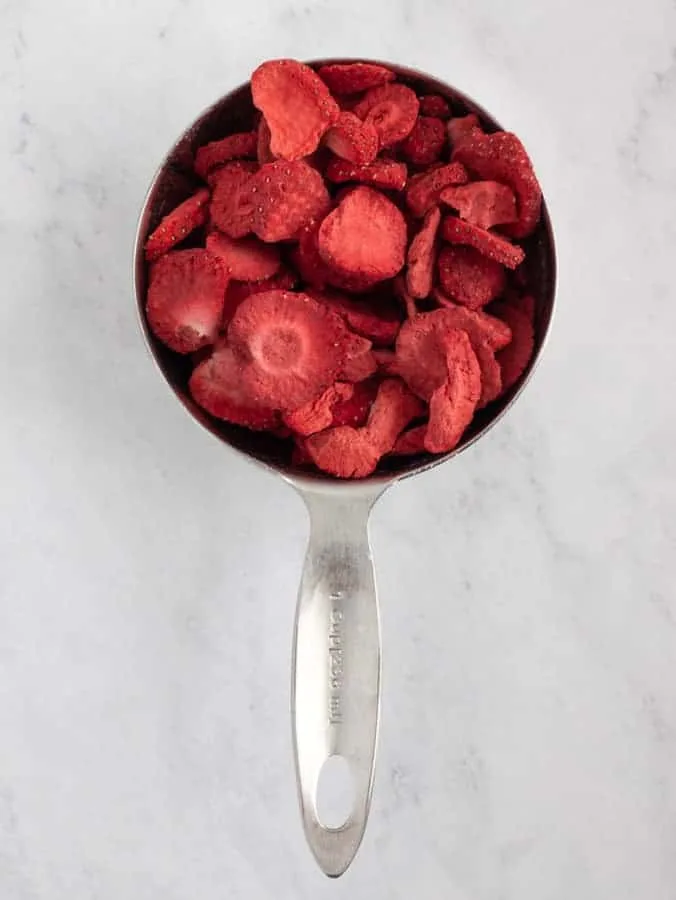 So we'll take the freeze dried strawberries and pulverize it to a powder. This can be done in the food processor, a coffee or spice grinder, or simply crushed in a plastic Ziploc bag. I chose the bag method because I think the Ziploc does a great job containing all of the powder. If you use a food processor, some of the pink powder gets let behind in the machine.
Add the red powder to your dry ingredients and continue making the cookies.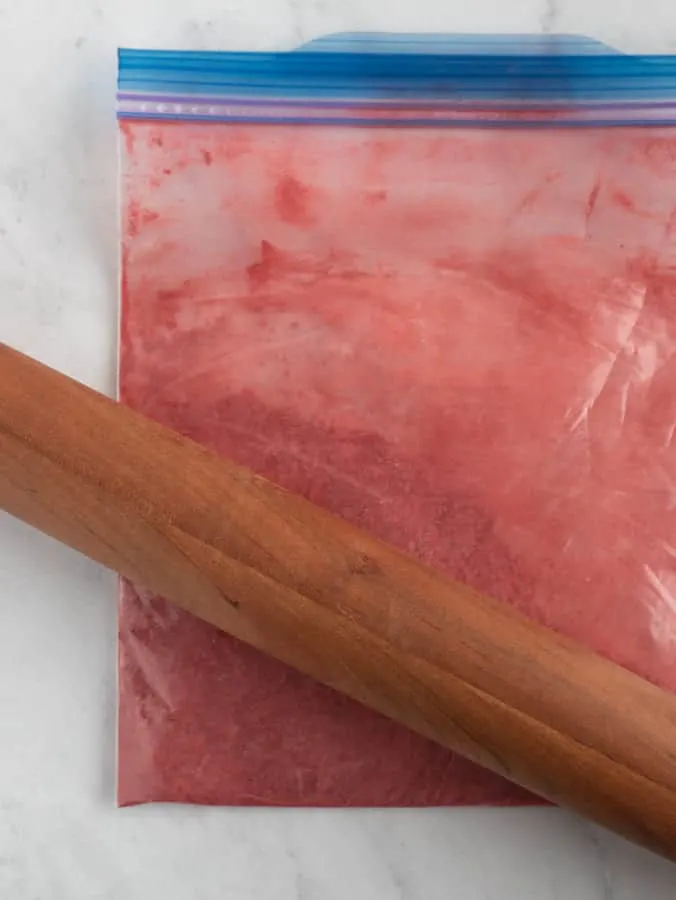 Ingredients in Pink Spritz Cookies
butter
sugar
egg
pure vanilla extract
cardamom
salt
gluten free flour blend (or all purpose flour)
freeze dried strawberries
Spritz cookies are butter cookies. Use the highest quality butter so that the flavor is pure and clean in your cookies. The same feeling goes for vanilla extract– use the best you can find!
The special spice in this recipe that you might not often bake with is cardamom. It has a warm essence and gives these cookies their familiar taste and fragrance. If you don't have cardamon it is ok to omit it but I recommend including it.
Note that I am using gluten free flour blend in this recipe. If you don't need a gluten free cookie, feel free to use all purpose flour in place of the GF Flour Blend.
What is a cookie press?
You might be wondering what exactly is a Spritz cookie press? It is a neat kitchen gadget that lets you press out enough cookie dough one at a time as you place the dough on a baking sheet. The main section is a tube that holds the cookie dough. At the end there's a disc that let you quickly made cookies in various shapes. The discs have openings that make shapes like wreaths, flowers, and hearts like the ones shown here. You squeeze the handle each time to release just the right amount of dough for each cookie shape.
Cookie presses are tricky to get the hang of but are very forgiving. If you squeeze too much or too little dough out at a time, you can simply pick up that bit of dough and re-incorporate it into another log of dough for the next batch. The goal is to make heart shaped spritz cookies but I think it is one of the trickier shapes to create with a cookie press. The disc you'll use looks more like a letter "Y" and the baked cookie still shows a trace of that shape. Overall I think the cookie press creates a recognizable shape of a heart, don't you?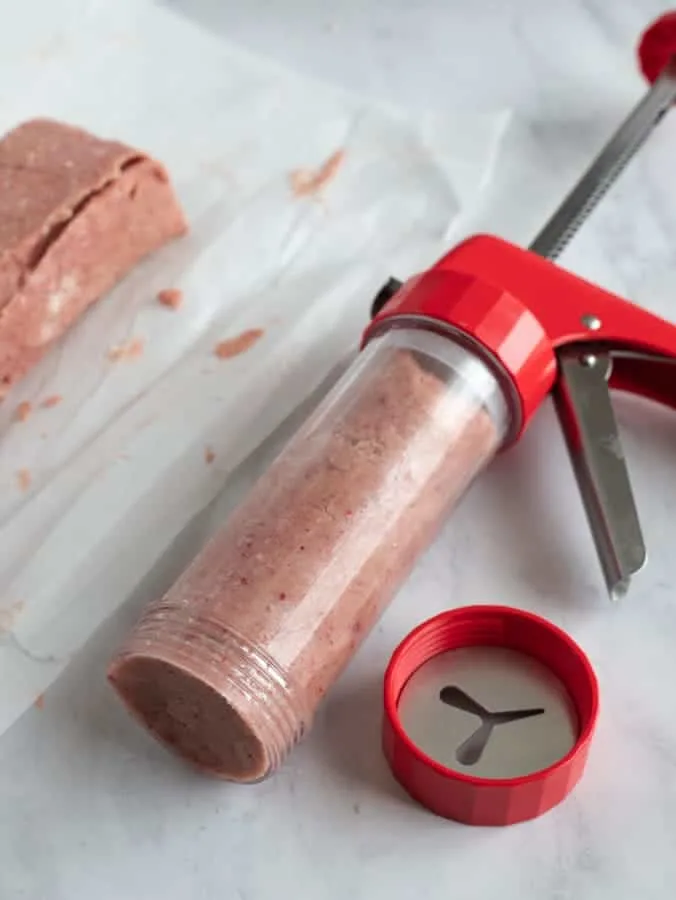 Here are some tips:
Do not use parchment paper. Spritz cookies work best on a clean, bare baking sheet. Wipe your sheets down and let them cool before using for another batch.
Do not spray your baking sheets with baking spray.
Do not refrigerate the dough. Room temperature dough is best.
Roll the dough into a log so that it is easy to insert the dough into the tube.
Pack the dough tightly and try to eliminate space or air bubbles so that your cookies are consistent in shape and size.
Get into a rhythm when you place the cookie dough on the baking sheet. Moving somewhat quickly and with a purpose is helpful.
Put the cookie press directly onto the baking sheet, then click the handle to release dough, finally pull straight up to let the dough remain on the sheet.
Try to put the dough down in a grid, leaving space between each cookie. It isn't easy to move the dough once it is on the baking sheet without messing up the shape.
Be kind to yourself– it is just cookie dough. If your shapes are picture perfect heart shaped spritz cookies, don't worry about it!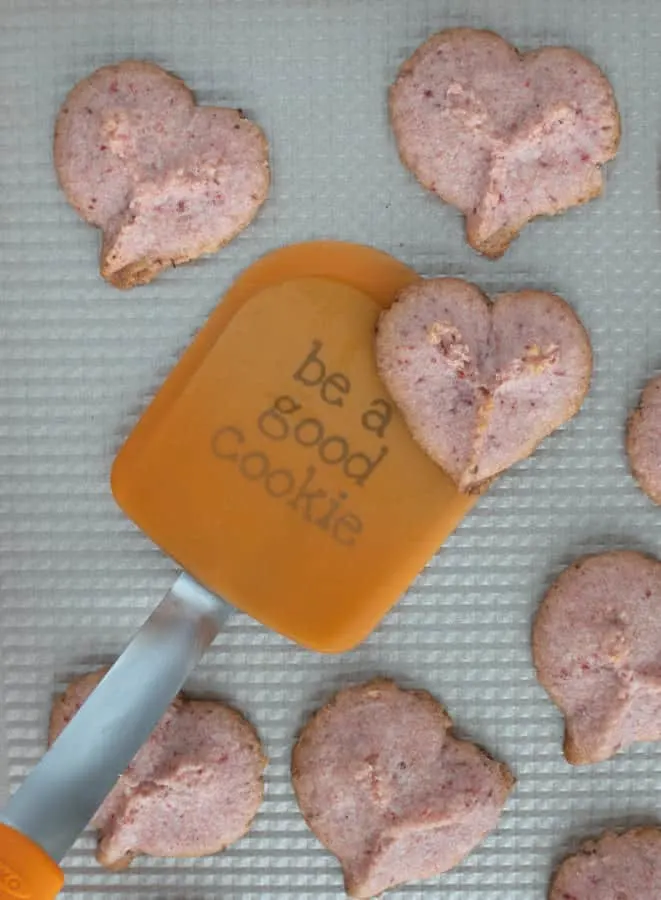 Yield: 6 dozen
Heart Shaped Spritz Cookies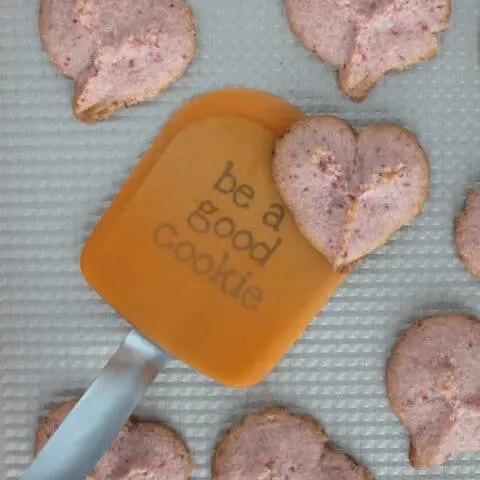 Heart shaped Spritz Cookies are perfect for Valentine's Day!
Ingredients
1 cup butter, softened
1 cup granulated sugar
1 egg
1 Tablespoon pure vanilla extract
1/2 teaspoon cardamom
1/2 teaspoon salt
2 1/4 cups gluten free flour blend
1 cup freeze dried strawberries (about 1/2 ounce)
Instructions
Preheat oven to 375 degrees F

Measure about one cup of freeze dried strawberries. Put into a Ziploc bag and mash into a powder with a rolling pin.

Combine the strawberry powder with the gluten free flour blend, salt, and cardamom.

In a bowl of a stand mixer, beat the butter and sugar until light and fluffy. Add the egg and vanilla extract.

Slowly mix in the dry ingredients.

Roll the dough into a log-like shape so that it will fit into the cookie press. Pack it in the tube tightly. Choose the "Y" Heart design and begin pressing the dough out by clicking just once on the cookie press. Fit about 12 cookies to a baking sheet.

Bake for 9-10 minutes then cool on a rack.
Notes
This recipe is adapted from the Kuhn Rikon company's Cookie Press Instruction booklet.
Check that your gluten free flour blend includes xanthan gum. If it does not, add 1/2 teaspoon xanthan gum to the dry ingredients.
If you do not need a gluten free recipe, use all purpose flour.
Do not refrigerate the dough.
Do not use parchment paper or baking spray. The cookie dough sticks best to the clean, ungreased baking sheet.
Work quickly and place each piece of dough exactly where you'd like it on the baking sheet. Moving the cookie dough will distort the heart shape.
Want to add a pink glaze? Crush 2 TB of additional freeze dried strawberries. Combine with half cup of confectioners sugar and a few teaspoons of milk.
If you cover the cookies with the glaze, keep them refrigerated. Otherwise keep the plain cookies in an airtight container at room temperature for 5-7 days.
Recommended Products
As an Amazon Associate and member of other affiliate programs, I earn from qualifying purchases.
Nutrition Information:
Yield:
72
Serving Size:
1
Amount Per Serving:
Calories:

50
Total Fat:

3g
Saturated Fat:

2g
Trans Fat:

0g
Unsaturated Fat:

1g
Cholesterol:

9mg
Sodium:

36mg
Carbohydrates:

6g
Fiber:

0g
Sugar:

3g
Protein:

1g
This data is provided by Nutritionix and is an estimate only.
Pin these pink heart cookies with me!
As an Amazon Associate I earn from qualifying purchases.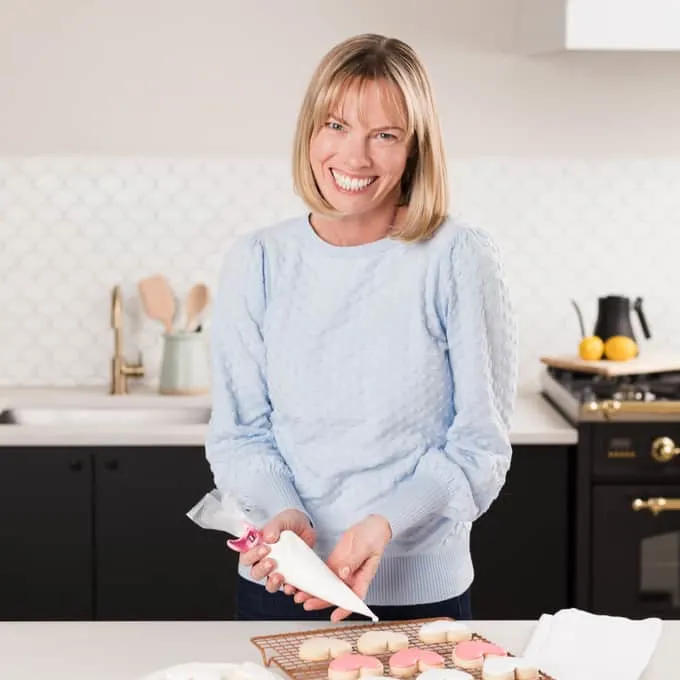 Holly Baker started the food blog, A Baker's House, in 2011. She is the writer, recipe creator, and photographer for the site. Holly loves to bake and shares recipes for gluten free food, canning recipes, as well as traditional desserts too. Her recipes and food photography have been highlighted by BuzzFeed, Reader's Digest, and She Knows.