A yogurt bowl is a great way to start your day! A serving of Wallaby® Organic Greek plain whole milk yogurt all on its own is a breakfast win for me, but dressing up yogurt with strawberry chia jam and honey granola really makes breakfast feel like a special occasion. This easy breakfast idea takes less than ten minutes — let's get started!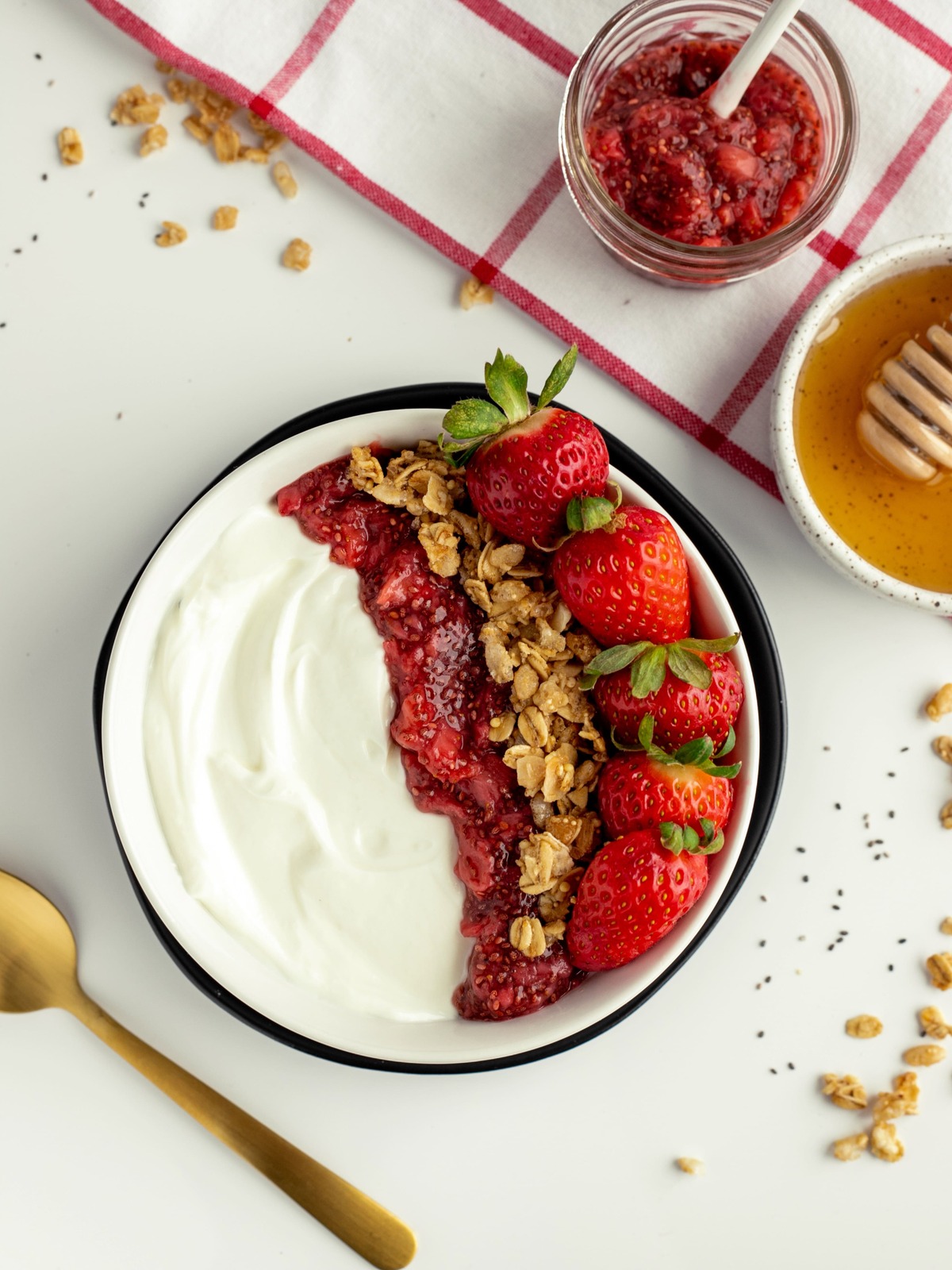 This post is sponsored by Wallaby® Organic. All opinions, comments and content shared on A Baker's House are my own and do not necessarily represent those of Wallaby® Organic or Danone North America. #WallabyPartner
A breakfast bowl allows you to get creative and customize the yogurt bowl for each member of your family. It also lets you mix up your toppings each day of the week so that you keep it fresh and new.
I love crunchy yogurt toppings so granola is my go-to starting point. Make it homemade or use store bought granola– there are so many options.
Focus on fresh fruit and change the fruit with the seasons. Oranges and citrus in the winter months, then berries and melon in the warmer months.
Nuts or seeds provide texture and add to this meal. Here, chia seeds and strawberries make an easy and quick jam.
Sweeteners like honey or maple syrup are optional but even a small drizzle can make you feel like you are getting away with dessert for breakfast.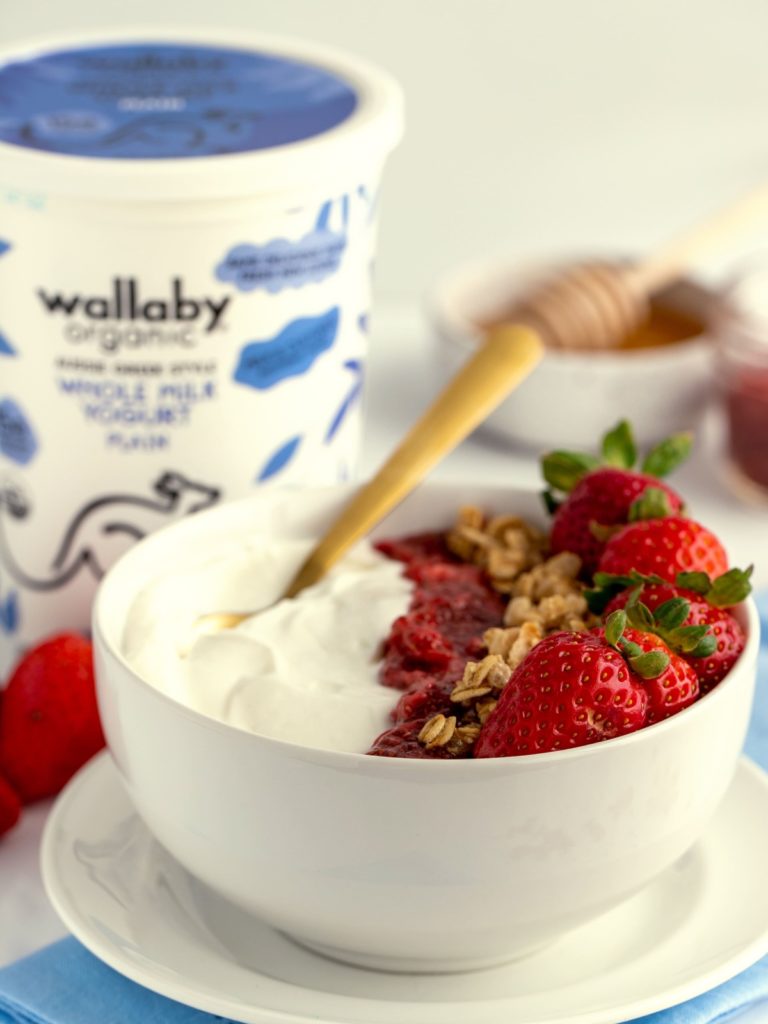 Yogurt bowls get all your senses get involved:
Sight: Visually yogurt bowls are artistic and creative. Make your own masterpiece!
Taste: Wallaby® Organic Greek plain whole milk yogurt is ultra creamy and delicious
Smell: Breakfast bowls are filled with a variety of aromas– tangy yogurt, sweet strawberry chia jam, fresh fruit, and honey granola.
Touch: While most of us will dig into these bowls with a spoon, the careful way that we layer each element into the bowl explores touch and texture. Crumbly and rough granola, smooth berries, chunky jam all play well together in this meal.
Sound: Do you like to eat each element separately or do you swirl it all together and combine all of this goodness together? Each bite will sound different in your mouth.
Mindfulness while eating can be an adventure right at the table!
Recipe Ingredients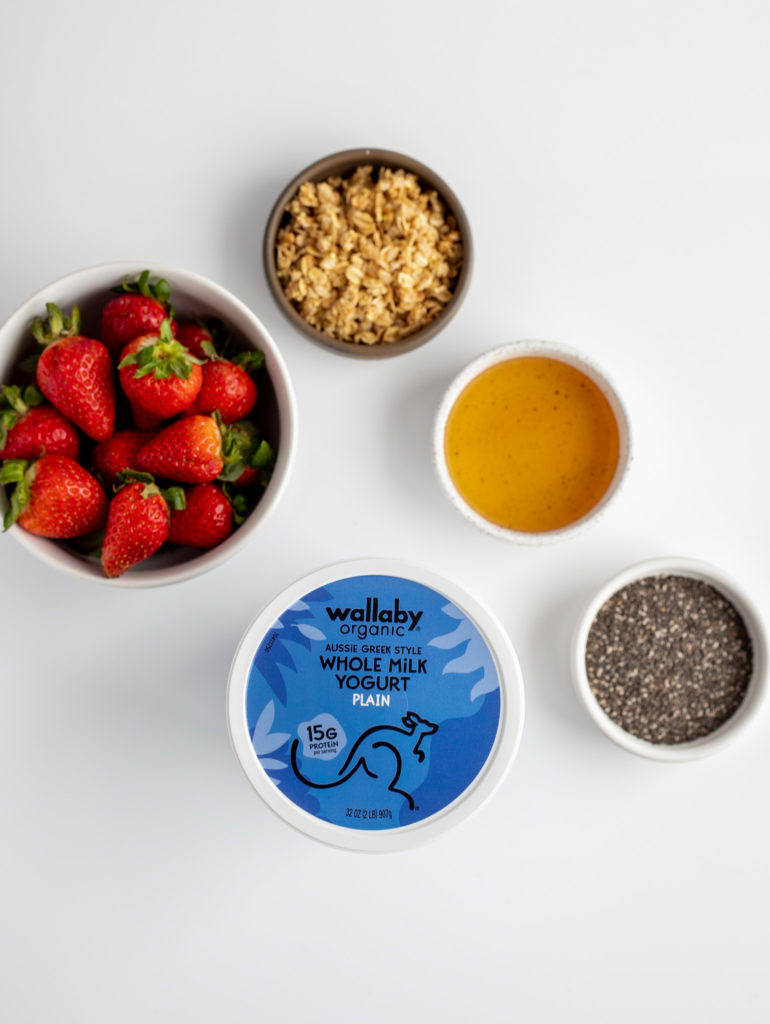 Wallaby® Organic Greek plain whole milk yogurt: This Aussie style Greek yogurt is ultra creamy, smooth and all around luscious. I love the boost of protein from Greek yogurt and feel great about starting my day with this yogurt as the base of my breakfast bowl.
Granola: Store bought granola is a quick and easy shortcut to use when assembling yogurt bowls. You could also make your own with this simple recipe for honey granola.
Strawberries: Fresh, organic strawberries are my first choice but you could also use frozen berries if needed. Other berries that pair well with yogurt include blueberries, raspberries, or blackberries.
Honey: I love buying local honey and supporting those who produce honey in my beautiful state of Colorado. You could use maple syrup if you prefer a vegan recipe.
Chia Seeds: Chia seeds are a powerhouse ingredient. They have nutrients and antioxidants and also are a source of protein and fiber. Chia seeds thicken the strawberry jam without needing any pectin or refined sugar. They are the secret in making this jam in just a few minutes.
How to assemble a yogurt bowl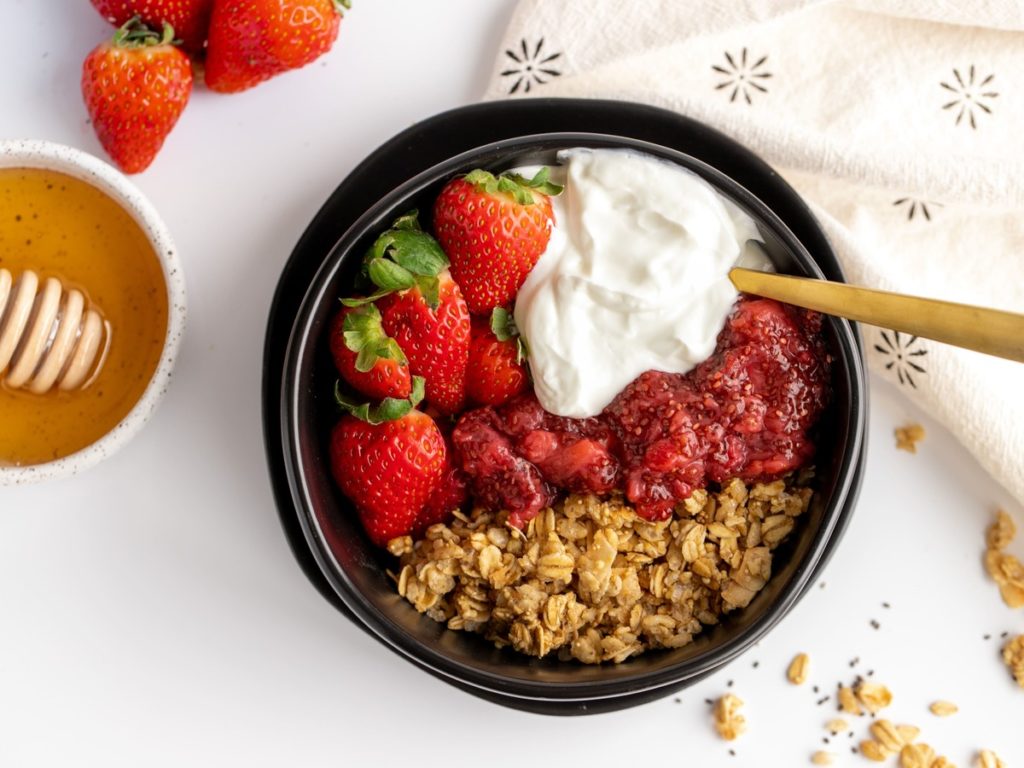 There really is no right or wrong way to put your yogurt breakfast bowl together. You can be as fancy and precise as you'd like OR you can be freeform and artistic. Let's be honest, getting our kids to eat breakfast doesn't have to be a performance. Be practical and let go of being perfect.
One fun idea is to set out a yogurt toppings bar– have bowls of seeds, nuts, and different granolas and let your kids make their own bowls. This feels like a trip to the frozen yogurt store where the toppings are such a delight!
When you are thinking of what to mix with Greek plain whole milk yogurt the possibilities are endless. Granola, nuts, seeds, fresh fruit, dried fruit– it's all good.
If you want to layer the ingredients in a mason jar, that is a wonderful make ahead option. A breakfast parfait can be assembled the night before and then taken to-go on a busy morning.
How to make a quick strawberry chia jam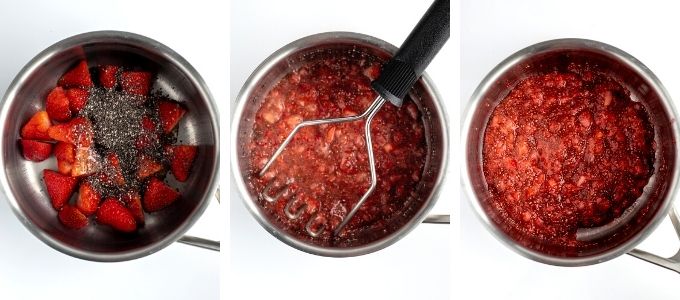 Clean and cut the strawberries.
Add the strawberries, honey, and chia seeds to a small saucepan.
Mash the berries with a potato masher.
Bring to a boil, stirring continuously. Reduce to a simmer and continue to cook for a few minutes.
Chia seeds are magical in jams. They help the fruit and honey gel into a jam-like consistency. Even better, the seeds make this process happen so quickly!
Yield: 1 bowl
Yogurt Bowl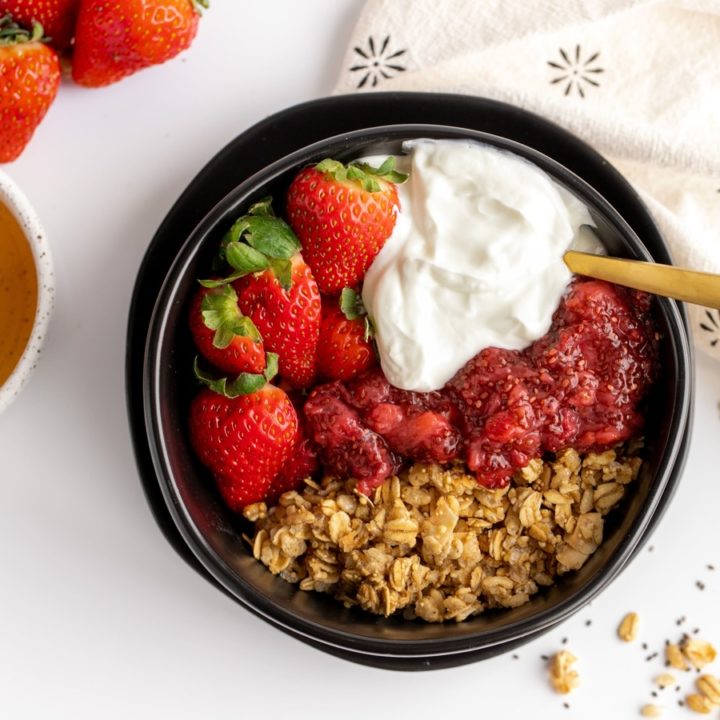 A yogurt bowl is a great way to start your day!
Ingredients
¾ cup Wallaby® Organic Greek Whole Milk Yogurt Plain
¼ cup granola
¼ cup strawberries, sliced
2 Tbsp strawberry chia jam (see below)
Strawberry Chia Jam
1 cup strawberries, halved
1 Tbsp honey
1 Tbsp chia seeds
Instructions
Make the strawberry chia jam: combine 1 cup strawberries, 1 Tbsp honey, and 1 Tbsp chia seeds in a small saucepan over medium heat. Stir as you bring the mixture to a boil then reduce to a simmer for a few minutes. Mash the strawberries with a potato masher or fork. Set aside to cool.
Add ¾ cup Wallaby® Organic Greek yogurt, ¼ cup granola, 2 Tbsp strawberry chia jam, and ¼ cup fresh strawberries to a bowl. Refrigerate the extra jam.
Notes
Sprinkle the yogurt with additional chia seeds and drizzle with honey.
Pin with me!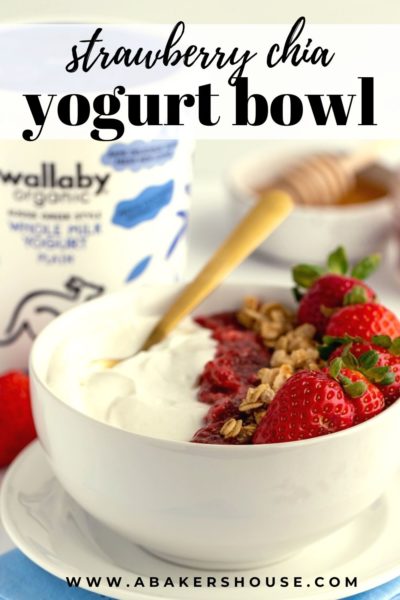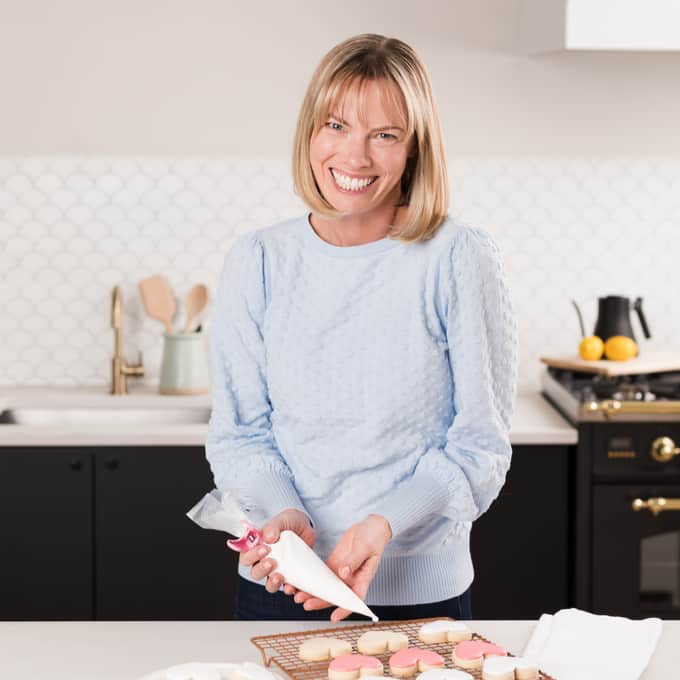 Holly Baker started the food blog, A Baker's House, in 2011. She is the writer, recipe creator, and photographer for the site. Holly loves to bake and shares recipes for gluten free food, canning recipes, as well as traditional desserts too. Her recipes and food photography have been highlighted by BuzzFeed, Reader's Digest, and She Knows.