Homemade plum jam is a summer treat to make then enjoy throughout the year. I've gotten back into canning mode around here and this plum jam recipe was a delicious way to preserve summer's fresh fruit. Let's learn how to make plum jam together.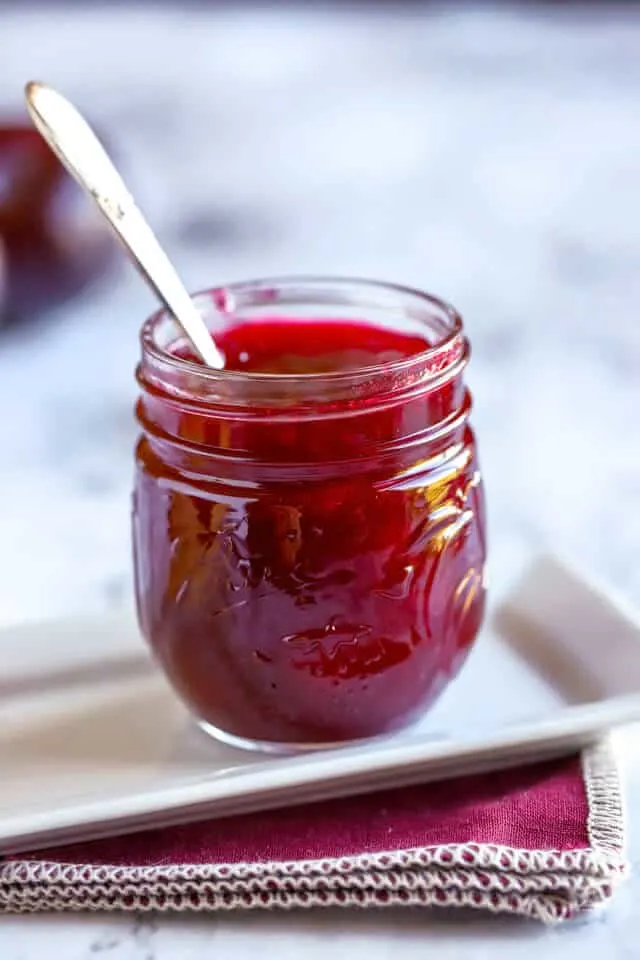 Plums can be overlooked as a jam flavor option. In the grocery store you'll find grape jam, strawberry jam, grape jelly, orange-lemon marmalade, hot pepper jelly, and maybe something a little off the beaten path like apricot jam.
But plums? Not usually an option. Therefore it is best to make your plum jam at home. Once you try it you'll want to repeat it each year when plums are in season. This is one of my favorite jam recipes.
If you are new to canning and preserving fruit at home, check out my category of canning recipes and canning basics to get you started. You'll find more small batch jam recipes there.
The recipe for plum jam is simple and comes from a beautiful book produced by Williams-Sonoma called The Art of Preserving. The photos are gorgeous and many of the jams and jellies are accompanied by recipe ideas which is a very useful effort on the part of the book's authors, Rick Field, Lisa Atwood, and Rebecca Courchesne.
If you are looking for plum jelly, the differences are minimal. The main difference between jam and jelly is that jam usually starts with fresh (or frozen) fruit while jelly begins with fruit juice.
If you cook the fruit down in this recipe to nearly a puree and do not leave any chunky bits, it will taste like plum jelly even though we've started with fresh plums.
How to make Plum Jam without Pectin
Plums are an ideal fruit for making jams because the skin is left on the fruit. You can skip the fussy step of removing the skin; it, in fact, holds a lot of the pectin in the fruit which helps the jam to gel.
You might ask, What is pectin? Pectin is a substance found naturally in some fruits that when heated with sugar, it helps a jam thicken. Click here to read a post that explains What is Pectin? in more detail.
Are plums high in pectin? Some fruits are high in pectin and others are not. Therefore, some canning recipes call for adding pectin. For this plum jam recipe, no additional pectin is needed. Plums are a fruit considered to have a medium amount of pectin.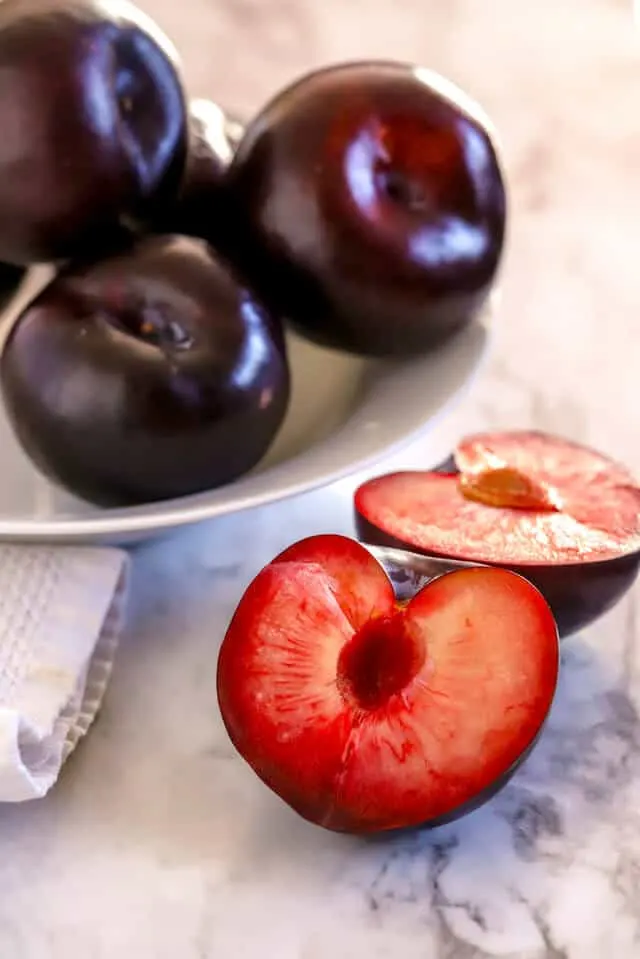 Steps to make easy plum jam recipe
Set yourself up for canning success by having the basic canning supplies. Read more about canning supplies in this post.
The basics for making jam: Wash and cut the plums in half. Remove the pits. Cut the plums into chunks. What a stunning color!
Do you have to remove the skin of plums for making jam? No, you don't need to remove the skin of plums to make jam. The peel is thin AND it holds some of the pectin of the fruit.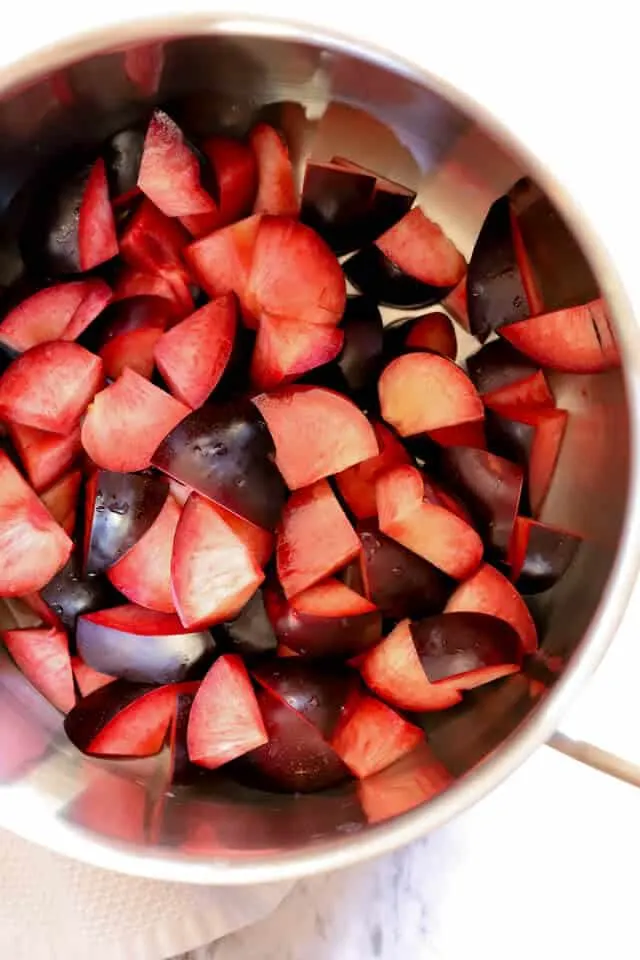 Next, add the sugar to your plum slices. This looks like a lot of sugar because, well, it IS a lot of sugar.
One of the few pitfalls of making jam at home is that you can no longer pretend that a bit of jam on top of your whole wheat bread each morning might be healthy. Nope, you now possess the knowledge that you dredged your fresh fruit in a sugar bath. But that is ok, the result is delicious. Just go with it.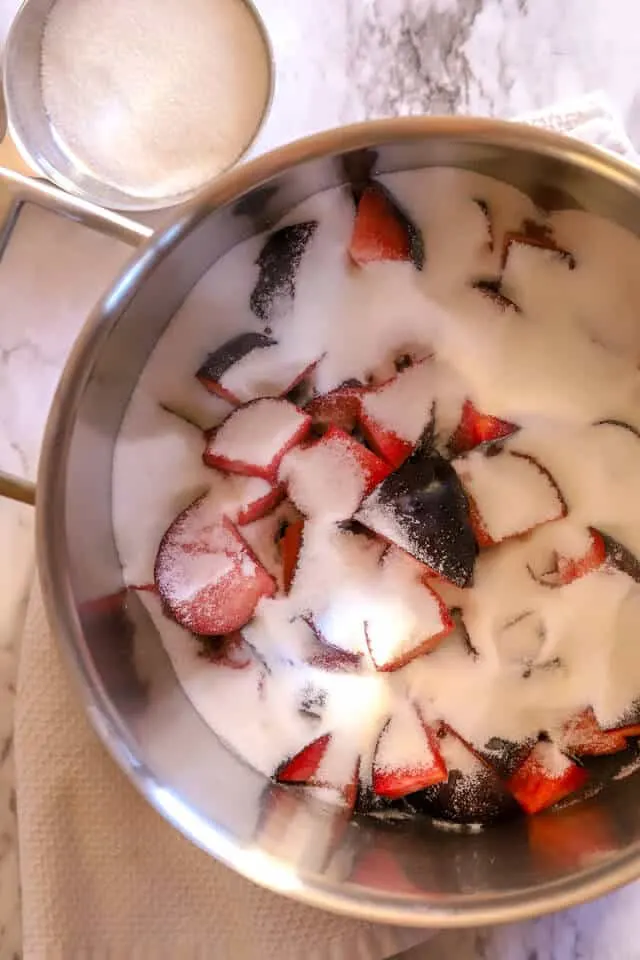 Put the plum and sugar mixture into a large saucepan and add the lemon juice and water. The recipe stated fresh lemon juice but I recall learning along the way that bottled lemon juice has a more consistent pH level and it is best to use bottled when canning so that is what I did with this plum jam.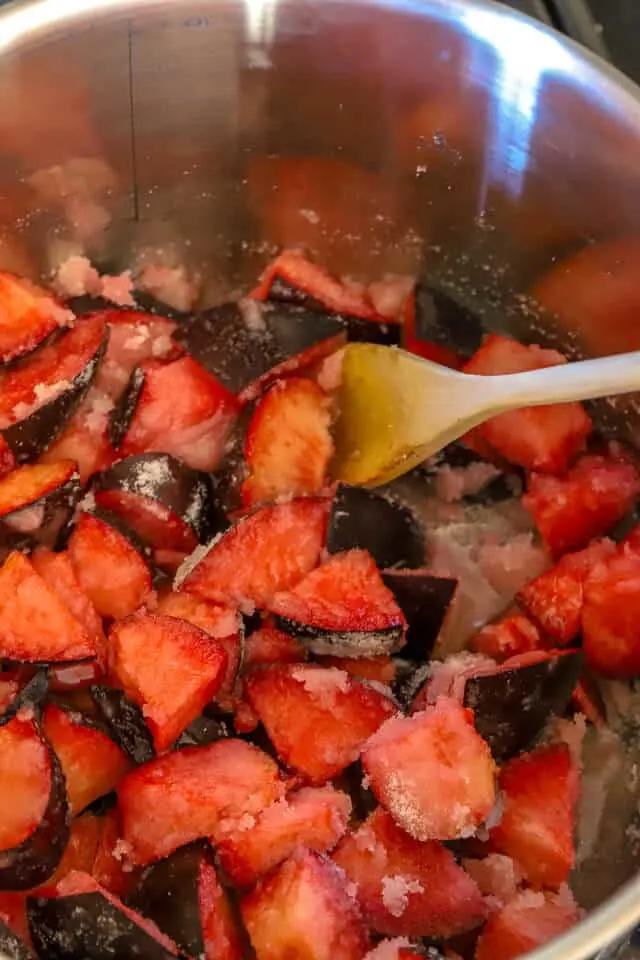 Cook your fruit and sugar mixture, bringing the jam to a full rolling boil then stirring for 15-20 minutes. (The recipe called for 10 minutes but my jam was not to the right stage at that point. It may be due to my altitude in Denver.) This recipe doesn't require any additional fruit pectin.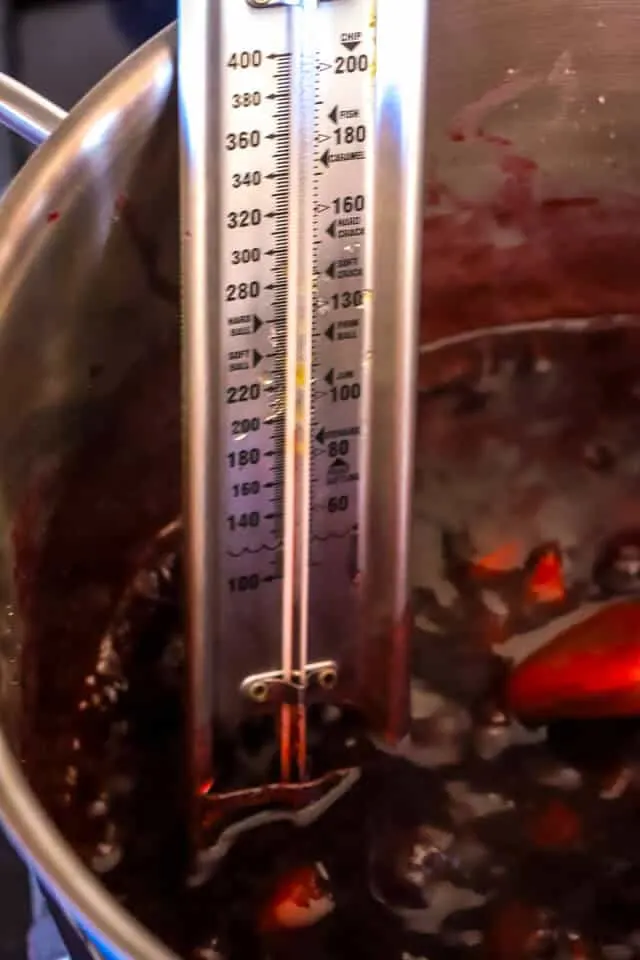 Use a canning thermometer to make sure that your plum jam has reached its gelling point, then remove it from the heat, ladled it into the prepared jars and continued with the canning process if desired.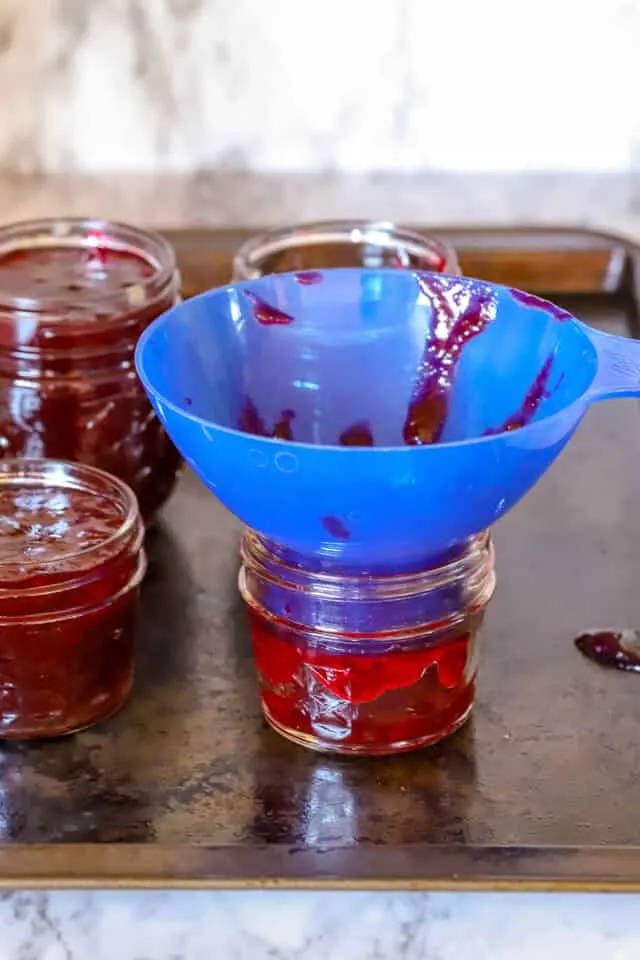 Follow the usual procedure for canning when using a water bath canner: prepare and sterilize your jars and lids. Process the jars according to your altitude.
It takes a lot of time to bring a large pot of water to the boiling point. Plan ahead and get your boiling water-bath started before you heat up the plum mixture. You want to time things such that your water-bath is ready when you have filled the jars.
Process the jam then let the jars cool completely before moving them. They will be hot!
Do you know your elevation? If you live above 1,000 ft then you'll need to make adjustments to your processing time. Learn more about high altitude canning in this post.
Is Plum Jam the same thing as Plum Jelly?
By definition jam is made from fresh (or frozen) fruit while jelly is made starting with fruit juice. Often jelly recipes will have a step in which the mixture is strained through a cheesecloth so that the resulting jelly is smooth and free of any small bits of fruit.
I think making plum jam and plum jelly would be quite similar. The jam is very smooth and free of chunks of plums even though there is not a need to use a blender or hand-held immersion blender to puree the mixture. Plums break down naturally and very easily in the cooking process which creates a uniform result.
The same holds true for grapes. Here is a recipe that makes homemade grape jelly.
How to use Plum Jam
Plum jam is recommended to be used as a topping for vanilla ice cream or as a complement to pork. I plan to try both. And you can't go wrong slathering plum jam on a fresh piece of homemade bread, of course! Try plum jam in the middle of these jam sandwich cookies.
What is freezer plum jam?
This isn't a recipe for freezer plum jam but I am interested in trying that technique.
Freezer jam isn't simply homemade jam that you store in the freezer, as I once thought. Instead making freezer jam refers to the process where you do not cook the fruit. Instead, you combine fruit with sugar at room temperature, let it sit (similar to macerating berries) then you add pectin that has been heated with water.
You can store freezer jam in the refrigerator or the freezer.
What to do with lots of plums?
There are so many ways to use plums and plum jam! Here's a post all about plum jam uses. Here are more plum recipes you'll enjoy:
Yield: 4 half pints
Plum Jam Recipe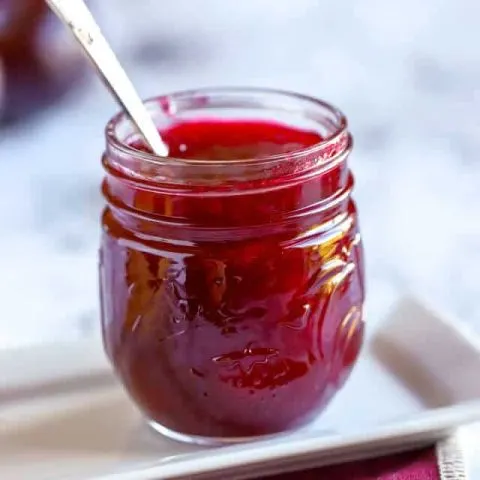 Easy, homemade plum canning recipe
Total Time
1 hour
5 minutes
Ingredients
3 lbs plums, halved, pitted and quartered
3 cups of sugar
1/2 cup water
1/2 cup lemon juice
Instructions
Wash and cut the plums into chunks, removing the pits.
Combine the plums, water, lemon juice and sugar in a large saucepan. Bring to a boil to dissolve the sugar, stirring continuously.
Continue to stir for 15-20 minutes, or until the gelling point has been reached.
Remove from the heat and ladle into glass mason jars. Proceed with the boiling water canning method, if desired. If not, store the plum jam in the refrigerator.
Notes
I processed this jam for 15 minutes (altitude in Denver requires a longer processing time) but in many locations 10 minutes would be the standard.
Recommended Products
As an Amazon Associate and member of other affiliate programs, I earn from qualifying purchases.
Nutrition Information:
Yield:
60
Serving Size:
1 tablespoon
Amount Per Serving:
Calories:

49
Total Fat:

0g
Saturated Fat:

0g
Trans Fat:

0g
Unsaturated Fat:

0g
Cholesterol:

0mg
Sodium:

1mg
Carbohydrates:

13g
Fiber:

0g
Sugar:

12g
Protein:

0g
This nutrition data was provided by Nutrionix and is to be an estimate only.
Canning Supplies to Help you Get Started with Homemade Preserving:
We are a participant in the Amazon Services LLC Associates Program, an affiliate advertising program designed to provide a means for us to earn fees by linking to Amazon.com and affiliated sites.
Please note that this post was originally published in August, 2012, and was updated in September, 2018.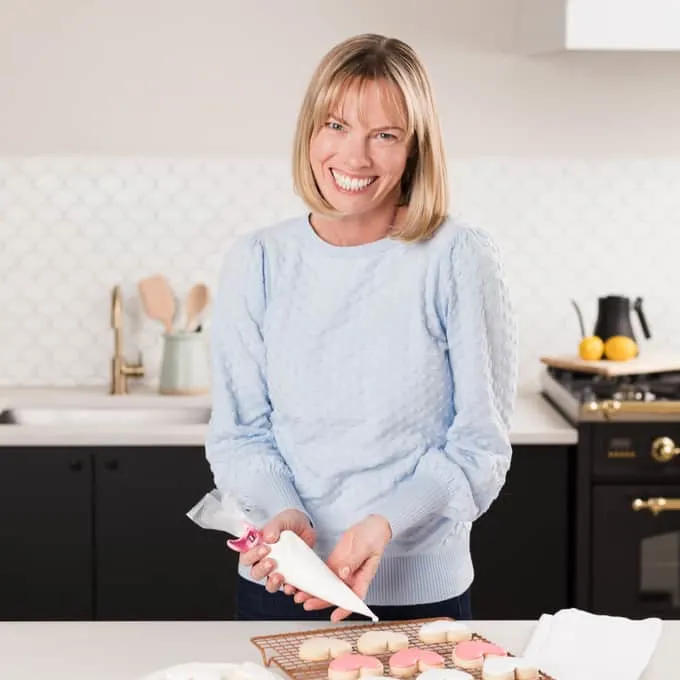 Holly Baker started the food blog, A Baker's House, in 2011. She is the writer, recipe creator, and photographer for the site. Holly loves to bake and shares recipes for gluten free food, canning recipes, as well as traditional desserts too. Her recipes and food photography have been highlighted by BuzzFeed, Reader's Digest, and She Knows.