Lime curd is a creamy citrus spread thickened with sugar, eggs and butter. This lime curd recipe is made in less than ten minutes in the Vitamix and is a perfect filling for macarons, cakes, and sandwich cookies. You might even eat this fruit curd by the spoonful!
What is lime curd?
Lime curd is similar to the more popular lemon curd. It is a thick and creamy spread that starts with lime juice and lime zest then takes shape with eggs, sugar, and butter. It's not quite as thick as a pudding or custard but it has similar characteristics.
Traditional curds are made over the stop top like this meyer lemon curd recipe or this grapefruit curd, but I love shortcuts! Try this microwave lemon curd recipe, orange curd, or this Vitamix lemon curd too.
You'll love all of these fruit curd recipes!
Ingredients in Lime Curd
How much juice in one lime?
Generally speaking, one lime has about 2 tablespoons of juice. For this recipe requiring 1/2 cup lime juice you'll need 8 tablespoons or 4 limes. I have made this recipe with anywhere from 3-5 limes.
To get the most juice out of each lime you can try a few tricks:
Microwave the lime for 10 seconds.
Roll the lime on the countertop.
Keep the limes at room temperature– cold limes will not let off as much juice.
How to make Lime Curd in the Vitamix
Making this Vitamix lime curd is so easy. It will need time to set in the refrigerator so plan ahead.
Put the lime zest, lime juice, sugar, and eggs in the Vitamix. Process on high for 5 minutes.
Add the cubes of cold butter and process on low (setting 3) for 30 seconds.
Pour into mason jars and refrigerate for at least 2 hours.
Vitamix recipes
A Vitamix is a high speed blender that makes more than just smoothies.
Blenders, start your engines! This lime curd in the Vitamix is a bright splash of taste and color. Make it with your Vitamix or Blendtec for a quick method of creating curds at home. While the traditional method of whisking the egg mixture over a double boiler works well, the blender method is so much faster. Ten minutes fast.
I made lemon curd last year with the recipe listed in the Vitamix cookbook and followed the same proportions for this recipe with lime. The texture is smooth and custard-like even after the initial five minutes in the Vitamix; the curd will continue to thicken as it cools in the refrigerator.
Do not make this easy lime curd recipe in a regular blender. The beauty of a Vitamix is that it raises the temperature of the ingredients during the 5 minute process time such that the eggs reach a safe temperature. Regular blenders simply don't have that firepower.
Read more information here about egg safety. Egg yolks must be cooked to 158 -160° to be safe to eat. You'll notice that steam comes out of the Vitamix during the 5 minutes on high speed. Wear baking mitts when you remove the lid to add the butter so that you don't get burned.
How long does Lime Curd last?
Lime curd lasts 1 to 2 weeks in the refrigerator.
If you are an avid canner and make lots of jams and jellies, you'll know that many preserves can be processed in a water bath canner to extend their shelf life. Curd is not a recipe for your water-bath canner. Recipes with eggs and butter are not suitable for a boiling water canner.
Homemade preserves
Canning at home and making small batch jams and curds have really become a source of enjoyment for me in the kitchen. If you are interested in making more homemade preserves, here is a canning resource to give more more recipe ideas!
Green Lime Curd
By the way, are you surprised by the shade of yellow? Even with a healthy dose of lime zest, this curd can't hold on to the vibrant lime green color. The eggs and butter overshadow it. I chose not to, but if you crave that green shade of lime in your curd then you'll have to add a few drops of green food coloring.
Key Lime Curd
You can follow this recipe using key limes instead of regular limes. Key limes are smaller so make sure you plan ahead and buy more key limes than the number of limes in this recipe. Measure the lime juice and the zest and follow the recipe as listed.
Quick tip: When you need citrus zest for a recipe and you also need the citrus juice, FIRST zest the lemons or limes and THEN cut them in half and squeeze out the juice. To easily take the zest (the outer layer) from the fruits, you'll need the fruit in tact. Trying to zest a half of a lime that also has been squeezed already is not a recipe for success!
How to use lime curd
Let's be honest– you can eat this lime curd by the spoonful! More civilized ideas of how to use lime curd include:
cake fillings
flavor your icings with curd
add to cocktails
use in sandwich cookies
filling for macarons
topping for pavlova
topping for pound cake
over ice cream
atop yogurt or in a parfait
make a lime curd tart
spread over toast
Citrus Tool
My favorite and most reliable citrus tool is this Microplane Citrus Tool. It makes zesting a breeze. You can zest small bits or curls of zest depending on the recipe requirements.

Yield: 24 oz
Lime Curd (in the Vitamix)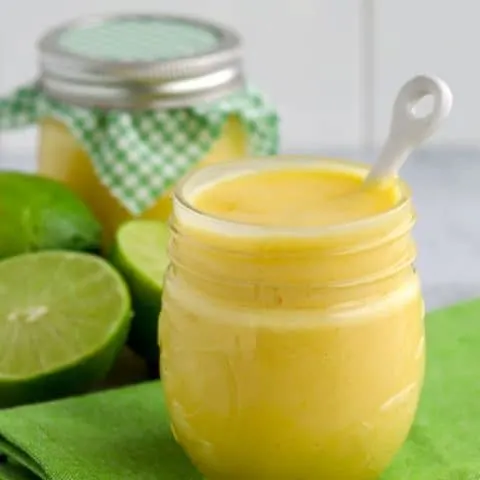 A bright citrus fruit spread is perfect on toast, in sandwich cookies or with pound cake
Ingredients
5 eggs
1 1/2 cups granulated sugar
1/2 cup juice (about 4 limes)
2 TB lime zest (use 4 limes)
1/2 cup salted butter, at room temperature and cut into cubes
Instructions
Add the eggs, sugar, lime juice and lime zest to the Vitamix.
Start at level 1 and slowly increase to level 10. Blend for 5 minutes.
Turn off the Vitamix and add the butter.
Start at level 1 and blend at level 3 for 30 seconds.
Place lime curd in the refrigerator to cool. Store in refrigerator for 1-2 weeks.
Notes
Make this lime curd recipe with either regular limes or key limes.
Recommended Products
As an Amazon Associate and member of other affiliate programs, I earn from qualifying purchases.
Nutrition Information:
Yield:
48
Serving Size:
1 tablespoon
Amount Per Serving:
Calories:

50
Total Fat:

2g
Saturated Fat:

1g
Trans Fat:

0g
Unsaturated Fat:

1g
Cholesterol:

24mg
Sodium:

24mg
Carbohydrates:

7g
Fiber:

0g
Sugar:

7g
Protein:

1g
This data is provided by Nutritionix and is an estimate only.
Kitchen Tools You'll Use for this Recipe:
As an Amazon Associate I earn from qualifying purchases.
Pin with me!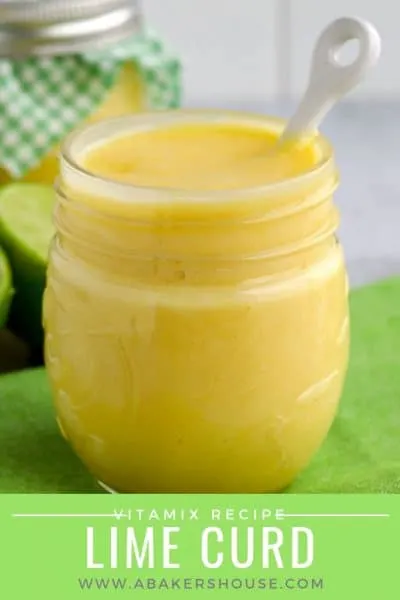 Post originally published in 2014. Updated in 2019.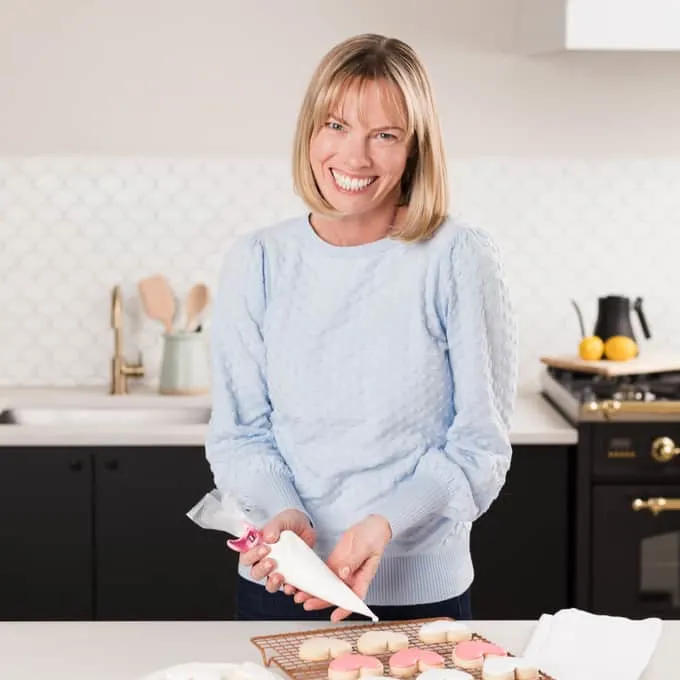 Holly Baker started the food blog, A Baker's House, in 2011. She is the writer, recipe creator, and photographer for the site. Holly loves to bake and shares recipes for gluten free food, canning recipes, as well as traditional desserts too. Her recipes and food photography have been highlighted by BuzzFeed, Reader's Digest, and She Knows.