Homemade orange curd is a creamy, bright and intensely orange fruit spread that practically bursts with flavor out of the jar! Make this easy curd in 20 minutes or less.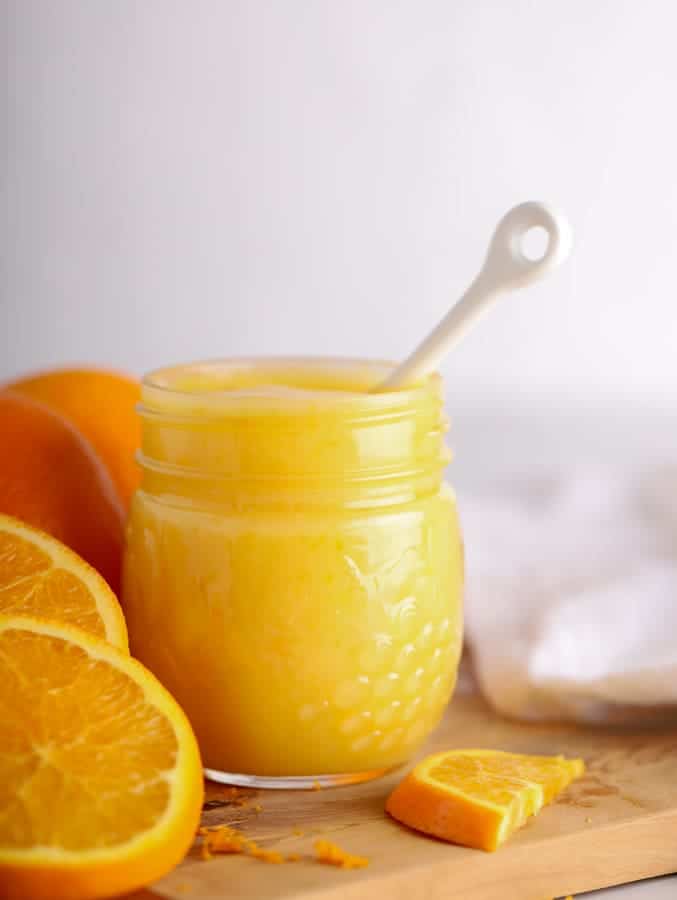 What is orange curd?
This orange curd recipe is a breeze to make. Curd is simply a mixture of fruit juice (and often the zest) that is sweetened with sugar, thickened with eggs, and made creamy with butter.
The texture is similar to a pudding– a bit of jiggle but not runny.
Curds are quite popular in England and throughout Europe. You'll find them jarred and sold in grocery stores in the United States too. I find you'll create a much brighter and fresh flavor if you make curds at home.
If you like this recipe you'll also enjoy making lime curd, meyer lemon curd, lemon curd in the microwave or lemon curd in the Vitamix. Find all of my canning and preserving recipes on this resource page.
Ingredients
Only four ingredients are needed to make homemade orange curd.
This orange curd recipe is made with Navel oranges. You could use a variety of oranges. Wouldn't blood oranges or cara cara oranges be special? I've use both to make marmalade and they turned out great.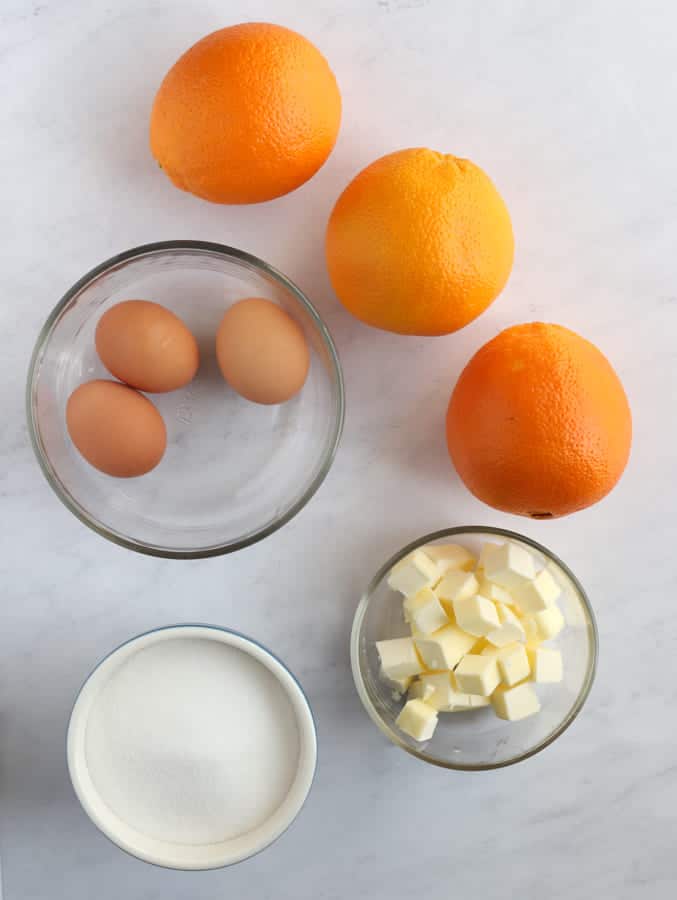 How to make orange curd
Zest and juice the oranges
Combine the orange zest, orange juice, sugar, eggs and butter in a saucepan over a double boiler.
Cook to thicken.
Ladle into clean mason jars.
I've made curds a number of times. Sometimes I'll combine the orange juice and zest with the sugar and whisk over medium heat until it dissolves. After that I'll add the eggs and continue whisking until a safe temperature is reached for the eggs. And then the last step would be to add the butter. That works well.
Equally well is the method laid out in the steps above where you combine all the ingredients at once and cook the mixture all together. I've noticed no change in quality of the curd between the two methods.
Check out the lemon curd posts linked to in the paragraph above if you'd like to make orange curd in the microwave or in the Vitamix. Both methods would work well with oranges.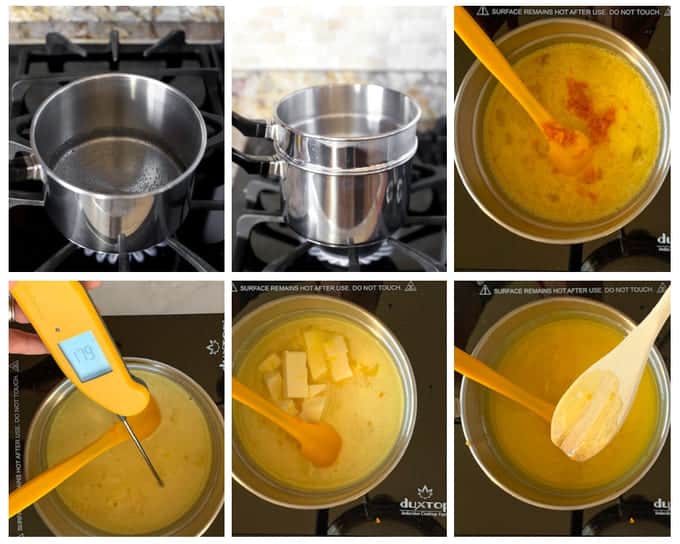 Cooking eggs with food safety in mind
It's so important to know the guidelines and rules of food safety when you are preserving foods. Curds are a type of food preserving even though we are not canning this recipe to make it shelf stable.
The USDA states that eggs must be cooked to a temperature of 160 degrees F in order to be consumed. Don't overlook this safety step! Use a thermometer like my favorite Thermoworks or a candy thermometer would suffice as well.
Cooking at a low temperature with a double boiler makes sure that your eggs and mixture will cook slowly. Keep an eye on the temperature and don't let the curd come to a boil. You could end up with pieces of scrambled eggs in your curd.
If you do find cooked eggs in the curd you can fix it– just pour the curd through a sieve before putting it in jars.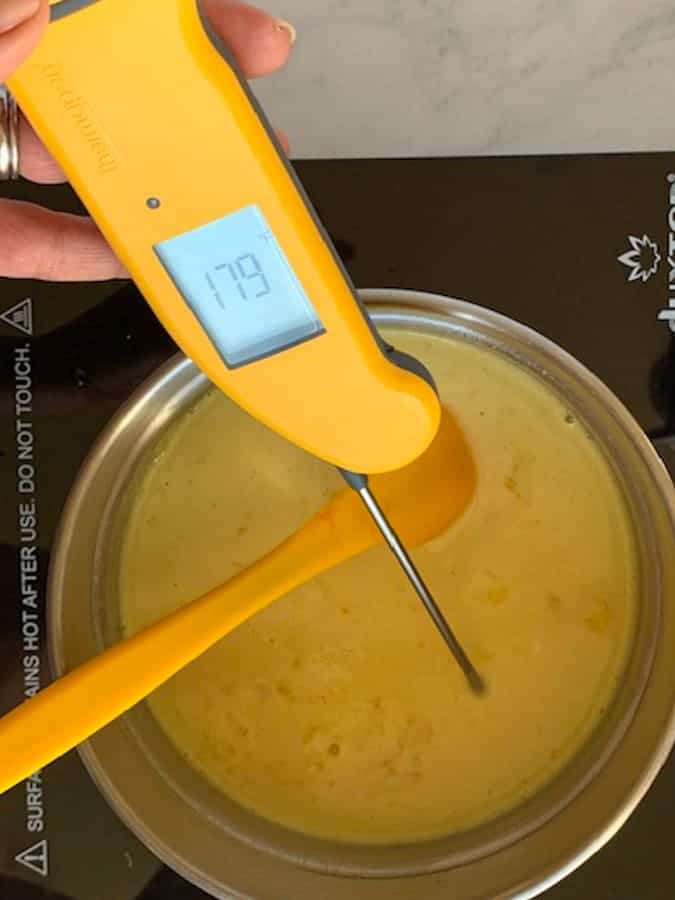 How do you know when orange curd is done?
Similar to any curd, the process of know if your orange curd is done centers on two key points.
First, make sure your eggs have reached at least 160 degrees F. I aim for 170 and am ok if the temperature goes a little higher.
Second, dip a wooden spoon or silicone spatula into the orange curd. Pull it upwards then make a line down the middle with your finger. Be careful, the curd will be hot!
If the line remains then your curd is done. If the curd is still runny and fills in the line you made with your finger, then you will know to cook it a bit longer. Keep stirring!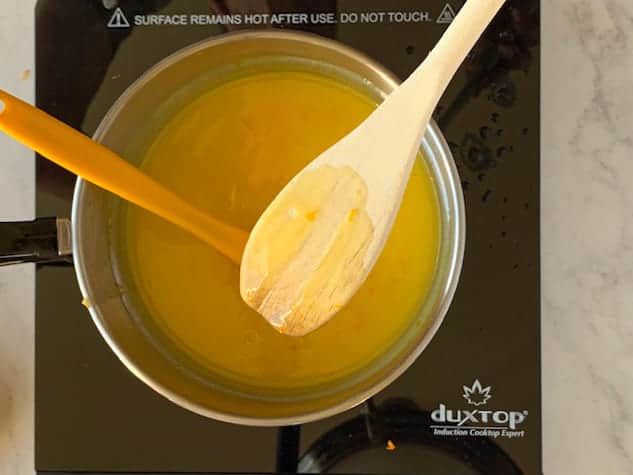 How to store
We are not processing this recipe in a water bath canner. Simply store the jars in the refrigerator. Orange curd lasts about 7 to 10 days.
Can you freeze fruit curds?
Yes, if you want curd to last more than 10 days, freeze it. Leave a 1/4 inch headspace (space between the curd and the lid) to allow for expansion. When you are ready to use your curd defrost it in the refrigerator.
Tips for making Orange Curd
If you don't like pulp in your juice, you might not want it in your curd either. Use the zest in the recipe but then before jarring the curd, strain it to remove the zest and any pulp. You may end up with slightly less curd than stated in the recipe but it will be a smooth curd.
If you don't have a double boiler you can make one using tools you already have in your kitchen. Take a medium saucepan and find a large glass or metal bowl that can sit on top of the saucepan. Make sure the bowl does not come into contact with the water boiling in the saucepan below. Also be sure to wear kitchen mitts to protect your hands. The bowl will be very hot. It also will be wobbly so just work slowly and carefully. A store-bought double boiler is steadier because the top pot fits perfectly into the bottom saucepan.
Whisking or stirring the whole time might seem tedious but it is important to do so. In the early stages of cooking you stir to dissolve the sugar completely. Later you continue stirring so that the eggs don't get too hot and stick to the bottom of the pan. Finally you stir to encourage that creamy texture developed by the butter.
How to use
Orange curd will disappear quickly if you like it as much as I do! You can use all of these 40+ Uses for Lemon Curd with your orange curd too.
Here are more suggested ways to use curd:
On an English muffin
Topping for yogurt
as a cake layer filling
Topping for pancakes or waffles
in a brie and orange curd sandwich
Yield: 10 ounces
Orange Curd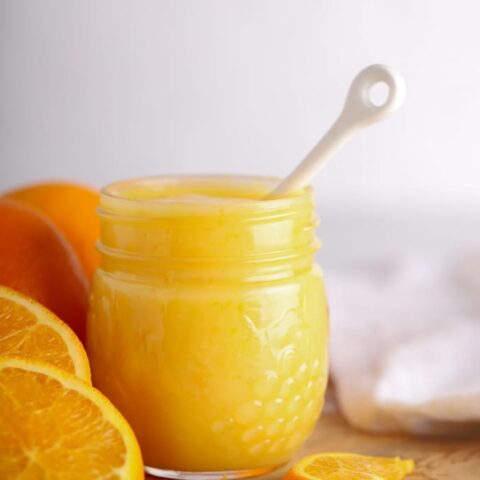 Homemade orange curd is a creamy, bright and intensely orange fruit spread that practically bursts with flavor out of the jar! Make this easy curd in 20 minutes or less.
Ingredients
2 Navel oranges
1 1/4 cups granulated sugar
3 eggs
1 stick of butter (4 ounces)
Instructions
Zest and juice the oranges. You'll need at least 2 tablespoons of zest and 2/3 cup of fresh orange juice.
Bring water to a simmer in the double boiler. Place the second pot on top. Combine the zest, orange juice, sugar and eggs. Stir or whisk constantly as the mixture starts to thicken. Cook until the eggs have come to a safe eating temperature of at least 160 degrees F.
Add the cubes of butter and continue to stir for 15-20 minutes until the mixture is thicker and can coat the back of a spoon.
Pour the orange curd into clean mason jars and store in the refrigerator.
Notes
The USDA states that the safe cooking temperature of eggs is at least 160 degrees. I prefer to cook to 170 or above.
Test the curd for doneness by dipping a wooden spoon in the curd then swipe your finger down the middle of the spoon. If the mixture stays in place (you can still see the line you created) then your curd is ready for jarring.
The cooking time will vary from 10-20 minutes depending on the level of heat in your double boiler. Be sure not to let the curd mixture come to a boil.
If you do cook the mixture too quickly and the eggs start to scramble, don't worry. Turn down the heat, keep stirring, and later strain the curd before jarring.
Recommended Products
As an Amazon Associate and member of other affiliate programs, I earn from qualifying purchases.
Nutrition Information:
Yield:
32
Serving Size:
1
Amount Per Serving:
Calories:

67
Total Fat:

3g
Saturated Fat:

2g
Trans Fat:

0g
Unsaturated Fat:

1g
Cholesterol:

25mg
Sodium:

30mg
Carbohydrates:

9g
Fiber:

0g
Sugar:

9g
Protein:

1g
This data is provided by Nutritionix and is an estimate only.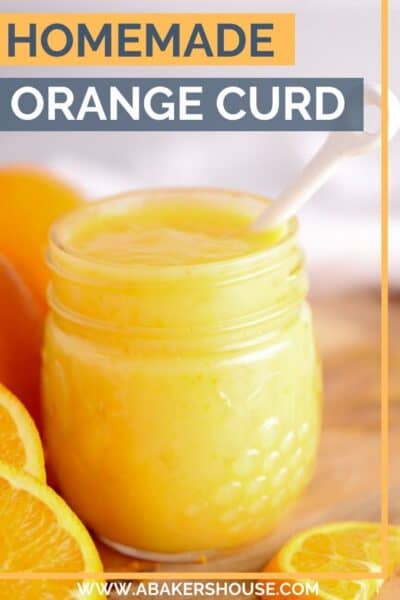 As an Amazon Associate I earn from qualifying purchases.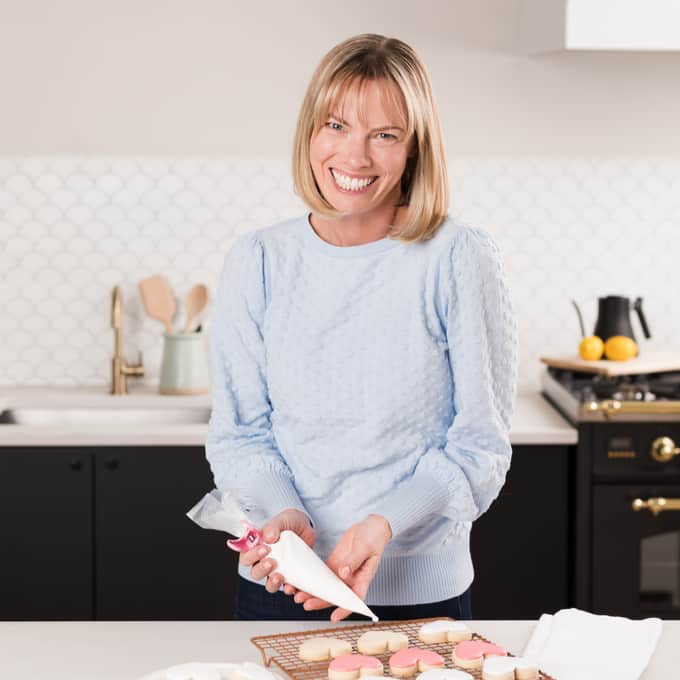 Holly Baker started the food blog, A Baker's House, in 2011. She is the writer, recipe creator, and photographer for the site. Holly loves to bake and shares recipes for gluten free food, canning recipes, as well as traditional desserts too. Her recipes and food photography have been highlighted by BuzzFeed, Reader's Digest, and She Knows.