Vegan Lemon Curd is a delightful, dairy-free, gluten free, lemon spread that can be made in 15 minutes. Lemon curd is traditionally made with eggs and butter – not vegan friendly at all. Don't let curds be something you write off because you are vegan or dairy free. A few easy ingredient substitutions are all it takes to "veganize" this recipe!
What is lemon curd?
Traditional lemon curd is a mixture of lemon juice cooked with sugar, eggs and butter. It's one of my favorite lemon recipes!
Lemon curd is a tangy spread that falls under the broad category of preserving yet it is not quite a jam or jelly. It's different. Fruit curd in all varieties are creamy and light, often tangy and citrus based.
Think of it like a thick sauce with a bit of jiggle to it. The texture is not as thick as pudding and not as thin as a syrup. You'll use this lemon fruit spread in so many lemon desserts! Lemon tart comes to mind as just one of the many delicious recipes you'll go on to make with lemon curd.
The traditional ingredients for a curd include citrus fruit juice and zest, sugar, eggs and butter. Zest is the outer layer of a citrus fruit.
To make this curd a vegan recipe we obviously need to find substitutions for the eggs and the butter. It is not as tricky as you might first think.
How to make this recipe vegan
At first glance, enjoying lemon curd on a vegan diet might seem a challenge. It doesn't have to be difficult– let's see what substitutions we can make.
When replacing ingredients to change a recipe into a specific diet or lifestyle, first take a close look at the role each ingredient plays. If we can make replacements based on the role or purpose of each element, then we have a good chance of a successful recipe transformation.
Egg Substitution: In lemon curd recipes the purpose of the egg yolks is to help thicken the curd and to lend that rich yellow color. We'll use a small amount of corn starch in place of the eggs. Mixing cornstarch with water is called a slurry. Adding the slurry to a sauce or soup helps to thicken it.
To boost the familiar lemon-yellow tone of this curd which might otherwise be lost without the eggs, I've used meyer lemons in place of regular lemons.
Meyer lemons have an orange-lemon skin and a less tart bite than regular lemons. Their signature color is bright and bold. The zest and juice of the meyer lemons carry that color into this curd. Some people add a pinch of turmeric to enhance the color of the spread but I don't find that necessary here.
Butter Substitution: The role of the butter in curd is to create a creamy, smooth texture. The perfect substitution is a plain dairy-free yogurt alternative. I prefer the vegan yogurt over a vegan butter in this recipe. You can adjust the consistency of this vegan lemon curd by adding more or less of the yogurt alternative.
Dairy-free yogurt alternative is luscious on its own and lends a perfect balance to this recipe. When you add it to the cooked down, flavorful meyer lemon mixture, you develop a vegan sauce that is smooth and creamy. Your homemade lemon curd will continue to thicken in the refrigerator. Giving it a quick stir before enjoying it is recommended.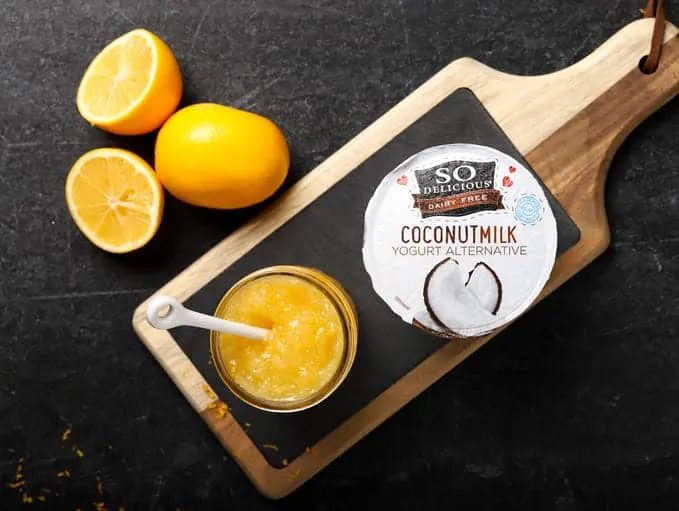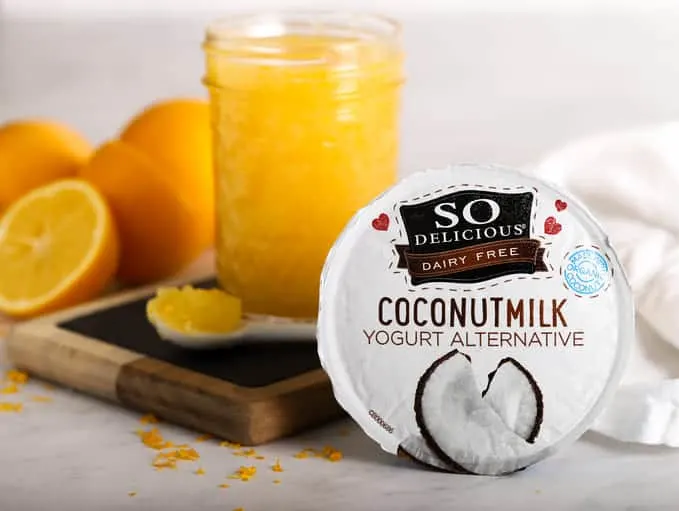 Ingredients in vegan lemon curd
Lemons
Cornstarch
Water
White sugar
Dairy-free coconut milk yogurt alternative
Simple ingredients will always yield the best results.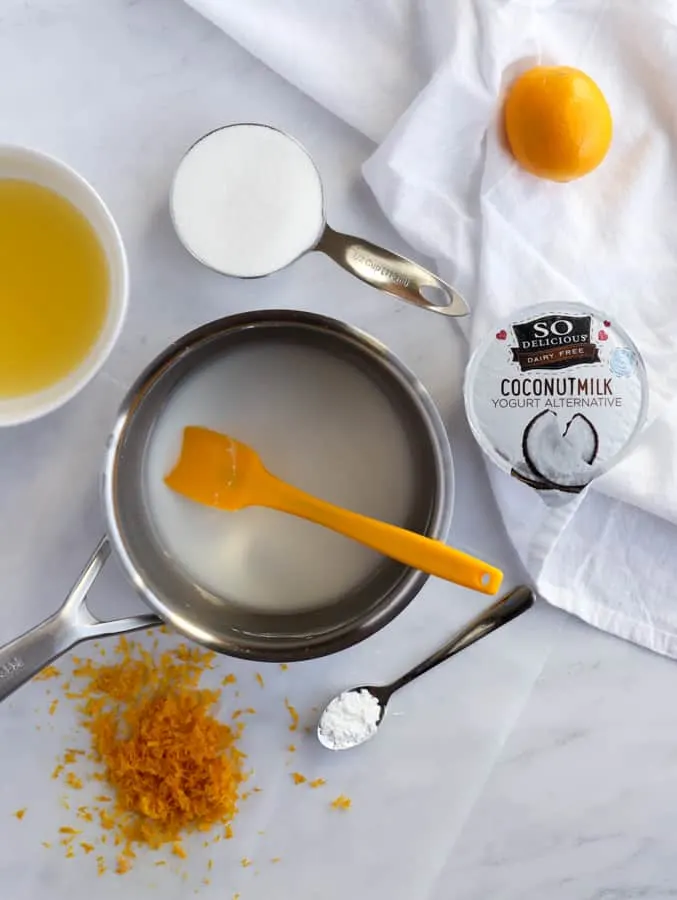 Steps to making this recipe
Zest the lemons and squeeze the fresh lemon juice.
Make a slurry (mixture) of cornstarch and water.
Combine the lemon zest, lemon juice, slurry, and sugar in a small saucepan over medium low to medium heat.
Whisk constantly as the mixture cooks and thickens for about 5-7 minutes.
Remove from the heat and stir in the plain dairy-free coconut milk yogurt alternative.
Store in an airtight container in the refrigerator.
Find more details in the recipe card below.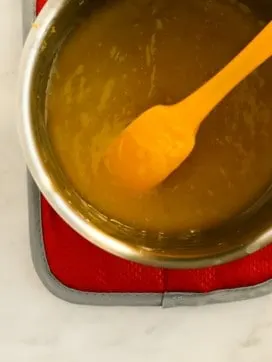 Dairy-free yogurt alternatives
So Delicious® offers dairy-free yogurt alternatives in both coconut milk and oatmilk. I like the plain dairy-free coconutmilk yogurt alternative for this vegan recipe. Using dairy free yogurts is a short cut to this vegan version of curd.
Other flavors available include vanilla, strawberry, pineapple brulee, unsweetened vanilla, unsweetened plain, strawberry banana, raspberry, peach, key lime, chocolate and blueberry. There is something for everyone!
Here are more recipes you can make with dairy-free yogurt alternatives: poached pears and strawberry banana fool.
Meyer Lemons versus Regular Lemons
What's the difference between meyer lemons and the fresh lemons we usually see in grocery stores year-round? Meyer lemons are more like a cross between lemons and mandarin oranges. They are smaller, less tart, and the skin is thin and a much deeper yellow than traditional lemons.
It's citrus season now so make the most of what is ripe and available your local market or grocery store. Meyer lemons are found in stores from December through March.
You could use regular lemons in this recipe. Instead of 4-5 meyer lemons you'll need 2-3 regular lemons. Your finished lemon curd will be less vibrant and perhaps a bit more tangy than a meyer lemon curd but both are delicious!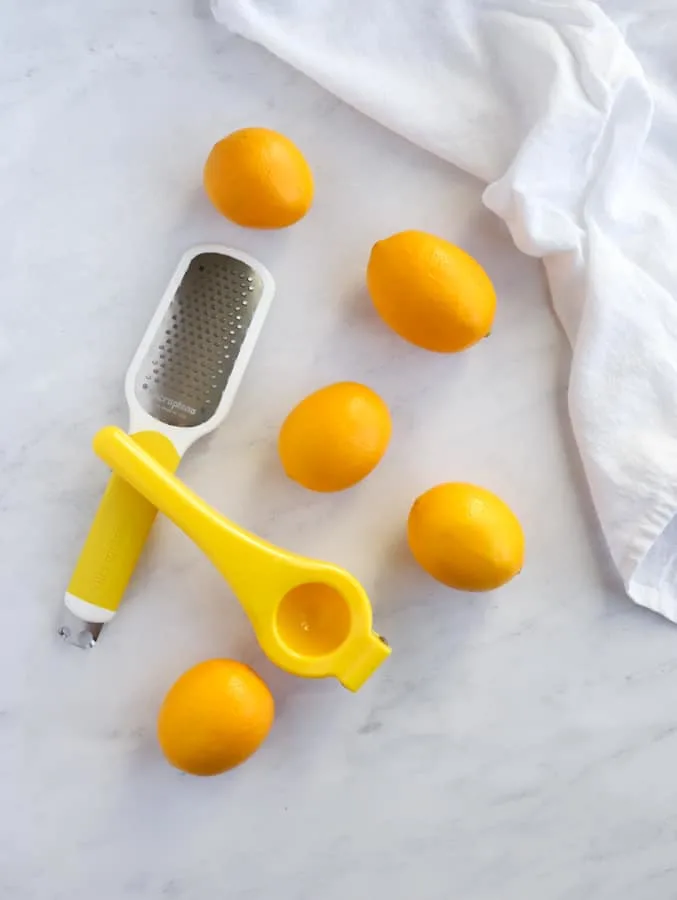 Lemon Curd Uses
I have a number of suggestions shared here in this list of ways to use traditional lemon curd and all should work with this vegan curd, too. Here are a few of my favorites:
lemon curd tart
vegan lemon bars
lemon meringue pie
a perfect topping for a summer dessert
atop french toast or pancakes
filling in between layers of vegan lemon cake
Food memories of lemon curd
My first introduction to lemon curd is a lovely one. I was in Ireland sitting in the dining room of my husband's aunt. The view there is serene—from the house you look out over a tidal river that is constantly changing, always on the move with birds, boats, and small waves. The sun sets so late in the day in the summer months giving plenty of time to enjoy the view and eventually the sunset.
Dessert was served and it was nothing like I had seen in America. A layered sponge cake filled with layers of lemon curd filling, freshly whipped cream, and raspberries appeared at the table. Decadent yet light and airy.
I was in heaven. I am sure I ate more than my share. In fact, I must have shown how much I enjoyed it because I even came home with the recipe and the serving tray that I use to this day some twenty years later!
Now with this eggless lemon curd recipe, we can enjoy vegan recipes like a layered cake or parfait easily by making homemade curd. Spread it on toast, over yogurt, dairy free ice cream, in sandwich cookies, or in vegan macarons. You won't run out of ways to use this citrus fruit spread!
Yield: 1 cup
Vegan Lemon Curd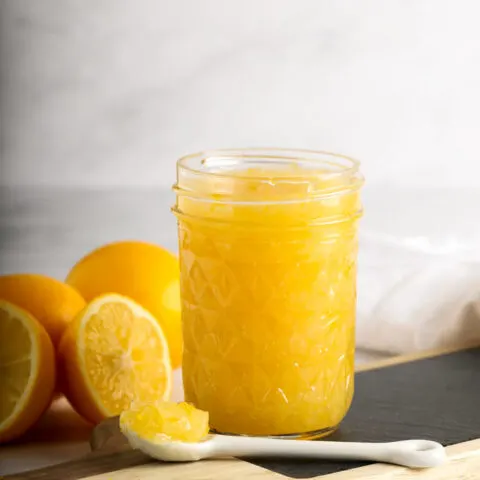 Vegan Lemon Curd is a delightful, dairy-free, gluten free, lemon spread that can be made in 15 minutes.
Ingredients
2 Tbsp water
2 Tbsp cornstarch
2/3 cup fresh lemon juice
2 Tbsp lemon zest
½ cup granulated sugar
¼ cup plain So Delicious® Dairy Free Coconutmilk Yogurt Alternative
Instructions
Whisk the water and cornstarch together to form a slurry.
Add the slurry, the fresh lemon juice, lemon zest, and granulated sugar in a small saucepan. Stir to combine over medium low heat.
Let the mixture simmer vigorously for 5-8 minutes, stirring constantly as the curd thickens.
Take the mixture off the heat and stir in ¼ cup plain So Delicious® Dairy Free Coconutmilk Yogurt Alternative.
Pour into a mason jar or other airtight container. As the lemon curd cools it will continue to thicken.
Store in the refrigerator.
Notes
Note 1: I find that lemon curd congeals more like jelly once it is in the refrigerator. If you'd like a creamier texture for the curd, before serving mix more Coconutmilk Yogurt Alternative in with the curd. Half curd and half yogurt alternative works well.
Note 2: All lemons produce different amounts of fresh lemon juice. This version is a meyer lemon curd. Use 4-5 meyer lemons. If you have standard lemons, use 3 and measure the lemon juice as noted in the recipe.
Recommended Products
As an Amazon Associate and member of other affiliate programs, I earn from qualifying purchases.
Nutrition Information:
Yield:
16
Serving Size:
1
Amount Per Serving:
Calories:

42
Total Fat:

0g
Saturated Fat:

0g
Trans Fat:

0g
Unsaturated Fat:

0g
Cholesterol:

0mg
Sodium:

1mg
Carbohydrates:

10g
Fiber:

0g
Sugar:

8g
Protein:

0g
This data is provided by Nutritionix and is an estimate only.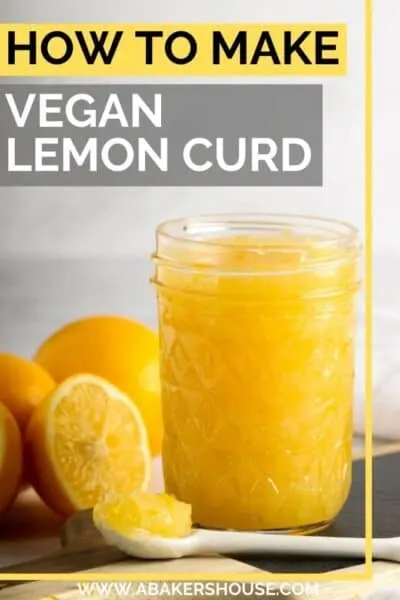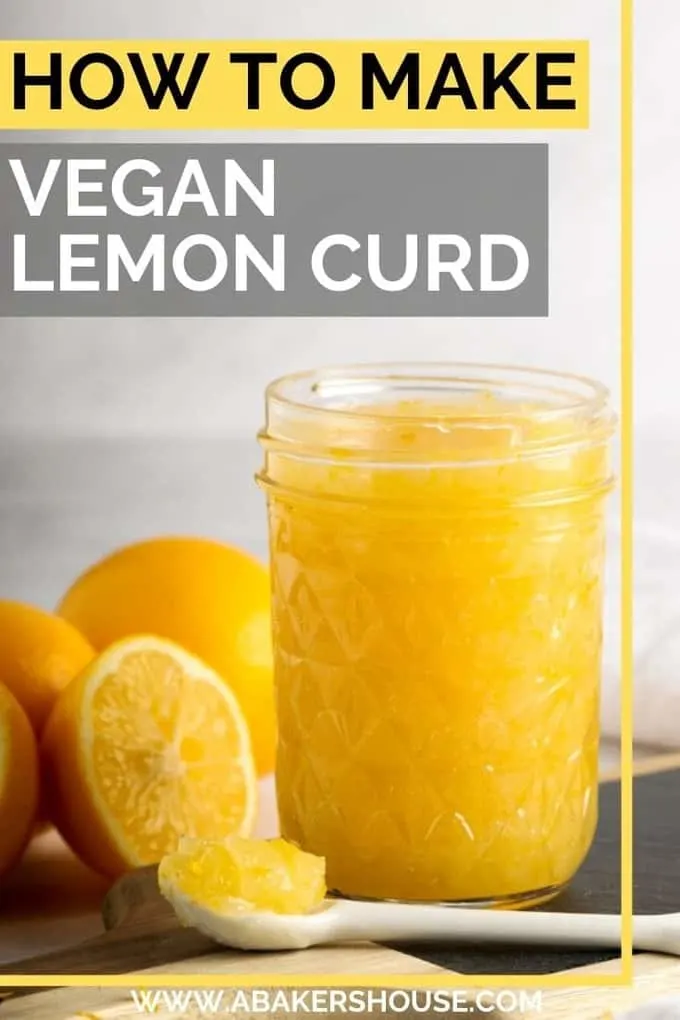 This post was originally published in February 2020 as a sponsored post, but has been revised and update as of November 2021.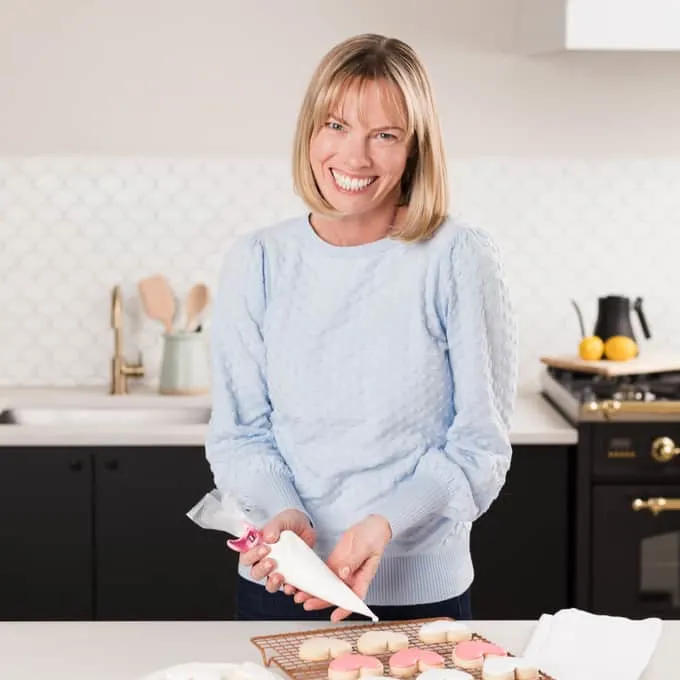 Holly Baker started the food blog, A Baker's House, in 2011. She is the writer, recipe creator, and photographer for the site. Holly loves to bake and shares recipes for gluten free food, canning recipes, as well as traditional desserts too. Her recipes and food photography have been highlighted by BuzzFeed, Reader's Digest, and She Knows.