Grapefruit curd combines tart with sweet to create a bright and fresh citrus fruit curd. Fresh grapefruit, sugar, butter and eggs are the only four ingredients you need to make this winter citrus recipe.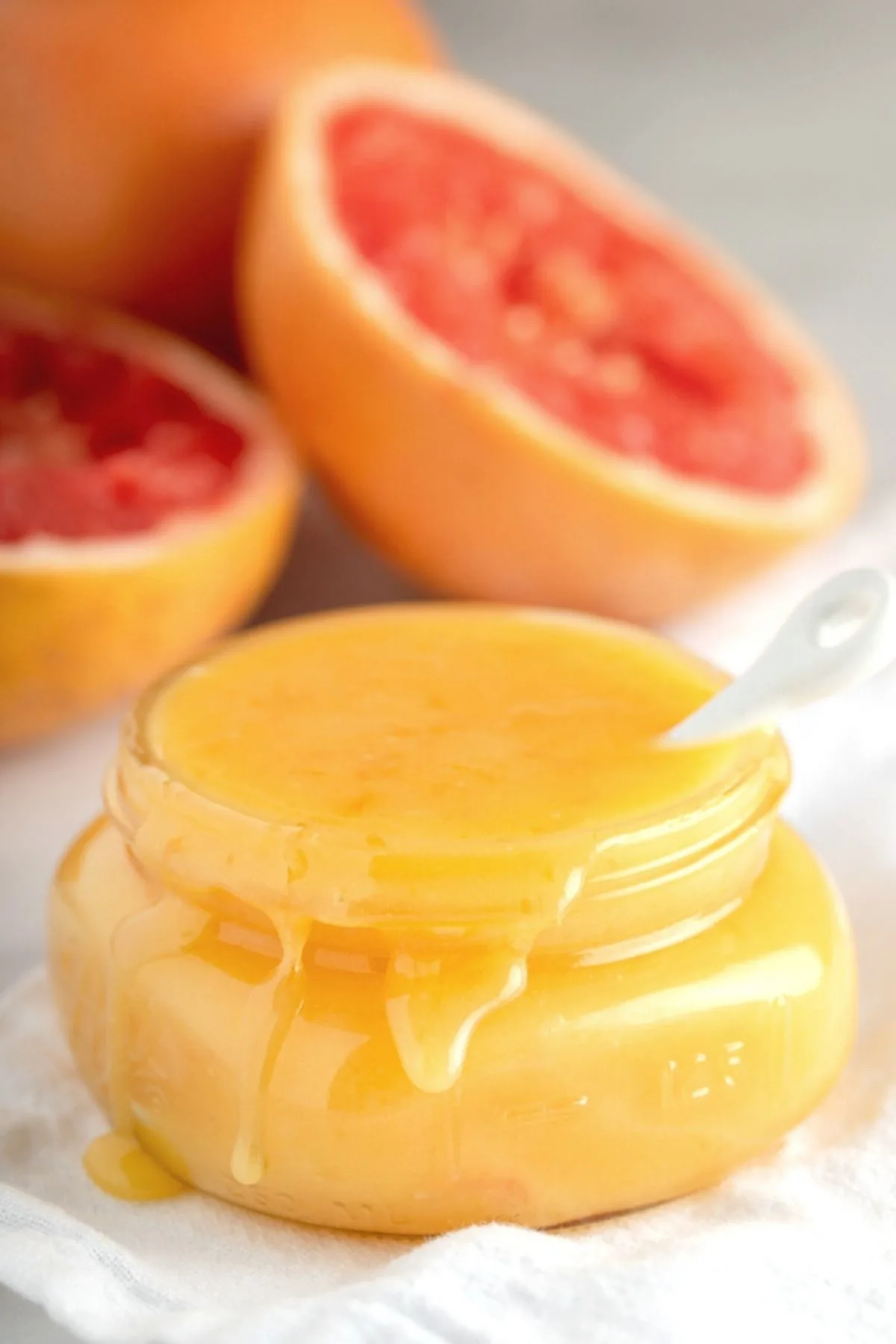 Lemon curd may be the most popular when it comes to fruit curd recipes but give this grapefruit curd a try for a change. It is an easy way to preserve fresh grapefruit and it takes less than 20 minutes to make.
What is grapefruit curd?
Grapefruit curd, like all other curds, is a citrus sauce that begins with fruit juice, is sweetened by sugar, and then thickened with eggs and butter.
Curds are often cooked slowly with the double boiler method, although you can also use the microwave or Vitamix like I did in these recipes for microwave lemon curd and Vitamix lemon curd.
If you enjoy fruit curd recipes, you'll want to check out all the varieties like orange curd, raspberry curd, and lime curd too. You can make curd from so many fruits!
Ingredients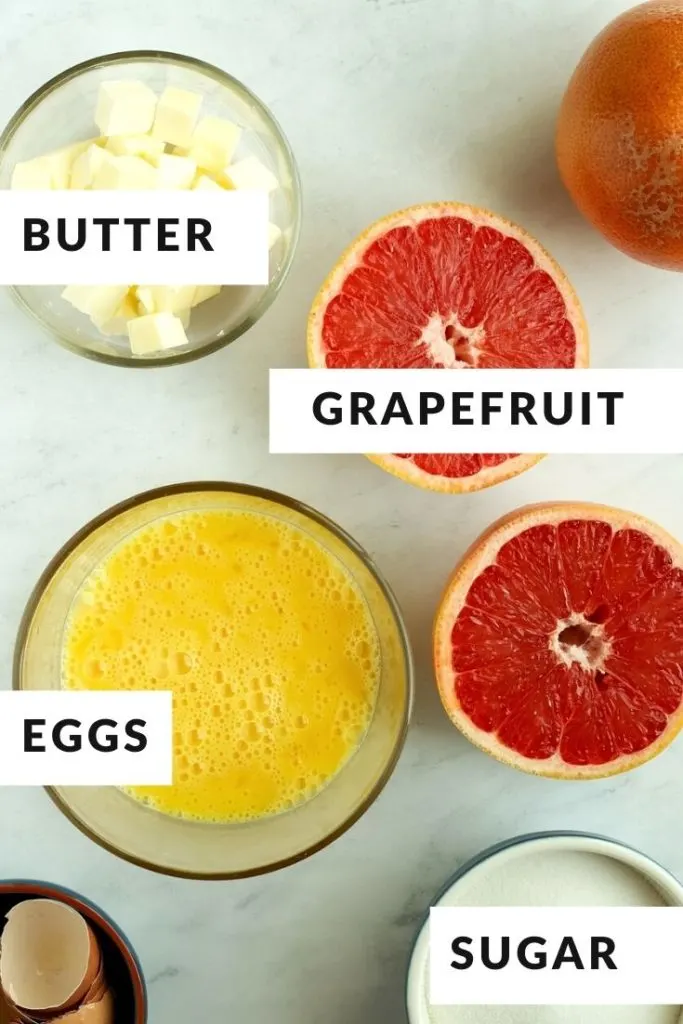 Grapefruit: fresh grapefruit is best. I don't suggest using bottled grapefruit juice as it may have sugar already added. Grapefruits, of course, come in all different sizes and produce varying amounts of freshly squeezed juice. One grapefruit should be plenty for this recipe as you only need 1/2 cup of grapefruit juice. You'll also use the zest of the grapefruit so be sure to remove the zest first before cutting and juicing the fruit.
Sugar: white granulated sugar is perfect for this recipe. It will dissolve easily in the saucepan when heated with the juice.
Eggs: Some curd recipes call for egg yolks but I use the whole egg in this easy grapefruit curd recipe.
Butter: You may use salted butter in this recipe as I have done, or use unsalted butter and only add a pinch of salt if the curd needs it.
How to make stovetop curd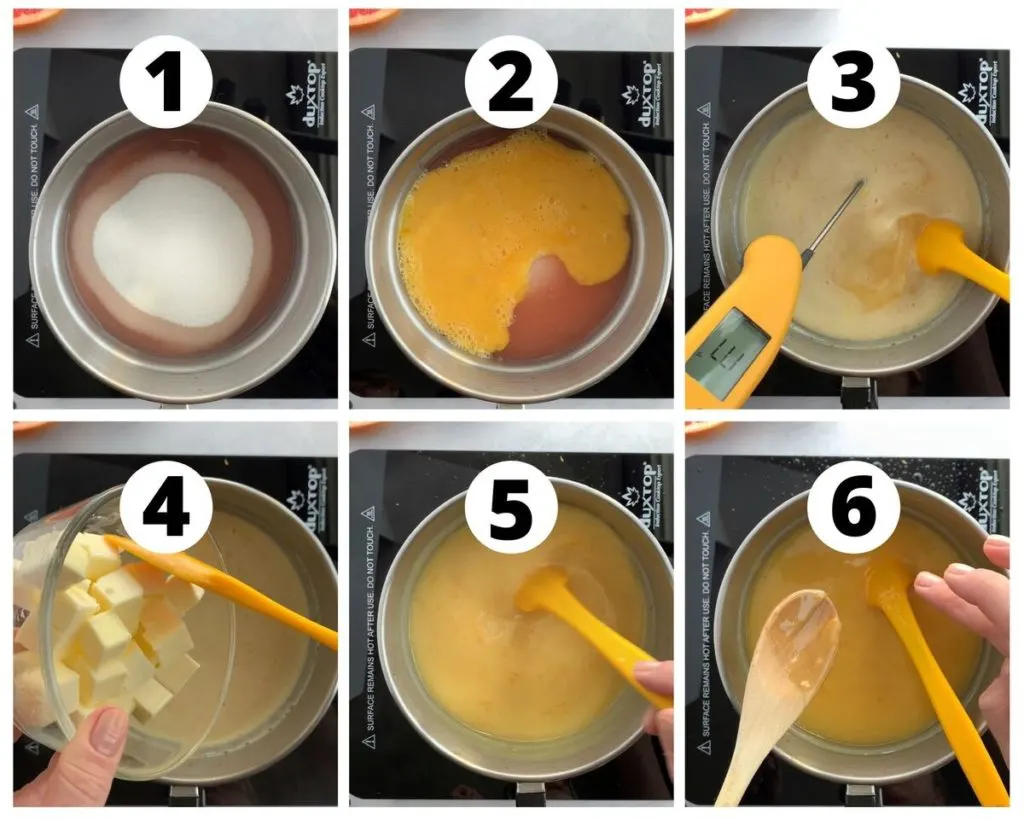 Zest the grapefruit and juice the grapefruit. Measure 1/2 cup. Combine the freshly squeezed juice and the sugar in a saucepan over a double boiler. Stir.
Add the slightly whisked eggs. Continue to stir.
Cook the mixture until it measures at least 160 degrees so that the eggs are cooked to a safe temperature.
Add the butter cubes and keep stirring.
Cook for another 5 minutes as the mixture continues to thicken.
Check that the curd completely coats the back of a wooden spoon. If so, it is done.
Step by step photos:
Let's look at some of the steps in more detail.
Zest the grapefruit: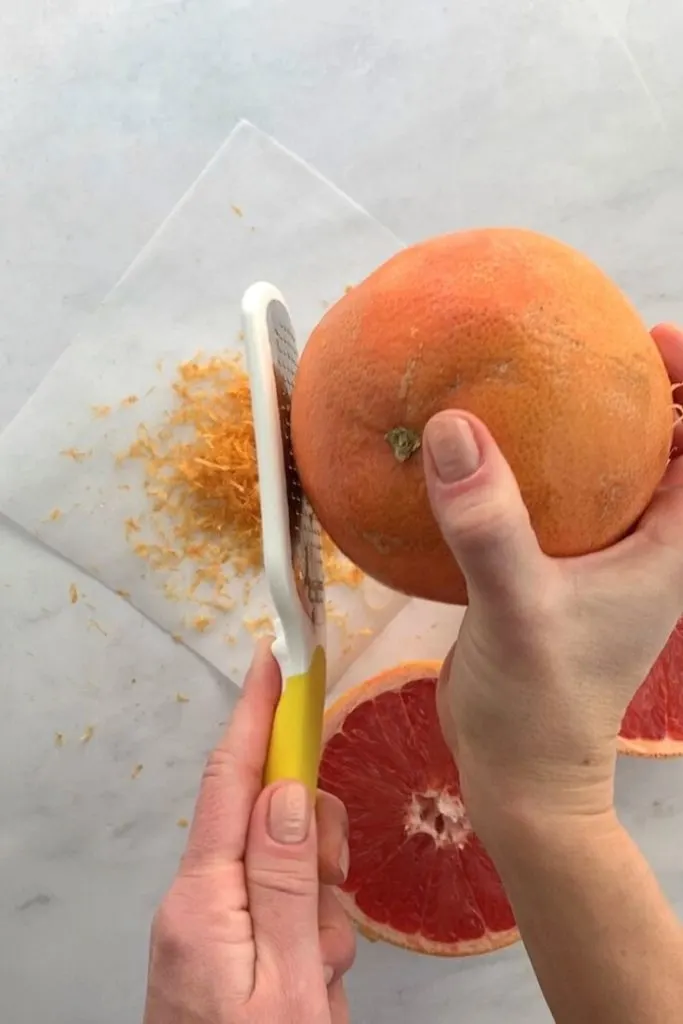 As an Amazon Associate I earn from qualifying purchases.
Start by zesting the grapefruit. The zest is the outer layer of peel. You can remove it with a citrus tool or microplane– a fancy name for a grater.
Get the most zest off your grapefruit using this fantastic citrus zester. I bought a citrus tool similar to this item here on Amazon. Avoid the layer of pith right below the zest. Pith is the white, bitter layer that covers the fruit.
Always zest the fruit first and then cut it to squeeze the juice. It's much easier to remove the zest from the whole fruit.
Use a double boiler: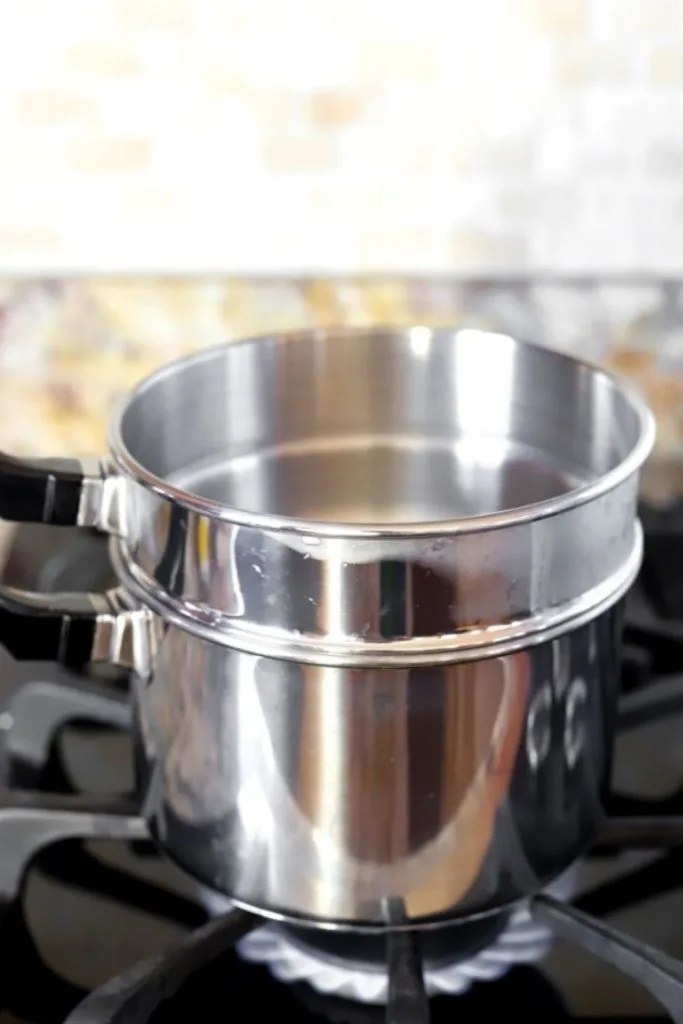 A double boiler is the set up where you have two pots. A small amount of water (an inch or two at most) is brought to a simmer in the bottom pot. The second pot is placed on top and all of the ingredients are cooked in this second pot.
A double boiler lets you cook ingredients like eggs slowly so that the eggs do not scramble in your curd. If you don't have a store-bought double boiler like this one, you can make your own with a small saucepan and a heat-safe bowl.
Is my curd cooked?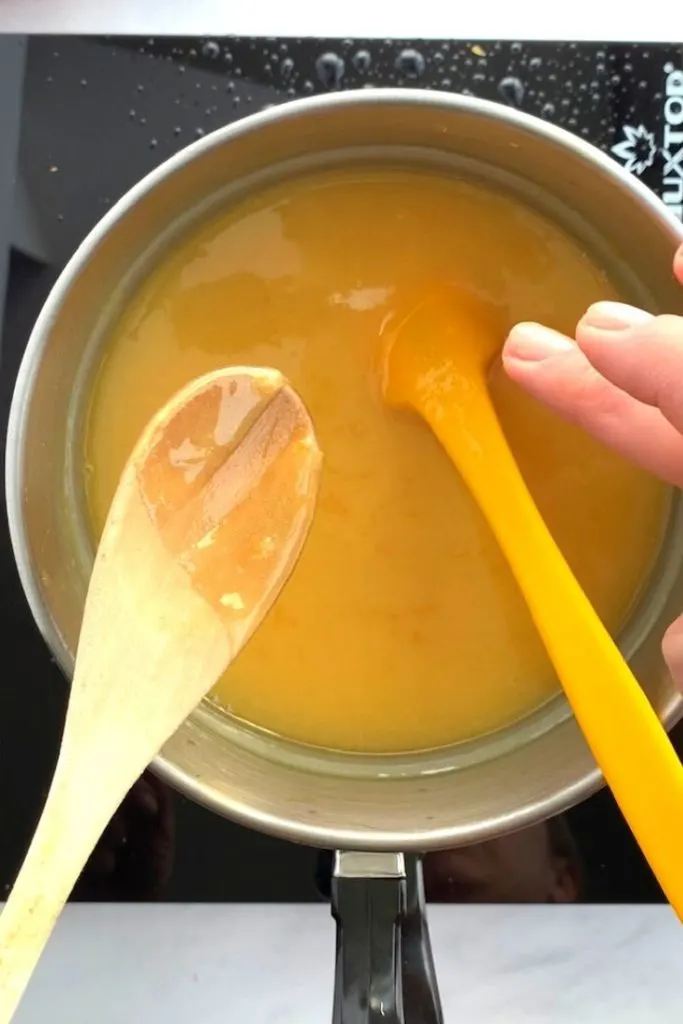 As mentioned, cooking the eggs to at least 160 F is your first priority. After that, you are concerned about thickening the curd.
The mixture thickens as the eggs cook. One way to "test" the curd for doneness is to dip a wooden spoon in the curd. If the mixture completely coats the spoon and doesn't run when you swipe your finger through it (meaning that the line remains defined), then your curd is cooked.
If you are new to making fruit curds, dip the wooden spoon into the mixture early in the process– way before it is cooked– so you how thin the mixture is on the spoon and how it just runs right off. That way, when you test at the end of the cooking time, you'll notice the difference.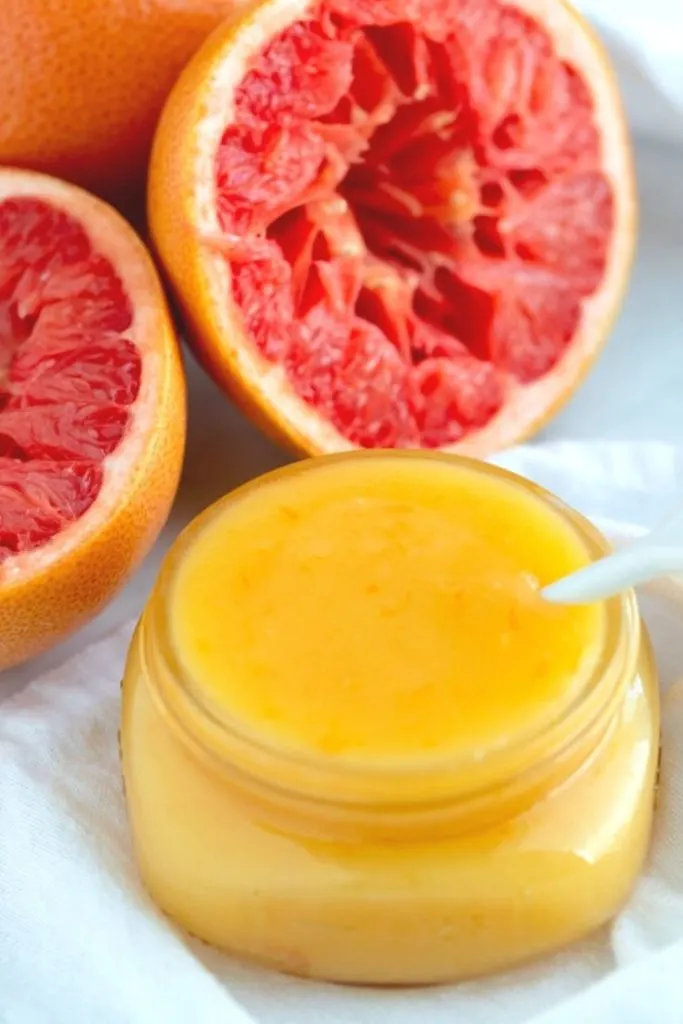 Grapefruit curd recipes
Use grapefruit curd in the same way as you would use lemon curd. It really is a beautiful sauce. Add it into plain icing, use it for cake layer filling, or make a tart.
You can bake coconut grapefruit curd squares, this gorgeous grapefruit tart from the site, Joy and Oliver, or make this grapefruit layer cake from the site, Sugar Hero.
Here is the Google Web Story for this Stovetop Grapefruit Curd.
Pin with me!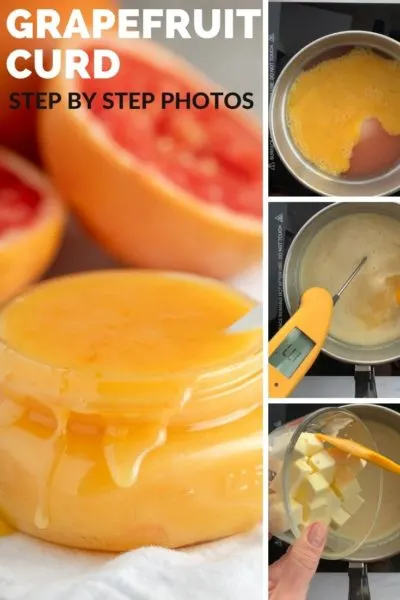 Tips for success
How much juice does each grapefruit have?
It depends. Usually grapefruits produce about 12 tablespoons or 3/4 cup of freshly squeezed juice. (You only need 1/2 cup for this recipe.) Microwave the grapefruit for ten seconds before squeezing it to get more juice out of it. Rolling the fruit on the countertop before juicing also helps.
What kind of grapefruit is best?
Use any type of grapefruit. There are pink, red, white and yellow grapefruit varieties. All would make lovely fruit curds. No matter the kind you use, the color of your grapefruit curd will still be a shade of yellow due to the eggs and butter. Pink grapefruit curd is only bright pink if food coloring is added.
What to do with grapefruit curd?
Fruit curds of all types are wonderful on scones, toast, or muffins. You can also use them in no bake fruit tarts or in baked desserts like baked lemon squares.
How do I thicken the curd?
Some fruit curd recipes include cornstarch but it isn't needed in this recipe. Cook the mixture slowly and let the eggs do the thickening. If the curd has been cooked to a safe temperature (above 160 F) and it coats the back of a wooden spoon (it is not runny) then it is cooked and should continue to thicken as it cools and is refrigerated.
Are the eggs safe to eat?
Cooking the eggs to a safe temperature is one of the most important parts of making curds. Use a cooking thermometer to check the temps. The USDA recommends eggs be cooked to at least 160 F. I usually go a little above this level to make sure.
Do I have to use a double boiler?
No, it isn't required although I do recommend it. You can make this grapefruit curd recipe successfully in one medium saucepan but you'll have to keep a very close eye on the eggs. Stir continuously so that the eggs don't scramble.
The eggs scrambled in my curd.
Oh dear, that is a problem sometimes. Don't worry, you can still enjoy your curd. Simply pour it through a sieve to remove any cooked bits of eggs. Some people prefer a smooth curd and always use a sieve. This step, of course, removes the zest too, but you'll retain the flavor of the zest from cooking.
Can I make vegan curd?
At first glance, curds don't sound vegan friendly since the ingredients include eggs and butter. I've created a vegan lemon curd recipe that you can easily swap for grapefruits. Just remember to keep the amount of fruit juice the same. Grapefruits yield a lot more juice than lemons.
How to store fruit curd?
Store this curd in an air tight container or mason jar in the refrigerator for 7-10 days. Freeze the curd for 3-6 months. If you freeze it, make sure to leave 1/4 inch space at the top of the jar or container to give the curd room to expand.
Yield: 2 cups
Grapefruit Curd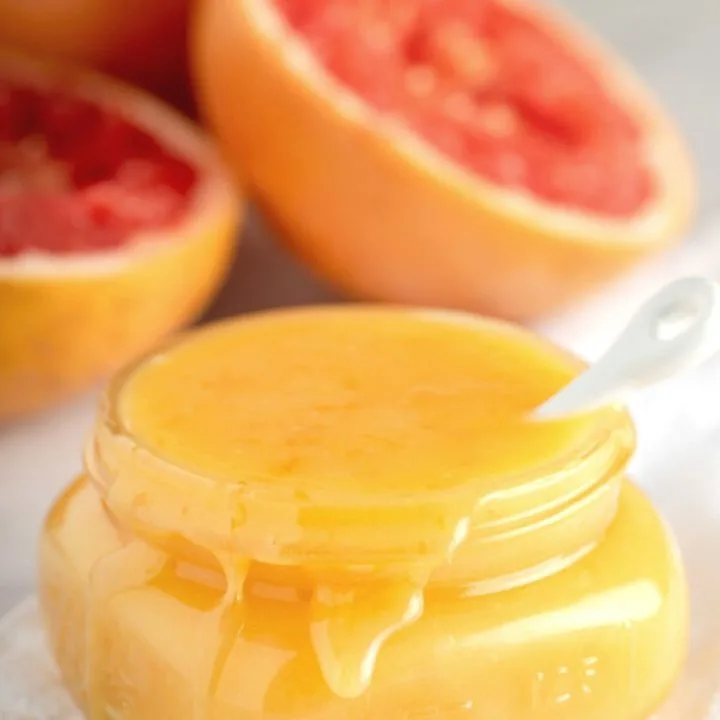 This bright and fresh grapefruit curd is a great twist on traditional lemon curd!
Ingredients
1 grapefruit (1/2 cup juice and 2 Tbsp zest)
1 1/2 cups granulated sugar
3 eggs
1 stick of salted butter (4 oz)
Instructions
Zest and juice the grapefruit. You'll need at least 2 tablespoons of zest and 1/2 cup fresh grapefruit juice.

Bring water to a simmer in the double boiler. Place the second pot on top. Combine the zest, grapefruit juice, sugar and eggs. Stir or whisk constantly as the mixture starts to thicken. Cook until the eggs have come to a safe eating temperature of at least 160 degrees F.

Add the cubes of butter and continue to stir for 10 - 15 minutes until the mixture is thicker and can coat the back of a spoon.

Pour the grapefruit curd into clean mason jars and store in the refrigerator.
Notes
Use a cooking thermometer to make sure the egg mixture is cooked to at least 160 degrees F.
You may pour the curd through a sieve before storing it. This removes the zest and any bits of eggs that might have cooked too much.
Store the curd in the refrigerator for 7-10 days.
You may freeze the curd for 3-6 months. Defrost in the refrigerator overnight and stir before using.
Recommended Products
As an Amazon Associate and member of other affiliate programs, I earn from qualifying purchases.
Nutrition Information:
Yield:
32
Serving Size:
1 tablespoon
Amount Per Serving:
Calories:

72
Total Fat:

3g
Saturated Fat:

2g
Trans Fat:

0g
Unsaturated Fat:

1g
Cholesterol:

25mg
Sodium:

29mg
Carbohydrates:

10g
Fiber:

0g
Sugar:

10g
Protein:

1g
This data is provided by Nutritionix and is an estimate only.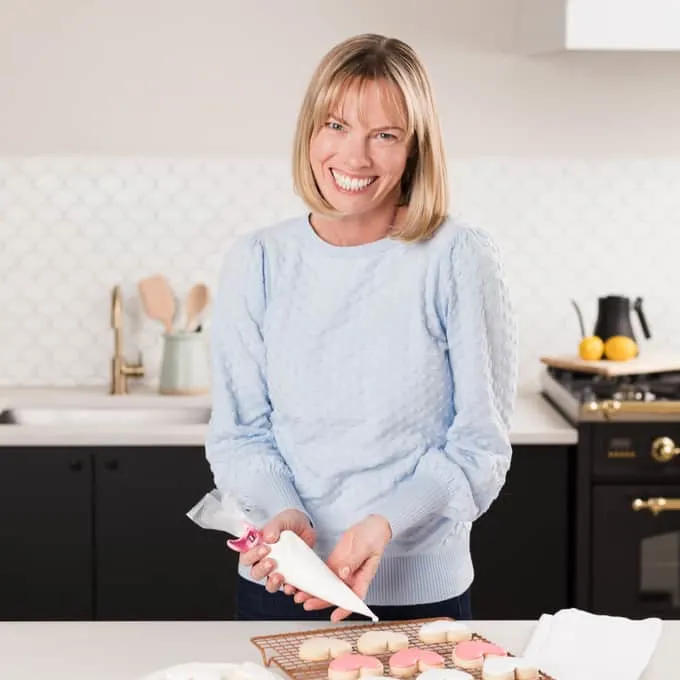 Holly Baker started the food blog, A Baker's House, in 2011. She is the writer, recipe creator, and photographer for the site. Holly loves to bake and shares recipes for gluten free food, canning recipes, as well as traditional desserts too. Her recipes and food photography have been highlighted by BuzzFeed, Reader's Digest, and She Knows.