Making Lemon Curd in the Microwave is a quick way to make fruit curd. The traditional ingredients of lemons, sugar, eggs and butter cook for three minutes in this easy lemon recipe. Microwave lemon curd takes less than 10 minutes start to finish!
Lemon curd is a bright and fresh way to perk up many desserts. It would be delicious as a filling between layers of cake, equally good on some fresh scones, or pretty and delicate in a tart shell and topped with freshly whipped cream.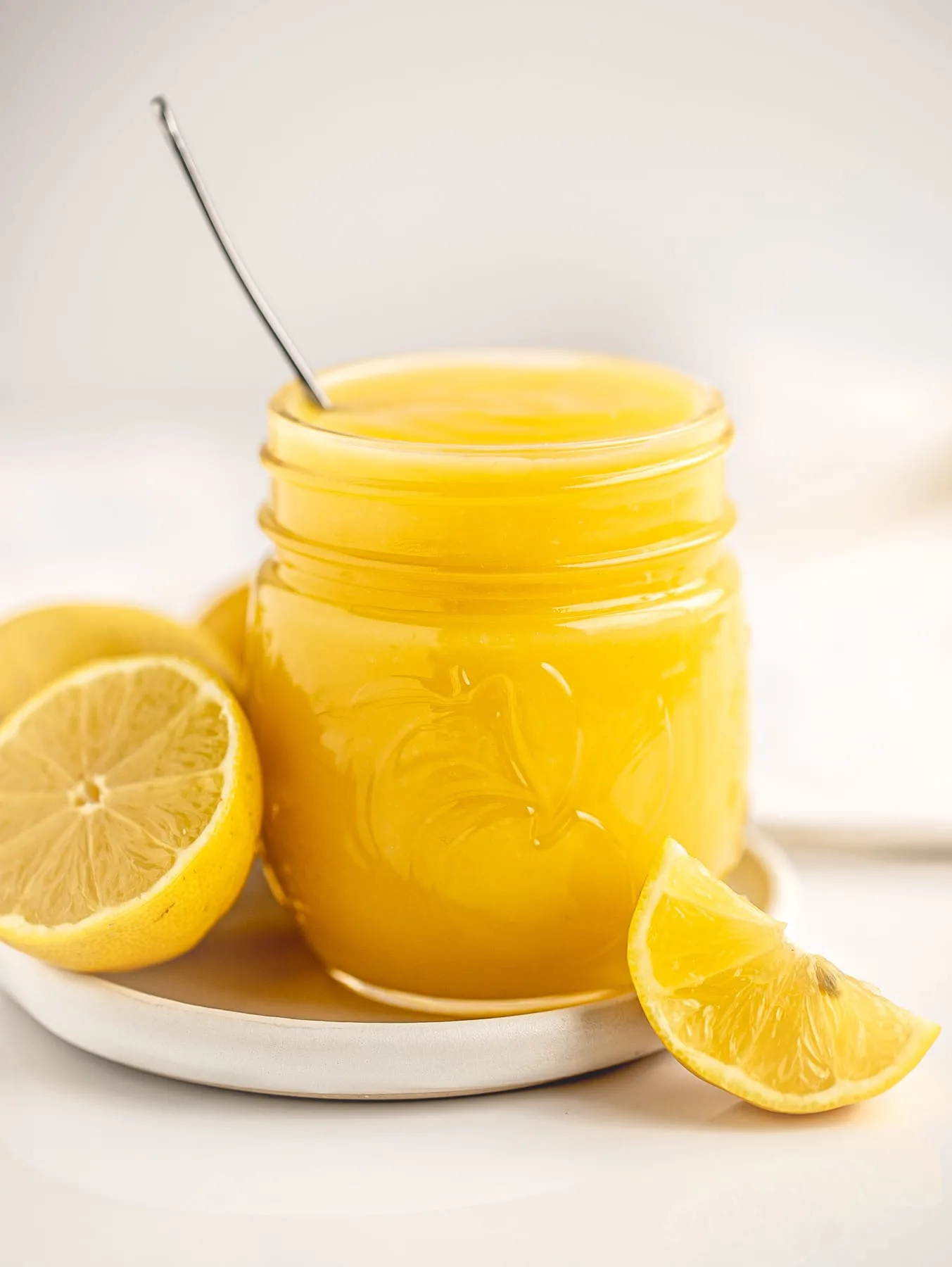 What is Lemon Curd?
Lemon curd is smooth and creamy fruit spread. Fruit curds often start with citrus juice and zest, are sweetened with sugar, and thickened with eggs and butter.
As you might guess, the stove top method takes a bit of time to cook. Let's see how we can make a quick lemon curd.
Can you microwave lemon curd?
Yes, you can make this easy lemon curd in the microwave.
Often curds are made on the stovetop in a double boiler but this microwave recipe cuts the time in half. If this is your first time making curd in the microwave, you'll be happily surprised to see how quickly it comes together. This fruit curd is one of my favorite easy recipes!
The possibilities are endless and this easy lemon curd recipe and it can be made in less than 10 minutes start to finish. The microwave does most all of the work in a short three minutes cooking time.
By the way, if you don't have a microwave, you can make this meyer lemon curd recipe, grapefruit curd, or this orange curd recipe on the stove top.
You'll enjoy this collection of fruit curd recipes!
What ingredients are in microwave lemon curd?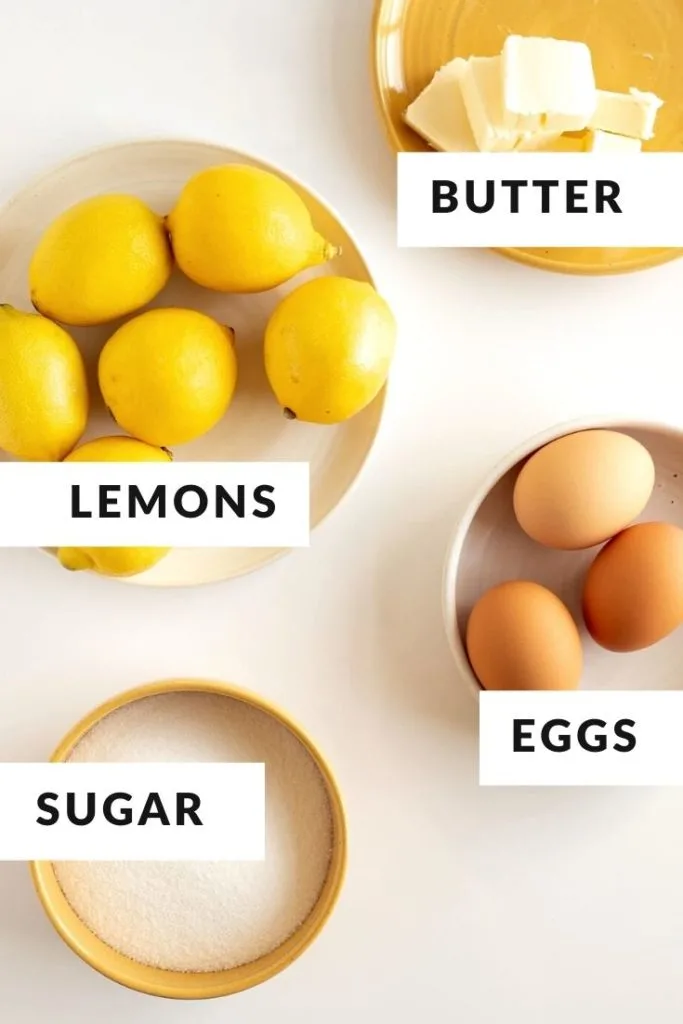 lemons: Organic lemons are best especially since you'll use the zest (outer layer) of the lemons in this recipe. If you don't have organic lemons take extra care to scrub the lemons before removing the zest.
eggs: Some curd recipes use only the egg yolks but this recipe for microwave lemon curd uses whole eggs. No need to separate the egg yolks and the egg whites– it is a time saver for sure!
butter: We'll microwave the butter in the first step so it doesn't matter if you start with cold butter or room temperature butter. I often use salted butter for this fruit curd recipe. If you use unsalted butter you may want to add a pinch of salt to your ingredients.
sugar: granulated sugar works well in this curd. The sugar will dissolve as you heat the mixture in the microwave. You'll notice the sound of your mixture changes as you stir it every thirty seconds. As the sugar dissolves the mixture becomes less gritty.
How do you make easy lemon curd in the microwave?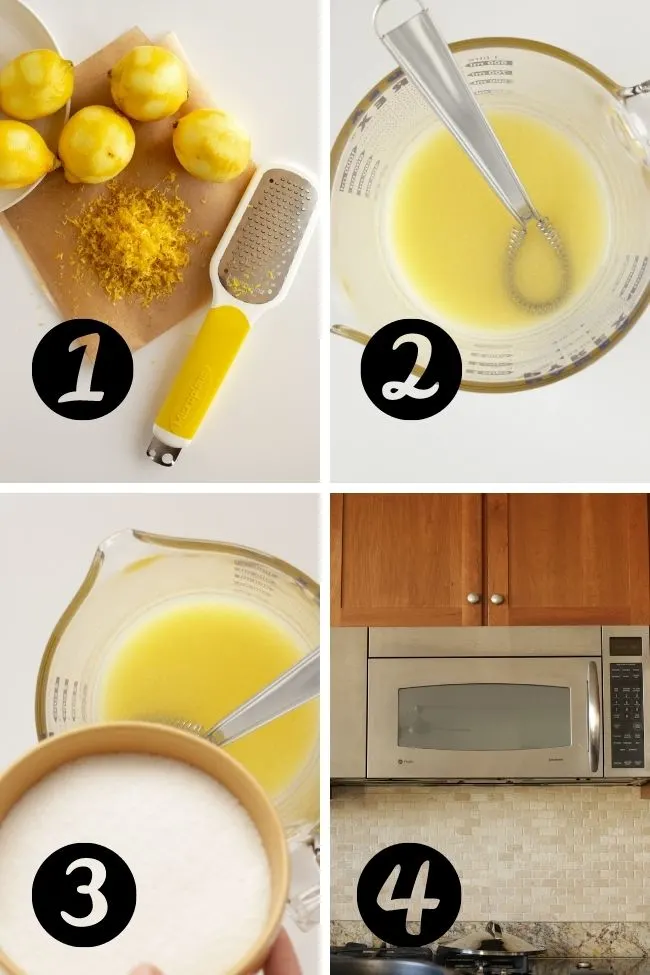 Zest and juice the lemons
Melt the butter in the microwave in a microwave-safe bowl.
Add the sugar, eggs, lemon juice and lemon zest.
Cook in the microwave, stirring every thirty seconds for a total of three minutes.
The key is to stir the mixture often. You'll want to stir the curd every thirty seconds. Every microwave is different so if you find that your lemon curd is heating up too quickly (the eggs will look more like scrambled eggs), simply use 50% power on your microwave. You can strain out any cooked eggs from your lemon curd and the flavor isn't affected at all.
As an Amazon Associate I earn from qualifying purchases.
Steps in more detail
Zesting and Juicing:
Always zest your citrus BEFORE cutting and juicing. The lemons are firm when they are whole which makes it easier to grate the peel with a citrus tool or microplane.
My favorite citrus tool is this 3 in one citrus gadget. It lets you zest small or large pieces (bits or in strips) which comes in handy for many recipes.
Freshly squeezed lemon juice is a big part of this recipe. Don't use bottled juice– the taste just can't compare.
For large lemons I use this type of juicer and for smaller lemons I like this hand held squeezer.
Stages in the Microwave: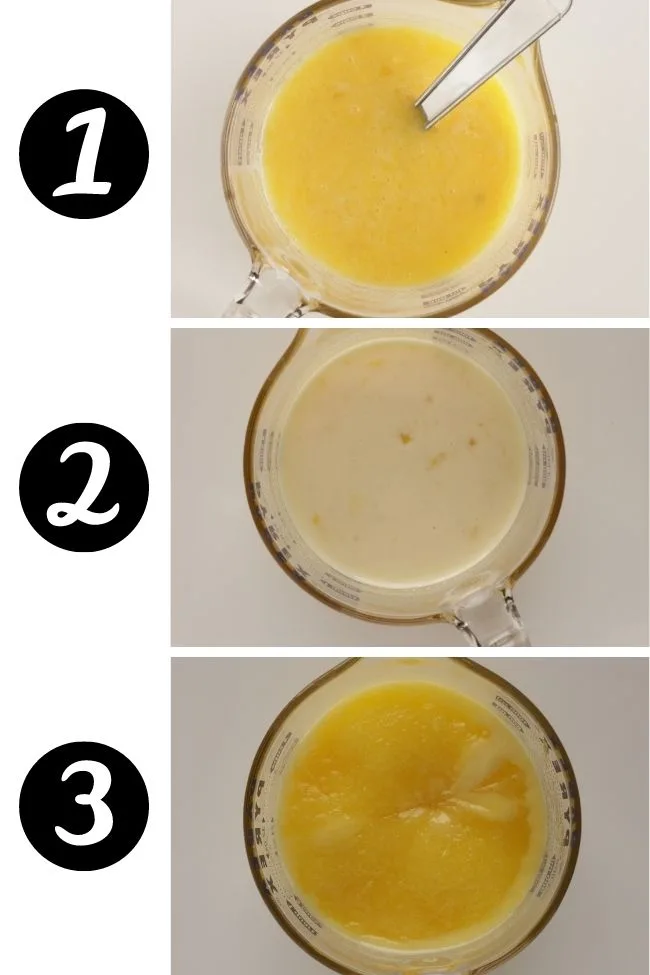 Every microwave cooks at a different rate at full power. These photos show my curd cooked after one minute, two minutes and three minutes.
You'll see that the biggest change came between two and three minutes. I stirred every thirty seconds along the way so that it wasn't overcooked. Cooking in 30 second or one-minute increments is key to ensuring that your curd isn't overcooked.
When is the curd done?
There are two ways to make sure your curd is done. It will continue to thicken as it cools so don't worry that your curd is still somewhat liquid after three minutes cooking in the microwave.
First, use a cooking thermometer to make sure that the egg mixture has cooked to 160 F or greater. This is the safe temperature recommended by the USDA for food saftey.
Second, use a wooden spoon or a spatula and make sure that the lemon curd coats the back of a spoon. Run your finger through it and check that the curd stays in place and doesn't drip back into the middle.
Strain the Curd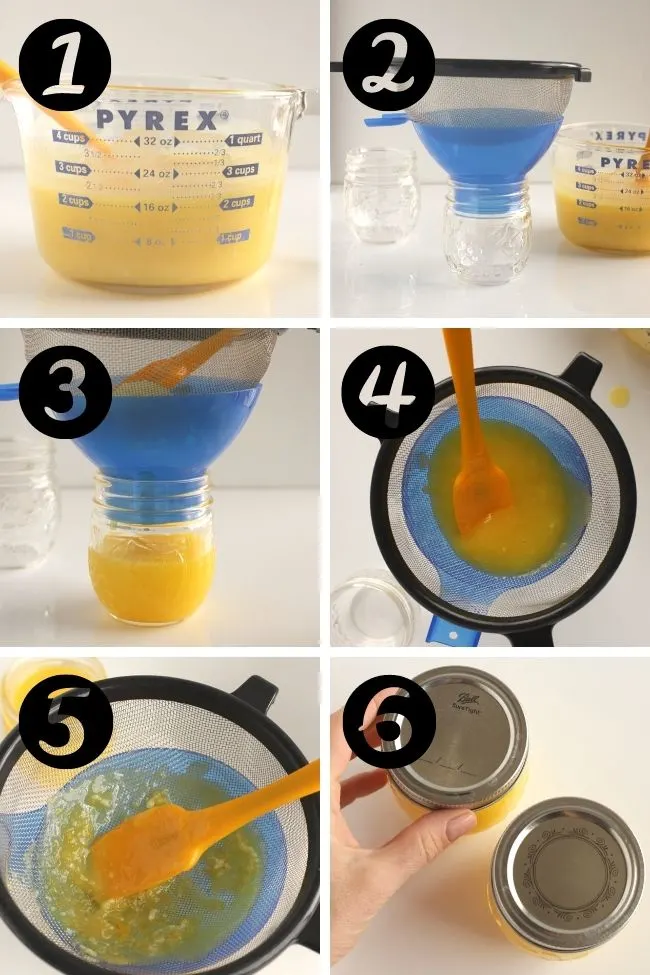 Once your curd is cooked, you may find it has small lumps in it. Most curds are strained through a sieve or strainer but I found that this step is particularly important when I learned how to make lemon curd in the microwave.
The microwave cooks the food somewhat unevenly, leaving some pieces of eggs cooked more than others. This doesn't change the taste of your curd– you just need to strain those bits out.
Set a mason jar with a canning funnel on top with the sieve resting on top of the funnel. (See photo above for an example of this set up.) You could also use a fine mesh strainer directly into a bowl or other container and then pour the curd into clean jars.
Pour the lemon curd onto the sieve in small amounts at a time then use a spatula to help push the mixture through. You won't lose much volume of the actual lemon curd, but you will get rid of the cooked egg or any other lumps.
The best part is that this microwave version is so much faster than the traditional method to make curd. You'll have that tart lemon flavor of traditional curd in mere minutes!
Once you've mastered a lemon curd recipe, you'll want to try lime curd too!
What recipes use lemon curd?
If you are wondering how to use lemon curd, look no farther than these lemon recipe ideas. Once you start baking with lemon curd you'll come up with so many ways to use this citrus fruit butter spread!
Here is the Google Web Story for this easy lemon curd recipe.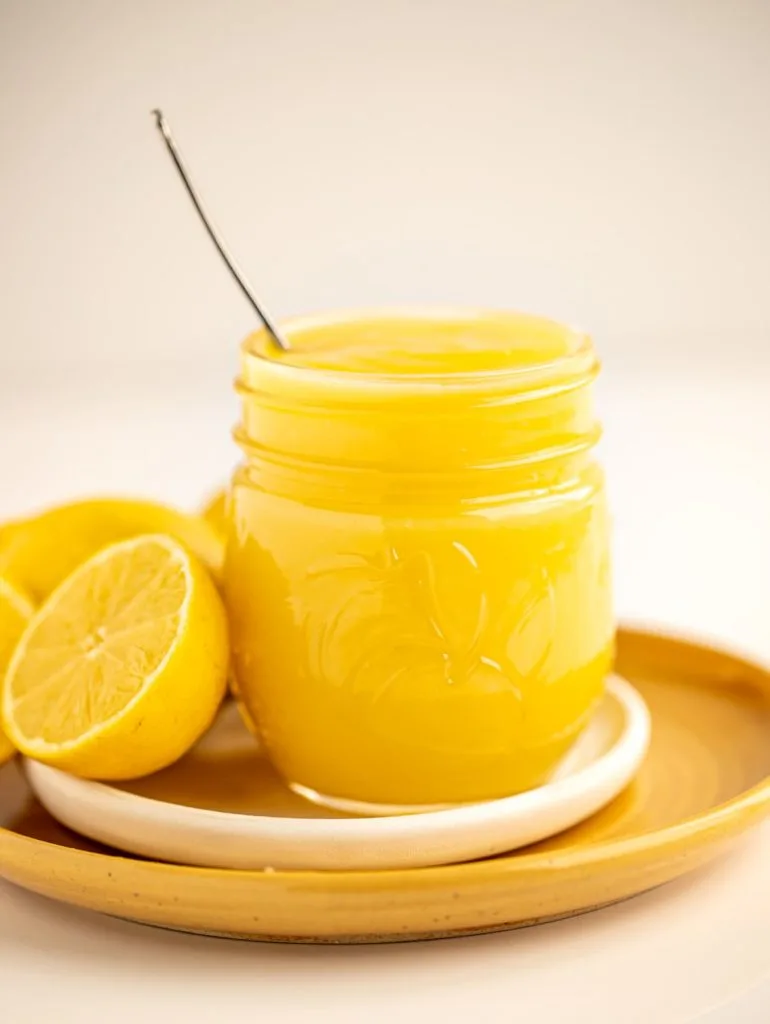 Tips for success
How long to microwave lemon curd?
You need to microwave the curd for a total of three minutes. Stir well every thirty seconds. Remember that all microwaves are slightly different in their power levels and how fast food cooks. Cooking on high power in 30 second increments lets you check on the curd to see when it is done. Experiment to see what works best for you!
What size lemons and how many?
Obviously, lemons come in all sizes. I've made this curd in the microwave with 3 very large lemons and also with 6 small lemons. Measure the fresh lemon juice and use 1/2 cup no matter the size of your lemons.
Can I use meyer lemons?
Yes, meyer lemons make beautiful, sweet curds. You will need 5-6 meyer lemons. Always measure the juice. You'll need 1/2 cup.
Can I make microwave orange curd?
Yes! You can make any citrus curd in the microwave. You'll need 1/2 cup freshly squeezed juice whether it is from lemons, oranges, grapefruit, or a combination of all three.
How to store lemon curd?
This recipe is not for home canning. Store your homemade lemon curd in mason jars or other tightly sealed containers in the refrigerator for 7-10 days.
Can I freeze fruit curds?
Yes, curds freeze well. Store in a freezer safe container for 3-6 months. Leave 1/4 inch of space at the top of your container to give the curd room to expand as it freezes. Defrost in the fridge overnight. Stir before serving.
Problem: The eggs scrambled in the curd.
Ok, no need to worry. In this microwave method pieces of the eggs tend to cook and scramble sometimes. You might see small bits of cooked egg in the curd. Simply use a strainer or sieve and pour the curd through the sieve to remove any cooked eggs.
Where is lemon curd popular?
Lemon curd is far more popular in Europe than it is here in America. My husband's aunt first introduced me to lemon curd when we visited her in Ireland. She made a layered sponge cake with layers of lemon curd and raspberry. Simply heavenly! My mother-in-law continued to show me the ways of lemon curd on a trip to England where she topped pavlova with lemon curd, cream, and berries.
Yield: 2 cups
Lemon Curd in the Microwave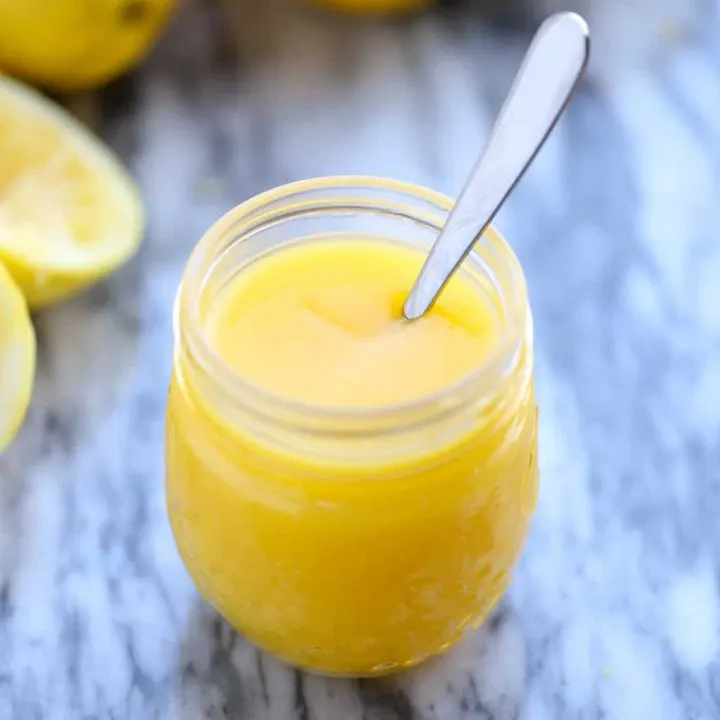 Making Lemon Curd has never been so easy-- the microwave is a fantastic short cut!
Ingredients
6 tablespoons butter
1 cup sugar
3 large lemons or 5-6 smaller lemons (you need 1/2 cup of fresh juice and 2 Tbsp zest)
3 beaten eggs at room temperature
Instructions
Wash the lemons. Zest the lemons and then squeeze the juice. You should have about 1/2 cup of fresh lemon juice and 2 Tbsp of lemon zest.
Melt the butter in a glass bowl on high for 30 seconds. Stir until butter is smooth and completely melted.
Add the sugar, lemon zest, lemon juice, and eggs. Stir together gently.
Cook in the microwave on high for 2-3 minutes, stirring every 30 seconds until the sugar has dissolved. You'll know the sugar has dissolved when you can't hear its grainy texture as you mix. I found a whisk worked well, a spoon or spatula would do the job as well.
Pour the curd through a strainer.
Fill two, 8 oz jars and let the lemon curd cool. It will continue to thicken as it cools. Refrigerate for no more than a week to ten days.
Notes
If you find you lumps in your lemon curd after microwaving it, don't panic. The eggs just cooked too quickly. Simple strain the curd and continue to pour the smooth curd into the jars.
You need to start with 1/2 cup fresh lemon juice. Do not use bottled juice. The number of lemons you'll need will vary depending on the size of the fruit.
Meyer lemons make a lovely lemon curd. You could also make this microwave curd recipe with oranges, grapefruit, or a combination of citrus.
Recommended Products
As an Amazon Associate and member of other affiliate programs, I earn from qualifying purchases.
Nutrition Information:
Yield:
32
Serving Size:
1 tablespoon
Amount Per Serving:
Calories:

57
Total Fat:

3g
Saturated Fat:

2g
Trans Fat:

0g
Unsaturated Fat:

1g
Cholesterol:

23mg
Sodium:

24mg
Carbohydrates:

8g
Fiber:

1g
Sugar:

7g
Protein:

1g
This data was provided by Nutritionix and is to be considered an estimate only.
Are you on Pinterest? I am! Join me there and save this pin to your boards!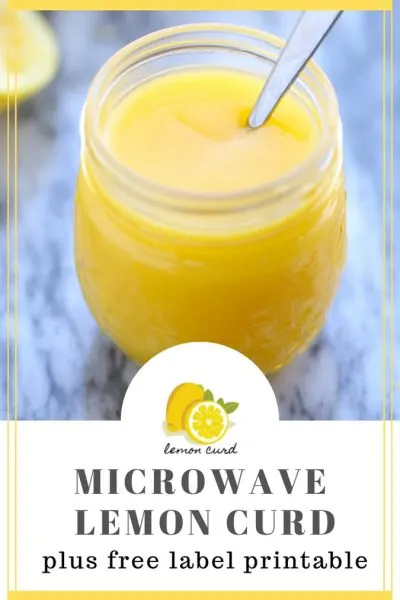 This easy lemon curd recipe microwave was originally shared in January 2012; Updated February 2018 and February 2021.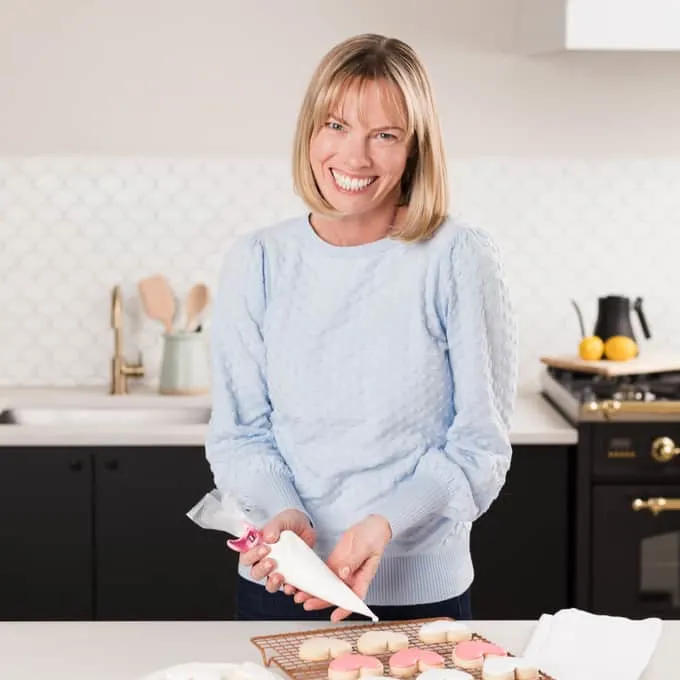 Holly Baker started the food blog, A Baker's House, in 2011. She is the writer, recipe creator, and photographer for the site. Holly loves to bake and shares recipes for gluten free food, canning recipes, as well as traditional desserts too. Her recipes and food photography have been highlighted by BuzzFeed, Reader's Digest, and She Knows.