Making Lemon Curd in the Microwave is a quick way to turn lemons into lemon curd. The traditional ingredients of lemons, sugar, eggs and butter come together in three minutes with this easy microwave lemon curd recipe. Enjoy this luscious fruit spread!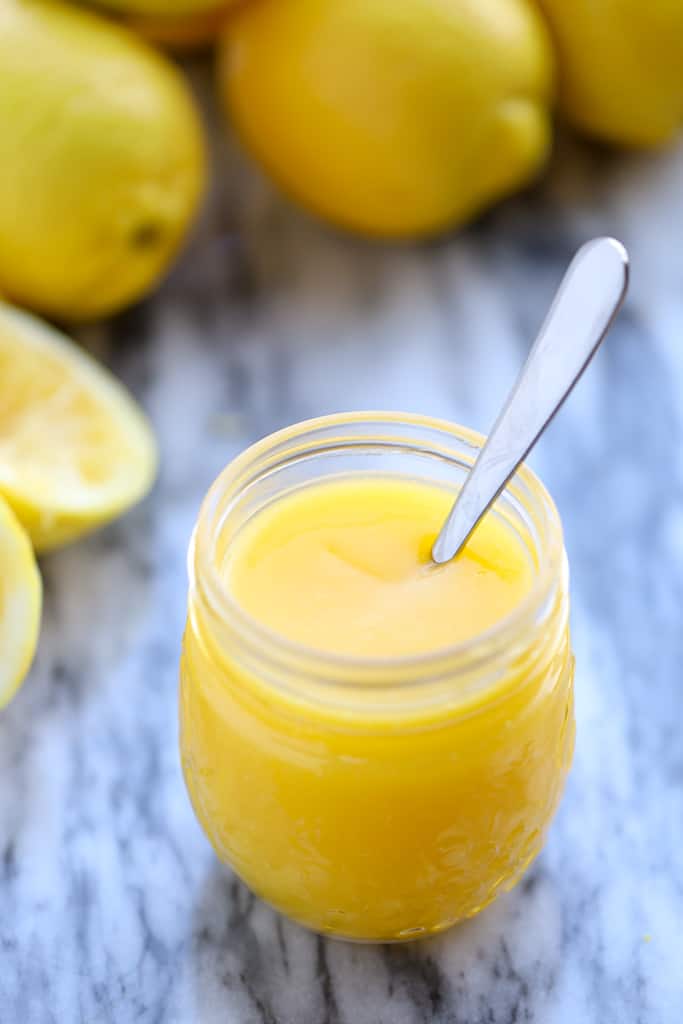 What is Lemon Curd?
Lemon curd is a bright and delicious way to perk up many desserts. It would be delicious as a filling between layers of cake, equally good on some fresh scones, or pretty and delicate in a tart shell and topped with freshly whipped cream.
The possibilities are endless and this easy lemon curd recipe, shared with me by my mother-in-law, comes together in less than 20 minutes while the microwave does most all of the work in a short three minutes.
By the way, if you don't have a microwave, you can make this meyer lemon curd recipe or this orange curd recipe on the stove top.
Let's learn about how to make lemon curd in the microwave. Remember that all microwaves are slightly different in their power levels and how fast food cooks. Experiment to see what works best for you! If this is your first time making curd in the microwave, you'll be happily surprised to see how quickly it comes together.
What ingredients are in microwave lemon curd?
Can you make lemon curd in the microwave?
Yes, you can make this easy lemon curd in the microwave.
The key is to stir the mixture often. You'll want to stir the curd every thirty seconds. Every microwave is different so if you find that your lemon curd is heating up too quickly (the eggs will look more like scrambled eggs), simply use 50% power on your microwave. You can strain out any cooked eggs from your lemon curd and the flavor isn't affected at all.
How do you make easy lemon curd in the microwave?
Zest and juice the lemons
Melt the butter in the microwave.
Add the sugar, eggs, lemon juice and lemon zest.
Cook in the microwave, stirring every thirty seconds.
Check out this video of making the recipe for Lemon Curd in the Microwave
Where is Lemon Curd popular?
Lemon curd is far more popular in Europe than it is here in America. My husband's aunt first introduced me to lemon curd when we visited her in Ireland. She made a layered sponge cake with layers of lemon curd and raspberry. Simply heavenly! My mother-in-law continued to show me the ways of lemon curd on a trip to England where she topped pavlova with lemon curd, cream, and berries.
What recipes use lemon curd?
If you are wondering how to use lemon curd, look no farther than these lemon recipe ideas. Once you start baking with lemon curd you'll come up with so many ways to use this citrus fruit butter spread!
Add a label to your jar of lemon curd!
Did you know that I have a FREE Printables library? I love sharing labels that you can download and print yourself. When you are making jams, jellies, and marmalades, it is so nice to add a personal touch.
Access is free to my email subscribers. Join the growing number of email subscribers by using the form below. You'll love this label for your homemade lemon curd!

Are you on Pinterest? I am! Join me there and save this pin to your boards!
This easy lemon curd recipe microwave was originally shared in January 2012; Updated February 2018.