No Bake Kit Kat Squares are an easy recipe for a layered chocolate dessert that come together without baking. Kit Kats are a favorite of mine but you could easily try this with other candy bars too. The video shares a version made with an assortment of Halloween candy.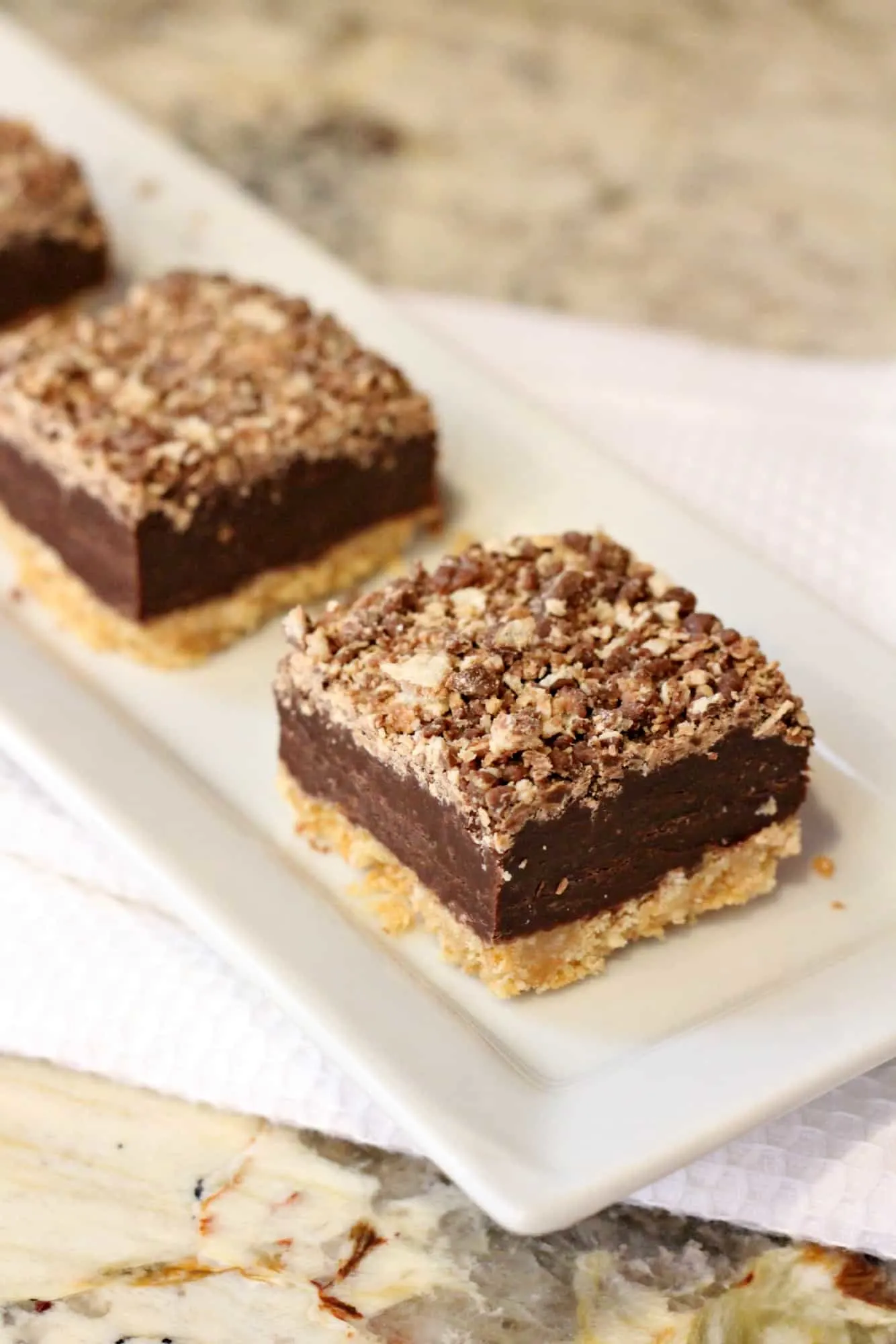 There are two main times of the year that I make this kit kat dessert. The first is summertime. I am all for skipping the heat of the oven and using the microwave for no bake desserts.
The second time of year is Halloween and right after it too. When you have a load of leftover Halloween candy, this is a great recipe to make with Kit Kats or other candy bars.
No bake desserts
No bake Kit Kat Squares are the solution to summer baking. Summer heat is upon us and nothing makes a warm home hotter than turning on the oven.
I am a big fan of no bake dessert recipes. Check out my No Bake Pinterest board filled with ideas for these simple sweet treats.
For me, a no bake dessert CAN still have steps that use a microwave. We're trying to avoid the heat of the oven so a microwave is fair game. You might melt chocolate, butter, or cook eggs with the microwave and still avoid turning on the hot kitchen oven.
Leftover Halloween Candy Recipes
I loved the idea of taking a candy bar and turning it into another type of treat all together. Kit kat bars are a favorite of mine– milk chocolate with layers of wafers– and that is the thought behind this kit kat bars recipe.
This recipe gets those kit kat flavors and amps them up with layers. The bottom layer is a cookie crust, the middle layer is a quick microwave fudge, and the top layer is a candy bar crumble.
If you like microwave fudge recipes, you'll also enjoy this Easter Fudge, Peanut Butter Chocolate Fudge, and Cookie Butter Fudge.
Is this a gluten free recipe?
Kit Kats are NOT gluten free, so the original version this recipe is not gluten free.
I started this blog years ago when I was not eating a Gluten Free diet. Guess what, even now I still crave this easy no bake dessert!
You can make gluten free bars by choosing ingredients that are gluten free. I know, that sounds obvious, but it takes a little planning.
Use gluten free graham crackers or gluten free cookies for the base layer. Double check that your ingredients are GF for the fudge layer.
The trickiest part is making sure your candy bars are gluten free for the top crumble layer. Here is a list of gluten free candy posted by the Celiac Disease Foundation. I reference this list year round.
Ingredients
Cookies or graham crackers: the crust is made by pulsing cookies into a crumb. Use Nilla Wafers or graham crackers. If you need a gluten free choice, try a gluten free graham cracker or sugar cookie.
Butter: you'll melt the butter before combining it with the cookie crumbs.
Sweetened condensed milk: this is the key to the quick, microwave fudge layer. You'll get a creamy, smooth, rich layer that comes together so quickly in the microwave.
Chocolate Chips: a bag of chocolate chips is always in my pantry. Use milk chocolate, semi-sweet, or a combination of the two. You could also start with whole chocolate bars, break them into pieces and then melt.
Candy bars: Of course, I originally made this dessert with Kit Kat Bars and it is a decadent treat! You could also use a mixture of leftover candy bars, or choose gluten free candy for your dessert.
Steps to make this recipe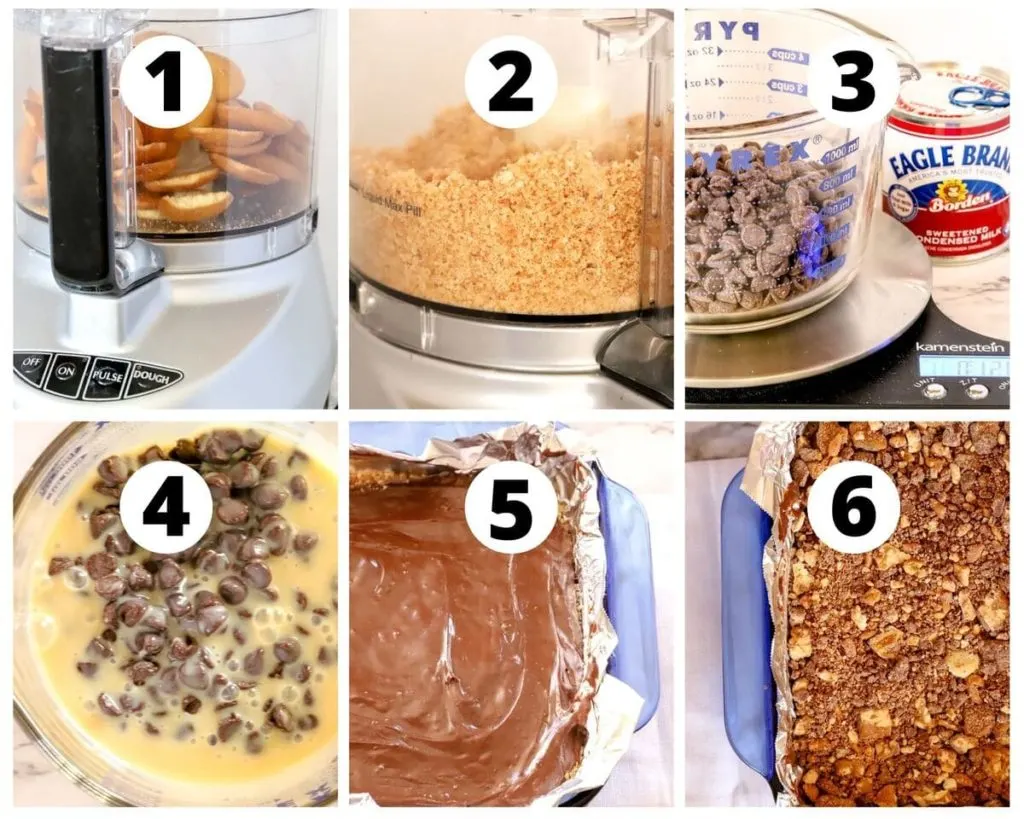 Here's how you make no bake kit kat squares:
Make the wafer cookie crust on the bottom.
Use the microwave to make the fudge layer.
Top with candy bar crumbles. No baking required— just the microwave and the refrigerator make these beauties!
Some photos were updated in 2018 when I made a version of Kit Kat bars with leftover Halloween candy. It's fun to turn trick or treat goodies into a new dessert!
Let's look at the details of each step:
Start by preparing your 8 by 8 pan and covering it with foil. Brush it with melted butter.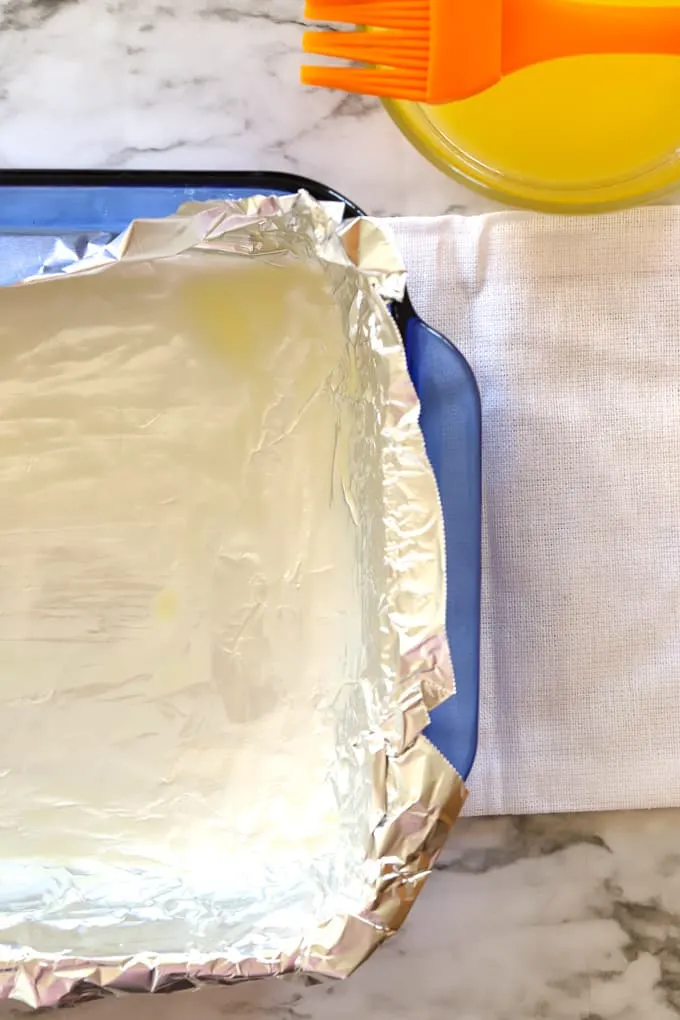 Measure 8 ounces of cookies for your crust. If you'd like this to be a gluten free recipe, select a gluten free cookie.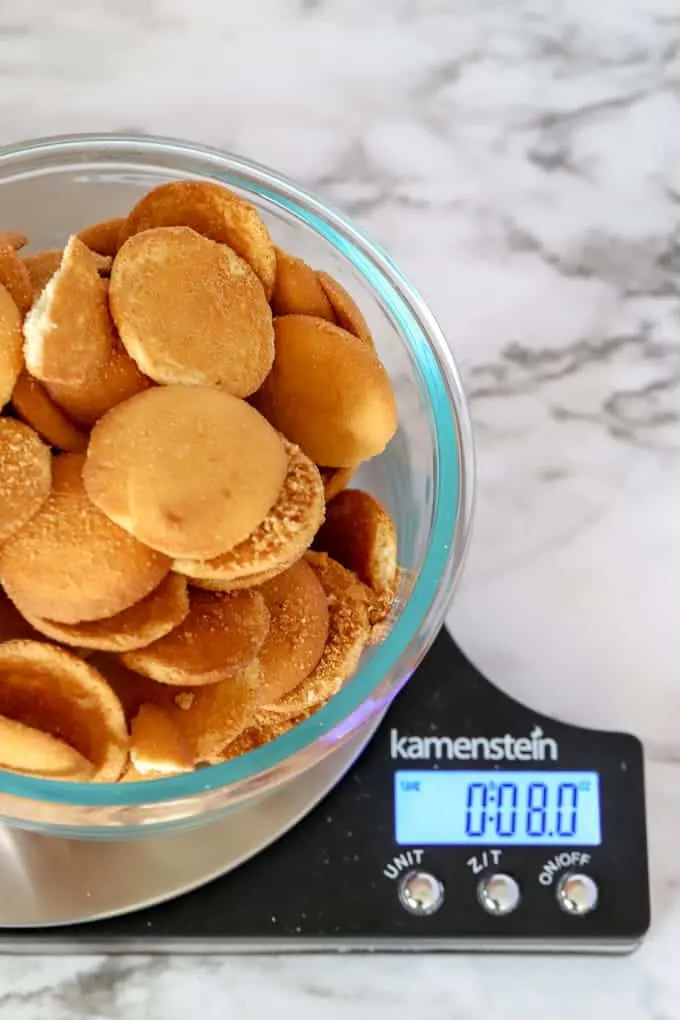 Pulse the cookies in a food processor. Add the melted butter and pulse until combined. Press this mixture in the bottom of your pan.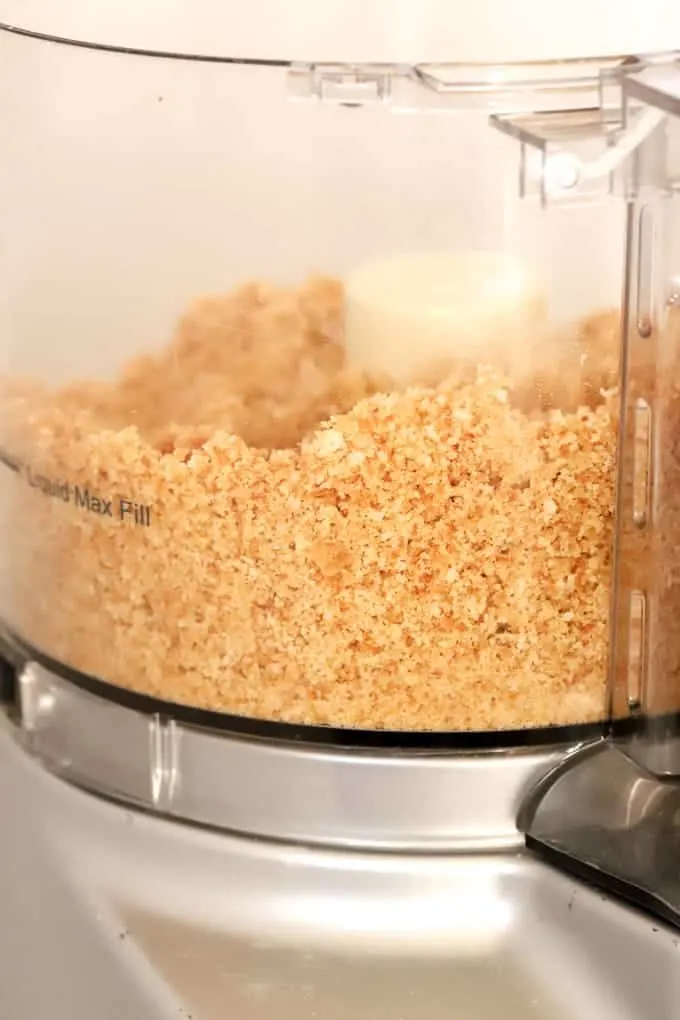 Move on to the chocolate. Combine the chocolate chips and sweetened condensed milk. Melt in the microwave then stir until smooth. Poor the chocolate mixture on top of the cookie crumb layer. Spread evenly.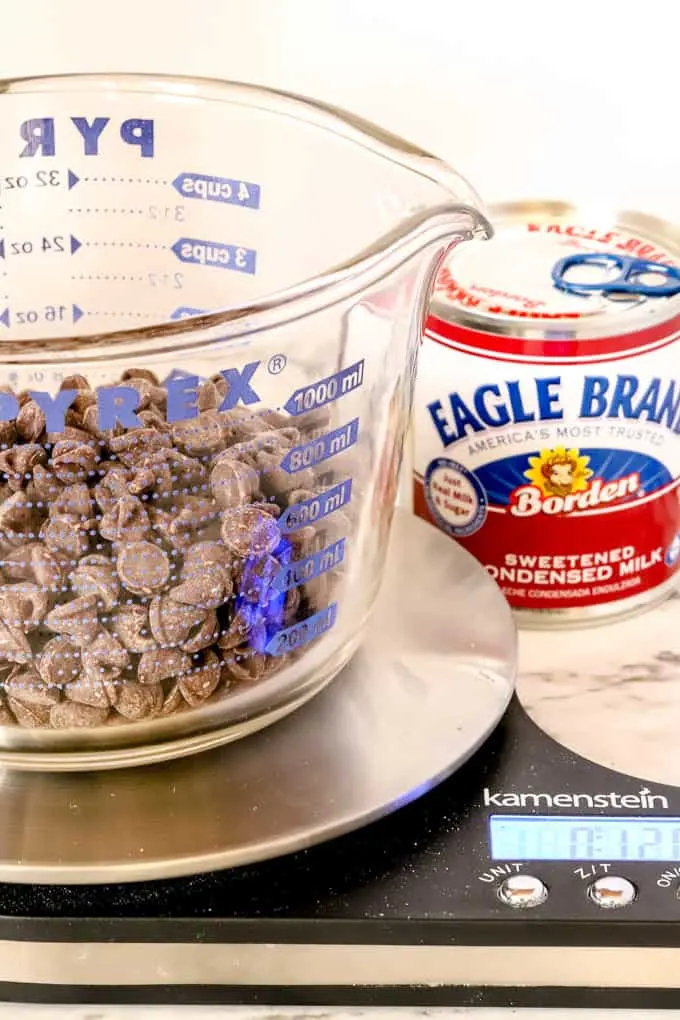 Move on to the candy. Use all Kit Kats or use a mixture of Halloween candy. Six ounces is about right. Pulse in the food processor.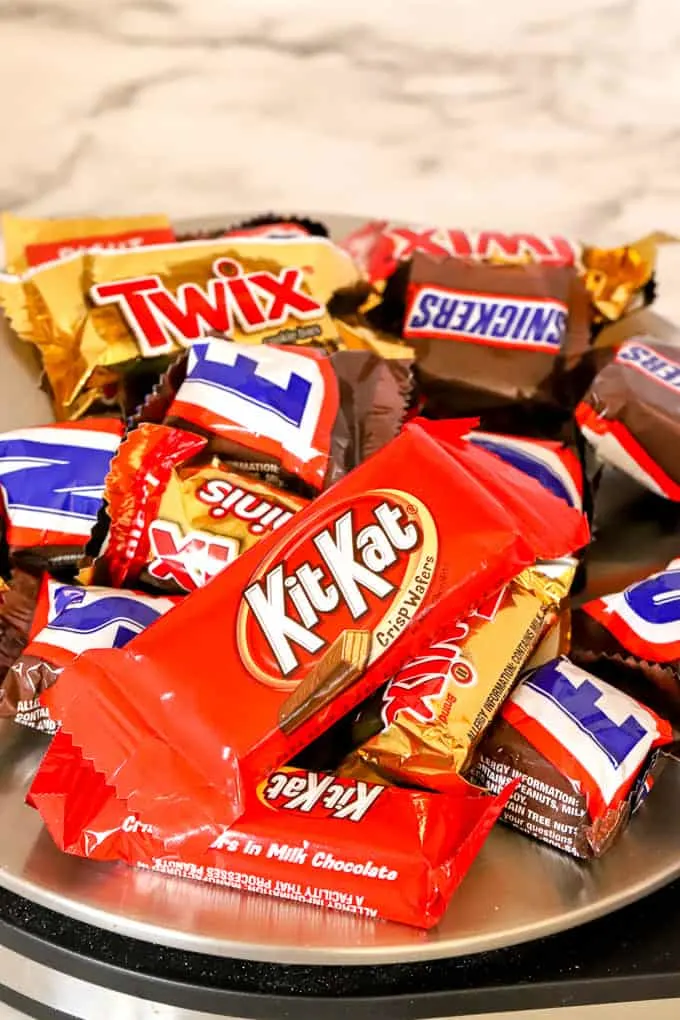 Spread the candy crumbs on top of the chocolate layer. Cover and place the bars int he refrigerator for 1-2 hours at least. Overnight is great too.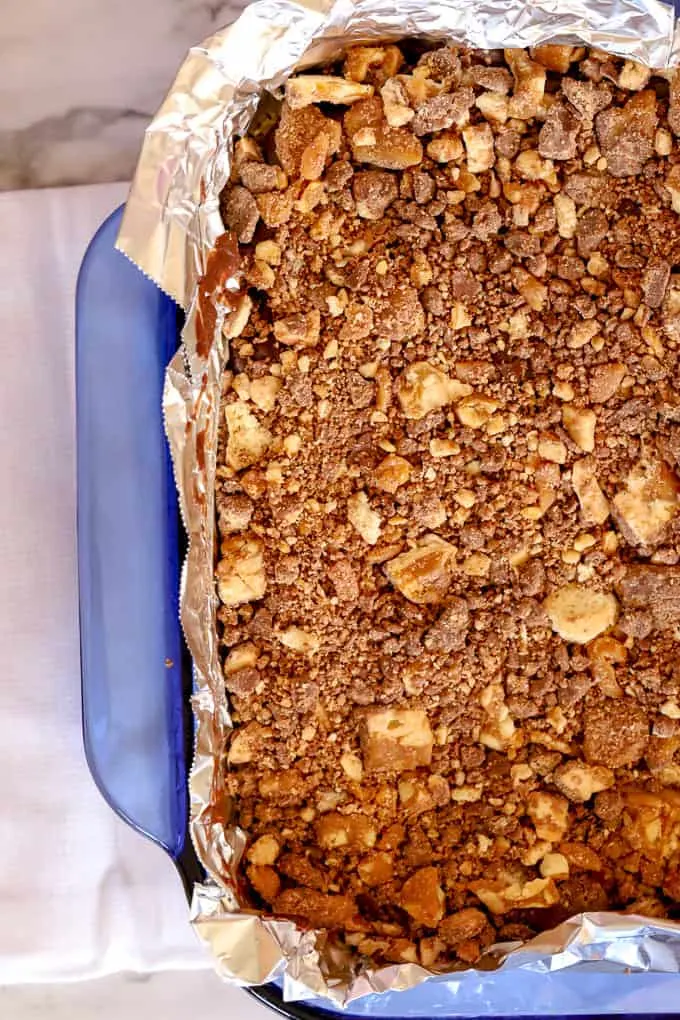 As an Amazon Associate I earn from qualifying purchases.
Kitchen Tools needed:
The following are affiliate links.
Yield: 16
No-Bake Kit Kat Squares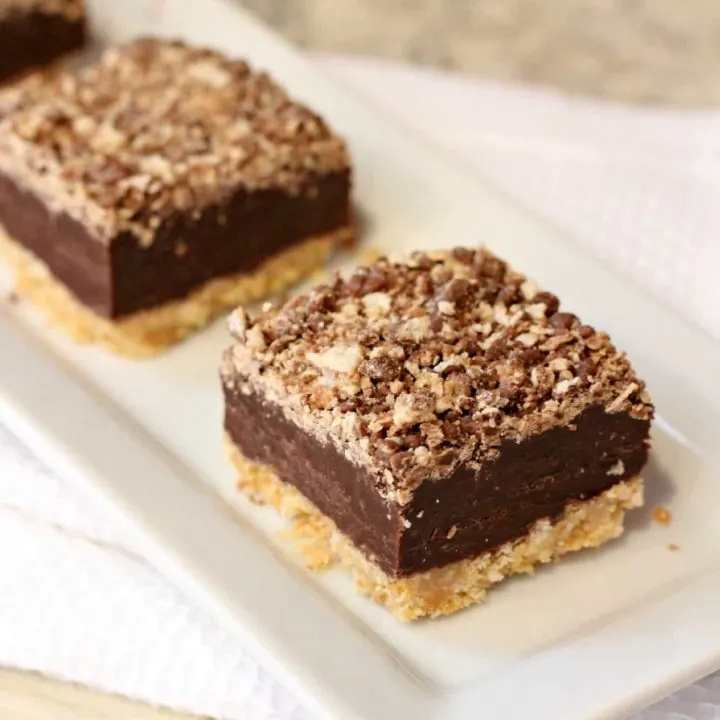 Enjoy this no bake dessert made with Kit Kat. Switch up the candy to your favorite! If you wish to make this gluten free, use gluten free cookies for the base and gluten free candy for your topping!
Total Time
4 hours
15 minutes
Ingredients
8 tablespoons butter, melted
8 ounces cookies (vanilla wafers or other plain wafer cookie)
1 can sweetened condensed milk (14 oz)
12 oz chocolate chips
3 packages of 1.5 oz kit kat bars (4 kit kat fingers per package)
Instructions
Line an 8 x 8 glass baking dish with foil so that the edges are overhanging. This extra foil will act as handles when the dessert is taken out of the pan. Brush with 1 tablespoon of butter.
Pulse the cookies in the food processor until crumbs are formed then add the remaining 7 tablespoons melted butter and process until combined. Press the wafer crust firmly into the bottom of the pan.
Pour the sweetened condensed milk and the chocolate chips into a glass bowl. Microwave for one minute, stir, then microwave for 30 seconds more. Stir again. The mixture should be smooth but if not, microwave in additional 15 second increments then stir each time. *Note: milk chocolate chips can be used for the most authentic kit kat chocolate flavor but I chose to use dark chocolate chips to add a different chocolate layer than the topping. You pick your favorite. You can't go wrong.
Pour this chocolate layer on top of the wafer crust.
Next, pulse the kit kat bars in the food processor until the size of crumbs. Scatter on top of the chocolate layer then press lightly with a spatula.
Cover with plastic wrap and refrigerate at least an hour or even overnight.
Cut into 16 squares to serve.
Notes
Try this recipe with other candy such as heath bars or chocolate covered toffee.
Need a gluten free recipe? No problem! Use gluten free cookies and gluten free candies if you need to make this a gluten free recipe.
Nutrition Information:
Yield:
16
Serving Size:
1
Amount Per Serving:
Calories:

275
Total Fat:

18g
Saturated Fat:

10g
Trans Fat:

0g
Unsaturated Fat:

7g
Cholesterol:

17mg
Sodium:

113mg
Carbohydrates:

30g
Fiber:

2g
Sugar:

21g
Protein:

2g
This data was provided and calculated by Nutritionix and is an estimate only.
Are you on Pinterest? I am!
Join me there and save this no-bake dessert to your boards!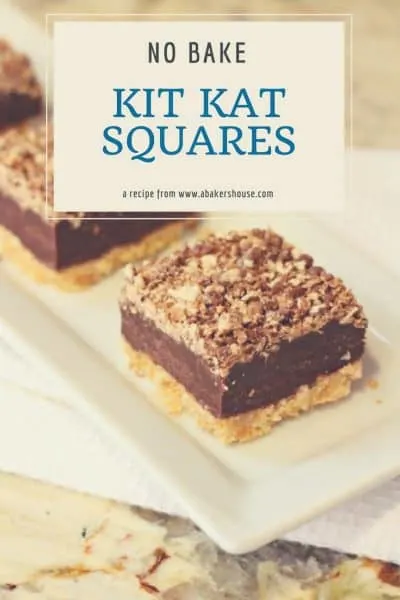 This post was originally written in 2014 and updated in 2018 then again in 2021.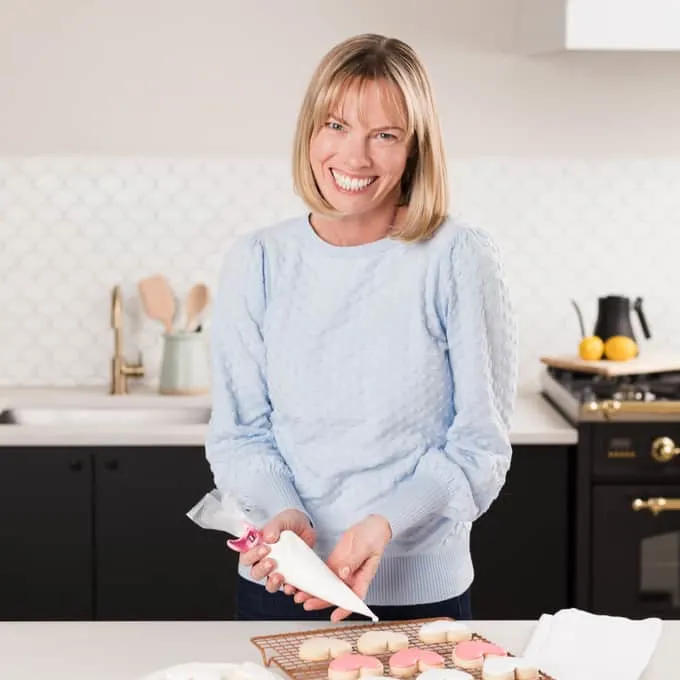 Holly Baker started the food blog, A Baker's House, in 2011. She is the writer, recipe creator, and photographer for the site. Holly loves to bake and shares recipes for gluten free food, canning recipes, as well as traditional desserts too. Her recipes and food photography have been highlighted by BuzzFeed, Reader's Digest, and She Knows.