No Bake Kit Kat Squares are an easy recipe for a layered chocolate dessert that come together without baking. Kit Kats are a favorite or mine but you could easily try this with other candy bars too.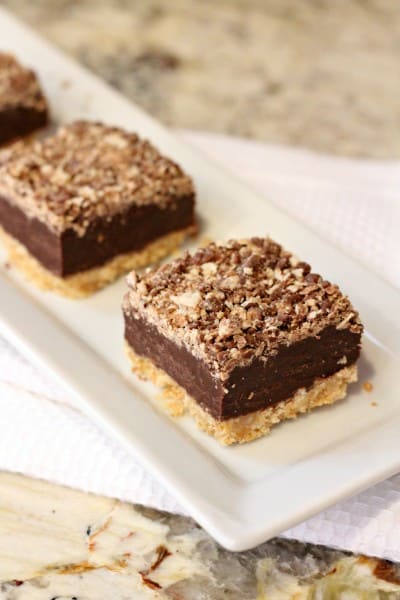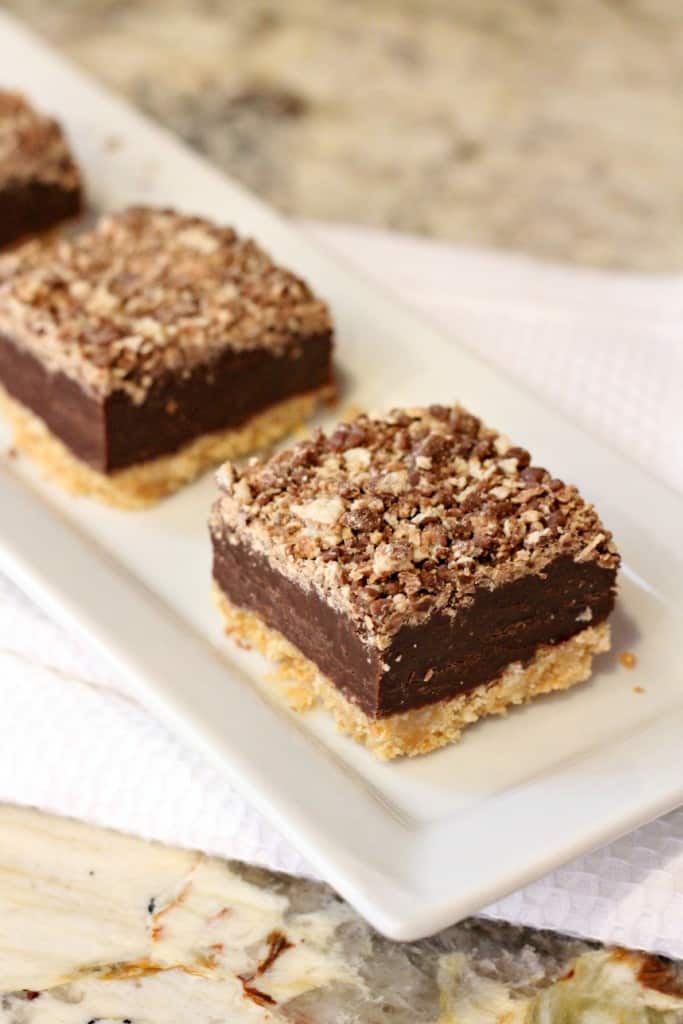 No bake Kit Kat Squares are the solution to summer baking. Summer heat is upon us and nothing makes a warm home hotter than turning on the oven. Since I can't imagine a week in the kitchen without eating goodies, I was happy to learn that the theme for #CreativeCookieExchange in July was No-Bake Cookies. Hooray! This kit kat bars recipe was perfect!
Candy Inspiration– endless possibilities!
I found inspiration in these no-bake nutter butter butterfinger bars from The Domestic Rebel. I loved the idea of taking a candy bar and turning it into another type of treat all together. Kit kat bars are a favorite of mine– milk chocolate with layers of wafers– and that is the thought behind this kit kat bars recipe.
Let's get baking!
Here's how you make no bake kit kat squares: There is a wafer cookie crust on the bottom, layered next with a chocolate and condensed milk, and topped with a kit kat crumbs. No baking required— just the microwave and the refrigerator make these beauties!
Print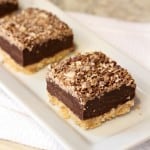 No-Bake Kit Kat Squares
---
Ingredients
5 tablespoons butter, melted
8 ounces cookies (vanilla wafers or other plain wafer cookie)
1 can sweetened condensed milk (14 oz)
12 oz chocolate chips
3 packages of 1.5 oz kit kat bars (4 kit kat fingers per package)
---
Instructions
Line an 8 x 8 pan with foil so that the edges are overhanging. This extra foil will act as handles when the dessert is taken out of the pan. Brush with 1 tablespoon of butter.
Pulse the cookies in the food processor until crumbs are formed then add the remaining 4 tablespoons melted butter and process until combined. Press the wafer crust firmly into the bottom of the pan.
Pour the sweetened condensed milk and the chocolate chips into a glass bowl. Microwave for one minute, stir, then microwave for 30 seconds more. Stir again. The mixture should be smooth but if not, microwave in additional 15 second increments then stir each time. *Note: milk chocolate chips can be used for the most authentic kit kat chocolate flavor but I chose to use dark chocolate chips to add a different chocolate layer than the topping. You pick your favorite. You can't go wrong.
Pour this chocolate layer on top of the wafer crust.
Next, pulse the kit kat bars in the food processor until the size of crumbs. Scatter on top of the chocolate layer then press lightly with a spatula.
Cover with plastic wrap and refrigerate at least an hour or even overnight.
Cut into 16 squares to serve.
Are you on Pinterest? I am!
Join me there and save this no-bake dessert to your boards!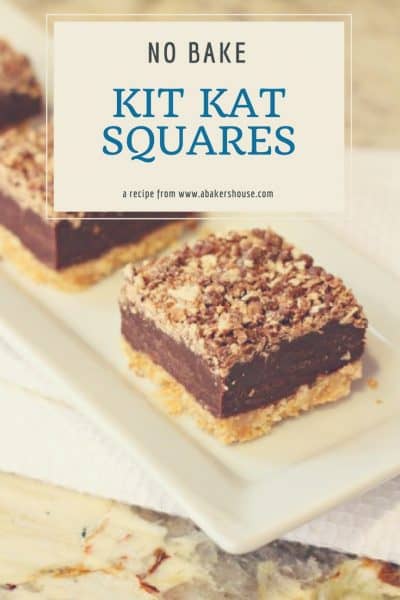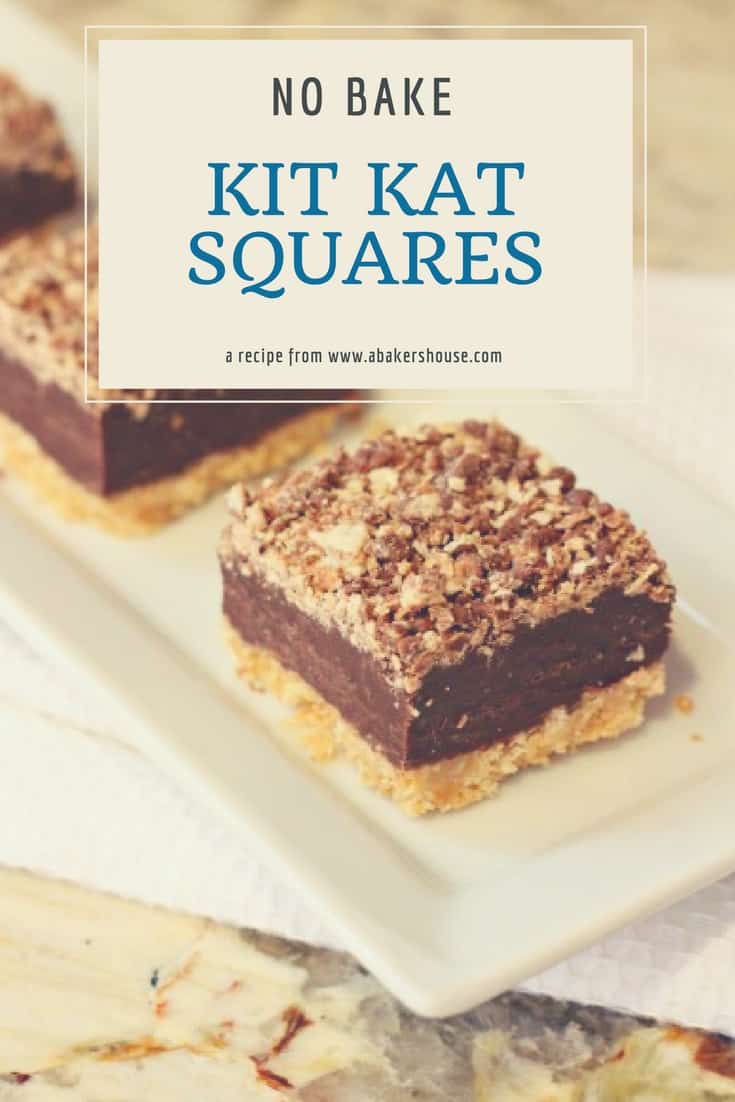 Join us in this NO BAKE month! If you are a blogger, contact Laura via email ([email protected]) and she will get you added to our Facebook group where we coordinate events. You can also use us as a great resource for cookie recipes. Be sure to check out our Facebook page, our Pinterest Board, and our monthly posts. You will be able to find them the first Tuesday after the 15th of each month!
If you are looking for inspiration to get in the kitchen and start baking (or not-baking as the case may be this month), check out what all of the hosting bloggers have made:
Thanks to Karen of Karen's Kitchen Stories for organizing the links this month!