Peach season is winding down this month– grab this seasonal fruit while you can and store its goodness for months to come by making jams, jellies and this peach butter. This recipe for peach butter or mango butter is easily made in a crock pot, slow cooker, or Instant Pot.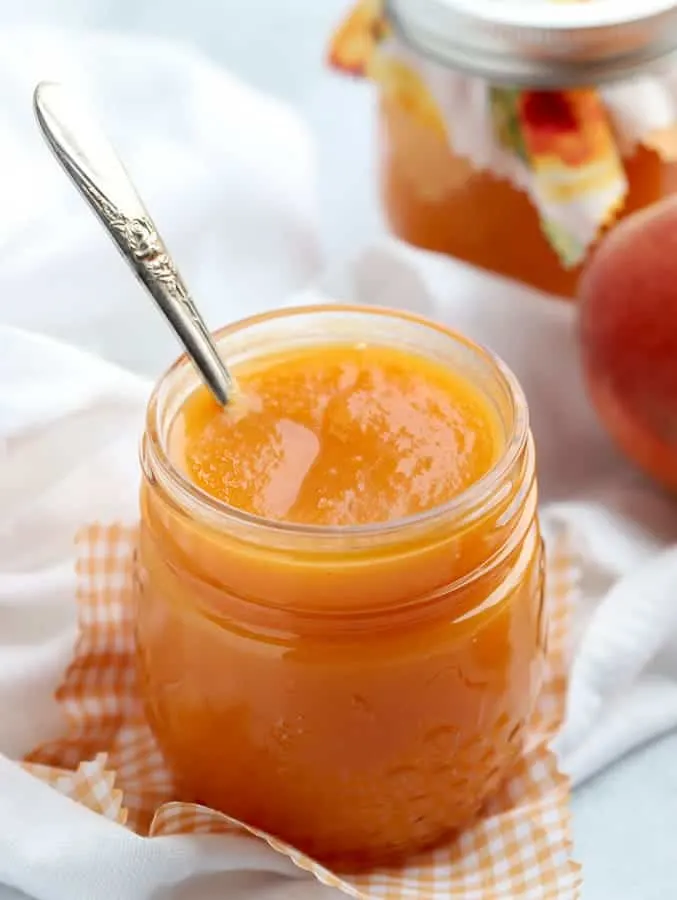 Only a few ingredients are needed for peach butter or peach mango butter. Fruit, juice (or water), sugar, and a touch of lemon cook down slowly to create this fruit butter. This is a dairy free recipe, but peach mango has the consistency of an apple butter and is a luscious fruit spread.
Making homemade preserves, jams, and jellies is so rewarding. Start with this fruit butter recipe and you'll find that you quickly get addicted to having mason jars filled with sweet goodness homemade by you! Looking for another easy fruit butter? Try this apple butter recipe or pear butter in the slow cooker is divine as well.
Homemade preserves
Canning at home and making small batch jams and curds have really become a source of enjoyment for me in the kitchen. If you are interested in making more homemade preserves like grape jam, here is a canning resource to give more more recipe ideas!
Ingredients for Peach Butter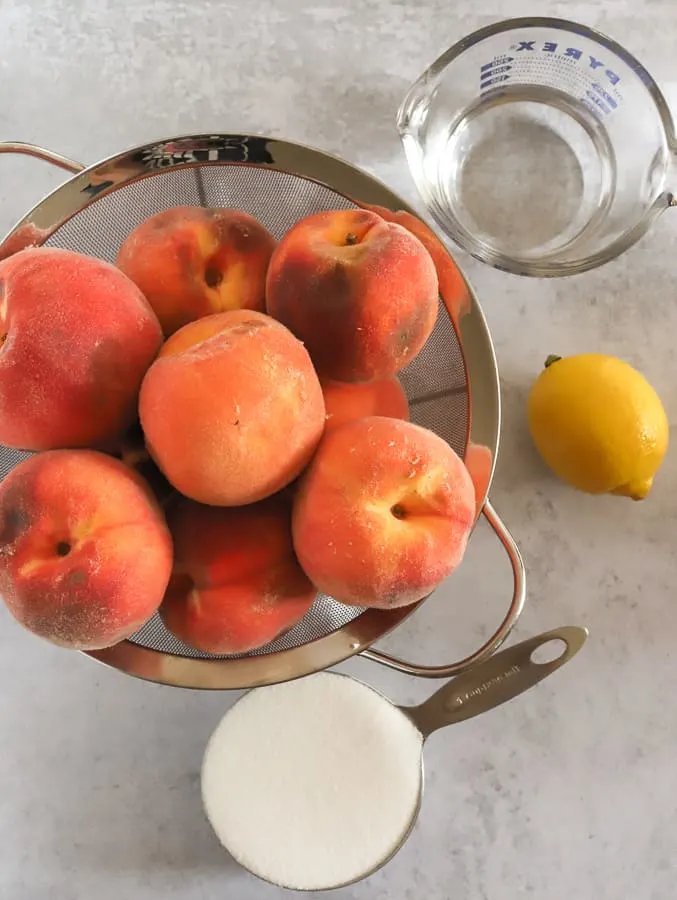 peaches
sugar
lemon juice
water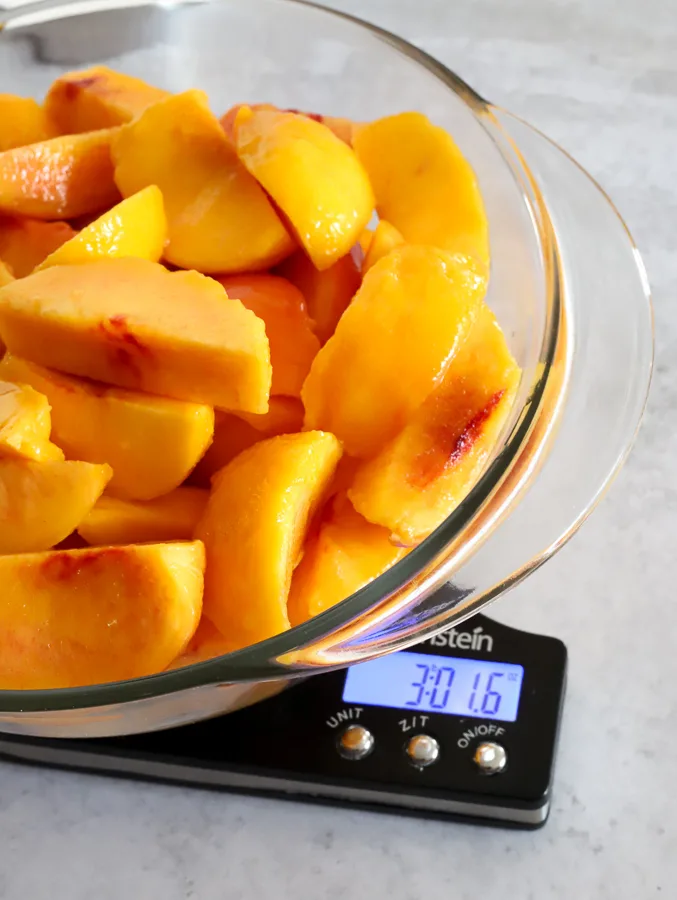 If you'd like to make peach mango butter, simply add in mangoes. The total amount of fruit should be about three pounds. So either three pounds of peaches OR one pound of mangoes with two pounds of peaches. You can't go wrong! Here is a photo of peach mango butter made in the slow cooker.
Every time I make this fruit butter it is with a different combination of peaches, mangoes, or peaches and mangoes together. The color is beautiful and bright!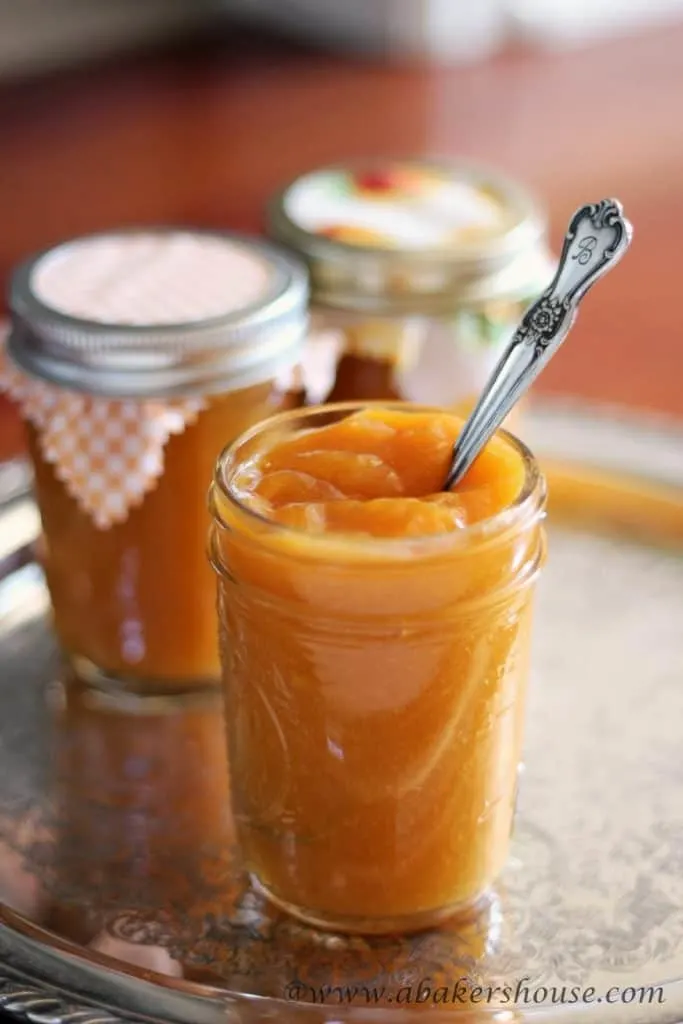 Peach butter recipe- Crock Pot
Making peach butter in the crock pot is my preferred method. Yes, the crock pot or slow cooker takes more time than an Instant Pot, BUT the process is easier and less hands on.
Your house will smell so good as the peaches cook down into a thick, concentrated fruit puree.
Here's how to make peach butter in the slow cooker:
Peel peaches, remove pit and slice.
Add peaches, sugar, lemon juice and water to the crock pot.
Cook with the lid closed for a few hours, puree with an immersion blender and then take the lid off (or prop a wooden spoon under the lid to reduce splattering) and cook a bit longer until the peach butter is thick and smooth.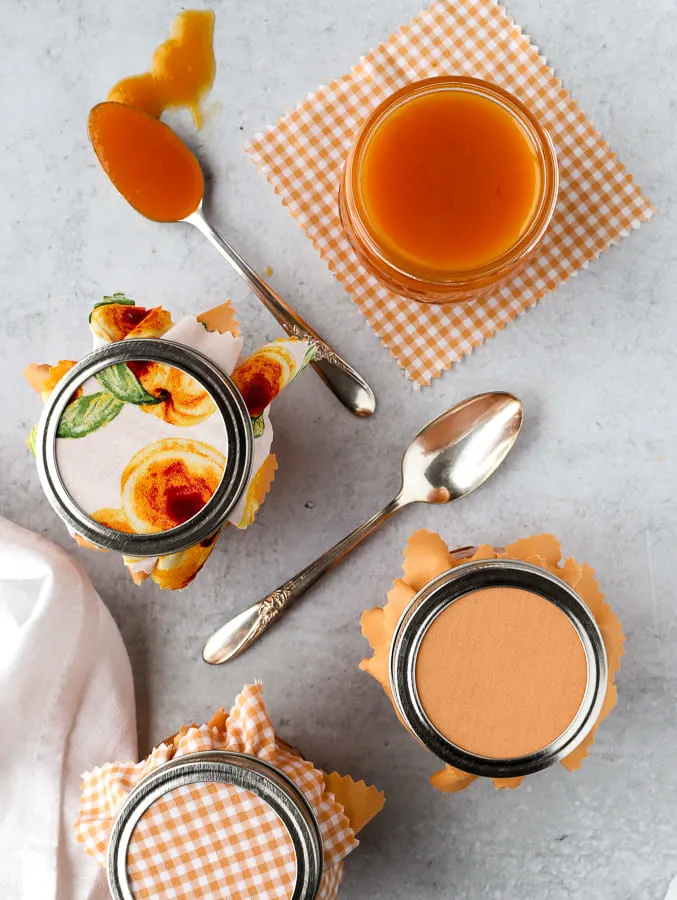 Peach butter in the Instant Pot
The Instant Pot is a great tool to make fruit butters and it works well for peach butter too. You will need the extra step of stirring the peach butter constantly while you are sauteing it to reduce the mixture to a thick consistency.
The higher heat from the Saute function on the Instant Pot requires that you stir the peach butter so as you do not burn the bottom layer. If you use the Crock Pot, the heat is lower and the peach butter won't burn as it reduces slowly.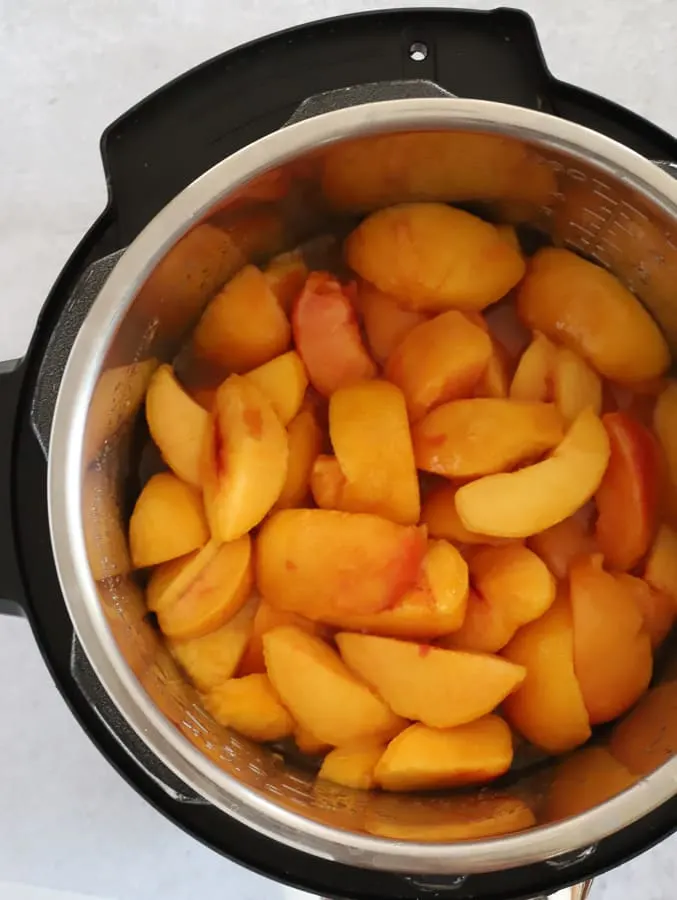 Here's how to make peach butter in the Instant Pot:
Peel the peaches, remove the pit and slice.
Add the peaches, sugar, lemon juice and water to the Instant Pot.
Cook on high for 8 minutes. Let the pressure reduce naturally for 20 minutes before opening the Instant Pot. Puree with an immersion blender.
Turn the Instant Pot on medium and saute the peach butter while stirring CONSTANTLY for 10-15 minutes. You may need to reduce the temperature to low if your fruit butter bubbles too vigorously.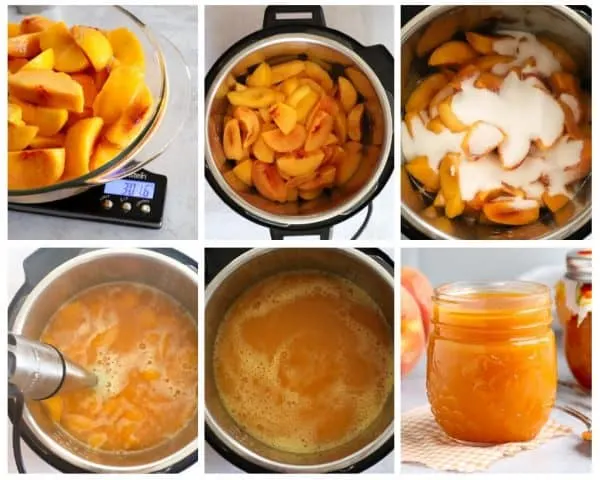 Can you use frozen peaches for peach butter?
Yes, you may use frozen peaches to make peach butter. You may find that there is more moisture in the fruit butter after the cooking time. Simply reduce the fruit butter further until you reach the desired consistency.
Palisade Peaches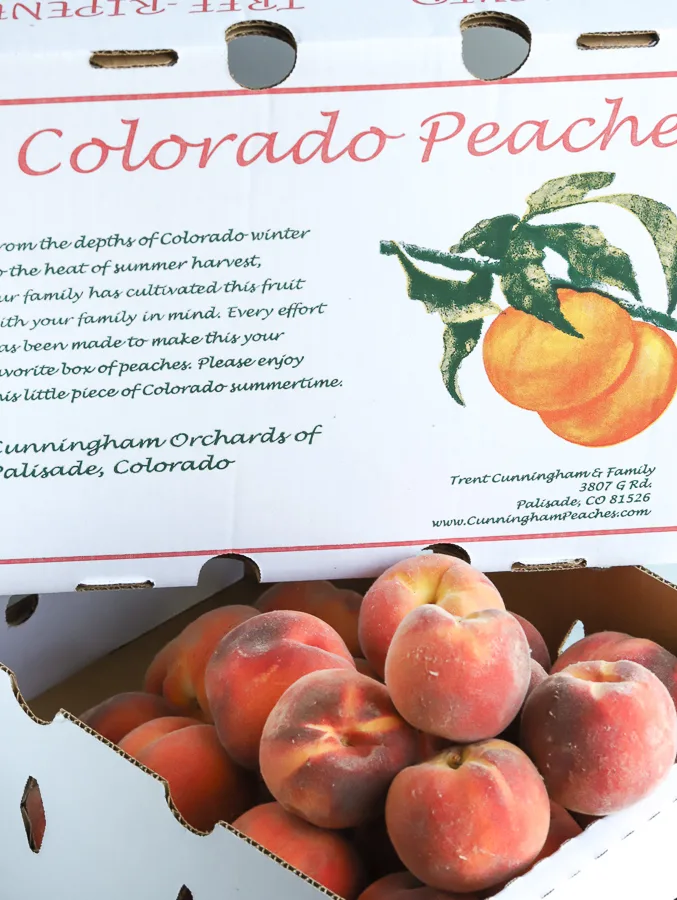 Here in Colorado we have Palisade peaches which, thanks to my friend Barb, I tasted one years ago and was hooked!
Most years I receive a delivery of Palisade peaches from Cunningham's Orchards thanks to a local fundraiser by the Boy Scouts. I mark my calendar with the delivery day and am thrilled when the peaches arrive.
If you don't have a local farm that grows peaches, don't worry about it and simply buy the best you find from the grocery store.
Costco has been a source for beautiful, ripe peaches many times and that is ok. Grocery store peaches can be flavorful and freshly picked too and this method of cooking the fruit and some sugar on low heat in the crock pot really amplifies the fruity flavor.
How to Peel Peaches
Peeling peaches using boiling water is fast and easy. Follow these steps shown in photos to easily remove the skin from peaches. Work with two or three peaches at a time until you get through the whole batch.
Removing the skin from peaches and then slicing them is a great way to prepare peaches to be frozen for later use too.
Immerse the peaches in boiling water for 30 seconds.
Gently drop the peaches in an ice bath for at least one minute.
The skins will peel off easily.
One item to note– I've peeled peaches using the boiling water method many times and I've experimented with making an "X" with a knife at the bottom of the peach before boiling. While it can be helpful, it's not necessary to take that extra step. Making an "X" in the peach does encourage the peach skin to begin to peel so it has its benefits. You can choose to do so or skip that step.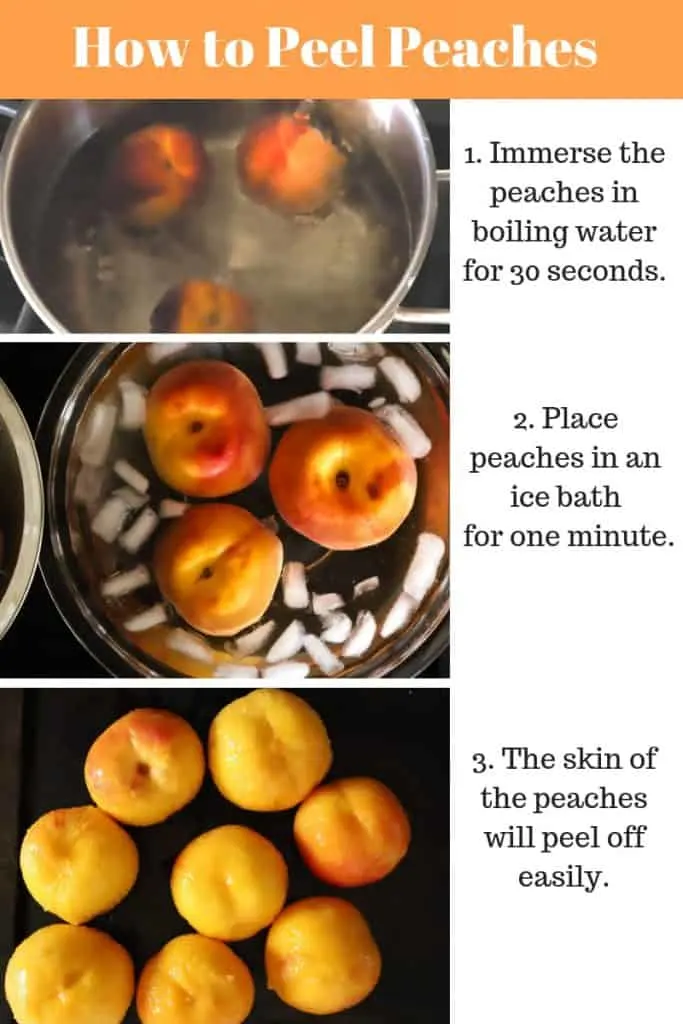 Blue Book of Preserving for Slow Cooker Peach Jam ideas
The standard for preserving food is Ball and their Blue Book of Preserving. I started with their peach butter recipe as a base for this peach mango butter made with a slow cooker then added in the mangoes.
You can do the same, adding spices you like and fruit combinations that sound good to you. Try to flip the ratio of peach to mangoes and make a mango butter instead.
How long can you keep peach butter in the refrigerator?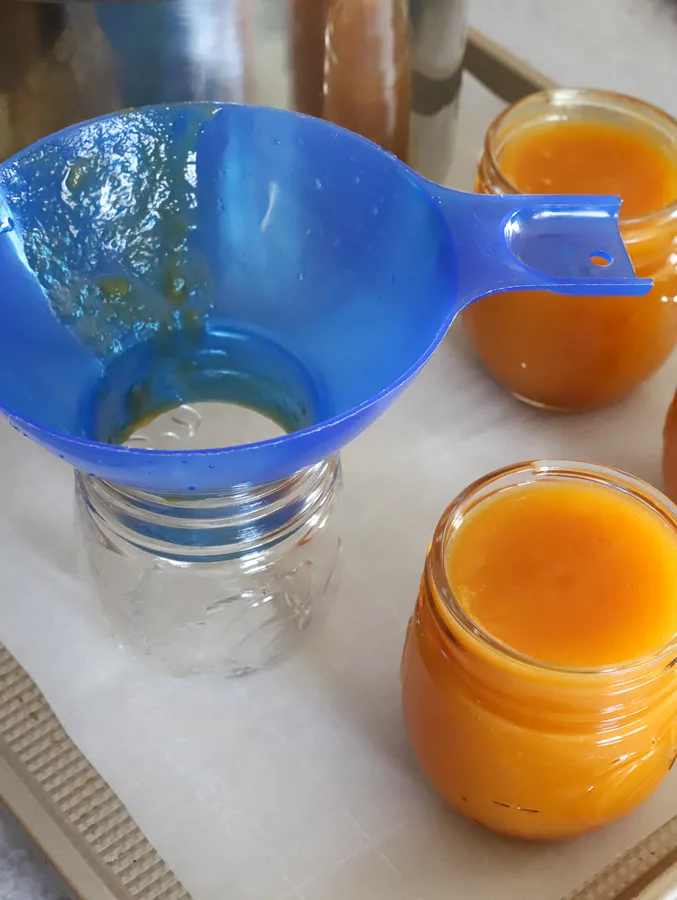 I did not process this butter in a boiling water canner and would caution you to only process jams, jellies and butters for which you know the acidity levels such that processing them is safe for long-term consumption.
You can refrigerate fruit butter for up to a month. I am guessing you'll use it up faster than that!
Here I refrigerated some and froze the rest so that I know I'll have this peach mango fruit spread to use for weeks to come…or as long as it lasts! I am using it on everything from toast, to muffins, to crackers with brie, as a flavoring for my tea, and might try it next to make a peach-mango bellini cocktail.
Peach mango Butter: recipe adapted from Ball's Blue Book of preserving
yield about 4 pints
Yield: 4 pints
Peach Butter or Peach Mango Butter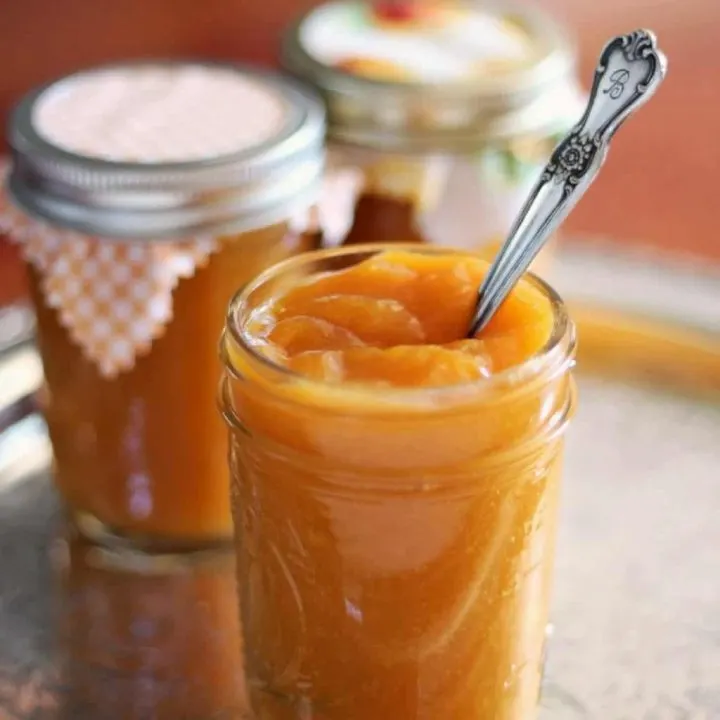 Slow cooker peach butter with or without mango is a lovely way to savor summer's fresh peaches
Total Time
5 hours
15 minutes
Ingredients
3 pounds peaches, peeled and quartered (8-10 large peaches)
1 cup sugar
juice from 1 lemon
1/2 cup water
Instructions
Put all ingredients in the crock pot. Cook for 2 1/2 hours on low with lid on.
Then prop open the lid (use a wooden spoon laid across the edge) and cook for another 2-3 hours or until the fruit mixture is soft.
Use an immersion blender or process the mixture in a blender until smooth and thick.
Ladle into jars and refrigerate.
Notes
Peach mango butter ingredients:
2 pounds peaches, peeled and quartered (5-6 large peaches)
1 pound mango, peeled and sliced (about 2)
1 cup sugar
juice from 1 lemon
1/2 cup peach mango V8 Fusion juice (or use 1/2 cup water)
Note: to make in the Instant Pot cook on high for 8 minutes. Puree using an immersion blender then saute for 10-15 minutes to thicken to desired consistency.
Nutrition Information:
Yield:
64
Serving Size:
2 tablespoons
Amount Per Serving:
Calories:

30
Total Fat:

0g
Saturated Fat:

0g
Trans Fat:

0g
Unsaturated Fat:

0g
Cholesterol:

0mg
Sodium:

12mg
Carbohydrates:

8g
Fiber:

0g
Sugar:

7g
Protein:

0g
This data is provided by Nutritionix and is an estimate only.
Save this recipe for peach mango butter for later on Pinterest!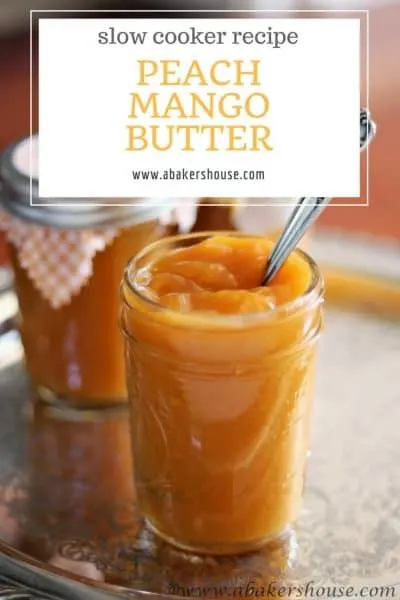 Are you looking for more preserving ideas? Here are a few more!
Originally published in 2013; most recently updated in 2021.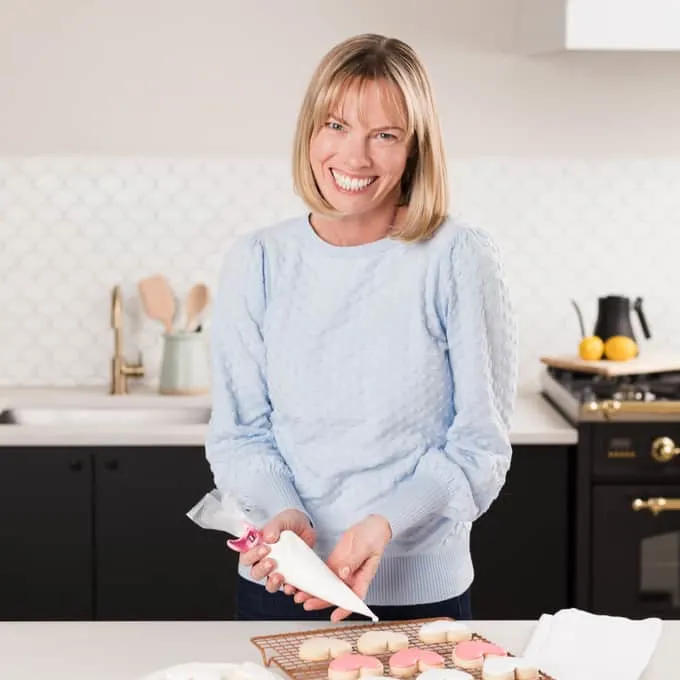 Holly Baker started the food blog, A Baker's House, in 2011. She is the writer, recipe creator, and photographer for the site. Holly loves to bake and shares recipes for gluten free food, canning recipes, as well as traditional desserts too. Her recipes and food photography have been highlighted by BuzzFeed, Reader's Digest, and She Knows.