Mozzarella sticks are the ultimate game day food and making them gluten free is simple if you use gluten free ingredients for the breading. Crunchy gluten free Panko breadcrumbs help create a light and crisp coating that pairs perfectly with gooey mozzarella cheese. Dip these homemade gluten free mozzarella sticks in Sprouts Marinara sauce for restaurant quality food at home.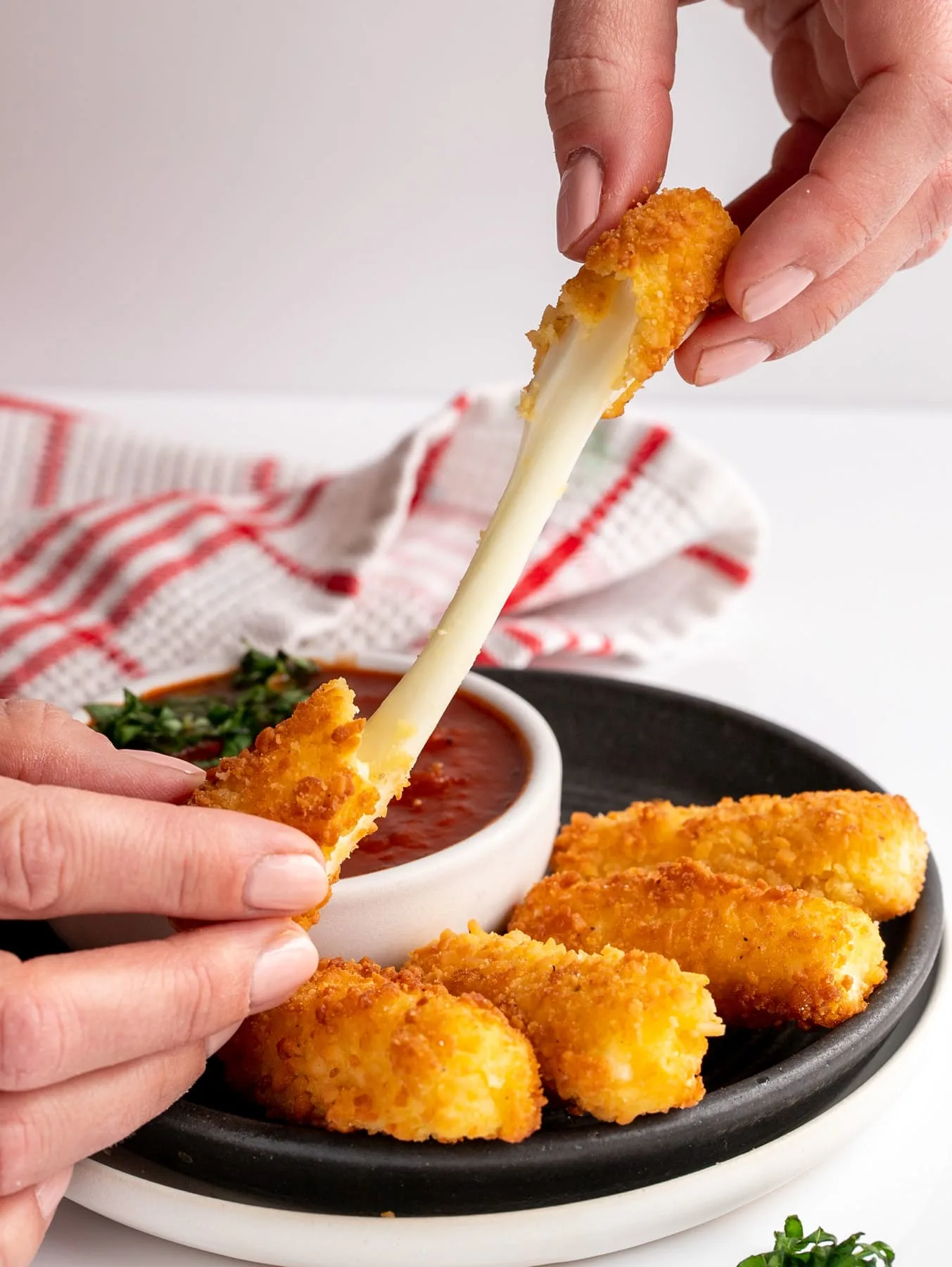 This post is sponsored by Sprouts Farmers Market. I appreciate the opportunity to share recipes made with ingredients from brands I trust and support. All opinions are my own and do not necessarily reflect those of Sprouts Farmers Market. #sponsored
Why this recipe works
There are certain foods that scream "game day!" and these homemade mozzarella sticks with string cheese rival any that you've had in restaurants. Lightly fried with a crispy Panko coating and ooey-gooey cheese inside– what else could you ask for? Oh, gluten free you say? Sure! With a simple switch of gluten free Panko breadcrumbs and a gluten free flour, this recipe satisfies your needs.
You can bake, air fry, lightly fry or deep fry this mozzarella stick recipe. So many options! Get ready for the Super Bowl or even for a game night at home and you'll have a happy crowd. These will disappear quickly– make a double batch!
Shop at Sprouts Farmers Market!
The key to making this familiar snack into a gluten free recipe is the Gluten Free Panko Breadcrumbs that I bought at Sprouts. I find new gluten free options every time I shop at Sprouts. (Last time I noticed GF cream puffs– what?? Oh the excitement!)
Sometimes when you need to eat gluten free, you can feel left out at parties or even at restaurants — wheat and other gluten containing ingredients really do appear in SO MANY FOODS so you can't always eat what's on the menu.. Baking at home helps on a gluten free diet but finding all those GF ingredients in one place is a big deal.
That is where Sprouts comes in. You can find fresh ingredients as well as a huge variety of packaged gluten free foods. I'd love to hear what some of your favorite Sprouts finds are for a gluten free diet– leave a comment to let me know or tag me on Instagram showing me your latest find!
Recipe Ingredients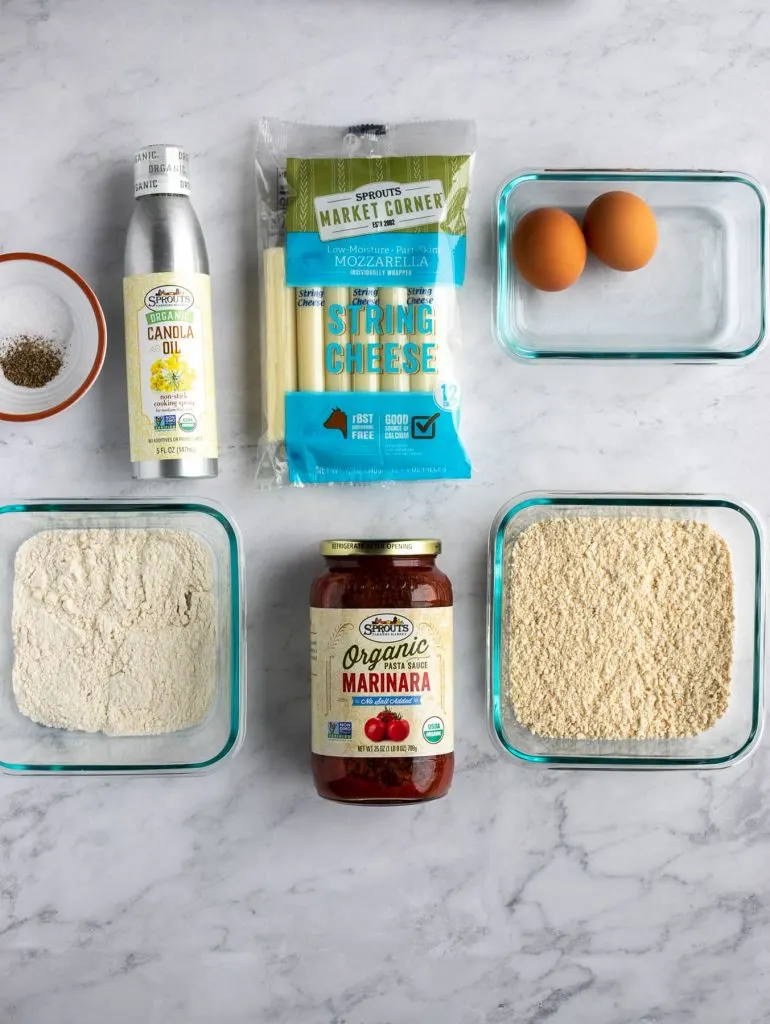 You only need a few basic ingredients to make mozzarella sticks from scratch:
Mozzarella String Cheese: String cheese is a great option for this recipe. All of your cheese sticks will be uniform in shape and will cook evenly. You'll cut each string cheese stick in half so this recipe makes 24 golden brown and delicious bits of cheese. If you prefer, you can use fresh mozzarella cheese. Slice it into ½ inch thick segments and blot on a paper towel to remove any excess moisture.
White Rice Flour: To make this a gluten free snack you'll need a GF flour like white rice flour. This ingredient coats the cheese in the first step of the breading process. You could also use any other gluten free flour that you have in your pantry. If you don't require a GF recipe, use all purpose flour instead.
Eggs: Whisked eggs provide the glue that helps bind the breadcrumbs to the cheese.
Panko Breadcrumbs: Gluten free Panko breadcrumbs give these cheese sticks their crunchy exterior. Panko is a type of breadcrumb made to be lighter and crunchier than traditional Italian breadcrumbs. You could substitute other GF options or even make your own breadcrumbs.
Seasonings: Salt and pepper season the breadcrumbs. You could add other dried herbs and spices like dried oregano, dried basil, dried parsley, onion powder, garlic powder, paprika, or cayenne pepper. Make this recipe your own with a creative spice blend.
Marinara Sauce for dipping: Sprouts Organic Marinara Pasta Sauce is my go-to sauce for dipping mozzarella sticks. You could heat it up but I don't. I simply use it straight out of the jar. Add fresh basil or parsley if you'd like. Sprouts has other varieties of pasta sauce such as Basil, Arrabbiata, or Garlic. Pick your favorite!
How to Set up a Breading Station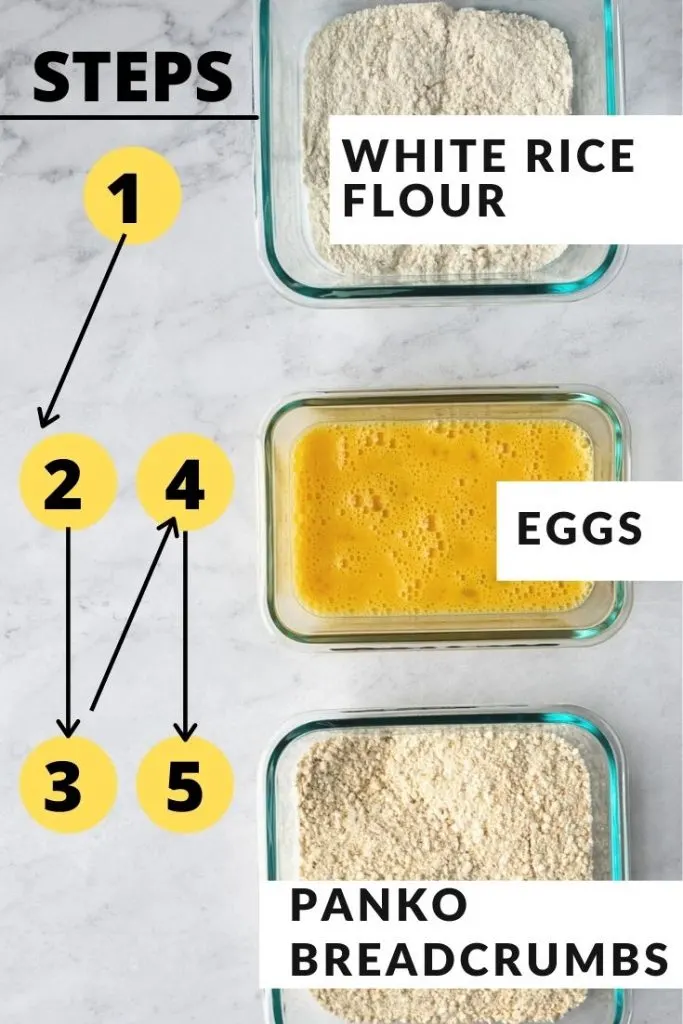 The Breading Process
Get organized before diving into the breading process. You'll need to follow these standard steps in order to get the coating to stick to the cheese before you cook the cheese sticks. Lay out your containers for your breading station: flour, eggs, and coating.
This string cheese recipe is like any other recipe for a food coated with breading. You create different layers that bind the coating. Here we also DOUBLE DIP the gluten free mozzarella sticks a second time in the egg and the Panko crumbs to make sure our coating is even and well distributed.
Breading stations get messy! Some people try to keep one hand for the wet station and one for the dry but I find it is more efficient just to dive in with both hands. The goal is to make sure your coating adheres all the way through baking.
The photo demonstrates the breading steps:
White rice flour
Eggs
Seasoned Panko breadcrumbs
Back to the eggs
Seasoned Panko breadcrumbs for a second and final time.
How to make mozzarella sticks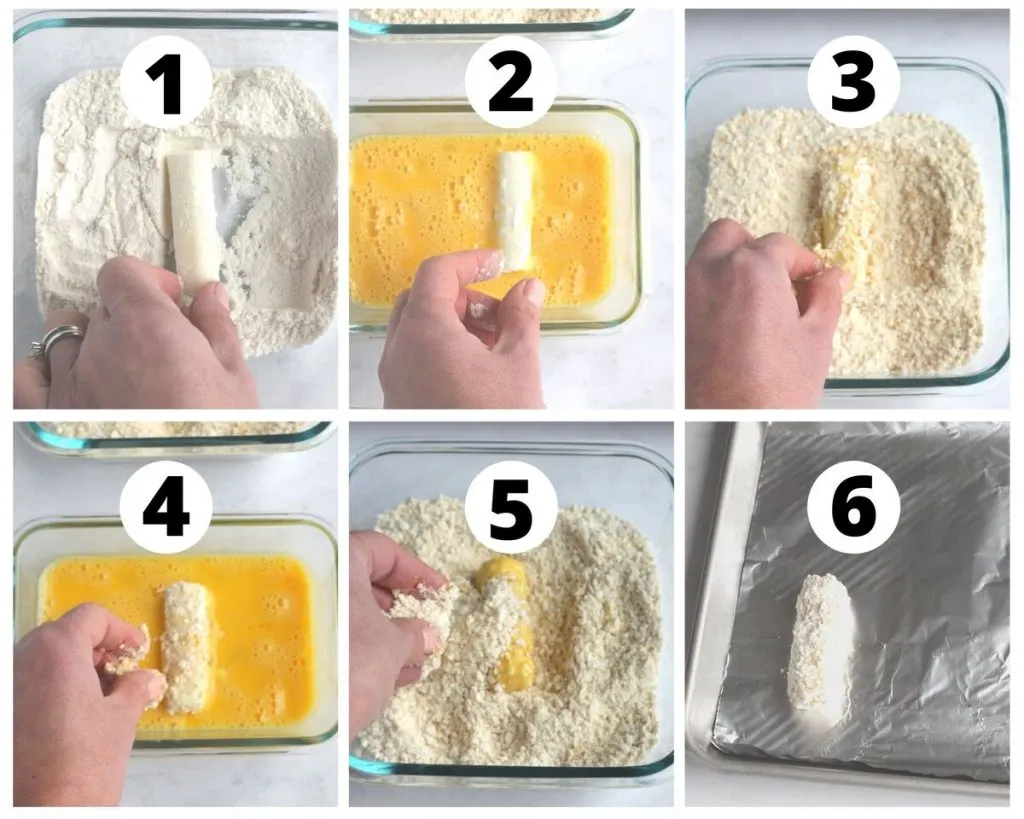 Cut all of your string cheese sticks in half. Roll each on in white rice flour (or all purpose flour if you don't need a gluten free recipe).
Move the flour-coated cheese into the whisked eggs next. Coat completely.
Now roll the cheese stick in the breading (seasoned gluten free Panko for me).
Double Dip: Go back into the egg mixture for a second coating. Yes, this is messy and some of the breadcrumbs will fall into the eggs. That is ok. Keep going.
Finish with the second and final coating of breadcrumbs. Take care to coat the top and bottom well so that the cheese won't leak out later when it melts.
Place on a baking tray or some other freezer safe container. Cover the batch of coated mozzarella sticks and freeze for at least one hour.
Best way to cook mozzarella sticks
Here's the thing– the best way to cook mozzarella sticks is up to you. I am going to share my experience and then you can choose the option that suits you. I experimented with baking, using the air fryer, and lightly pan frying. Deep frying is an obvious choice too.
Let me spoil the surprise, though, and tell you that my lightly pan fried mozzarella sticks were the most successful. They were golden brown and delicious. The cheese didn't leak out of the sides before the exterior was cooked. While I don't fry most foods, it would be my recommendation for homemade mozzarella sticks. In the end I really didn't use all that much oil and most of it remained in the pan after I fried the cheese sticks.
Baked Mozzarella Sticks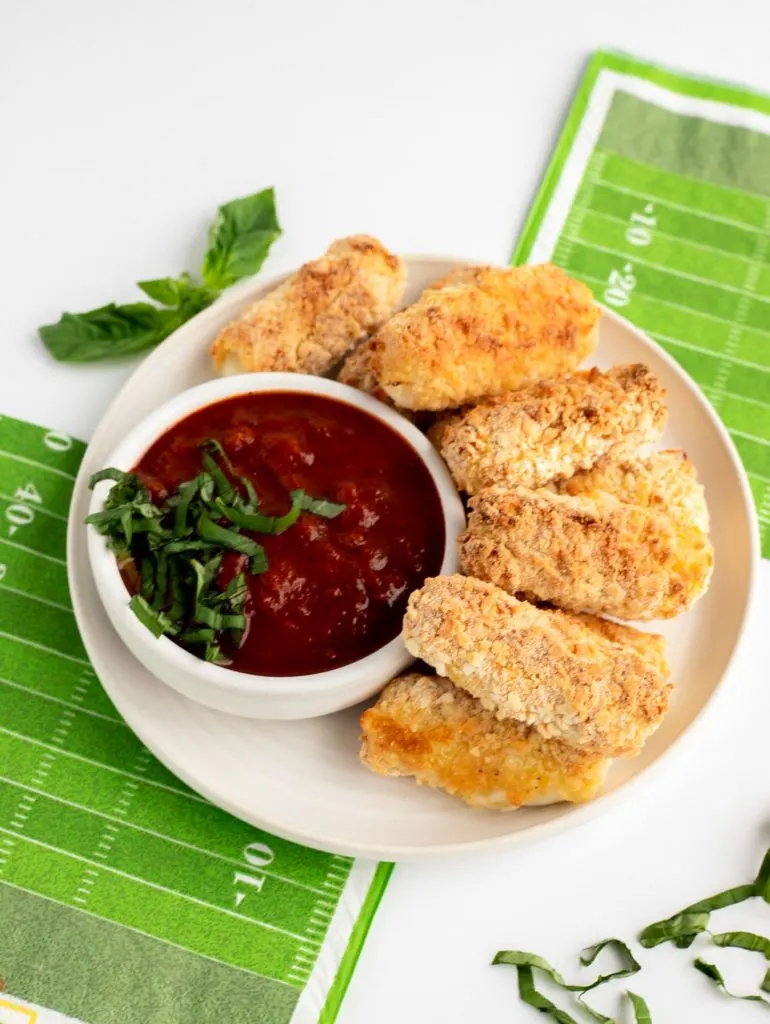 Remove the frozen, coated cheese sticks from the freezer and put them on a baking pan covered in baking spray. Spray the entire cheese stick with the baking spray. Bake in a 400 degree oven for a total of 8 minutes. Every 2 minutes rotate the mozzarella sticks so that you evenly brown each side. (Yes, they are shaped like a cylinder but you can picture the shape as having four sides.)
Pros: Mozzarella sticks that are baked seems like a healthier option than frying.
Cons: It is a hassle to quickly rotate the sticks every two minutes. Some of my breadsticks had the cheese leak out before the coating was fully browned. The breading will not achieve that same golden brown that you are used to from restaurant fried foods.
Air Fryer Mozzarella Sticks
Spray your air fryer metal basket with baking spray. Place the frozen breaded, gluten free mozzarella sticks on the basket. Fry at 375 degrees for 3 minutes. Rotate the cheese sticks and fry for another 2-3 minutes. Keep a close eye on the cheese as it can go from ok to a melted mess very quickly.
Pros: I love that the air fryer "fries" without any oil.
Cons: My cheese sticks fell apart more easily in this cooking method and I didn't achieve uniformly baked cheese sticks. Each air fryer is different and you may have more success that I did.
Pan fried Mozzarella Sticks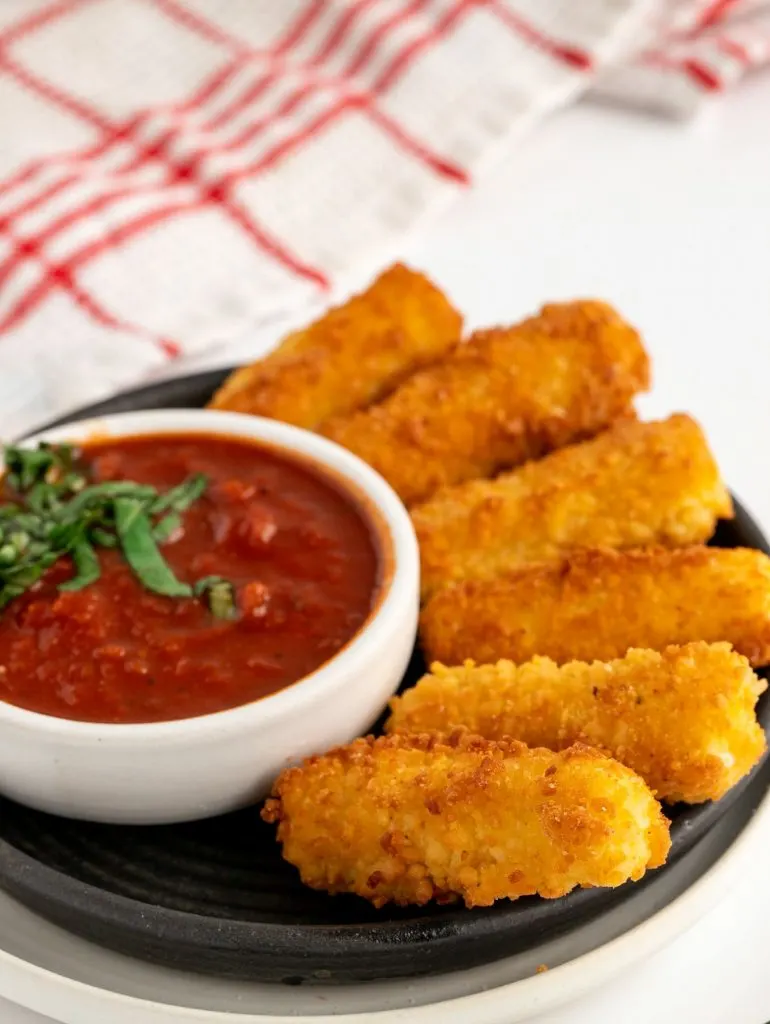 Heat your oil to 375 degrees F. Use a thermometer to ensure you have the right temperature. Place 3-4 frozen sticks into the oil, gently laying them away from you so that the oil doesn't splatter towards you. Fry for 2-3 minutes then flip and continue for another 2-3 minutes. Lay the fried sticks on a paper towel to remove any excess oil.
Note: I found that ⅓ cup canola oil in an 8 inch frying pan was just right. The oil will come about halfway up the sides of the cheese and turning once after 2-3 minutes yielded a beautiful, golden exterior. Most of the oil will still remain after you've fried the cheese. Panko crumbs do not soak up as much oil as traditional breadcrumbs. Also, you are frying the food for such a short time that the coating doesn't absorb much oil at all. Always take care to dispose of the oil properly and never pour it down your sink.
Pros: Pan frying gives your mozzarella sticks a beautiful, golden finish. This cooking method is quick and produces gooey, melted cheese with a crisp exterior. I had the most success frying as the melted cheese didn't leak out as it had done in other cooking methods.
Cons: Frying can be frowned upon (from a health perspective) and may not be your first choice. It can be messy, although I didn't have much trouble with oil splattering over the stove top.
Deep fried mozzarella sticks
Bring the oil to 375 degrees F. Gently lay the frozen cheese into the oil so that it is fully submerged. Cook for 3-4 minutes or until the coating is a lovely golden brown.
Pros: Quick cooking and produces that deep golden brown that you are used to seeing in restaurant mozzarella sticks.
Cons: If you aren't used to deep frying, it may be intimidating to heat up a larger amount of oil on the stovetop. Use a high sided pan to keep the hot oil from spraying out. Also wear long baking mitts to protect your hands and arms.
What sauces are good with mozzarella sticks?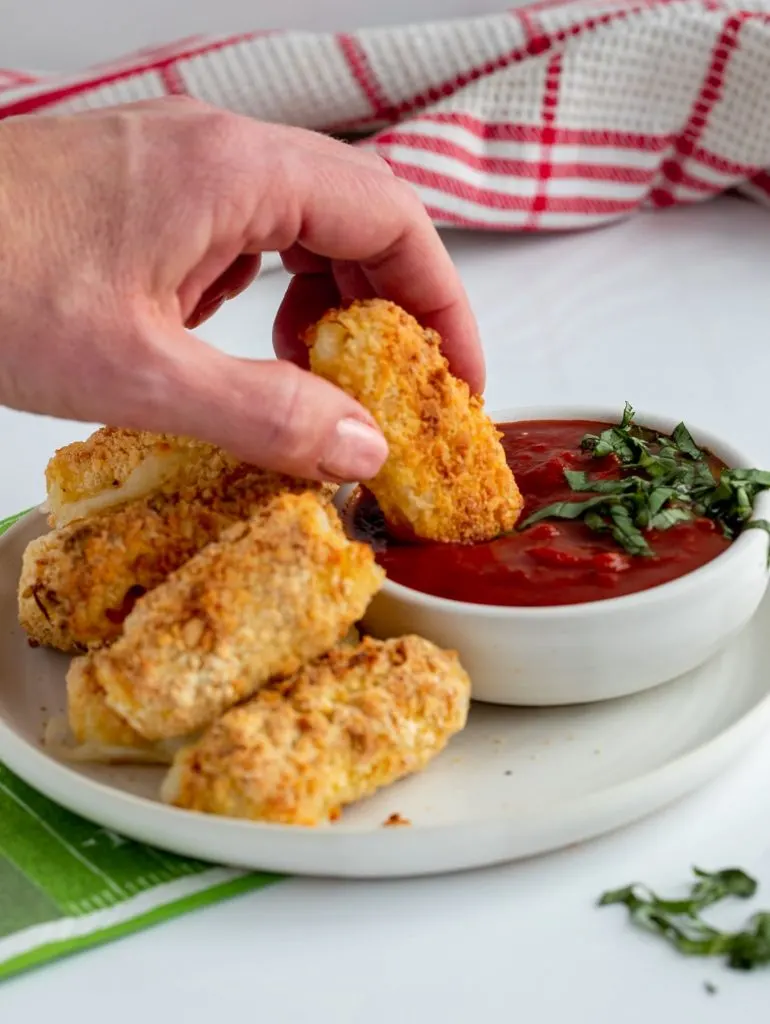 Marinara sauce, or a traditional tomato-based sauce, is a popular choice for a dipping sauce.
Ranch dressing is a common sauce for mozzarella sticks in some parts of the country.
A garlic aioli would be delicious.
Basil pesto is an excellent pairing for a dip. Think of how well pesto goes with pizza and you'll realize that mozzarella sticks have the same components.
Tips and Tricks for Success
Can I use fresh mozzarella cheese?
You may use fresh mozzarella in place of the string cheese. Cut into ½ inch wide strips by about 3 inches long. Blot the fresh cheese on a paper towel to remove excess moisture before starting the breading process.
What kind of flour is best for the coating?
You may use a gluten free flour blend in place of the white rice flour. Other GF flours like cassava flour would be good choices too.

If you don't require a gluten free recipe, use all purpose flour in place of the white rice flour.
Are mozzarella sticks gluten free?
Restaurant mozzarella sticks are usually not gluten free. First you need to be concerned about the coating and then you have to ask if the oil has been used ONLY for gluten free foods. That's why making mozzarella sticks are home is great for those of us eating gluten free. Read this post for more info about baking gluten free. These cheese sticks are gluten free if you use a gluten free flour and a gluten free breading. Cheese is nearly always gluten free but double check your labels to be sure. Make sure your dipping sauce is gluten free too– reading labels is important.
What are Panko breadcrumbs?
Panko refers to the way that the breadcrumbs are made. It is a Japanese style bread crumb that you can buy at the store. Make sure to look for Gluten Free Panko crumbs at Sprouts if you need a GF recipe. Panko breadcrumbs are flaky and are lighter than traditional breadcrumbs which makes for a crunchy exterior once fried. You may substitute other breadcrumbs if needed.

If your Panko breadcrumbs are not of uniform size (or if they are larger than traditional breadcrumbs) pulse them in a mini food processor first to make a finer crumb texture. A smaller crumb is more likely to stick to your cheese.
Can I make mozzarella sticks without breadcrumbs?

The breading gives the sticks their crips texture and also protects the cheese inside from leaking all over the pan so don't skip breading all together. If you want to try other types of crumbs, you could use tortilla chips, potato chips, or potato flakes. Use a mini food processor to pulse your ingredients into a small crumb.
Can reheat mozzarella sticks?

Mozzarella sticks are best the day they are made but you can save a few for later. Store any leftover fried mozzarella sticks in the freezer. Reheat in a 450 degree oven for 4-6 minutes.
A better option than reheating if you only want a few sticks at a time is to store any uncooked, breaded mozzarella sticks in the freezer. Fry directly from frozen as per the recipe directions.
Yield: 24
Gluten free Mozzarella Sticks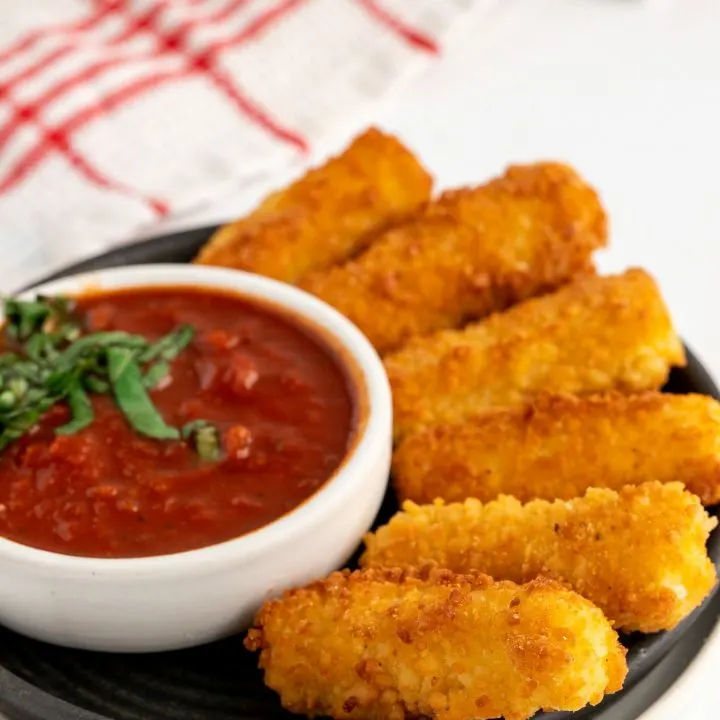 Homemade mozzarella sticks are the ultimate game day food!
Total Time
1 hour
20 minutes
Ingredients
12 oz Sprouts Mozzarella String Cheese (1 bag)
¼ cup white rice flour
3 eggs
2 cups gluten free Panko style Breadcrumbs
½ teaspoon salt
¼ teaspoon pepper
Optional
Sprouts Canola Oil for frying (Use baking spray if baking.)
1 cup Sprouts Organic no salt added Marinara Pasta Sauce (for dipping)
Instructions
Unwrap the string cheese and cut the 12 portions in half so that you have 24 pieces of mozzarella.

Prepare your breading station: set up three containers. One with ¼ cup white rice flour, the second with 3 whisked eggs, and the third with 2 cups gluten free Panko breadcrumbs mixed with ½ tsp salt and ¼ tsp pepper.
Roll each piece of mozzarella in the white rice flour, then fully submerge in the eggs, and next coat with the Panko breadcrumbs. Now double dip: Repeat the step of coating in eggs and then the Panko breadcrumbs. Set the breaded mozzarella sticks on a freezer safe baking tray or other container.
Once you have coated all the mozzarella pieces, cover and freeze the breaded cheese sticks for at least an hour. Please don't skip this step. Freezing helps to adhere the coating to the cheese and also prevents the cheese from completely melting before the coating is browned when frying or baking.
Pour about 1/3 cup canola oil into an 8 inch pan. Bring the oil temperature to 375 degrees. (medium to medium-high heat) Carefully place 4 frozen mozzarella sticks at a time into the oil. Fry for 3 minutes on the first side then gently turn over and continue to
cook for another 2-3 minutes. Remove from the oil and place on a paper towel. Cook the remaining pieces. Keep the fried mozzarella sticks on a baking tray in a 275 degree oven until ready to serve.
Notes
Other cooking methods:
Baked Mozzarella Sticks: Spray the sticks with canola baking spray. Bake in a 400 degree oven for 8-10 minutes, rotating the sticks every 2-3 minutes to brown all four sides.
Air Fryer Mozzarella Sticks: Heat to 375 degrees and cook for 8 minutes, turning halfway through.
Deep Frying: Fry the sticks directly from frozen for 3-4 minutes or until golden brown.

*Please note that I had the most success with the pan frying method. Both baking and the air fryer method yielded some mozzarella sticks with cheese that leaked out and melted before the coating was golden
brown.
Nutrition Information:
Yield:
12
Serving Size:
1
Amount Per Serving:
Calories:

154
Total Fat:

3g
Saturated Fat:

1g
Trans Fat:

0g
Unsaturated Fat:

2g
Cholesterol:

48mg
Sodium:

272mg
Carbohydrates:

24g
Fiber:

2g
Sugar:

1g
Protein:

7g
This data is provided by Nutritionix and is an estimate only. Excludes any calories from a dipping sauce and from the oil used in frying (if you opt to do so).
Here's the Google Web Story for these Easy Mozzarella Sticks.
Pin with me!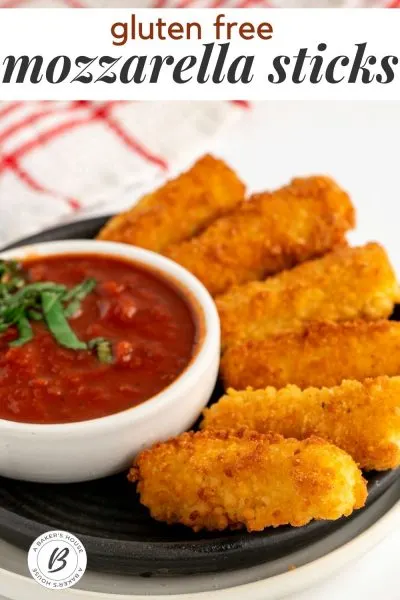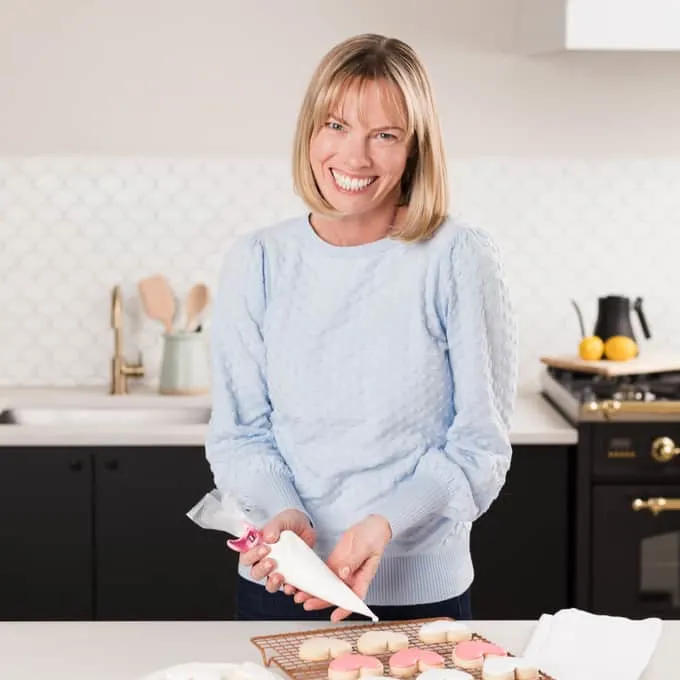 Holly Baker started the food blog, A Baker's House, in 2011. She is the writer, recipe creator, and photographer for the site. Holly loves to bake and shares recipes for gluten free food, canning recipes, as well as traditional desserts too. Her recipes and food photography have been highlighted by BuzzFeed, Reader's Digest, and She Knows.