Meyer lemon curd is a vibrant, sweet fruit curd that is not to be missed during the winter months. Take advantage of the short window of time when meyer lemons are available and make this homemade curd in less than 20 minutes.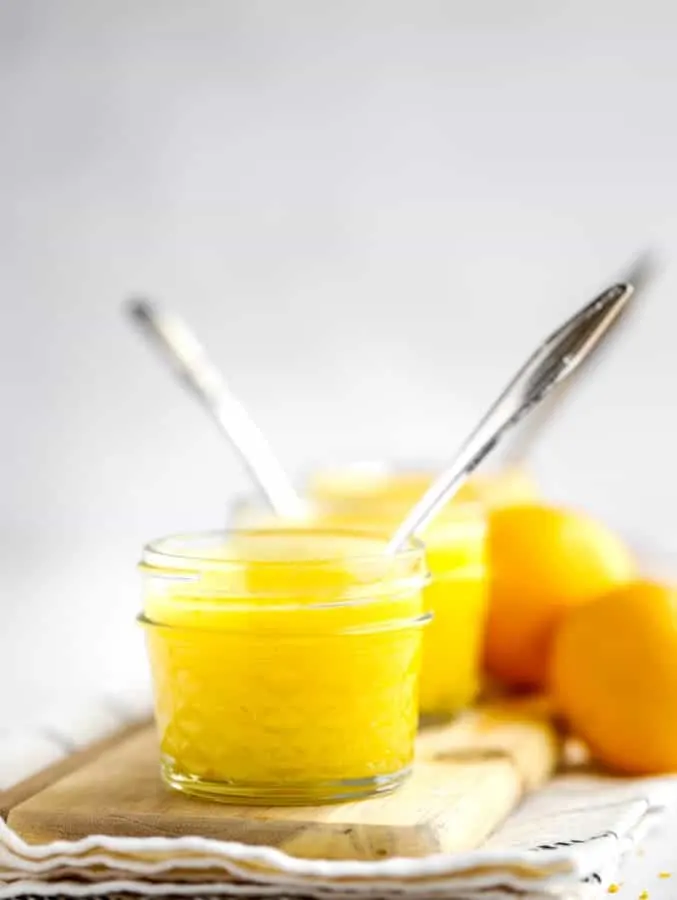 What is fruit curd?
Fruit curds are generally a mixture of fruit juice and zest that is thickened with eggs and sugar then made creamy by the addition of butter. Lemon curd is quite popular but you can make a variety of curds with various fruits. You can eat homemade lemon curd on its own or use it in recipes.
If you love fruit curd recipes as much as I do you'll enjoy learning about other methods to make this gem of a fruit sauce– try lemon curd in the Vitamix, lemon curd in the microwave, raspberry curd, vegan lemon curd, orange curd, grapefruit curd, or give limes a try in this easy lime curd!
Find all sorts of jams, jellies and canning recipes on my Canning Guide Resource Page.
Types of lemons
Typical lemons found in grocery stores in the United States are Eureka or Lisbon lemons. They are the familiar yellow, medium to large sized lemons that are readily available year round. The juice is tart and might cause you to pucker at the taste of acidity. We use these for most of the year without any complaints.
But then there is a short window between December and February (this time frame varies depending on where in the U.S. you live) when meyer lemons appear. Brighter and smaller these colorful citrus fruits are sweeter and less tart than regular lemons. The zest and juice are a mix between lemons and tangerine or clementine oranges.
Grab meyers while you can!
Ingredients needed
meyer lemons for juice and zest
sugar
eggs, slightly beaten
butter, cut into cubes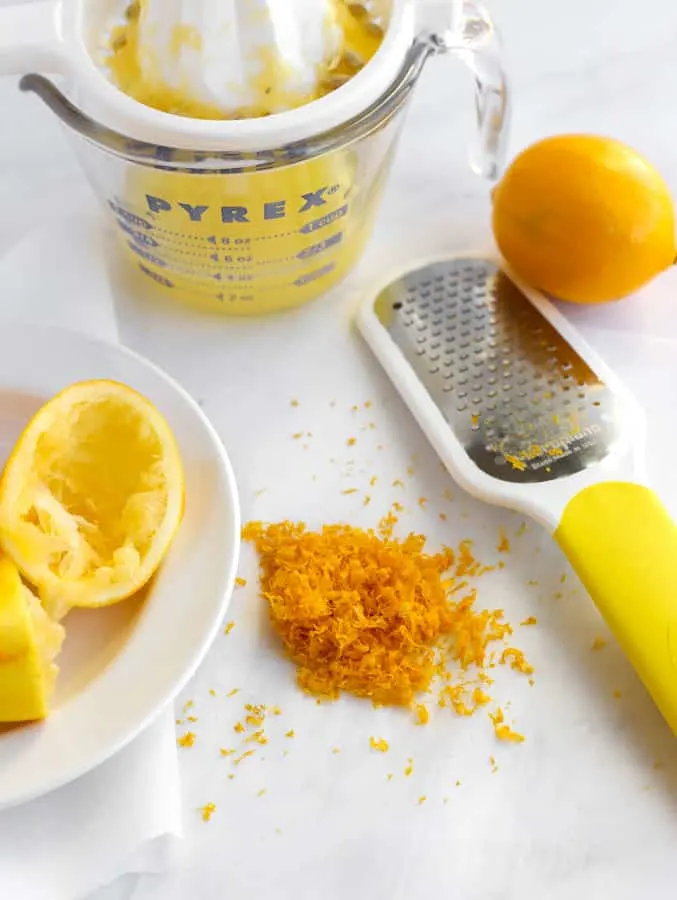 How to make meyer lemon curd
Zest and juice the lemons
Combine the lemon juice, zest and sugar in a saucepan over a double boiler. Heat over medium low heat to dissolve sugar.
Add the beaten eggs and whisk. Once the eggs have reached the safe cooking temperature add the butter.
Continue to stir and cook until the curd is the right consistency. Take off the heat and ladle into jars.
This traditional lemon curd recipe uses a double boiler or (bain marie as the French would say). While it may sound tricky, a double boiler is simply two pots stacked upon each other that create a good environment in which to slowly heat the ingredients in the top pot.
You are creating a heated bath essentially. In the bottom pot you add about two inches of water and bring it to a low boil. For this recipe even a simmer creates plenty of heat.
Place the second pot stacked on top. You'll put all of your ingredients in this pot.
The heat from the bottom pot slowly cooks the ingredients in the top pot. Continue stirring the whole time. Even in this gently cooking method you might still overcook the eggs if you let the top pot come to a boil.
If you notice your ingredients getting too warm (higher than a simmer) then reduce the heat and the water in the lower pot will reduce in temperature.
How do you know when lemon curd is done?
There are two key points in making sure that you cook lemon curd properly. The first has to to with food safety– you must cook the eggs to a safe temperature.
The USDA states that eggs are safe to consume once they reach 160 degrees F. I prefer to continue to at least 170 degrees F. Use a high quality thermometer like this one from ThermoWorks. A candy thermometer also works.
The second aspect to consider while making fruit curds is the consistency. No one wants a runny lemon curd! It can be hard to judge what the final consistency of your curd will be while you are still cooking it. The best way to determine if it is done is to dip a spoon or spatula into the mixture then run your finger down the spoon. (Be careful, it is quite warm.) If you make a clearly defined line then your curd is ready. If the mixture is too runny and the swipe you just made disappears, then continue to thicken the curd.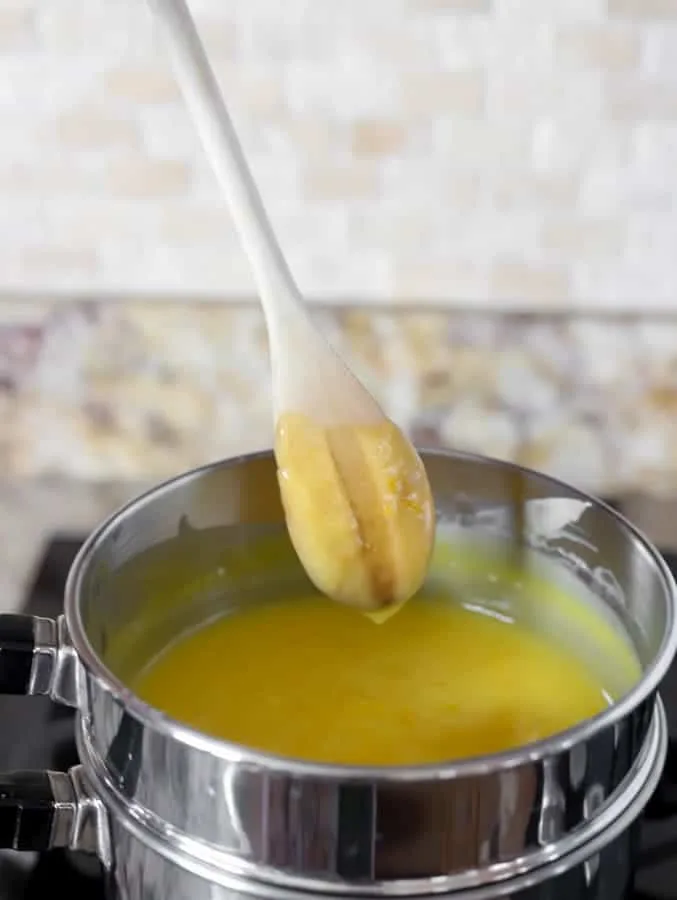 How to store
Keep meyer lemon curd and all fruit curds in the refrigerator. This recipe isn't for water bath canning. Simply store the filled jars in the refrigerator for up to 10 days. I am guessing you'll use your curd before that time expires!
Can I freeze lemon curd?
Yes, fruit curds freeze well. Make sure to leave some room between the curd and the top of the jar (this is called headspace) to allow for expansion. Use glass mason jars for canning, plastic jars designed for freezing jam like these containers, freezer safe containers or freezer Ziploc bags.
Tips for making meyer lemon curd
I find that meyer lemons don't stay at peak ripeness for long. When shopping for meyer lemons, make sure that they are still firm (not mushy to the touch) and that the peel is vibrant.
While organic lemons are preferred, both traditional and organic lemons should be scrubbed before using the zest for this recipe.
If you'd like a very smooth curd, go ahead and strain it before pouring it into clean jars.
Make sure to use clean jars. Read this resource on how to sterilize canning jars for more info.
Don't let the mixture come to a boil while you thicken the curd. Be patient. If the mixture is too hot you'll cook the eggs very quickly and will end up with pieces of cooked egg in your curd. Not to worry if this happens, your curd isn't ruined. Simply strain it before putting it in jars.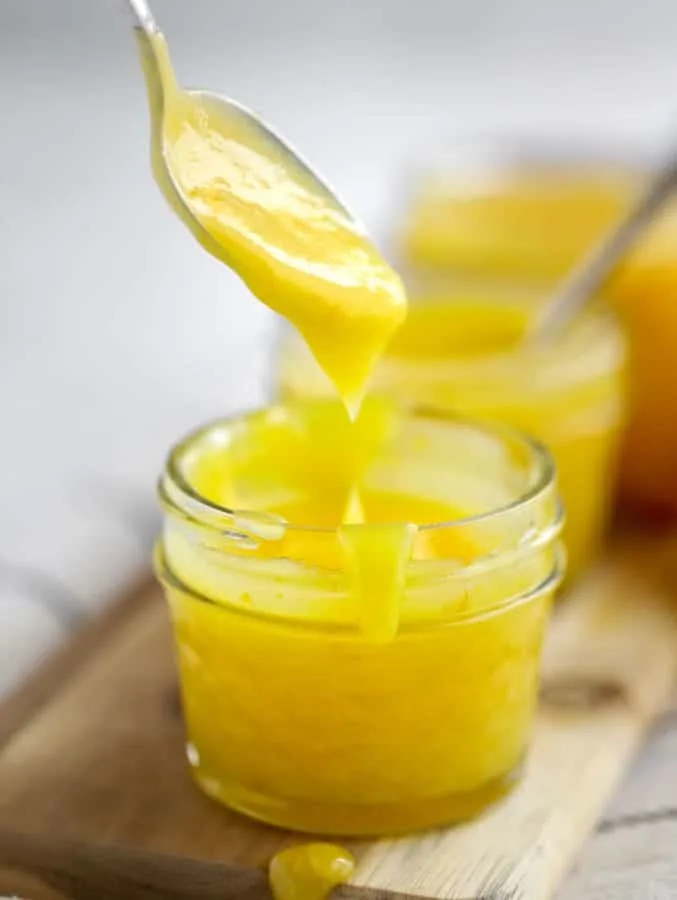 Uses for lemon curd
You will find many reasons to use your lemon curd. Here are nearly fifty ways to use lemon curd.
Here are a few more suggestions:
spread on toast
top a slice of quickbread such as banana bread with a dollop of lemon curd
as a macaron filling
as a cake layer filling
Mix curd with store bought frosting to make a lemon icing
Make a meyer lemon curd tart
Bake a lemon poppy seed bread
lemon frozen yogurt (only 2 ingredients!)
Yield: 8 ounces
Meyer Lemon Curd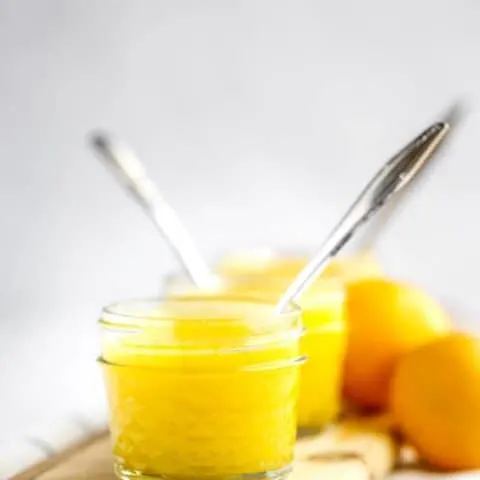 Make this gorgeous meyer lemon curd in 20 minutes!
Ingredients
4 - 5 meyer lemons
1 stick (4 ounces) butter
1 cup granulated sugar
3 eggs, slightly beaten
Instructions
Zest and juice the lemons. You should have about 2 tablespoons of lemon zest and 4 ounces or 1/2 cup of meyer lemon juice.
Prepare a double boiler. Add a few inches of water to the bottom pot and bring to a strong simmer over medium low heat. Cover with the top pan.
Add the lemon zest, lemon juice, and sugar to the top pan. Whisk constantly to combine and dissolve the sugar.
Add the eggs. Continue to whisk (or stir with a heat safe spatula) for 10 minutes as the mixture thickens. Cook the eggs to a safe temperature of 160-170 degrees F.
Add the butter and continue to stir another 5 minutes.
Ladle into clean, glass mason jars.
Notes
Use a high quality thermometer like Thermoworks to check the temperature of the mixture. Eggs must be cooked to at least 160 degrees to be safe to eat.
Store in the refrigerator. Curd lasts up to ten days.
Alternatively, freeze the cooled curd for later use.
Recommended Products
As an Amazon Associate and member of other affiliate programs, I earn from qualifying purchases.
Nutrition Information:
Yield:
16
Serving Size:
1
Amount Per Serving:
Calories:

69
Total Fat:

1g
Saturated Fat:

0g
Trans Fat:

0g
Unsaturated Fat:

1g
Cholesterol:

35mg
Sodium:

14mg
Carbohydrates:

15g
Fiber:

1g
Sugar:

13g
Protein:

1g
This data is provided by Nutritionix and is an estimate only.
Pin with me!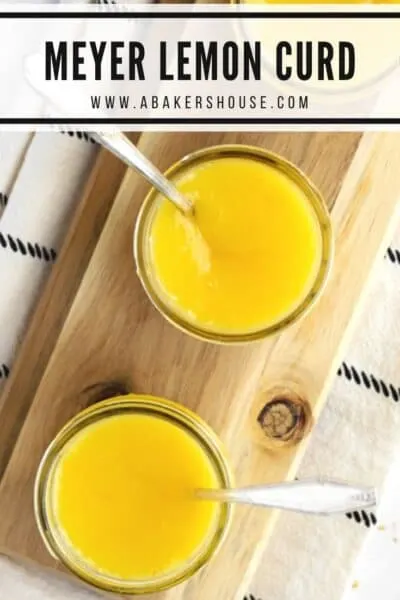 As an Amazon Associate I earn from qualifying purchases.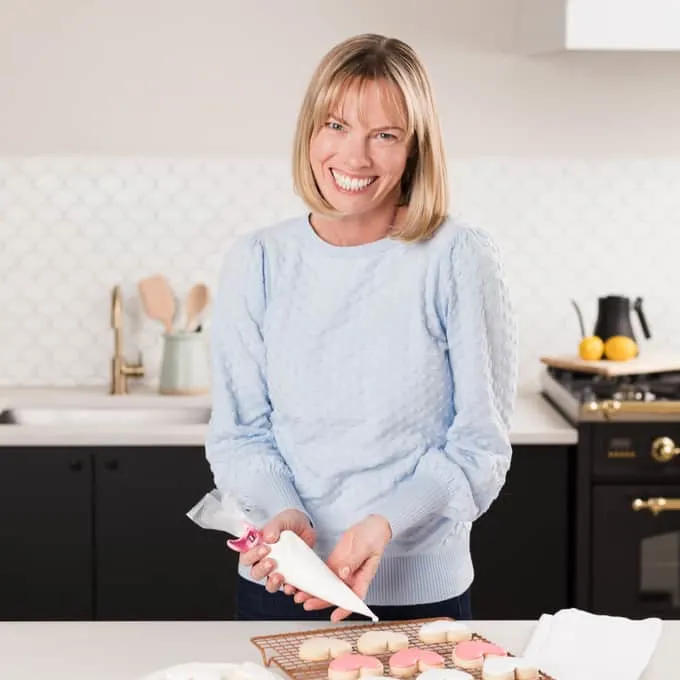 Holly Baker started the food blog, A Baker's House, in 2011. She is the writer, recipe creator, and photographer for the site. Holly loves to bake and shares recipes for gluten free food, canning recipes, as well as traditional desserts too. Her recipes and food photography have been highlighted by BuzzFeed, Reader's Digest, and She Knows.