Rugelach is a traditional Jewish pastry that is made with a cream cheese dough, filled with cinnamon and raisins, then rolled into crescent shaped cookies. I love these cookies at Christmastime too!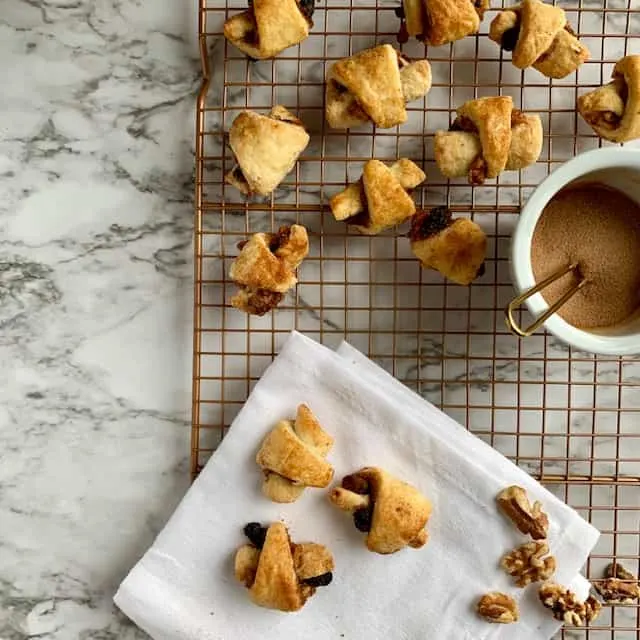 What is rugelach?
Rugelach is a cookie often made with a cream cheese or sour cream based dough. A filling of dried fruit, nuts, chocolate or jam is added then the dough is rolled around the filling.
The spelling of rugelach has long confused me. I've seen all of these examples and more: rugelach, rugala, rugalah, and the list goes on.
Background of rugelach
It is said that rugelach hail from Poland and originated in Jewish communities. I love that this traditional Jewish pastry has found its way into baking for many cultures.
I tend to bake rugelach around the holidays and share in cookie tins at Christmastime. Whether you are celebrating a Jewish holiday or not, this cookie recipe is worthy of any celebration!
Rugelach as gifts
I made Rugelach to share today in honor of my great Aunt Ruth. She turned 94 last weekend and I packaged these sweets up for her and sent them to California.
They seemed to arrive in one piece (yay!) and she shared them over a cup of coffee with a friend. She meets this particular friend often for coffee and they sit and watch the waves crash onto the rocks– sometimes even from the warmth of the car or other times at the coffee shop.
Aunt Ruth made these for many years but hasn't baked much recently so I wanted to surprise her with this rugelach. She liked that I cut the dough into triangles and rolled the rugelach in the traditional fashion.
How to make rugelach
Make the cream cheese dough and roll into a circle.
Cut into triangles (like cutting a pizza)
Place your filling on the circle of dough.
Roll from the outside towards the inside
Brush with an egg wash and sprinkle with cinnamon and sugar then bake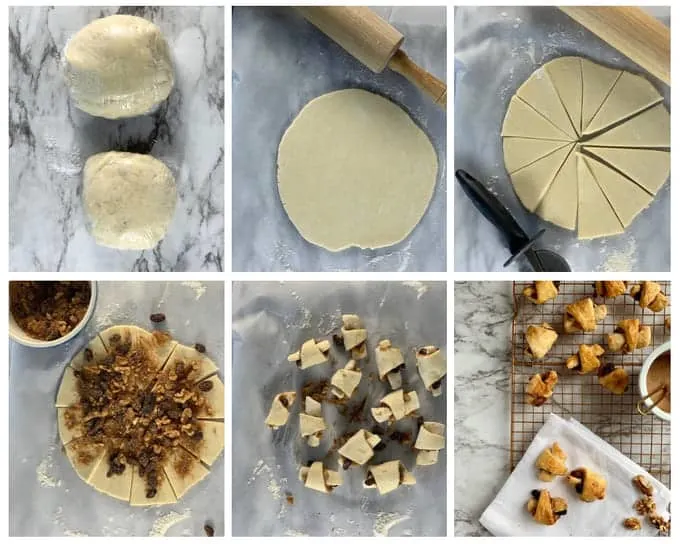 Cream cheese dough
Have you baked with cream cheese dough before? If you you'll know how forgiving this type of dough can be.
Cream cheese doughs are soft and supple. The dough doesn't tear easily which is perfect for this recipe where you need to roll the filling inside the dough.
Cream cheese is obviously sticky to start with. Let the cream cheese come to room temperature before making the recipe. Then use a food processor to bring the dough together.
The trick is have very little actual hands on time with this dough. Let the food processor do the work.
Make sure to refrigerate the dough before rolling it out. This step does add more time but it is important to cool the cream cheese and butter mixture before proceeding.
Can you make rugelach like a slice and bake cookie?
Yes, rugelach can fall under the category of slice and bake cookies. For that type of cookie you make the dough, roll it into a rectangle, layer it with filling, then roll it into a tight log of dough.
The slice and bake method is slightly less fussy because you roll everything up at once. When you make individual triangles you'll roll each one individually.
Often in stores today you'll find this faster (but still tasty) method used in which a rectangle of dough has been layered with filling then rolled into a log shape. You then slice pieces of the rolled log into segments and bake.
Variations on rugelach
You can create endless varieties by changing the rugelach fillings. Here are some ideas to try:
A green and red Christmas version is a Pistachio Cranberry Rugelach
Nutella filled rugelach
Marzipan filled rugelach (almond paste)
Dot your dough with chocolate chips before baking to create chocolate rugelach
Cut up caramels to add a gooey caramel layer to your cookies
Raspberry jam makes a festive filling too!
Rugelach recipe source
Aunt Ruth shared her recipe with me years ago and I turned my kitchen upside down looking for it to no avail.
Instead I relied on this recipe from Southern Living for the cream cheese-based dough and then I made the filling as I recalled Aunt Ruth's preference for a cinnamon raisin mixture. She said she and her friend both enjoyed the results so this was a baking success!
If you love holiday cookies, give these cookies a try too: almond lace cookies, amaretti biscuits, or salted caramel macarons.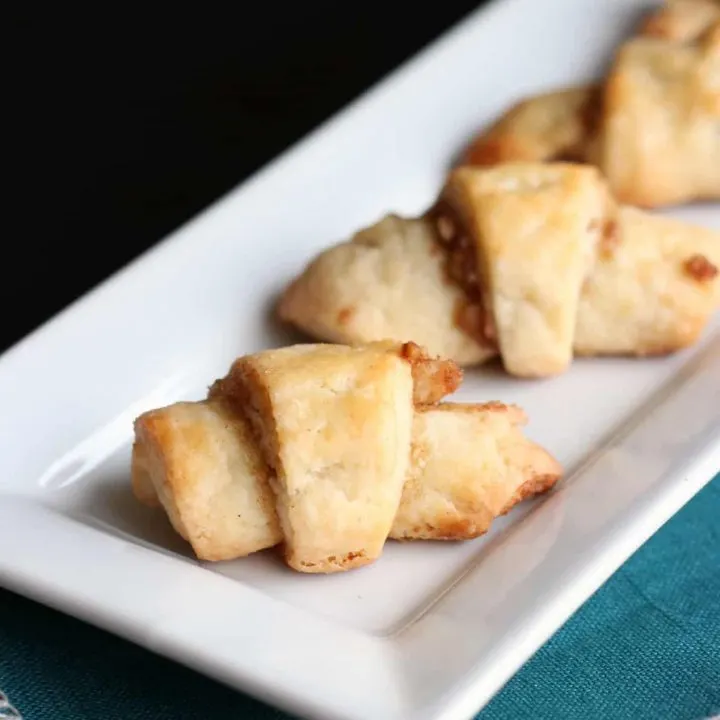 Recipe Source: Southern Living October 1997
Total Time
1 hour
40 minutes
Ingredients
2 1/4 cups all purpose flour
1 cup butter, cut into pieces
1 (8 ounce) package of cream cheese, cut into pieces
1/2 teaspoon salt
1/4 cup brown sugar
1/2 cup walnut pieces
1/2 cup raisins
1 teaspoon cinnamon
1 egg white plus 1 teaspoon water
Instructions
A food processor brings this dough together quickly. Mix the flour, butter, cream cheese and salt in a food processor. Pulse first a few times then run until the dough just pulls off of the sides of the bowl and starts to come together in a ball. Wrap dough in 2 flattened balls and refrigerate for an hour.
Meanwhile, make the filling: Again in the food processor pulse the brown sugar, walnuts, raisins and cinnamon about 10 times or until in small bits and pieces.
When the dough is chilled, divide again into half and roll each piece into a circle with the dough approximately 1/4 inch thick. Cut the circle into twelve pieces using a pizza cutter or sharp knife.
Whisk the egg white and water together in a small bowl. Brush the egg white and water mixture onto the dough. Top with some of the filling and then roll each triangle from the outside towards the center. Place on a parchment lined baking sheet. Brush with additional egg wash if desired and top with a sprinkle of sugar and cinnamon.
Bake at 375 degrees for 20 minutes or until lightly golden brown. Let cool on wire rack.
Notes
Change the fillings to make variations on rugelach-- nutella, chocolate, nuts, raisins, or spices all make good options.
Recommended Products
As an Amazon Associate and member of other affiliate programs, I earn from qualifying purchases.
Nutrition Information:
Yield:
24
Serving Size:
1
Amount Per Serving:
Calories:

155
Total Fat:

10g
Saturated Fat:

6g
Trans Fat:

0g
Unsaturated Fat:

4g
Cholesterol:

24mg
Sodium:

119mg
Carbohydrates:

14g
Fiber:

1g
Sugar:

4g
Protein:

2g
This data is provided by Nutritionix and is an estimate only.
More holiday cookie recipes
Updated in 2019.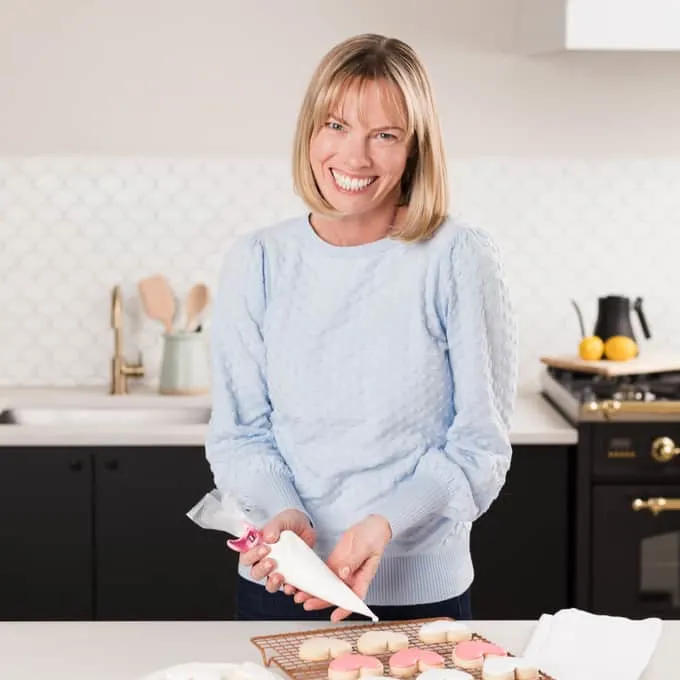 Holly Baker started the food blog, A Baker's House, in 2011. She is the writer, recipe creator, and photographer for the site. Holly loves to bake and shares recipes for gluten free food, canning recipes, as well as traditional desserts too. Her recipes and food photography have been highlighted by BuzzFeed, Reader's Digest, and She Knows.