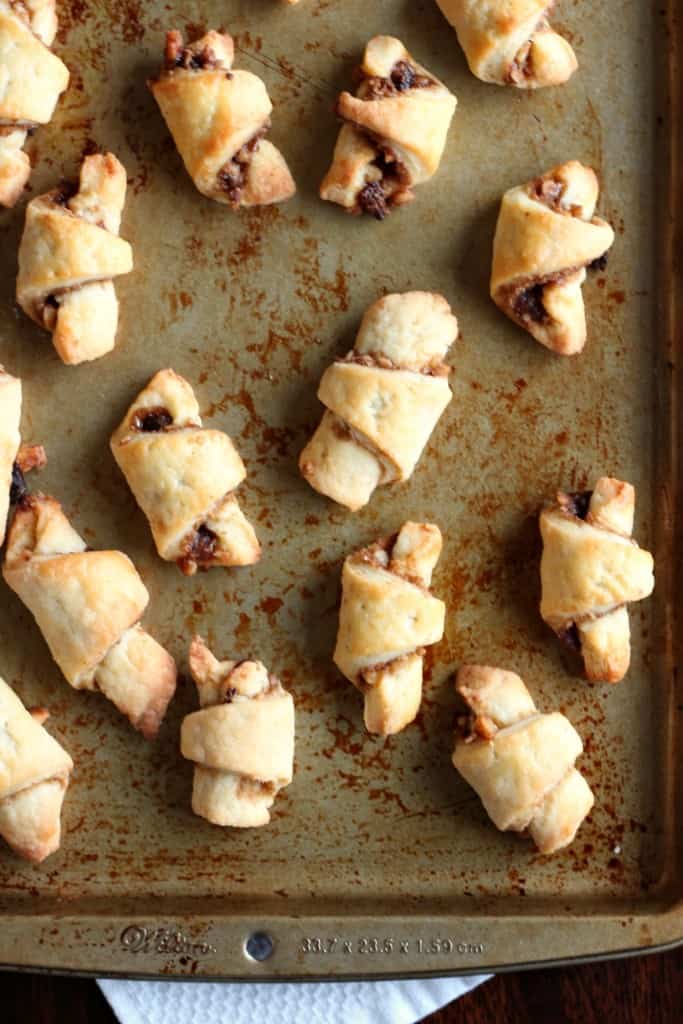 I made Rugelach to share today in honor of my great Aunt Ruth. She turned 94 last weekend and I packaged these sweets up for her and sent them to California.
They seemed to arrive in one piece (yay!) and she shared them over a cup of coffee with a friend. She meets this particular friend often for coffee and they sit and watch the waves crash onto the rocks– sometimes even from the warmth of the car or other times at the coffee shop. Aunt Ruth made these for many years but hasn't baked much recently so I wanted to surprise her with this rugelach. She liked that I cut the dough into triangles and rolled the rugelach in the traditional fashion.
Often in stores today you'll find the faster (but still tasty) method used in which a rectangle of dough has been layered with filling then rolled into a log shape. You then slice pieces of the rolled log into segments and bake. Aunt Ruth shared her recipe with me years ago and I turned my kitchen upside down looking for it to no avail. Instead I relied on this recipe from Southern Living for the cream cheese-based dough and then I made the filling as I recalled Aunt Ruth's preference for a cinnamon raisin mixture. She said she and her friend both enjoyed the results so this was a baking success!
If you love holiday cookies, give these cookies a try too: almond lace cookies, amaretti biscuits, or salted caramel macarons.
The theme this month for the #CreativeCookieExchange is International Winter Holiday Cookies! If it is a cookie traditionally made somewhere in the world for a holiday traditionally observed near the Winter Solstice you might find it on this list. If you are a blogger and want to join in the fun, contact Laura at [email protected] and she will get you added to our Facebook group, where we discuss our cookies and share links.
Rugelach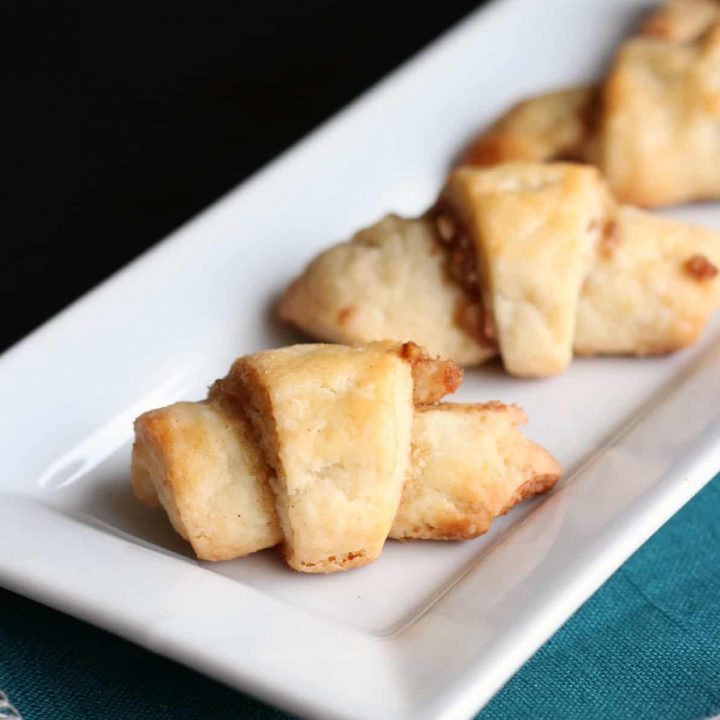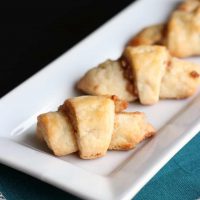 Recipe Source: Southern Living October 1997
http://www.myrecipes.com/recipe/fruit-rugelach

Prep Time 20 minutes

Cook Time 20 minutes

Additional Time 1 hour

Total Time 1 hour 40 minutes
Ingredients
2 1/4 cups all purpose flour
1 cup butter, cut into pieces
1 (8 ounce) package of cream cheese, cut into pieces
1/2 teaspoon salt
1/4 cup brown sugar
1/2 cup walnut pieces
1/2 cup raisins
1 teaspoon cinnamon
1 egg white plus 1 teaspoon water
Instructions
A food processor brings this dough together quickly. Mix the flour, butter, cream cheese and salt in a food processor. Pulse first a few times then run until the dough just pulls off of the sides of the bowl and starts to come together in a ball. Wrap dough in 2 flattened balls and refrigerate for an hour.
Meanwhile, make the filling: Again in the food processor pulse the brown sugar, walnuts, raisins and cinnamon about 10 times or until in small bits and pieces.
When the dough is chilled, divide again into half and roll each piece into a circle with the dough approximately 1/4 inch thick. Cut the circle into twelve pieces using a pizza cutter or sharp knife.
Whisk the egg white and water together in a small bowl. Brush the egg white and water mixture onto the dough. Top with some of the filling and then roll each triangle from the outside towards the center. Place on a parchment lined baking sheet. Brush with additional egg wash if desired and top with a sprinkle of sugar and cinnamon.
Bake at 375 degrees for 20 minutes or until lightly golden brown. Let cool on wire rack.
Nutrition Information:
Yield:
24
Serving Size:
1

Amount Per Serving:

Calories: 155 Total Fat: 10g Saturated Fat: 6g Trans Fat: 0g Unsaturated Fat: 4g Cholesterol: 24mg Sodium: 119mg Carbohydrates: 14g Fiber: 1g Sugar: 4g Protein: 2g

This data is provided by Nutritionix and is an estimate only.

You can also just use us as a great resource for cookie recipes–be sure to check out our Pinterest Board and our monthly posts (you can find all of them here at The Spiced Life). You will be able to find them the first Tuesday after the 15th of each month! Also, if you are looking for inspiration to get in the kitchen and start baking, check out what all of the hosting bloggers have made: