Add this recipe for pistachio cranberry rugelach to your holiday baking this year. The soft cream cheese dough is wrapped around a citrus, pistachio and cranberry filling.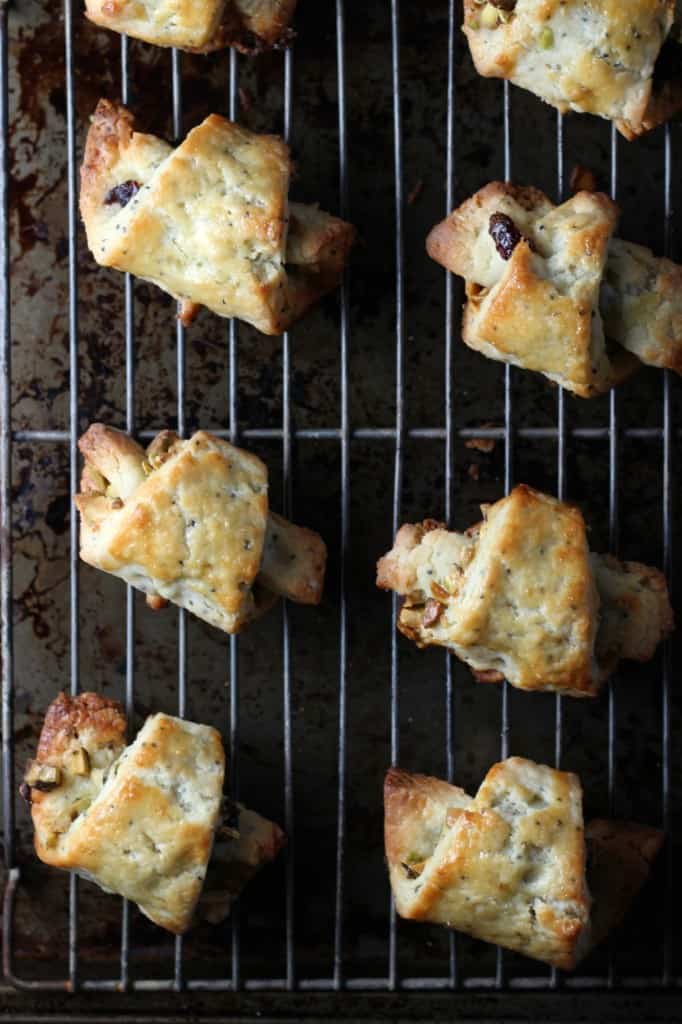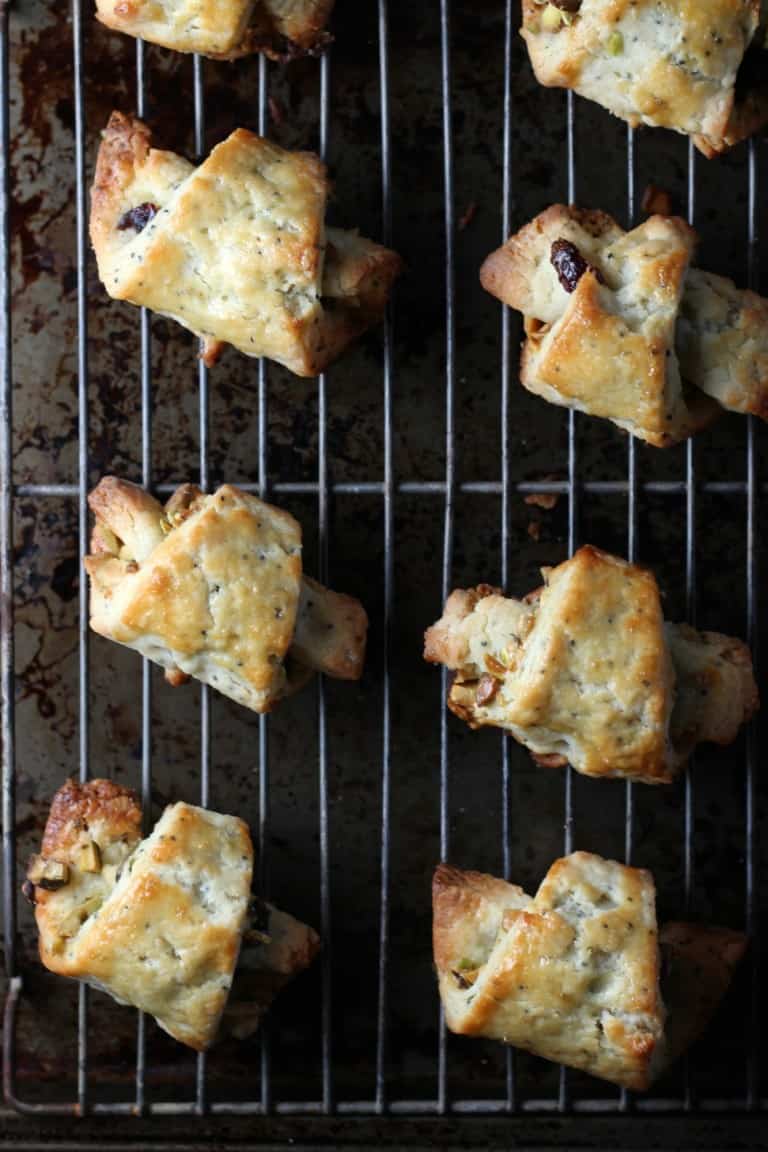 What is rugelach?
Rugelach is a cookie which here is made with a soft cream cheese dough that is wrapped around a filling of nuts and dried fruit.
Picture a croissant in that the dough begins as a triangle. The filling is then added and you roll the dough from the large end of the triangle towards the point of the triangle.
What type of filling is used in rugelach?
nuts
dried fruit
spices such as cinnamon
chocolate
get creative and use fillings like Nutella or jam
Can you send rugelach through the mail?
Yes, rugelach makes an excellent baked good to package and send through the mail to family and friends.
Read here to learn how I best package cookies to send in the mail. Take the time to make sure your beautiful baked goods arrive in one piece!
I am sharing pistachio cranberry rugelach. I baked a batch of traditional rugelach a few years ago to send to my dear Aunt Ruth. On the day I baked this updated version with a pistachio, cranberry and citrus filling, Aunt Ruth celebrated her 96th birthday! My aunt lives in California so I was not able to share these with her this time but I know she would have enjoyed them.
I started with this pistachio-citrus rugelach recipe from Whole Foods then added dried cranberries to get into the Christmas spirit with a red and green filling. In fact my only addition was the one half cup of dried cranberries and the zest of an orange which you can add to the filling.
You'll see from this photo that the rugelach are not my most photogenic food of the year! Some of the edges were overcooked and the egg wash was inconsistent which created a lack of uniformity in the appearance of these goodies, but do not let that stop you from baking this recipe yourself!
I have gobbled up the rugelach with their crisp edges and all without a complaint. The tender cream cheese based dough gently wraps around the filling of pistachios and cranberries in such a way that you will not stop with just one. My apologies to your waist-line but you can save your New Year's resolutions of eating healthy until January 1st!
What kitchen items do I need to bake cookies?
We are a participant in the Amazon Services LLC Associates Program, an affiliate advertising program designed to provide a means for us to earn fees by linking to Amazon.com and affiliated sites.