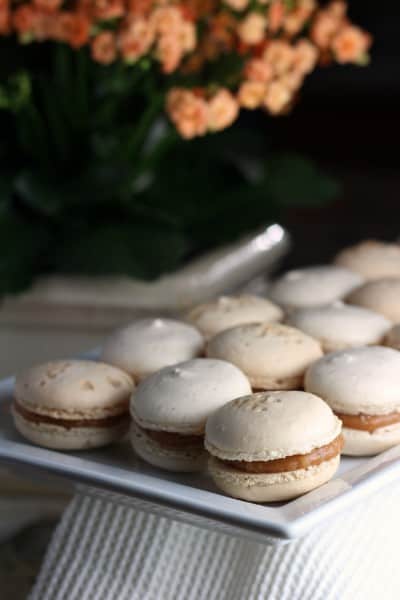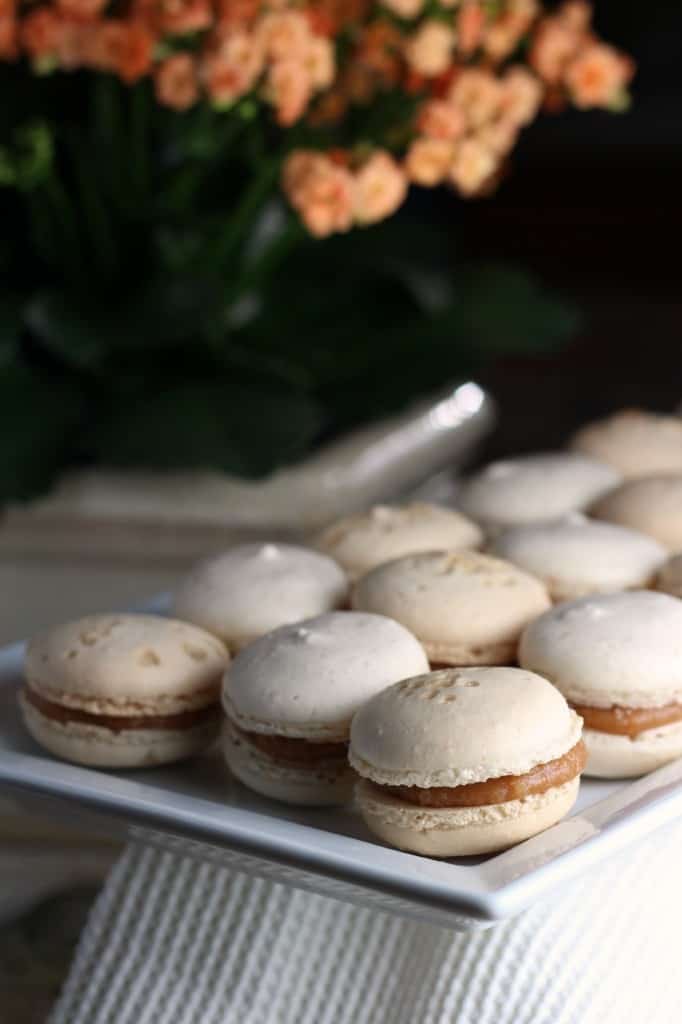 Caramel. Just the word makes me smile. Maybe it is childhood memories of eating Johnson's Caramel Popcorn on the Ocean City, New Jersey boardwalk. Or it could be the sound of unwrapping a Werther's caramel that my grandmother had in her jar of sweets. Some people may say that chocolate reigns supreme but not me– caramel rises to the top of any list of my favorite flavors. Making it from scratch is relatively new to me. I've tried it before but haven't had consistent success. Guess what? The same is true this month– I made Salted Caramel Macarons following a recipe from the Bouchon Bakery. Did mine look like the bakery version? Not precisely. The shells do have the classic macaron shape and feel but my caramel wasn't as smooth and luscious as the Bouchon Bakery photograph. Did I eat macaron after macaron trying to discern whether or not they were shareable outside the confines of my kitchen? Well, yes I did! And I decided (a few pounds heavier I am guessing) that I most certainly could share these sweet bites. Macarons have been known to be fussy but as long as you don't take yourself too seriously and feel comfortable learning from your less-than-perfect desserts, then keep on baking and enjoying the results!
Don't let the need for a candy thermometer scare you off– this article includes photos and the details of the Bouchon Bakery recipe. I followed the recipe without any changes so I won't repeat it here. Click through the provided link and get inspired to bake macarons! You might notice in my photo that I experimented with the sea salt. There is some in the caramel plus half of my macaron shells had a sprinkling of sea salt before baking as the recipe directs. I found those shells looked a little tired after they rested for a day or so and was happy with the non-sprinkled shells as there is enough salt in the caramel to achieve that gorgeous salted caramel bite. Another note, I overfilled my macarons and you can see the caramel filling oozing out. I mentioned that my caramel wasn't as picture-perfect as the original recipe but I have to say that it was so tasty that I couldn't resist overdoing it when I filled the shells. I would (and did!) eat this caramel by the spoonful. Really dangerous stuff!
The baking tool I find most helpful when making macarons is a Macaron Baking Mat. The mat has circular indentations that make crafting identical macarons SO MUCH EASIER. When I've experimented with that same batch of macaron batter and made one tray with my molded baking mat and the other tray without the mat, I've had much better results with the mat. The molds give the macarons structure and, for me, are an insurance policy for when I may have under mixed my batter. Instead of spreading all over a regular baking mat, my macarons puff up, develop that signature foot around the edge, and bake beautifully. Here is an affiliate link to a Macaron Baking Mat on Amazon. Please note that if you use this link, the item is the same cost to you and I receive a small percentage. 
We are a participant in the Amazon Services LLC Associates Program, an affiliate advertising program designed to provide a means for us to earn fees by linking to Amazon.com and affiliated sites.
Let's jump in and explore the other caramel cookies shared by the #CreativeCookieExchange in the list below. Many thanks to Laura at The Spiced Life for hosting this month.
The theme this month is Caramel–any kind of caramel in any kind of cookie! If you are a blogger and want to join in the fun, contact Laura at [email protected] and she will get you added to our Facebook group, where we discuss our cookies and share links. Please be patient though, as this month Laura is off to Italy and will not be checking email quite as often!
You can also just use us as a great resource for cookie recipes–be sure to check out our Pinterest Board and our monthly posts (you can find all of them at The Spiced Life). You will be able to find them the first Tuesday after the 15th of each month! Also, if you are looking for inspiration to get in the kitchen and start baking, check out what all of the hosting bloggers have made: