Cashew Chocolate Bark is an easy to make holiday treat! Start with gluten free graham crackers, add a layer of cashew butter and white chocolate, and top with a semi-sweet chocolate layer to create this no bake dessert. Make a double batch because holiday bark is perfect for gifts—plenty for you and your friends!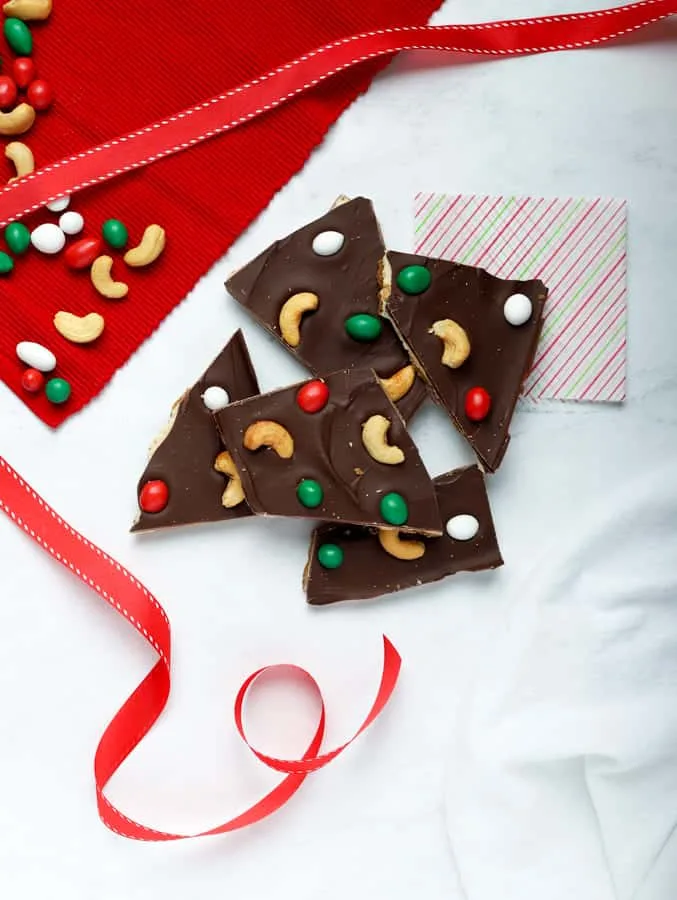 This post is sponsored by Sprouts Farmers Market. I appreciate the opportunity to share recipes made with ingredients from brands I trust and support. All opinions are my own and do not necessarily reflect those of Sprouts Farmers Market. #sponsored
What is candy bark?
Chocolate bark is a layered, no bake dessert. Candy bark usually starts with a layer of chocolate which is decorated with nuts, candies, chocolate chips, caramel or even marshmallows. The possibilities are only limited by your imagination!
Sometimes the base of the chocolate bark is a graham cracker or a saltine cracker. If you need a gluten free recipe, make sure that each of the components of your dessert are gluten free.
The chocolate layer can be semi-sweet, dark, or a combination of types of chocolate. White chocolate is a great option too for candy bark.
Here is a white chocolate bark that has pretzels, pistachios and dried fruit. It's perfect for holiday gifting!
Ingredients from Sprouts Farmers Market
gluten free graham crackers
vanilla chips
chocolate chips
cashew butter
cashews
decorative candies
This post is sponsored by Sprouts Farmers Market. Do you have a location near you? I hope so! You can find a list of Sprouts locations here.
All the ingredients in this recipe are from Sprouts, some from the Bulk Foods Department. The Bulk bins are filled with coffee, grains, nuts, chocolates, candies and more. It's a great way to save because you only buy the amount that you need.
Items vary throughout the year and around holidays it is especially fun to look for new additions to the bulk bins.
One item to note: if you have celiac disease, the bulk bins may not be a good fit for you. The items are not certified gluten free. You'll be able to find similar ingredients that are gluten free packaged throughout the store.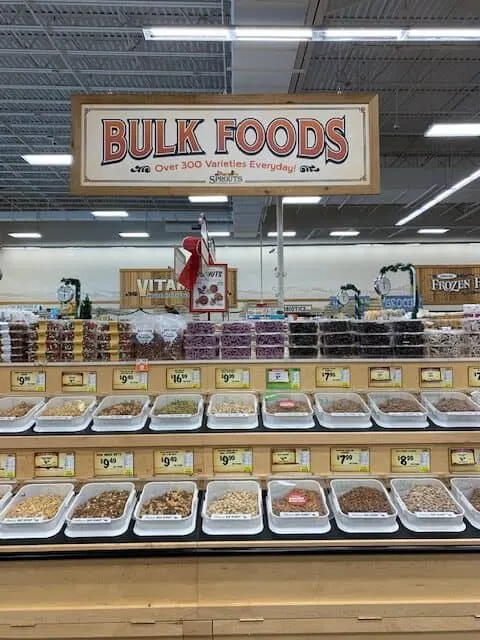 How do you make Cashew Chocolate Bark?
The trick to making chocolate bark is to spread thin layers of melted chocolate that, when firm, create a crisp bite. The microwave makes quick work of this recipe and lets you create an easy, no bake dessert in very little time.
Check out the video to see how my cashew chocolate bark is made.
Place your graham crackers onto a parchment lined baking tray.
Melt the white chips and the cashew butter. Spread over the graham crackers.
Melt the chocolate and spread over the cashew layer.
Top with cashews and other holiday candies or nuts.
Refrigerate until firm or leave at room temperature to set.
Break into small pieces.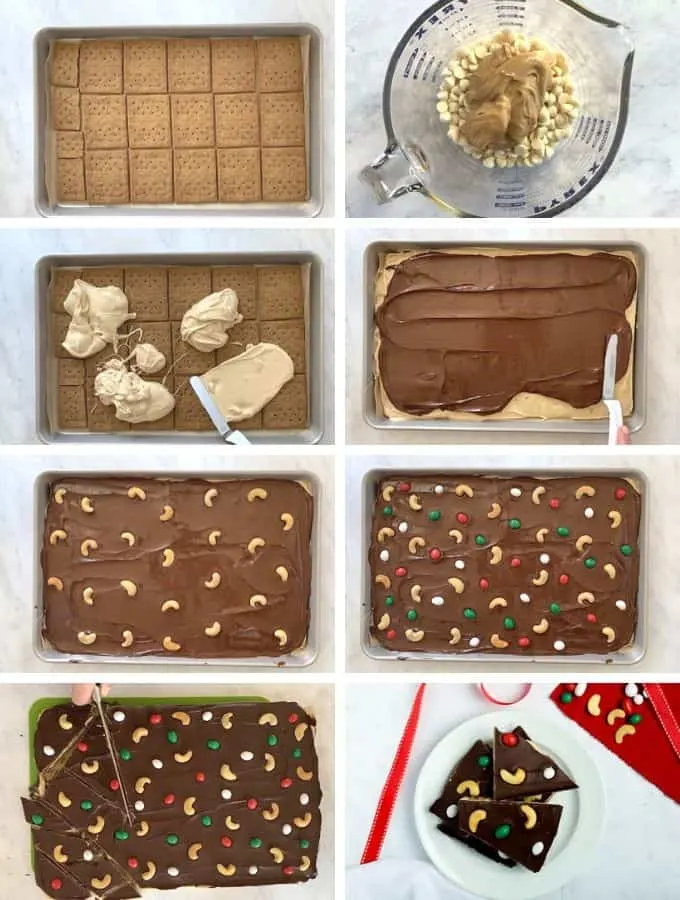 How to break bark into pieces
There are a couple of ways to break your finished bark in to serving sized pieces.
use a knife to cut sharp lines through your bark.
cover the bark with more parchment or aluminum foil (or wear food safe plastic gloves) and gently force breaks into the chocolate bark by cracking it into pieces with your hands.
some recommend simply hitting the bark with a wooden spoon to create breaks but this works best on a very thin chocolate bark. If you are using graham crackers or saltine crackers as the base, try one of the first two methods.
How to store chocolate bark
Cashew bark (and most candy barks) can be stored at room temperature in an air tight container for up to two weeks. As long as you haven't used any ingredients that could spoil (like butter or cream cheese) then your bark will be fine packaged and left at room temperature.
You can store chocolate bark in the refrigerator as well. Just let it come to room temp before serving.
Can you freeze chocolate bark? Well, yes, you can freeze bark but be sure to give it time to warm up before you eat it. Biting into frozen chocolate is tough on the teeth!
Chocolate Bark Packaging
If you are sending chocolate cashew bark through the mail, I like to follow these tips I shared about sending cookies in the mail. The same rules apply here.
wrap each piece individually in food safe plastic bags, saran wrap or parchment. This step allows you to add packaging around the goodies that wouldn't be food safe otherwise. (For example, you wouldn't want cookies or chocolate to touch bubble wrap directly.)
place shredded paper gift wrap or a thin layer of bubble wrap on the bottom of the container
gently nestle the pieces into a cookie tin or sturdy cardboard box
fill with as many layers as needed of the chocolate bark and then finish with more shredded paper
close the tin and wrap with ribbon or seal with strong tape
Wrap the tin in MORE bubble wrap or packing peanuts and place it into a larger shipping box
Check out this post with creative gift packaging ideas.
This sponsored post is part of a Treat Exchanged organized by Sprouts. It is such fun to send treats across the miles to other bloggers. And guess what, it is even better to receive delicious packages in return!
Here are goodies I've shared in past years White Chocolate Pretzel Bark and Gluten free Nutty Chocolate Crunch Cookies
Check out these treats that I received this year: from Mary Ellen at Milk and Honey Nutrition and Salted Pecan Caramels from Glory at Glorious Treats.
Pin with me!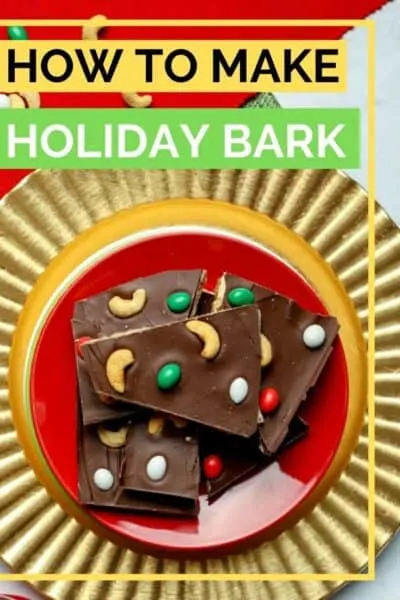 Yield: 20 pieces
Cashew Chocolate Bark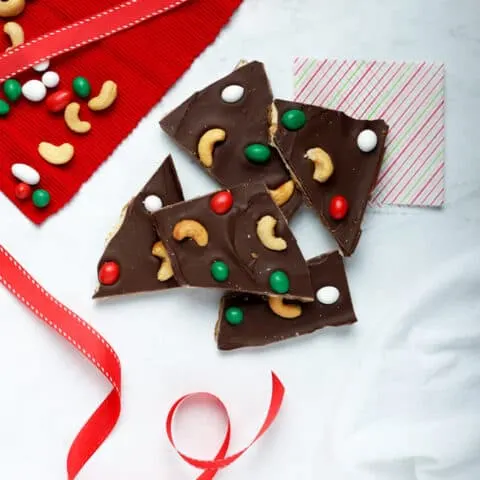 Cashew Chocolate Bark is an easy to make holidaytreat! Start with gluten free graham crackers, add a layer of cashew butter andwhite chocolate, and top with a semi-sweet chocolate layer to create this nobake dessert.
Additional Time
50 minutes
Ingredients
Gluten free graham crackers (about 12 full size crackers)
1 ½ cups vanilla milk chips (gluten free)
½ cup Sprouts cashew butter, unsalted and unsweetened
2 cups semi-sweet chocolate baking chips (gluten free)
½ cup cashews roasted and salted
Optional: ½ cup holiday topping such as Sprouts Holiday Boston Baked Beans (candy covered peanuts)
Instructions
Line a 10 by 15 inch baking pan with parchment paper.
Place the graham crackers in a single layer to cover the parchment paper.
Microwave 1 ½ cups vanilla milk chips and ½ cup cashew butter in 30 second increments. Stir in between each 30 seconds until mixture is smooth. Spread onto the prepared baking pan in a thin, layer.
Microwave the semi-sweet chocolate chips in 30 second increments. Stir in between each 30 seconds until smooth. Spread the chocolate on top of the cashew butter layer.
Place ½ cup of the cashews and the ½ cup of candy decorations on top of the chocolate layer.
Refrigerate for 45-50 minutes to speed up the process of hardening and setting the layers.
Break into pieces. Store in an air tight container at room temperature for up to a week or for longer in the refrigerator.
Notes
1. If you don't require a gluten free recipe, use traditional graham
crackers
2. Depending on the brand of graham crackers, the sizes will be
different. Use enough graham crackers to cover your baking pan.
3. Make your layers as thin as even as possible.
4. You'll notice some lumps in your cashew and vanilla chip layer—no
problem—those lumps are cashews from the cashew butter.
Recommended Products
As an Amazon Associate and member of other affiliate programs, I earn from qualifying purchases.
Nutrition Information:
Yield:
20 pieces
Serving Size:
1 piece
Amount Per Serving:
Calories:

151
Total Fat:

9g
Saturated Fat:

4g
Trans Fat:

0g
Unsaturated Fat:

4g
Cholesterol:

3mg
Sodium:

96mg
Carbohydrates:

19g
Fiber:

2g
Sugar:

13g
Protein:

3g
This data is provided by Nutritionix and is an estimate only.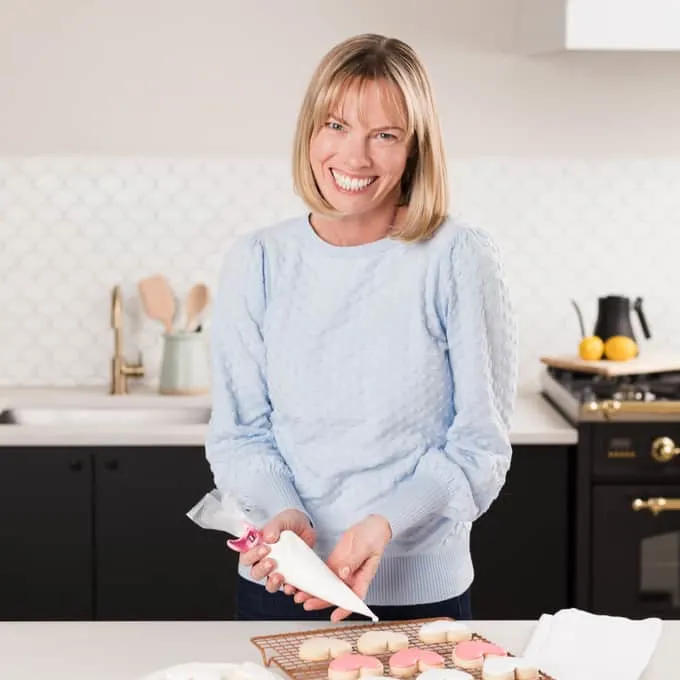 Holly Baker started the food blog, A Baker's House, in 2011. She is the writer, recipe creator, and photographer for the site. Holly loves to bake and shares recipes for gluten free food, canning recipes, as well as traditional desserts too. Her recipes and food photography have been highlighted by BuzzFeed, Reader's Digest, and She Knows.