Chocolate caramel thumbprints are in my top ten list of cookies that I could eat for the rest of my life. A chocolate dough coated with pecans and then filled with caramel after baking is really all you could ask for in a cookie!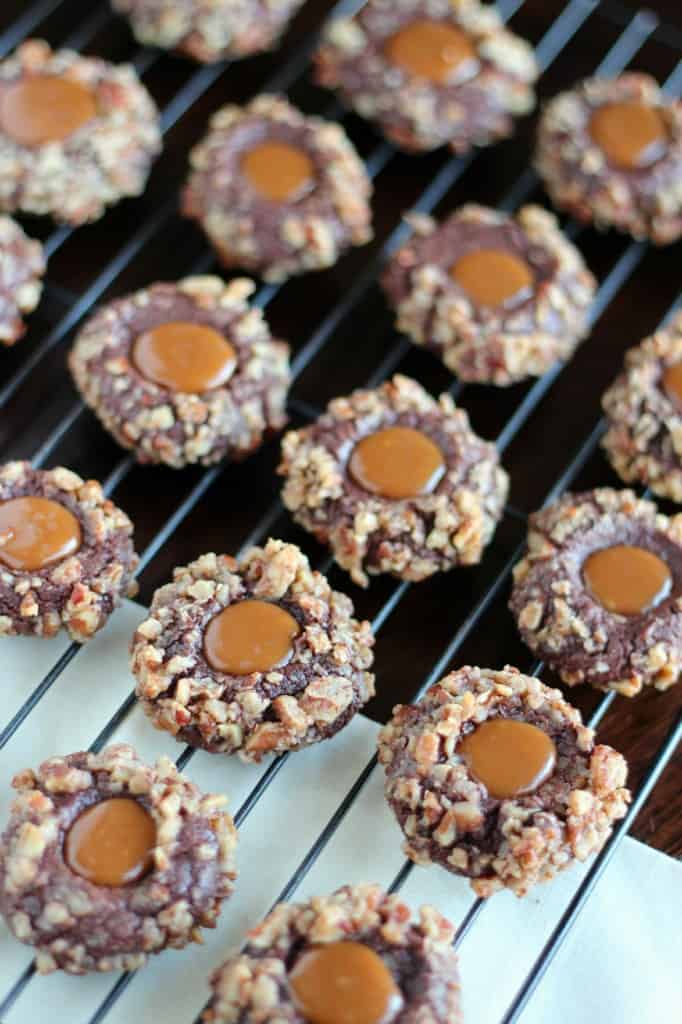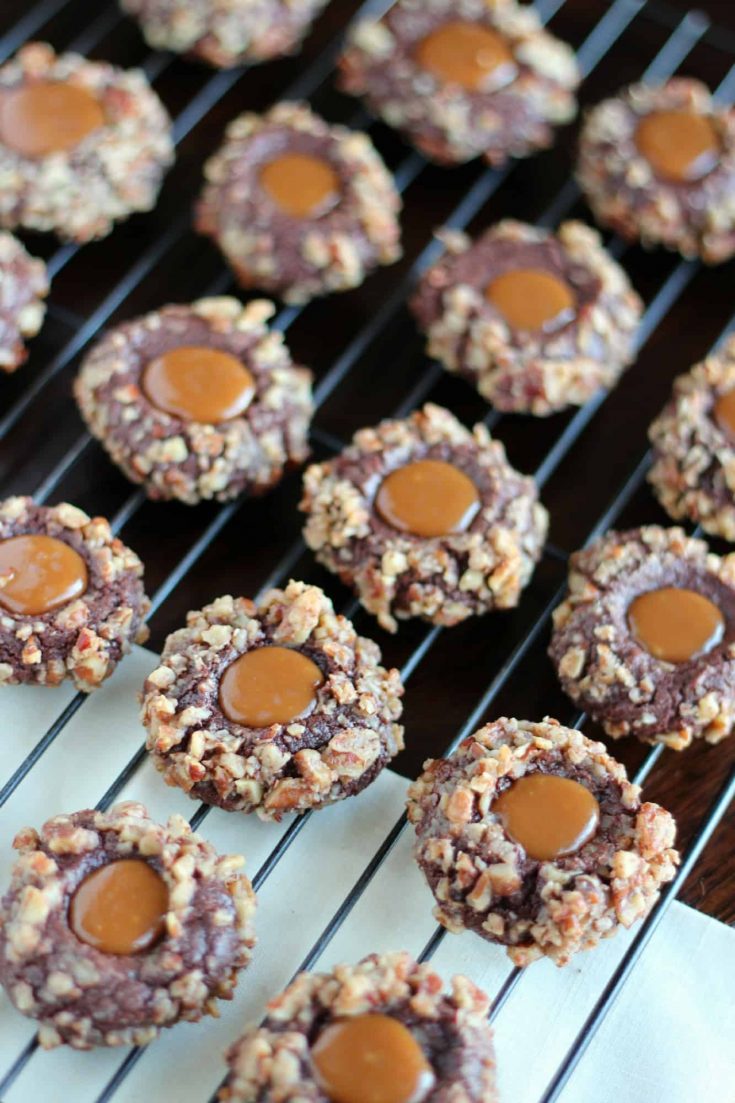 Oh these chocolate caramel thumbprint cookies are something! The good kind of something– the kind you can't stop at eating just one.
A great cookie exchange choice
The only way I saved myself from gaining ten pounds when I made these cookies was that I made them for a cookie exchange. The pressure of knowing that I needed 60 cookies to share (and not one less!) forced me to limit how many of these beauties I ate.
What ingredients are in this thumbprint cookie?
the usual cookie suspects of flour, salt, eggs, butter, sugar
cocoa powder
milk
vanilla
pecans
store-bought caramels
a touch of heavy cream
Did I mention that there is chocolate AND caramel AND pecans all wrapped up in this one cookie recipe?
Is this an America's Test Kitchen recipe?
Yes, America's Test Kitchen knows how to tempt with cookie recipes and this is no exception. I found this cookie in their Holiday Special issue a few years ago.
The dough is made and refrigerated, then balls of dough are dipped in egg whites and coated with pecans. The caramel is the treat added after baking. This is a multi-step process but well worth the finished product.
Do I need to toast the nuts first?
Many times when you are baking with nuts, it helps to bring out the flavor by toasting them first. In this recipe there is no need to do so. All of the pecans are on the outside of the cookie. None are mixed throughout the dough.
All the pecans will be lightly toasted as the cookies bake.
Can I substitute of skip the nuts?
Of course, play with the ingredients to suit your tastes and dietary needs.
If you want to use almonds, pistachios or walnuts, be my guest.
Or skipping the outer coating of nuts all together is perfectly fine too. It's your cookie!
Do you have a favorite cookie for a cookie exchange party? I'd love to hear about it! Leave me a comment below.
Here are some other wonderful cookie exchange recipes:
Gluten Free Nutty Chocolate Crunch Cookies