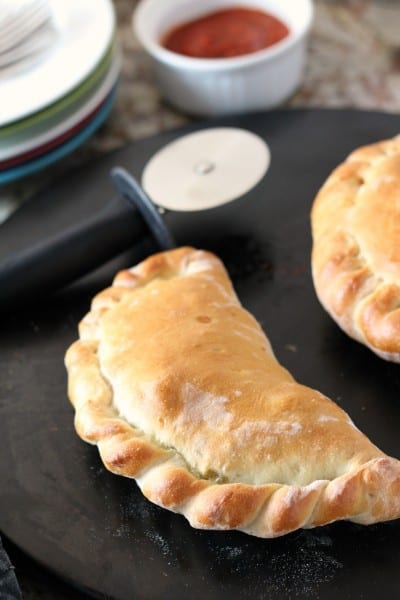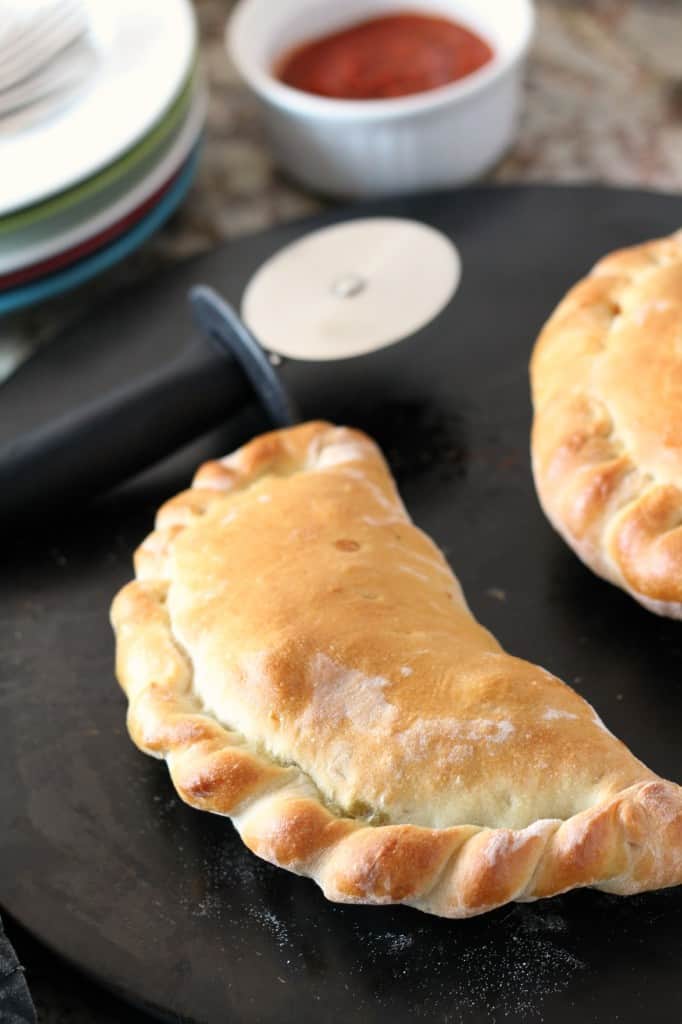 I am excited to share this calzone today. So many cultures have a bread that is basically a standard type of dough folded over to make a pocket filled with meat, cheese or vegetables and then sealed around the edges to create a handheld, portable food. The calzone seems to be the Italian version and is nothing more than a pizza folded in half. I have fond memories of eating calzone as a lunchtime treat at my first job out of college. Two co-workers and I would walk to a local Italian spot in Philadelphia and we'd feast on these massive calzones that my waistline would only have been able to manage in my early 20s! Damian and Bob, these are for you!
As I often do when looking for a reliable bread recipe, I turned to King Arthur Flour for their recipe which can be found here. The fillings are fun– make it your choice and change it up. I used three different types of fillings for my calzone and couldn't name a favorite– they were all special!
I look forward to baking bread every month with this group of bloggers, won't you join us? #TwelveLoaves is a monthly bread baking party created by Lora from Cake Duchess and runs smoothly with the help of Heather of girlichef, and the rest of our fabulous bakers.
Our host this month is Rossella from Ma ch ti sei mangiato, and our theme is Italian Breads. For more bread recipes, visit the #TwelveLoaves Pinterest board, or check out last month's mouthwatering selection of #TwelveLoaves Olive Breads!
Now, just for a quick look back I will share the first photo I posted of a calzone over three years ago. Thanks to my mom and my few other readers then who kept reading even though the photography left A LOT to be desired. Even today's photo is not perfect but I am sure we can agree that it is greatly improved. I hope to look back in another three years and have an even better photograph to share; I am looking forward to daily improvement. (And, no, when I originally posted these photos I did not know how terrible they were!) So if you are just starting out with your food photography, keep practicing– I will continue to do the same!
Print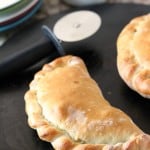 Calzone: recipe from King Arthur Flour
---
Ingredients
2 cups water (about 110 degrees F which is warm to the touch but not hot enough to hurt your finger)
1 tablespoon sugar
1 packet active dry yeast
1 tablespoon olive oil (my addition, original recipe leaves this out but I found it helped the moisture and texture of the dough)
6 cups All purpose flour
1 tablespoon salt
1 egg plus a few tablespoons water for egg wash with which to brush the dough before baking
Fillings
Make the fillings your choice, here are some suggestions:
tomato sauce, basil and mozzarella cheese OR
ham, pesto and cheese OR
my favorite this time was olives, sundried tomatoes, feta cheese and parsley
---
Recipe Card powered by
If you'd like to bake along with us this month, share your Italian bread using hashtag #TwelveLoaves!