Make your own granola bars are the solution to snacking on the go. Filled with ingredients to help you refuel your energy when the tank is running low.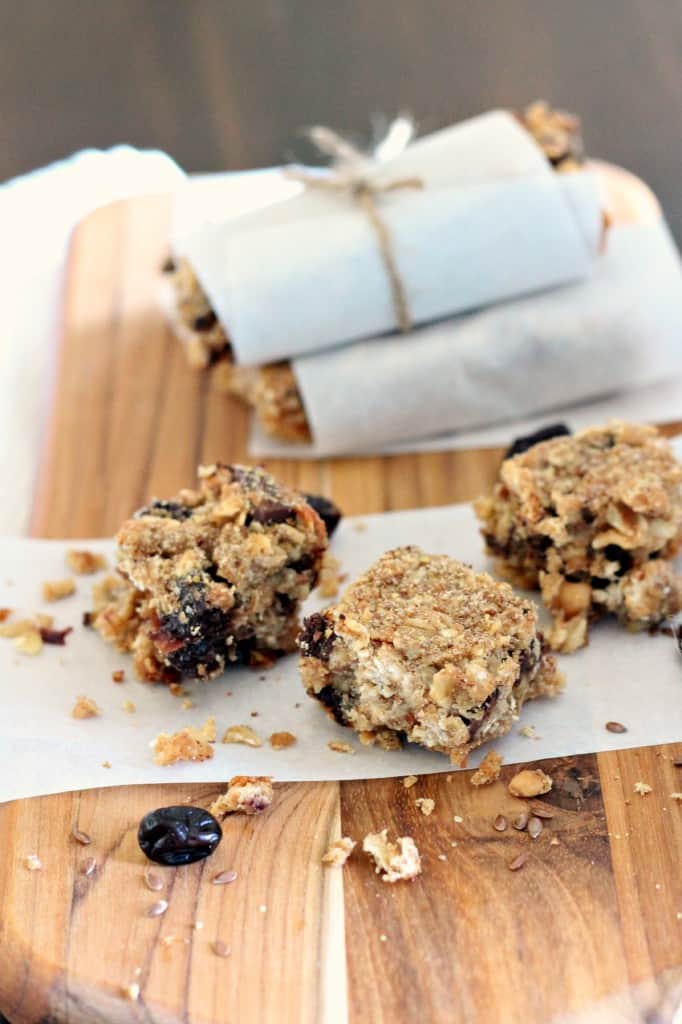 Summer has arrived and I hope you are finding time to enjoy the great outdoors! Here in Colorado there is so much to see and do–biking, hiking, rock climbing and more. I'm fortunate to have friends who encourage each other to explore nature while exercising too.
Thanks to my friend, LeAnn, I've biked from our suburb south of Denver all the way into Cherry Creek earlier this month. We enjoyed a fantastic coffee break and treat before biking the more challenging uphill trek back home.
With another friend we took our kids hiking up to Maxwell Falls which is located near Evergreen, CO, and this week we plan to find a similar hiking adventure.
Wouldn't these homemade granola bars be perfect to take along for a snack break and a much-needed spark of energy? Another snack perfect for on-the-go is Homemade Aussie Bites. Love them from Costco or made at home!
Yield: 12
Homemade Granola Bars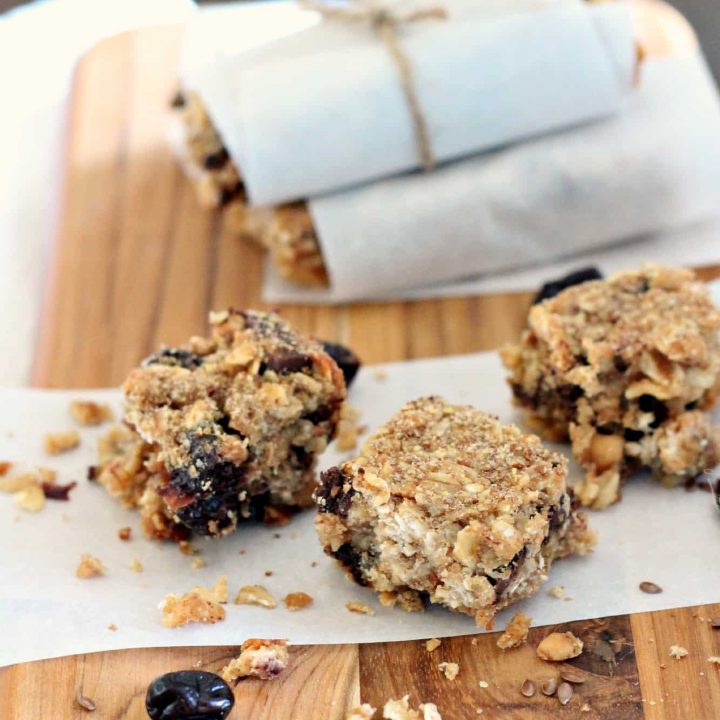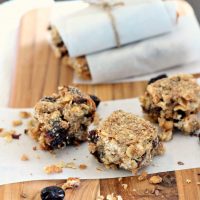 Recipe source is Whole Foods as this was originally a sponsored post. My only addition to the original ingredient list is the chocolate chips.
Ingredients
3 cups oats (gluten free option available)
1/3 cup almond or peanut butter
1 cup dried sour cherries
3 ounces dark chocolate cut into small chunks
1/2 cup orange juice
1/3 cup honey
1/2 teaspoon cinnamon
1/4 teaspoon freshly ground nutmeg
1/2 teaspoon salt
3 egg whites
2 Tablespoons ground flaxseed
Instructions
Preheat the oven to 350 degrees F.
Line an 8 by 8 inch pan with parchment paper such that it covers the bottom of the pan and hangs over the sides as well. This will help you lift the bars out of the pan easily once baked. Spray the parchment lined pan lightly with baking spray.
Mix all the ingredients except the flaxseeds in a bowl until well incorporated.
Fill the pan with the granola bar mixture, pressing evenly to spread out to reach the corners.
Bake for 35 minutes at 350 degrees F. Cool for 5 minutes then sprinkle with the ground flaxseed.
Cut into 12 rectangular bars or into 24 squares.
Notes
Mix and match ingredients according to your preferences!
Nutrition Information:
Yield:
12
Serving Size:
1

Amount Per Serving:

Calories: 206 Total Fat: 8g Saturated Fat: 2g Trans Fat: 0g Unsaturated Fat: 5g Cholesterol: 1mg Sodium: 138mg Carbohydrates: 30g Fiber: 4g Sugar: 13g Protein: 6g

This data is provided by Nutrionix and is an estimate only.

This recipe for Outdoor Bars can be found on the Whole Foods website. Like most granola bars, the ingredients and spices can be swapped out to fit your needs.
Here are more granola recipes you'll enjoy!
Need gluten free bars? Be sure to make this recipe with gluten free oats. Don't mind a bit of melted chocolate in your bars when you enjoy them on a hot day? Add chocolate chips like I did! Want to incorporate other dried fruits? Go right ahead!
I'd love to hear what your go-to list of ingredients is for granola bars.
#WholeFoods wants you to find the ideal ingredients to fuel your outdoor adventure this summer and is offering a $25 gift card to one lucky reader! From trail mix to lunch-on-the-go, Whole Foods has the variety of foods you need to fit your busy summer lifestyle. The giveaway has ended.