Hermit bars are chewy, molasses cookies that are more like a molasses brownie than a cookie. Load them with spices, nuts, and dried fruits, or keep it simple. Any way you make these hermit bars will become a family favorite. Make this hermit cookie recipe gluten free or with traditional flour– so rich and flavorful!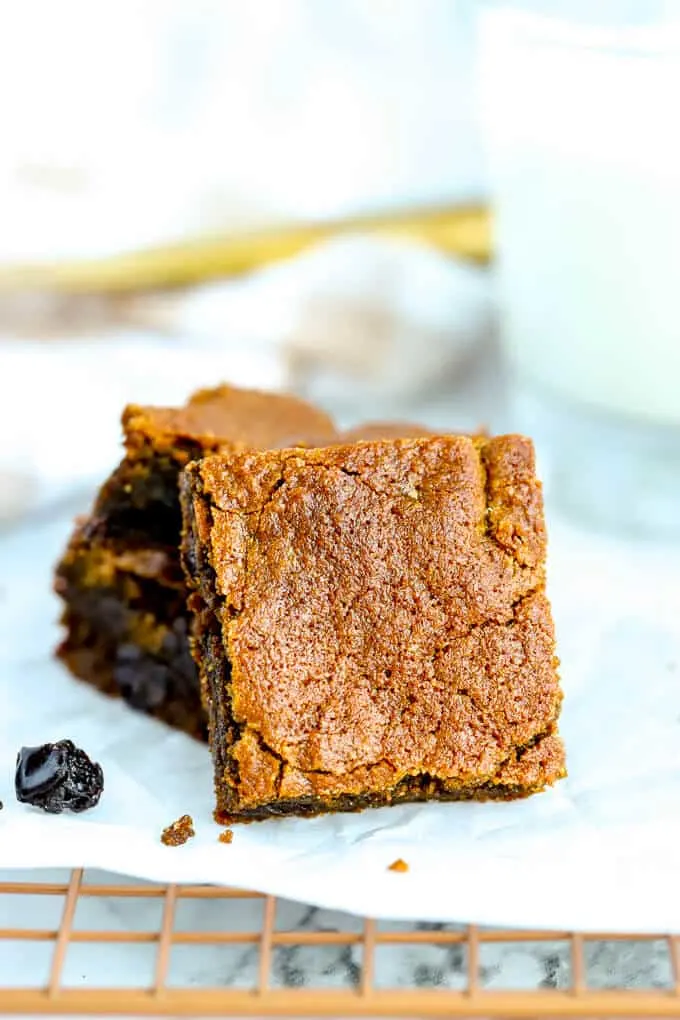 As an Amazon Associate I earn from qualifying purchases.
Martha Stewart's cookbook, Martha's American Food, A celebration of our nation's most treasured dishes, from coast to coast, features this Hermit Bars recipe from the northeast.
I've seen versions of hermit bars recipes by Ina Garten and Good Housekeeping as well.
Their name, hermit bars or New England hermit cookies, gives little clue to their taste, other than to suggest that if you hide these bars away for a day or two as a hermit might do, you'll be rewarded with an even deeper melding of flavors in these bars.
The taste is that of an old fashioned spice bar cookie, deeply flavorful and delicious. This recipe is not fussy on looks– while they are not the most photogenic dessert, these bars really do make you reach for seconds.
Martha Stewart hermit bar cookies were just the treat that I wanted to recreate in a gluten free version.
I've baked both– traditional and gluten free– and didn't miss a thing in the gluten free version. Gluten free flour blend is the key to making the easy switch to gluten free.
Are you new to gluten free baking? Here are tips for gluten free baking that helped me as I started cooking and baking gluten free.
Ingredients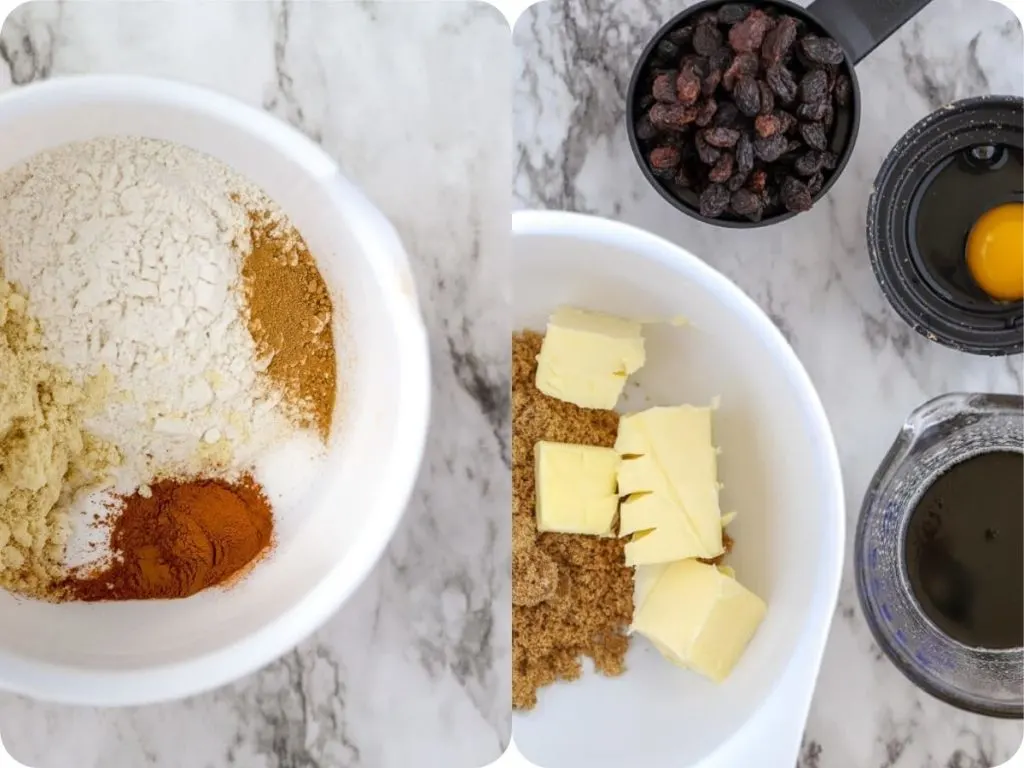 Dry ingredients: flour, baking soda, salt and spices. The only change you need to make in a gluten free recipe is to swap in a gluten free flour blend for the flour. Make sure your GF blend includes xanthan gum. If not, add 1/2 teaspoon xanthan gum to this recipe. The combination of spices is up to you as well. Cinnamon, cloves, or ginger are good ideas. Go heavy handed on these to make a spicy hermit bar.
Wet ingredients: butter, sugar, eggs, molasses.
Add-ins are optional: Some suggestions are raisins or other dried fruits (or none at all), mini chocolate chips, white chocolate chips, orange zest, nuts
The bars' ingredient list is reminiscent of holiday baking—ginger, cloves and cinnamon—but don't wait until the holidays to make these.
The spices are not overwhelming, rather they come together with the help of molasses and brown sugar along with the usual standbys of butter, flour, baking soda, salt and egg to make an easy afternoon treat.
I chose to make the bars for their hermit quality: cookies & bars that age well are perfect for sending in the mail.
The bars are also ideal to make on a weekend then to enjoy throughout the week in packed lunches. With school starting just around the corner, I am hoping my younger son will find these a special midday dessert.
Steps to make hermit bars recipe: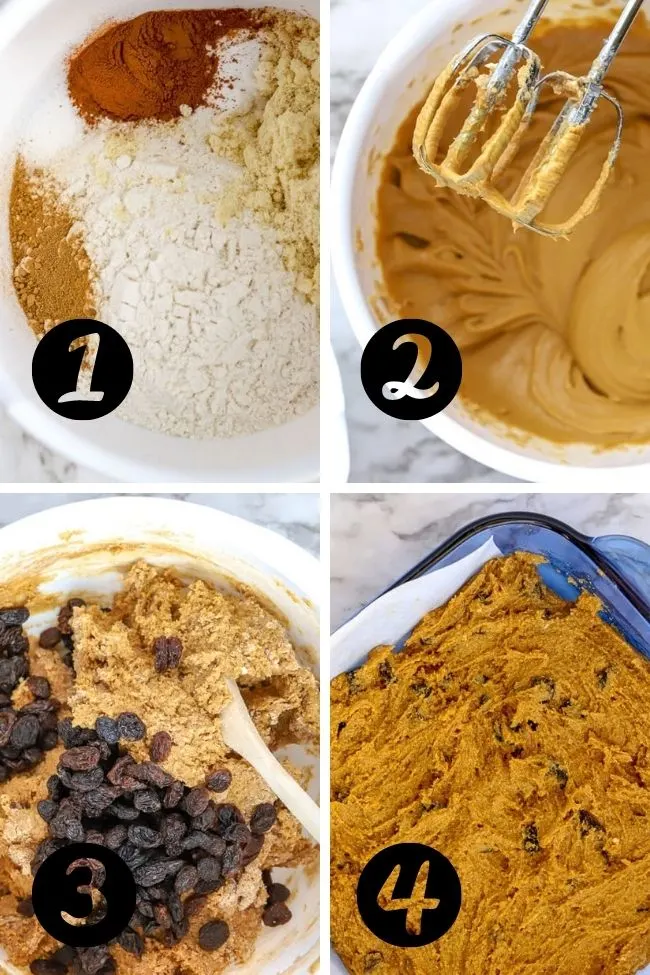 Combine the dry ingredients of gluten free flour (or traditional flour if you are not making gluten free), baking soda, salt, and any spices you choose. Set aside.
Beat the butter and brown sugar until fluffy. Add the egg and molasses.
Add the dry ingredients to the wet ingredients. Fold in the raisins (or other dried fruits and nuts)
Spread in a prepared 8 by 8 pan and bake for 20-25 minutes at 375 degrees F.
Steps in more detail:
Let's go through the steps for this molasses cookie recipe here with photos:
First combine the dry ingredients. In this batch I made gluten free hermit bars by using 1 to 1 Gluten Free Baking Flour. Click here to see how to buy the product through Amazon.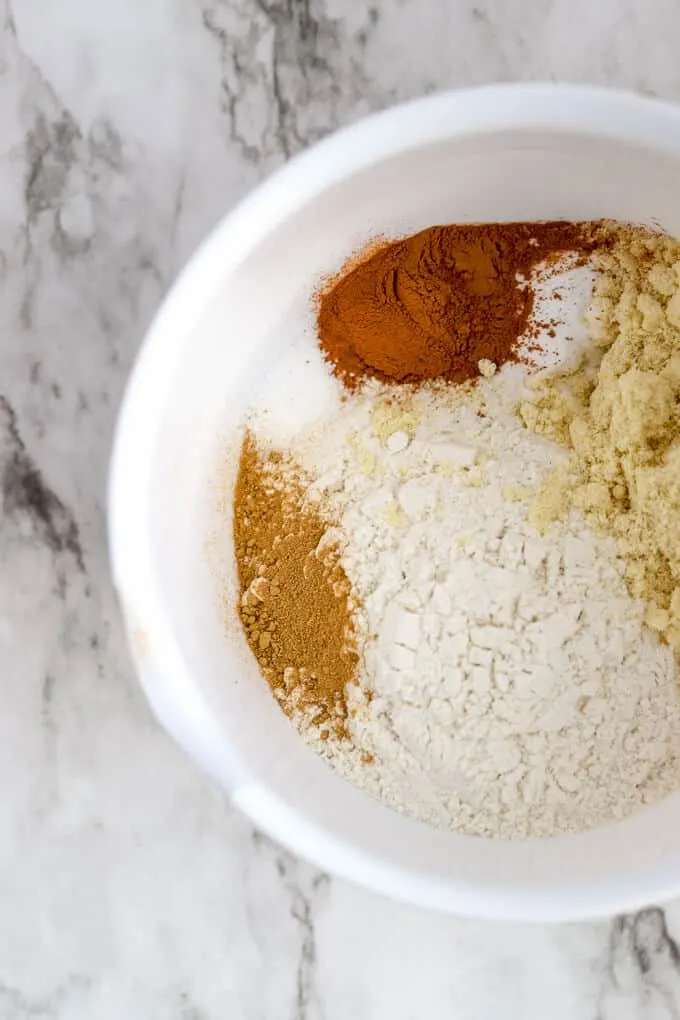 Next, beat the brown sugar and butter in a large bowl until fluffy. Starting with room temperature butter is a good idea.
You are using brown sugar and not granulated sugar so the color will not be as light as you might be used to otherwise, but still the texture will be fluffy.
Add the eggs and add the molasses. Continue to beat on medium speed.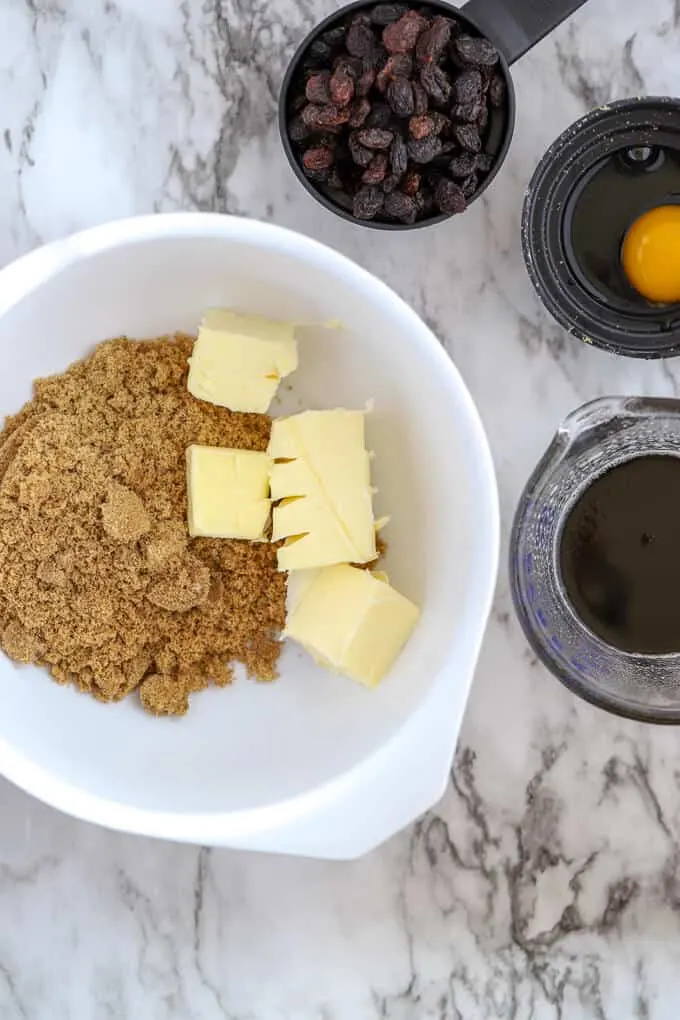 Add in the raisins. Dried cranberries, apricots, or currants would be lovely too.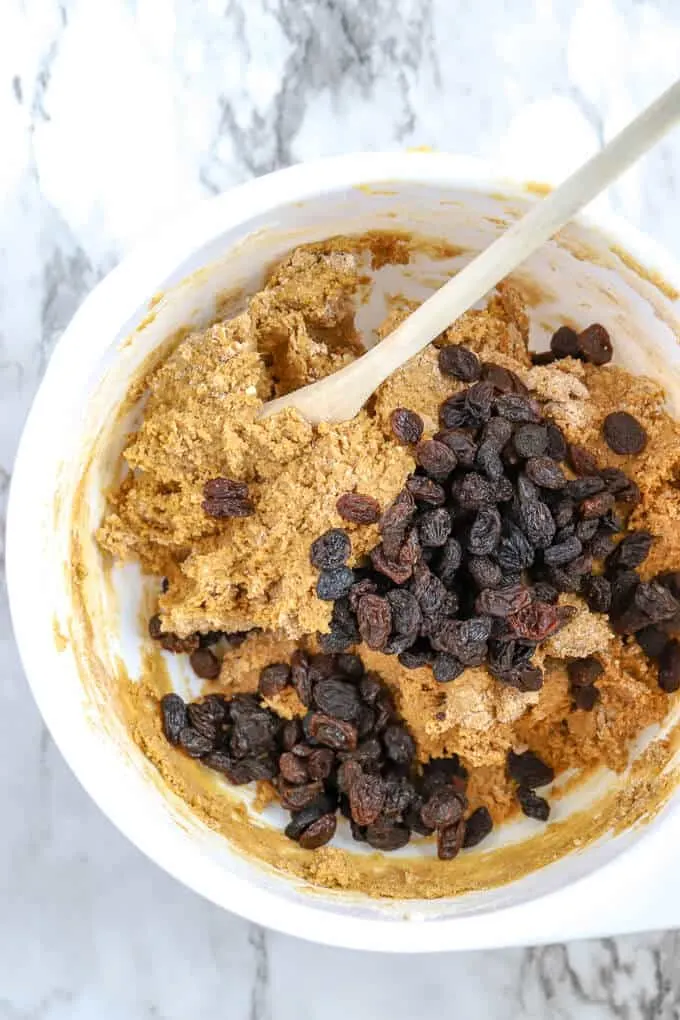 Pour (or scrape) the batter into a prepared 8 by 8 pan. The batter is somewhat sticky and thick so a batter scraper or a strong spatula will help you fill the pan.
To prepare the pan, coat it with baking spray then add a sheet of parchment paper. Sometimes it is helpful to create a criss-cross with your parchment paper, such that you'll be able to lift the baked bars out with ease.
Aluminum foil is a fine option too.
Spray the parchment or foil with baking spray as well.
Bake for 20-25 minutes in 375 degree oven.
You'll love this chewy hermit bars recipe!
You could change this to a hermit bars cookie recipe by dropping tablespoons of dough on a parchment covered baking sheet. Bake for 12-14 minutes or until browned.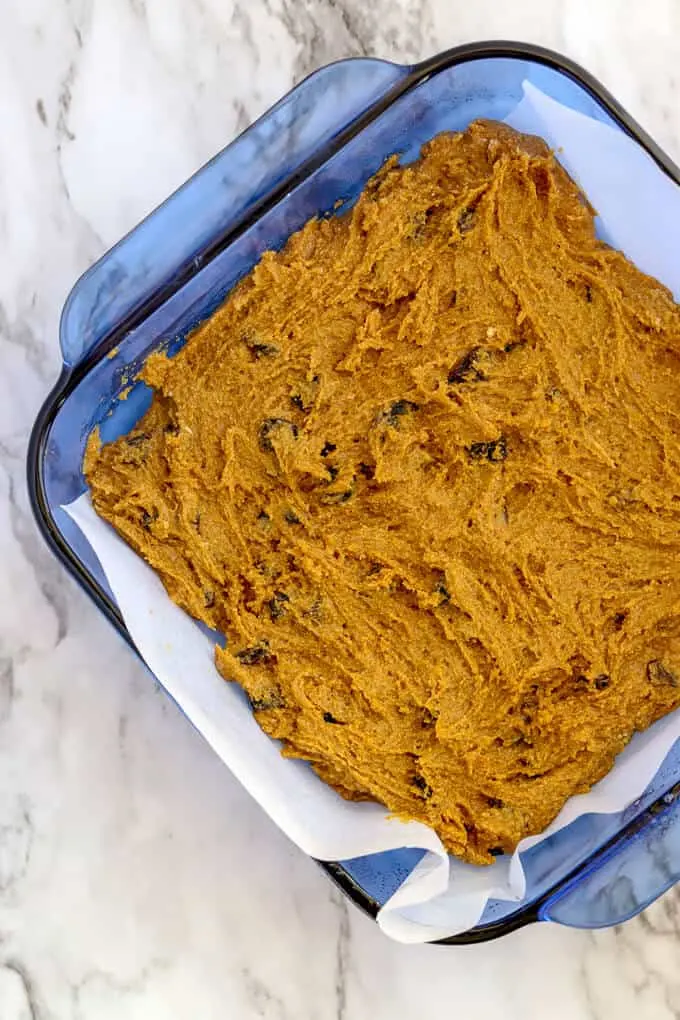 Can I make hermit bars like biscotti?
The bars can be baked similarly to biscotti, in a long log of dough which sits on a parchment-lined baking pan. This method, as opposed to pressing the dough into an 8 x 8 baking pan, allows the loaf-like log to spread and rise slightly, then later it's cut into bars.
Here are photos from the batch of hermit bars I made using the biscotti technique. These are older photos from my original post.
Learn more about my improvement over the years with photography in this Food Photography Resources Page.
For more recent photos of baking other biscotti, check out this post on Vegan Chocolate Biscotti.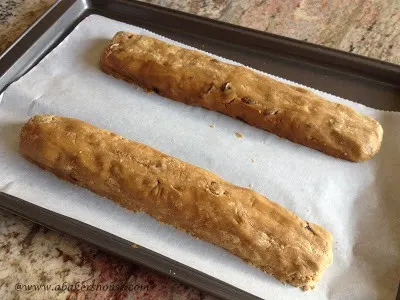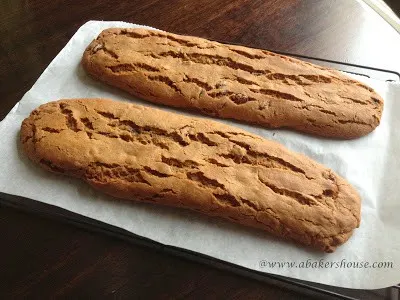 Look at this chewy, spicy treat! Cut into bars if you baked your hermit bars in the biscotti technique or cut into squares or rectangles if you baked these in an 8 by 8 baking pan.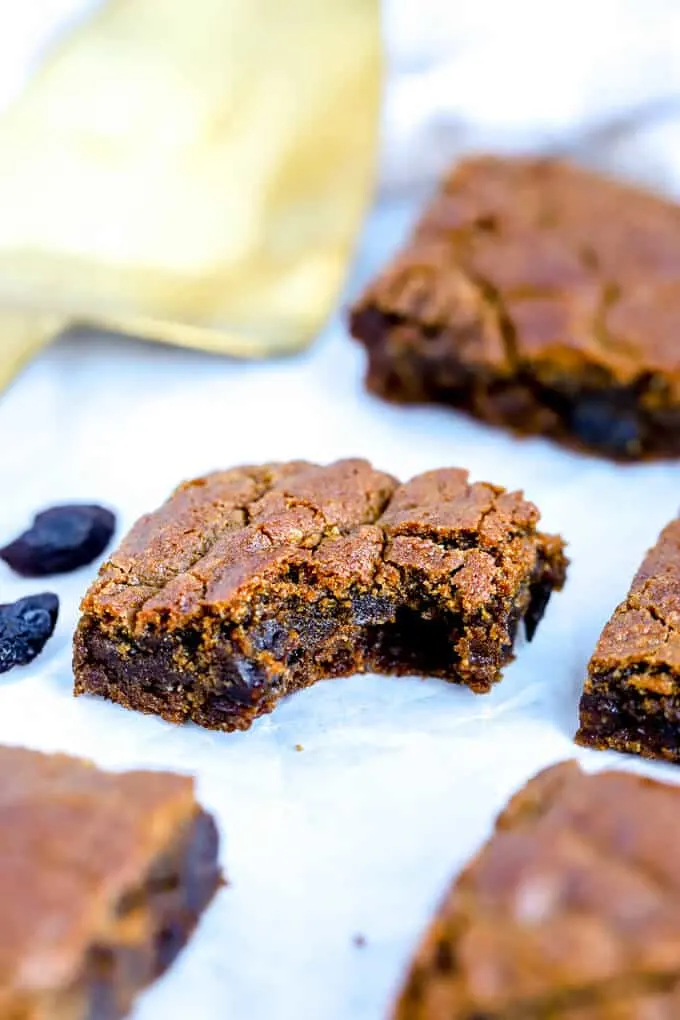 Tips and tricks for success:
Why are these called hermit bars?
Good question! A guess is that this recipe improves with time. The bars are better and more flavorful on the second or third day after baking so make these ahead and then hide them like a hermit until they are served.
How to make gluten free hermit bars?
Swap a gluten free flour blend for the all purpose flour. Double check that all other ingredients you are using (spices especially) are labeled gluten free.
Are these hermit bars or hermit cookies?
It depends on your cooking method. I like to bake this recipe in an 8 by 8 pan then cut like brownies. If you prefer a cookie, drop the batter on a parchment lined baking tray and bake at 375 degrees for 12-14 minutes.

You can also bake these in a biscotti style as shown above.
What spices make these spicy hermit bars?
I love cinnamon as my main spice in this hermit bar recipe. You can also add ground ginger, ground cloves, nutmeg or other favorite spices from your pantry.
How to store hermit bars?
Store this molasses based recipe in an airtight container for up to 7-10 days.
Yield: 16
Gluten Free Hermit Bars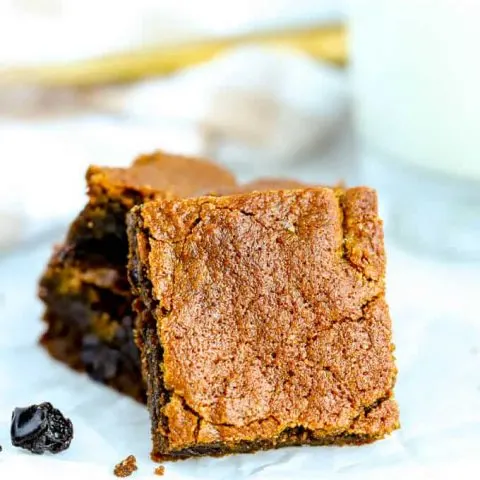 Try this chewy, spiced treat that is more like a brownie than a cookie. You'll love these gluten free hermit bars!
Ingredients
1 teaspoon baking soda
1/2 teaspoon salt
1 1/2 teaspoons cinnamon
1 stick of butter
1 cup brown sugar
1 egg
1/4 cup molasses
3/4 cup raisins
Instructions
Prepare an 8 by 8 pan with parchment. Preheat the oven to 375 degrees F.
Combine the dry ingredients of gluten free flour (or traditional flour if you are not making gluten free), baking soda, salt, and cinnamon. Add other spices if you wish.
Beat the butter and brown sugar until fluffy. Add the egg and molasses.
Add the dry ingredients to the wet ingredients. Fold in the raisins (or other dried fruits and nuts)
Spread in a prepared 8 by 8 pan and bake for 20-25 minutes at 375 degrees F.
Store in an air tight container for up to 7-10 days.
Notes
If you do not require a gluten free recipe, substitute all purpose flour for the gluten free flour.
You may choose to bake these on a baking try similar to biscotti. Form two long logs of dough, flatten the dough, the bake. Slice into 1-2 inch bars when cooled. No need to bake a second time like biscotti.
Nutrition Information:
Yield:
16
Serving Size:
1
Amount Per Serving:
Calories:

164
Total Fat:

6g
Saturated Fat:

4g
Trans Fat:

0g
Unsaturated Fat:

2g
Cholesterol:

27mg
Sodium:

201mg
Carbohydrates:

27g
Fiber:

1g
Sugar:

19g
Protein:

2g
Here are other recipes that can be bake both traditional and gluten free:
Please note that this post was originally published in August 2012 and was updated in November 2018 and again in March 2021.
Let me know how you like this recipe for hermit bars! I'd love to hear from you!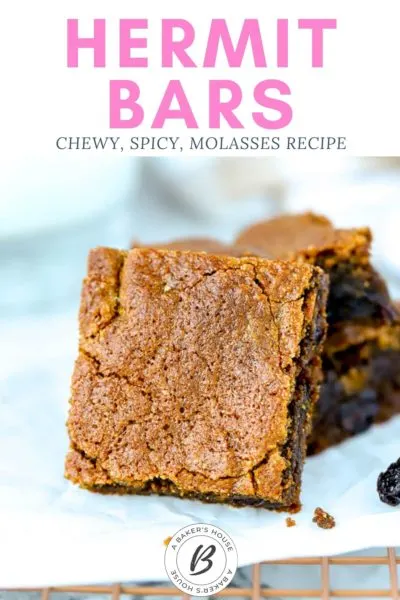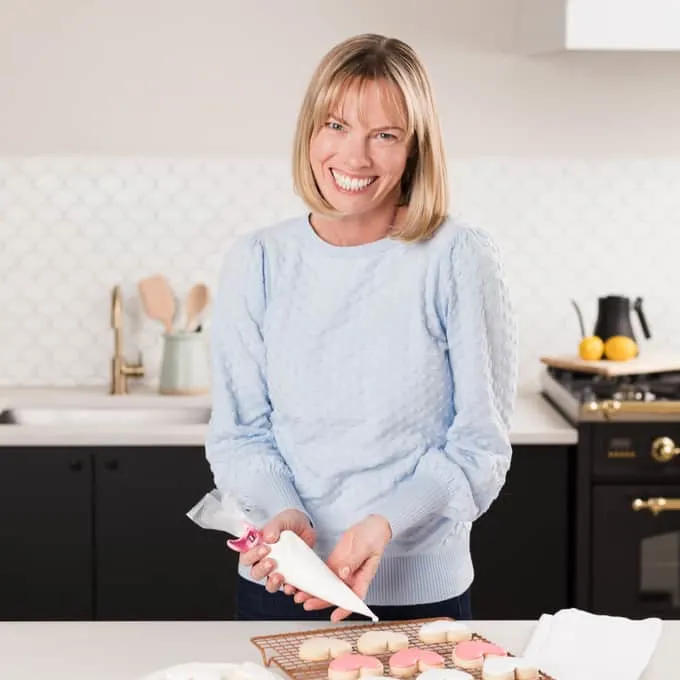 Holly Baker started the food blog, A Baker's House, in 2011. She is the writer, recipe creator, and photographer for the site. Holly loves to bake and shares recipes for gluten free food, canning recipes, as well as traditional desserts too. Her recipes and food photography have been highlighted by BuzzFeed, Reader's Digest, and She Knows.