Gluten free apple crumble is a simple dessert recipe that yields beautiful results time after time. Sliced apples mixed with sugar and spices bake under a crumble topping that can be made traditional or gluten free. Don't let apple season pass you by without trying this easy dessert!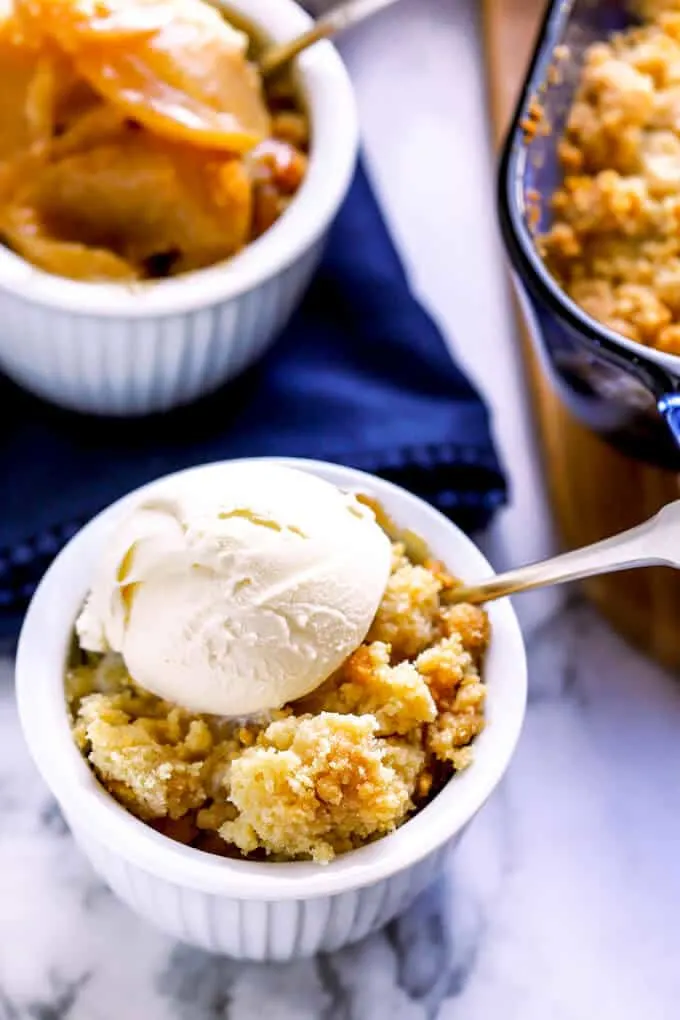 This gluten-free apple crumble was originally posted on Amanda's site, Recipes Worth Repeating, and I am sharing it here to offer another option for apple recipes this fall. I just can't get enough of gluten free apple desserts!
If you are gluten free you'll enjoy this resource of gluten free baking tips and this collection of gluten free recipes on my site.
What is Apple Crumble?
A crumble is traditionally a baked fruit dessert with a streusel topping. Streusel is a crumb topping that may be made with flour, sugar, and butter.
In order to make a wheat free dessert, we make a few simple substitutes for the all purpose flour. Here the gluten free crumble topping is made with almond flour, rice flour, sugar and butter. (You won't need a gluten-free flour blend since this recipe uses just almond and rice flours.)
You'll be glad to know that this version of gluten free apple crumble tastes just like the traditional version so you can serve this to gluten-free and gluten-loving friends alike!
What's the difference between an Apple Crumble and an Apple Crisp?
You might wonder what the difference is between a crumble and a crisp recipe. Well, this is subjective. Many a cook has debated this question. The answer varies from house to house, state to state.
The two desserts are quite similar but there is a main difference and it comes down to the oats (or lack of oats). I like to think of a crumble as having a topping with a soft crumble streusel whereas a crisp often has an oat-based layer that browns (or crisps) as it bakes.
I'm sharing a gluten free apple crumble without oats. Try my Easy Apple Crisp to see the difference.
What Ingredients do you need for GF Apple Crumble?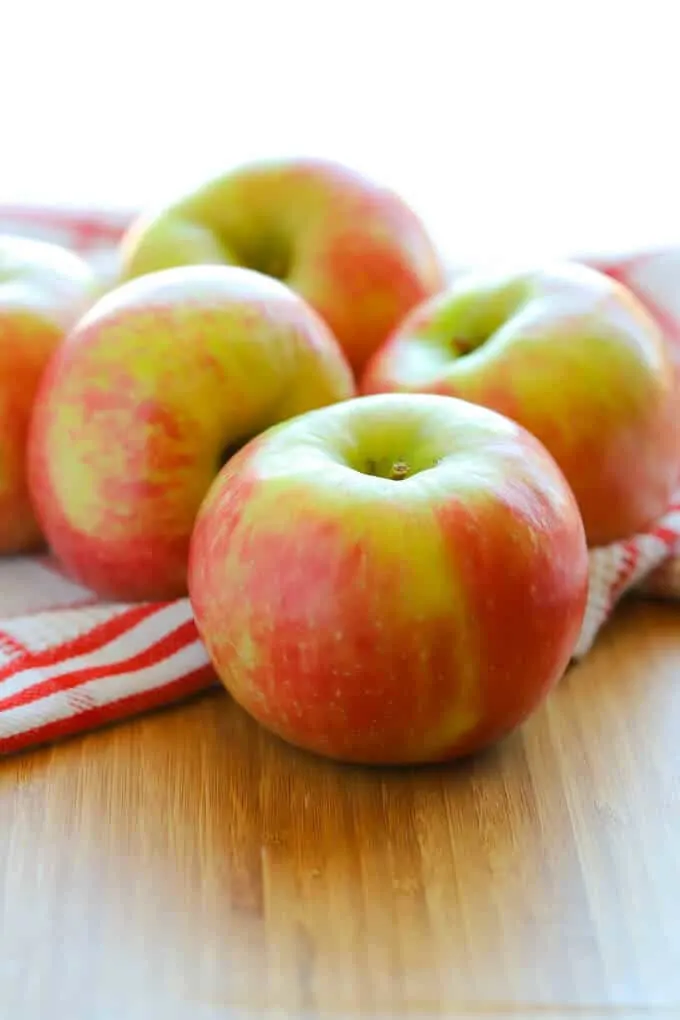 You'll need apples of course! Granny Smith apples or Honeycrisp apples are the best apples for a crumble. If you bake with another variety, let me know your favorite in the comments below. Crumbles are great with so many type of apples.
To make this apple crumble gluten free, you'll also need the following ingredients:
almond flour (or almond meal)
brown rice flour
granulated sugar
salt
butter
lemon juice
brown sugar
cornstarch
ground cinnamon
APPLES!
As an Amazon Associate I earn from qualifying purchases.
Quick recap of the steps:
Make the GF topping
Combine the sliced apples with sugar and spices. Layer the topping over the fruit.
Bake in an 8 by 8 square pan or in a pie dish.
Cool slightly then serve. Make it a la mode and add a scoop of vanilla ice cream!
How to make an gluten free crumble topping
Let's start with the topping where the end goal is to be able to press a small crumb of the mixture together and have it form a large, pea-sized crumb. This almond flour crumble topping is made with almond flour and brown rice. A rice flour crumble yields a pleasant texture.
Note that we don't need any gluten-free oats in this crumble recipe. If you like the texture of oats in your apple desserts, try a gluten-free apple crisp recipe instead.
Let's get started with this simple crumble mixture. Place the
almond flour
, brown rice four, granulated sugar, salt and butter together in a large mixing bowl.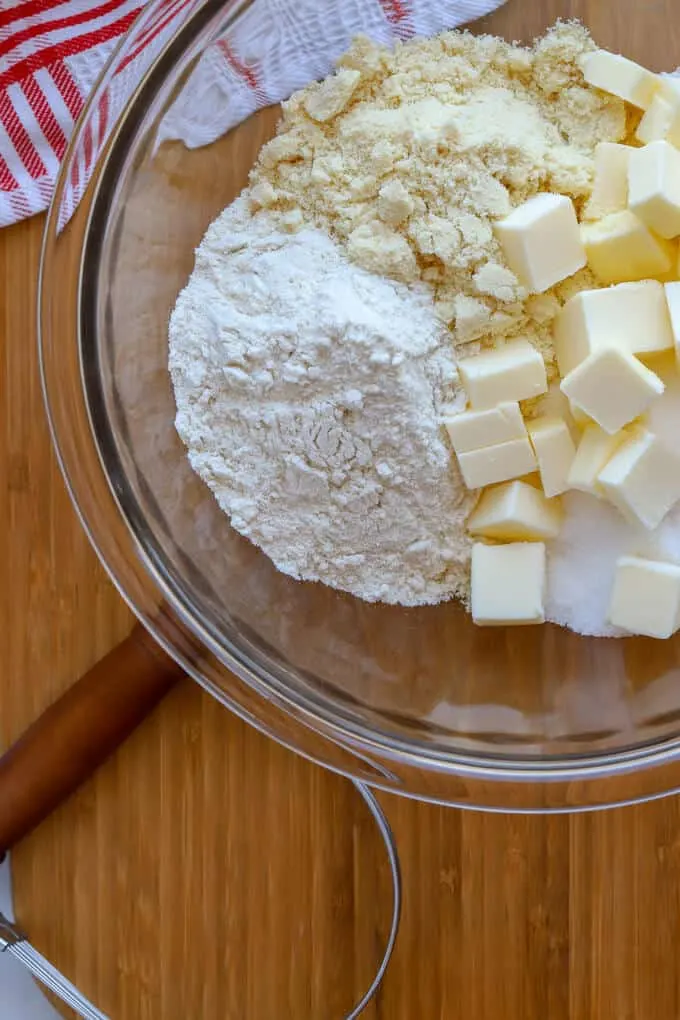 Use your hands or a pastry blender to cut the topping ingredients together in a large bowl. You should end up with a bowl of small pieces of pea-sized crumbs. (If you wanted to use a food processor, that makes quick work of making the gluten free crumble mixture too.)
By the way, either almond flour and almond meal can be used in this gluten-free crumble mixture. Almond flour is usually made with peeled almonds and is fine in texture. Almond meal is made with raw almonds so you'll see bits of the brown almond skins throughout the meal. Both taste great and work well in baked apple recipes.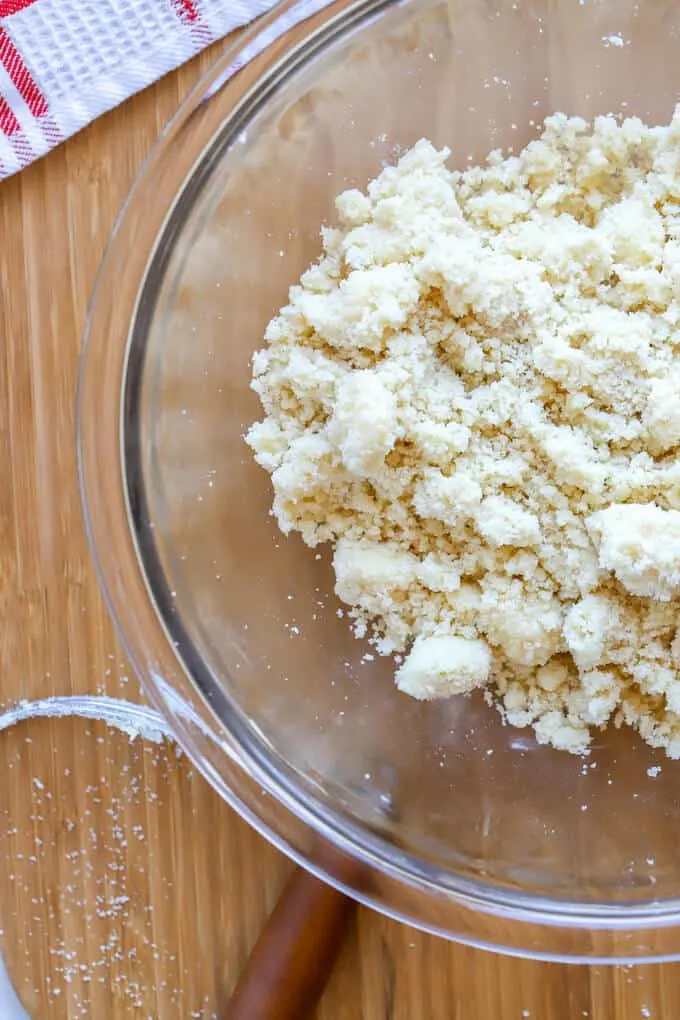 Put this crumble topping in the freezer while you move on to the apple filling.
How do I make the apple filling for apple crumble?
One of the beauties of making crumbles is that you are basically enjoying an apple pie without the trouble and fuss of making a pie crust.
Let's make this apple mixture. Slice your apples– no need to bother peeling them– and toss them in lemon juice in a large bowl to prevent browning. Add the brown sugar, cornstarch, and cinnamon and toss to combine.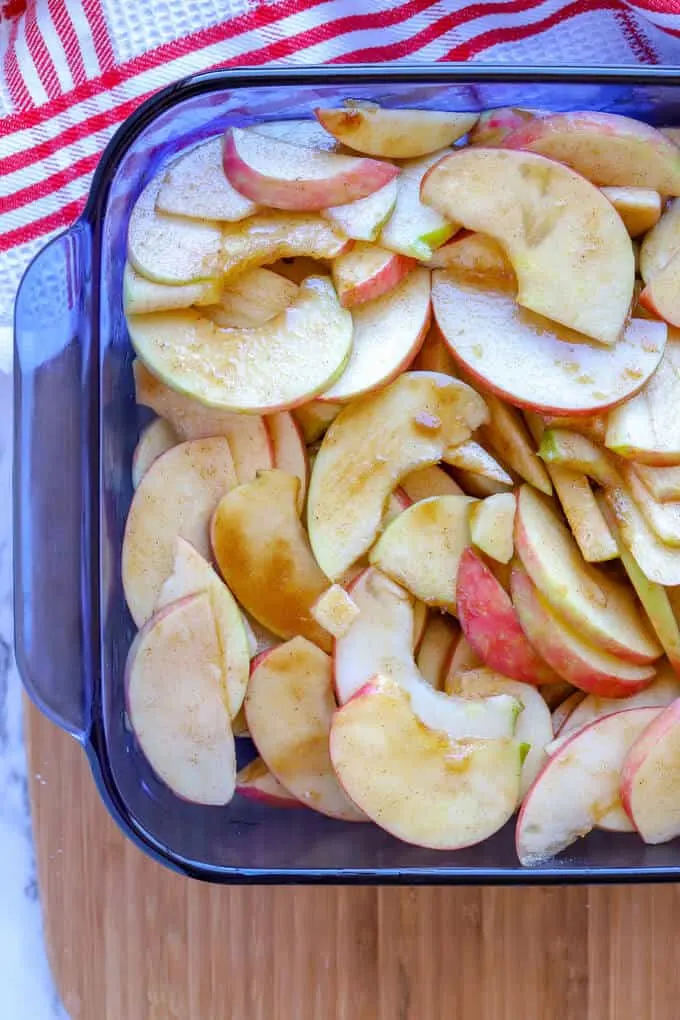 Assemble the Apple Crumble:
Place the apples in an 8 x 8 glass square baking dish. Take the cold crumble topping and press it gently onto the apples.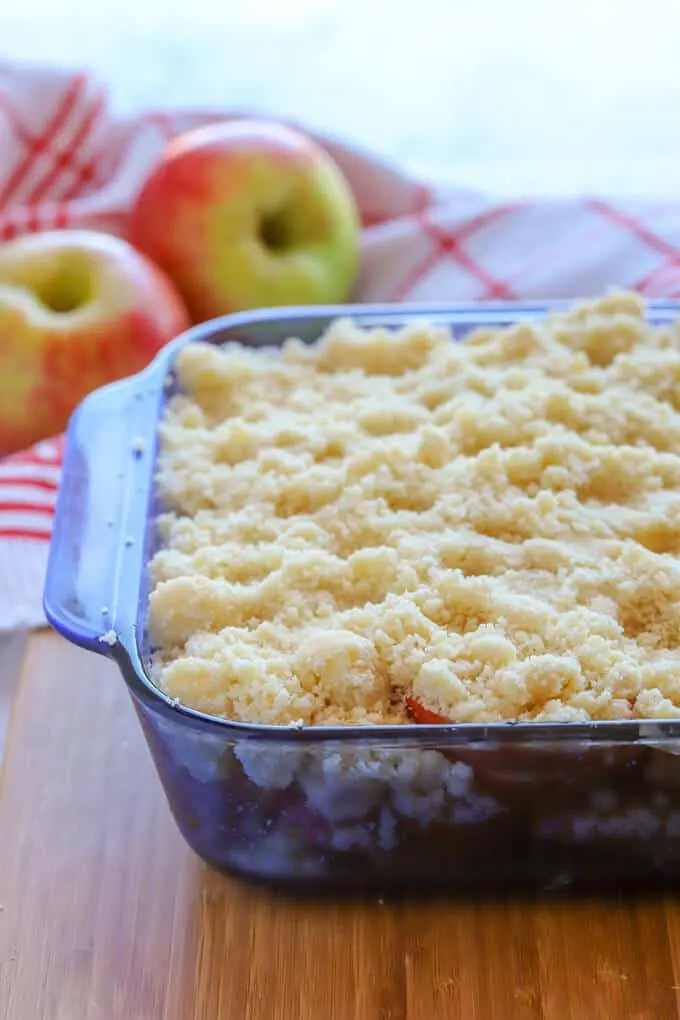 Heat the oven to 350 degrees F and bake for 55-60 minutes or until golden brown. You'll have a tender apple filling. Crumbles are best served warm and (in my opinion) topped with vanilla ice cream or whipped cream. A healthier topping option is a dollop of vanilla Greek yogurt.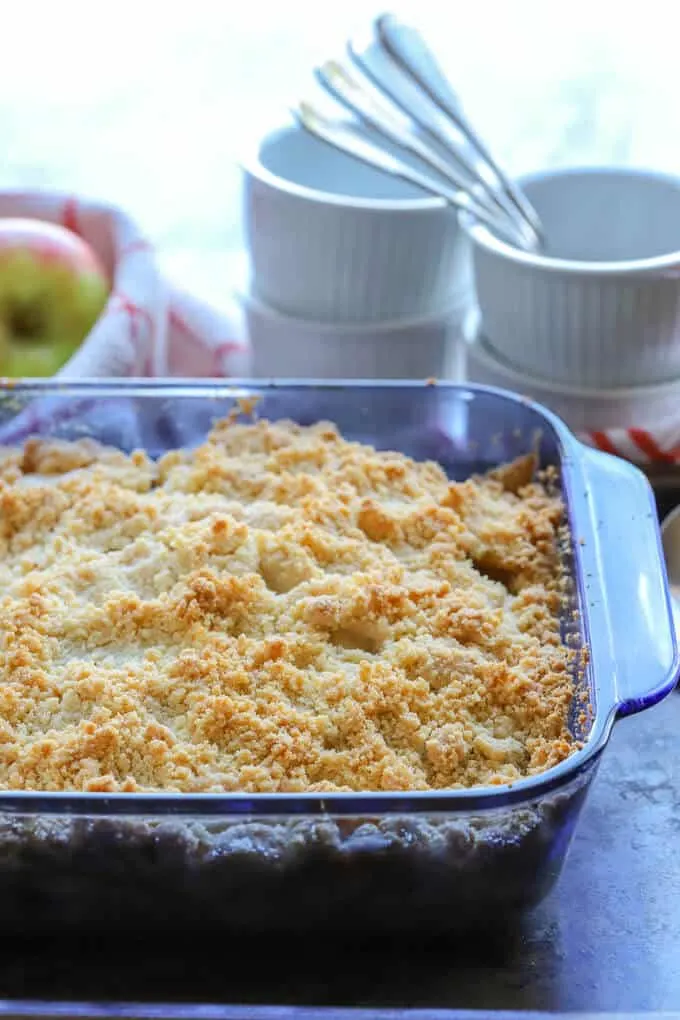 Follow the recipe to learn how to make gluten free apple crumble.
Yield: 9
Gluten Free Apple Crumble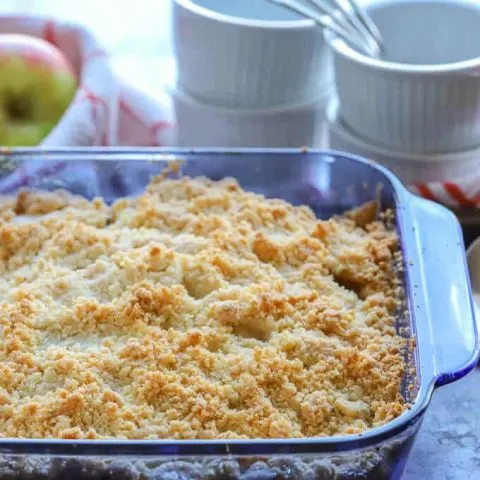 Apple crumble is a simple dessert recipe that yields beautiful results time after time. Sliced apples mixed with sugar and spices bake under a streusel topping that can be made traditional or gluten free.
Total Time
1 hour
10 minutes
Ingredients
1 1/2 cups almond flour
1/2 cup brown rice flour
1/2 cup granulated sugar
1/2 tsp salt
8 tbsp unsalted butter, cold and cut into cubes (1 stick)
4 apples Honeycrisp, Granny Smith, or Gala
2 tbsp lemon juice (one small lemon)
1/3 cup brown sugar packed tightly
1 tbsp cornstarch (gluten free)
1 tsp ground cinnamon
Instructions
Preheat the oven to 350 degrees F. Lightly grease an 8 x 8 glass baking dish with butter.
For the Crumble:
Combine the almond flour, brown rice flour, granulated sugar, and salt. Whisk gently to combine.
Use a pastry blender or your hands to mix the cold butter into the dry ingredients. Set the crumble aside in the freezer while you prepare the apple filling.
For the Apple Filling:
Slice the apples in half, remove the cores. Slice thinly. Toss the apples with the lemon juice in a bowl to prevent browning.
Add the brown sugar, cornstarch, and cinnamon to the apples. Gently stir.
Place the apple mixture in the prepared baking pan. Top with the cold crumble; press the crumble down with your fingers.
Bake for 55-60 minutes or until lightly golden brown.
Optional: serve with ice cream or whipped cream.
Notes
For gluten free: be sure that ALL ingredients are gluten free. This includes the cornstarch and cinnamon.
If you don't require a gluten free diet, substitute 2 cups all purpose flour in place of the almond flour and brown rice flour
Nutrition Information:
Yield:
9
Serving Size:
1
Amount Per Serving:
Calories:

374
Total Fat:

20g
Saturated Fat:

7g
Trans Fat:

0g
Unsaturated Fat:

12g
Cholesterol:

27mg
Sodium:

136mg
Carbohydrates:

48g
Fiber:

6g
Sugar:

32g
Protein:

5g
This data is provided by Nutrionix and is an estimate only.
Pin this gluten free apple crumble recipe with me!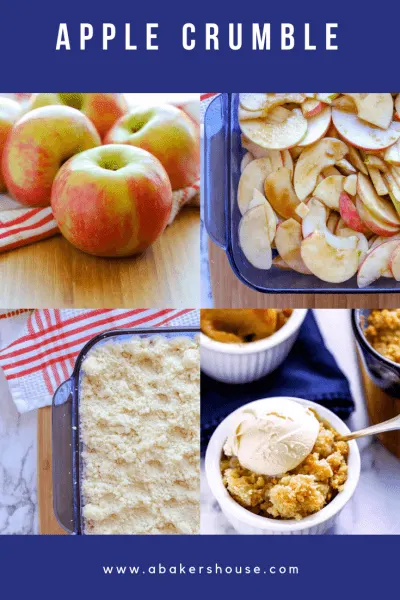 Looking for more ways to enjoy apples this season? Try these apple recipes: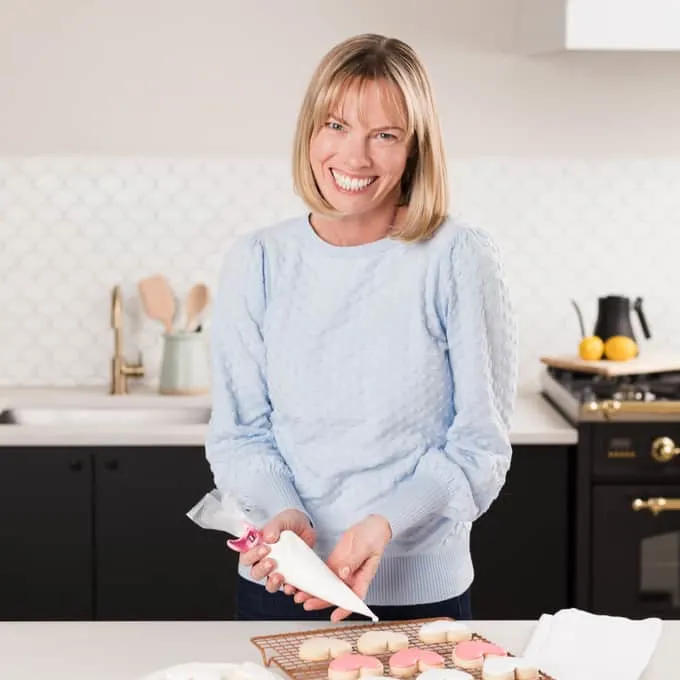 Holly Baker started the food blog, A Baker's House, in 2011. She is the writer, recipe creator, and photographer for the site. Holly loves to bake and shares recipes for gluten free food, canning recipes, as well as traditional desserts too. Her recipes and food photography have been highlighted by BuzzFeed, Reader's Digest, and She Knows.