This easy plum butter recipe is made with a sweet variety of plums called Plumsicles. Plumsicles or plumcots, as these plums are also named, are a treat so grab them when you see them in stores between late June and August. Use this plum fruit spread on toast, with a cheese platter, or on top of yogurt or ice cream.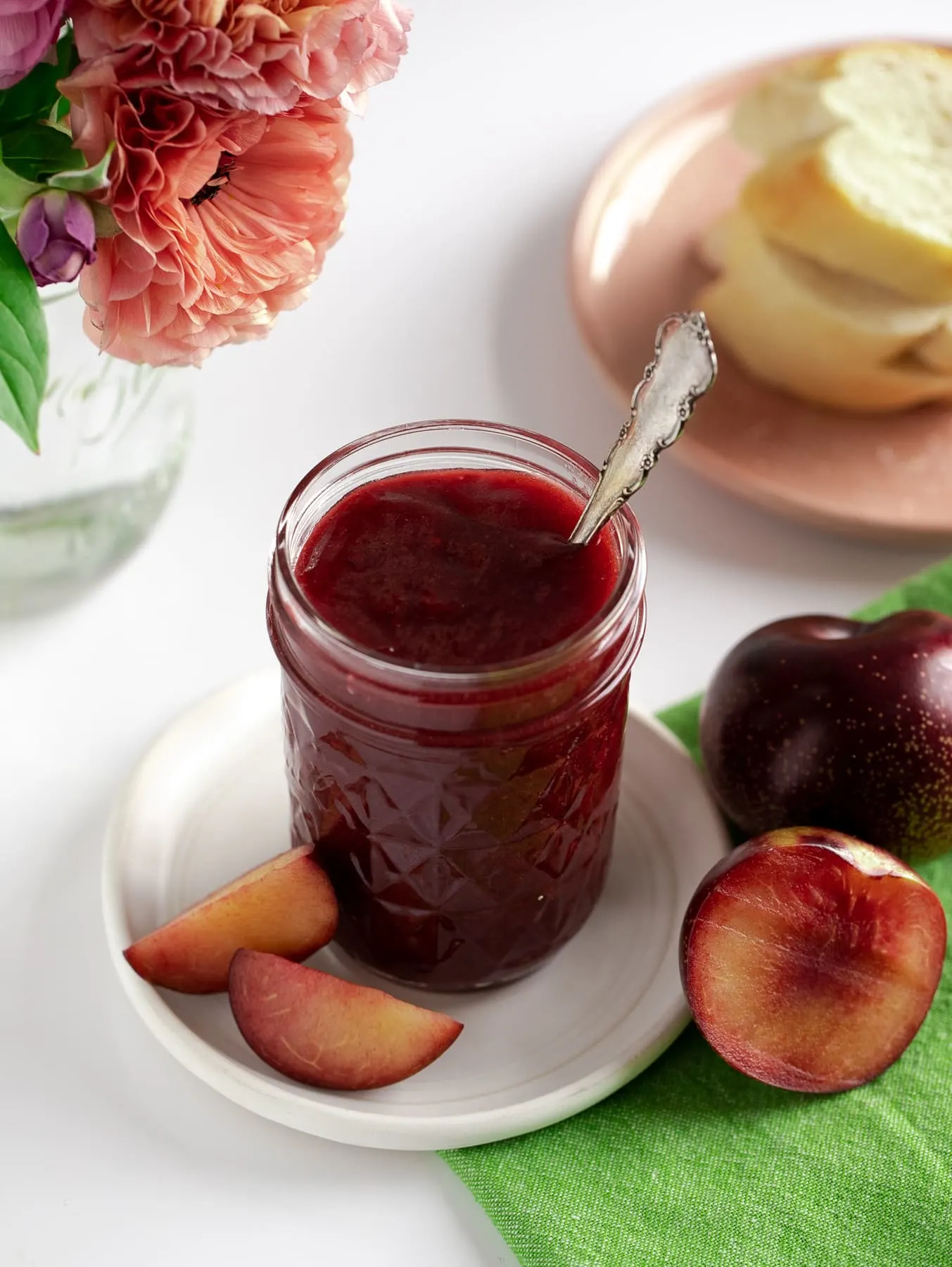 This post is sponsored by Sprouts Farmers Market. I appreciate the opportunity to share recipes made with ingredients from brands I trust and support. All opinions are my own and do not necessarily reflect those of Sprouts Farmers Market. #sponsored
Summer stone fruits bring delight every year. Sweet peaches, vibrant plums, and flavorful apricots are what I reach for most often. Now at Sprouts Farmers Market I can try special varieties like pluots and Plumsicles that are created by cross pollination. The result is a sweet and firm fruit that is ready to eat as soon as you bring it home.
What are Plumsicles?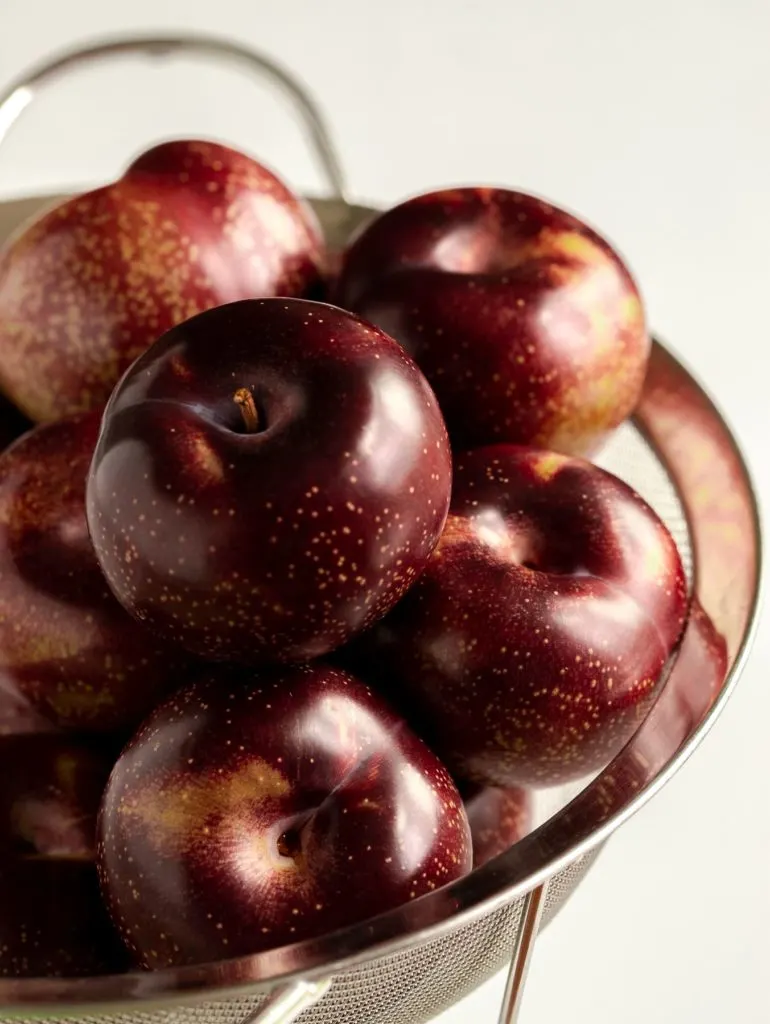 Plumsicles are amazing little fruits! I received a delivery from HMC Farms and loved their sweet and delicious stone fruit. With a deep purple skin and firm yet juicy interior, Plumsicles are perfect for snacking, baking, and preserving. I plan on adding a bag (or two!) of these beauties to my cart every time I shop at Sprouts while the season lasts through August. Fresh fruit is always a good thing!
Plumsicles are similar in shape and size to traditional plums, although they are sweeter in taste. Check out the photo below. Plumsicles are on the right and red plums on the left. The skin of both are similar, but the Plumsicles are speckled. The inside of my Plumsicles varied from a deep ruby red to red with shades of yellow throughout.
You can use any kind of plum in this recipe– if you have a plum tree that yields pounds of plums then this is the recipe for you!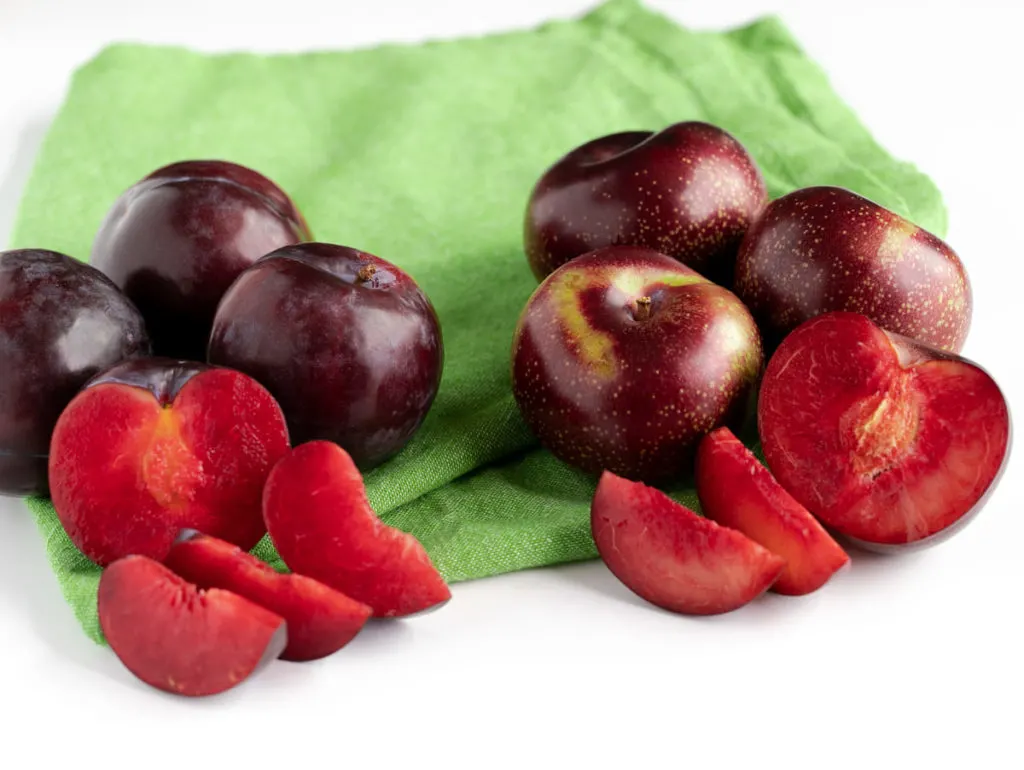 What is fruit butter?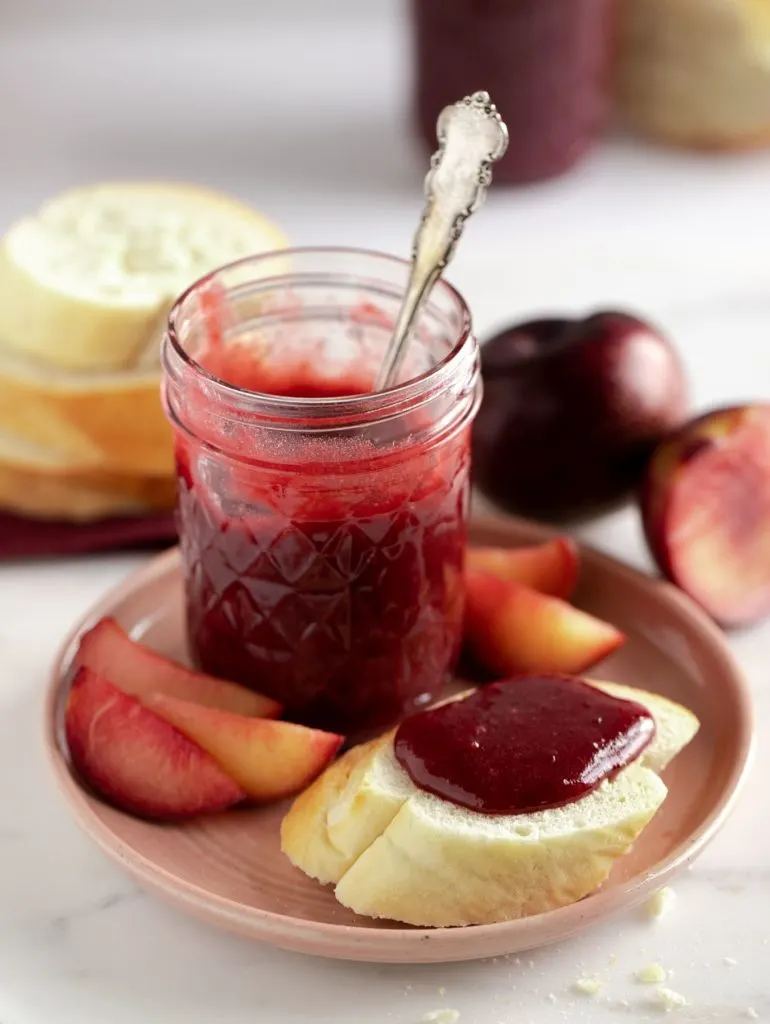 First, let's talk about fruit butters– fruit butter is a deeply flavorful fruit spread made with fresh fruit, sugar, and sometimes, spices or other additions which are cooked over low heat. There is no dairy in fruit butter. It is a concentrated reduction of pure fruit combined with a sweetener.
I've made a number of fruit butters and love the aroma while they cook, their sweet taste, and the many ways to use them. If you like this homemade plum butter, you'll also enjoy peach butter, pear butter, and apple butter.
Ingredients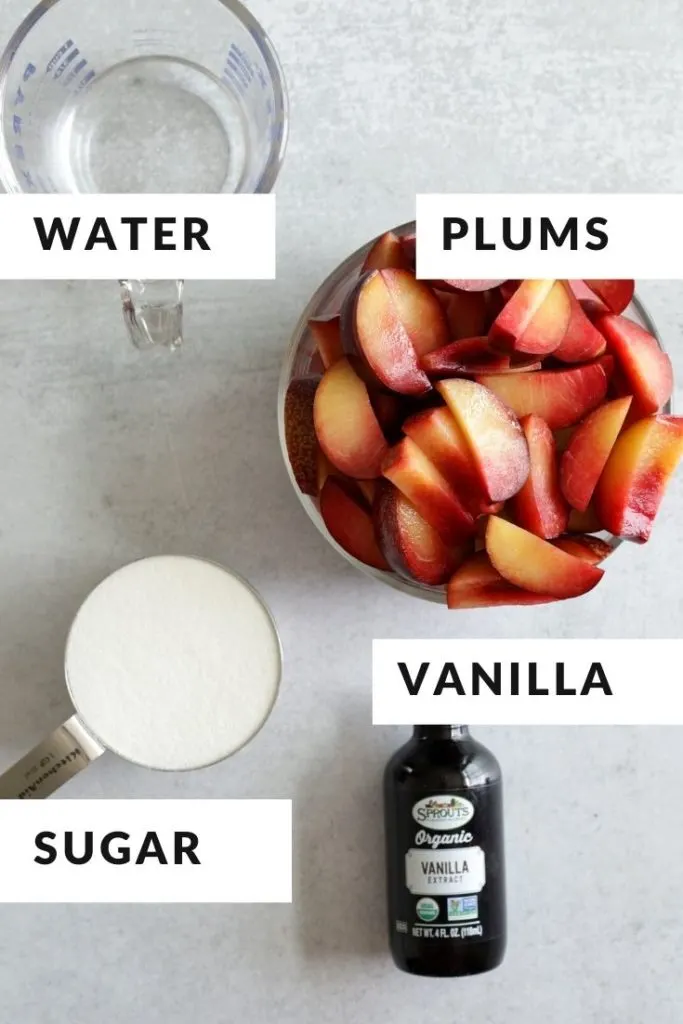 Plums: Plumsicles are highlighted in this plum butter. You can substitute Italian plums, red, black or even yellow plums depending on what is available. The resulting shade of the plum butter will vary depending on the variety of stone fruit you choose, but all types of fresh plums would taste lovely.
Sugar: Granulated sugar is used in this fruit butter. As types of plum vary in their sweetness, you may want to use more or less sugar. It really is a matter of preference.
Water: A small amount of water is used to coat the bottom of the saucepan to prevent the fruit from burning. Water also helps to dissolve the sugar as you bring the mixture to a boil. The fruit will release a lot of juice as well.
Additional flavors: Pure vanilla extract pairs nicely with plums. You may add other spices, herbs or flavors to make your own homemade plum butter.
How to make plum butter on the stove top
There are a few methods to make fruit butter. You might use the slow cooker, an Instant Pot, or simply just a saucepan. Today I'll share how to make plum butter on the stovetop. Follow along with the photos and numbered instructions.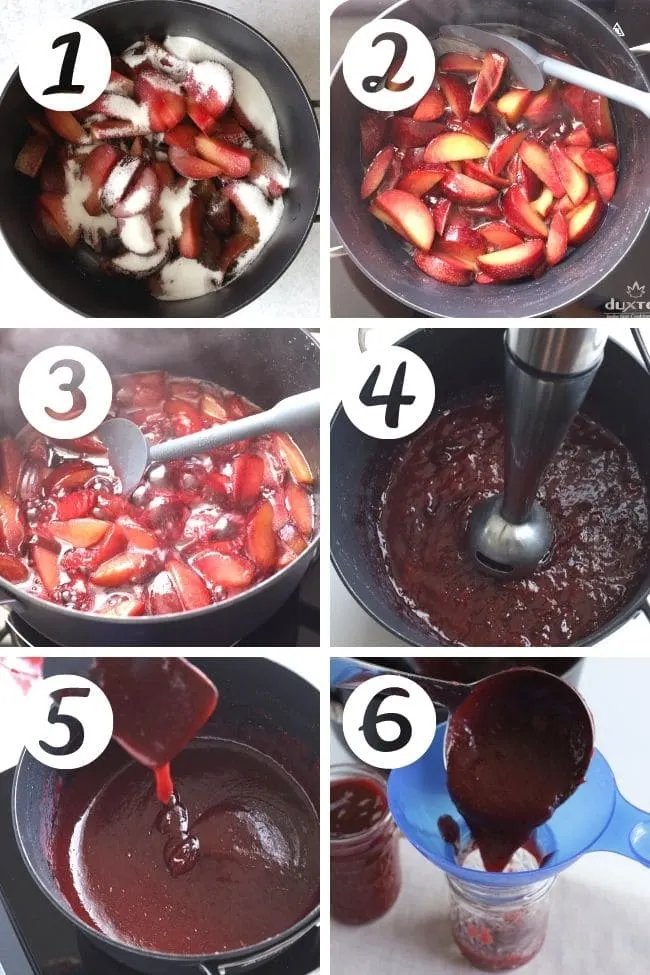 First you'll wash the plums. The beauty of preserving plums is that you don't need to peel the plums or use a food processor. The skin breaks down and softens as you cook the fruit and purees into a smooth spread. Cut the plums and remove the pits. If the pits don't pop out easily, do your best to cut around them, using as much of the fruit as possible. Cut the halves into quarters.
Place plums (sliced), granulated white sugar, water, and vanilla extract to a large pot. If you are adding other flavors such as lemon juice, cinnamon sticks or vanilla bean, do so now as well. You'll bring the ingredients to a boil to dissolve the sugar and to start softening the fruit. Stir continuously at this point.
Next, you'll lower the heat and simmer slowly to reduce the liquid and to concentrate the flavor. Stir often.
After about an hour you'll use an immersion blender or transfer the mixture to a blender to puree fruit mixture until smooth.
I find that it is usually necessary to simmer the pureed fruit butter uncovered on low for an additional 20-30 minutes, or until the fruit butter has thickened. Your plum butter is cooked when you can coat the back of a wooden spoon. It will continue to thicken as it comes to room temperature.
Ladle the plum puree into clean, small jars. This small batch recipe makes about 2 cups or 2, 8-ounce jars. You may have slightly more or less depending on the consistency of your plum butter. Store the plum butter in an airtight container in the refrigerator for up to 2-4 weeks or freeze for 3-6 months.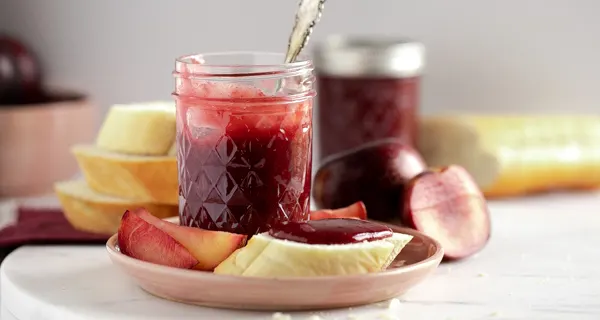 Tips for Success
Do I have to peel the plums first?
No, there is no need to peel the plums. The skin softens as you cook the ingredients and then purees into a smooth spread in the blender or by using a hand-held immersion blender.
How to use plum butter
You can spread plum butter on toast, muffins, or scones. Drizzle it over yogurt or ice cream. Use it as a sweet, fruit filling in between layers of cake. Fruit butter is perfect sandwiched in between macarons or other sandwich cookies. You might get creative and spread this plum butter on bread to make grilled cheese. It is a great accompaniment to a cheese platter, as well.
How do I know when the plum butter is done cooking?
Early on in the cooking process the mixture will be thin and watery. After you puree the fruit butter you'll have a smooth mixture but you'll most likely want to thicken it a bit further. There are two good indications that help you know when the mixture is fully cooked. First, dip a spoon into the fruit butter. (It will be hot so be careful.) Run you finger down the back of the spoon and if the two sides stay put (and don't rush in to coat the spoon right away), then your fruit butter is in good shape. The second way to observe the cooking process is to scoop up a bit of the mixture and let it drip back into the saucepan. Early in the simmering time, the fruit butter will fall back into the pan in separate drips. Later on when the mixture is cooked, it will slide off the spoon in sheets and in a more uniform way. The fruit spread will continue to thicken as it cools.
Yield: 2 cups
Easy Plum Butter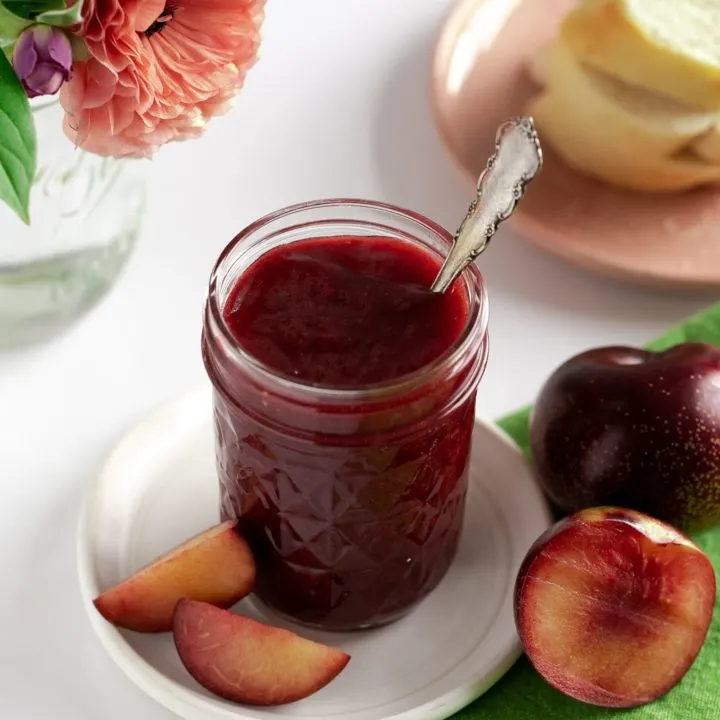 Try this stovetop plum butter recipe and preserve the sweet taste of plums for a few weeks longer!
Cook Time
1 hour
40 minutes
Total Time
1 hour
45 minutes
Ingredients
8 plums (about 2 pounds)
3/4 cup granulated sugar
¼ cup water
1 Tbsp. pure vanilla extract
Instructions
Wash the plums. (Do not peel.) Cut the plums in half and remove the pits. Slice into chunks.
Add the 8 sliced plums, ¾ cup granulated sugar, ¼ cup water, and 1 Tbsp. vanilla extract to a large saucepan. Bring to a boil and stir for 5-10 minutes to dissolve the sugar.
Reduce to low. Simmer uncovered for an hour, stirring every 5 minutes.
Use an immersion blender or transfer the mixture to a blender to puree until smooth.
Simmer uncovered on low for an additional 20-30 minutes, or until the fruit butter has thickened.
Ladle into clean jars. Store the plum butter in the refrigerator.
Notes
Plumsicles are the super sweet variety of plums from HMC Farms that are used in this recipe. Find this unique variety at Sprouts! Traditional plums work well in this recipe, too.
Keep the plum butter in the refrigerator for 2-4 weeks. Freeze for up to 6 months.
Note that the amount of plum butter produced will depend on how long you simmer the mixture. I made 2 cups with this recipe. If you cook the mixture for a shorter amount of time you may have more plum butter
but it may not be as thick as if you reduce the mixture as per the directions above.
Recommended Products
As an Amazon Associate and member of other affiliate programs, I earn from qualifying purchases.
Nutrition Information:
Yield:
16
Serving Size:
1
Amount Per Serving:
Calories:

54
Total Fat:

0g
Saturated Fat:

0g
Trans Fat:

0g
Unsaturated Fat:

0g
Cholesterol:

0mg
Sodium:

0mg
Carbohydrates:

13g
Fiber:

0g
Sugar:

13g
Protein:

0g
This data is provided by Nutritionix and is an estimate only.
Pin with me!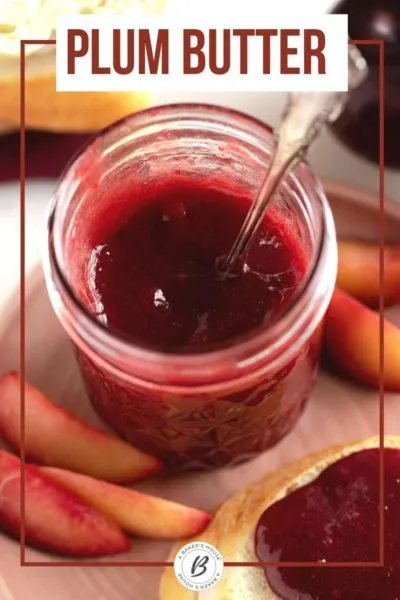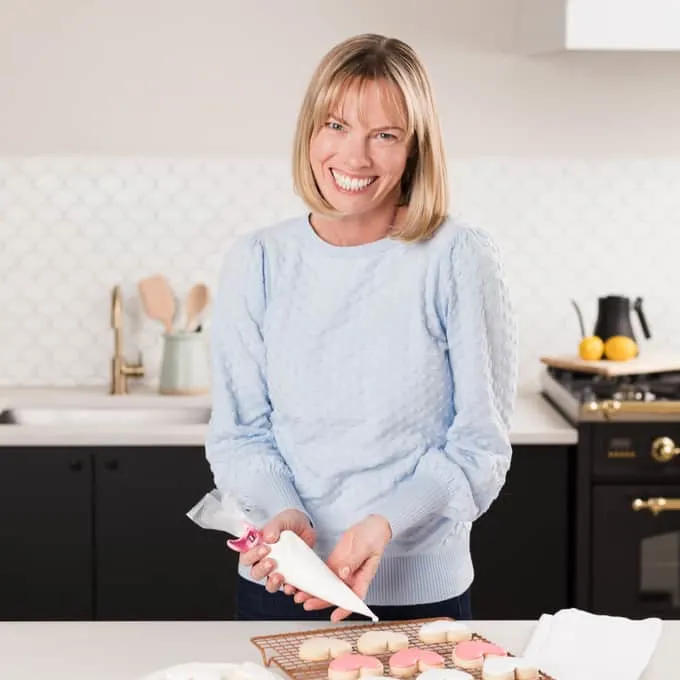 Holly Baker started the food blog, A Baker's House, in 2011. She is the writer, recipe creator, and photographer for the site. Holly loves to bake and shares recipes for gluten free food, canning recipes, as well as traditional desserts too. Her recipes and food photography have been highlighted by BuzzFeed, Reader's Digest, and She Knows.