A blueberry oat smoothie is easy to make with only four ingredients. This plant-based, gluten-free, vegan drink made with frozen blueberries, rolled oats, a banana and Silk® Extra Creamy Oatmilk can be yours in five minutes (or less!).
This post is sponsored by Silk®. All opinions, comments and content shared on A Baker's House are my own and do not necessarily represent those of Silk® or Danone North America. #sponsored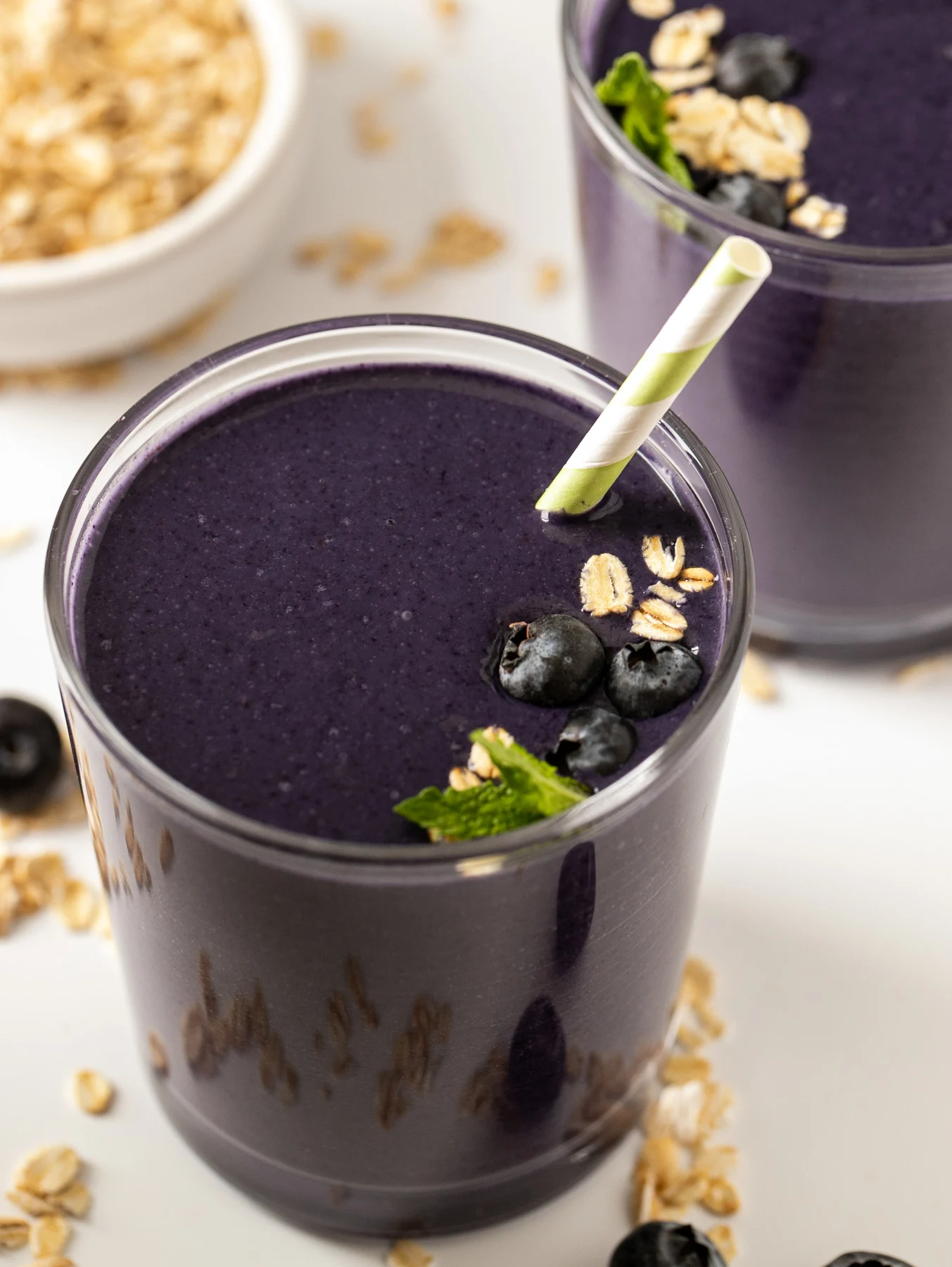 Silk® Extra Creamy Oatmilk
Silk® Oatmilk, which I've shared in recipes like Chocolate Peanut Butter Smoothie, Pumpkin Smoothie Bowl, and, most recently, this Dragon Fruit Smoothie, is perfect for smoothies and so much more. The Silk website shares a variety of recipes and use suggestions from overnight oats to pancakes to soups to mousse and more. Breakfast, lunch, dinner, and dessert—there is a Silk® ingredient perfect for your needs.
Silk® Oatmilk is creamy, rich, and free from dairy, gluten, nuts, soy, and artificial flavors. It works in many diets and isn't just for a vegan lifestyle. Have you given it a try? Let me know your favorite way to use Silk® Oatmilk!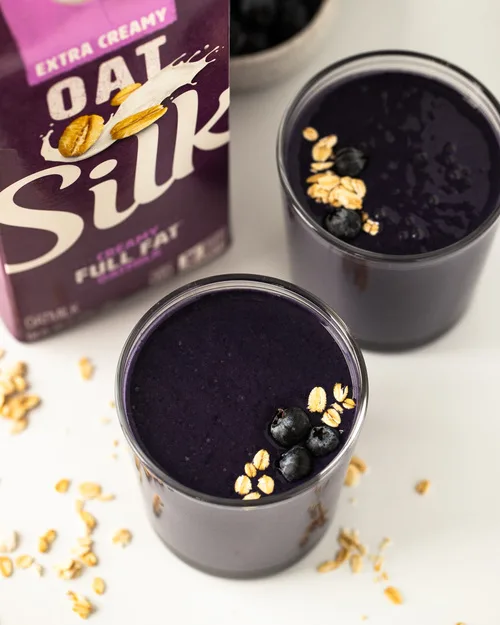 Silk parent company Danone North America's well-earned B Corp™ certification is an ongoing standard that affects daily decisions made in the company and by each employee.
Ingredients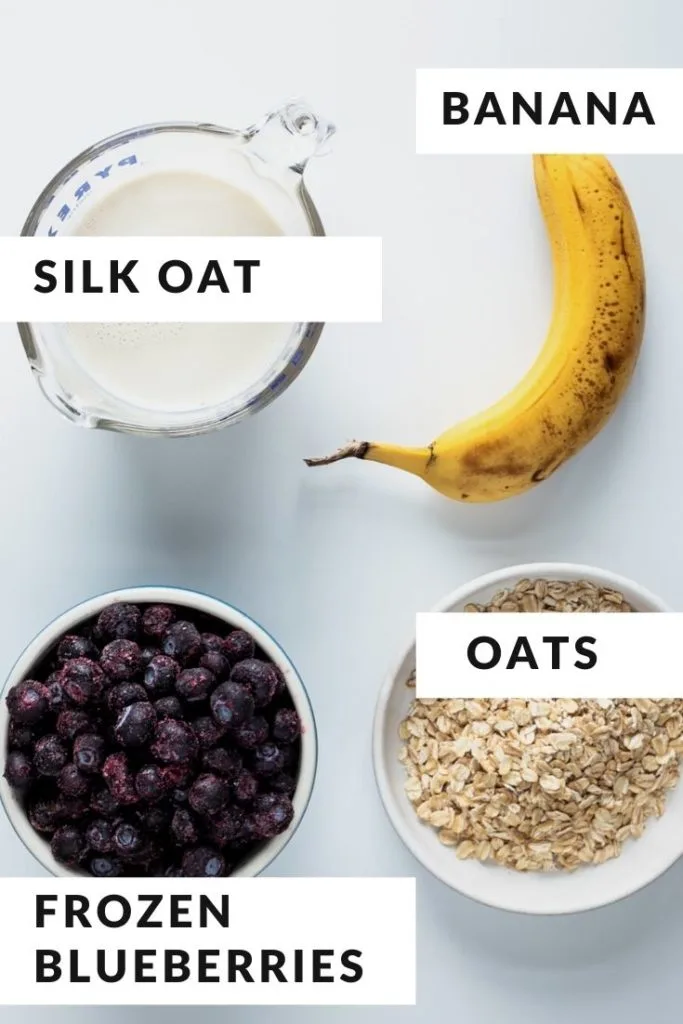 Oat milk: I use Silk® Extra Creamy Oatmilk in this blueberry oat smoothie but any variety would be welcome. Try original, 0g Sugar, or Vanilla. There is an option for everyone!
Frozen Blueberries: I am often looking for ways to add blueberries to my meals. Blueberries are rich in antioxidants and a good source of fiber and a number of vitamins. Having frozen berries in the freezer for smoothies is a great choice! I use ten ounces (or about two cups) of blueberries.
Banana: Add one regular banana to this smoothie. If you happen to keep frozen bananas in the freezer, go ahead and add a frozen banana. You may need an extra few tablespoons of oatmilk to help the ingredients blend easily.
Oats: Rolled Oats blend well into this smoothie. If your blender has trouble processing oats, you can use a coffee grinder or a food processor to first grind the oats into a powder before adding them to the smoothie. Oats provide plant-based protein and fiber.
Sweetener: You'll notice that I didn't use any added sugar or sweetener in my smoothie. There is already sugar in my fruits and oatmilk, but I am talking about ADDED sugar. I've been trying to cut back on sugar in my diet and if a recipe doesn't require extra sugar, then I first try to make it without. If you like a sweeter finish in smoothies, you could add a tablespoon of honey (not for a vegan diet) or two dates (vegan friendly) to the blender.
Steps for Making Smoothies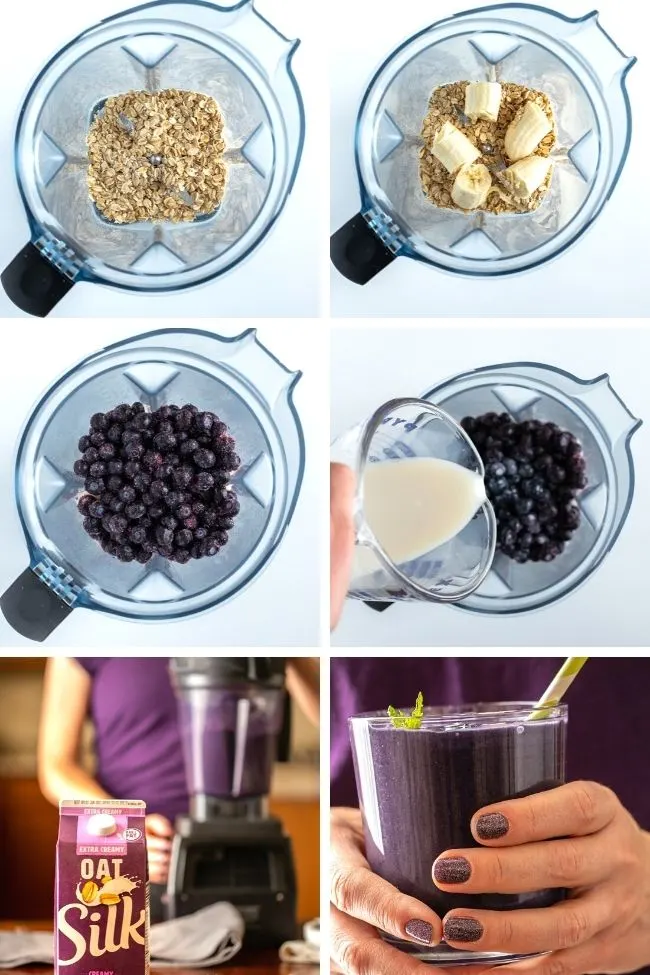 Add the ingredients to your high-speed blender then blend until smooth.
You may add additional Silk® Extra Creamy Oatmilk to make a thinner smoothie. If you want to create a smoothie bowl, you could either add a second banana or decrease the liquid by half a cup to make a thicker mixture.
If you are making this as an individual serving and have leftovers (the recipe makes about 3 cups total), pour the extra smoothie into an ice cube tray and freeze the cubes in a freezer-safe bag or container for up to 6 months. When you are ready to enjoy a blueberry smoothie again, just throw the frozen cubes in the blender. You may need a splash of oatmilk as well.
Other add-ins:
Try other frozen fruit like strawberries, peaches, or a tropical mix of mango and pineapple
Add a handful of cashews, almonds, or peanuts
Add a 2 Tablespoons hemp seeds, flaxseeds, or chia seeds
Add a few tablespoons of almond butter or peanut butter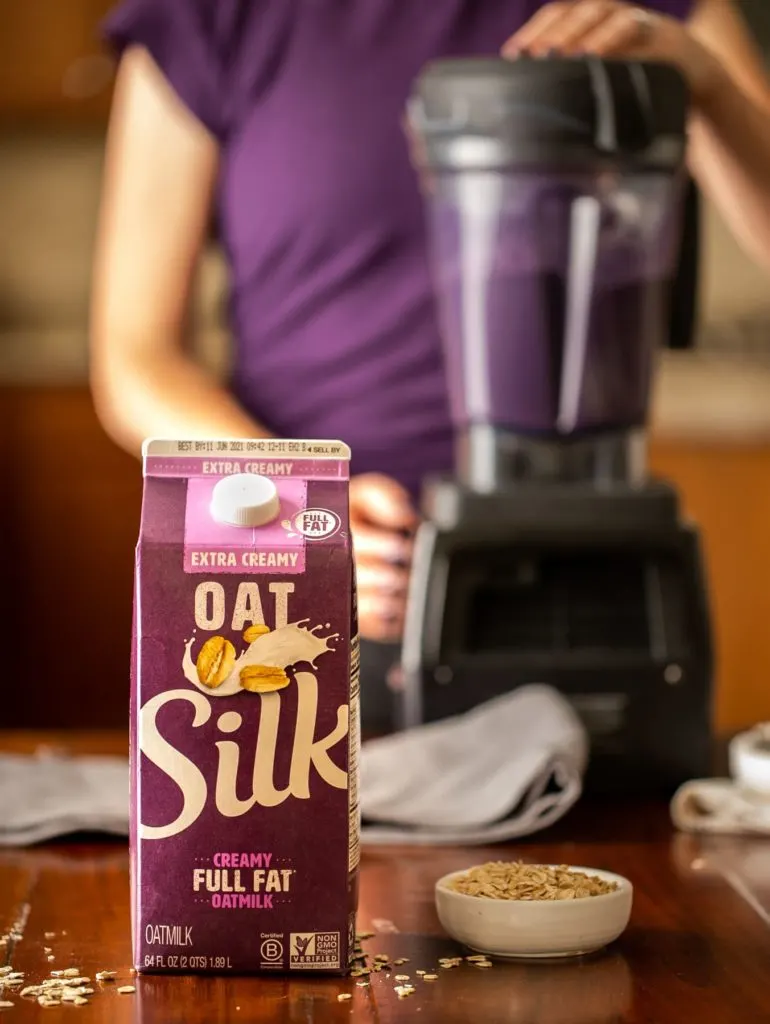 Yield: 2 smoothies
Blueberry Oat Smoothie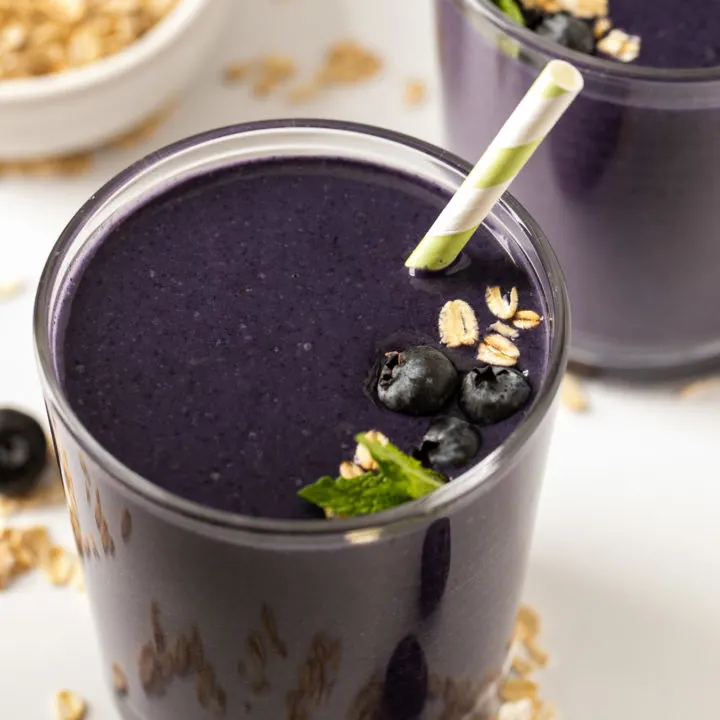 A blueberry oat smoothie is easy to make with only four ingredients.
Ingredients
1 ½ cups Silk® Extra Creamy Oatmilk
10 ounces frozen blueberries
1 banana
½ cup rolled oats (gluten free)
Instructions
Place all ingredients in a blender and blend until smooth.
Pour into two glasses and enjoy!
Notes
This makes about 3 cups which I pour into two servings.
Rolled oats or instant oats are recommended. Steel cut oats won't blend as smoothly. If you only have steel cut oats, soak them in the Silk® Extra Creamy Oatmilk for 10 minutes before blending.
If you have leftovers, freeze the mixture in ice cube trays then blend the cubes into a smoothie another time.
Nutrition Information:
Yield:
2
Serving Size:
1
Amount Per Serving:
Calories:

342
Total Fat:

6g
Saturated Fat:

1g
Trans Fat:

0g
Unsaturated Fat:

2g
Cholesterol:

0mg
Sodium:

97mg
Carbohydrates:

65g
Fiber:

9g
Sugar:

33g
Protein:

10g
This data is provided by Nutritionix and is an estimate only.
Pin with me!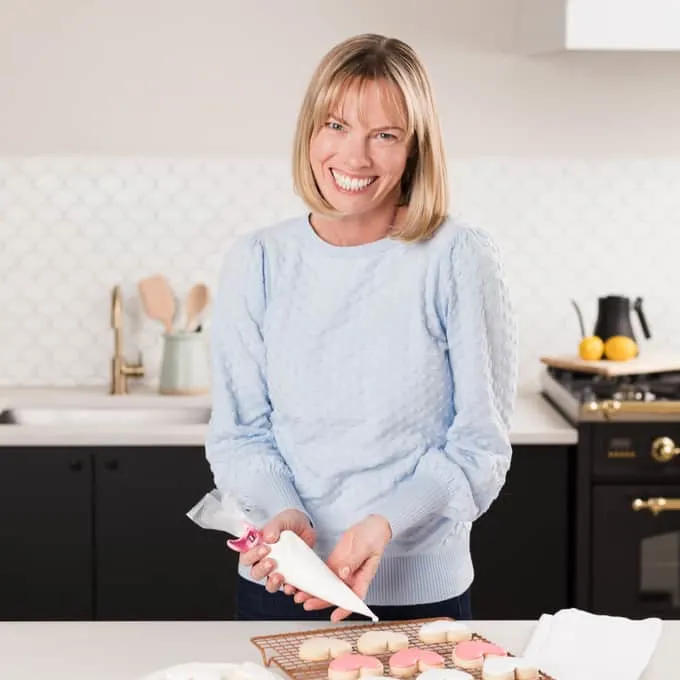 Holly Baker started the food blog, A Baker's House, in 2011. She is the writer, recipe creator, and photographer for the site. Holly loves to bake and shares recipes for gluten free food, canning recipes, as well as traditional desserts too. Her recipes and food photography have been highlighted by BuzzFeed, Reader's Digest, and She Knows.