Have you heard of aussie bites? These are the Best Homemade Aussie bites which are made to copycat aussie bites from Costco– the good ole tub of Universal Bakery Aussie Bites that seem to call out to me as I walk by. A gluten free version is easy to make at home!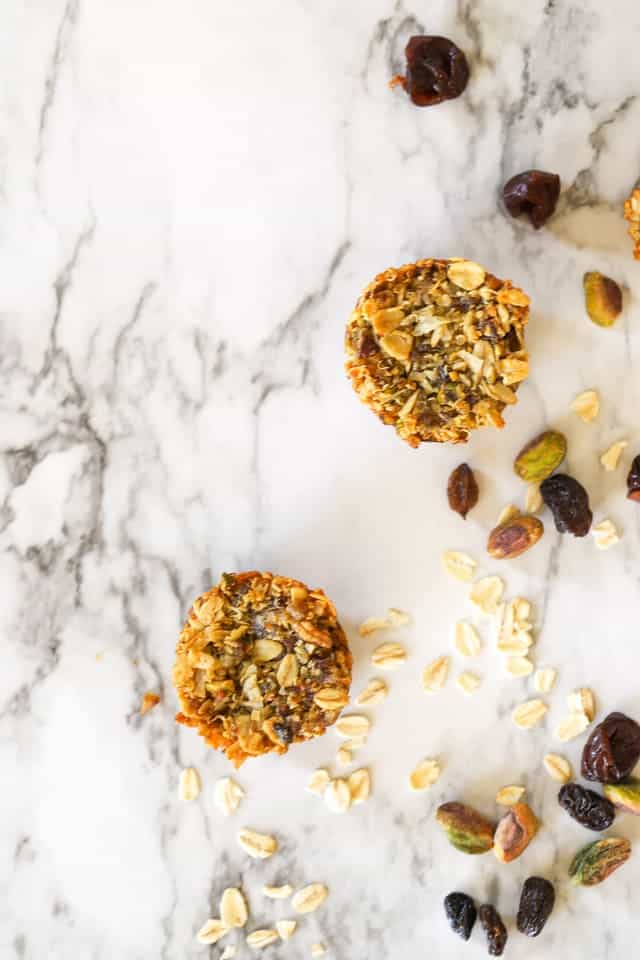 Aussie bites are a baked oat treat that first caught my eye at Costco. A snack or dessert (or maybe breakfast?) that could be described as packed granola bites baked in a mini muffin tin. Yes, I am sure that I was sucked in by those lovely Costco samples and I've been hooked ever since! Now are these Australian bites really a specialty of the land down under? I honestly don't know but they should be! A national treasure for sure!
How do I make a copycat Aussie bite Costco recipe?
Sometimes when you find a food that you love at a restaurant or particular store, it is fun to recreate that recipe at home. The beauty of baking at home means that you can add or take out ingredients as you wish.
How should you start? Begin a copycat recipe with a quick bit of research. It's simple: look at the ingredient list on the store-bought product you love.
Notice what your favorite aspect is and build upon that– more raisins? Fewer nuts?
My affection with the Costco aussie bites version waned when I took gluten out of my diet and their product isn't certified gluten free so I set out to make a version at home. Loaded with dried fruit and nuts, these homemade Aussie bites will be a favorite!
Making this recipe at home in mini muffin tins means that you don't need to buy the aussie bites from Costco. A money-saving recipe for sure!
What are aussie bites ingredients?
apricots
dried cherries
dates
raisins
oats
quinoa
honey
coconut flakes
pistachios
butter
baking soda
Other suggestions you might consider:
sunflower seeds
chia seeds
vanilla extract
walnuts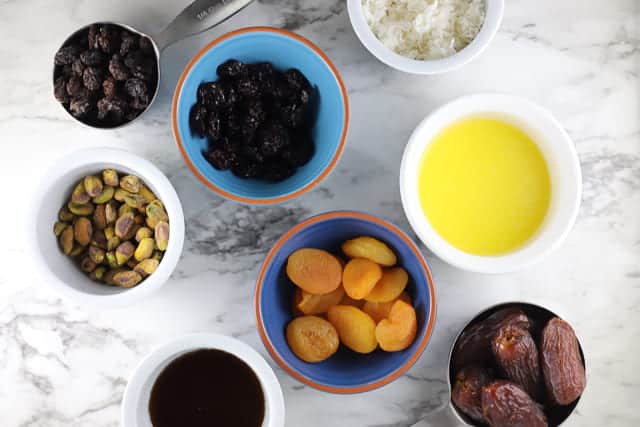 What are the steps to make Aussie bites like the ones at Costco?
Use a food processor to process the oats into a flour consistency. Add to the quinoa. Set aside.
Pulse the apricots, dried cherries, dates and raisins in the food processor.
Add the quinoa &oats back into the food processor as well as the honey, coconut flakes, pistachios, butter and baking soda. Pulse to combine.
Press 1 tablespoon of the mixture into each mini muffin space.
Bake for 13-15 minutes at 350 degrees.
Let's look into each step:
Scoop out one cup of the oats (leave one cup remaining) and process to a flour-like consistency.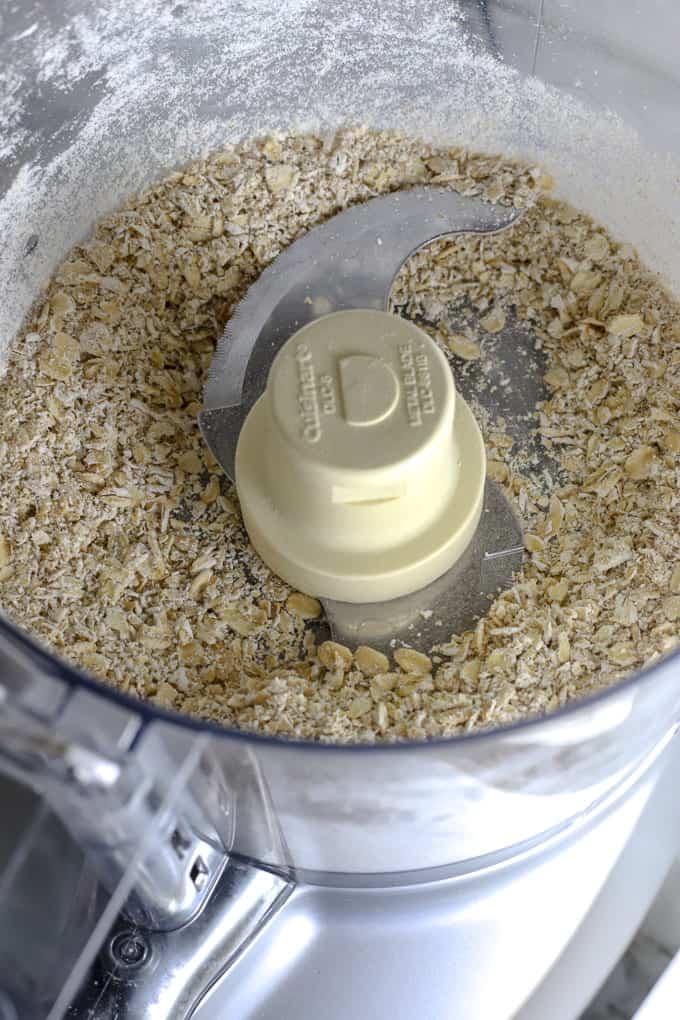 Empty these processed oats into a bowl with the remaining whole oats and the cooked quinoa. No need to clean out the food processor bowl before you move on to the apricots, dates, raisins and dried cherries.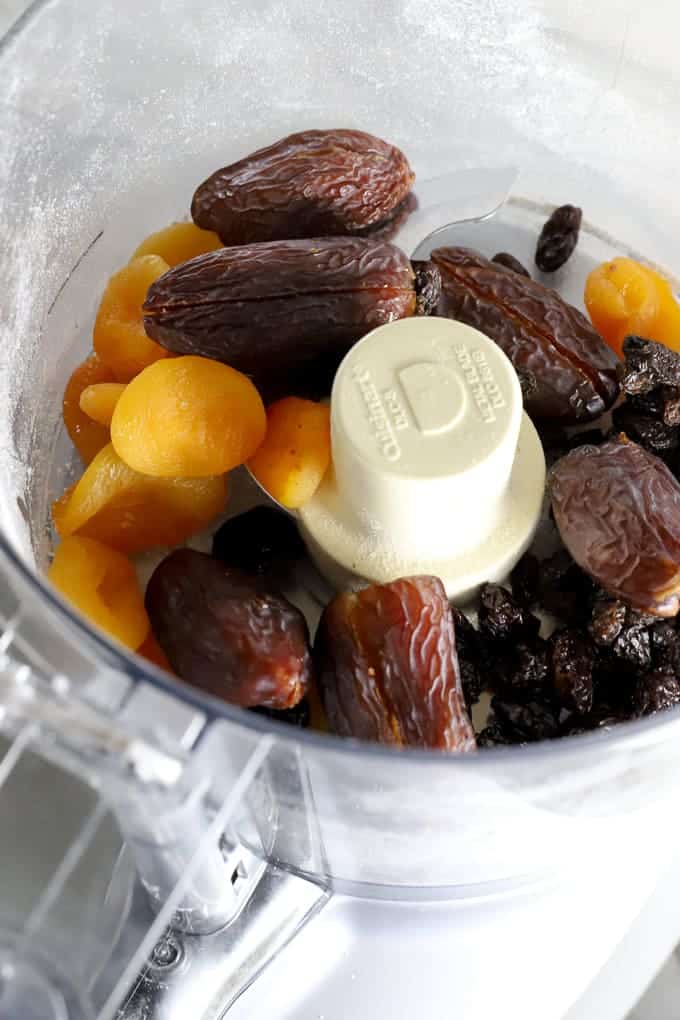 Process the dried fruit until you have tiny pieces– going too far and making a paste of the dried fruits is perfectly fine too.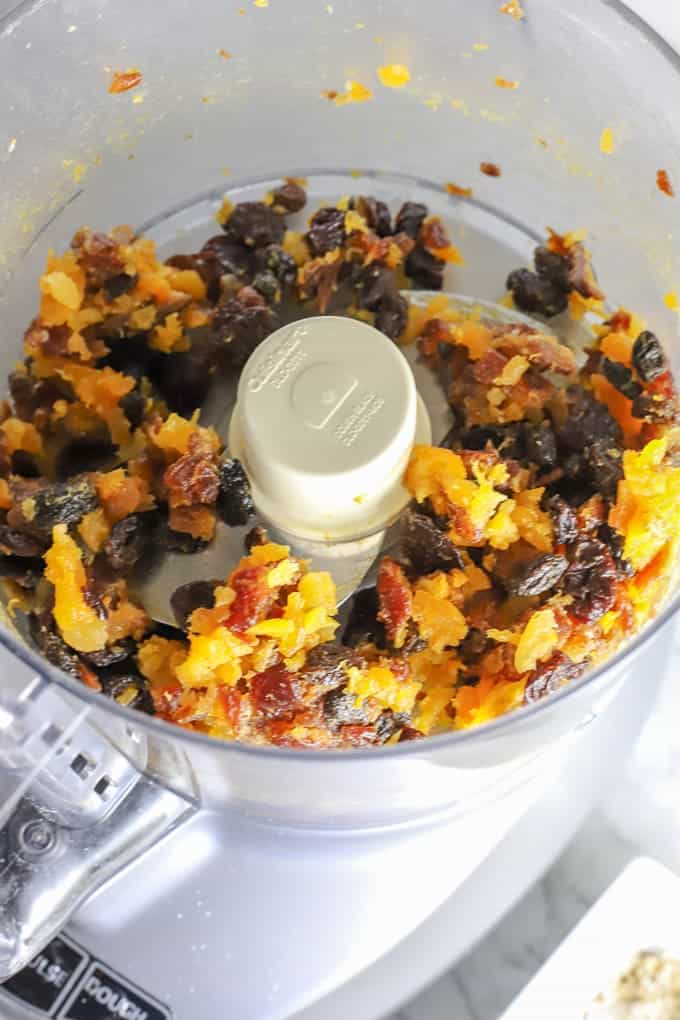 Add all of the ingredients back into the food processor and pulse until you have a dough-like consistency.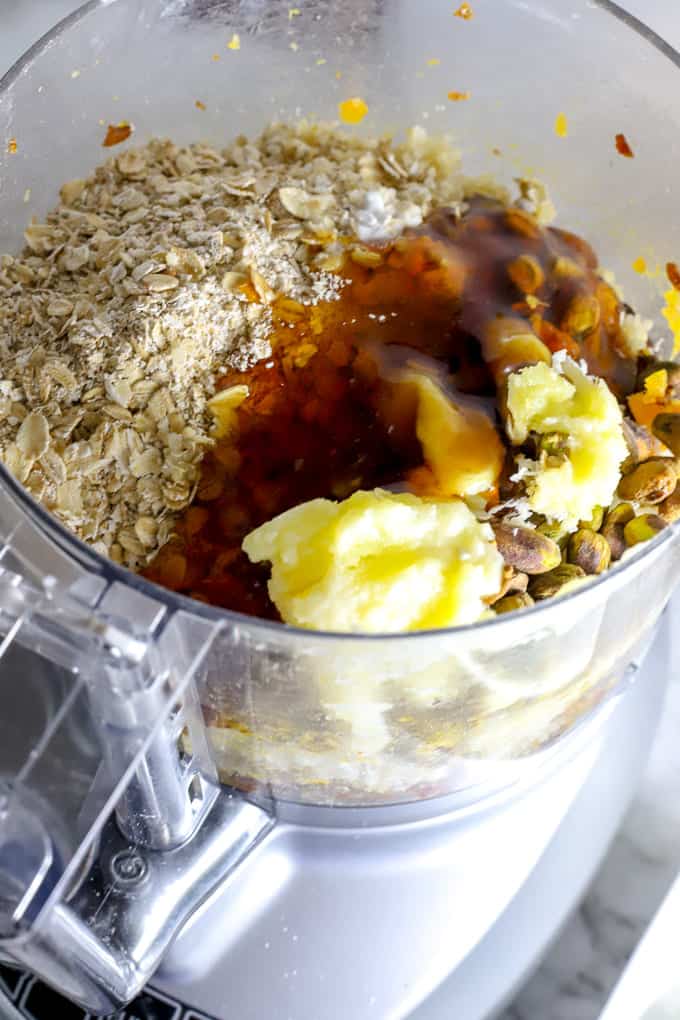 Take one tablespoon of the dough for each mini muffin space. This recipe makes 24 servings.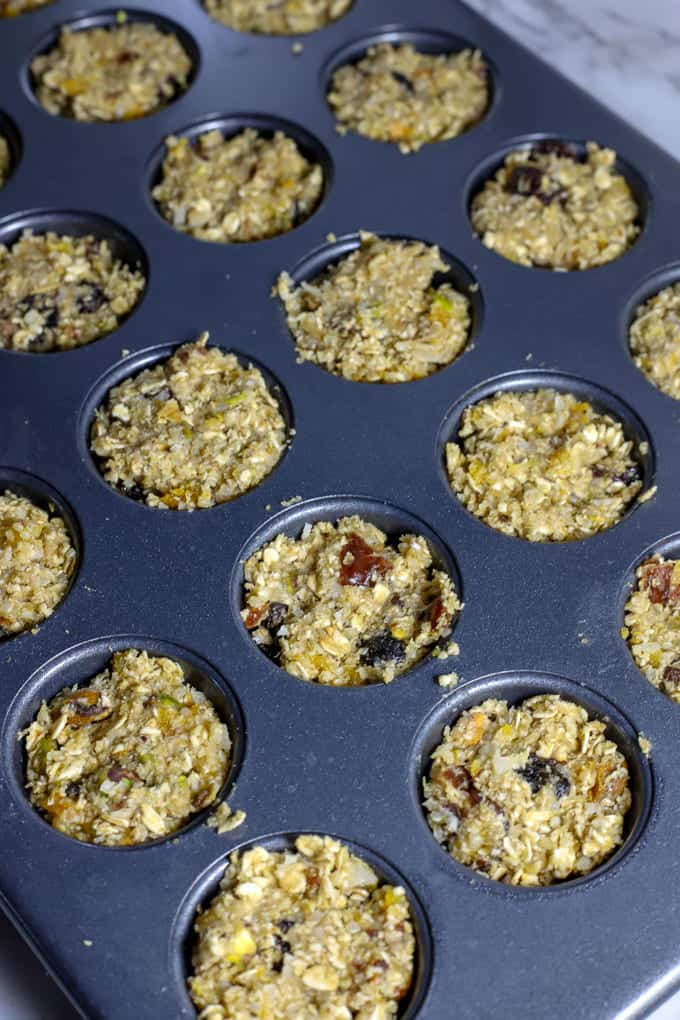 Are aussie bites gluten free?
My trouble with the Costco aussie bites is a personal one– their product isn't certified as gluten free. Oats are a sneaky ingredient in a gluten free diet. They are naturally gluten free but often in the processing of oats, gluten is added or sneaks in as a contamination.
Oats technically "should" be gluten free but often are contaminated with gluten unless otherwise noted that they are tested and certified as gluten free. Bob's Red Mill is the brand used here (although they sell oats that are NOT gluten free as well so check and double check your labels).
Best solution– make these gluten free aussie bites by checking and double-checking your ingredients at home. Make sure that your oats are certified gluten free.
The same advice holds true for each ingredient. Check and double check.
Making organic aussie bites follows the same guidelines– check that each ingredient you use is labeled Organic as you go.
How can I make paleo aussie bites?
Making paleo aussie bites follows the same train of thought as the above advice for making gluten free aussie bites. Carefully look through the ingredient list and find any item that does not fit in a paleo diet.
Oats and quinoa are not considered acceptable on the paleo diet.
Substitute ingredients that fit within your paleo guidelines so that you can enjoy paleo aussie bites.
Can I make vegan aussie bites?
Sure! Again, figure out what specific ingredients fit and do not fit within a vegan diet. Honey and butter do not fit within the guidelines of a vegan diet. Make the appropriate substitutions such as maple syrup and coconut oil and enjoy your vegan energy bites.
I found a great solutions for paleo and vegan energy bites in these recipes:
Are aussie bites healthy?
Healthy is a relative term. I'll leave the final decision up to you but here are a few points to consider.
Quinoa is an ancient grain from South America that is gluten free and a complete protein. Added to these whole grains is a list of energy-packed ingredients that you can customize as you wish.
Apricots and raisins, dried cherries, pistachios, and coconut flakes rounded out these loaded homemade Aussie bites.
Breakfast, snack, dessert, these Aussie bites check off all of the boxes.
Estimated calories for Aussie bites are included in the recipe card below. This nutrition information is provided by Nutrionix and is to be considered an estimate only.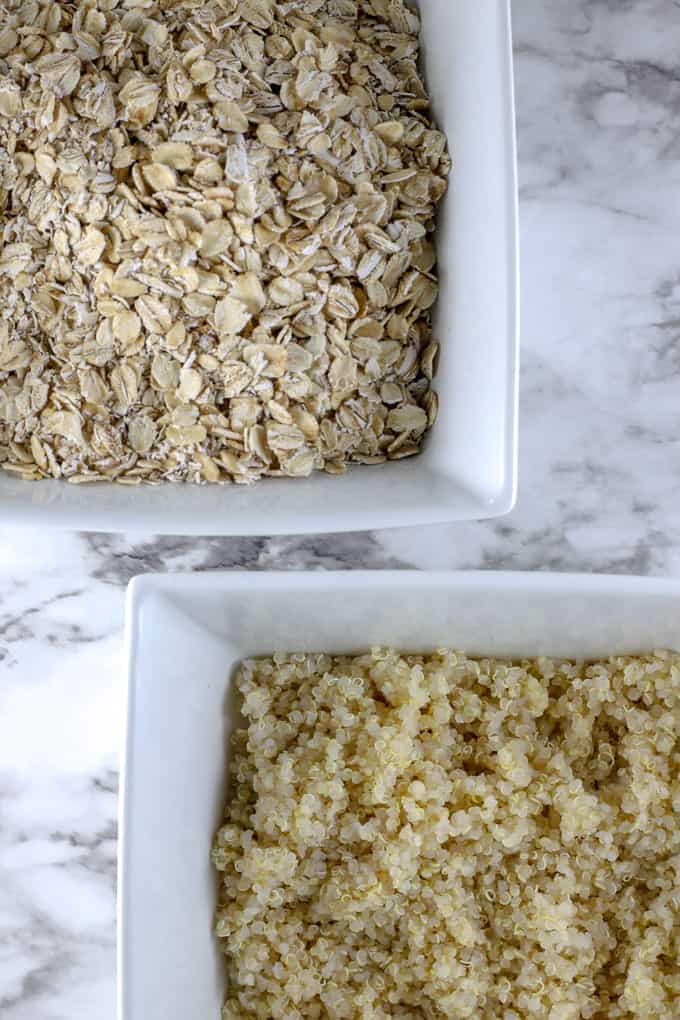 Can I freeze homemade aussie bites?
Yes, freezing homemade aussie bites is a great option. Make a double batch and freeze the aussie bites in an airtight container or freezer ziploc bag.
Pack these energy bites in your lunch or let them come to room temperature at home before you enjoy them.
Gluten free aussie bites are a super option to take hiking or skiing for a midday snack and burst of energy!
What kitchen tools do I need to make the best homemade aussie bites?
If you like baking dessert as much as I do, you'll enjoy these tasty recipes!
Yield: 24
Homemade Aussie Bites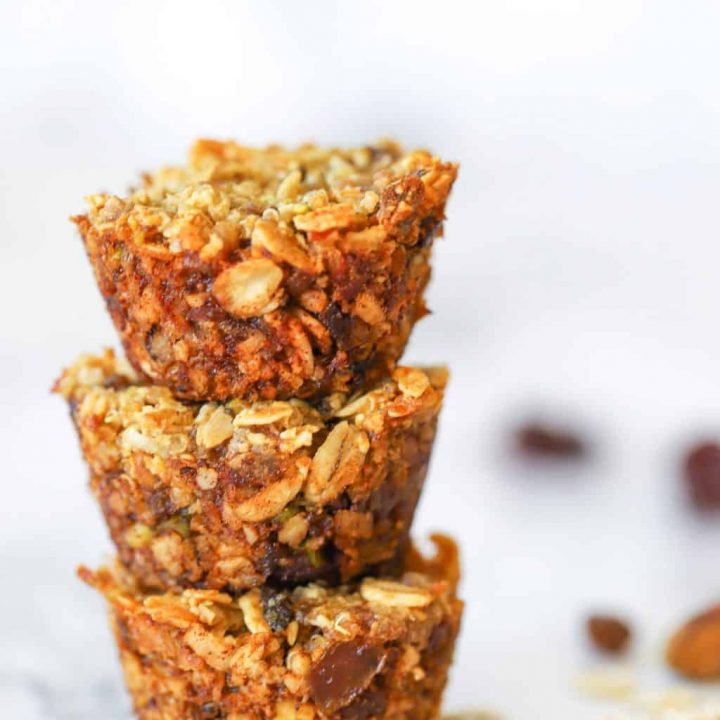 Loaded Homemade Aussie bites are a copycat recipe that take the Costco favorite and makes a gluten free version filled with your favorite dried fruits and nuts. Whole grains of oats and quinoa are the base of these energy bites. Apricots, dried cherries, raisins and pistachios add to the flavor.
Ingredients
2 cups gluten free oats (separated into 1 cup portions)
1 cup cooked quinoa (gluten free)
1/4 cup dried apricots
1/4 cup dried cherries
1/2 cup pitted dates
1/4 cup raisins
1/4 cup honey
1/4 cup pistachios
1/2 cup coconut flakes
3 tablespoons unsalted butter, melted
1 teaspoon baking soda
Instructions
Preheat the oven to 350 degrees F. Spray a mini muffin tin with baking spray (optional)
Use a food processor to process 1 cup of the oats until consistency is like flour. Pour into a medium size bowl. Add the remaining cup of oats and the quinoa. Stir to combine.
No need to clean the food processor. Add the apricots, dried cherries, dates, and raisins. Pulse to break down the fruits into tiny pieces. Going all the way to a smooth paste is fine too. Add the oats and quinoa and back into the food processor.
Add the honey, coconut flakes, pistachios, melted butter, and baking soda. Pulse until the mixture comes together. It will likely form a ball.
Place about 1 tablespoon of the mixture into each mini muffin space. Press down to fill the muffin cavity.
Bake for 12-14 minutes or until the edges start to brown.
Let cool in the muffin tin completely before removing.
Notes
Customize the ingredients to make these fit your preferences and diet requirements.
Nutrition Information:
Yield:
24
Serving Size:
1
Amount Per Serving:
Calories:

83
Total Fat:

3g
Saturated Fat:

2g
Trans Fat:

0g
Unsaturated Fat:

1g
Cholesterol:

4mg
Sodium:

65mg
Carbohydrates:

14g
Fiber:

1g
Sugar:

8g
Protein:

1g
This data was provided and calculated by Nutritionix and is to an estimate only.
Did you make this recipe?
Please leave a comment on the blog or share a photo on Instagram
Save this Recipe for later on Pinterest!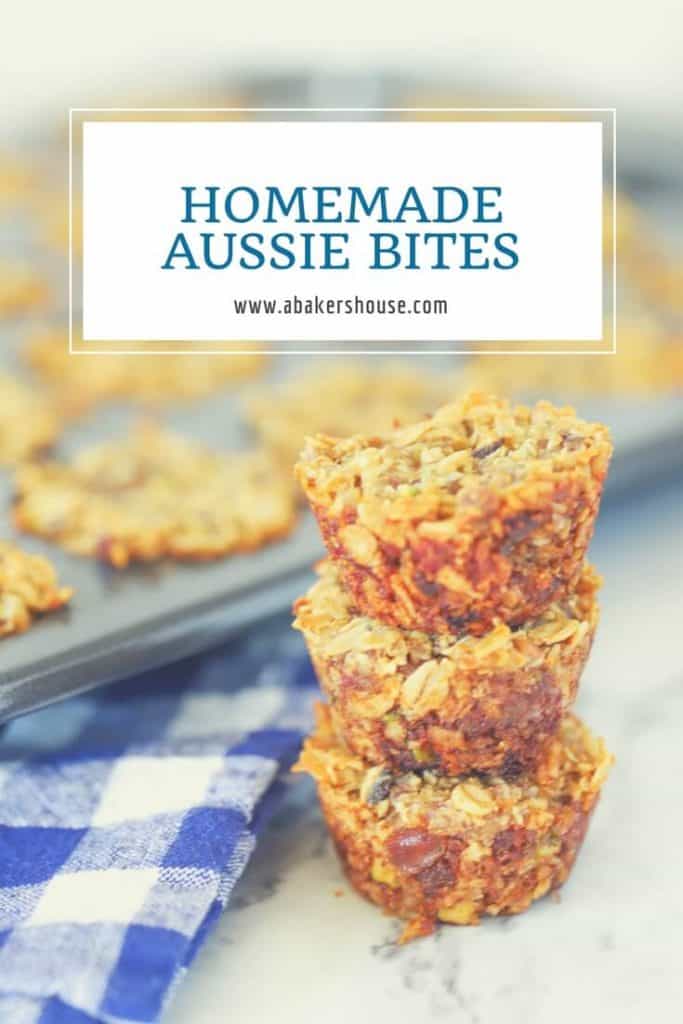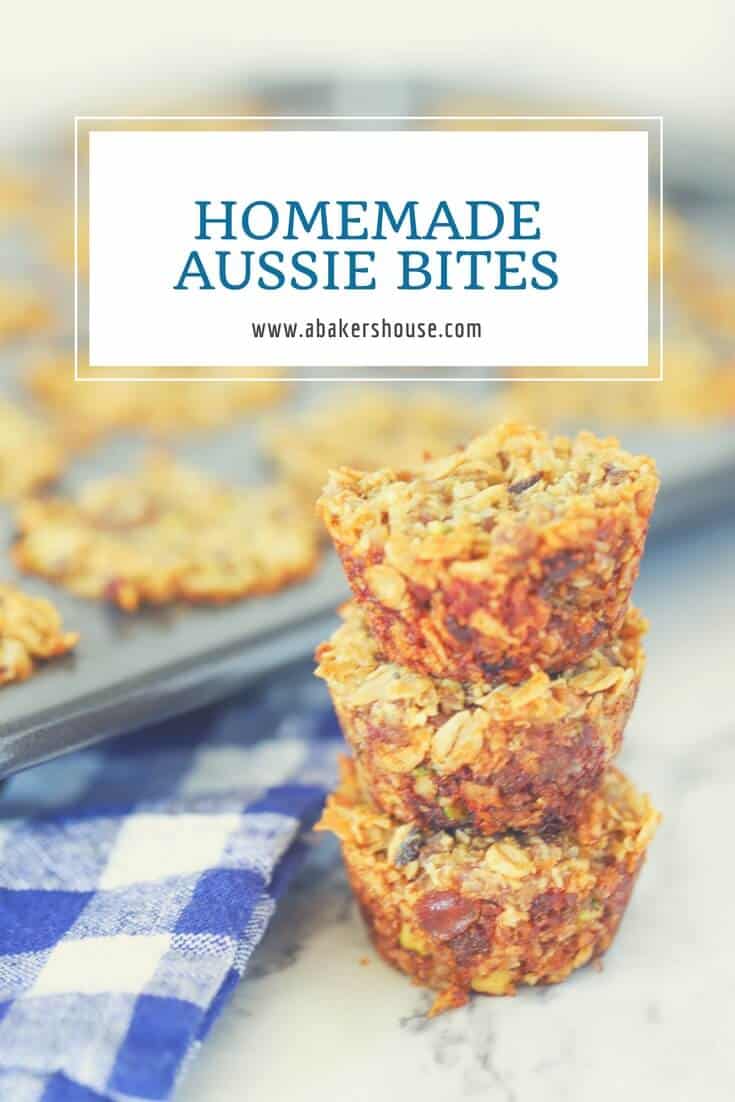 We are a participant in the Amazon Services LLC Associates Program, an affiliate advertising program designed to provide a means for us to earn fees by linking to Amazon.com and affiliated sites.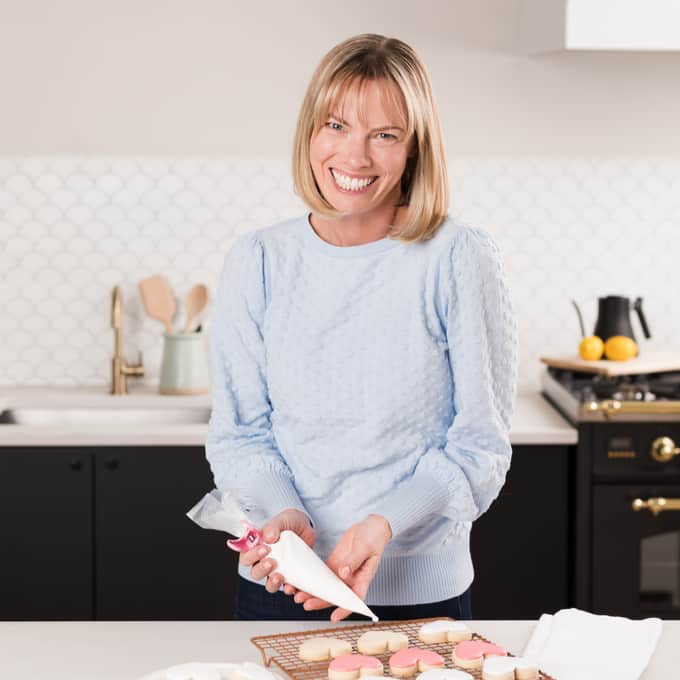 Holly Baker started the food blog, A Baker's House, in 2011. She is the writer, recipe creator, and photographer for the site. Holly loves to bake and shares recipes for gluten free food, canning recipes, as well as traditional desserts too. Her recipes and food photography have been highlighted by BuzzFeed, Reader's Digest, and She Knows.