Lemon curd is a delightful lemon spread made with eggs, sugar, butter, and, of course, lemons! The Vitamix makes this recipe a breeze.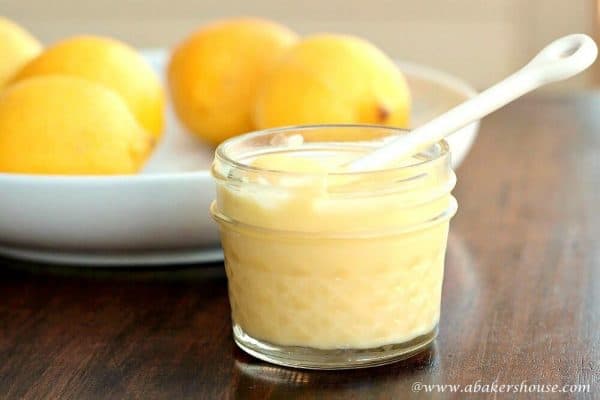 A bright taste of lemon is such a cheerful flavor. While I eat lemon treats year-round, it may be in the winter months that I most appreciate a burst of citrus. It was in January a few years ago that I shared a lemon curd recipe made in the microwave.
My mother-in-law shared the recipe with me and I thought curd could not get any easier…until the Vitamix came along. Wow, this is no ordinary blender! I would assume that the popular Blendtec functions in a similar manner but this Vitamix continues to amaze me.
Lemon Curd– so easy in the Vitamix
I thought I had a good idea to try to whip up some lemon curd in the Vitamix and, at the last minute, instead of just repeating my usual recipe I checked in the Vitamix cookbook for the possibility that the chefs there had already provided their preferred recipe.
Sure enough, on page 308 of the book, Create, there was this ingredient list for lemon curd. (By the way, it is not right that if you mis-type the word "curd" that it might turn into "cRud", which spell-check won't fix and which is the complete opposite of lemon curd. It should be called Lemon Delight or something light-hearted and more pleasant sounding!) This is good stuff!
Give limes a try!
After finding such joy in lemon curd, why stop? Try lime curd too.
Print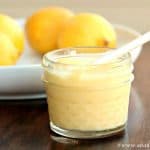 Lemon Curd (in the Vitamix)
---
Description
Recipe Source: The Vitamix Cookbook: Create
---
Ingredients
5 large eggs
1/2 cup fresh lemon juice (2-3 large lemons) and zest of 2-3 lemons
1 1/2 cups granulated sugar
1/8 teaspoon salt
1/2 cup unsalted butter, room temperature and cut into small pieces
---
Instructions
Put all ingredients EXCEPT the butter into the Vitamix. Start at Variable 1 and gradually increase to Variable 10. Blend for 5 minutes.
Reduce to Variable 3, remove the lid plug and add the pieces of butter through the lid. Blend for 30 more seconds.
Allow to cool to room temperature then refrigerate. The lemon curd will thicken as it cools.
---
Notes
Note: A regular blender will not cook the eggs in the way that a Vitamix will. The temperature of eggs that is safe to eat is 160 degrees F. If you don't have a Vitamix or Blendtec then use the easy microwave method or a stovetop method.
Recipe Card powered by
Now that you have this lovely lemon concoction, what should you do with it? Spread it on toast for a quick burst of lemon or make this Lemon Poppy Seed Bread.
Kitchen Tools You'll Use for this Recipe:
Lemon Squeezer and Lemon Zester
We are a participant in the Amazon Services LLC Associates Program, an affiliate advertising program designed to provide a means for us to earn fees by linking to Amazon.com and affiliated sites.