Lemon curd in the Vitamix is a delightful lemon spread made with eggs, sugar, butter, and, of course, lemons! The Vitamix makes this recipe a breeze. It is so fun to watch right before your eyes as the ingredients are whipped together, heated, and somewhat magically transform into this curd, a beautiful fruit and sugar based spread.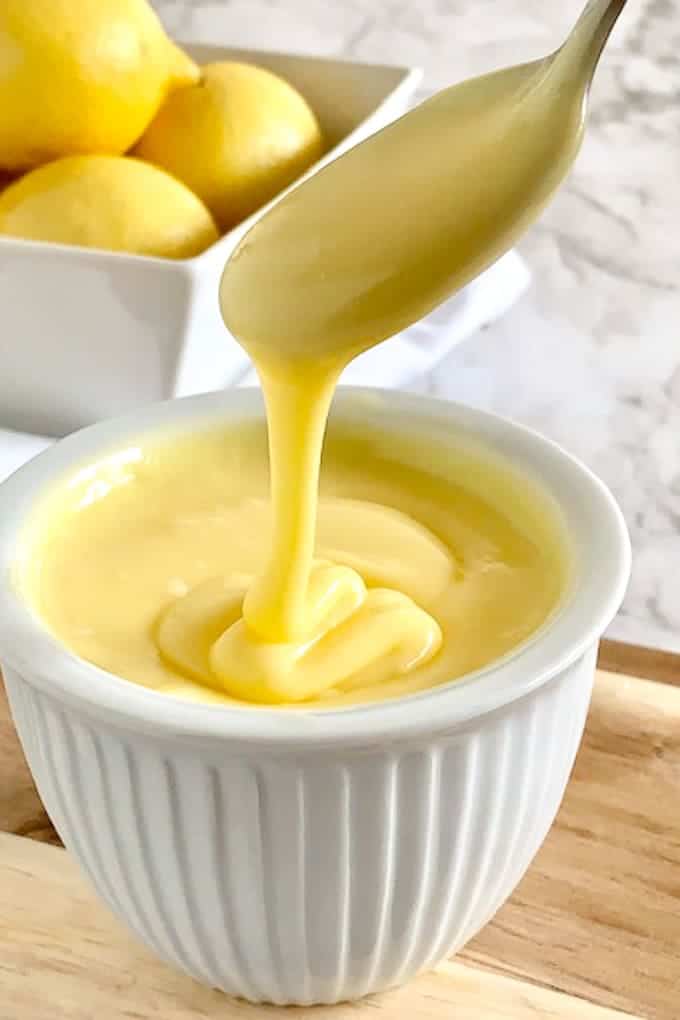 A bright taste of lemon is such a cheerful flavor. While I eat lemon treats year-round, it may be in the winter months that I most appreciate a burst of citrus.
It was in January a few years ago that I shared a lemon curd recipe made in the microwave. Using the microwave makes the process of making lemon curd really quick and easy.
The stove top method works for making curds too. Try this orange curd recipe, this vegan lemon curd, or substitute navel oranges for the lemons using the Vitamix method shared here.
My mother-in-law shared the recipe with me and I thought curd could not get any easier…until the Vitamix came along. Wow, this is no ordinary blender! I would assume that the popular Blendtec functions in a similar manner but this Vitamix continues to amaze me. The fact that the Vitamix can mix the contents in the blender to such high temperatures is truly amazing.
Lemon Curd Recipe– so easy in the Vitamix
I thought I had a good idea to try to whip up some lemon curd in the Vitamix and, at the last minute, instead of just repeating my usual recipe I checked for a lemon Vitamix recipe in the manufacturer's cookbook for the possibility that the chefs there had already provided their preferred recipe.
Sure enough, on page 308 of the book, Create, there was this ingredient list for lemon curd. (By the way, it is not right that if you mis-type the word "curd" that it might turn into "cRud", which spell-check won't fix and which is the complete opposite of lemon curd. It should be called Lemon Delight or something light-hearted and more pleasant sounding!) This is good stuff!
If you don't have a Vitamix you can still make lemon curd on the stove top with this traditional meyer lemon curd recipe.
What ingredients are needed to make lemon curd?
lemons (juice and zest)
eggs
sugar
salt
butter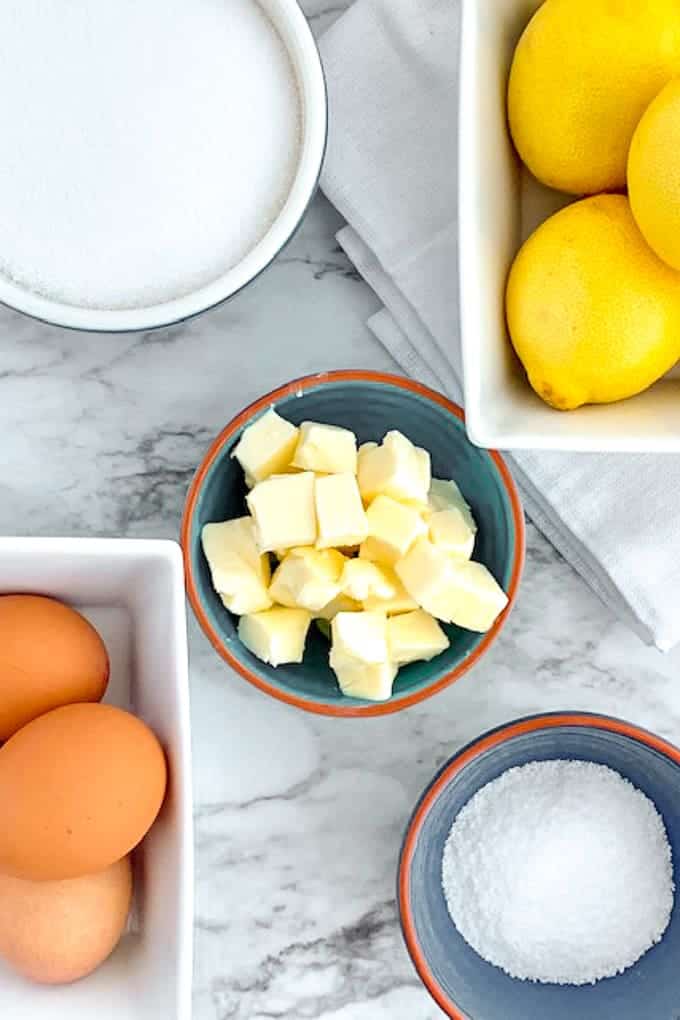 How to Make Lemon Curd in the Vitamix
Put the eggs, lemon juice, lemon zest and salt (all ingredients EXCEPT the butter) into the Vitamix. Start at Variable 1 and gradually increase to Variable 10. Blend for 5 minutes. The mixture will heat up. It's fun to watch the steam pour out the top!
Reduce to Variable 3, remove the lid plug and add the pieces of butter through the lid. Blend for 30 more seconds. Your lemon curd will be smooth and somewhat runny while it is so hot.
Allow to cool to room temperature then refrigerate. Two hours to overnight is just right. Store in mason jars. The lemon curd will thicken as it cools.
Can I make lemon curd in any blender?
Here's the trick of using the Vitamix– a high speed blender heats the lemon curd ingredients to a safe temperature for eating. You CANNOT use a basic blender to accomplish the same goal. It simply won't "cook" the eggs to a high enough temperature for safe eating.
If you don't have a high speed blender, you can still make this lemon curd recipe. Use your blender to blend the ingredients and then transfer the mixture to the stove top. Cook the lemon curd until it thickens and a safe temperature. I aim for 160 degrees F.
The egg safety board shares more information about safe temperatures for cooking eggs here.
How to store lemon curd
Lemon curd needs to be stored in the refrigerator.
After you make the curd in the Vitamix, place it in an airtight container in the refrigerator. Your lemon curd will continue to thicken as it cools.
How to Use Lemon Curd
Now that you have this beautiful and luscious lemon curd made in the Vitamix, what shall you do with it? I have a recipe round up of nearly 50 ideas for ways to use lemon curd. A few of them are shared here:
Eating it by the spoonful is honestly an option. Been there, done that.
While visiting England, I learned that lemon curd is delightful spread on toast.
Make this TWO ingredient Lemon Frozen Yogurt.
Create this blueberry lemon marscapone cake from Beyond Frosting is beautiful!
Bake this lemon raspberry layer cake from Lindsay at Life, Love and Sugar!
Enjoy this lemon crumb cake from Tanya at Lemons for Lulu.
Lemon curd filling is to die for in between layers of cake
Give limes a try!
After finding such joy in lemon curd, why stop? Try lime curd too. I even used my Vitamix to whip together this Cranberry Butter which is first cooked down in the Instant Pot.
Canning at home and making small batch jams and curds have really become a source of enjoyment for me in the kitchen. If you are interested in making more homemade preserves, here is a canning resource to give more more recipe ideas!
Add a label to your jar of lemon curd!
Did you know that I have a FREE Printables library? I love sharing labels that you can download and print yourself. When you are making jams, jellies, and marmalades, it is so nice to add a personal touch.
Access is free to my email subscribers. Join the growing number of email subscribers by using the form below. You'll love this label for your homemade lemon curd!

Yield: 3 cups
Lemon Curd (in the Vitamix)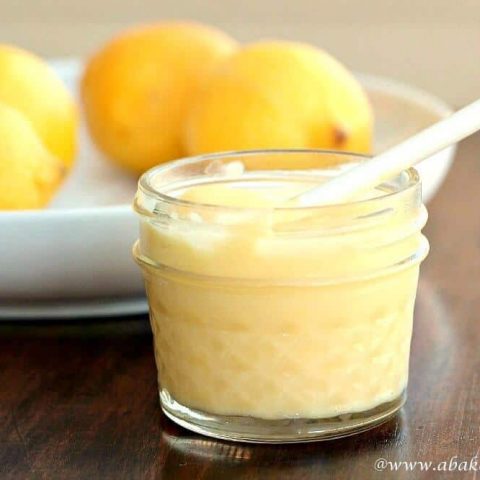 Capture that bright citrus punch that only lemon can give with this easy recipe for how to make lemon curd in the Vitamix!
Ingredients
5 large eggs
1/2 cup fresh lemon juice (2-3 large lemons) and zest of 2-3 lemons
1 1/2 cups granulated sugar
1/8 teaspoon salt
1/2 cup unsalted butter, room temperature and cut into small pieces
Instructions
Zest the lemons and then juice the lemons.
Put all ingredients EXCEPT the butter into the Vitamix. Start at Variable 1 and gradually increase to Variable 10. Blend for 5 minutes. The mixture will increase in volume, change color, and will become quite hot.
Reduce to Variable 3, remove the lid plug and add the pieces of butter through the lid. Blend for 30 more seconds. Be careful with the steam coming out of the top!
Allow to cool to room temperature then refrigerate. The lemon curd will thicken as it cools. Refrigerate for at least two hours or overnight.
Notes
Note: A regular blender will not cook the eggs in the way that a Vitamix will. The temperature of eggs that is safe to eat is 160 degrees F. If you don't have a Vitamix or Blendtec then use the easy microwave method or a stovetop method.
It's best to zest lemons first and THEN squeeze them for the fresh lemon juice. If you squeeze them first it is difficult and inefficient to try to remove the zest from the squeezed halves of lemon.
Recommended Products
As an Amazon Associate and member of other affiliate programs, I earn from qualifying purchases.
Nutrition Information:
Yield:
48
Serving Size:
1 tablespoon
Amount Per Serving:
Calories:

51
Total Fat:

2g
Saturated Fat:

1g
Trans Fat:

0g
Unsaturated Fat:

1g
Cholesterol:

24mg
Sodium:

13mg
Carbohydrates:

7g
Fiber:

0g
Sugar:

6g
Protein:

1g
This data was provided and calculated by Nutritionix and is an estimate only.
Kitchen Tools You'll Use for this Vitamix Recipe:
As an Amazon Associate I earn from qualifying purchases.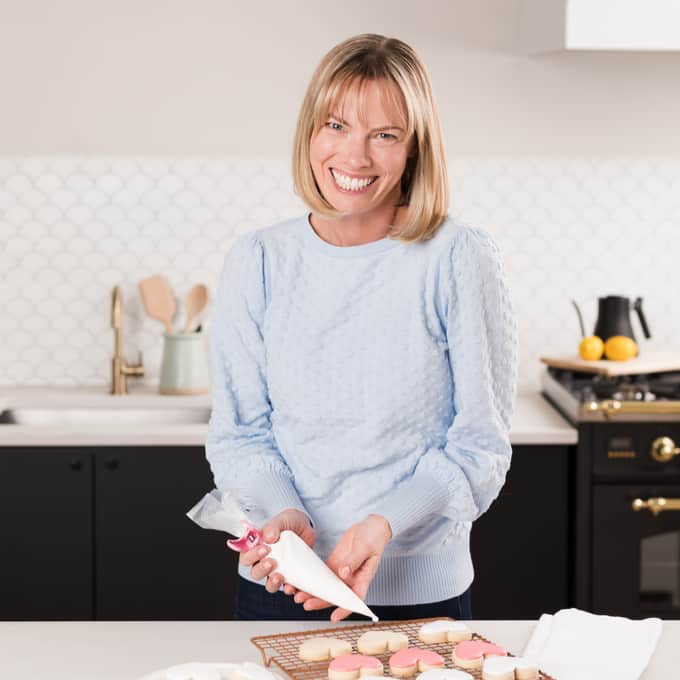 Holly Baker started the food blog, A Baker's House, in 2011. She is the writer, recipe creator, and photographer for the site. Holly loves to bake and shares recipes for gluten free food, canning recipes, as well as traditional desserts too. Her recipes and food photography have been highlighted by BuzzFeed, Reader's Digest, and She Knows.