This cranberry butter jewel of a fruit spread is not really a butter (no dairy at all). And it is not really a curd (no eggs in here either) so it is tricky to figure out how to name it properly. Technically it might be a pureed jam. It is an elevated version of instant pot cranberry sauce with a richness and depth of texture and flavor.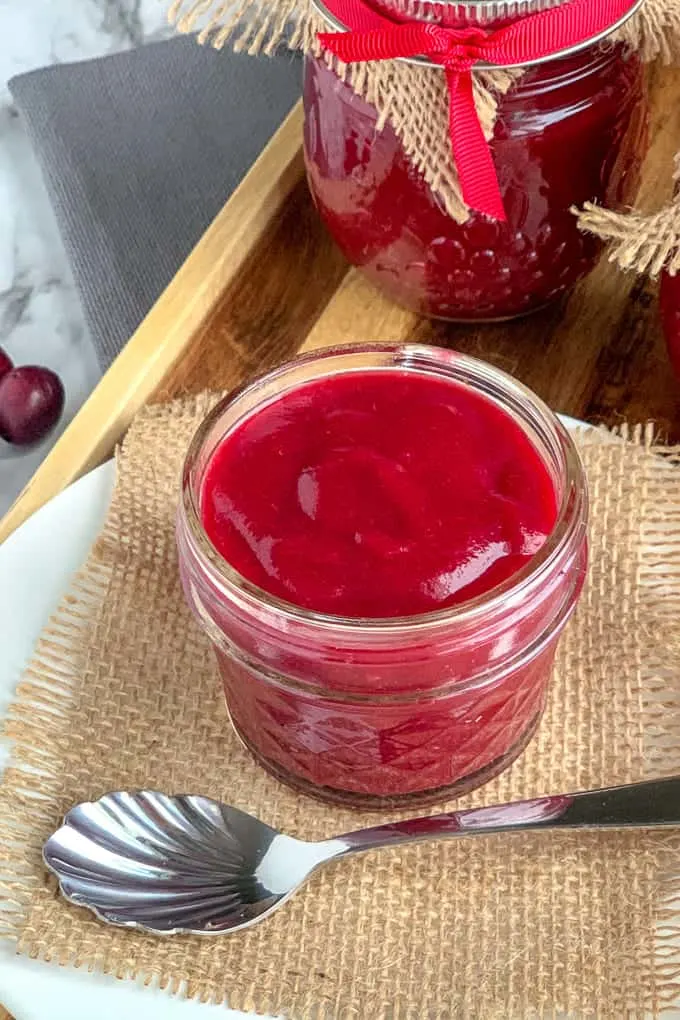 Who is in charge of making the cranberry sauce at your Thanksgiving or Christmas meal? Need an easy recipe?
There are so many variations on cranberry sauces and I vote for making a homemade sauce every time. Here's a traditional cranberry sauce recipe if you'd rather have a stovetop recipe.
Canned foods have their place at the table but, in my opinion, not when it comes to cranberries.
Cranberries freeze very well so go ahead and stock up on bags of fresh cranberries when you see them on sale at the grocery store. You'll be prepared to make this smooth and cranberry butter recipe when the time is right.
What ingredients are used to make cranberry butter?
cranberries
brown sugar
orange juice
You only need three ingredients to make this fruit butter. Simple ingredients of cranberries, sugar, and a small bit of liquid which in this case is fresh orange juice with a bit of added water all hang out together for ten minutes in a hot pressure bath called Instant Pot.
Before you know it you have a beautiful cranberry fruit puree that we're calling cranberry butter.
Thirty minutes or less start to finish. You do have time to make this fresh cranberry butter. You might even save your not-so-moist turkey with this cranberry goodness!
Is cranberry butter the same as cranberry sauce?
I like to think of cranberry butter as a type of cranberry sauce. This fruit butter is made with the same ingredients as you might use for a holiday cranberry sauce, but you'll puree this cranberry mixture until smooth.
Traditional cranberry sauces are usually lumpy and you can see some of the berries still intact. For a fruit butter, we use a high speed blender like a Vitamix or Blendtec to create a very smooth sauce.
You may find that you and your family prefer the texture of this smooth cranberry sauce as compared to jellied cranberry sauce. It is SO much better than sauce out of a can!
How do I make this Instant Pot cranberry sauce?
Zest the oranges into the Instant Pot. This is my favorite zester: 3 in 1 Citrus Zest Microplane
Juice the oranges and add water up to the 1 cup level.
Add the juice, water, brown sugar and cranberries into the Instant Pot.
Cook on high pressure for 10 minutes.
Transfer to a Vitamix and puree.
Pour into small jars and enjoy!
As an Amazon Associate I earn from qualifying purchases.
How to make cranberry butter:
Use a microplane to zest the oranges. Two oranges is just right. I like to hold the microplane such that you can see the orange zest piling up on top.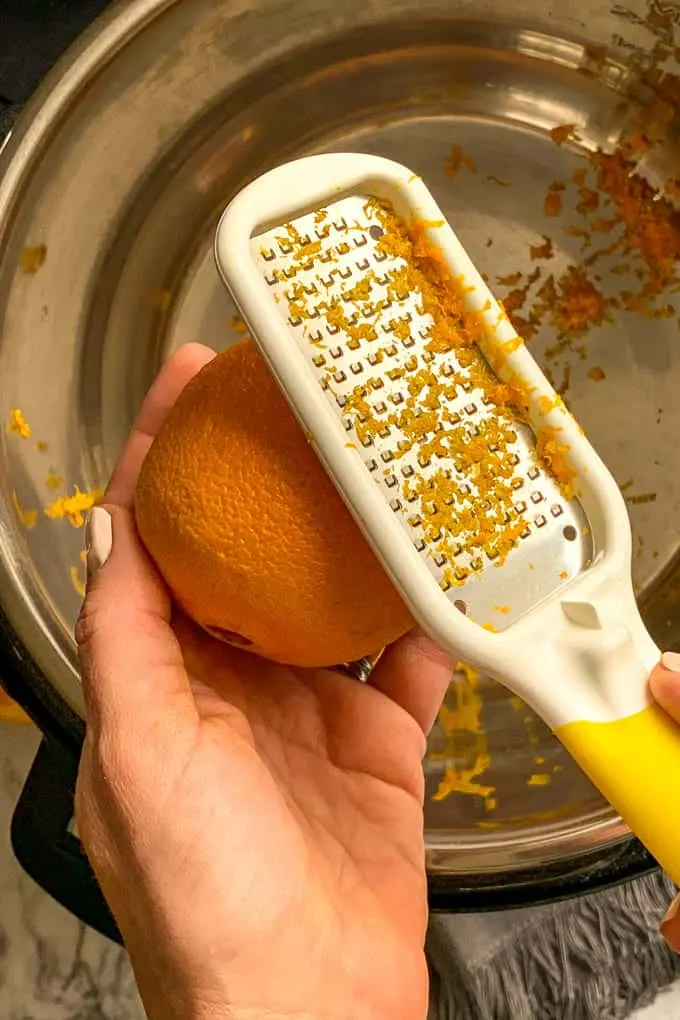 This is especially helpful in recipes where you are measuring how much zest you need to add (eg. 1 tablespoon). Here the more zest the better so zest away!
Juice the oranges into a glass measuring cup. My two oranges produces about 1/2 cup of juice. No matter how much juice you squeeze out of your oranges, add enough water to reach the amount of one cup.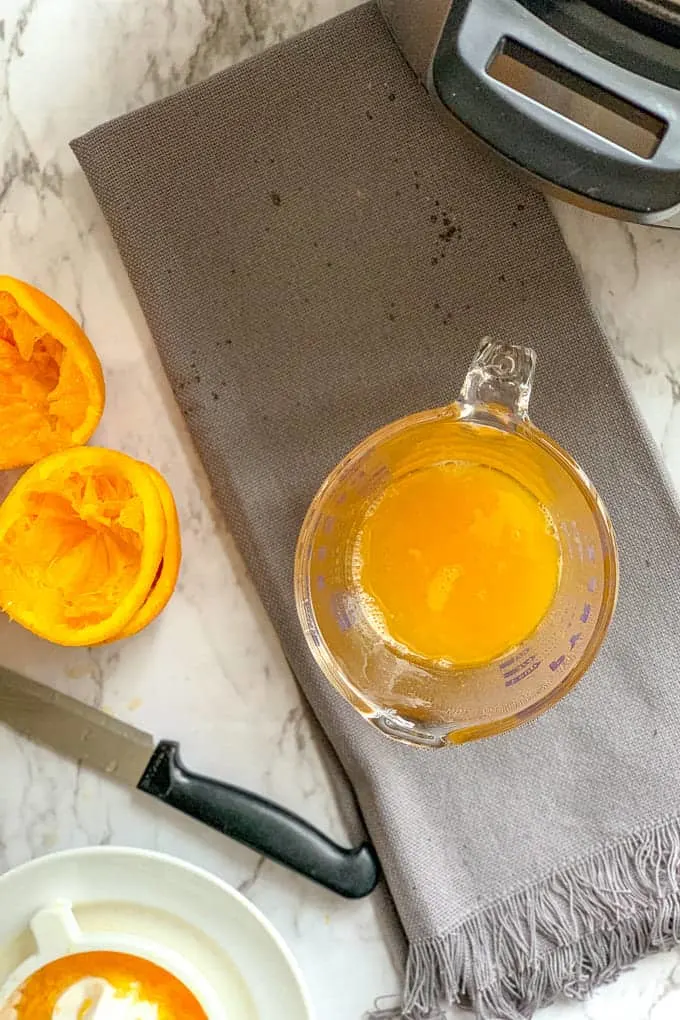 Add the juice, water, and 6 cups of cranberries into the Instant Pot.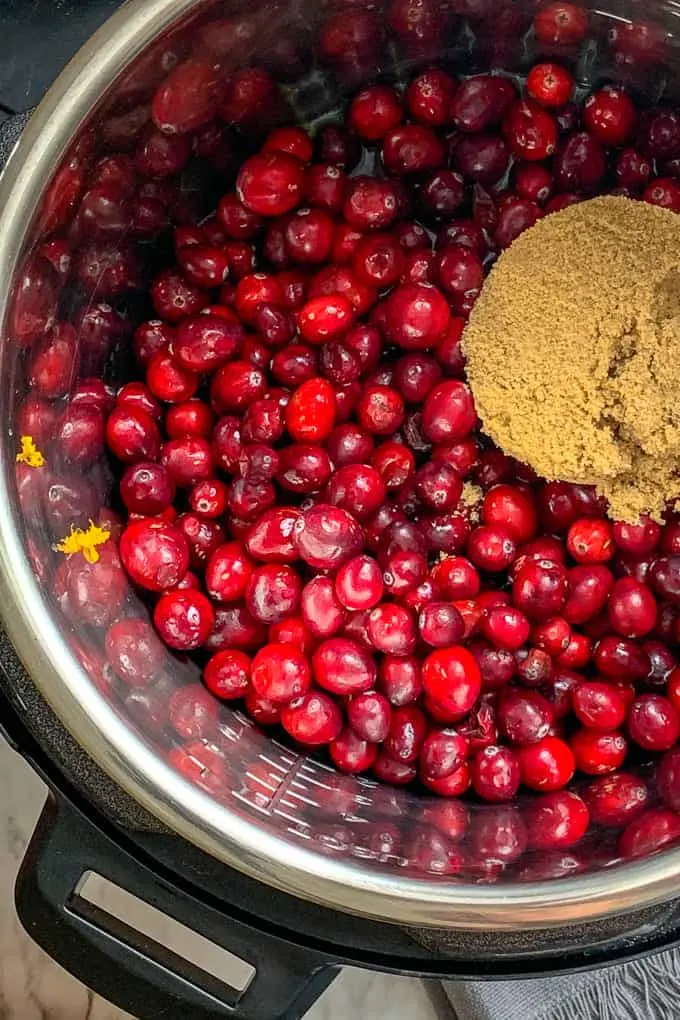 Stir to combine. Aren't those fresh cranberries beautiful!!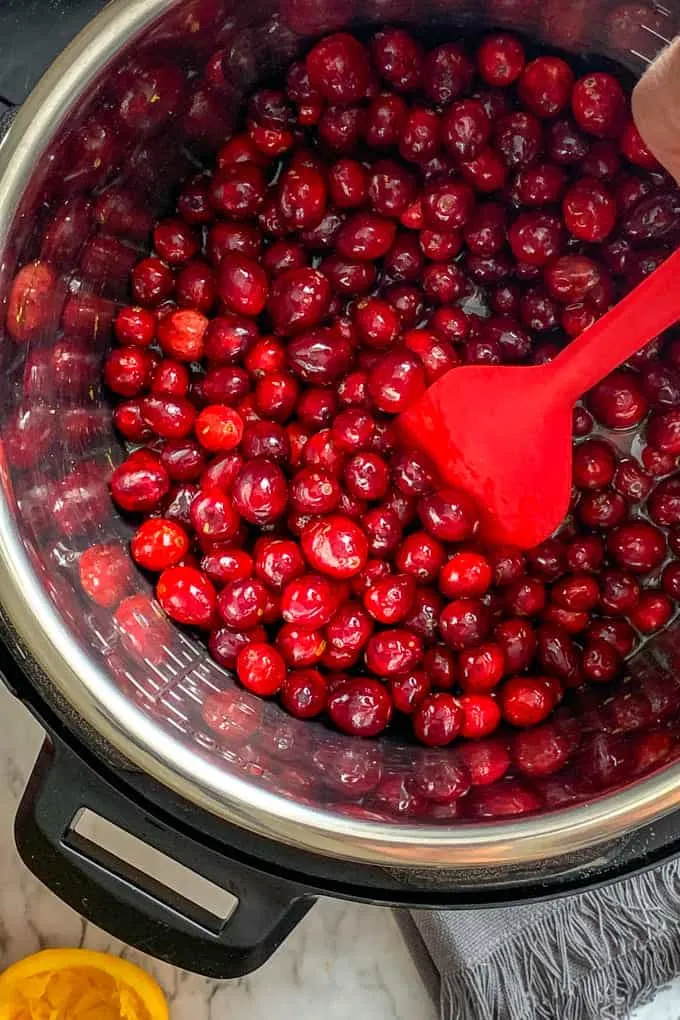 Cook on high pressure in the Instant Pot for 10 minutes. Wait another ten minutes then release the pressure on the Instant Pot.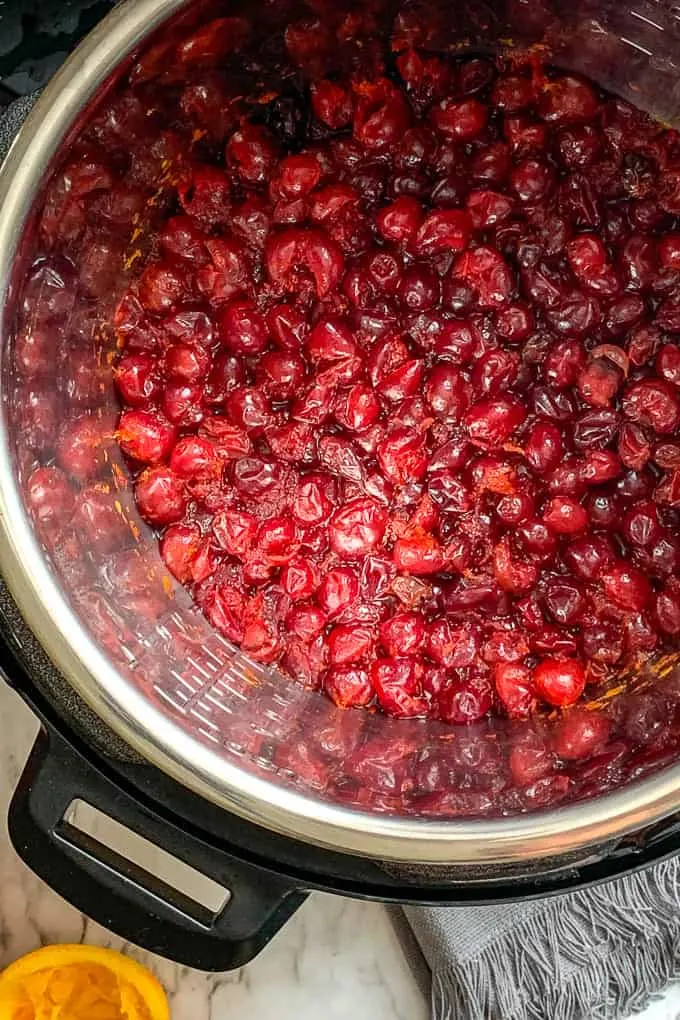 Puree in a Vitmix or other high speed blender, immersion blender or food processor to create a cranberry butter spread. You may want to let the mixture come to room temperature before pureeing– it is really hot when it finishes in the Instant Pot.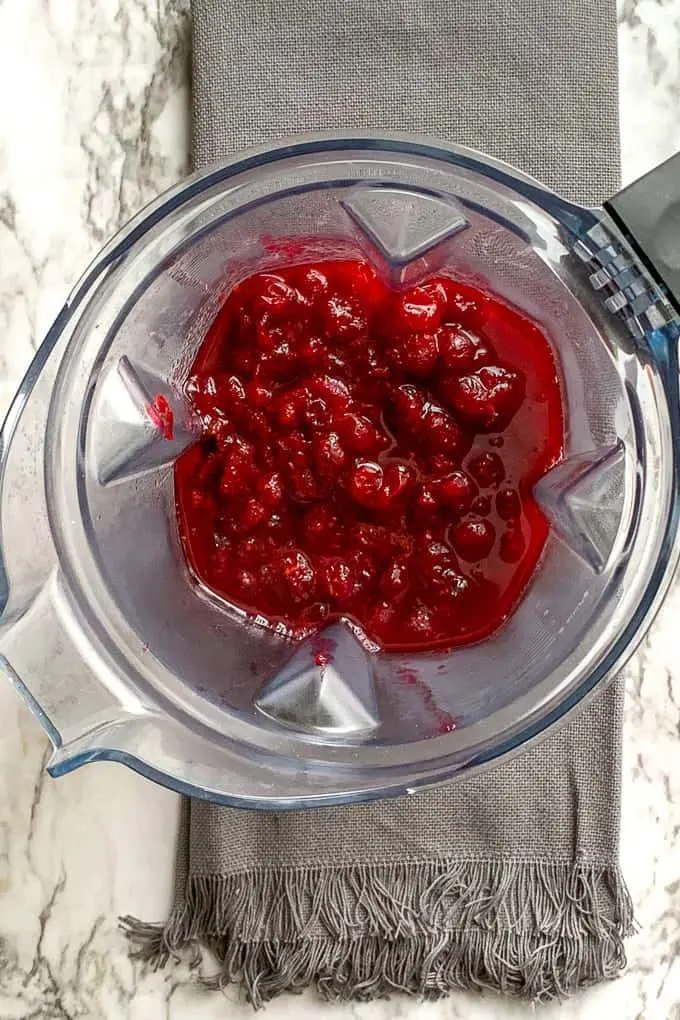 Pour into mason jars and store in the refrigerator until you are ready to enjoy this vibrant version of Vitamix cranberry sauce.
What variations can I add to cranberry butter?
Cranberry flavors are welcome throughout the holiday season and this recipe makes a great holiday gift.
Add a tablespoon of adobe sauce for a touch of heat
Make this sauce with half apples and half cranberries for a twist on traditional apple sauce
Add in more types of berries
A touch of vanilla extract never hurts!
Spike this cranberry sauce with a splash of rum
Homemade preserves
Canning at home and making small batch jams and curds have really become a source of enjoyment for me in the kitchen. If you are interested in making more homemade preserves, here is a canning resource to give more more recipe ideas!
Add a label to your jar of delicious cranberry butter!
Give this cranberry sauce as a hostess gift or send your guests home from your holiday dinner with leftovers and a jar of this cranberry butter. A label for your mason jar makes the gift even more special.
I've already made a label for you!
Did you know that I have a FREE Printables library? I love sharing labels that you can download and print yourself. When you are making jams, jellies, and marmalades, it is so nice to add a personal touch.
How can I use cranberry butter?
Cranberry butter is along the lines of an apple butter, apple-pear butter, crock pot peach butter, or slow cooker pumpkin butter. It's just right for your holiday table and will surely become one of your favorite cranberry recipes!
Try it this week for Thanksgiving and you'll find ways to use it right through Christmastime. An alternative would be this Native American berry sauce called wojapi.
Add it as a tart-fruit spread to your morning toast
Combine it with mayo for a flavorful aioli
Use it in leftover turkey sandwiches
Shake it into an oil and vinegar dressing for a salad
Drizzle it over yogurt or ice cream
Jazz up your oatmeal
Use it in a drink to create a flavored tonic
Spread it on dinner rolls or pumpkin muffins– it is a delicious spread!
Mix it with butter to make a cranberry compound butter
Add a dash of orange liqueur to make a cranberry orange butter
Serve it with a cheese platter – especially good with cream cheese
Or just eat it by the spoonful
So many choices.
I think this cranberry fruit spread would be the perfect filling to use in Liz'z recipe for Cranberry Cheesecake Bars, don't you? An oatmeal crust, a cheesecake filling, and a cranberry layer too!
Yield: 4 half pints
Cranberry Butter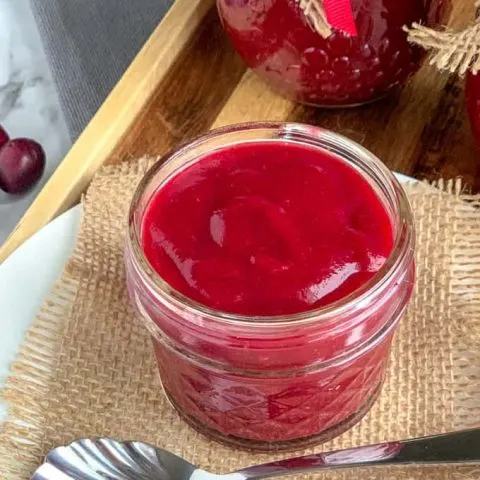 Cranberry butter is an elevated version of cranberry sauce with a richness and depth of texture and flavor.
Ingredients
6 cups fresh cranberries
1/2 cup brown sugar (this will be tart, if you'd like it sweeter, increase sugar to 1 cup)
zest and juice of 2 oranges
water (see instructions below for amount)
Instructions
Zest the two oranges into the Instant Pot.
Squeeze the juice of both oranges into a glass measuring cup. Mine produced about 2/3 cup of orange juice. Fill with water to reach 1 cup of liquid. (So if your oranges produce 1/2 cup of juice then you will need 1/2 cup water added).
Pour the water, cranberries and the brown sugar into the Instant Pot. Stir together to mix.
Set the Instant Pot to High Pressure for 10 minutes. Let the Instant Pot cool completely or after ten minutes use the quick release function to release the built up steam.
Puree the cranberry-orange mixture in a Vitamix or other high speed blender. Pour into glass mason jars or other containers.
Cool in the refrigerator until ready to serve.
Notes
This cranberry butter will be tart. If you wish for a sweeter taste, increase the brown sugar to 1 cup.
Nutrition Information:
Yield:
64
Serving Size:
1 tablespoon
Amount Per Serving:
Calories:

21
Total Fat:

0g
Saturated Fat:

0g
Trans Fat:

0g
Unsaturated Fat:

0g
Cholesterol:

1mg
Sodium:

5mg
Carbohydrates:

5g
Fiber:

0g
Sugar:

3g
Protein:

0g
This data was provided and calculated by Nutritionix and is an estimate only.
Kitchen Tools You'll Use for this Recipe:
As an Amazon Associate I earn from qualifying purchases.
This post was updated November 2021.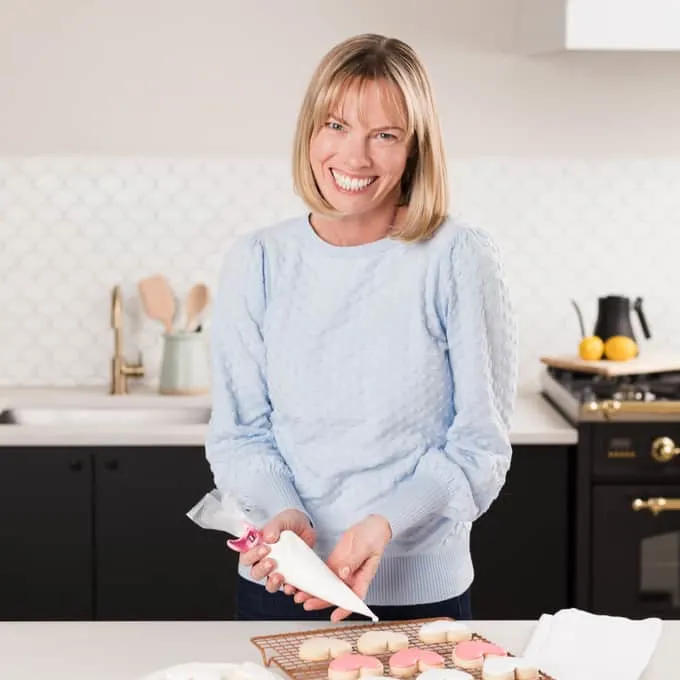 Holly Baker started the food blog, A Baker's House, in 2011. She is the writer, recipe creator, and photographer for the site. Holly loves to bake and shares recipes for gluten free food, canning recipes, as well as traditional desserts too. Her recipes and food photography have been highlighted by BuzzFeed, Reader's Digest, and She Knows.