This lemon bundt cake with glaze is an ode-to-lemon in cake form. Lemon juice, lemon zest, lemon curd, and a lemon glaze create a bright, lemony bite in this lemon bundt cake recipe.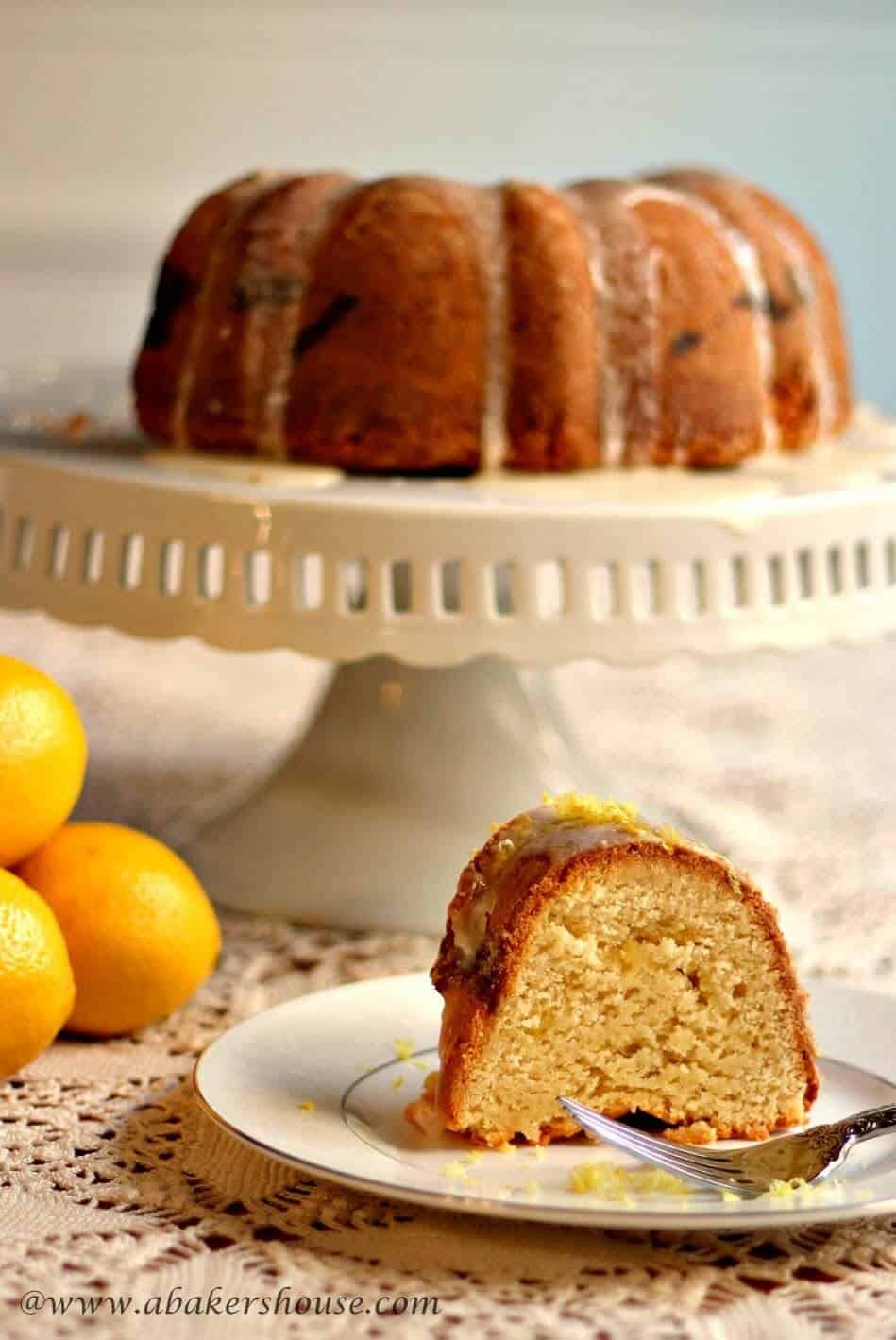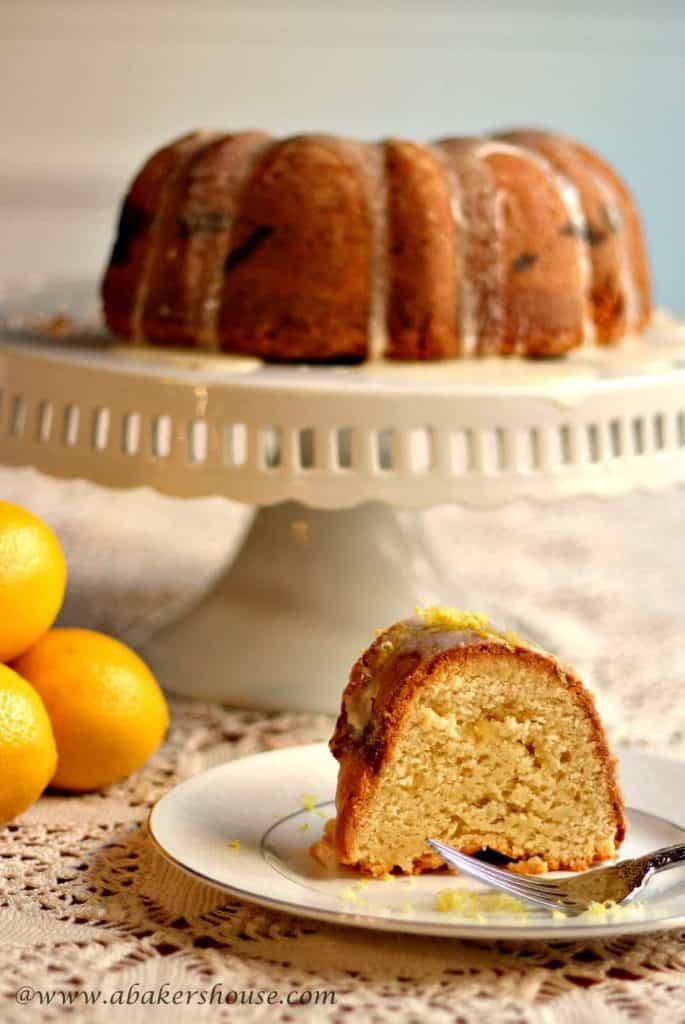 This lemon bundt cake with glaze will brighten up a cold winter's afternoon as it is perfect with a cup of tea. The original recipe is a sour cream-lemon pound cake from Cooking Light.
Lemon curd adds to the texture and flavor
I added a touch of lemon curd into the batter then also layered the lemon curd into the cake. I wish it was more apparent that the lemon filling was in the cake but the colors of the cake and the filling are so similar that you don't notice until you take a bite. What a nice surprise!
Amp up the lemon flavor with a glaze
And that glaze, yes more lemon! A lemon and powdered sugar topping seals the deal here. All this talk about lemon and you might think this cake is overwhelmingly strong. It is not. When baking with lemon it's best to layer the flavors so that the citrus is not lost during the baking process. I find that you have to load up on lemon flavors for the lemon to sing in this lemon bundt cake once baked and the combination is quite pleasing.
Yield: 16 slices
Lemon Bundt with Lemon Curd Filling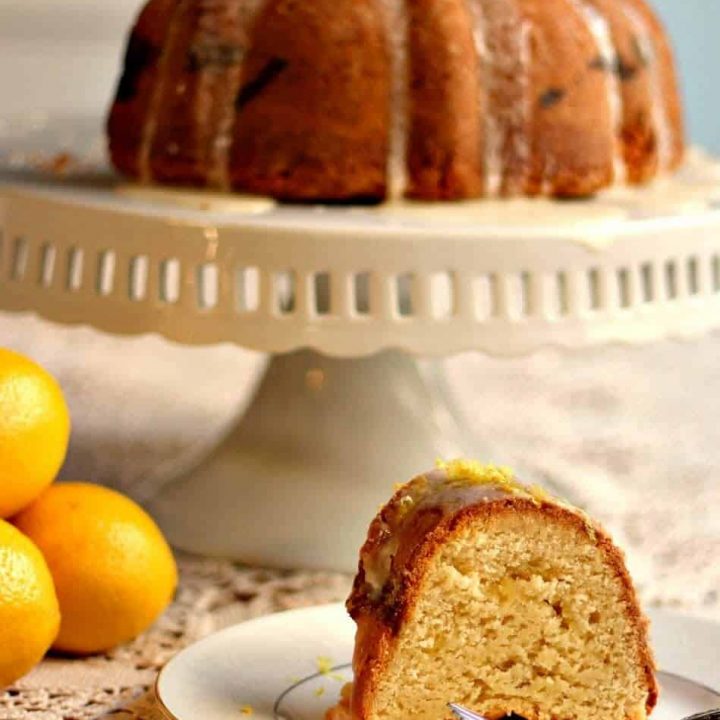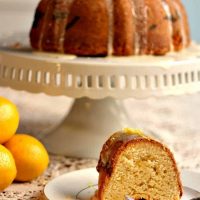 Lemon, lemon and more lemon! Make this cake and share your love of lemon!
Total Time
1 hour
20 minutes
Ingredients
3 1/4 cups all purpose flour
1/2 teaspoon baking soda
1/4 teaspoon salt
3/4 cup unsalted butter, softened
2 1/2 cups granulated sugar
3 large eggs
2 Tablespoons lemon zest
1/4 cup lemon curd (store bought or homemade) for the batter and 1/4 cup lemon curd for the filling
1/4 cup lemon juice plus 1 TB lemon juice for glaze
8 ounces sour cream
1/2 cup powdered sugar
Instructions
Preheat oven to 350 degrees F.
Spray Bundt pan with baking spray and dust with flour.
Combine the dry ingredients: flour, baking soda, and salt. Stir with a fork or whisk.
Using a mixer (hand held or stand mixer) beat the butter for 2-3 minutes, until it lightens in color and texture. Slowly add the sugar, then the eggs, Next add the lemon zest, lemon curd and lemon juice. Blend well.
Add the flour mixture and the sour cream in stages, alternating and mixing at low speed as you go. My hand-held mixer was not strong enough to mix on low towards the end of mixing this batter so I switched to a wooden spoon.
The batter will be thick. Put half of the batter into the pan and spread it around with a spatula. You can spoon the lemon curd filling around the batter but I like putting it in a ziploc bag, cutting the corner off and piping the filling around in the center of the batter. Avoid the edges so that the curd stays within the cake.
Bake for 1 hour, add an extra ten minutes if necessary.
Cool for ten minutes in the pan then invert the pan and remove the cake. Once the cake is cooled,whisk together the glaze of 1 Tb lemon juice and 1/2 cup powdered sugar and pour over the cake.
Notes
Recipe adapted from a Cooking Light recipe.
Nutrition Information:
Yield:
16
Serving Size:
1 slice
Amount Per Serving:
Calories:

377
Total Fat:

14g
Saturated Fat:

8g
Trans Fat:

0g
Unsaturated Fat:

5g
Cholesterol:

76mg
Sodium:

108mg
Carbohydrates:

60g
Fiber:

1g
Sugar:

40g
Protein:

5g
This data is provided by Nutritionix and is an estimate only.
BundtaMonth Baking Group
Welcome to BundtAMonth January where the theme is Citrus! Need inspiration for your next Bundt cake? Check out these lovely cakes:
Almond Clementine Bundt Cake by Carrie from Poet In The Pantry
Citrus Bundt Cake with Sparkling Wine and Fiori di Sicilia by Laura from The Spiced LifeCitrus Cocktail
Mini Bundt Cakes by Renee from Magnolia Days
Citrus Lust Mini Bundt Cakes with Lemon Curd by Stacy from Food Lust People Love
Dried Tomato Cherry & Yuzu Cake by Ann from Anncoo Journal
Glazed Lemon Bundt Cake by Alice from Hip Foodie Mom
Grapefruit Poppyseed Bundt Cake by Deb from Knitstamatic
Grapefruit Yogurt Bundt Cake by Kate from Food Babbles
Lemon Bundt with Lemon Curd by Holly from A Baker's House
Mini Orange Bundts with a Grand Marnier Glaze by Tara from Noshing With The Nolands
Orange Chocolate Marble Bundt by Paula from Vintage Kitchen
Orange Olive Oil Cake by Katerina from Diethood
Orange Strawberry Swirl Cream Cheese Bundt Cake by Anuradha from Baker Street
Soaked and Glazed Lemon Cake by Dorothy from Shockingly Delicious
Zesty Lemon Bundt Cake by Anita from Hungry Couple NYC
Kitchen Tools I used in this Recipe:
Please note that A Baker's House, is a participant in the Amazon Services LLC Associates Program, an affiliate advertising program designed to provide a means for us to earn fees by linking to Amazon.com and affiliated sites.