Lemon squares or lemon bars are a favorite of mine, especially because this lemon bar recipe was shared with me by my grandmother. Seeing her handwriting on a recipe card and baking these lemon treats is a special way that I remember her joy of baking these for family gatherings. A shortbread crust is topped with a lemon curd filling. Sprinkling powdered sugar on top finishes them off perfectly!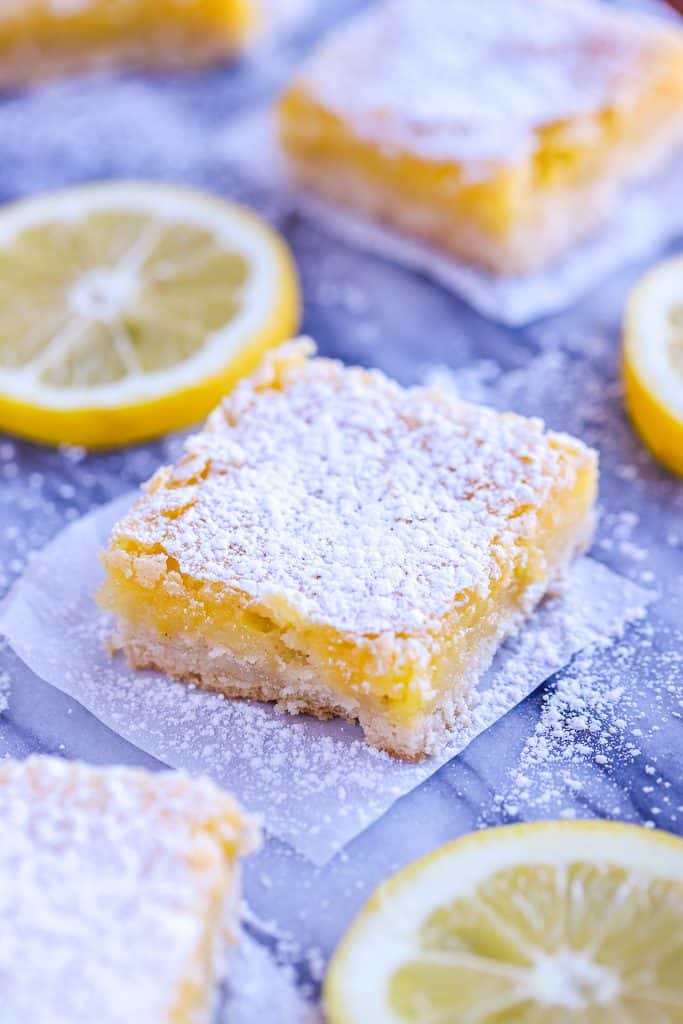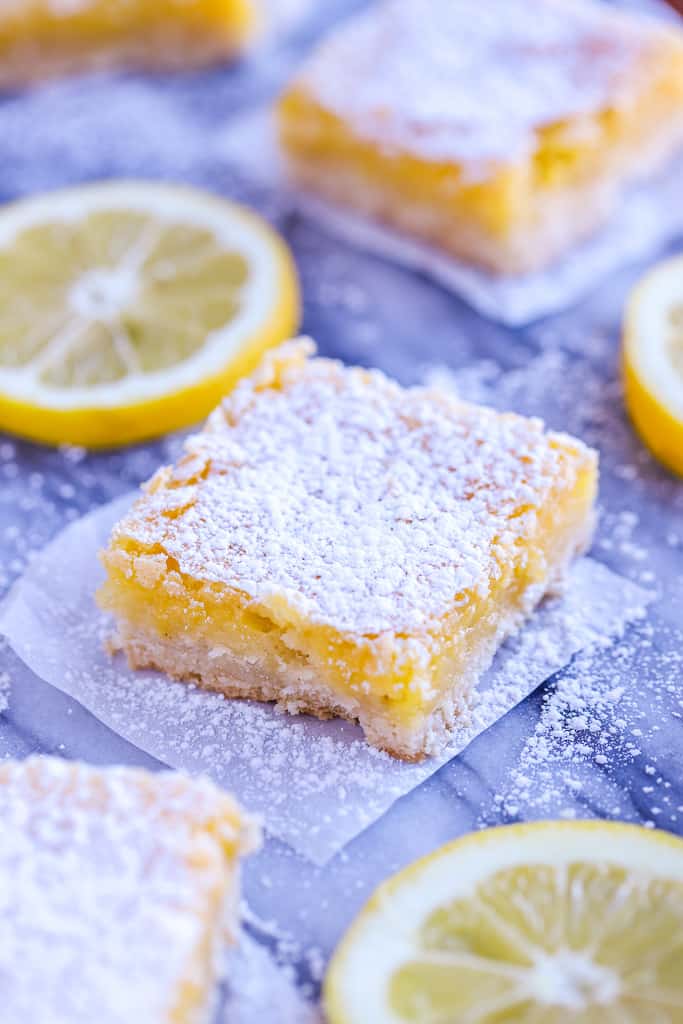 Lemon Recipes
Lemon comes in a close second to chocolate in my ranking of desserts…usually. For these easy lemon bars, though, I'd pass right by a chunk of chocolate just to enjoy one (or two or three!) squares of these lemony sweets. The rich, buttery crust perfectly pairs with the bright, lemon filling.
This is my grandmother's lemon square recipe and I have yet to be disappointed by it. I've made these lemon squares in every home I've had in the past fifteen years—levels of humidity and various altitudes can do nothing to dim the bright taste of this lemon dessert.
Baking easy lemon bars is a great idea is the heat of the summer or in the dull days of winter when you crave a citrus pop of flavor. Lemons are readily available year round. Before baking with lemon, scrub the outer peel with a vegetable brush to clean off any residue that might be on the lemon. You'll use the zest and the juice of the lemons so choosing organic lemons is a good choice.
How to Make Lemon Bars
The key to the best lemon bars is to partially bake the crust first, then to add the lemon custard. Bake until the lemon layer is no longer jiggly (yup, now there is a technical term!). Allow the lemon bars to cool in the pan. Sift a dusting of confectioners sugar on top.
This topping step that might date the appearance of the squares a bit, but yes, the recipe comes from the 50s and 60s! I've seen contestants on cooking shows receive poor marks for this outdated attempt at plate presentation but I still like it and sift away. My grandmother would serve it no other way!
Gluten free Lemon Bars:
Homemade lemon bars are easily made gluten free if you substitute the traditional flour for a Gluten Free Flour Blend in the shortbread crust. In this recipe I used Bob's Red Mill Gluten 1 to 1 Baking Flour to swap out the traditional flour and to make this a gluten free dessert. In fact, the photos on this post are gluten free lemon squares made with the flour substitute. You really can't tell the difference in looks or taste!
As an Amazon Associate I earn from qualifying purchases.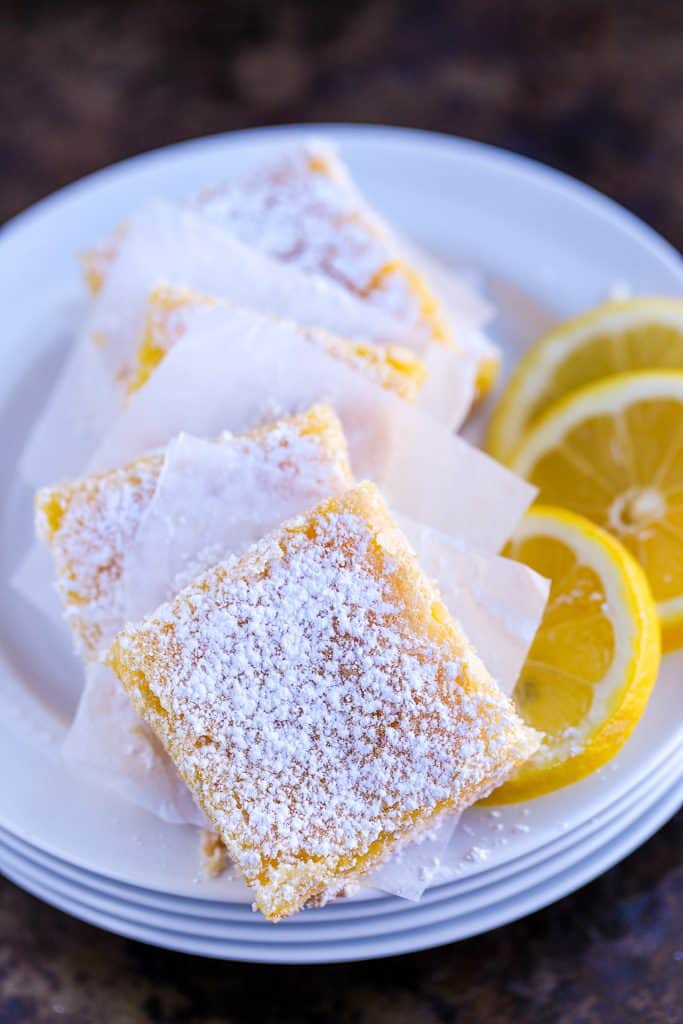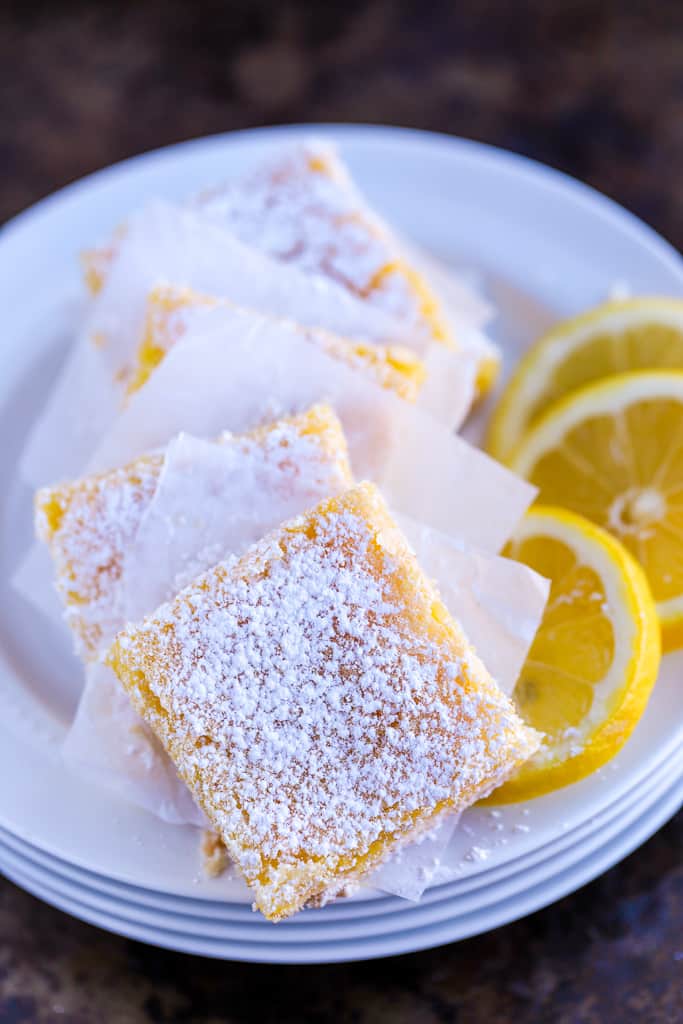 Here are more dessert bar recipes you'll enjoy!
This recipe was originally published in April 2012 and was updated in March 2018.
We are a participant in the Amazon Services LLC Associates Program, an affiliate advertising program designed to provide a means for us to earn fees by linking to Amazon.com and affiliated sites.