Make this beautiful cabbage flower arrangement with items that you can pick up on your next grocery trip! A red cabbage conceals a mason jar vase which you fill with any variety of floral options from roses, to Alstroemeria, to a lovely assorted bouquet. This DIY centerpiece will brighten your Easter tablescape in less than 10 minutes!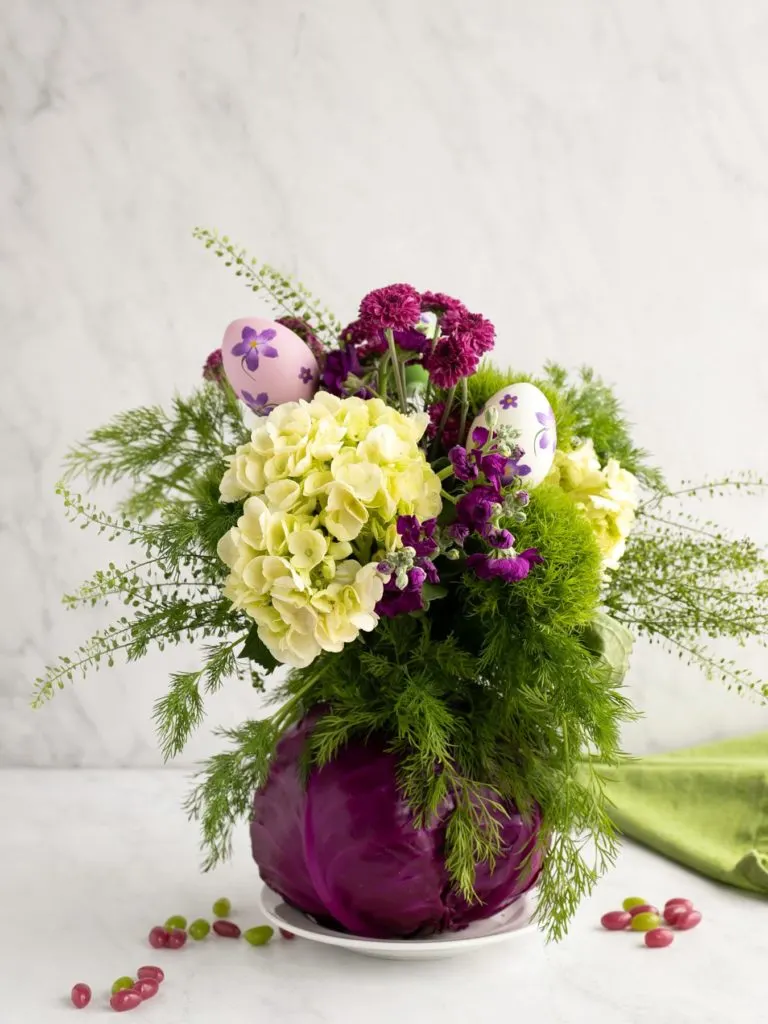 This post is sponsored by Sprouts Farmers Market. I appreciate the opportunity to share recipes made with ingredients from brands I trust and support. All opinions are my own and do not necessarily reflect those of Sprouts Farmers Market. #sponsored
Easter is quickly approaching and this beautiful spring flower arrangement is just what you need to brighten your home. Who knew that you could make such an impressive DIY bouquet with a cabbage? I've seen cabbage in flower arrangements before and am happy to pass on the news that this is easy to make at home.
Shopping at Sprouts makes it simple to find supplies for Easter decor. I added a cabbage and fresh flowers to my grocery list and love how this project turned out.
Here's a peak at the inspiration I found in the store. Easter jelly beans in purple, pinks and green jumped out at me (and came home with me too!). The colors mirrored those which I found in this fresh floral bouquet at Sprouts. You never know when inspiration will hit– check out the varieties of Easter candy to get your ideas started.
Supplies: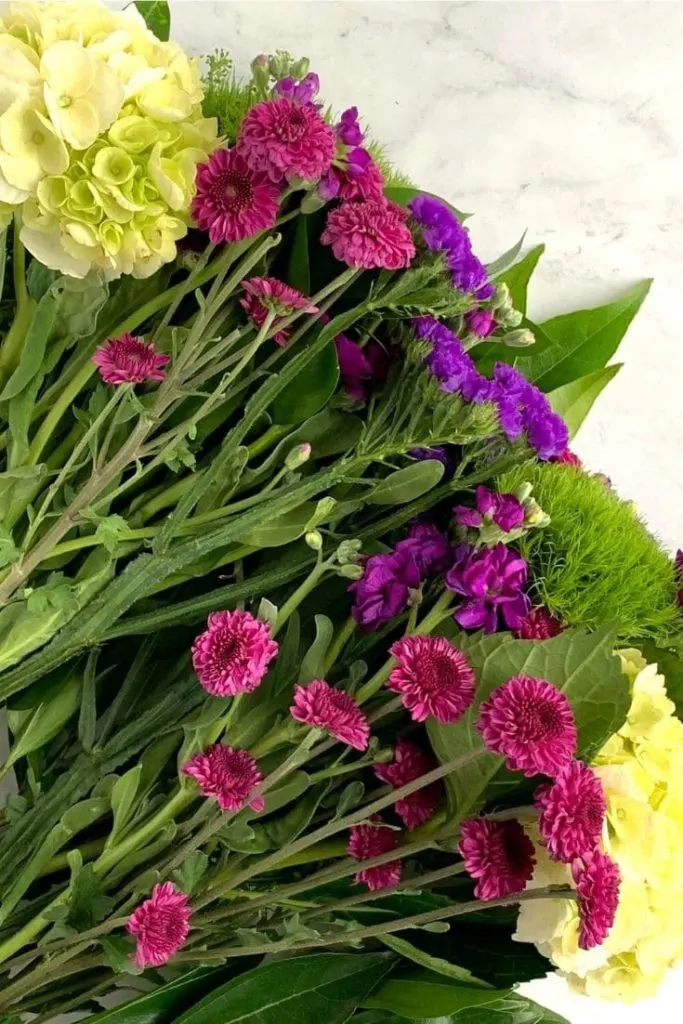 1 cabbage: Use a red cabbage (also called a purple cabbage) or a green cabbage depending on the colors in your flowers. This is completely up to you. I loved how a red cabbage complemented the pink and purple hues in my assorted floral bouquet. Playing with colors is what makes this homemade arrangement such fun!
1 mason jar: An 8 oz mason jar is the suggested size for this project. It should fit within the cavity you carve in the cabbage without much trouble.
Water: It may go without saying, but as a gentle reminder, make sure you fill your mason jar vase with water and refill it every few days so that you have happy flowers.
Fresh Flowers: I bought a Wonderlust Bouquet of flowers from Sprouts Farmers Market because I LOVED the purple, green and whites in the assortment. There are plenty of options for a spring flower arrangement. Think of tulips, alstroemeria, or even a potted plant. Succulents would be longer lasting and a great choice too.
Optional: 1 bunch of dill, parsley, or kale– I like using natural ingredients to fill in my DIY arrangement with greenery.
Optional: any additional décor such as a ribbon or Easter decorations. I had some adorable Easter eggs that were on long wires. They made the perfect addition to my Easter arrangement. You could also use dyed Easter egg shells or other decorations.
Step by step:
Let's look into the easy steps to make this Cabbage Flower Bouquet. You can make this in ten minutes!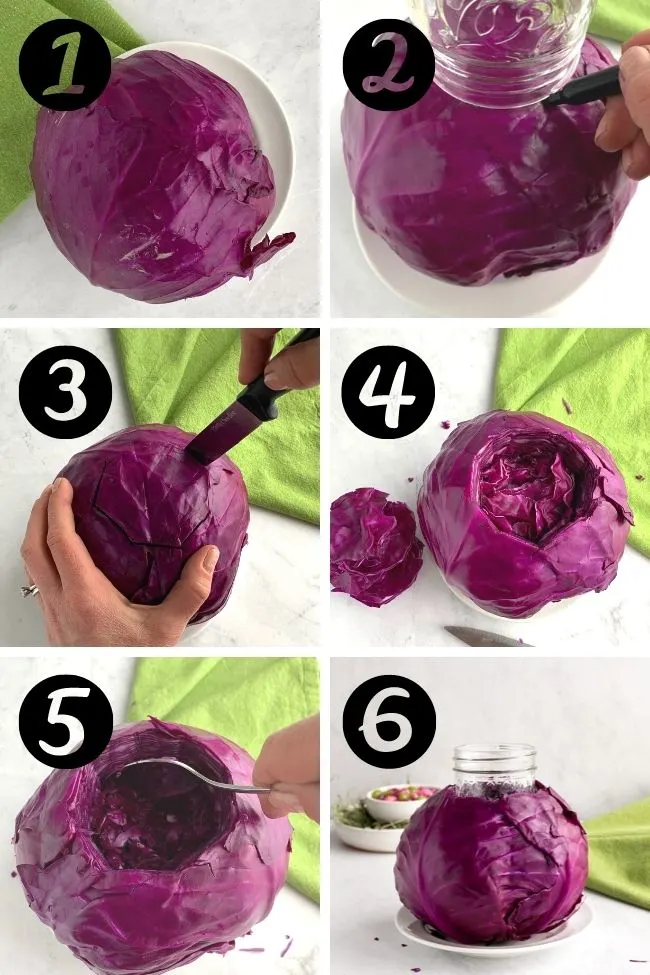 Check that your cabbage sits level on a surface. If not, shave off a portion until it does so.
Trace around a mason jar to mark how big of a space you'll need for the mason jar.
Use a knife to carefully start to carve into the cabbage.
Take layers out a few at a time.
You may find that a spoon helps just as much as the knife.
Place your mason jar inside the cabbage. It's ok if some sticks out of the top. You can cover that space with the flower arrangement. If you'd rather the glass not show, keep carving into the cabbage until the space is large enough.
DIY Flower Arrangement
Cut your flowers and arrange in the mason jar. I like to add each kind of flower separately so that I can balance the colors around the arrangement.
Fill with greenery, letting some hang over the sides to create movement in your display.
Make sure to add water to the jar and fill it every few days.
Add any additional embellishments such as Easter decor or a ribbon. Make this DIY centerpiece all your own with special touches that you already have at home.
You could also dye some Easter eggs and place them within the arrangement. Did you know that you can dye Easter eggs naturally with red cabbage? Your cabbage can do double duty in your Easter preparations!
If you make your own homemade centerpiece for Easter, I would love to see it. Tag me on Instagram @abakershouse so that I can share your creativity with others in my Stories.
Yield: 1 arrangement
Cabbage Flower Arrangement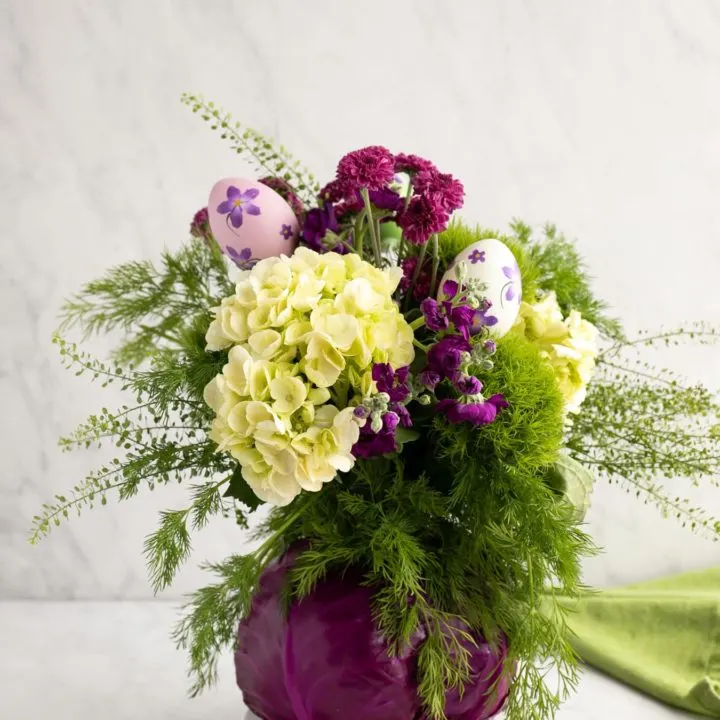 Make this beautiful DIY cabbage flower arrangement for your table centerpiece!
Materials
1 cabbage (red or green)
1 mason jar (8 oz)
Water
Wonderlust Bouquet of flowers from Sprouts Farmers Market (or other fresh floral options from Sprouts Farmers Market)
Optional: 1 bunch of dill, parsley, or kale
Optional: any additional décor such as a ribbon or Easter decorations
Instructions
Make sure your cabbage is sits level on the counter. If not, shave off a portion so that it does. Use a mason jar to trace a circle on the top of the cabbage. Use a small knife to carefully remove layers of the cabbage, using the circle as your guide.

Continue to use the knife and possibly a spoon to carve out enough space inside the cabbage such that you can fit the 8 oz mason jar.

Place the mason jar inside the cabbage. Fill ½ to ¾ full with water.

Cut the fresh flowers and arrange inside the mason jar.


Optional: If part of the mason jar can be seen above the surface of the cabbage, fill with parsley, dill or kale that will fall over the edge and hide the glass.

Optional: Add any optional décor such as ribbon or Easter decorations.

Add water every few days.
Notes
Chose the type of cabbage depending on the colors of your floral
arrangement. I love the red cabbage with the purple hues in the Wonderlust Bouquet. A green cabbage would be beautiful paired with tulips or roses.
While it may seem like a silly suggestion, inspect the cabbage while at
the store to make sure it has a somewhat level bottom. You want your cabbage arrangement to sit level on a counter and it is easier to pick out an ideal cabbage at the store instead of leveling it off at home.
I love using natural green fillers like dill, parsley or baby kale to fill in my flower arrangement. I fill with greenery to cover up the part of the mason jar that appears above the cabbage. This step is optional. If your mason jar isn't showing, skip this step. It will depend on the size of the cabbage, the mason jar, and the depth of the space that you have carved inside the cabbage. (A ribbon could be tied over that space as well.)
Instead of a mason jar you could fill the cavity in the cabbage with
floral foam.
Recommended Products
As an Amazon Associate and member of other affiliate programs, I earn from qualifying purchases.
Pin with me!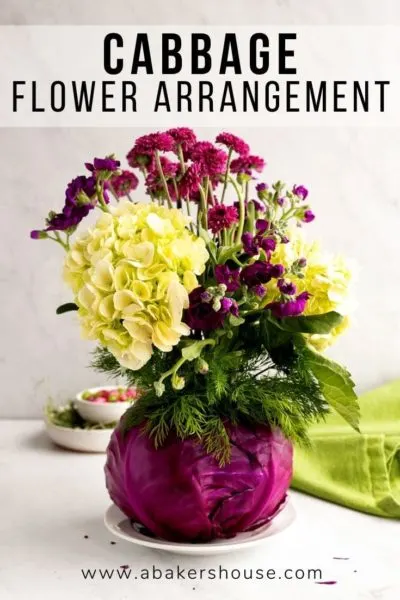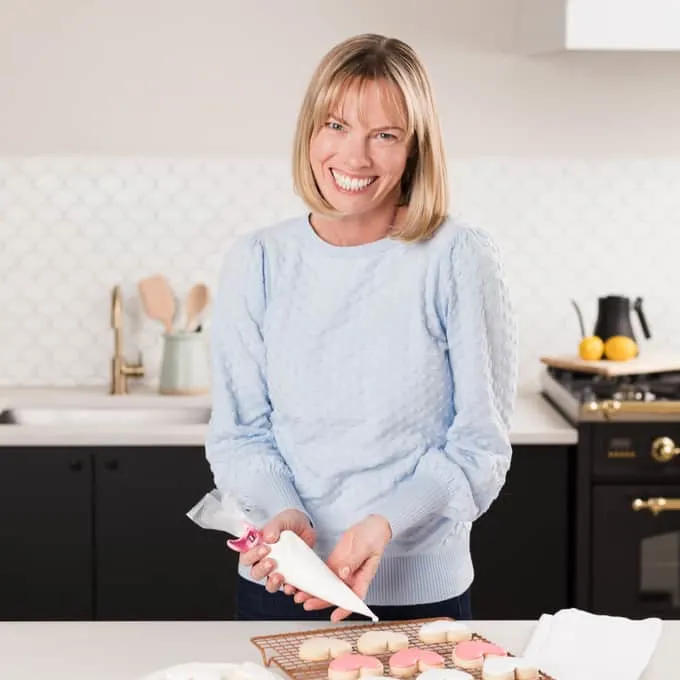 Holly Baker started the food blog, A Baker's House, in 2011. She is the writer, recipe creator, and photographer for the site. Holly loves to bake and shares recipes for gluten free food, canning recipes, as well as traditional desserts too. Her recipes and food photography have been highlighted by BuzzFeed, Reader's Digest, and She Knows.