Fresh mango and Wallaby® Organic Greek yogurt combine to make this beautiful mango Bundt cake. Baking with yogurt gives your cake structure and flavor. This cake will feed a crowd and is perfect for your spring celebrations!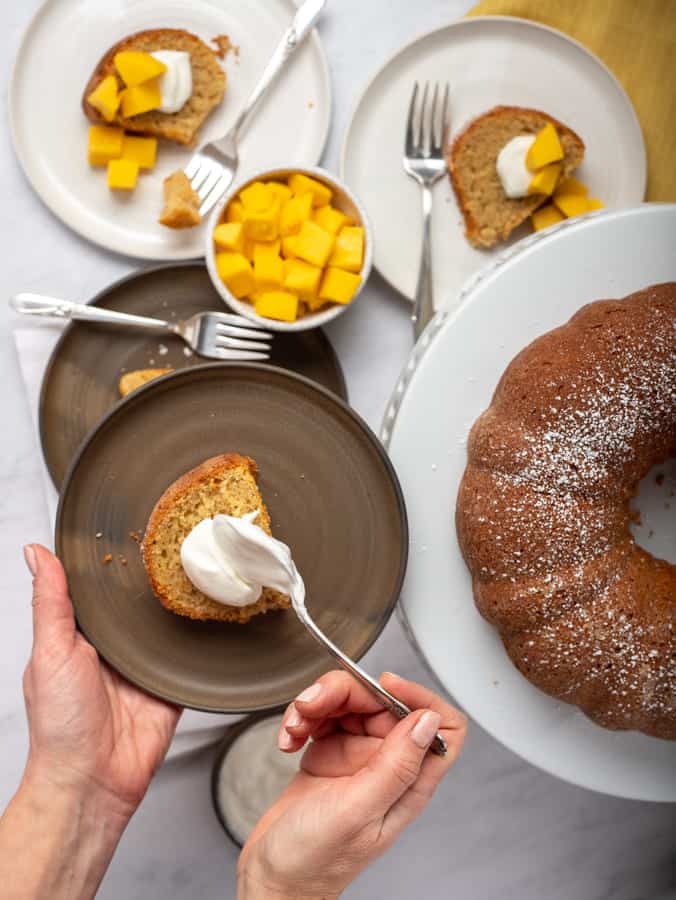 This post is sponsored by Wallaby®. All opinions, comments and content shared on A Baker's House are my own and do not necessarily represent those of Wallaby® or Danone North America. #sponsored
Bundt cakes are magical in my opinion. All that's required is a simple pound cake batter that bakes for about an hour in the oven. They are not fussy at all. Icing is usually not necessary—a simple glaze, a dusting of powdered sugar, or a topping of fresh fruit finishes the cake beautifully! And Bundt cakes feed a crowd! Sixteen slices are generous and filling or you could stretch this cake and feed 20 people if you wished.
If you love making Bundt cakes you'll enjoy these recipes as well for Chocolate and Wine Bundt Cake, Lemon Bundt Cake with Lemon Curd Filling, and Candy Corn Bundt Cake.
Baking with Greek Yogurt
Adding yogurt to a cake recipe creates a creamy cake batter that bakes into a soft and moist cake. For a bit of baking science, it's good to know that yogurt is acidic and reacts well with baking soda which helps the cake rise.
Here are some tips for using Greek yogurt
Yogurt is an excellent substitute for sour cream in baking. You can substitute equal parts so if a recipe calls for one cup of sour cream, use one cup of Greek yogurt instead.
Start with plain yogurt when baking. If you want to add another flavor incorporate a puree of fresh fruit or a powder of freeze-dried fruit.
Another excellent place to substitute Greek yogurt is in place of freshly whipped cream. Greek yogurt has a sturdy structure and provides the same creaminess as a dollop of fresh whipped cream. Serve each slice of mango cake with Greek yogurt and fresh mango for a refreshing topping.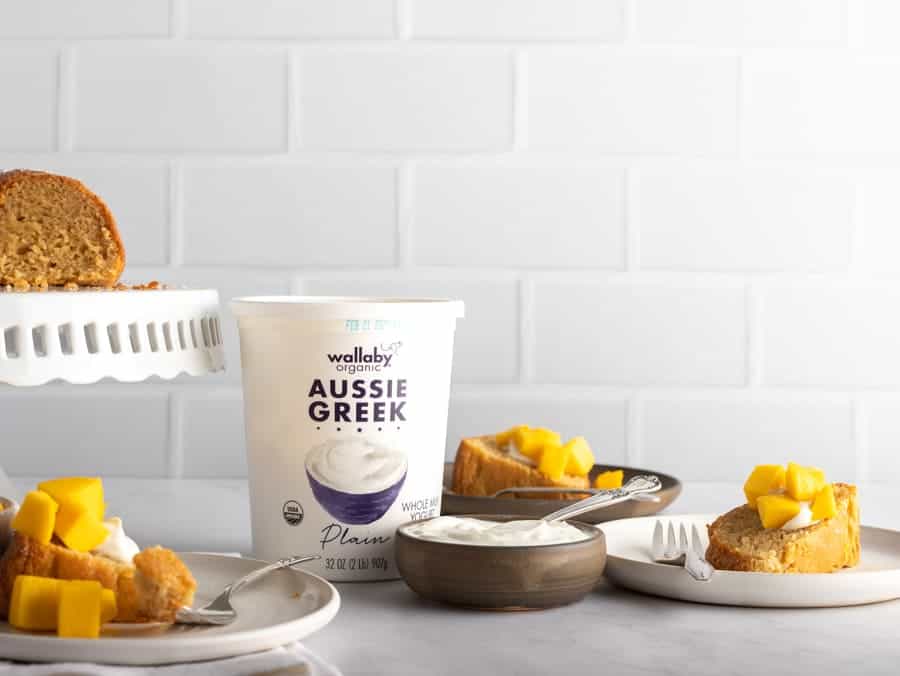 Yellow mangos
In this mango cake we use fresh yellow mangos that lend a lovely hue, a touch of natural sweetness, and an easy twist on a traditional plain cake recipe. Incorporate mango into the cake batter by pureeing fresh mangos with the Greek yogurt.
Yellow mangos are in peak season from March through June. They are also known as Ataulfo mangos, honey mangos, or baby mangos. (By the way, the accepted plural of mango is either mangoes or mangos—you can use both spellings.)
These special mangos are less fibrous than other types so they are not stringy. Don't let their smaller size deter you. Yellow mangos have a small center pit or seed and offer plenty of edible fruit in both sides of the mango cheeks.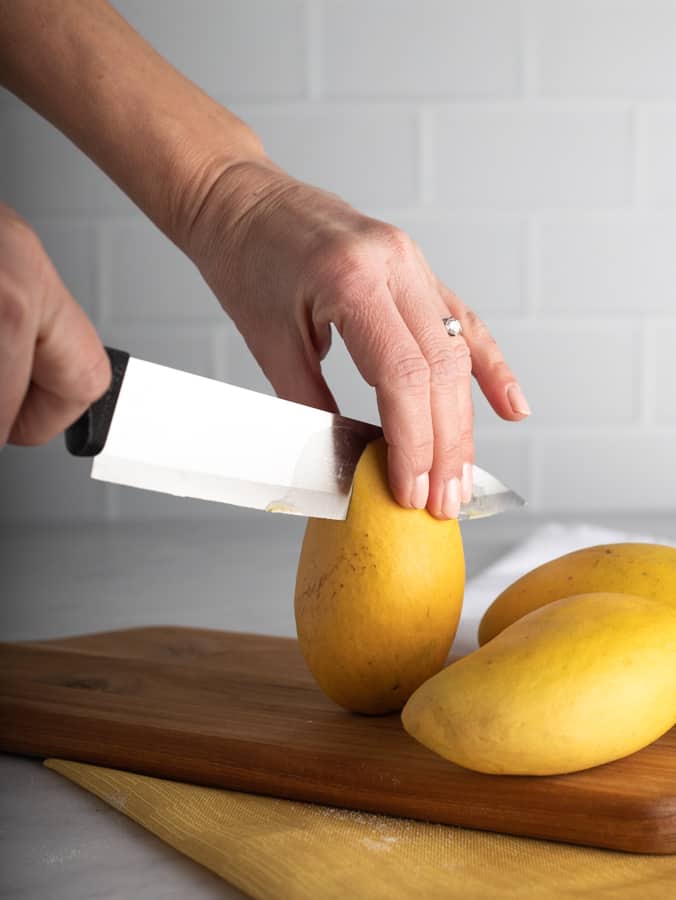 So how do you peel a mango? The skin isn't edible nor is the center pit or seed, so the goal is to have as much mango flesh as possible, leaving the skin and the pit behind.
First slice about one centimeter to the right and the left of the center to cut around the pit.
Next choose one of these two options:
Use a knife to make crisscross slices from which you can slice cubes of mango off the skin. (See this method in action in this recipe for mango gelato.)
Use a glass to separate the skin from the mango flesh as shown below.
Perch the mango cheek on the rim of the glass. Next, apply a small bit of pressure with the palm of your hand to push the bottom of the mango cheek against the glass, separating the skin from the flesh. Slide your hand and the mango cheek downwards such that the skin of the mango remains on the outside of the glass and the flesh falls into the glass. So easy!
If you'd like to see this process in more detail, read this post about how to peel a mango with a glass.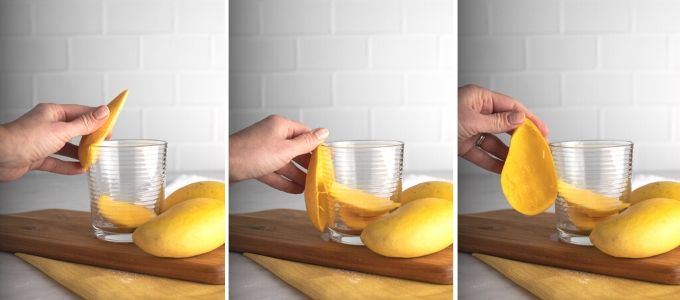 Bundt Cake ingredients
yellow mangos
Wallaby® Organic plain Greek yogurt
Flour (the recipe has been tested with both all-purpose flour or gluten free flour)
baking soda
salt
granulated sugar
butter
eggs
pure vanilla extract
One note about the gluten free cake ingredients—I found that the traditional cake made with all purpose flour rose higher than the gluten free version. Both types were lovely cakes but keep in mind that baking with gluten free ingredients doesn't always replicate the exact look and feel of a traditional cake.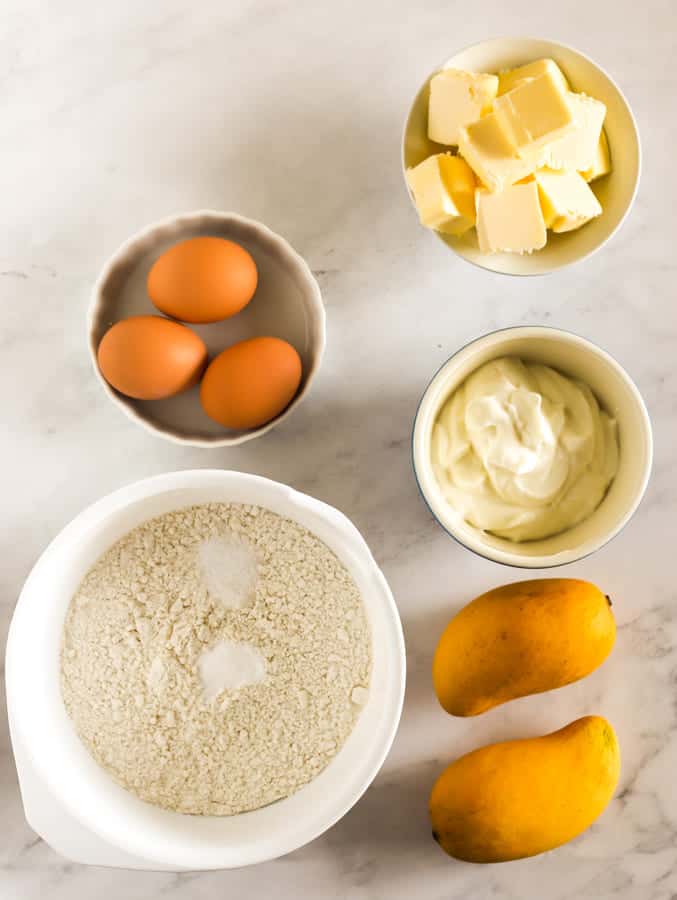 This mango Bundt cake comes together like most cakes with the addition of the mangos:
First, puree the fresh mangos and Greek yogurt. Set aside.
Gently whisk the dry ingredients of flour, baking soda, and salt. Set aside.
In a stand mixer beat the sugar and butter. Add the eggs one at a time. Mix in the vanilla.
Now add half of the dry ingredients to the mixture in the bowl of the stand mixer.
Alternate with half of the yogurt-mango puree. Add the remaining dry ingredients and the rest of the yogurt mixture.
Scoop into a prepared Bundt pan. Bake for an hour.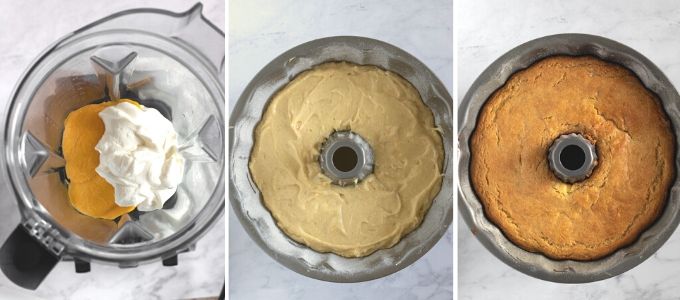 Bundt cake tips
The only intimidating aspect of Bundt cakes is the worry that the entire cake might not turn out of the pan easily. Even this concern is easy to address if you take two steps: prepare the pan carefully and let the cake cool entirely in the pan before flipping it over. Taking the time to spray the pan with baking spray or brushing it thoroughly with melted butter PLUS dusting it with flour (or gluten free flour) will give you the best results.
I've experimented with many cakes and have learned that patience is the key when cooling the cake. Let the Bundt cake cool completely in the pan for at least 2 hours and then hold a plate securely over the pan and turn the pan and plate over together quickly before setting it on the table. If your cake needs a little more encouragement tap the pan gently but firmly and you should hear the cake sliding out of the pan and on to the plate.
Yield: 16 slices
Mango Bundt Cake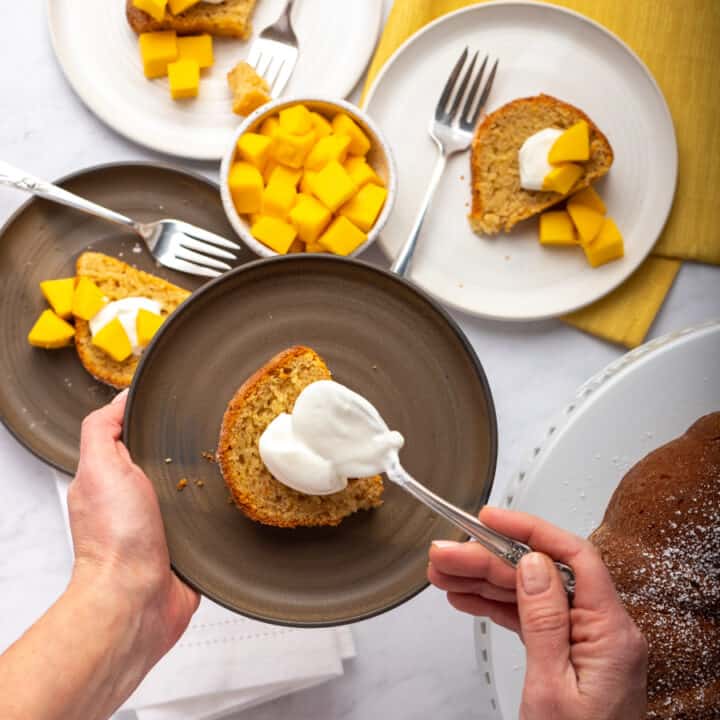 Fresh mango and Wallaby® Organic Greek yogurt combine to make this beautiful mango Bundt cake. Baking with yogurt gives your cake structure and flavor.
Total Time
1 hour
10 minutes
Ingredients
2 yellow mangos, peeled and sliced
8 ounces Wallaby® Organic plain Greek yogurt
3 cups gluten free flour blend, plus 1 tablespoon to dust the pan
½ teaspoon baking soda
¼ teaspoon salt
1 ½ cups granulated sugar
12 tablespoons unsalted butter, softened
3 eggs
1 tablespoon pure vanilla extract
Instructions
Preheat the oven to 350°F. Spray a 10 cup Bundt pan with baking spray and dust with 1 tablespoon gluten free flour.

Cut the mangos and remove the skin. Place the mango cheeks into a high-speed blender with the 8 ounces Wallaby® Organic plain Greek yogurt. Blend until smooth. Set aside.

In a large bowl gently whisk the 3 cups gluten free flour blend, ½
teaspoon baking soda, ¼ teaspoon salt. Set aside.

In a bowl of a stand mixer beat the 1 ½ cups granulated sugar with the 12 tablespoons butter.

Add the eggs one at a time. Add the 1 tablespoon vanilla extract.

Alternate adding half of the dry ingredientsthen half of the yogurt mixture to the ingredients in the stand mixer. Repeat.

Scoop the batter into the prepared Bundt pan. Bake at 350°F for 55-60 minutes.

Let cool completely in pan before turning over on to a cake plate.
Notes
If you are using a gluten free flour blend, make sure your blend contains xanthan gum. If not please add ¾ teaspoon xanthan gum to the dry ingredients.
If you don't require a gluten free cake, substitute all-purpose flour for the gluten free flour blend.
Let your cake cool completely before flipping the Bundt cake out of the pan.
Nutrition Information:
Yield:
16
Serving Size:
1
Amount Per Serving:
Calories:

283
Total Fat:

10g
Saturated Fat:

6g
Trans Fat:

0g
Unsaturated Fat:

4g
Cholesterol:

58mg
Sodium:

93mg
Carbohydrates:

44g
Fiber:

1g
Sugar:

25g
Protein:

5g
This data is provided by Nutritionix and is an estimate only.
Pin with me!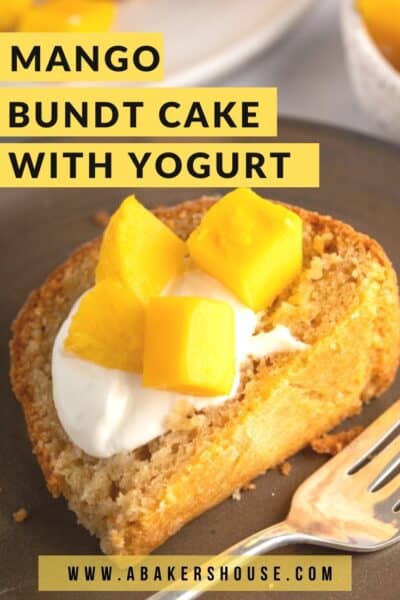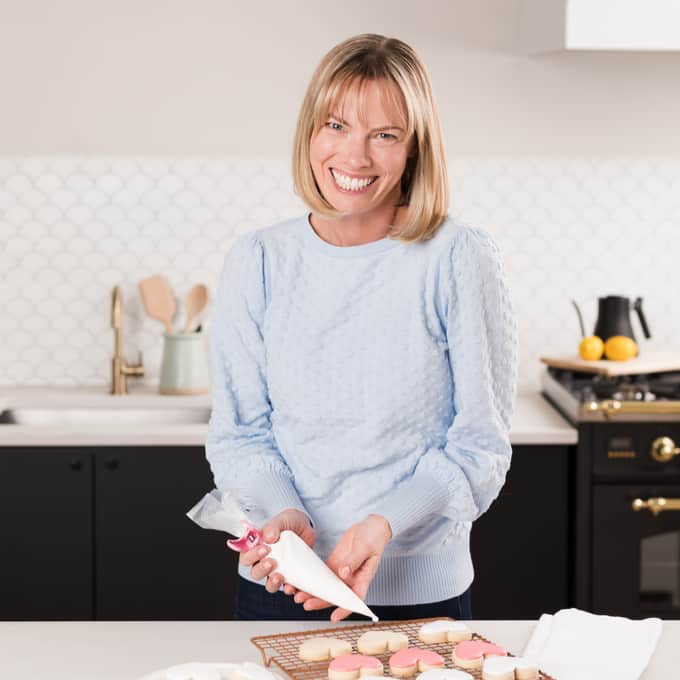 Holly Baker started the food blog, A Baker's House, in 2011. She is the writer, recipe creator, and photographer for the site. Holly loves to bake and shares recipes for gluten free food, canning recipes, as well as traditional desserts too. Her recipes and food photography have been highlighted by BuzzFeed, Reader's Digest, and She Knows.