Make this chocolate peanut butter smoothie in less than five minutes to start your day off with a delicious plant-based drink! This smoothie is packed with tasty ingredients that can help satisfy your hunger.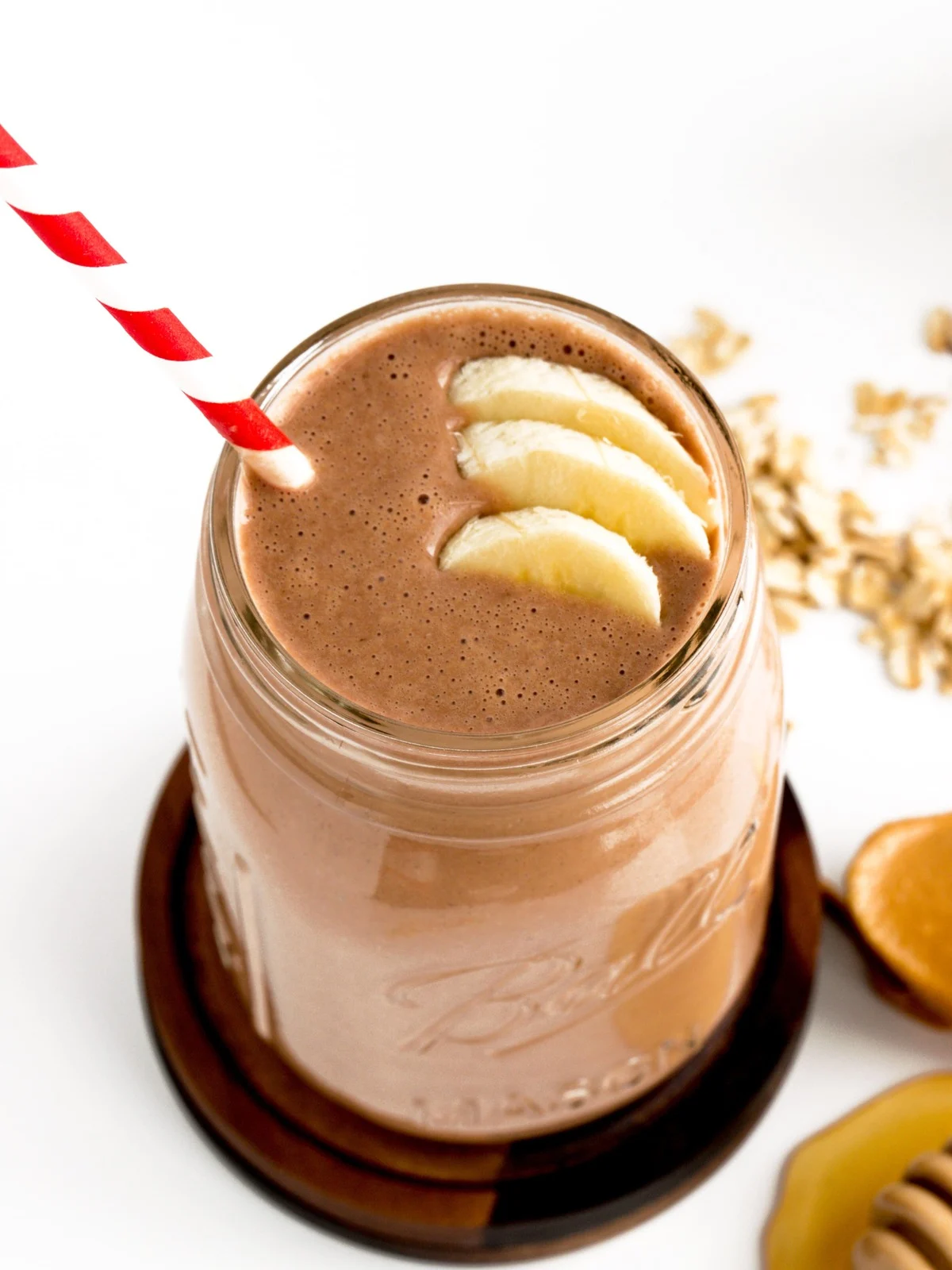 This post is sponsored by Silk®. All opinions, comments and content shared on A Baker's House are my own and do not necessarily represent those of Silk® or Danone North America. #sponsored
Why this recipe works: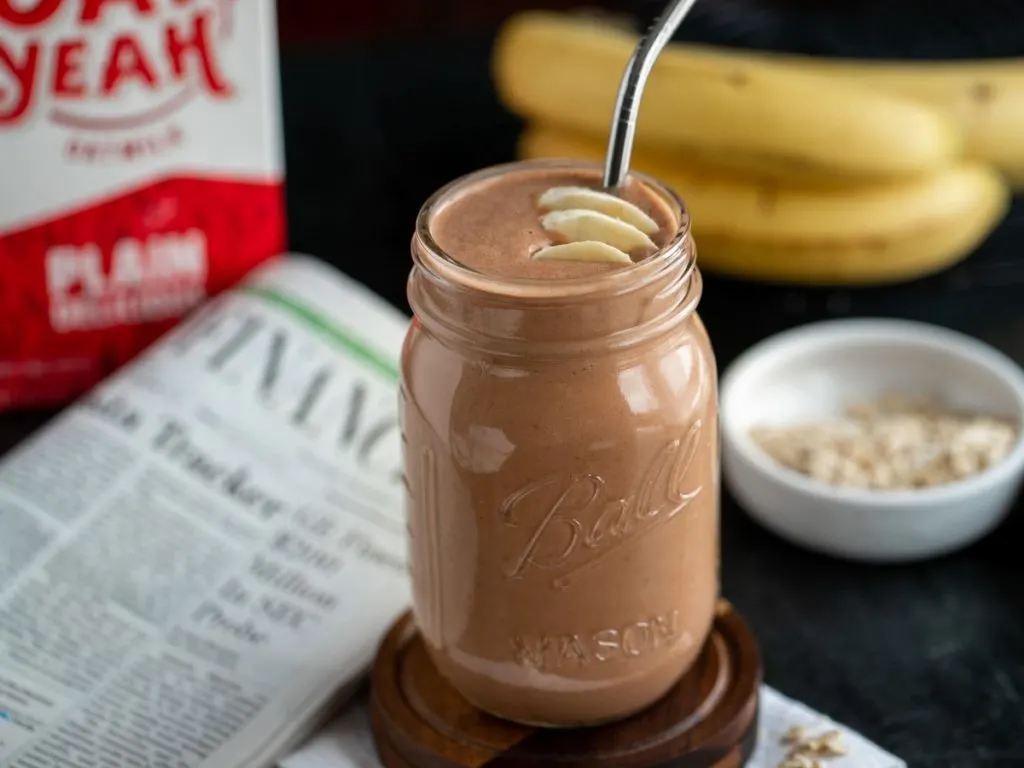 Smoothies are quick and easy to make. With a few simple ingredients and a blender, in less than five minutes you can enjoy this recipe!
You can squeeze a lot of good nutrition inside a glass with the magic of a blender. Oatmeal smoothies are rich and creamy. The peanut butter and cacao powder add some nutritional value and help make this recipe delicious!
Enjoy as part of breakfast or a midday pick-me-up. You could even call this chocolate smoothie a shake and serve it for dessert! It really hits the sweet spot.
Looking for more oatmeal smoothie ideas? Try this dragon fruit smoothie!
Ingredients: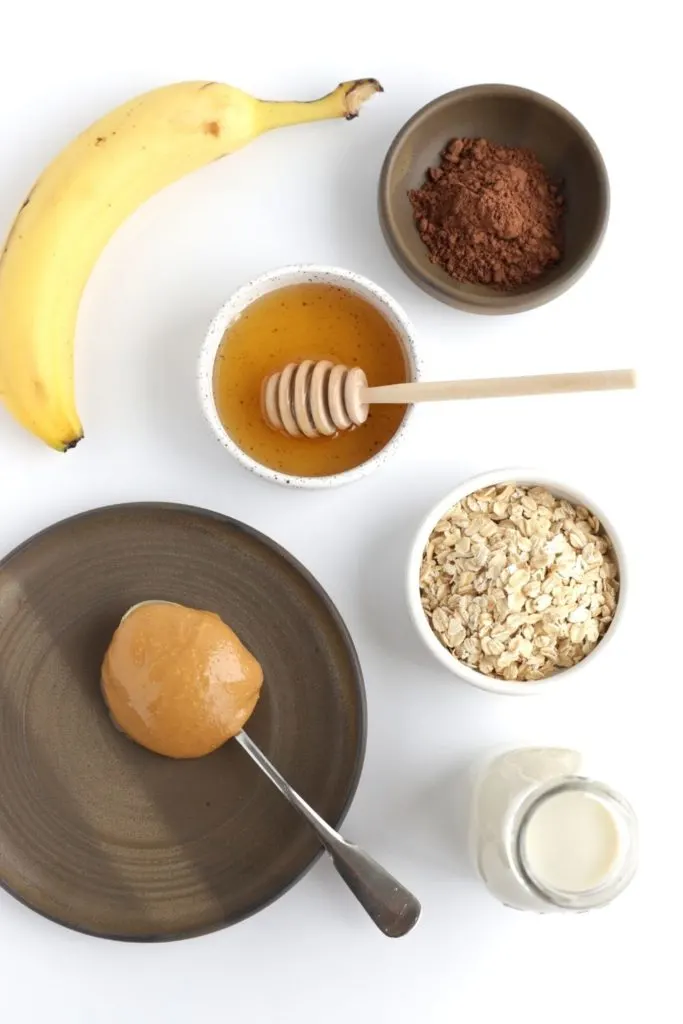 Silk® Oat Yeah® is a dairy-free alternative to milk that comes in three options: plain, vanilla, and chocolate. We're using the plain oatmilk in our smoothie but you could substitute any of the varieties here.
Oats help thicken the smoothie and lend a creaminess to the drink.
Bananas are a common smoothie ingredients loved for their creaminess and nutritional value. If you want a peanut butter smoothie without banana, increase the oats by 1/4 cup to make up for that lost thickener.
Peanut butter adds some protein and flavor to this oatmeal smoothie. Creamy peanut butter or crunchy peanut butter are both great in smoothies.
Cacao powder gives you that deep, chocolate taste without the addition of refined sugar. It has grown in popularity and can be found at most grocery stores or you can buy it online as well.
Honey is a natural sweetener– you don't need much at all and could even leave this out. If you prefer a vegan recipe please use maple syrup instead.
How to make this recipe
Smoothies hardly need a recipe or instructions—that is the beauty of making this quick and easy drink. Simply add all the ingredients to a high-speed blender and blend until smooth.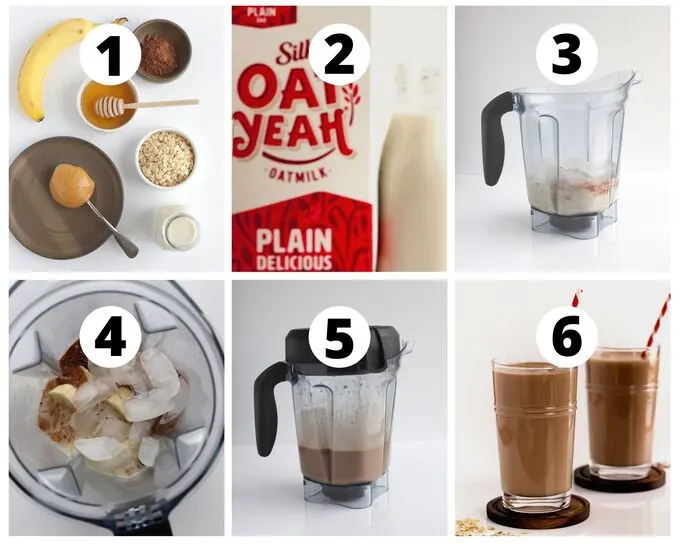 Tips and tricks for success: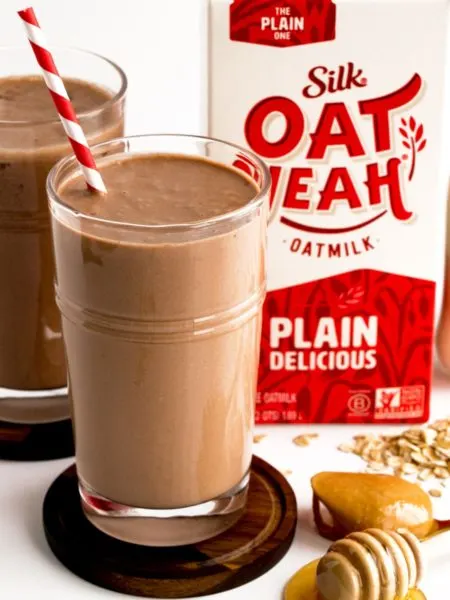 Can I put raw oats in a smoothie?
Yes, uncooked oats are a great addition to oatmeal smoothies. I find that a high-speed blender is necessary to completely break down the oats. If you don't have a powerful blender you can soak the oats in the oatmilk for an hour or even overnight before blending.
What kind of oats should I use?
I look for a high-quality product like gluten free old fashioned rolled oats. Quick cooking oats will blend more easily than steel cut oats. It is up to you which type of oats to use.
Is there a difference between cacao powder and cocoa powder?
Yes, there is a difference between these two powders and it has to do with how the beans from the cacao plant are processed. Cacao powder is processed at a lower temperature and retains a higher nutrient value. It has a slightly bitter taste. Cocoa powder is processed at high temperatures and is roasted as well. Sometimes sugars will be added to the cocoa powders we are used to buying in the grocery store.
Can I substitute cocoa powder for cacao powder?
Yes, although the two products are not the same, you may substitute one for the other. You may want to use slightly less cacao powder than cocoa powder and adjust your sweeteners.
Can I use powdered peanut butter?
Yes, powdered peanut butter is lower in fat than traditional peanut butter and may be substituted. Peanut butter powder is a good ingredient for smoothies and blends very easily.
Yield: 1
Chocolate Peanut Butter Smoothie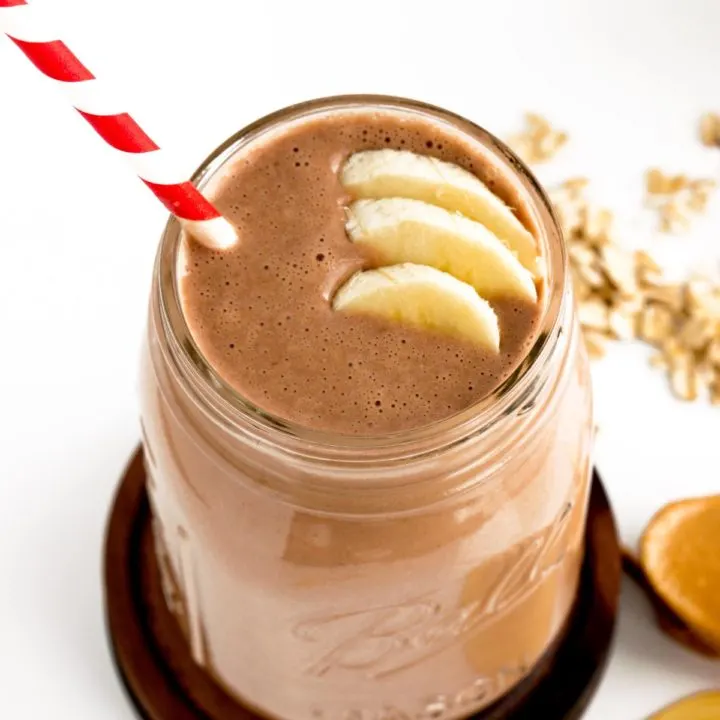 Make this drink in less than five minutes for a delicious plant-based smoothie!
Ingredients
1 cup Silk® Oat Yeah® plain oatmilk
¼ cup oats
1 banana
2 Tbsp peanut butter
1 Tbsp cacao powder
1 Tbsp honey
1 cup of ice cubes
Instructions
Combine all the ingredients in a high-speed blender and blend until smooth.
Enjoy!
Notes
You may use a frozen, sliced banana and omit the ice cubes.
If you require a gluten free recipe, make sure your oats are gluten free.
Add more oatmilk for a thinner smoothie and less for a thicker smoothie.
Pin with me!
Here are more recipes you'll enjoy with Silk® Oat Yeah®: Blueberry Baked Oatmeal, Vegan Blackberry Muffins, and Pumpkin Smoothie Bowl.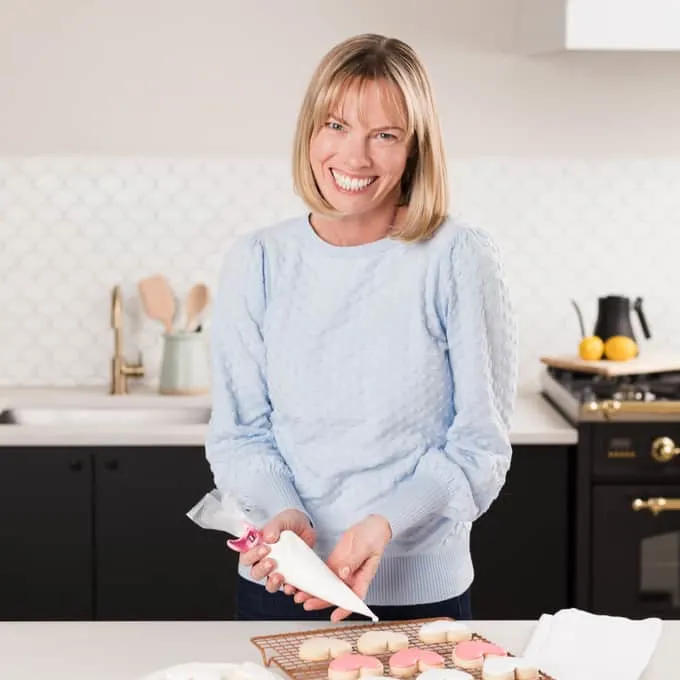 Holly Baker started the food blog, A Baker's House, in 2011. She is the writer, recipe creator, and photographer for the site. Holly loves to bake and shares recipes for gluten free food, canning recipes, as well as traditional desserts too. Her recipes and food photography have been highlighted by BuzzFeed, Reader's Digest, and She Knows.