Making homemade jelly and homemade jam is a wonderful way to enjoy the flavor of fresh fruit year round. This grape jelly recipe is adapted from the directions on the Certo Liquid Fruit Pectin box so you can follow the same guidelines for many types of fruit jellies.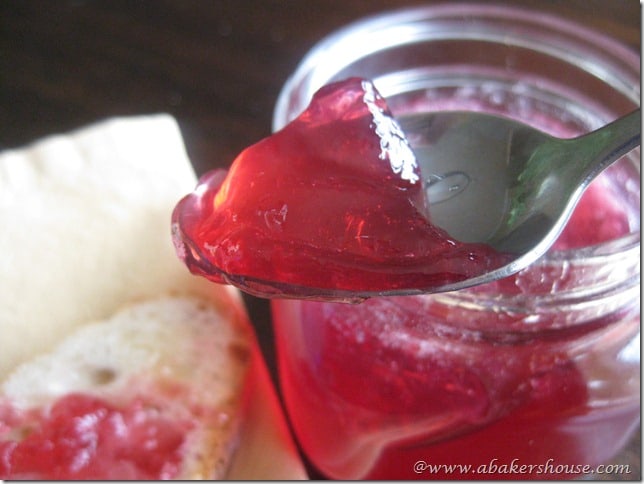 Grape jelly is a great way to save the taste of fresh grapes to enjoy later in a homemade jelly. There is something very satisfying about making jams and jellies at home.
The colors of the jams seem brighter, the fruits fresher, and the tastes are all that much better than what you might buy off the grocery store shelf. If you enjoy homemade preserves as much as I do, you'll find this canning resource page very helpful. It's filled with ideas and recipes!
What's the difference between jelly and jam?
The general difference between jelly and jam is that jelly is made from the juice of fruits and jam is made from the entire fruit.
The distinctions are blurry in many recipes and you can often consider jam and jelly to be nearly the same. Here the grape jelly recipe starts with fresh grapes but then the juice is extracted from the grapes before you make the jelly.
What ingredients are in grape jelly?
Fresh grapes that make grape juice
Sugar
Liquid Pectin
How do you make grape jelly?
On day one you will prepare the fruit. It will then sit out overnight.
Strain the fruit to make your grape juice.
Bring the juice to a boil in a large saucepan. Add the sugar.
Add the liquid fruit pectin and bring the jelly to the gelling point.
Ladle into sterile jars and process in a boiling water canner or store in the refrigerator.
The tools you'll need for most canning and preserving projects are an important part of your success. Read more about canning supplies here. Let's look into the steps more closely with step by step photos:
First mash the grapes with a potato masher.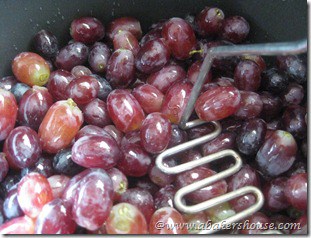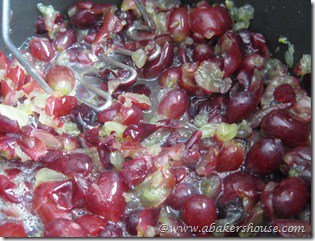 Add the small amount of water then bring to a boil on the stove top.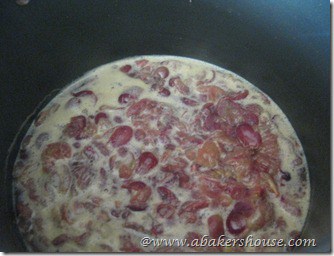 Use cheesecloth to strain the cooked grapes overnight. This step in making grape jelly allows you to capture the grape juice. You could skip this step and start with store bought grape juice and continue on to day 2 instructions.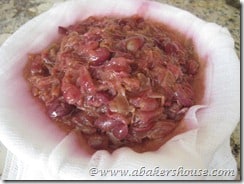 DAY 2:
Use 4 cups of the grape juice (any extra? Drink it!) and add sugar.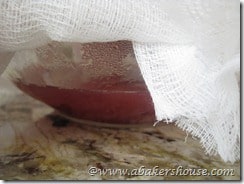 Bring mixture to a boil. Add the liquid pectin.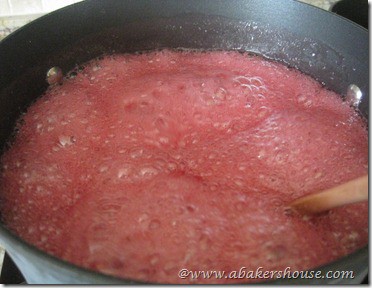 Ladle into jars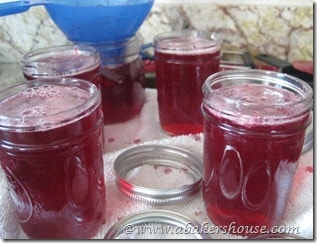 Process with the boiling water canning method if desired. Or store in the refrigerator.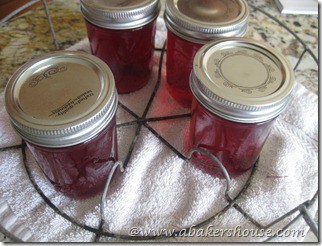 How did it go?
This was my first attempt making grape jelly so let's learn how to make grape jelly together and learn from my mistakes. At first I tried a recipe that didn't call for extra pectin but I was unable to get the liquid to come together at the right consistency.
The addition of the Certo liquid pectin did the trick and resulted in a fantastic jelly. Click here to learn all about pectin and why it is needed in some jam and jelly recipes.
The process of making grape jelly is less intimidating than you might think. You add sugar and water (and sometimes pectin) to fruit, cook it, then ladle it into jars.
Yes, I've left out a few details in between but overall this is not a tricky process. You can do it, give it a try!
Once you have your beautiful grape jelly, use it in this recipe for Jam Sandwich Cookies. A thin layer of peanut butter would be a welcome addition too!
Add a label to your jar of grape jelly!
Did you know that I have a FREE Printables library? I love sharing labels that you can download and print yourself. When you are making jams, jellies, and marmalades, it is so nice to add a personal touch.
Access is free to my email subscribers. Join the growing number of email subscribers by using the form below. You'll love this label for your homemade grape jelly!

Here is the Certo Liquid Fruit Pectin recipe which is included in the box of pectin. I've added some comments where I've strayed slightly from the instructions:
Recipe for Grape Jelly
Yield: 3 pints
Grape Jelly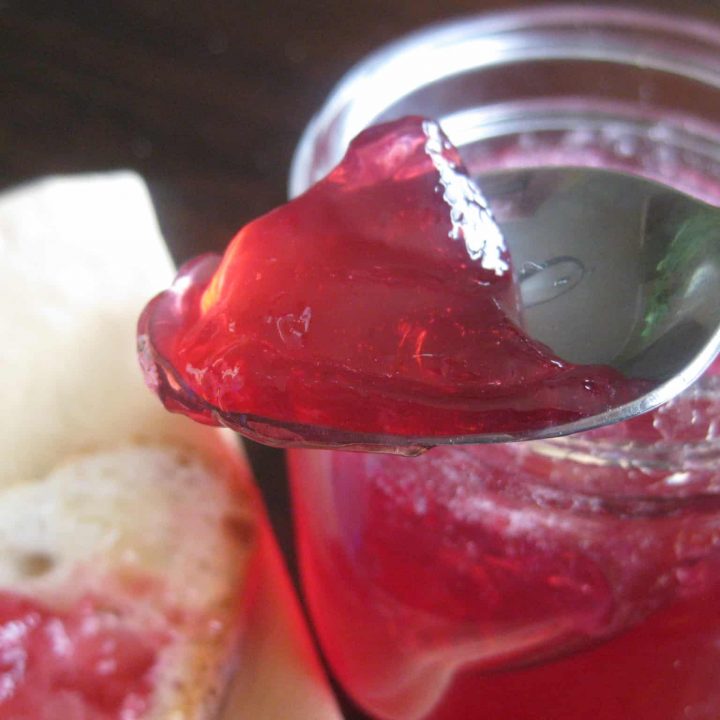 Making grape jelly at home is easier than you think. Follow these instructions adapted from Certo Liquicd Fruit Pectin.
Ingredients
3 pounds grapes
1/2 cup water
7 cups sugar
1 pouch liquid pectin
Instructions
DAY 1-- Prepare the fruit:
1. Take 3 lbs of grapes, remove the stems and crush the fruit. I used a potato masher for the crushing step.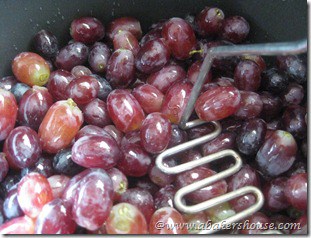 2. Place the mixture in a deep saucepan (you'll want the sides to be relatively high so the liquid doesn't bubble over later in the process) and add 1/2 cup of water.
3. Bring to a boil then cover and reduce to a simmer for 10 minutes.
4. Prepare a few layers of cheesecloth by draping them over a bowl. Take the fruit and pour the contents over the cheesecloth. I let this sit overnight. Be sure that your cheesecloth is suspended high enough such that it doesn't touch the liquid that has dripped through to the bowl. Don't squeeze the cheesecloth or your juice will become cloudy.
DAY 2—Make the jelly:
1. Use 4 cups of the strained juice. Pour the juice into a large pot and add the 7 cups of sugar. (No, that isn't a typo—7 cups is A LOT of sugar but that is the amount stated in the recipe. Don't get scared off now, this jelly will be delicious!)
2. Bring the juice and sugar to a boil and stir constantly. The mixture is going to start to rise up the sides of the pot. Keep stirring until you can't feel the sugar scraping against the pot. The lack of that sugar sound means it is completely dissolved.
3. Stir in one pouch of the liquid pectin. Bring back to a full boil for exactly one minute—keep stirring! Remove the pot from the heat and try to skim off any foam that may be on top. Ladle the jelly into sterile jars.
Notes
If you plan to process with the boiling water canning method, have your sterilized jars and lids ready before you begin making jelly on day 2.
Recommended Products
As an Amazon Associate and member of other affiliate programs, I earn from qualifying purchases.
Nutrition Information:
Yield:
96
Serving Size:
1 tablespoon
Amount Per Serving:
Calories:

68
Total Fat:

0g
Saturated Fat:

0g
Trans Fat:

0g
Unsaturated Fat:

0g
Cholesterol:

0mg
Sodium:

2mg
Carbohydrates:

18g
Fiber:

0g
Sugar:

17g
Protein:

0g
This data is provided by Nutrionix and is an estimate only.
How to process with a boiling water canner
If you wish to can the jelly proceed as follows, or, if not simply put the jelly in jars and leave in the refrigerator.
Ladle the jelly into sterilized jars leaving 1/8 inch of space at the top. Clean any drips off of the rims then cover with the two-piece lids. Place the jars in a boiling-water canner and process for 10 minutes, or for as long as is required at your altitude. Remove the jars and allow to cool.
The details of boiling-water canning are further explained in the Bell Blue Book of Preserving and also on the instructions included in the Certo Liquid Pectin packets.
If this is your first time canning jelly please be sure to read more detailed directions before starting. It helps to have all of your equipment sterilized and prepared ahead of time so that you can be one step ahead of the very hot and very bubbly boiling pots on your stovetop!
Pin this recipe to make later!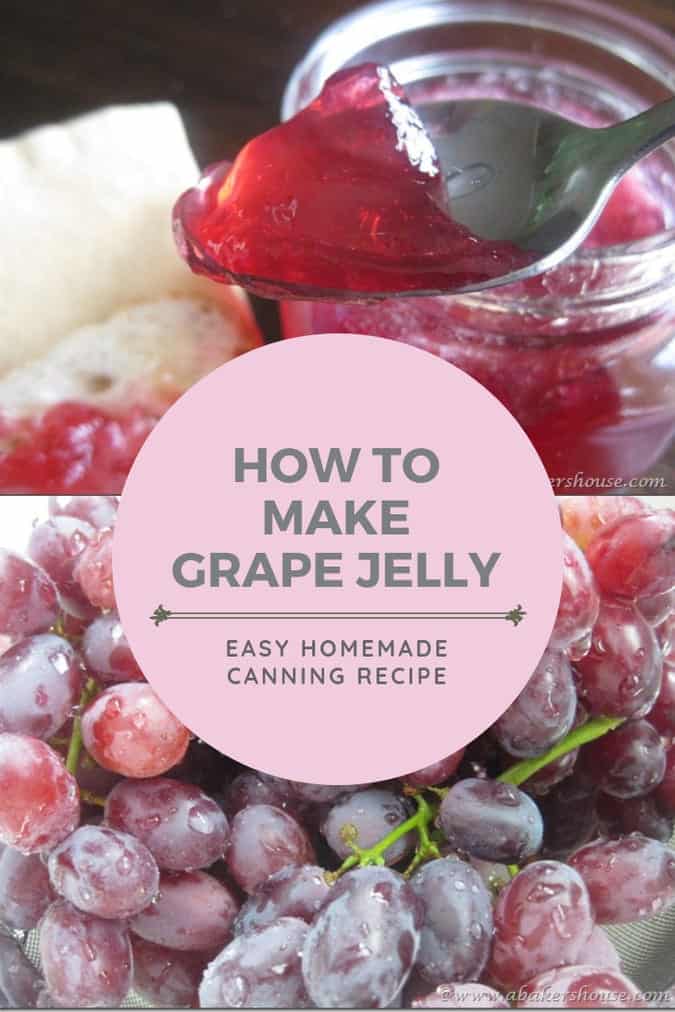 Here are other jam, jelly and preserves recipes that you'll love making homemade!
Once you've started canning at home you won't look back! Stock up on extra mason jars and supplies and try these recipes too.
Kitchen tools you'll need for this recipe:
We are a participant in the Amazon Services LLC Associates Program, an affiliate advertising program designed to provide a means for us to earn fees by linking to Amazon.com and affiliated sites.
This post was originally shared in 2012 and updated with text in 2019. Photos are still original to 2012.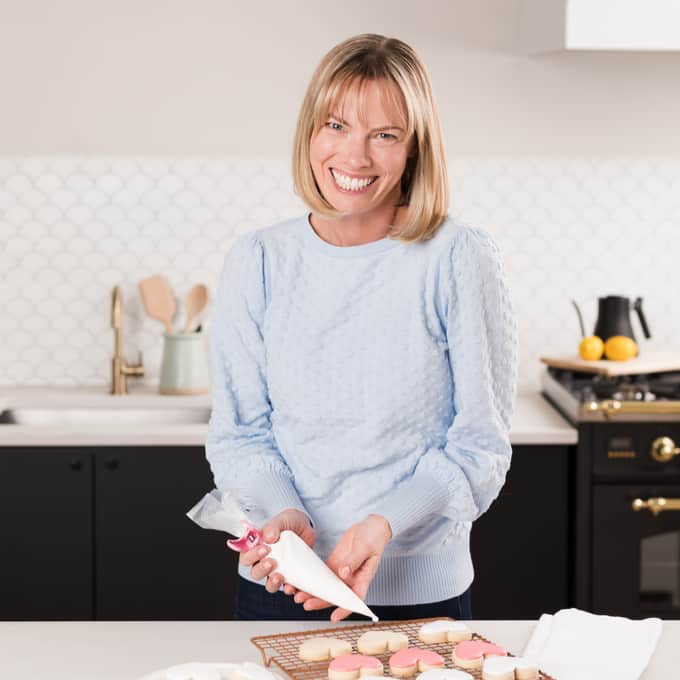 Holly Baker started the food blog, A Baker's House, in 2011. She is the writer, recipe creator, and photographer for the site. Holly loves to bake and shares recipes for gluten free food, canning recipes, as well as traditional desserts too. Her recipes and food photography have been highlighted by BuzzFeed, Reader's Digest, and She Knows.