Two ingredient grape jam is an easy recipe for making homemade preserves. This version starts with seedless grapes and skips the tedious step of peeling the grapes. You can make this jam in less than an hour!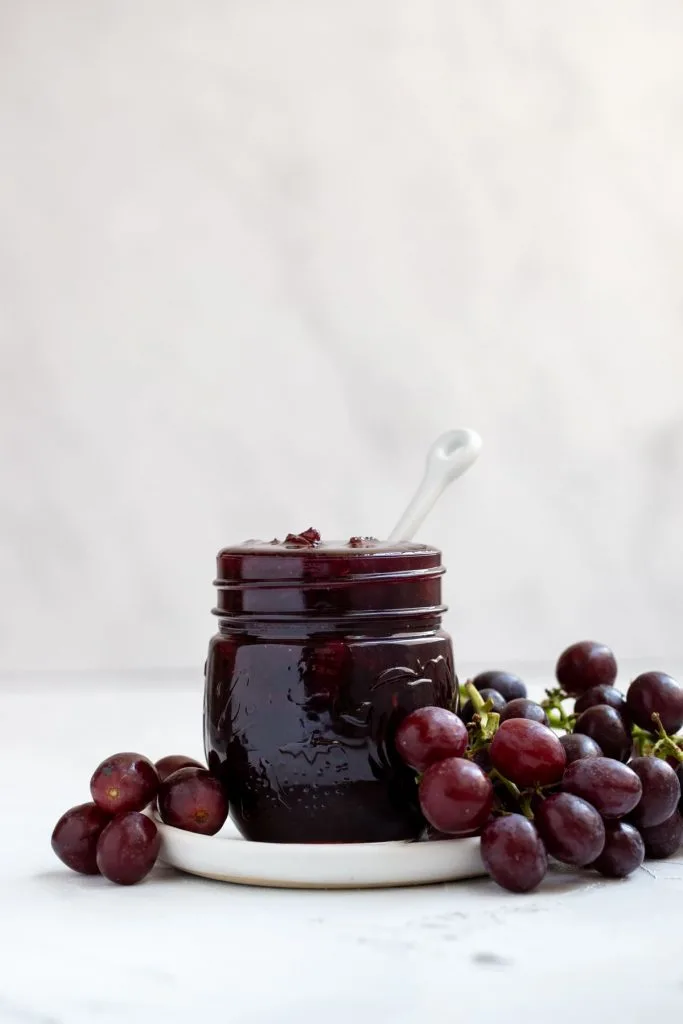 This post is sponsored by Sprouts Farmers Market. I appreciate the opportunity to share recipes made with ingredients from brands I trust and support. All opinions are my own and do not necessarily reflect those of Sprouts Farmers Market. #sponsored
Why this recipe works:
Old fashioned grape jam calls for the fussy and time-consuming step of removing the skins of the grapes. The skins are actually added back into the fruit mixture later, but the purpose of removing the skins is to cook down the pulp and then to extract the seeds.
The key to this recipe is starting with seedless grapes and leaving the skins on the fruit.
Yes, even seedless grapes have seeds, but they are usually so small that you won't mind them at all. Additionally, we'll use an immersion blender to puree part of the fruit mixture which further reduces the chance you'll notice the seeds.
Recipe Ingredients: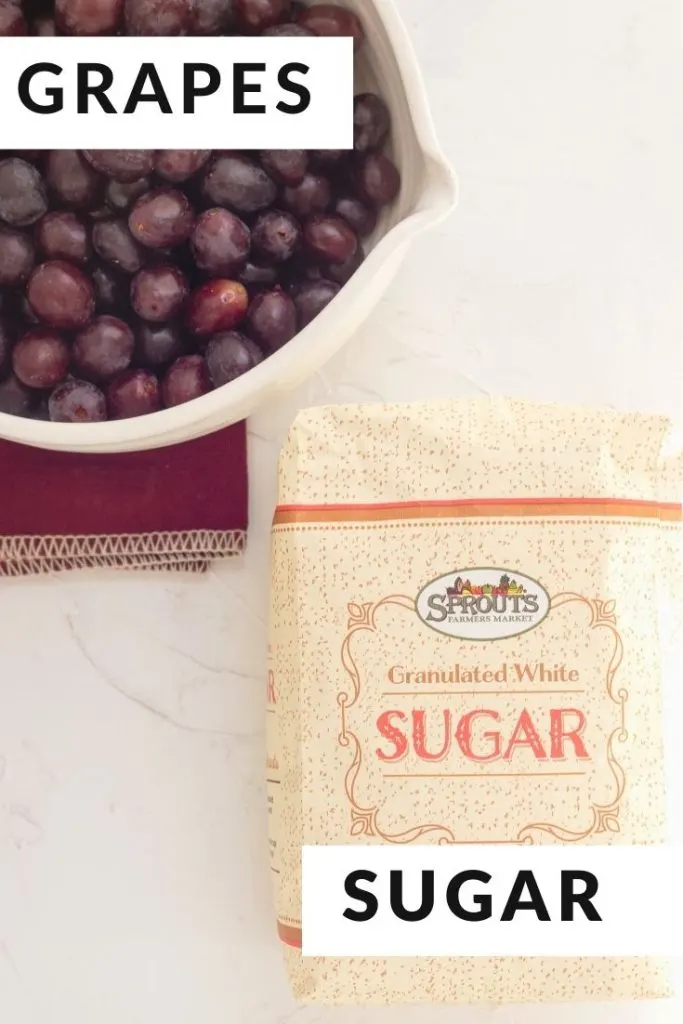 This is a two ingredient recipe: grapes and sugar are all you need to make jam. I do include a small amount of water in the saucepan so that the grapes don't stick to the bottom but water usually doesn't count as an ingredient.
This is a grape jam recipe without added pectin. Learn more about types of pectin and when to use them in this article. You'll find that this jam is so easy to make! It is a great recipe for beginners. Here are some supplies you'll need for canning and preserving.
What kind of grapes are best for making jam?
I love making this jam with red, purple, or black seedless grapes. The depth of color is so rich and inviting. You could also make this jam recipe with green seedless grapes.
A common type of grapes for making jam is Concord, but I know you'll love the variation I made with Gum Drop grapes. Gum Drops are exceptional grapes!
Gum Drop Grapes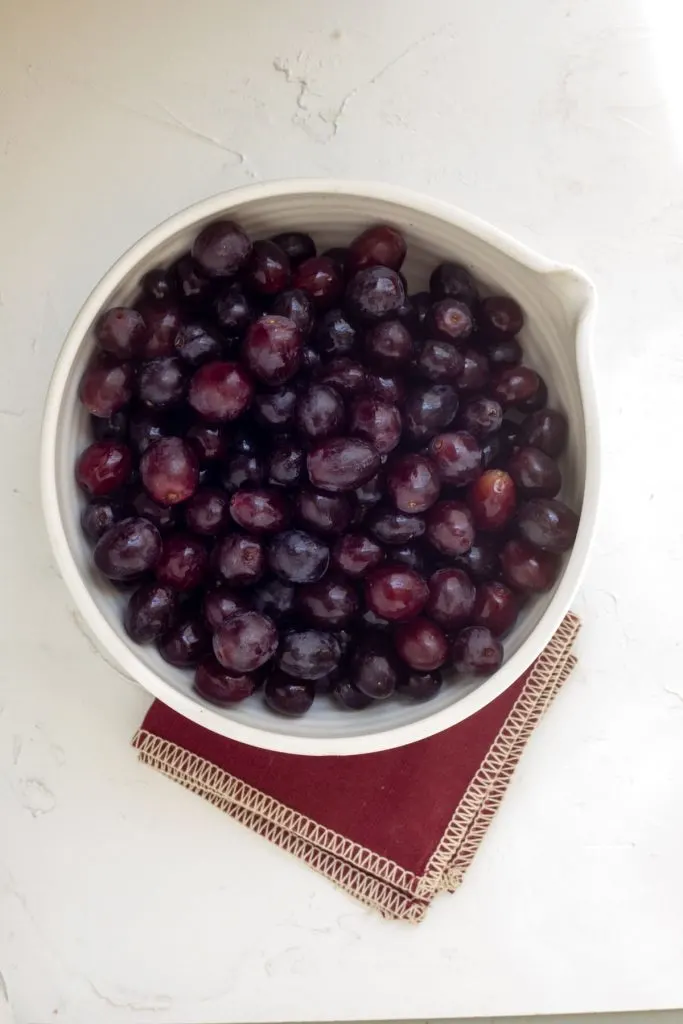 This grape jam is made with a special type of grape called Gum Drop Grapes. Sweet, bold, and delicious to eat by the handful, gum drop grapes are available at Sprouts Farmers Market. Find the store closest to you on this map. I love finding specialty foods at Sprouts where it's a delight to shop for seasonal produce.
Gum Drop grapes are all natural, non-GMO, grown in California, and are among the variety of grapes produced by The Grapery. Have you had the pleasure of trying them yet? They are available in most stores in September and are worth asking for by name.
While I am all about making jam with these grapes, they are a most addicting healthy snack (even a dessert!) that will disappear quickly. Gum drop grapes could be considered nature's candy– beautifully sweet and juicy!
How to make grape jam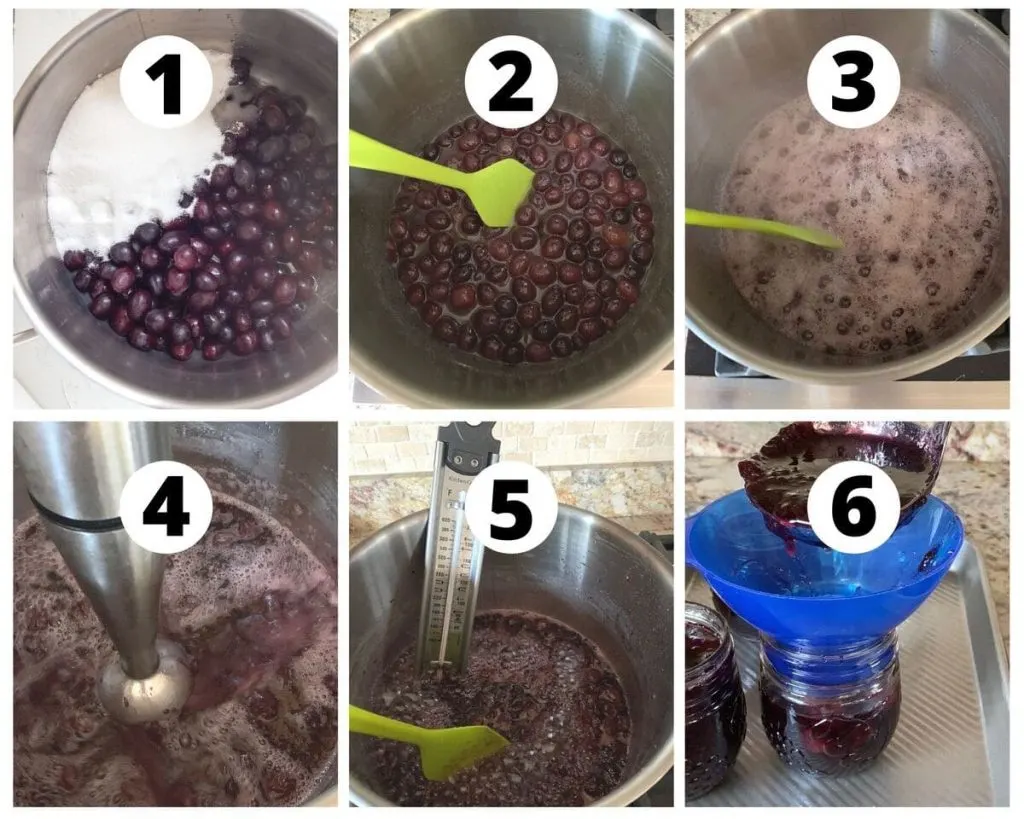 Wash the grapes. Remove all the stems. Add the seedless grapes, sugar and water to a large saucepan.
Stir continuously over medium high heat for about 15-20 minutes. You'll feel the mixture change as the sugar dissolves. Keep stirring so that the grapes don't burn on the bottom of the pan.
The quality of the fruit mixture will change as it cooks. Keep an eye on the bubbles getting frothy and white before then become smaller and more intense.
Remove the saucepan from the heat. Use an immersion blender to puree about half of the mixture. You'll still see some of the grapes which gives this jam a lovely texture.
Return the saucepan to medium high heat and use a thermometer to keep track of the temperature. It will take another 10-15 minutes to reach the gel stage for the jam. Gel stage is 220 degrees F at sea level and changes with altitude. Read more about canning at altitude and adjust your temperatures accordingly.
Ladle your hot, grape jam into clean mason jars. Leave 1/4 inch headspace at the top of each jar to allow space for the jam to expand as it cools. Cover with new lids and clean rims.
FAQs and Tips
How should I store homemade jam?
You should store your jam in the refrigerator. Homemade jam lasts for about 3 months in the refrigerator or 6 months in the freezer. Or, if you'd like the jam to be shelf-stable you can preserve it in a water bath canner. Check out these helpful posts all about canning.
What's the difference between grape jelly and grape jam?
There are two main differences: First, making jelly starts with grape juice whereas making jam starts with whole grapes. Secondly, the texture is different between jelly and jam. Jelly is smooth and holds it shape quite well whereas jam has bits of whole or crushed fruit and is looser than jelly.

Here is a recipe for homemade grape jelly that I know you'll enjoy!
Do you have to remove seeds from grapes to make jam?
No, you don't need to remove the small seeds from seedless grapes. If you'd like to or if your grapes have large seeds, carefully peel back the grape skins by hand or with a small knife. Set the skins aside and cook the grapes then strain out the seeds. Add the peels back to the pulp mixture then continue with the recipe by adding the fruit mixture, sugar and water to a saucepan.
Can I reduce the sugar in this jam recipe?
You can reduce the sugar but the jam may not gel as easily. Sugar helps to bring the jam to the gel stage. Sugar also helps preserve the jam. If you use less sugar you will produce a smaller quantity of jam and you may need to add commercial pectin to help reach the gel stage.
How does altitude affect canning?
Air pressure decreases as you rise in altitude. This affects the temperature at which water boils as well as the temperature at which jam gels. Read more details in this post about high altitude canning. The gel point will be 8 degrees higher than your boiling point. Boil a saucepan of water and record the temperature; add eight degrees and you'll know your gel point.
How do I know if my jam is done cooking?
Jam and jelly must be cooked to the gel point in order to set. This temperature is the point at which the sugar reacts with the pectin (natural or added) so that the mixture will gel once cooled. First, know your gel temperature for your altitude and cook the fruit and sugar mixture to that temperature.

A second way to check is to put a plate in the freezer while your jam cooks. Place a small amount of your hot jam onto the plate and return it to the freezer for a few minutes. If the jam wrinkles and retains its shape when you push it with a spoon or your finger, then your jam is ready. If not, continue cooking and do the freezer test again in five minutes.
What if my jam doesn't set?
Give your jam at least 48 hours to set. Grape jam can sometimes take longer than other preserves to set. If your jam doesn't set you can bring it to a boil again and cook it down further. Fruit has differing amounts of natural pectin depending on how ripe it is.

You may opt to include commercial pectin the second time around, although this recipe sets well without pectin. Alternatively, use your jam for a sauce with ice cream, over pancakes, or in mixed beverages.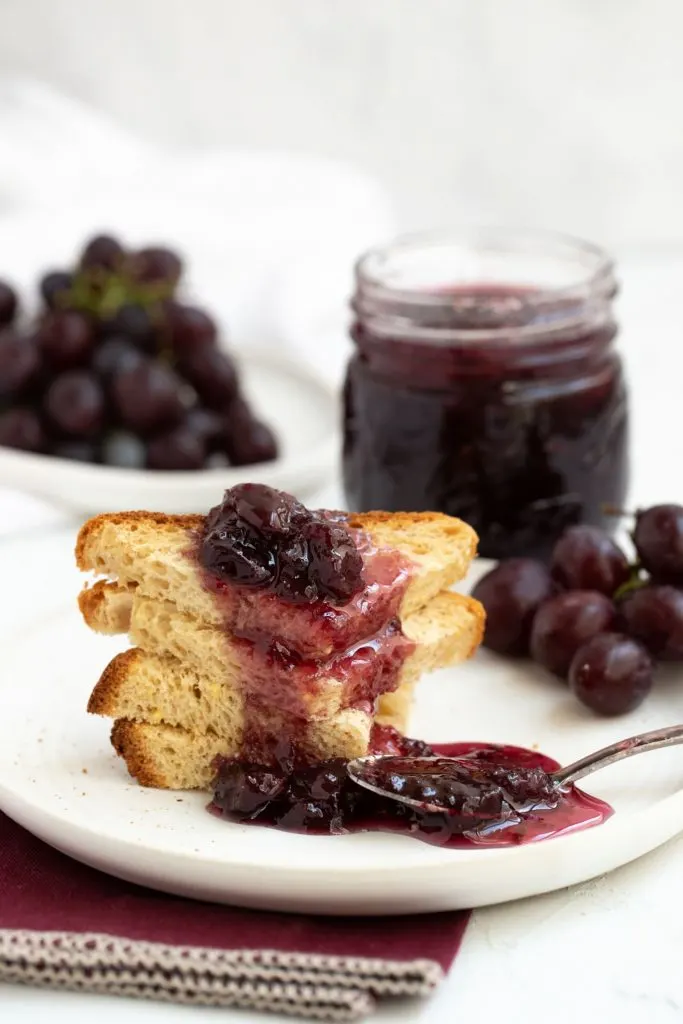 Here's the Google Web Story for Two Ingredient Grape Jam!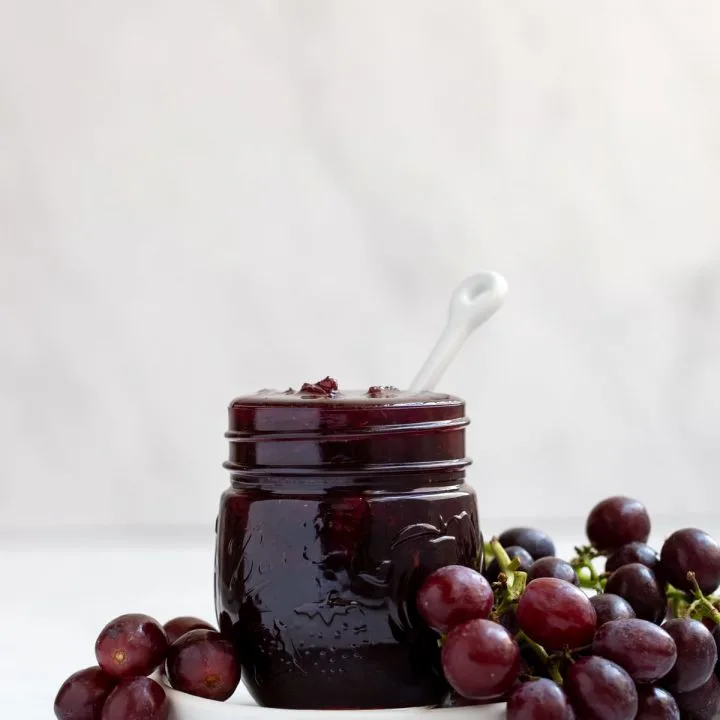 Make this easy jam in less than an hour start to finish!
Ingredients
4 cups seedless grapes
3 cups Sprouts granulated sugar
1/2 cup water
Instructions
Wash the grapes and remove the stems. Add the grapes, sugar, and water to a large, deep saucepan. Bring to a boil over medium-high heat and cook for 10-15 minutes, stirring constantly.

Remove the saucepan from the heat. Use an immersion blender to puree about half of the mixture.

Return to medium-high heat and bring to a boil again. Stir constantly for an additional 10-15 minutes or until the gelling point is reached. *See notes below about gelling point.

Ladle the hot mixture into clean mason jars. Seal the jars and let the
jam come to room temperature before storing in the refrigerator for up to three months or you may process this jam in a boiling-water canner.
Notes
This jam was made with Gum Drop Grapes which are exceptional! You can use any seedless grape. If your grapes have seeds, first remove the skins, cook the pulp, extract the seeds, then add the skins back into the mixture and cook.
The gelling point must be reached for the jam to set. At sea level this is a temperature is 220 degrees F. It must be adjusted for altitude and is 8 degrees higher than the boiling point.
Use the freezer wrinkle test to double check that your mixture has reached gel stage. Put a small plate in the freezer while the jam cooks. Place a teaspoon of the mixture onto the plate and return it to the freezer for 3 minutes. If the mixture wrinkles and holds it shape when you push it, the jam is cooked. If not, continue cooking for 5 minutes and redo the freezer test.
If you are using a water bath canner, process for 15 minutes, making any adjustments necessary for your altitude.
Recommended Products
As an Amazon Associate and member of other affiliate programs, I earn from qualifying purchases.
Nutrition Information:
Yield:
48
Serving Size:
1 Tbsp
Amount Per Serving:
Calories:

9
Total Fat:

0g
Saturated Fat:

0g
Trans Fat:

0g
Unsaturated Fat:

0g
Cholesterol:

0mg
Sodium:

0mg
Carbohydrates:

2g
Fiber:

0g
Sugar:

2g
Protein:

0g
This data is provided by Nutritionix and is an estimate only.
Pin this grape jam recipe on Pinterest!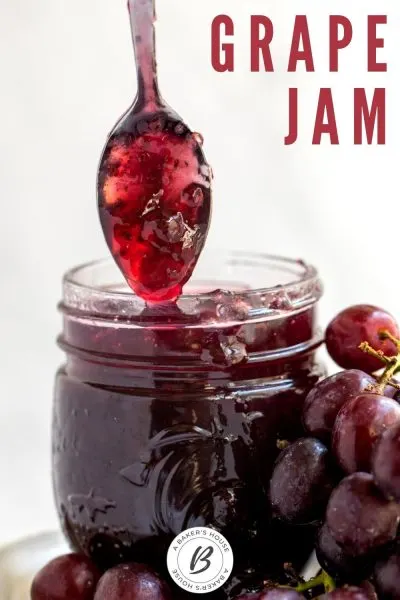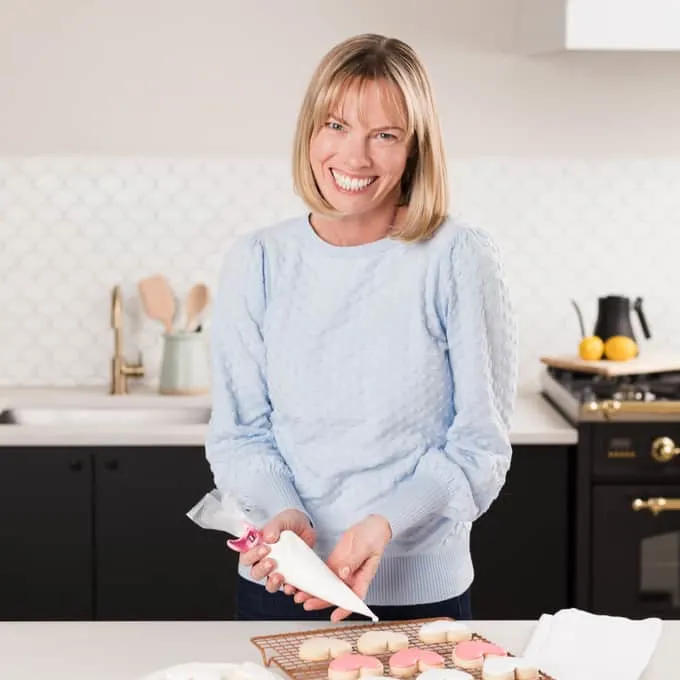 Holly Baker started the food blog, A Baker's House, in 2011. She is the writer, recipe creator, and photographer for the site. Holly loves to bake and shares recipes for gluten free food, canning recipes, as well as traditional desserts too. Her recipes and food photography have been highlighted by BuzzFeed, Reader's Digest, and She Knows.