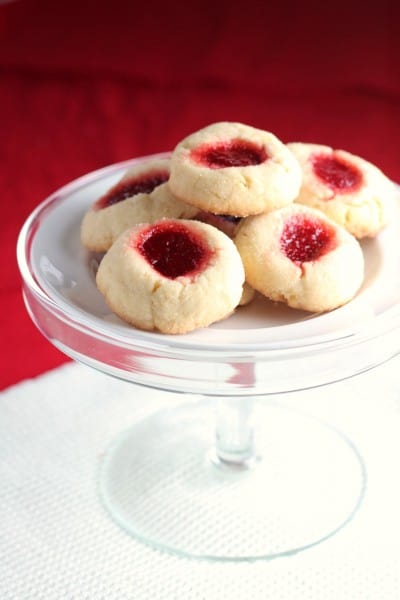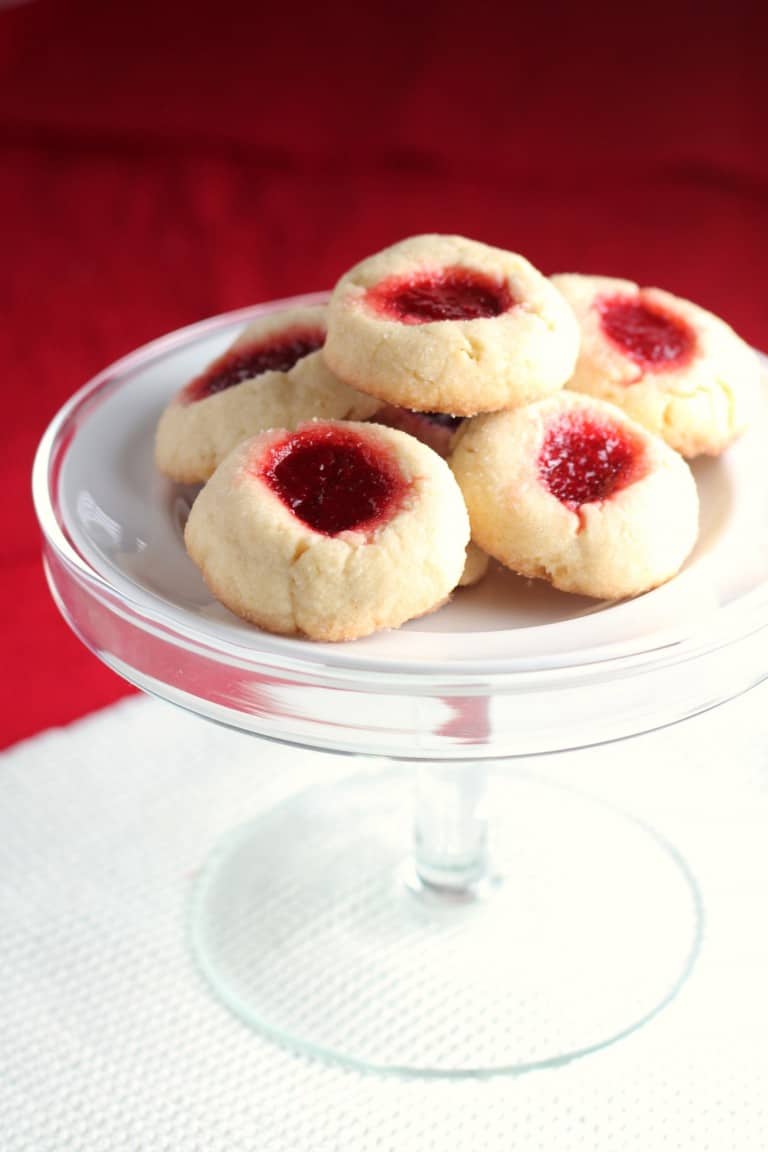 Jam thumbprint cookies are a simple cookie that can change with the seasons. Add red strawberry preserves to make this a holiday cookie or use lemon curd to make this perfect for welcoming spring. In the fall a filling could be pumpkin butter and in the summer a fresh puree of berries. Seasonal baking is the theme this month with the #CreativeCookieExchange, and as spring has arrived, with it comes favorite flavors and foods ideal for baking. I've noticed beautiful strawberries in the produce section in recent weeks. Yes, of course, you can find berries nearly all year long at the grocery store but not all strawberries are created equal. December strawberries often don't compare in quality to spring and summer berries. I made a quick jam with strawberries, although you could add any type of berry to your jam– blueberries and raspberries would work nicely too. The freshly made jam then joined these buttery thumbprint cookies for a tasty bite.
Print
Jam Thumbprint Cookies
---
---
Ingredients
1 3/4 cups all-purpose flour
1/2 teaspoon baking powder
1/2 teaspoon fine salt
3/4 cup unsalted butter (1 1/2 sticks), softened
2/3 cup sugar, plus more for rolling
1 large egg
1 teaspoon pure vanilla extract
1/3 cup raspberry, cherry or strawberry jam
Optional: make your own jam:
2 cups of berries
1/2 cup sugar
1 teaspoon lemon juice
Puree berries (add a few tablespoons of water if necessary). Add berries, sugar and lemon juice in a saucepan. Bring to a boil and stir continuously as the mixture bubbles for about 3-4 minutes. Mixture will thicken slightly and darken in color. Set aside and cool. Store in the refrigerator.
---
Instructions
Preheat oven to 350 degrees. Prepare two baking pans with parchment.
Gently whisk the dry ingredients in a small bowl: flour, baking powder and salt.
In a stand mixer, beat the butter and sugar until well combined. The mixture will lighten in color and will look fluffy. Add the egg and the vanilla.
On low speed add the dry ingredients. Only mix until just barely combined.
Make 1-inch balls of dough then roll them in sugar to coat. Place on your prepared baking sheet. Lightly press into the middle of the balls of dough to make space for the jam. Make sure your edges are high enough compared to your indentation so that the jam will stay in the middle while baking. Add a small amount of jam to each cookie.
Bake cookies for 12-15 minutes.
Recipe Card powered by
Check out more recipes made with spring flavors in mind:
You can also use us as a great resource for cookie recipes. Be sure to check out our Pinterest Board and our monthly posts (you can find all of them here at The Spiced Life).