Pear butter isn't "butter" in the true sense of the word. Dairy free, this fruit butter is apple butter's cousin– a deeply spiced puree of fruit easily made in the Slow cooker, Instapot or Crock Pot.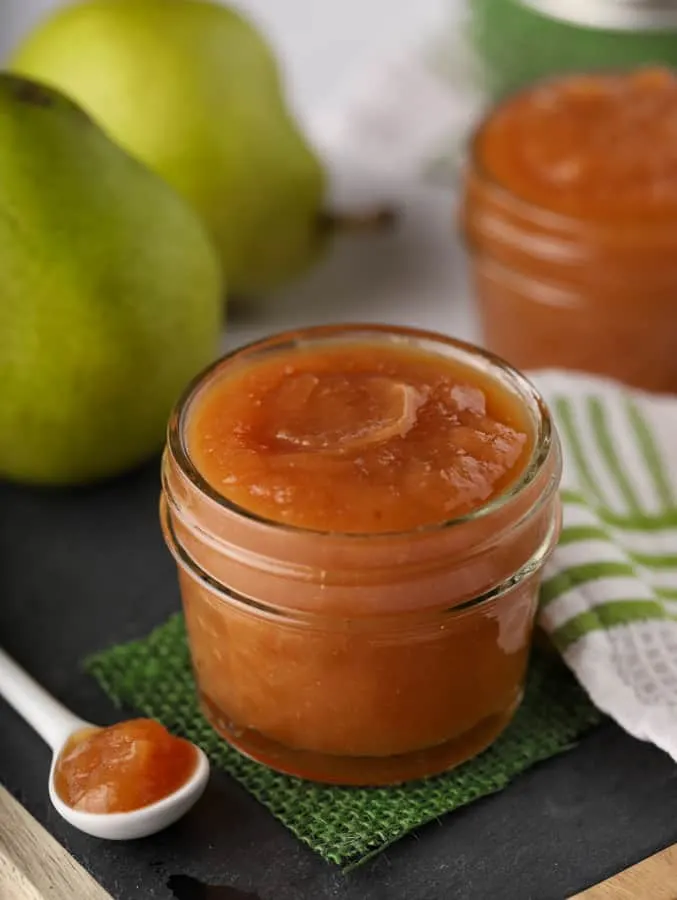 What is pear butter?
Pear butter, or any fruit butter, is a smooth puree of fruit that has been cooked down slowly with sugar and spices. The texture is thicker than an apple sauce because you simply cook the fruit mixture longer and you concentrate the flavor.
Fruit butters generally are less sweet than jams and there is no pectin added. I love making homemade preserves of any kind. If you do as well, try any of these canning recipes on my site.
How do you make this recipe?
Prepare the fruit
Add all the ingredients
Cook slowly until the fruit is soft and the mixture is concentrated then puree.
The slow cooker is used as my preferred method because it is an absolute STAR at cooking low and slow.
And by the way, you could make this recipe on the stove top instead. You'll just need to be patient and plan ahead because it will take a lot of tie to let the fruit and sugar simmer in a sauce pan. Stir ever so often and do not leave the mixture unattended.

What ingredients are needed?
fruit
sugar
spices
a touch of salt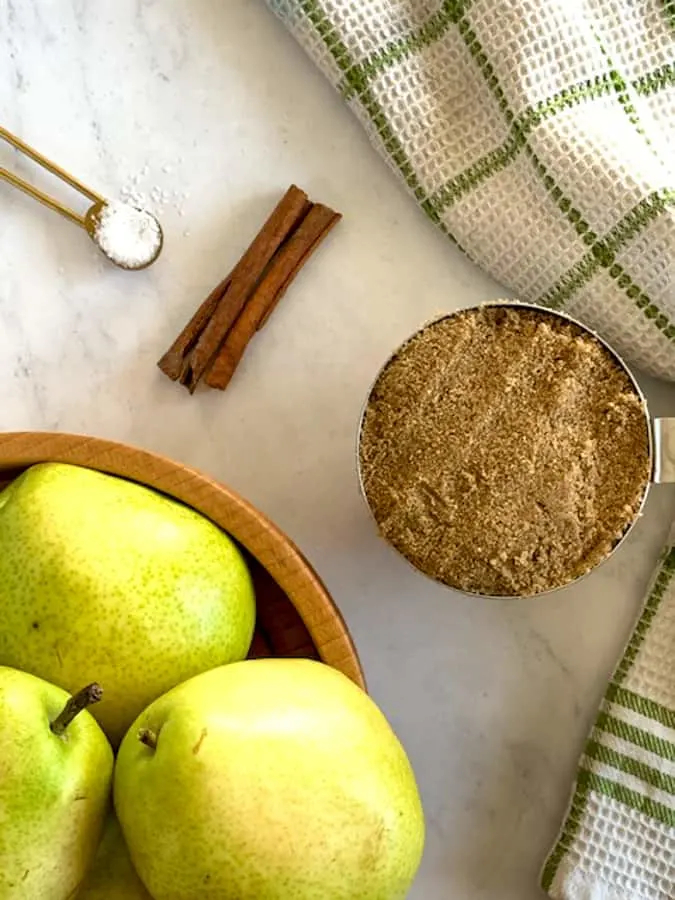 All that is required is good-quality fruit, a small bit of sugar, and spices of your choice. I've made apple butter and pumpkin butter in recent weeks. Today I'd like to share this pear butter. Spread it on top of toast or along side a pork tenderloin. This pear butter complements a variety of foods.
Alternative sweeteners for pear butter or any fruit butter include honey, maple syrup, or coconut sugar. If you try any of those options, please do leave a comment and let me know how it turned out.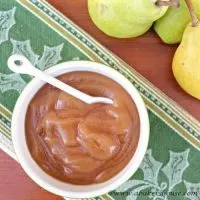 How to peel pears
Ok, here's the deal. You DO NOT have to peel pears before making pear butter. The skin is thin and it cooks right down with the fruit.
I am in the habit of peeling my pears first and think that it yields a smoother fruit spread in the end so I do peel the pears first. Use a vegetable peeler or a paring knife to remove the skin of the pears.
How do you thicken fruit butter?
Thickening fruit butter will depend on your method of making the recipe but TIME is the key. Any of the methods– slow cooker, Instant Pot, or stove top– may need additional time to let the fruit spread thicken. This is best done by leaving the lid off or cracking the lid open so that more liquid can escape and evaporate.
In a pinch I'll use a wooden spoon to prop open a lid but the kitchen gadget that works best are these silicone lid lifters that you'll find on Amazon. I received mine as a gift in this adorable dog shape shown in the photo. They not only serve a purpose but the lifters are so cute I can't help but smile at them each time I need to prop a lid open!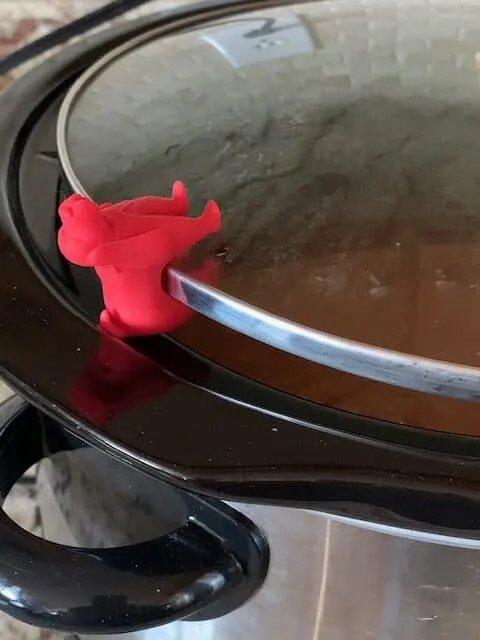 My pear butter is grainy, what should I do?
If you are used to traditional apple butter, you may find pear butter a bit grainy. Even when eating pears compared to apples, the texture is different.
One way to fix that texture issue in this recipe is to use a high speed blender instead of an immersion blender when you puree your fruit mixture.
How to use pear butter?
This traditional pear butter will find its way into your meals in unexpected ways. Yes, this fruit spread is perfect for toast but it also it an excellent replacement for mayo, a topping for pancakes or waffles, or a filling for a trifle. Turning fruits into a smooth, concentrated sauce or condiment of sorts is SO easy with the help of the slow cooker, crock pot or Instapot.
Anywhere you might use apple sauce in a recipe to lighten a baked good, you can use pear butter. Or try swapping cranberry sauce for pear butter and you'll be pleasantly surprised by how well it pairs with many meals.
Variations on pear butter
Here are some suggestions for changing up this old fashioned pear butter recipe and making it your own creation:
add more spices like ginger or cloves to make a spiced fruit butter
include a touch of brandy or rum
brighten the flavor with citrus by adding orange zest
you can never go wrong by adding pure vanilla extract
What to do with lots of pears?
Of course this recipe is ideal for using up a lot of pears. If you are looking for more pear recipes, try this spiced pear-apple butter, ginger pear bundt cake, or these elegant poached pears.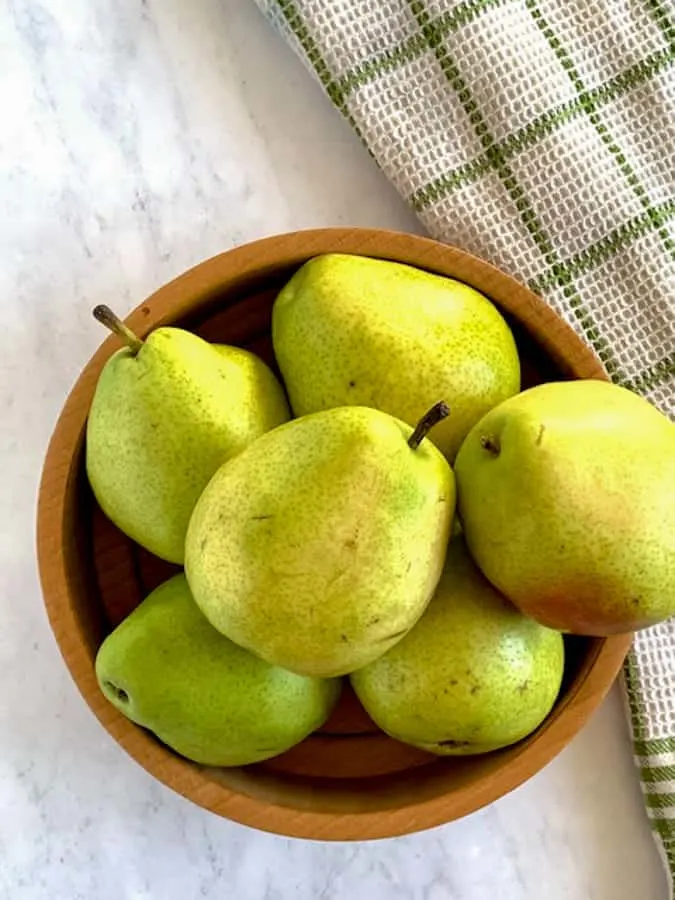 Yield: 4 cups
Pear Butter in the Crock Pot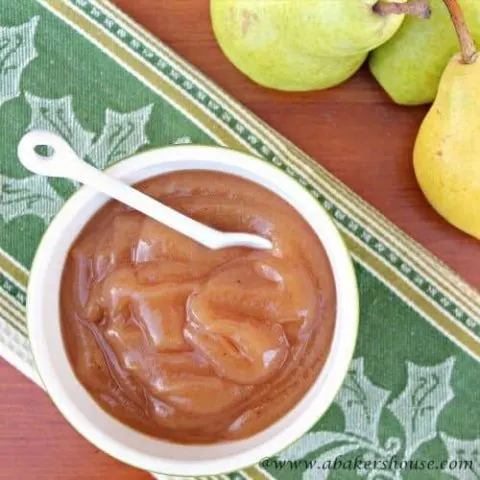 Fragrant pear butter is easy to make using a slow cooker, Crock Pot, or Instant Pot.
Total Time
4 hours
15 minutes
Ingredients
8-10 pears, peeled, cored and cut into chunks
1 cup brown sugar
1 cinnamon stick
pinch of salt
Instructions
Put all the ingredients into a crock pot (slow cooker).
Cook on low heat for 4-6 hours.
Remove the cinnamon stick, let cool slightly then use a hand-held immersion blender puree to desired consistency.
If your pear butter isn't thick enough after the cooking time, prop the lid open and cook for an additional hour or until desired consistency is reached.
Ladle in to mason jars. Keep refrigerated for up to a month.
Notes
Store in the refrigerator in an airtight container.
If you are using the Instant Pot, cook on high for 8 minutes, let cool and release the pressure. Puree. If needed saute on low until mixture reduces to desired consistency.
Recommended Products
As an Amazon Associate and member of other affiliate programs, I earn from qualifying purchases.
Nutrition Information:
Yield:
48
Serving Size:
1 tablespoon
Amount Per Serving:
Calories:

36
Total Fat:

0g
Saturated Fat:

0g
Trans Fat:

0g
Unsaturated Fat:

0g
Cholesterol:

0mg
Sodium:

4mg
Carbohydrates:

9g
Fiber:

1g
Sugar:

7g
Protein:

0g
This data is provided by Nutritionix and is an estimate only.
TOOLS YOU WILL USE IN THIS RECIPE: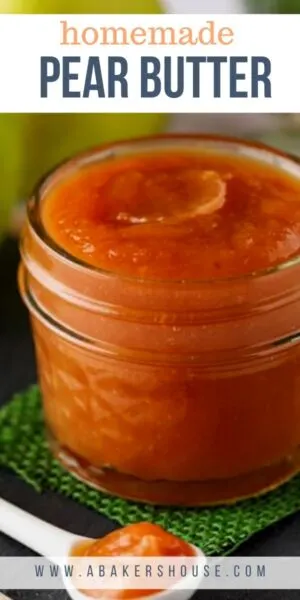 Instapot (I use my Instapot in the Slow Cook mode)
We are a participant in the Amazon Services LLC Associates Program, an affiliate advertising program designed to provide a means for us to earn fees by linking to Amazon.com and affiliated sites.
This post was originally published in December 2012 and was updated in November 2019.
Pin with me!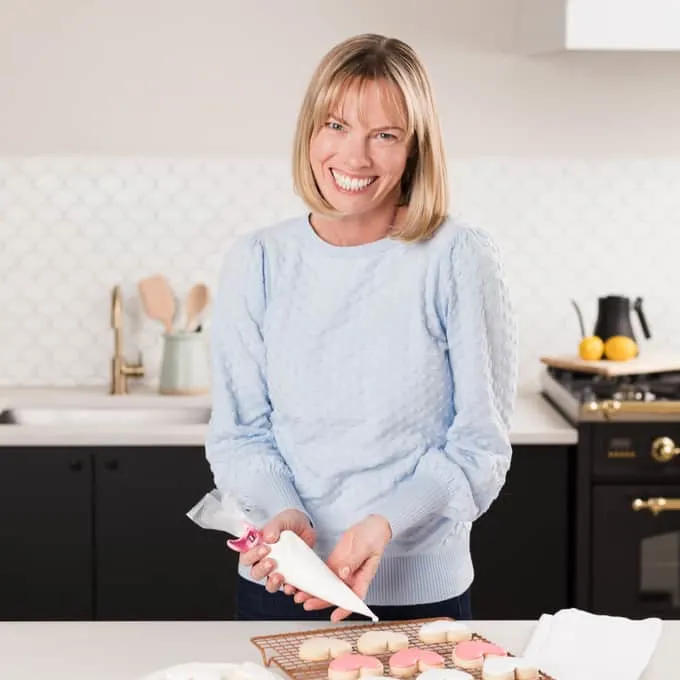 Holly Baker started the food blog, A Baker's House, in 2011. She is the writer, recipe creator, and photographer for the site. Holly loves to bake and shares recipes for gluten free food, canning recipes, as well as traditional desserts too. Her recipes and food photography have been highlighted by BuzzFeed, Reader's Digest, and She Knows.