Homemade hot pepper jelly combines spicy and sweet for the perfect bite! Make this jalapeno jelly with all jalapenos or tone down the heat with bell peppers to suit your taste.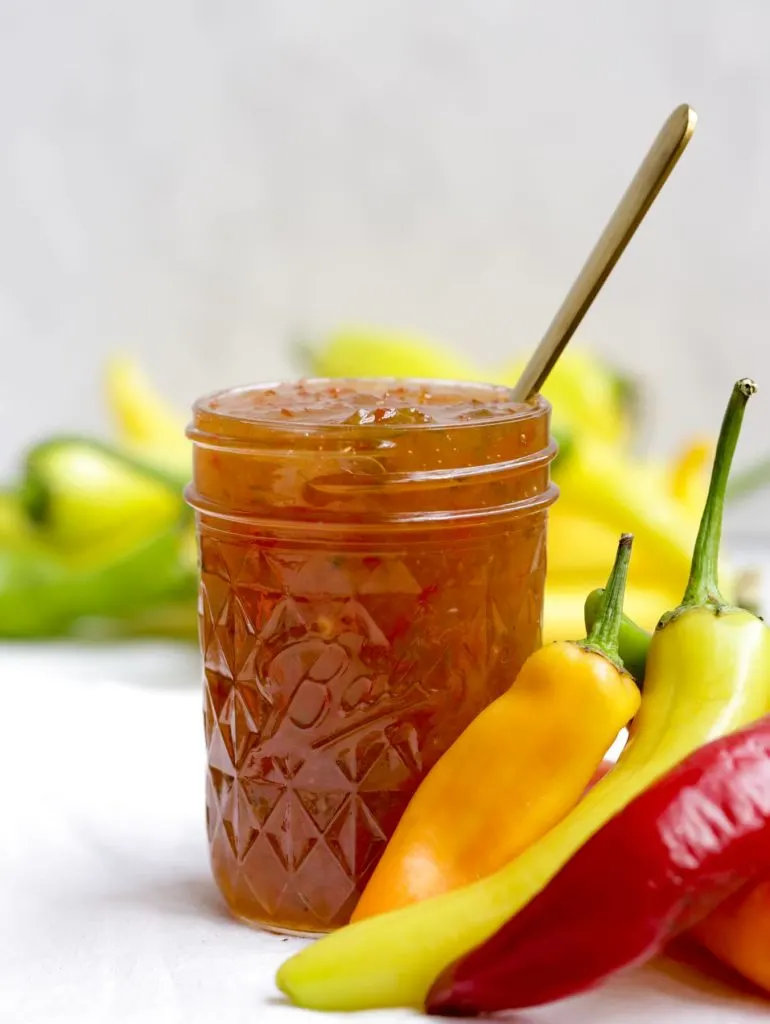 Why this recipe works:
Hot pepper jelly may not sound like your typical fruit jelly or jam but give it a try in this jalapeno jelly recipe. Use it to top brie, goat cheese, and other cheeses, as a spread on a sandwich, or as a condiment with grilled meats and vegetables.
Making homemade preserves is a rewarding activity. Of course you can buy hot pepper jelly at the store, but why? Making jelly at home is a simple process once you get the basics down.
Recipe Ingredients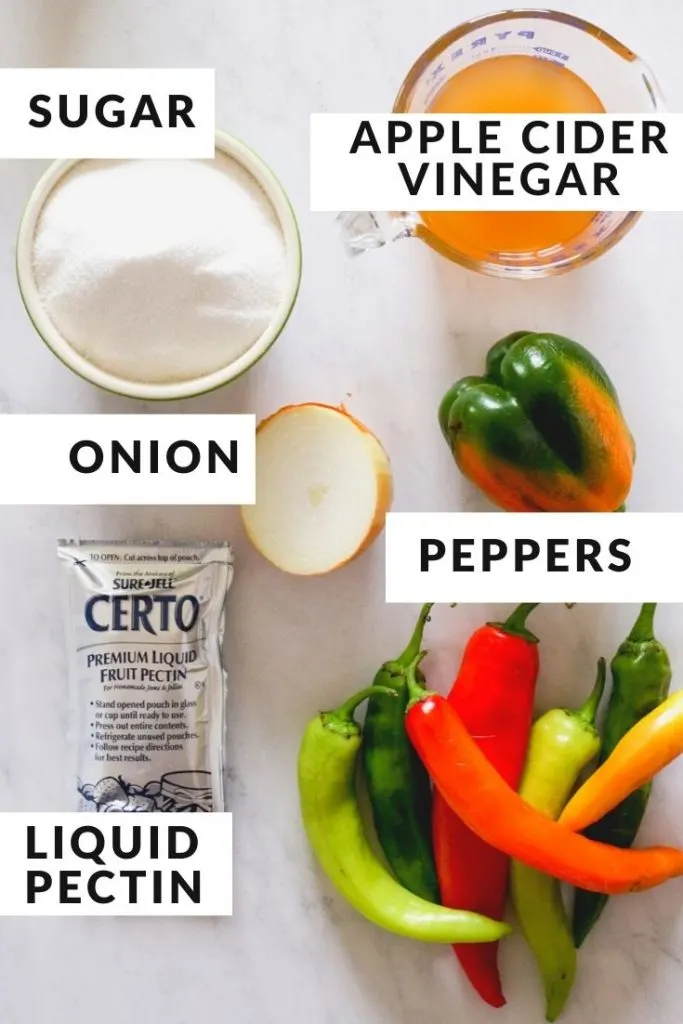 Let's look closer into the ingredients:
Peppers: A straightforward ratio of peppers in this small batch recipe is 6 jalapenos to one bell pepper. You can mix this up by using some red and some green so get a vibrant assortment of colors in your jalapeno jelly. Look in the notes below for other suggestions of types of peppers to use in this recipe. You'll see in the photo I used a combination of peppers from my local farmer's deliver.
Apple Cider Vinegar: vinegar adds a tang in this jelly that brightens each bite. Apple cider vinegar is preferred, although you could choose other types if that is all you had available.
Sugar: The sweet side of pepper jelly comes from the sugar. Jellies are often high in sugar. Sugar helps the jelly set and achieve that jelly-like texture. If you'd like to use less sugar, you may have a runnier jelly.
Onion: A sweet onion is recommended but you can use what you have available.
Liquid Pectin: I often use Certo Liquid Pectin which you can find on Amazon. (affiliate link)
As an Amazon Associate I earn from qualifying purchases.
How to Make Hot Pepper Jelly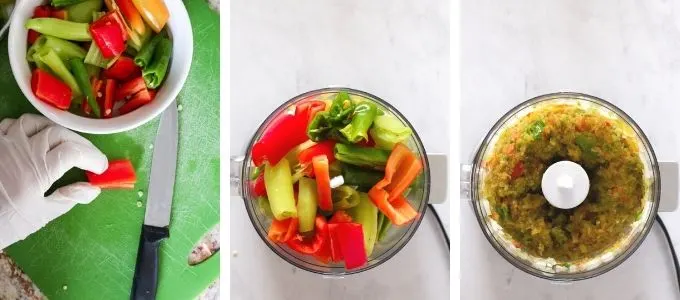 Prepare the ingredients. Take care to wear gloves when chopping hot peppers.
Add the chopped peppers and onions to a small food processor.
Pulse into small pieces.
Next, we'll move on to making the jelly. Use a large saucepan. When you make homemade jelly, you'll learn quickly that the mixture boils vigorously and will expand quickly in the saucepan. A heavy bottomed pan with high sides is ideal.
Place the finely chopped peppers and onions into a large saucepan. Add the apple cider vinegar (image 1) and then add the sugar (image 2). Stir well as you bring to a boil over medium-high heat. (image 3) Cook for 2 minutes after you reach boiling, stirring constantly.
Pour the entire pouch of liquid pectin into the hot jelly mixture.(image 4) It's best to do this off the heat. Then, move the pan back to the heat and bring to a boil for one more minute. (image 5) At this time use a thermometer to check for the gel point of your jelly. (image 6)
Ladle the jelly into prepared, clean jars leaving 1/4 inch headspace at the top. Seal with two piece mason jar lids. Set aside to cool and then refrigerate OR immediately process in a water bath canner.
Tips and Tricks for jelly success!
What type of peppers can I use for hot pepper jelly?
Jalapenos, bell peppers, small chiles from your garden, and many other types of peppers are suitable for this recipe.

I used Dynamite peppers, Hungarian wax peppers, bell peppers and jalapenos that I received from my local farmer's CSA delivery.

If you like a very hot jelly, add a habanero pepper for spicy heat!
Can I process this jelly in a water bath canner?
Yes, this recipe is safe for canning in a water bath canner.

Of course, you may eat this jelly so quickly that you won't need to preserve it with the boiling-water bath. I put mine in the refrigerator and have been finding lots of reasons to use it.
What canning equipment do I need?
If you are new to canning, here you'll find the basics of equipment you'll need for canning.

If there are other tools you use to make canning easier, leave me a comment below to share!
How do I store the jelly?
You may store hot pepper jelly in the refrigerator in mason jars or other air-tight containers.

If you process your jars in a water bath canner, you will have shelf-stable jelly which you can store in a cool dark place for up to 12 months.
How long does hot pepper jelly last?
Unprocessed jars will last up to 1-2 months in the refrigerator.

Processed jars can be stored for up to 12 months but must be placed in the refrigerator after opening.
How to fix runny jelly?
If your jelly has not set you can cook it again. You can either add more petin (perhaps yours had expired and wasn't effective in your original batch) or cook the jelly down so that it is concentrated.
Do I have to use pectin?
Pectin is a natural substance that is found in higher quantities in certain types of fruit. This jelly recipe needs added pectin. I prefer liquid pectin but read this post all about pectin to learn about other options.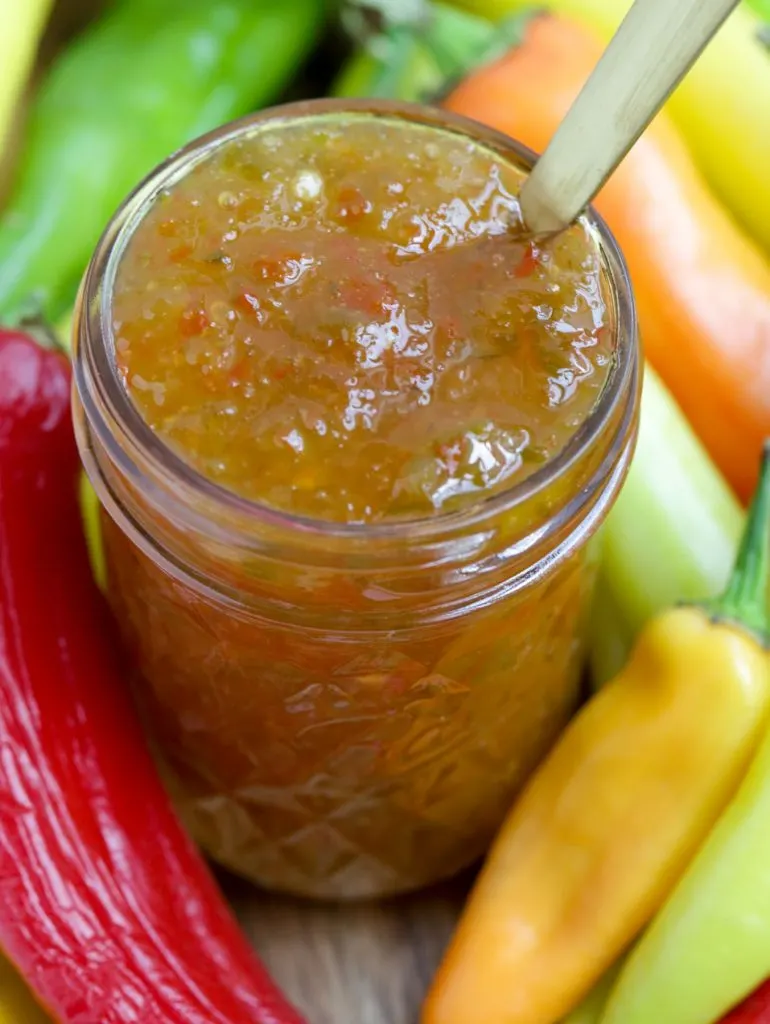 Notes on growing your own peppers:
Is your garden bursting with vegetables and fruits this summer? I hope so! My gardening space consists of a few small containers on the back deck. There are a few herbs, a tomato plant and a hot pepper plant. Some plants I grew from seeds but this hot pepper plant was already on its way to success when I purchased it.
For me, it is an accomplishment to keep ANY plant alive; it's simply a skill I don't seem to possess…but I keep trying! Hot pepper jelly is an ideal way to use your garden's bounty of hot peppers.
Or you could easily buy some jalapenos at the grocery store—either way this recipe is an easy way to make a special hot pepper jelly.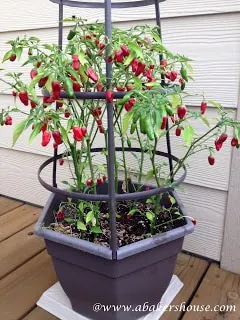 Here's my pepper jelly web story!
Pin this Homemade Jelly Recipe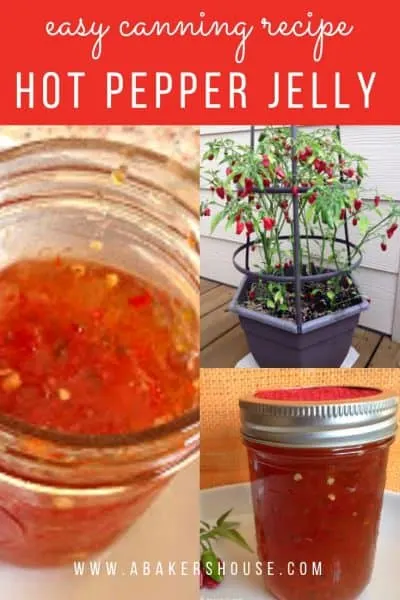 Yield: 2 cups
Hot Pepper Jelly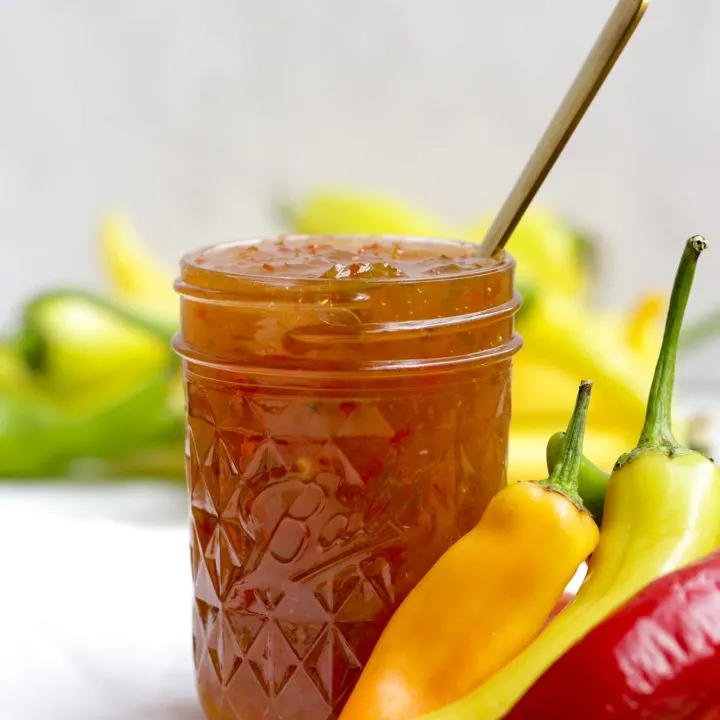 Hot pepper jelly is the perfect sweet and spicy bite. Use it to top brie and other cheese, as a spread on a sandwich, or as a condiment with grilled meats and vegetables.
Additional Time
5 minutes
Ingredients
6 jalapeno peppers (red and/or green)
1 red bell pepper
1/2 sweet onion
3/4 cup cider vinegar
2 cups sugar
1 packet of liquid pectin
Instructions
Roughly chop the peppers and onion.
Process the peppers and onion in a food processor until finely chopped.
Pour the mixture into a large saucepan, add the apple cider vinegar and sugar then bring to a boil. Cook while stirring for 1-2 minutes.
Take the pan off the heat and stir in the liquid pectin. Return the pan to the heat and boil for exactly one minute. After you remove the pan from the heat this final time, allow the jelly to sit for five minutes.
Fill the clean jars leaving 1/4 inch space at the rim and process with a boiling-water bath if desired.
Notes
Original recipe found in the book, Art of Preserving.
If you don't have a food processor, please finely chop the onions and peppers with a sharp knife.
Make sure your jars are clean and prepared ahead of time. If you plan to process this recipe in a boiling water canner, keep the jars warm until you fill them to prevent breakage.
Use a variety of peppers: jalapenos, fresno chiles, Dynamite chiles, Hungarian Wax peppers, and habaneros all are good options. Some are much hotter than others so be aware of the level of heat.
Wear plastic food-safe, disposable gloves when working with hot peppers.
Store unprocessed jars in the refrigerator for up to 2 months.
Store processed jars in a cool, dark place for up to 12 months.
Recommended Products
As an Amazon Associate and member of other affiliate programs, I earn from qualifying purchases.
Nutrition Information:
Yield:
32
Serving Size:
1 tablespoon
Amount Per Serving:
Calories:

58
Total Fat:

0g
Saturated Fat:

0g
Trans Fat:

0g
Unsaturated Fat:

0g
Cholesterol:

0mg
Sodium:

4mg
Carbohydrates:

15g
Fiber:

0g
Sugar:

13g
Protein:

0g
This data is provided by Nutritionix and is an estimate only.
Here are more homemade jam and preserves recipes you'll enjoy!
Making homemade preserves is the perfect way to use fruits and vegetables from your garden. Find all of my Canning Recipes here. Or check out some of my favorites: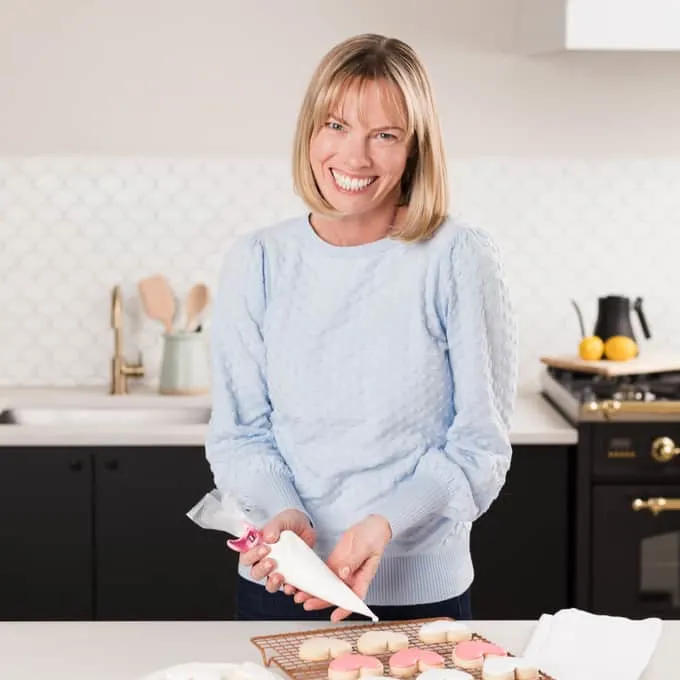 Holly Baker started the food blog, A Baker's House, in 2011. She is the writer, recipe creator, and photographer for the site. Holly loves to bake and shares recipes for gluten free food, canning recipes, as well as traditional desserts too. Her recipes and food photography have been highlighted by BuzzFeed, Reader's Digest, and She Knows.