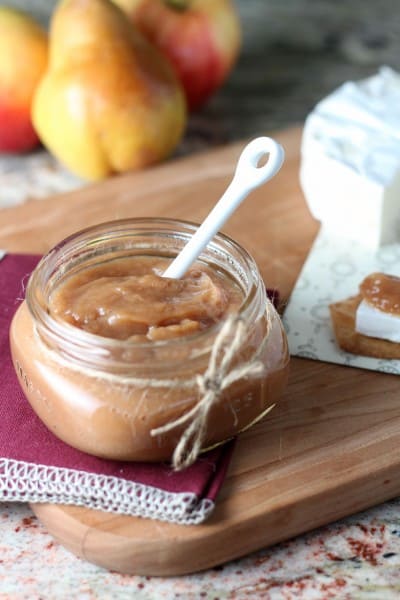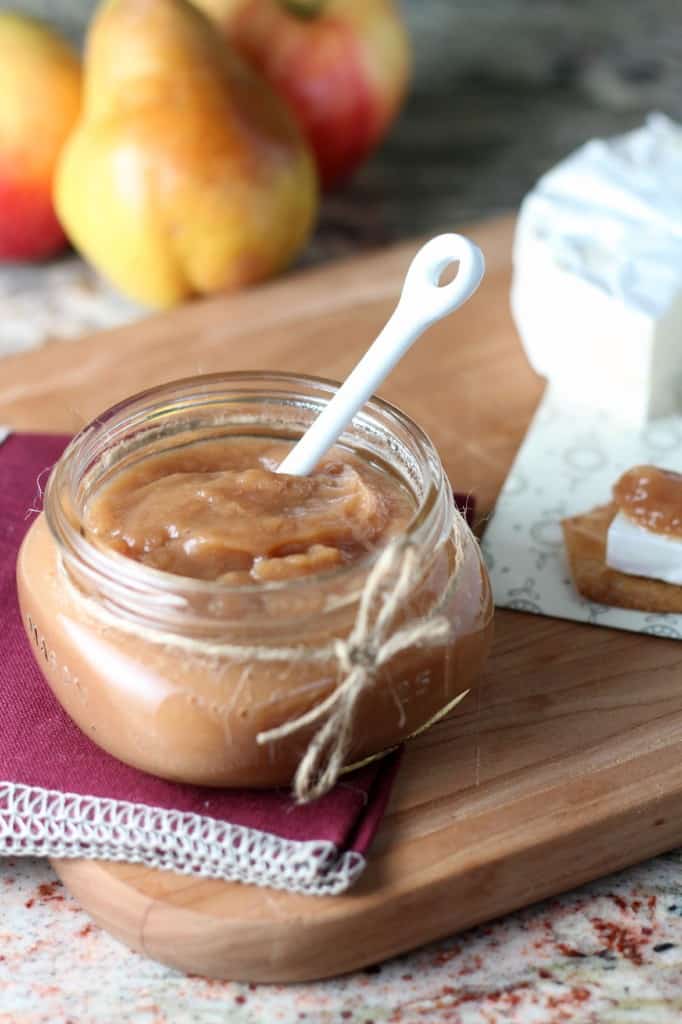 Spiced apple pear butter is a way to capture flavor of seasonal fruits to save for a future date. Preserving allows you to capture a feeling–preserving foods grants you the freedom of taking the memory of picking apples in an orchard and saving that happiness for another day. If you are lucky enough to live by a farm or orchard that offers fruit picking, take advantage of it! I grew up in Pennsylvania near berry picking in the summer and apple picking in the fall. Here in Colorado there are a few farms that are within an hour's drive that I have yet to visit but it is on my list of things to do. If you don't have an orchard near by you can still hold on to late summer and early fall seasons by shopping at Whole Foods Market for fresh ingredients to preserve. Whole Foods brings the orchard's goodness right to you! Many locations offer local fruits and vegetables with information cards next to the items showing the distance in miles between the farm and the store. You might be surprised to learn where the food you are eating is grown. What a neat reminder to support our local farmers!
Preserving doesn't have to involve complicated equipment. This recipe for spiced apple-pear butter is from the Whole Foods Market website but with a twist–I took a short cut by using a slow cooker. Simply use the list of ingredients in the Whole Foods recipe and cook on low for 6-8 hours in your crock pot. A crock pot is an excellent way to make fruit butters; the long, slow cooking time lets the fruit break-down while the flavor deepens. Don't stop at apples and pears– you can make peach butter, mango butter or pumpkin butter too. Cooking times on crock pots vary so keep an eye on the color and texture of your fruit butter, checking frequently and stirring every two hours. (I know, I know, you are not supposed to remove the lid from a crock pot while it is cooking as you lose a lot of the heat that has built up inside but I find that with fruit butters it helps to stir the mixture so the bottom layer doesn't burn).
Print
Spiced Apple-Pear Butter and a #WholeFoods #Giveaway
---
Ingredients
2 pounds mixed apples such as Fuji, Gala and Honeycrisp, peeled and cored
1 pound Bartlett pears, peeled and cored
1/2 cup apple juice or cider, or water
1/2 teaspoon cinnamon
1/4 teaspoon ground ginger
2 tablespoons grade A dark amber maple syrup
---
Recipe Card powered by
Whole Foods would like to offer one of my readers a $25 gift card so that you can enjoy buying local and preserving this season's goodness. If you would like to enter the giveaway please use the Rafflecopter below. The giveaway has ended.
Please note that I participate in the Whole Foods Ambassador Program. The food for this post was provided to me at no charge and all opinions are my own.