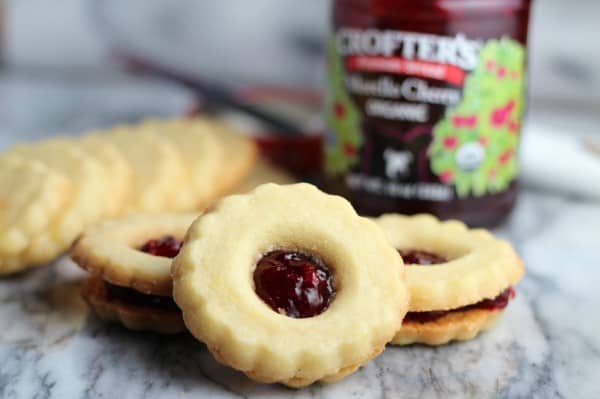 A baking group I bake with each month is thinking ahead to Valentine's Day in our group posts today. We are baking cookies with plenty of red and pink! I made these simple butter-based jam sandwich cookies and with some cherry jam in between two cookies, this treat really becomes something special and worthy of a holiday celebration!
Have fun with your cookies cutters and made heart shapes or keep it traditional with circles; this is a recipe to make ahead then roll out the dough with your kids.
The dough is soft and forgiving. If you don't like the thickness or shape of your cookie dough cut-out, just add the dough back into the pile of dough scraps and roll it out again. These plain cookies keep well in an air-tight container for a few days. Simply add the jam (or curd or buttercream) when you are ready to serve these sweet treats.
This jam sandwich cookie recipe comes from the book, Cupcakes & Afternoon Teas by Antony Wild & Carol Pastor. My sweet friend spotted this book recently and she knew it had my name written all over it! Baking sweet bites is what I love to do; if I could eat "tea-time" treats like scones, biscuits, cakes and iced cupcakes at each meal, I would. I know I'll make many more recipes from this lovely book– I hope you will too!
Sandwich cookies are fantastic because you get two cookies for the bite of one! Love it. Try Dulce de Leche Alfajores and Ginger Sandwich Cookies with apple butter cream. And is there a better sandwich cookie than a macaron? Salted caramel macarons are tops in my book.
Using a high quality jam is key here. The brand I reached for was thanks to my (picky) husband who requested that I get Crofter's cherry jam at Whole Foods this past weekend.
You wouldn't believe the difference it made in these sandwich cookies. The jam filling tastes like a summer cherry pie. If you close your eyes you can take yourself out of the winter doldrums and into the sunshine of August. I am going to try to recreate this cherry jam in my kitchen sometime soon, but until then (and even after!) Crofter's will be on my pantry shelf ready to go.