Fresh or frozen cherries brighten this cherry quick bread which is made in less than an hour from start to finish. Bake with gluten free or traditional flour to make this easy cherry bread: both results are a special treat!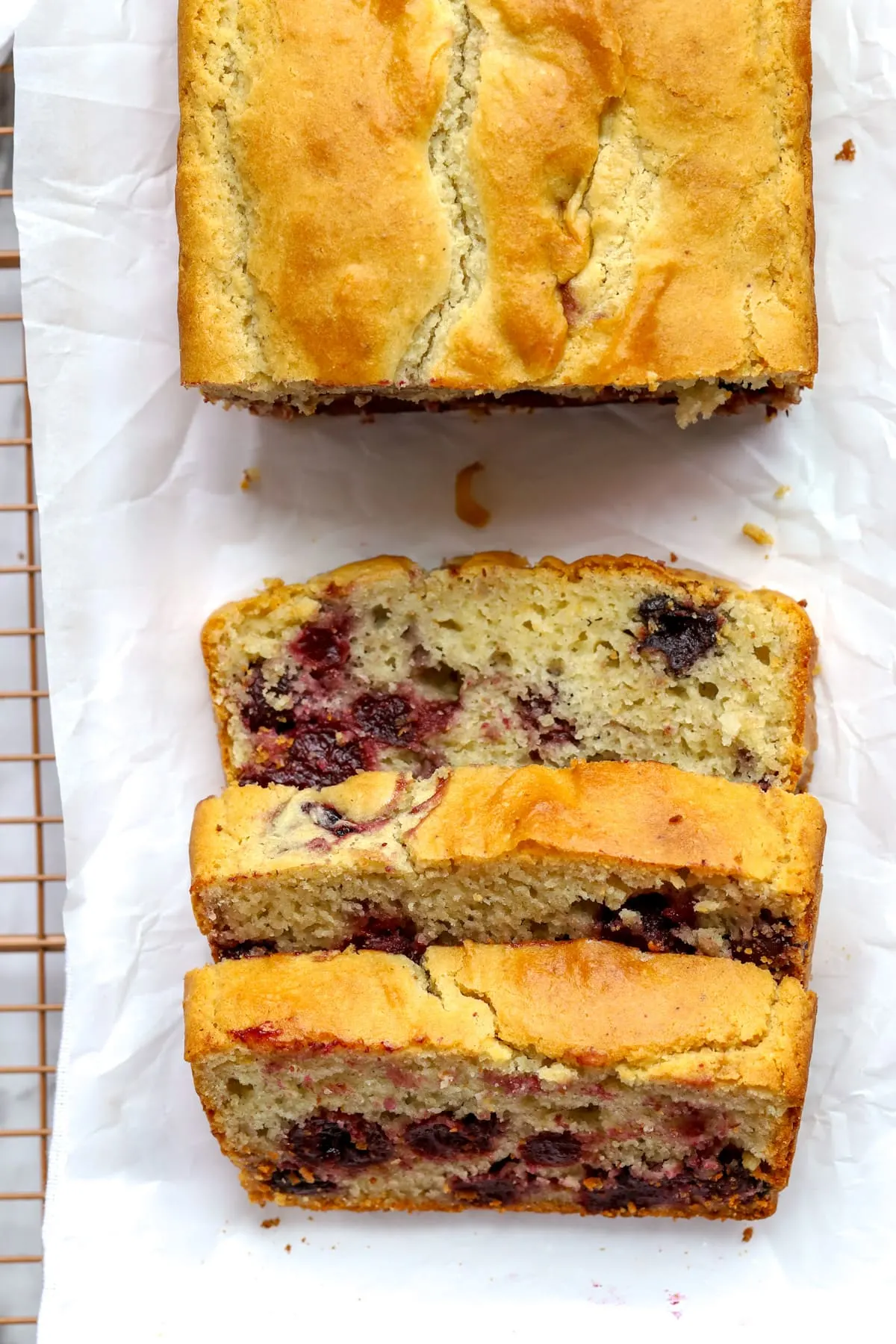 Simply the thought of a bowl of cherries can brighten your day. Yup, you are smiling already just thinking of a food memory with cherries as the star. Bright red and juicy, cherries are a happy food for sure.
Whether you need a traditional bread recipe or a gluten free recipe, this classic cherry bread will serve you well. I've made it both ways, switching between all purpose flour and a gluten free flour blend. It is a wonderful quick bread either way.
What is a quick bread?
Quick bread are breads that are made with leaveners other than yeast (or sometimes eggs). Baking soda or baking powder are the ingredients that create the leavening or volume in this type of baking.
The quick bread needs no time to rise in the way a yeast bread would. It must be baked quickly (hence, its name!). Other names you might be familiar with would be a breakfast bread or a loaf bread. These are all the same types of recipes.
Quick breads are nice because they are the fast-food of the bread world. A short ingredient list and about an hour from start to finish in your kitchen is the promise of most quick breads.
This recipe for cherry bread hovers between a bread that could easily be a breakfast treat or a sweet bite perfect with a cup of tea. All day long you will enjoy this cherry quick bread. The recipe is adapted from King Arthur website.
You are likely very familiar with some quick breads like banana bread, corn bread, scones, and most muffins. This cherry bread recipe is a wonderful way to incorporate fruits into your baking.
Ingredients: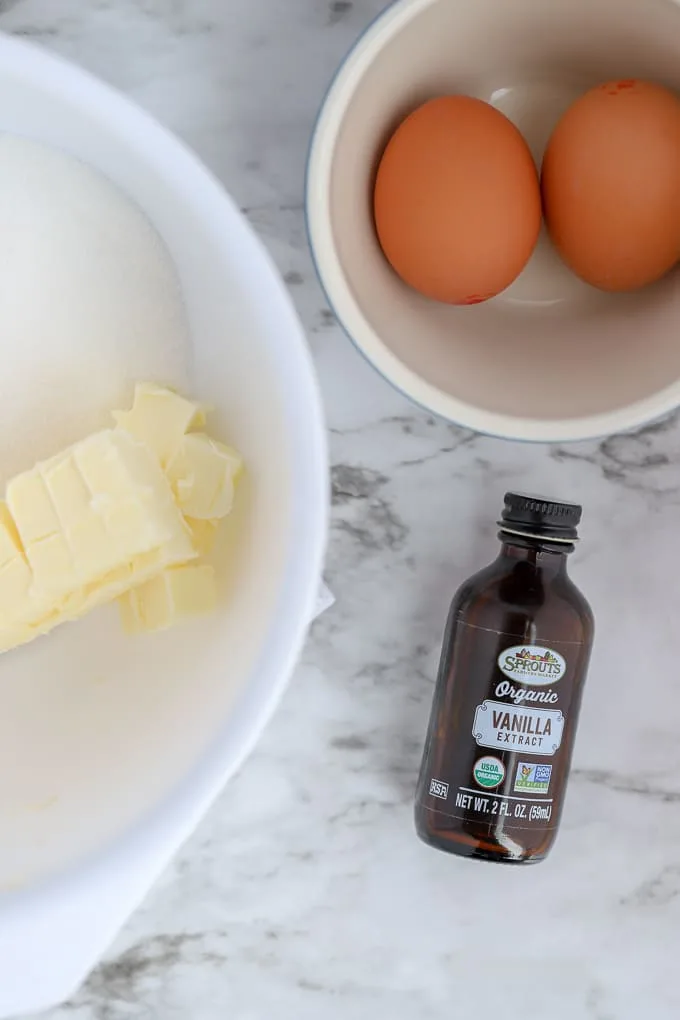 butter– this recipe calls for butter but you could substitute vegetable oil as that is more common in quick bread recipes. I like the richness that the butter adds.
sugar– granulated sugar is all you need for this bread.
eggs
vanilla extract
milk– use milk or choose a dairy free alternative like coconut milk or oat milk
flour- use all purpose flour for a classic cherry bread or substitute gluten free flour blend as I have done many times
nutmeg- an optional spice but one that pairs with cherries nicely
salt
baking powder
fresh or frozen cherries- read more about the choice of fresh or frozen cherries in the FAQ section at the bottom of this post.
How to make a quick bread:
OK, no big surprise here but quick breads are not meant to take very long to make. The ingredients come together quickly for this recipe for cherry bread.
Mix the dry ingredients in one bowl (except the sugar)
Beat the butter and sugar, add eggs, and other wet ingredients.
Combine the two, fold in the cherries and bake immediately.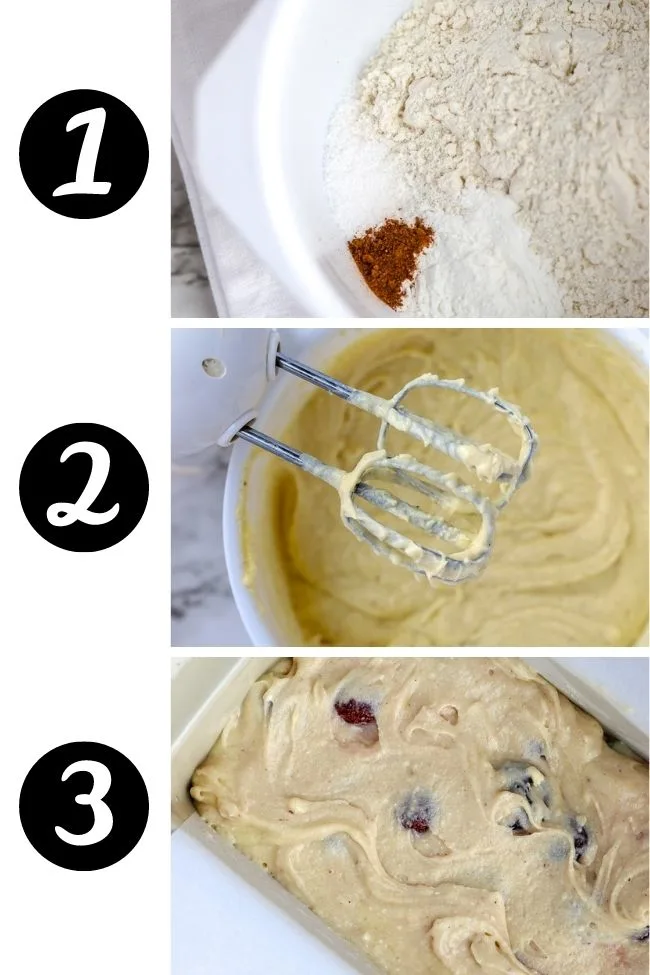 Can I bake with frozen berries?
Baking a bread with cherries yields two options: use fresh cherries or frozen cherries.
Fresh cherries are a beautiful ingredient. Unfortunately they aren't available fresh year round. You can easily bake with frozen berries in this quick bread.
The package of frozen cherries that I used stated that it was recommended to bake directly from frozen. Feel free to do just that.
I found success letting the cherries thaw for ten to fifteen minutes. Place them in a strainer over a bowl. You could even add the extra cherry juice back into the batter for more cherry flavor.
Looking for cherry recipes? You'll enjoy these: No Bake Cheesecake Bites and Ginger Cherry Cheesecake Squares.
Step by Step Photos
Let's go through each step to make this easy cherry bread recipe in a bit more detail.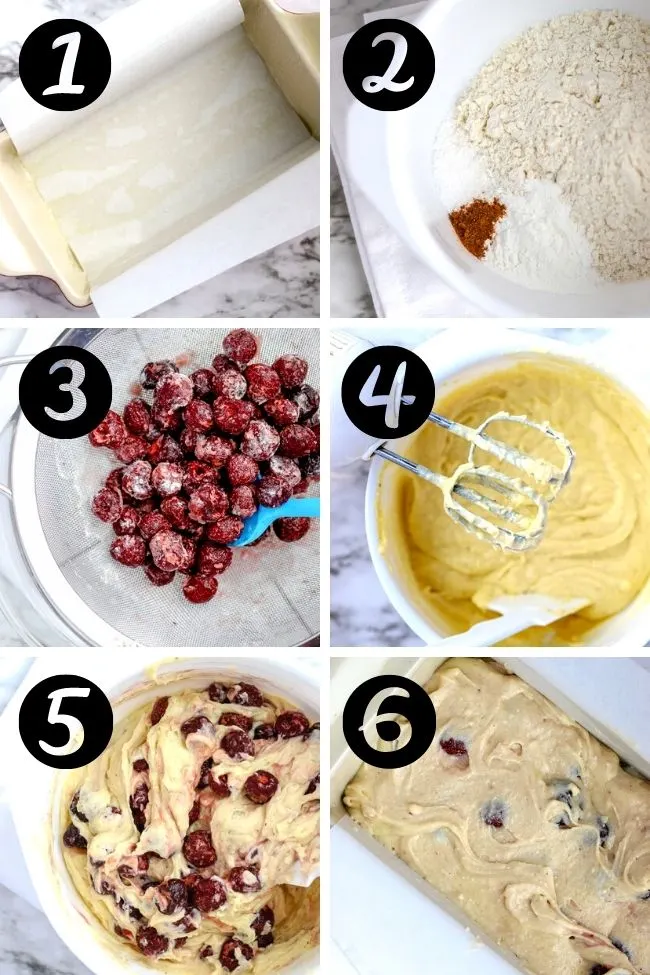 Prepare the pan with parchment and baking spray. Start by spraying your bread pan with baking spray. This will hold the parchment in place. Next, place the cut parchment such that the edges of the paper come up higher than the pan. This will give you handles by which you can lift the bread out of the pan once it is baked.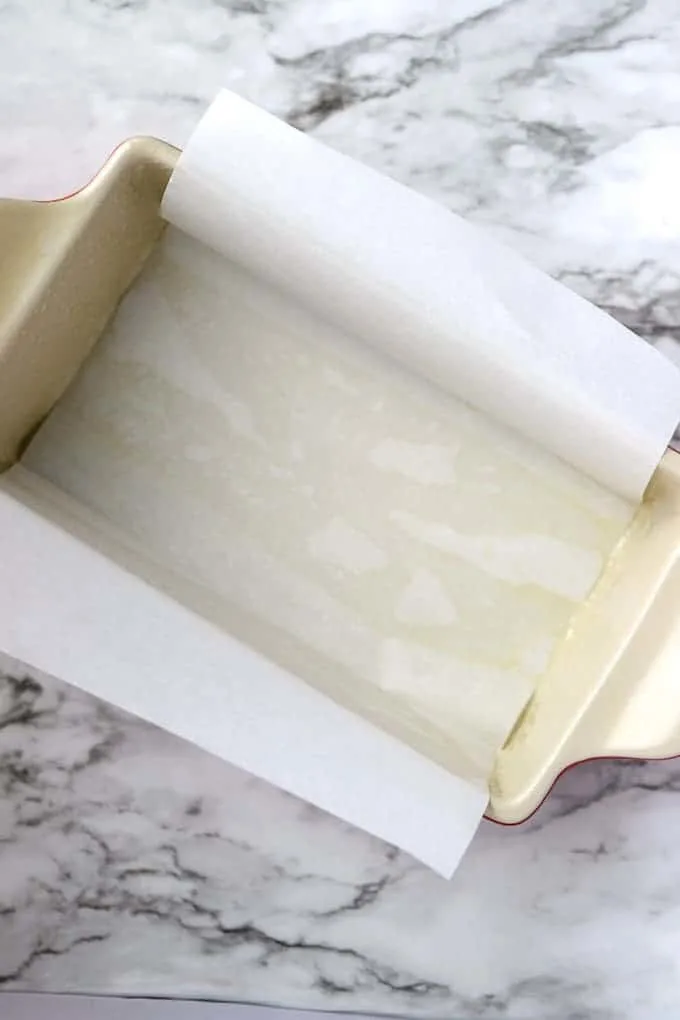 2. Whisk the dry ingredients of flour (gluten free or traditional), baking powder, salt and nutmeg. You can use other spices such as cardamom if you wish.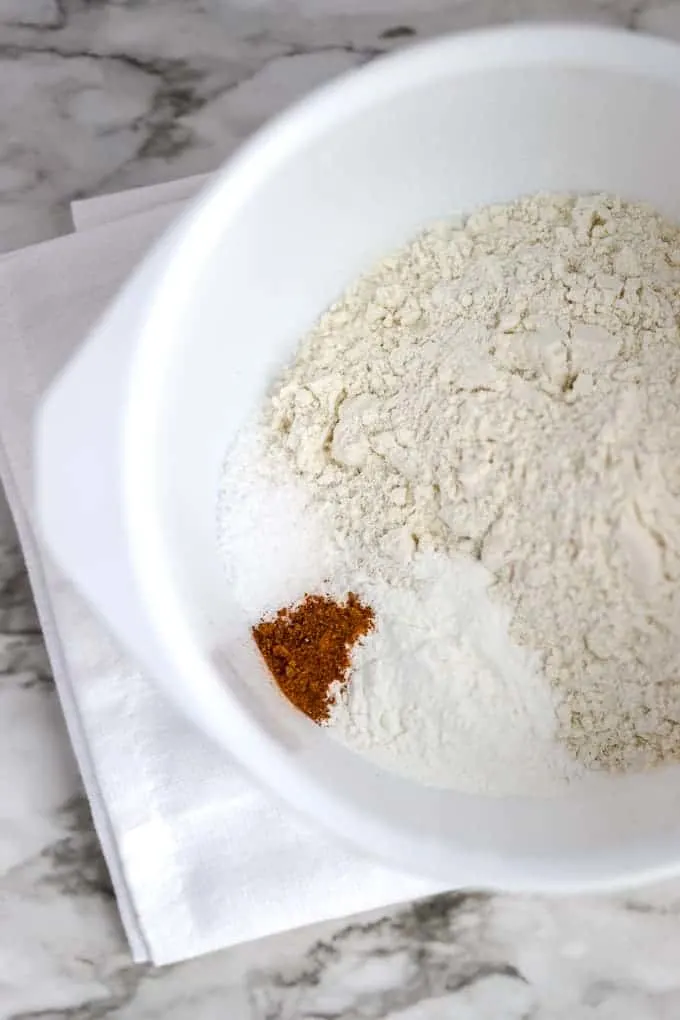 3. Let the cherries thaw then toss with flour. If you need a gluten free recipe, make sure to toss the cherries with a gluten free flour. Cornstarch is another option.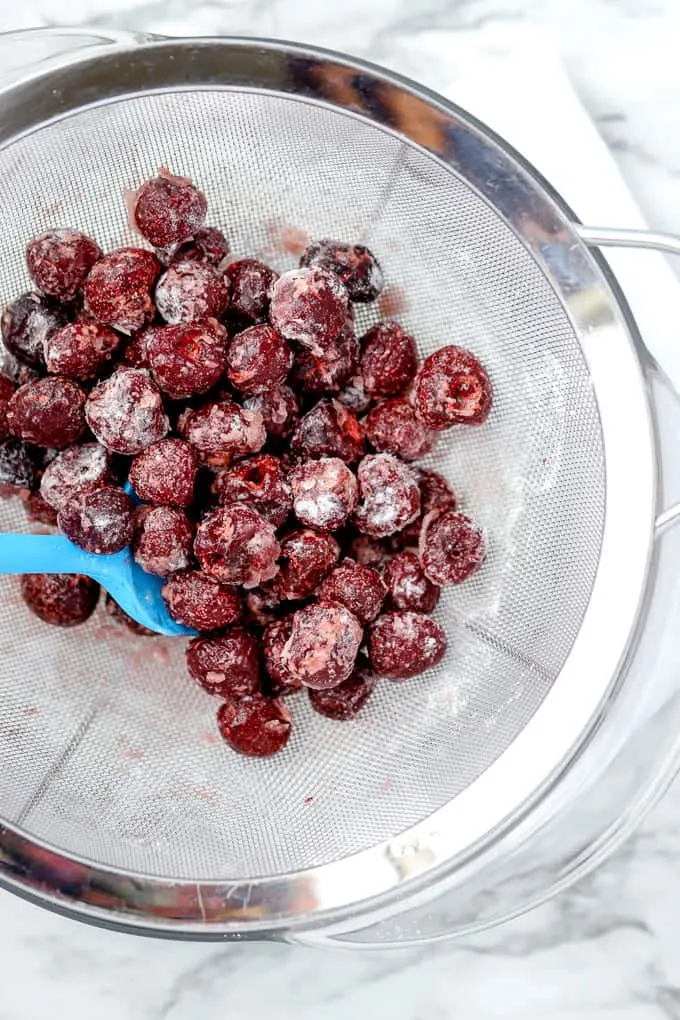 4. Prepare the wet ingredients of butter and sugar, then eggs, vanilla and milk. Use a whisk, a hand mixer or a stand mixer. The batter will be somewhat thick so I like to use a hand mixer for this recipe.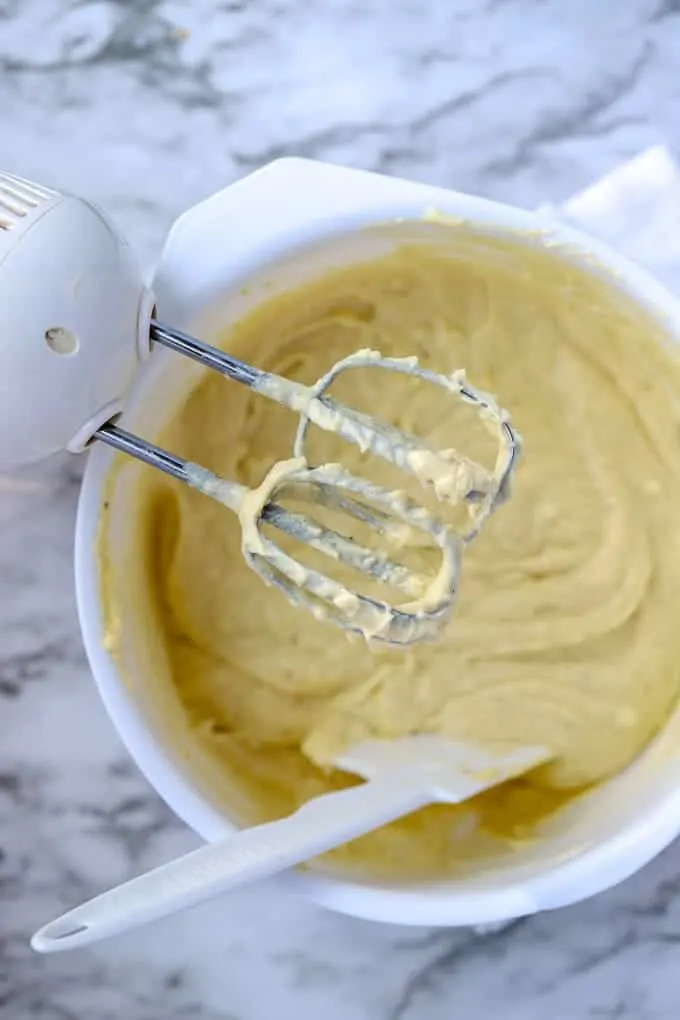 5. Fold the cherries into the batter. Don't overmix the cherries or you will find that their juices run into the batter. The bread will still taste great but you'll have streaks of color throughout.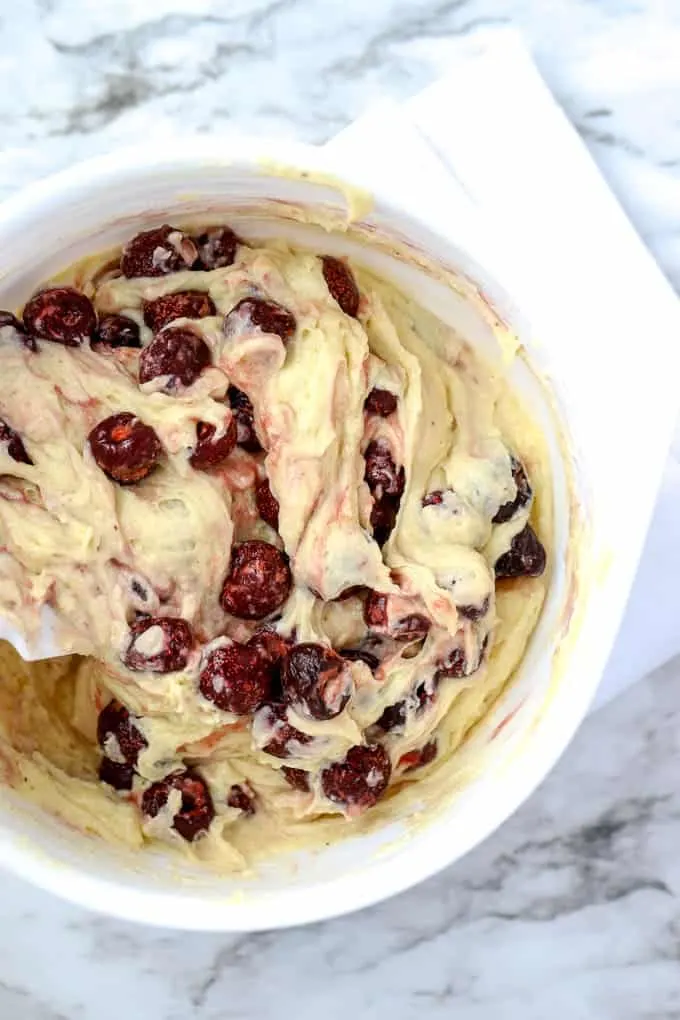 6. Then pour the batter into the prepared pan and bake. This is a thick batter so you may need to use a spatula to scrape it into the bread pan.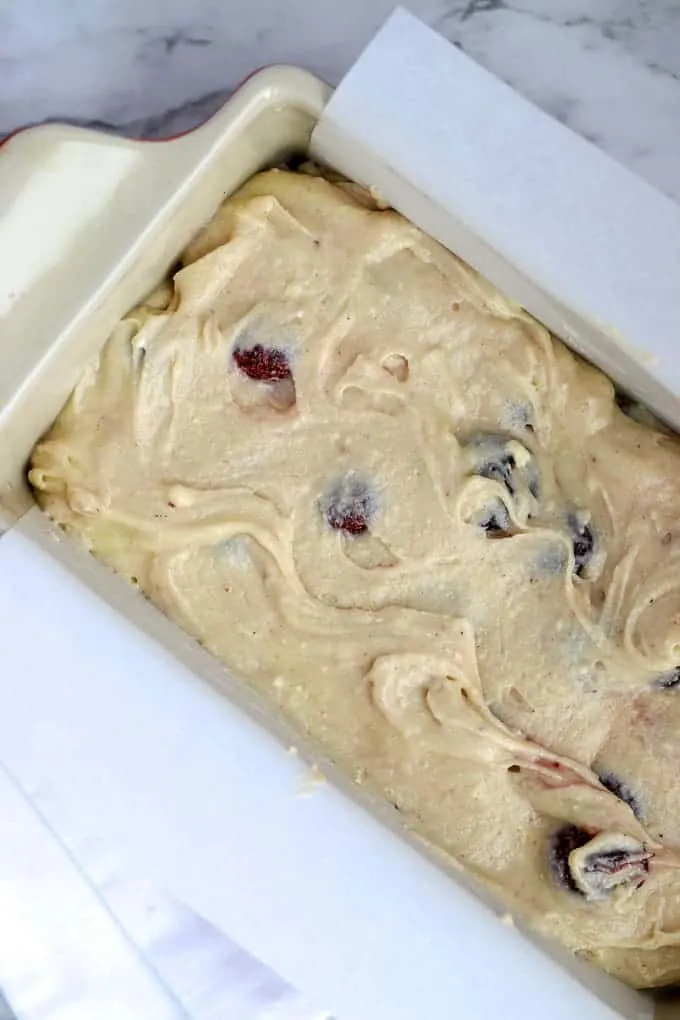 7. Bake until the top is a light golden brown. This photo shows the gluten free cherry quick bread cooling on a wire rack. Let the bread cool completely before slicing.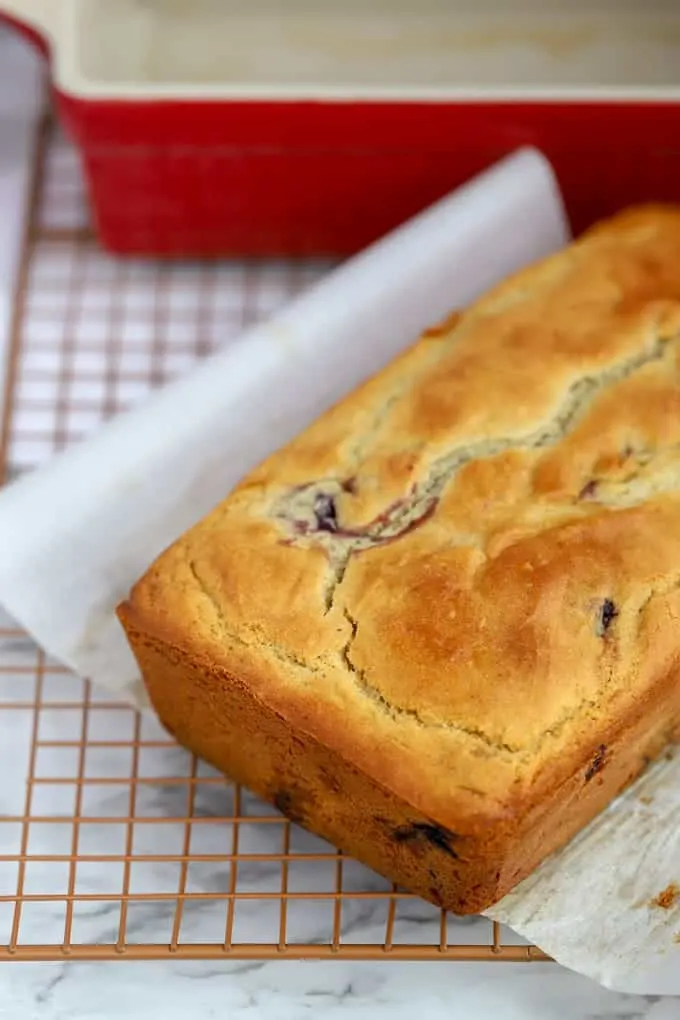 Tips for success:
Can I bake with frozen cherries?
Yes, fresh or frozen cherries work well. To thaw the cherries, set them in a strainer over a bowl and let them come to room temperature. Stir them gently a few times over the course of about 30 minutes.
Can I use maraschino cherries?
I use frozen tart cherries in this recipe. If you want to use other types when making bread with cherries, go ahead and experiment. To use maraschino cherries, first drain the liquid completely. Often maraschino cherries have red dye and other sweeteners added so this will change the color and taste of the baked bread.
How do I make a pink cherry bread?
Maraschino cherries with red dye will give you a pink bread. Drain the cherries first. You can mash them or even puree the maraschino cherries before adding to the batter to turn it a shade of pink once it is baked.
What gluten free flour do you use?
I use Bob's Red Mill 1 to 1 gluten free flour blend. Check that your GF flour blend contains xanthan gum in the ingredients. If not, add 1/2 teaspoon to this recipe.
How to store cherry bread:
Store cherry bread at room temperature for a few days wrapped tightly in plastic wrap or in an airtight container.
Can I freeze this bread with cherries?
Yes, quick breads freeze well. I like to slice the bread first, place parchment between the slices and then store in the freezer in an airtight container. Defrost in the refrigerator overnight or put on the counter to bring to room temperature.
My cherries sunk to the bottom.
Sometimes when baking with fruits or other add-ins, they sink to the bottom. Tossing them with flour can help, although the main issue is that whole cherries are heavy and it is tough to win against gravity. You can cut the cherries in half or in quarters if you'd like. More juices will seep out into your batter but that is ok.
Here is the web story for Cherry Bread.
More bread recipes
Looking for more quick bread recipes? Try this strawberry bread , raspberry bread or this upside down banana bread. Or if you have a bit more time and want to develop a yeast bread, try gluten free cinnamon rolls, whole wheat pita bread, or heirloom tomato focaccia.
Yield: 8
Gluten Free Cherry Quick Bread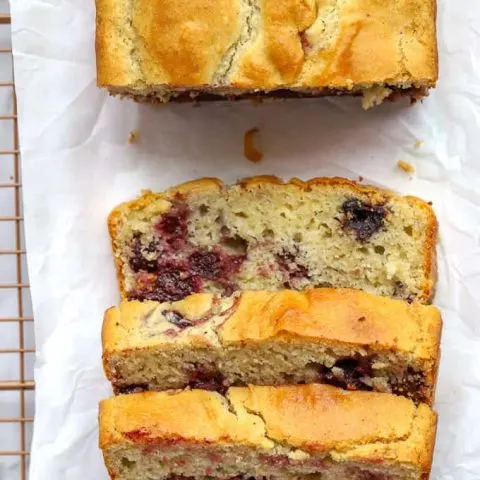 A recipe for gluten free Cherry Quick Bread or traditional cherry quick bread can be made in a loaf pan or in muffins tins. Baking with frozen cherries makes this an easy recipe for any time of year.
Total Time
1 hour
10 minutes
Ingredients
1/2 cup (8 tablespoons, 4 ounces) butter, softened
1/2 granulated sugar
2 large eggs, beaten
1 tablespoon vanilla extract
1 cup milk
2 cups 1 to 1 Gluten Free Baking Flour plus 1 tablespoon, separated.
1/2 teaspoon ground nutmeg
1/2 teaspoon salt
1 tablespoon baking powder
1 cup (1/2 pound) fresh (**Or 10 ounces frozen) cherries
Instructions
Preheat the oven to 350 degrees F. Prepare a 9 inch loaf pan with parchment and baking spray.
If using frozen cherries, let them thaw in a strainer for ten minutes. Toss with one tablespoon of gluten free flour. Set aside.
Mix the dry ingredients of gluten free flour, salt, baking powder and nutmeg. Set aside.
Beat the sugar and the butter until fluffy. Add the eggs one at a time. Add the vanilla and the milk.
Gently fold the wet and dry ingredients together. Fold the cherries into the batter. Do not overmix.
Notes
Should you require a gluten free quick bread, please ensure that all ingredients are gluten free. If you are looking for a traditional recipe, please use 2 cups all purpose flour in place of the Gluten Free Flour.
Tossing the cherries with flour helps them not to sink to the bottom. The weight of whole cherries makes it likely that they will sink to the bottom. That is ok, the quick bread is still just right. Cutting the cherries in half or in quarters and then tossing in flour will give them a chance to be better dispersed.
Nutrition Information:
Yield:
8
Serving Size:
1 slice
Amount Per Serving:
Calories:

171
Total Fat:

8g
Saturated Fat:

4g
Trans Fat:

0g
Unsaturated Fat:

3g
Cholesterol:

64mg
Sodium:

395mg
Carbohydrates:

20g
Fiber:

1g
Sugar:

5g
Protein:

5g
This data was provided by Nutritionix and is an estimate only
Are you on Pinterest? Join me and save this Pin on your bread boards!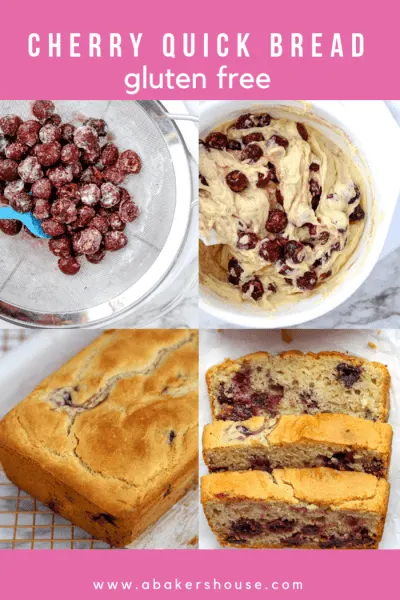 This post was shared in November 2018 and updated in February 2021.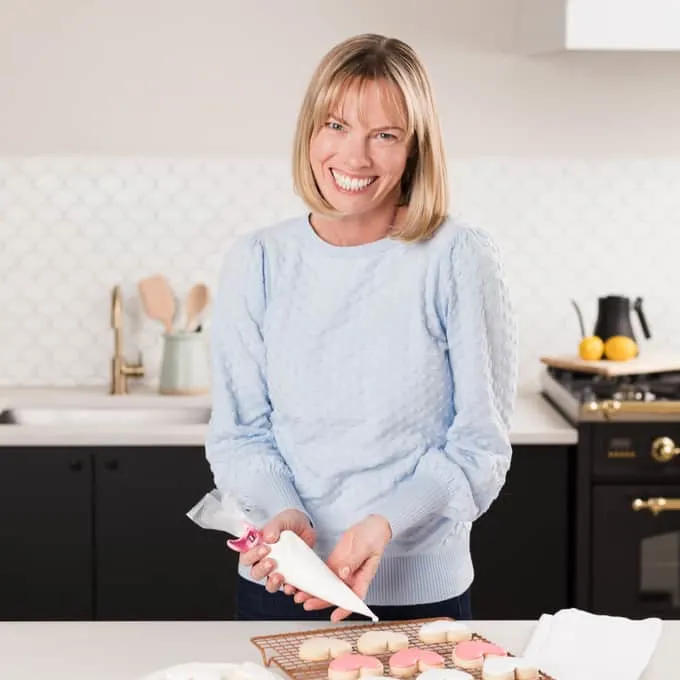 Holly Baker started the food blog, A Baker's House, in 2011. She is the writer, recipe creator, and photographer for the site. Holly loves to bake and shares recipes for gluten free food, canning recipes, as well as traditional desserts too. Her recipes and food photography have been highlighted by BuzzFeed, Reader's Digest, and She Knows.