Simple ingredients and a straightforward recipe come together in this Whole Wheat Pita Bread. Baking bread at home is so rewarding– the aroma, the soft bread, and the satisfaction of creating this pita bread at home are well worth the effort.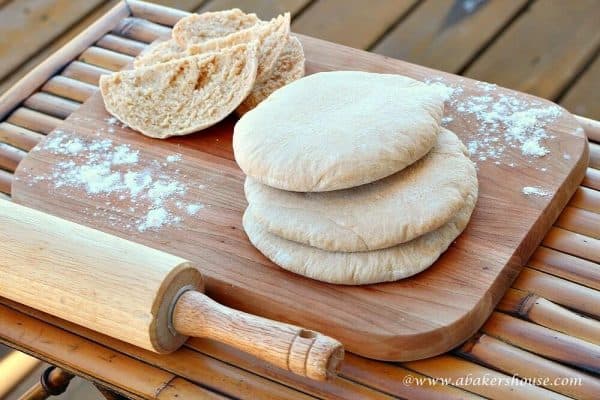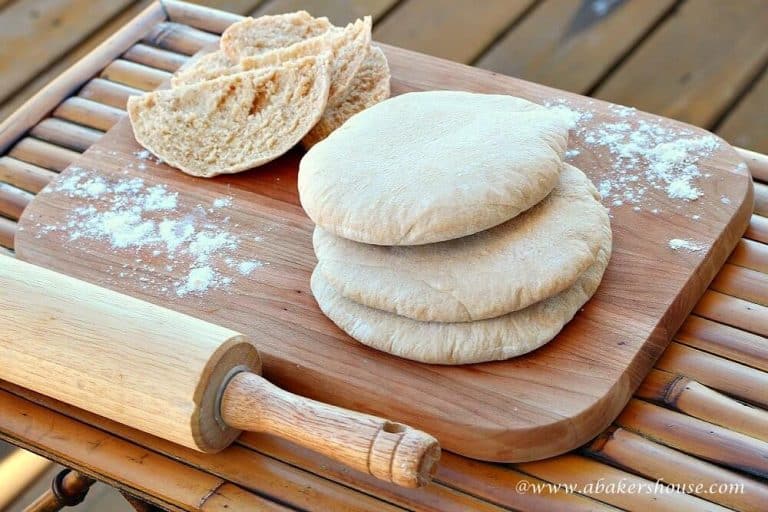 The idea of a whole wheat pita bread to start of my baking this year is ideal due to its simplicity. You can eat pita freshly baked, you can make pita chips, you can use it as a base for a homemade pizza.  Eat this flatbread with soups, make a sandwich, slice it and baked until crunchy for croutons on a salad. Yes, this is a versatile bread. And better yet, making whole wheat pita bread is not complicated. You have the few ingredients needed in your pantry already and the entire process takes a few short hours. Make it today for a meal tonight!
The recipe at A Fresh Loaf is one I will go back to again. A simple process with fantastic results. I chose to make pitas with some whole wheat flour—instead of 3 cups of all purpose flour I used two cups of all purpose flour and one cup of whole wheat flour. How will you modify the recipe to suit your tastes?
The #TwelveLoaves theme for January is a CLEAN SLATE—the sort of recipes that take fresh, simple ingredients and get us back to the basics of bread-making. I considered a simple white bread, a healthy whole-grain loaf, or a basic pizza dough but came back to this Pita Bread recipe found on A Fresh Loaf.
Print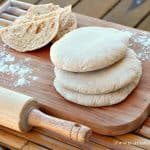 ---
Description
Make this fluffy, whole wheat pita bread at home. Heating the baking pan first is key to success!
---
Ingredients
Ingredients:
2 cups all purpose flour
1 cup whole wheat flour
1 Tablespoon sugar
1 packet of yeast ( I used instant)
1 1/4 to 1 1/2 cups water, slightly warmed
2 Tablespoons olive oil
---
Instructions
Mix the flours, sugar, and yeast together. Add the water and olive oil. Let the dough come together as you mix on low speed for at least 10 minutes.
Put the dough into a bowl coated with baking spray. Cover with plastic wrap (also coated with baking spray) and let rise until doubled, about 90 minutes.
Once the dough has risen, knock it down (this means to punch it down in the middle so that it deflates), then divide it into 8 pieces. Roll the pieces into balls, cover and let rest for 15 minutes.
Preheat the oven to 400 degrees F. Turn a baking tray upside-down and let it preheat in the oven too. You need a very hot surface on which you'll place your pitas to bake. The recipe suggests spraying your baking surface with water right before you place your dough in the oven.
Roll the dough balls out into thin circles. You may only fit a few at a time on your baking sheet. The pitas only cook a short time so you can work in batches and have perfect pitas in no time. I baked my pitas for 5-7 minutes each.  I had more success with thinly rolled dough (about 1/8 inch) as opposed to 1/4 inch thick dough.
---
Notes
I used a stand mixer but this recipe can also be made by hand.
Recipe Card powered by
 We'd love for you to join along and bake each month. Check out these links for inspiration. Here are the details:
Alabama Light Bread
by Dorothy |
Shockingly Delicious
Basic White Bread
by Renee |
Magnolia Days
Classic Oatmeal Bread
by Liz |
That Skinny Chick Can Bake
Grandmom's Dinner Rolls
by Jennie from
The Messy Baker Blog
Italian Potato Bread
by Rosella |
Ma Che Ti Sei Mangiato
Molasses Wheat Quick Bread
by Deb |
Knitstamatic
Pandoro by Paula | Vintage Kitchen
Rosemary Olive Oil Bread
by Alice |
Hip Foodie Mom
Whole Wheat Pita Bread
by Holly |
A Baker's House
Whole Wheat Sea Salt Bagel by Lora | Cake Duchess
Orange Date Nut Loaf
by Katerina |
Diethood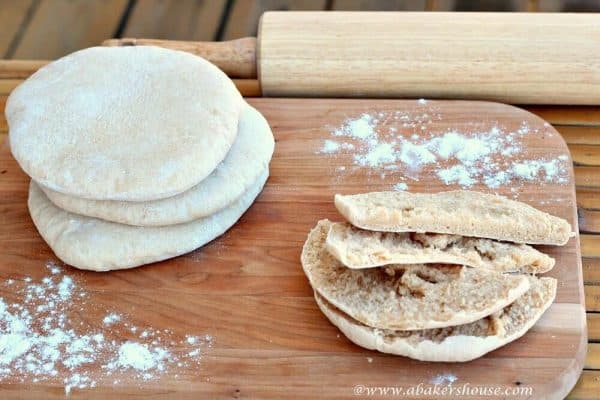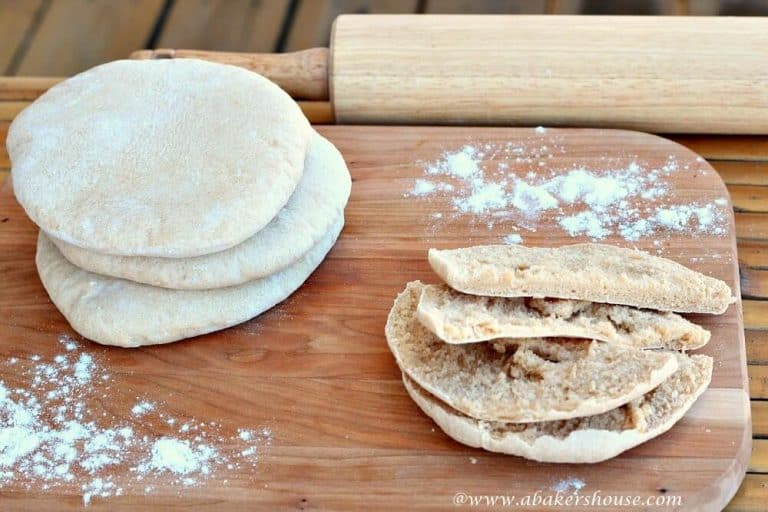 #TwelveLoaves January: Clean Slate. Bake a bread, yeast or quick bread, loaf or individual. January #TwelveLoaves is all about a clean slate. After the holiday indulgences, we are starting the year with simplicity. Have fun baking with whole grains and other flours. Share with us your favorite basic bread recipes. Let's get baking!
Some of my most popular homemade bread recipes are shared on A Baker's House:
Easy No Knead Whole Wheat Bread