Calling all mathematicians and cookie lovers– these pi cookies are ready celebrate Pi Day on March 14th! There may not be a better way to wish someone a Happy Pi Day than theses cookies shaped like the Greek letter, Pi.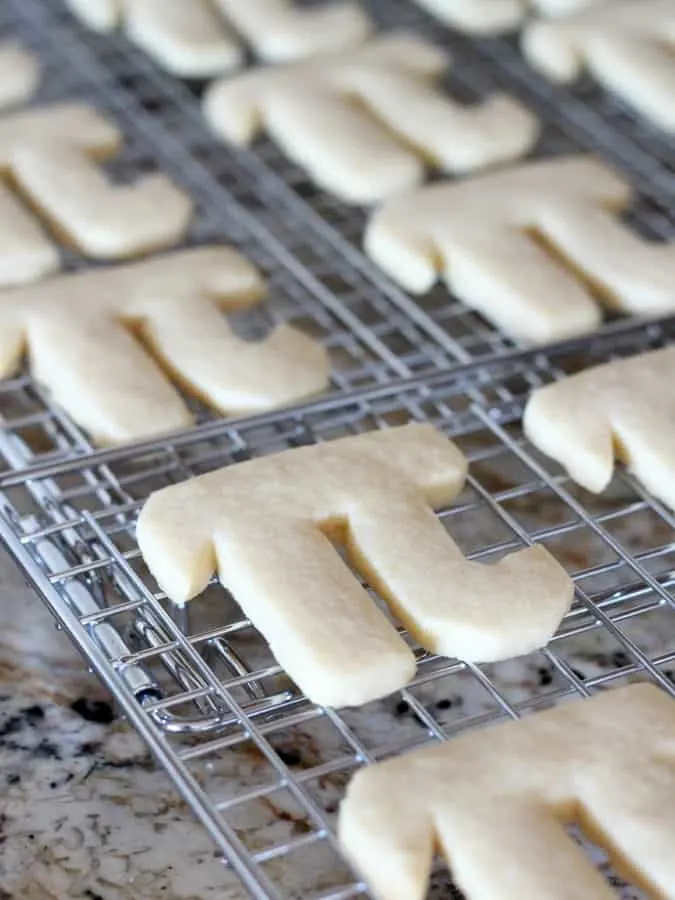 What is Pi Day?
Pi Day is a day dedicated to celebrate math. Specifically, the ratio Pi with a value of 3.14.
Pi Day Cookies give you a reason to celebrate Pi Day 2021. Not sure what Pi Day is but love to eat cookies? Read on! It is a day for mathematicians to get excited since March 14th can be written as 3/14. It's also fair game for anyone who likes pies…or cookies in this case!
The Greek letter, Pi, is used to represent the ratio of a circle's circumference (measurement around the circle) to its diameter (measurement across the circle)– and it is always 3.14. Want to learn more– check out www.piday.org.
I originally shared these pi cookies in the year of 2015 which was especially noteworthy since the next digits of Pi are also noted in that date: 3.1415 so 3/14/15. If you really wanted to get particular you could send up a cheer at 9:26 and 53 seconds since the first ten digits of Pi are 3.141592653 .
The cookies are just as good for this year's national pi day. Who needs pie when you can have cookies?
My son's math class had a Pi day celebration with pies and I sent in these cookies to add to the fun.
I also sent a few of these decorated sugar cookies to my friend who had recently earned tenure in her position as a math professor. (Yeah, so very happy for you!)
Math brains appreciate quirky occasions like Pi Day and everyone appreciates cookies so this is a win-win situation!
Pi Cookie Cutter:
So…it's not likely that you have a Pi cookie cutter in your collection. I don't either, although I may by this time next year. Math cookie cutters aren't an every day item.
Update: I do have a Pi Cookie Cutter now. I received it as a gift– hooray! Here are two options from Amazon: this comfort grip pi cookie cutter or this copper pi cookie cutter.
As an Amazon Associate I earn from qualifying purchases.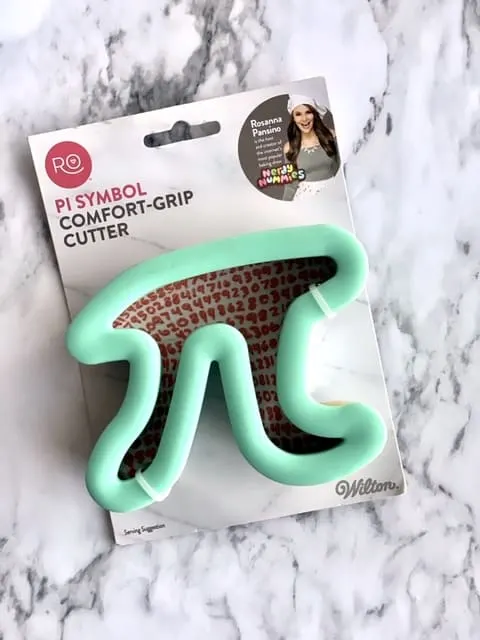 Pi Cookie Template
You can easily make a template to create your own Pi shape cookie. Start with a square or rectangle cookie cutter. This helps you have consistency in shape and size, as well as a straight edge on top.
Use cardstock or cardboard to cut a shape of Pi that fits within your cookie cutter square. Then when you roll out your dough, cut it into squares first with the cookie cutter and use a sharp knife to cut away the small bit of extra dough around your Pi shape.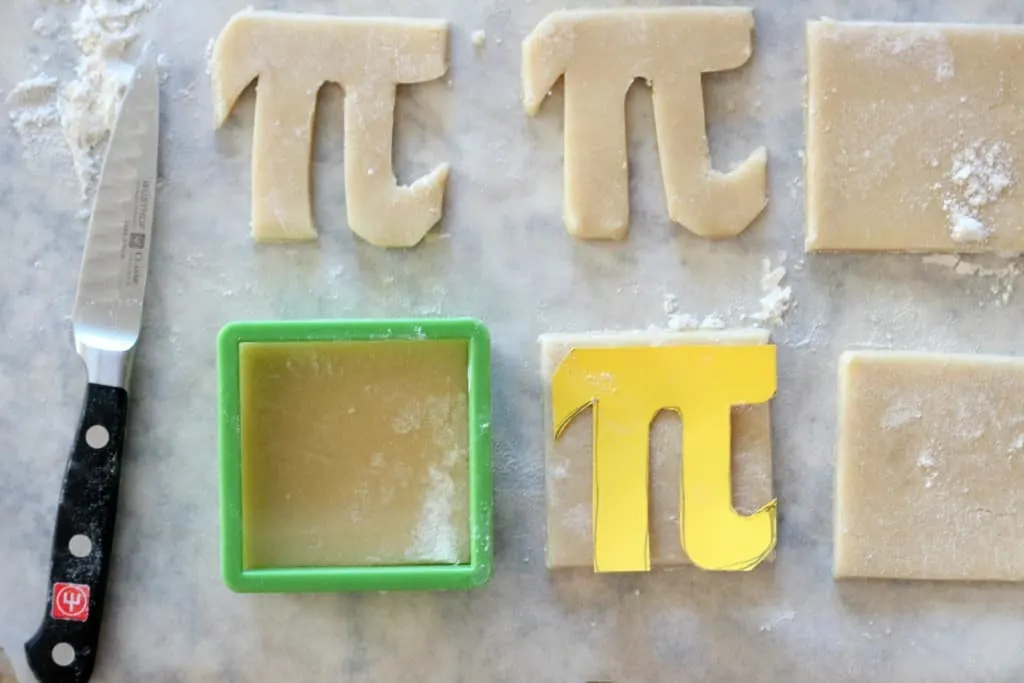 Remember that these are simply cookies and will be eaten in three or four quick bites– do not be hard on yourself as you try to create the world's most perfect Pi shape. They are just cookies! Leave them plain or ice them with royal icing or a simple glaze of confectioners sugar mixed with milk.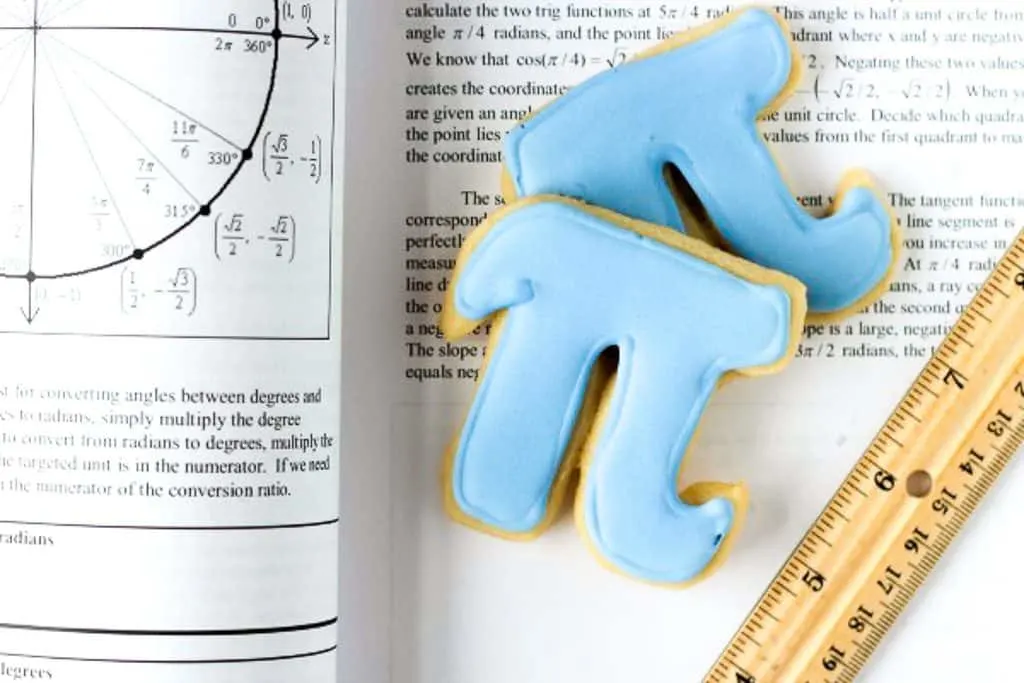 Print a Pi Symbol Label!
Did you know that I have a FREE Printables library? I love sharing labels that you can download and print yourself.
This printable sheet of 12 labels offers the Greek letter Pi which would be fun for math class, note cards, and Pi Day celebrations.
Are you on Pinterest? I am! Join me there and save this pin to your Cookie Board.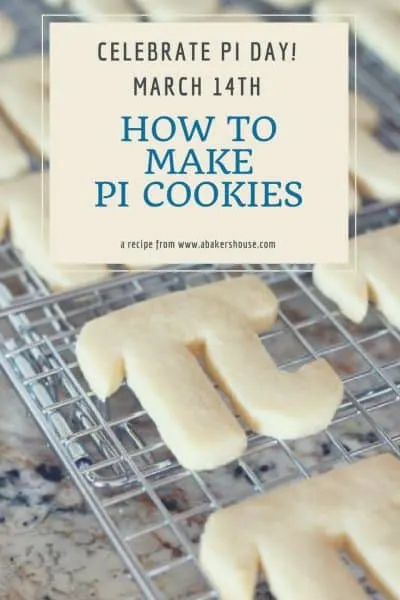 If you need a standard cut-out cookie recipe I often turn to Bridget Edward's recipe found on her site Bake at 350. She has excellent step by step directions and if you prefer a cookbook in your kitchen rather than a website, her cookie cookbooks are a necessity for any cookie baker.
Here are more Pi Day Dessert Ideas!
Eating PIE is a traditional way to celebrate Pi Day. Even if I do love cookies, having a great pie recipe on hand never hurts! You'll love these pie recipes for Pi Day!
When is Pi Day?
Pi Day is celebrated each year on March 14th.
What is the value of the Greek letter, Pi?
Pi is a mathematical constant that represents a ratio in a circle. The symbol, pi, is the ratio of the circumference (distance around the circle) to the diameter (distance across the circle). The value is rounded to 3.14 but is actually an irrational number that goes on with no ending digit. 3.141592654…
Who celebrates Pi Day?
Anyone can celebrate! Math classes, schools, libraries, math clubs, scientists, engineers, and beloved math nerds often mark March 14th on the calendar but everyone is welcome to have some math fun! Hopefully Pi Day will make a math lover out of anyone!
What are Pi Day activities?
Eating pie is a popular activity to mark P Day. I would suggest that eating these Pi Cookies is just delicious! Some people host math events, museums have special displays, and schools might offer fun math games for everyone to enjoy.

A local family in my neighborhood hosts a 3.14 mile run on March 14th. Possibilities are endless in ways to recognize Pi Day!

There is even a popular song with many renditions on You Tube called the Pi Day song which helps in memorizing the first 100 digits of pi.
What food is popular on Pi Day, March 14th?
Pies such as cherry pie, apple pie, lemon meringue pie, blueberry pie, chocolate pie, cookies, pizza pie, shepherd's pie, pot pie.
Would you like to know more about Pi Day?
Check out this Youtube video created by Raytheon.
There are more ways to celebrate Pi Day. My son has a Pi shirt complete with a math joke. Oh imaginary numbers can be hilarious! He's just added this Pi Day Shirt to his collection too!
Baking Supplies you may need:
Here's a Google Web Story all about Pi Day.
Yield: 2 dozen
How to Make Pi Day Cookies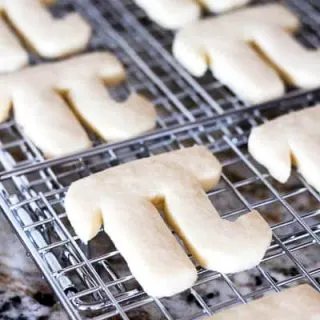 Wish a mathematician a Happy Pi Day with these adorable Pi Day Cookies!
Tools
Icing piping bag
Icing Piping Tip (optional)
Instructions
Bake sugar cookies in the shape of the Greek letter, Pi. This cookie cutter is perfect!
Make royal icing in any color.
Decorate the cookies then bag individually. Tie with ribbon or twine if desired.
Notes
If you don't have a Pi Shaped Cookie Cutter you can start with a rectangle cookie cutter then trace the shape of Pi with a paper template.
Recommended Products
As an Amazon Associate and member of other affiliate programs, I earn from qualifying purchases.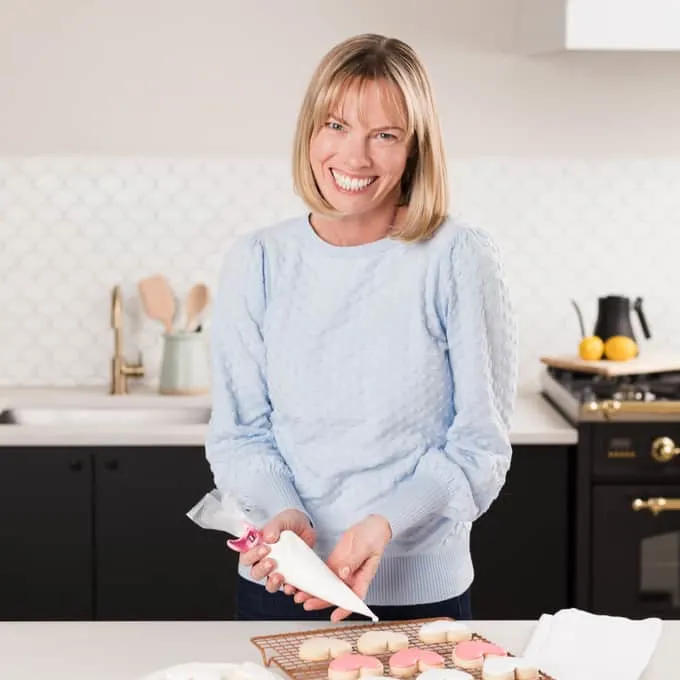 Holly Baker started the food blog, A Baker's House, in 2011. She is the writer, recipe creator, and photographer for the site. Holly loves to bake and shares recipes for gluten free food, canning recipes, as well as traditional desserts too. Her recipes and food photography have been highlighted by BuzzFeed, Reader's Digest, and She Knows.