Calling all mathematicians and cookie lovers– these pi cookies are ready celebrate Pi Day on March 14th!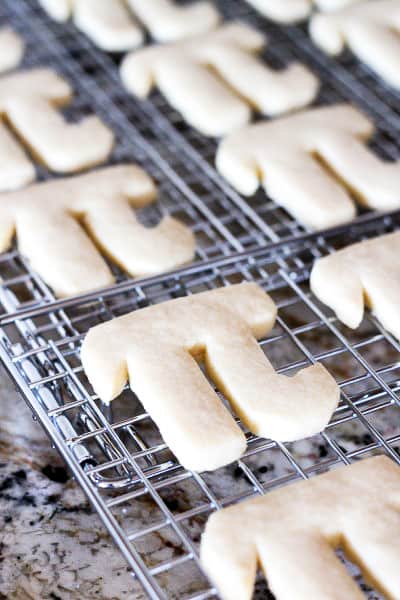 Pi Day Cookies give you a reason to celebrate Pi Day. Not sure what Pi Day is but love to eat cookies? Read on! It is a day for mathematicians to get excited since March 14th is 3/14. It's also fair game for anyone who likes pies…or cookies in this case!
The Greek letter, Pi, is used to represent the ratio of a circle's circumference (measurement around the circle) to its diameter (measurement across the circle)– and it is always 3.14. Want to learn more– check out www.piday.org.
I originally shared these pi cookies in the year of 2015 which was especially noteworthy since the next digits of Pi are also noted in that date: 3.1415 so 3/14/15. If you really wanted to get particular you could send up a cheer at 9:26 and 53 seconds since the first ten digits of Pi are 3.141592653 .
My son's math class had a Pi celebration with pies and I sent in these cookies to add to the fun. I also sent a few to my friend who had recently earned tenure in her position as a math professor. (Yeah, still so very happy for you!) Math brains appreciate quirky occasions like Pi Day and everyone appreciates cookies so this is a win-win situation!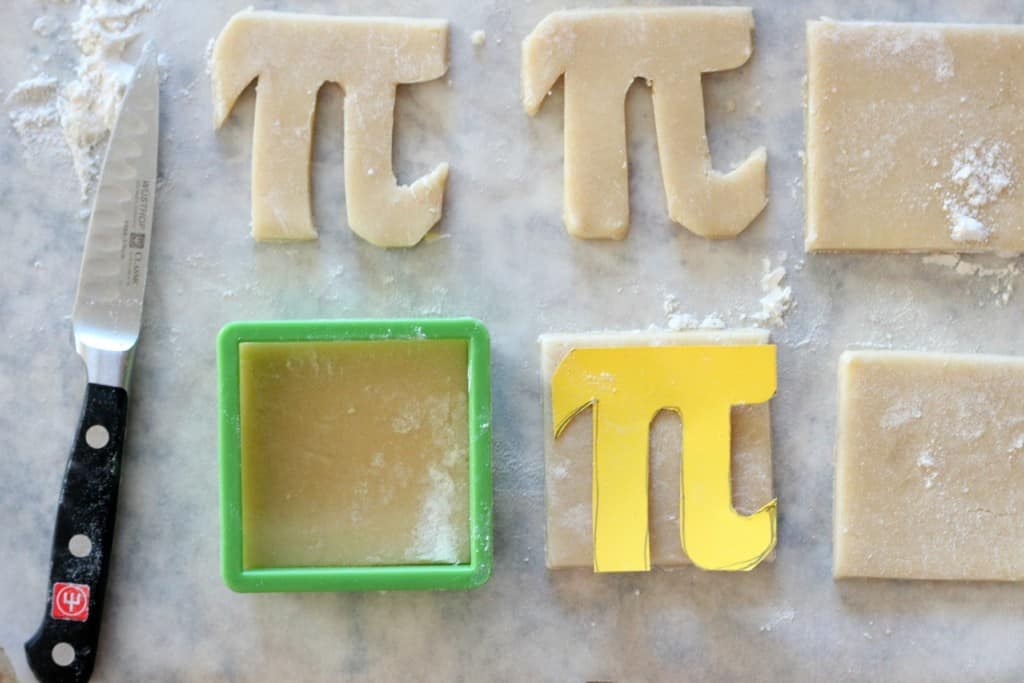 Pi Cookie Cutter:
So…it's not likely that you have a Pi cookie cutter in your collection. I don't either, although I may by this time next year. Here are two options from Amazon: this comfort grip pi cookie cutter or this copper pi cookie cutter.
You can easily make a template to create your own Pi shape. Start with a square or rectangle cookie cutter. This helps you have consistency in shape and size, as well as a straight edge on top.
Use cardstock or cardboard to cut a shape of Pi that fits within your cookie cutter square. Then when you roll out your dough, cut it into squares first with the cookie cutter and use a sharp knife to cut away the small bit of extra dough around your Pi shape.
Remember that these are simply cookies and will be eaten in three or four quick bites– do not be hard on yourself as you try to create the world's most perfect Pi shape. They are just cookies! Leave them plain or ice them with royal icing or a simple glaze of confectioners sugar mixed with milk.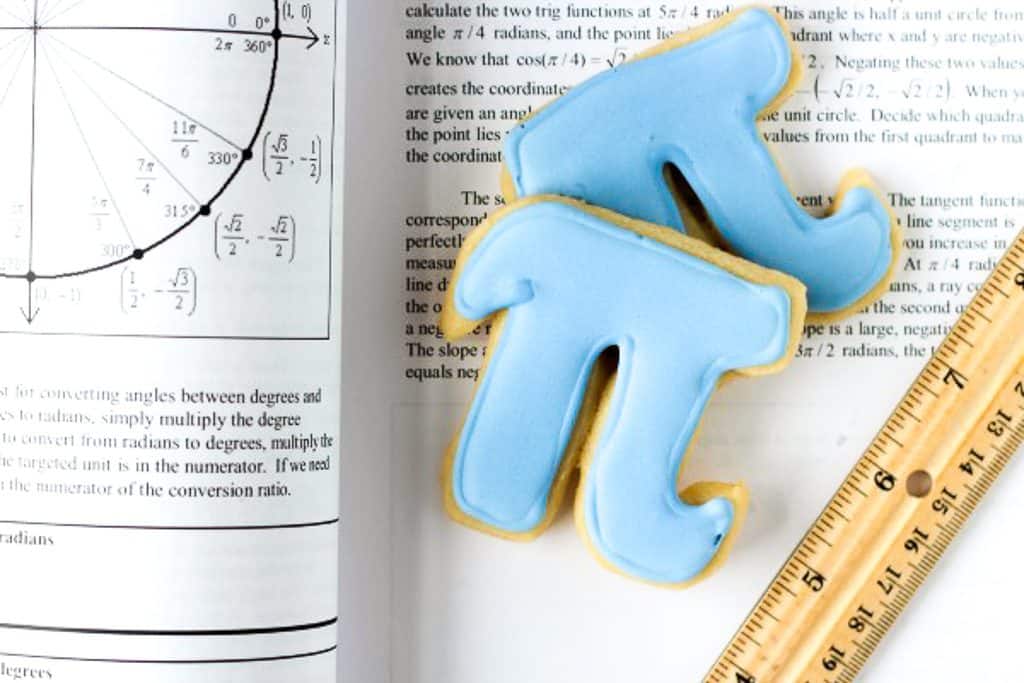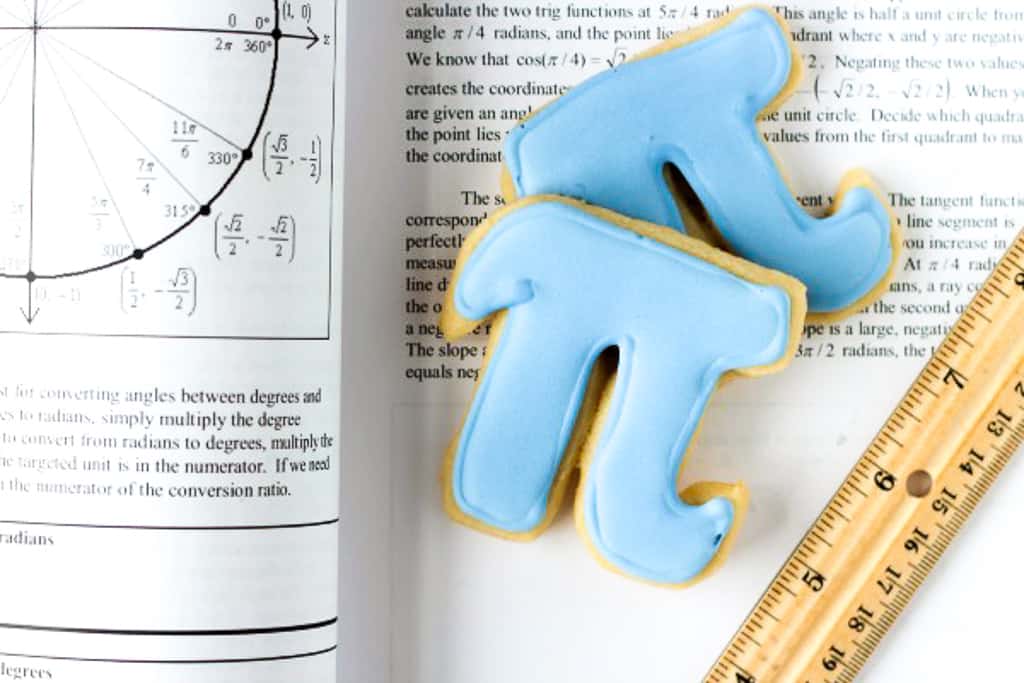 Are you on Pinterest? I am! Join me there and save this pin to your Cookie Board.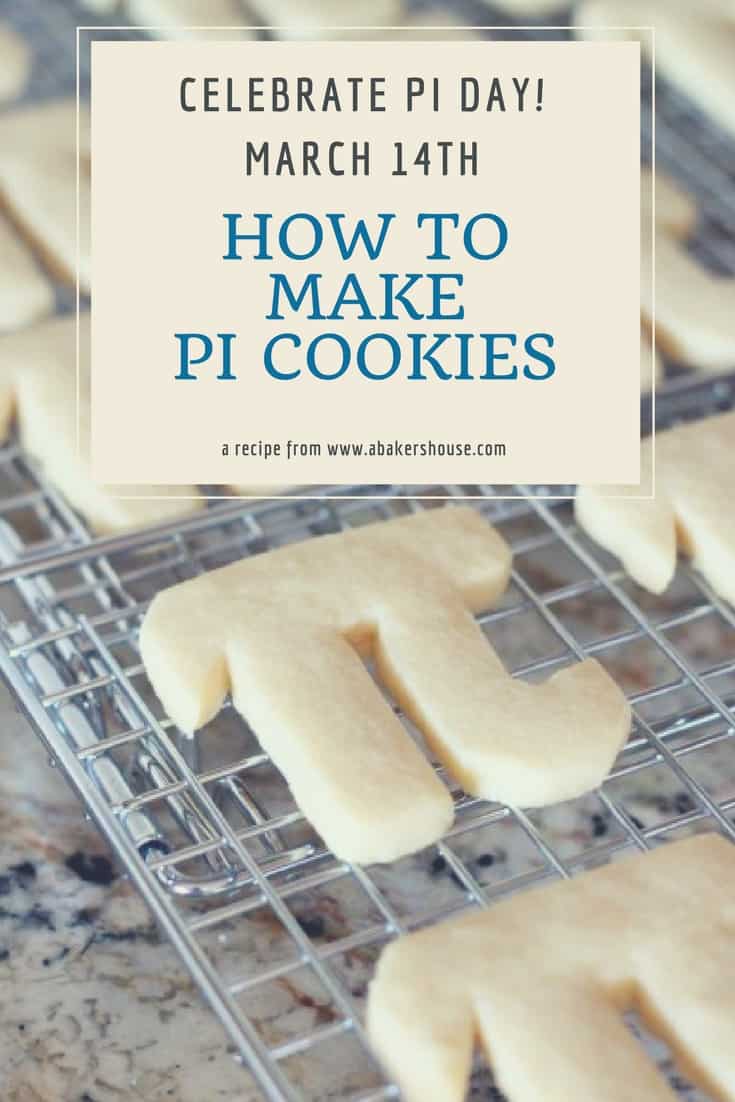 If you need a standard cut-out cookie recipe I often turn to Bridget Edward's recipe found on her site Bake at 350. She has excellent step by step directions and if you prefer a cookbook in your kitchen rather than a website, her cookie cookbooks are a necessity for any cookie baker.
Would you like to know more about Pi Day?
Check out this Youtube video created by Raytheon.
Baking Supplies you may need:
We are a participant in the Amazon Services LLC Associates Program, an affiliate advertising program designed to provide a means for us to earn fees by linking to Amazon.com and affiliated sites.