Strawberry Scones are easy to make and a perfect brunch recipe. Once you learn the basics of how to make homemade scones, you can make any scones flavor. Adding fresh organic strawberries to a traditional scone is a great combination! Top these gluten free scones with a quick drizzle of a sweet glaze to finish them off.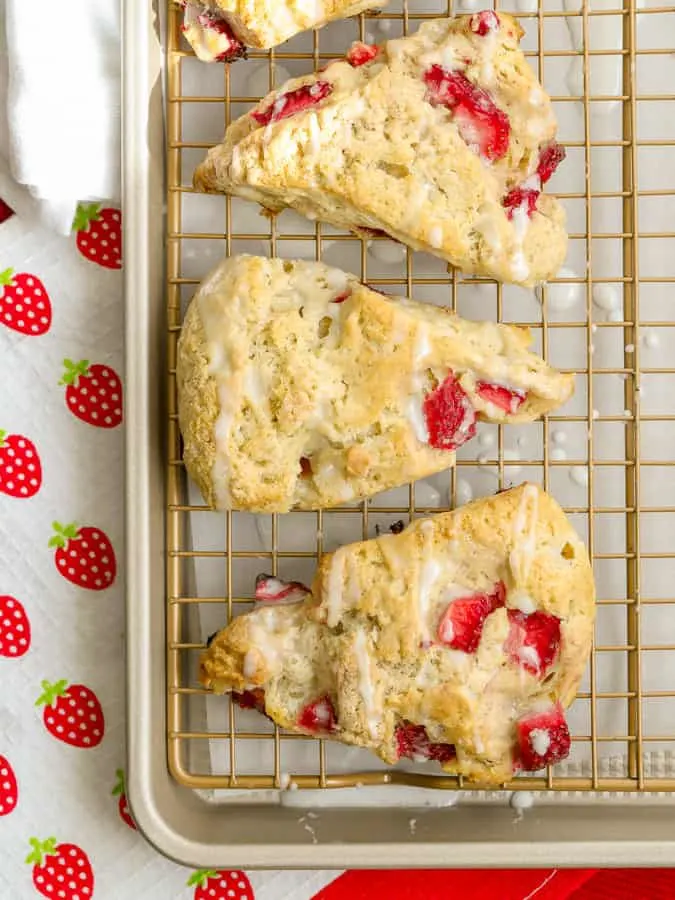 This post is sponsored by Sprouts Farmers Market. I appreciate the opportunity to share recipes made with ingredients from brands I trust and support. All opinions are my own and do not necessarily reflect those of Sprouts Farmers Market. #sponsored
What are scones?
A scone is a traditional British tea time treat that is similar to an American biscuit. The difference between scones and biscuits is that biscuits are light and fluffy while scones are dense and heavier. Scones have a crumbly texture and often have a sweet glaze on top. Scones are not like cupcakes or muffins but they are made with similar ingredients of flour, sugar, baking powder, butter, eggs, and vanilla extract.
Have you had scones from a bakery or do you have experience baking homemade scones?
If you love scones, you'll enjoy baking other scones flavors! Try these orange marmalade scones, pumpkn scones, or even a savory version like these cheese and chive scones to serve with soups and chili.
Quick bread recipes are among my favorite– you can whip up a treat in no time!
Why shop at Sprouts Farmers Market?
Take a look at these organic strawberries from Sprouts Farmers Market. I love shopping at Sprouts and wandering through the fresh produce — bright colors and fresh aromas always inspire my baking.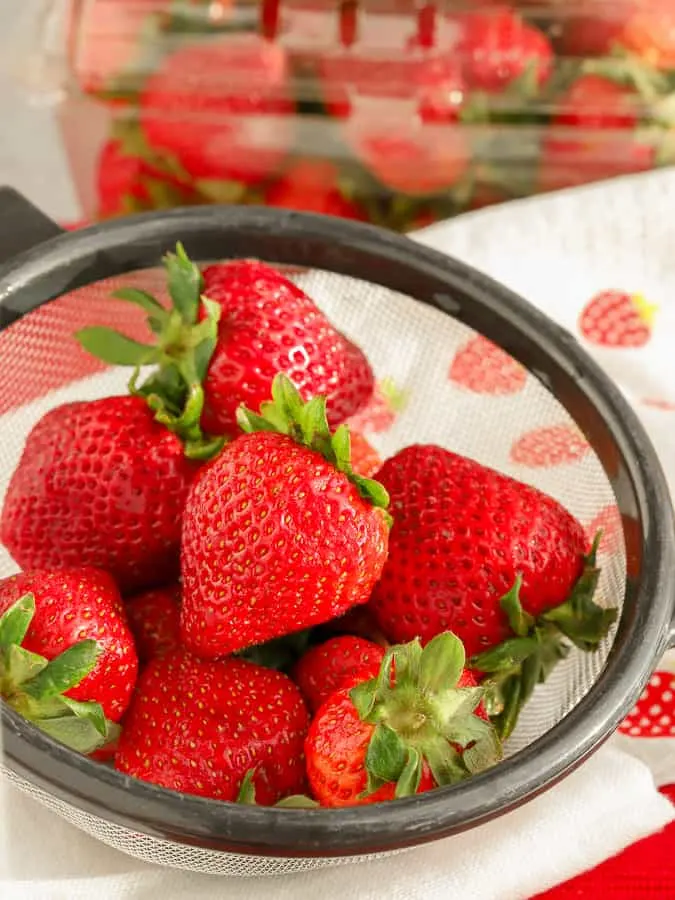 My local Sprouts stores have a wonderful selection of produce with great organic options. From berries to stone fruits and from seasonal fruits to exotic specialities, you'll find it all at Sprouts!
All the ingredients for this strawberry scone recipe were purchased from Sprouts.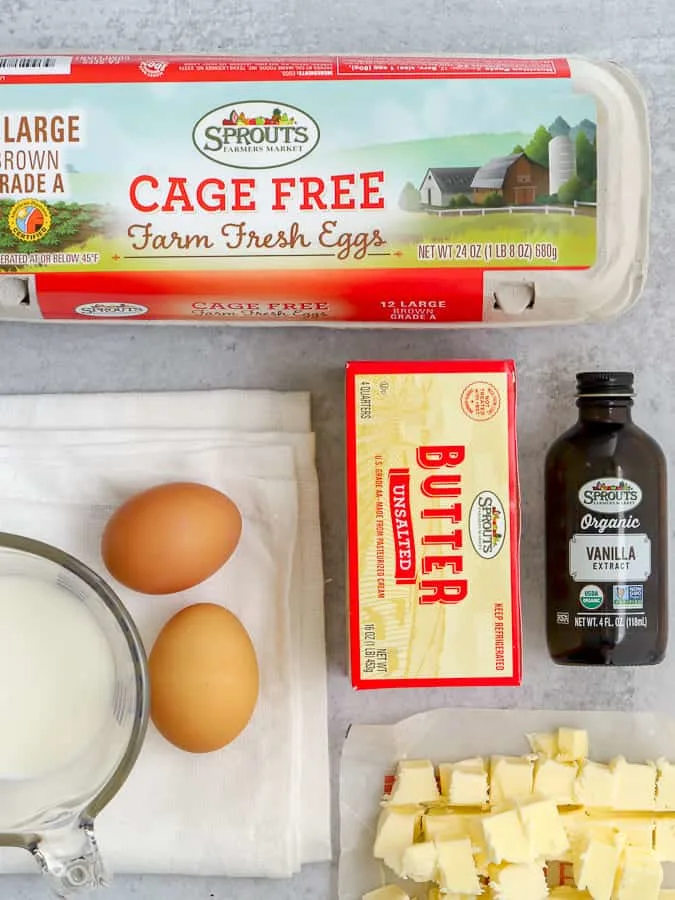 How do you make strawberry scones?
Homemade strawberry scones are easy to make.
Whisk together the dry ingredients
Cut in the chilled butter
Fold in the wet ingredients
Shape the dough into a flat disc then cut into triangle shapes (like pizza slices)
Separate the traingles slightly and brush with milk. Sprinkle with sugar.
Bake. Once cooled top the scones with a sweet powdered sugar glaze.
Are these scones gluten free?
Making scones gluten free is easier than you might think. Simply substitue a gluten free 1 to 1 baking flour mix for the all purpose flour. A gluten free flour blend will already have xantham gum included.
Always make sure that each ingredient is gluten free when you are baking gluten free desserts. Even ingredients like baking powder and vanilla extract need to be gluten free.
I found that freezing this gluten free scone dough in a flat disc before I cut the individual scones helped the scones to retain their triangular shape the best. You could also use a 2 inch round biscuit cutter or cookie cutter to make circular scones. Find more gluten free baking tips here.
What do you serve with strawberry scones?
Scones are the perfect finger food — no knife or fork required. Often the sweet powdered sugar glaze drizzled on top is all you need to enjoy a scone. If you are serving a proper British tea, you might serve your scones with clotted cream, jam, and lemon curd.
And because I can never get enough strawberries, I would suggest serving these scones with a pile of fresh strawberries and a dollop of whipped cream!
When do you serve scones?
An easy scone recipe is a must for an afternoon British tea. These strawberry scones would be ideal for a Mother's Day brunch, a weekend breakfast, a wedding shower or a baby shower. I love scones for breakfast any day of the week!
Scones are best eaten the day they are made. You may be wondering if you can freeze scones? Yes! If you need to plan ahead, make the dough and form the scones then freeze the unbaked scones until the day you want to enjoy them. You can bake the frozen scones directly from the freezer to the preheated oven, just add 5-7 minutes to the baking time.
Alternatively, bake your scones then freeze them in a freezer safe plastic bag. DO NOT add the glaze before freezing. Let the frozen, baked scones defrost at room temperature. You could even heat them at 300 degrees for 10 minutes or so before adding the glaze and serving.
Scones may be served warm or at room temperature.
Pin with me!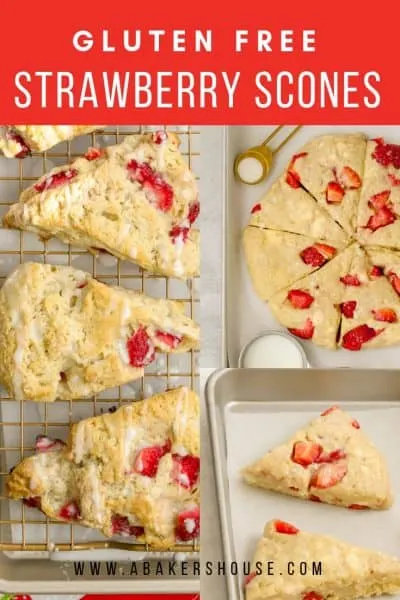 Looking for more strawberry recipes? Try these!
Yield: 8 scones
Strawberry Scones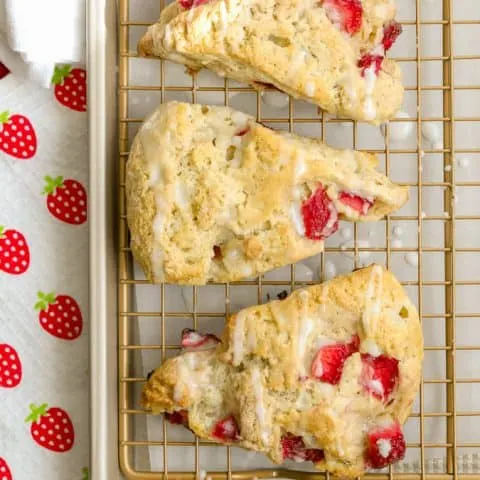 Bake scones with fresh strawberries for a delightful breakfast, brunch or afternoon tea treat!
Ingredients
• 2 cups 1 to 1 Gluten Free Baking Flour Blend
• 1/3 cup Sprouts granulated sugar, plus 1 teaspoon for dusting the scones before baking
• 2 teaspoons Baking Powder
• ½ teaspoon salt
• ½ cup Sprouts unsalted butter, cut into small cubes
• 2 Sprouts Cage Free Farm Fresh Eggs, whisked
• ¼ cup Sprouts Organic Milk, plus 2 tablespoons additional (to brush the scones before baking) and 1 teaspoon additional (glaze)
• 1 teaspoon Sprouts Organic Vanilla Extract
• 1 cup chopped strawberries (about 10 strawberries, washed, hulled, and chopped)
• 3 tablespoons Sprouts confectioners sugar (for the glaze)
Instructions
1. Heat oven to 400 degrees and prepare a baking tray with parchment paper.
2. Whisk together the 2 cups gluten free flour (or all purpose flour), 1/3 cup sugar, 2 teaspoons baking powder, and ½ teaspoon salt.
3. Use a pastry blender or two knives in the criss-cross method to incorporate the butter until the mixture is the size of small peas.
4. Fold in the whisked eggs, ¼ cup milk, and 1 teaspoon vanilla extract until the dough comes together. Fold in the chopped strawberries.
5. Form the dough into a circular disc and wrap tightly in plastic wrap. Freeze for 15 minutes.
6. Cut the disc into 8 triangular pieces. Place on the prepared baking pan. Brush with the 2 tablespoons of additional milk. Sprinkle with the additional teaspoon sugar.
7. Bake at 400 degrees F for 18-22 minutes or until lightly golden brown. Cool completely.
8. (Optional) Mix the 3 tablespoons of confectioners sugar with the 1 teaspoon of additional milk. Drizzle over the cooled scones.
Nutrition Information:
Yield:
8
Serving Size:
1
Amount Per Serving:
Calories:

181
Total Fat:

3g
Saturated Fat:

2g
Trans Fat:

0g
Unsaturated Fat:

1g
Cholesterol:

30mg
Sodium:

293mg
Carbohydrates:

34g
Fiber:

2g
Sugar:

17g
Protein:

4g
This data is provided by Nutritionix and is an estimate only.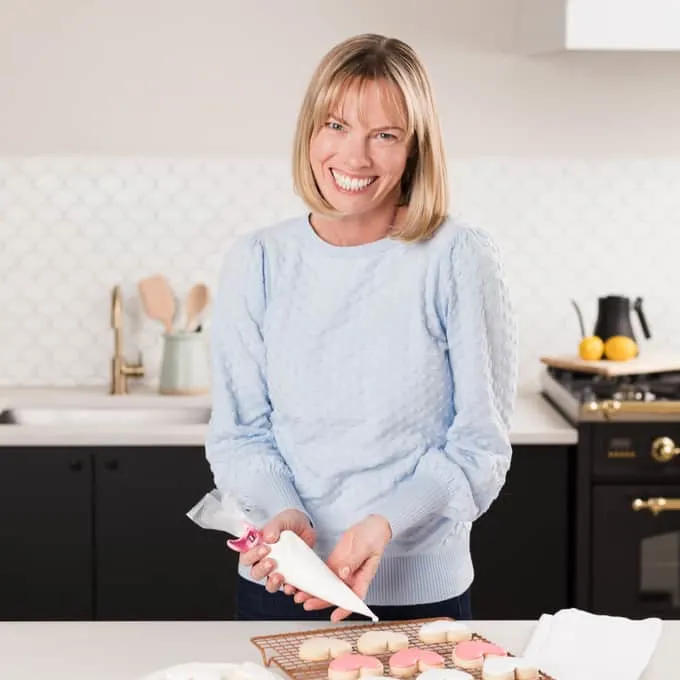 Holly Baker started the food blog, A Baker's House, in 2011. She is the writer, recipe creator, and photographer for the site. Holly loves to bake and shares recipes for gluten free food, canning recipes, as well as traditional desserts too. Her recipes and food photography have been highlighted by BuzzFeed, Reader's Digest, and She Knows.