Gluten Free Strawberry Muffins are filled with fresh strawberries for the perfect sweet bite at breakfast. Make these muffins for your family and serve along side cold Horizon® Organic milk.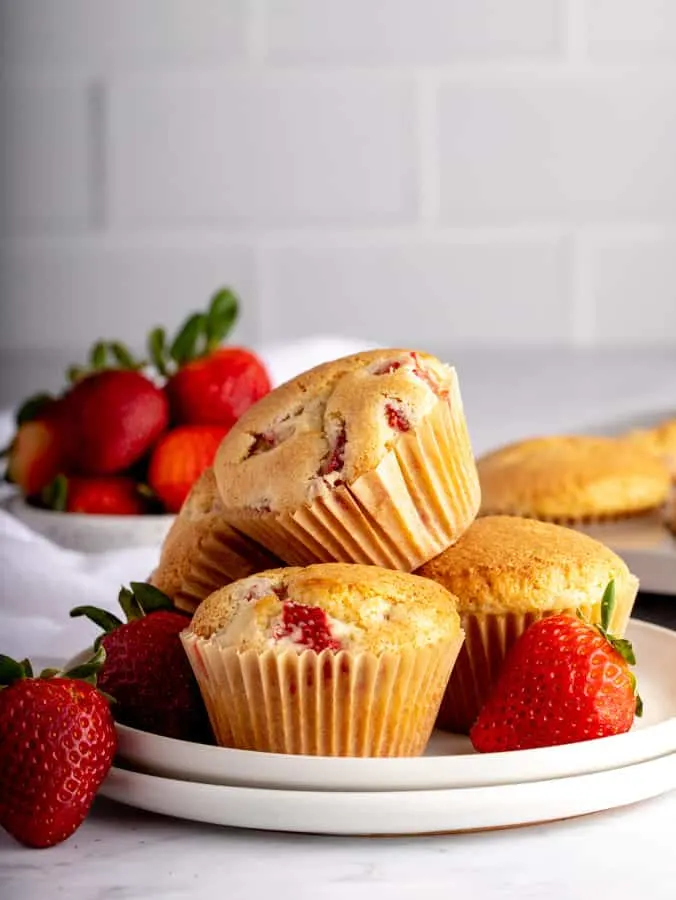 This post is sponsored by Horizon®. All opinions, comments and content shared on A Baker's House are my own and do not necessarily represent those of Horizon® or Danone North America. #sponsored
Homemade Muffins
Muffins always bring out the smiles at my house. I think because it is like eating a dessert for breakfast—a treat is needed every once in a while! Sometimes we use a box mix but more often we'll bake muffins from scratch. Most of the ingredients are staples in our pantry and then we customize the recipe with add ins like fresh fruit, chocolate chips, or dried fruit.
If you are excited about breakfast muffins, you'll also enjoy these gluten free banana muffins, vegan blackberry muffins, and pumpkin muffins too. Another breakfast recipe that highlights strawberries is this easy recipe for overnight oats.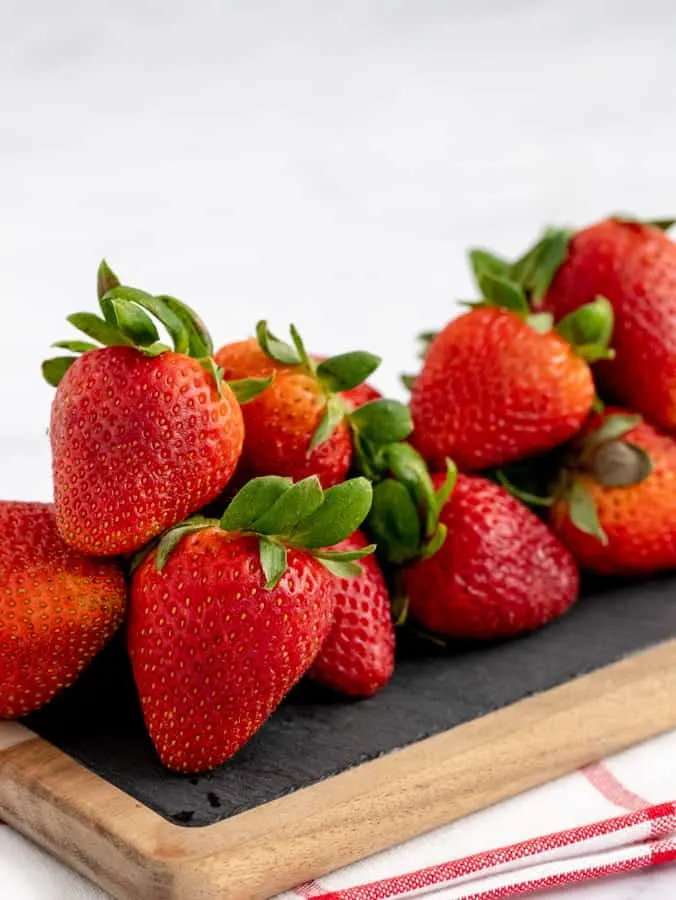 Today fresh, organic strawberries are a highlight in these gluten free muffins. The recipe takes under 30 minutes from start to finish so these delights will be on your table in no time!
Muffin recipes are easy to make and could be the perfect breakfast in bed for Mother's Day! Your kids will be proud of themselves for baking such a lovely breakfast.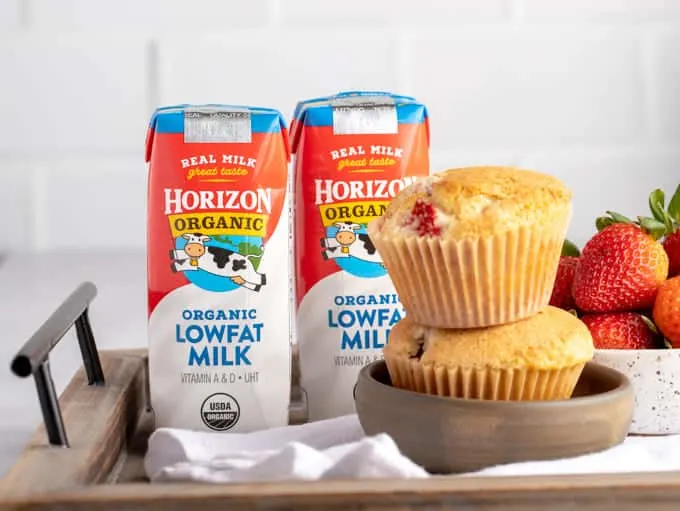 Ingredients in Gluten Free Strawberry Muffins
It comes as no surprise that the ingredients in these gluten free muffins don't vary much from my standard muffin recipe. Muffins are great like that—once you find a good ratio of ingredients you should stick with it.
gluten free flour blend
baking powder
salt
granulated sugar
Horizon® Organic whole milk
eggs
oil
fresh organic strawberries
If you don't need a gluten free recipe, feel free to use all-purpose flour instead of a gluten free flour blend.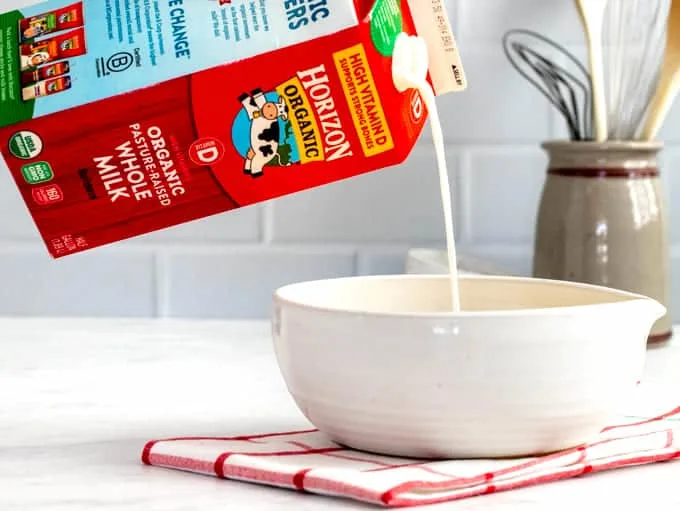 How to make Gluten Free Muffins with Strawberries
Preheat the oven. Fill a muffin tin with paper muffin cups.
Mix the dry ingredients of flour, baking powder and salt.
Whisk the sugar, milk, eggs, and oil.
Combine the wet and dry ingredients.
Add the chopped strawberries.
Scoop batter into muffin cups.
Bake and then cool before eating.
If you don't have paper muffin cups it's no problem. Simply spray your muffin tin with baking spray. Fill about ¾ full with batter and then bake. Muffins baked directly in the muffin tin might rise differently when compared to those in paper muffin cups. Both methods work well!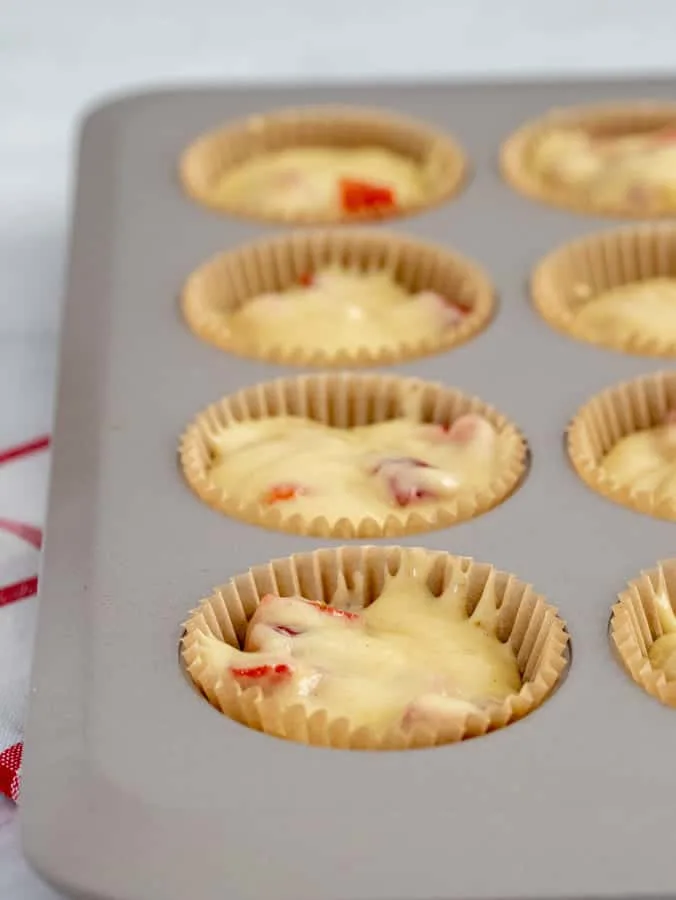 Baking with Frozen Strawberries
If you don't have fresh strawberries, frozen berries work well in baking recipes too! There are two schools of thought—either bake with the berries directly from frozen OR let the berries thaw first and drain some of the excess liquid before adding them to your batter.
I more often choose to bake with frozen berries. I think thawed berries get mushy and tend to spread their color around the batter.
Whether you are using fresh or frozen, a good tip to help evenly distribute your berries in the muffins is to toss the berries with flour (or gluten free flour) first before adding them to the batter. Why? Berries are heavy and fall to the bottom of the muffin.
A coating of flour may help the berries stay suspended a bit better. Does this work all the time? No. Gravity happens! I still choose to take a minute for this step in hopes that it will help. Other ideas might be to dot a few berries on top of each scoop of muffin batter before putting these into the oven. In any case, these gluten free muffins with strawberries are loaded with berries and you'll surely find a sweet bite no matter where your berries end up.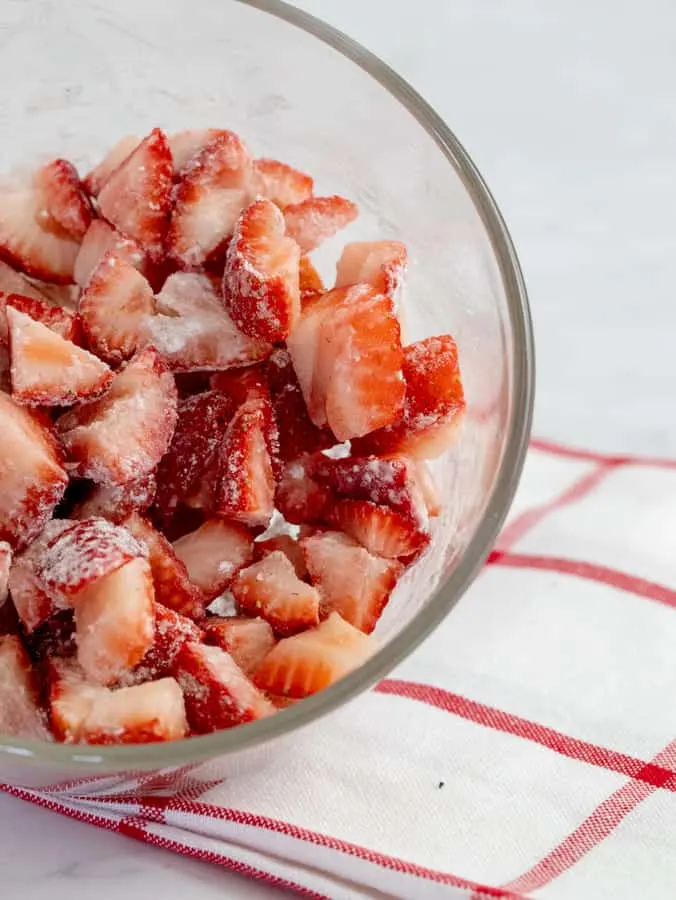 How long do strawberry muffins last?
Muffins with berries don't last quite as long as a banana muffin or chocolate chip muffin. The moisture from the strawberries changes the texture of the baked muffins after a few days.
I like these muffins the best on the day they are baked. You can store leftovers in an airtight container at room temperature for one or two days.
If you'd like them to last longer than that please freeze the muffins then defrost at room temperature.
Horizon® Organic Milk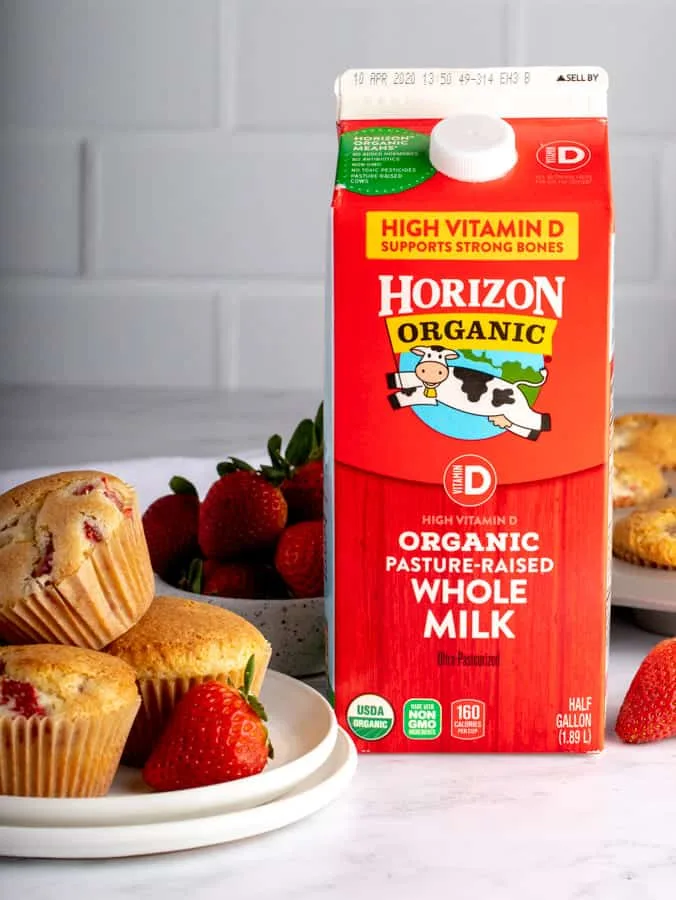 This muffin recipe includes milk in its list of ingredients. I bake with all types of milk—whole milk, reduced fat, and low fat milk. In a recipe like muffins you can choose any type. We generally have a few kinds of Horizon® Organic milk in the refrigerator because each family member has his own preference.
There is even more good news about Horizon® Organic. It's great to know that Horizon® Organic is working towards a number of sustainability practices. They aim to be carbon positive by 2025.
For us, carbon positive means acheiving carbon neutrality, and then going even further, to remove and prevent additional carbon from entering the atmosphere.

Horizon Organic website
Yes, that goes BEYOND carbon neutral! Horizon® invests in best farming practices and support their local farmers. Recylcable materials are used to package many of their products.
Yield: 12
Gluten Free Strawberry Muffins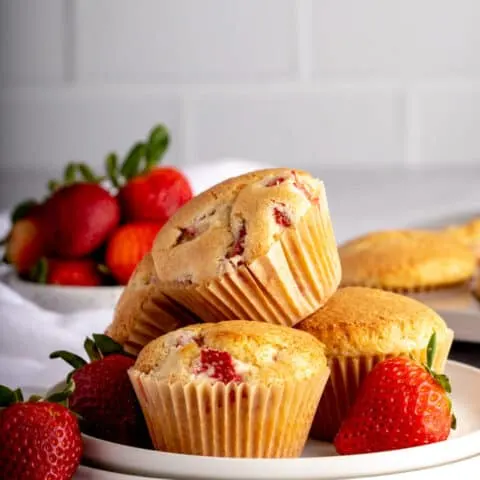 Enjoy these gluten free muffins bursting with strawberries!
Ingredients
1 ½ cups plus 1 Tbsp. gluten free flour blend
2 tsp baking powder
¼ tsp salt
1 cup granulated sugar
¼ cup Horizon® Organic whole milk
2 large eggs
½ cup canola oil
1 pound fresh organic strawberries, chopped
Instructions
Preheat the oven to 425°. Put paper muffin cups into a muffin tin.

Gently stir the 1 ½ cups gluten free flour blend, 2 tsp baking powder, ¼ tsp salt. Set aside.

Whisk 1 cup granulated sugar, ¼ cup Horizon® Organic milk, 2 large eggs, and ½ cup canola oil.

Combine the dry ingredients with the wet ingredients. Stir until well combined.

Toss the chopped strawberries in 1 Tbsp. gluten free flour. Fold the strawberries into the batter.

Scoop batter into prepared muffin cups. Bake for 18-20 minutes or until the tops are golden brown. Cool before enjoying.
Notes
Make sure your gluten free flour blend contains xanthan gum. If not, add ¼ tsp xanthan gum to the dry ingredients.
If you don't require a gluten free recipe, please use all-purpose flour instead.
You may substitute any type of milk for the whole milk—low fat, reduced fat, or a non-dairy beverage alternative.
Nutrition Information:
Yield:
12
Serving Size:
1
Amount Per Serving:
Calories:

100
Total Fat:

2g
Saturated Fat:

0g
Trans Fat:

0g
Unsaturated Fat:

1g
Cholesterol:

32mg
Sodium:

144mg
Carbohydrates:

21g
Fiber:

1g
Sugar:

19g
Protein:

2g
This data is provided by Nutritionix and is an estimate only.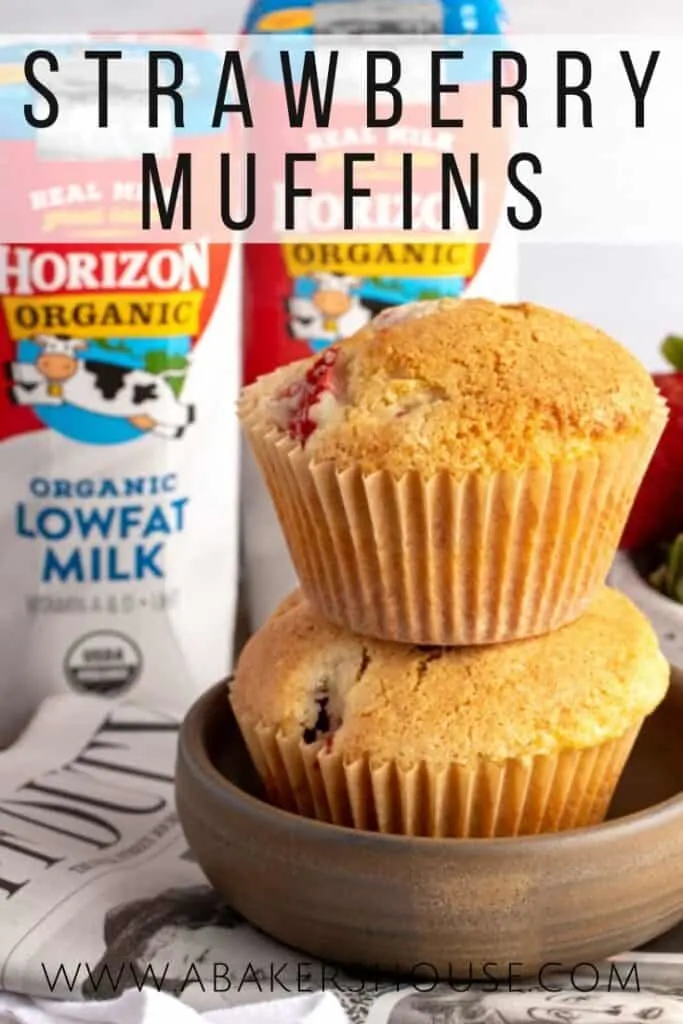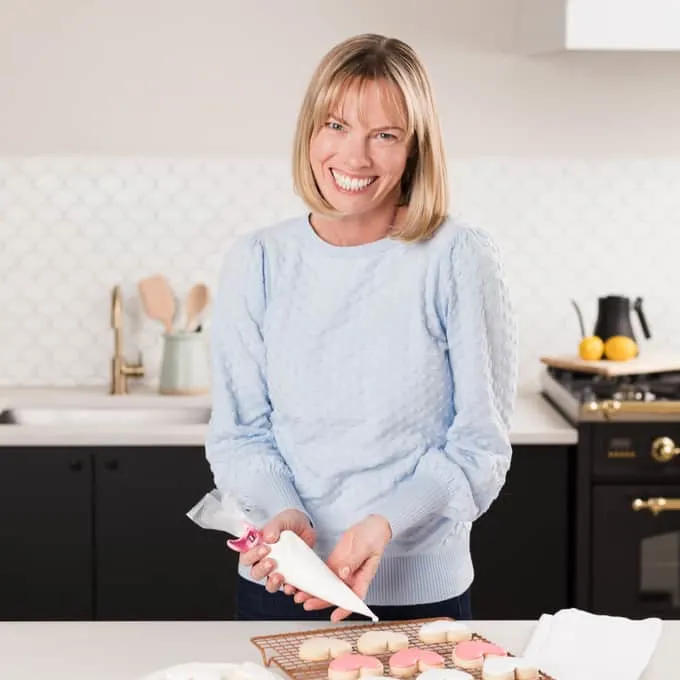 Holly Baker started the food blog, A Baker's House, in 2011. She is the writer, recipe creator, and photographer for the site. Holly loves to bake and shares recipes for gluten free food, canning recipes, as well as traditional desserts too. Her recipes and food photography have been highlighted by BuzzFeed, Reader's Digest, and She Knows.