This strawberry banana fool recipe featuring So Delicious® dairy free yogurt alternative is a twist on the traditional English fruit fool dessert that combines a fruit puree with whipped cream. Though the name might sound a bit silly, this dessert is not joking around when it comes to creating a light, easy, and stress-free dessert!
This post is sponsored by So Delicious®. All opinions, comments and content shared on A Baker's House are my own and do not necessarily represent those of So Delicious® or Danone North America. #sponsored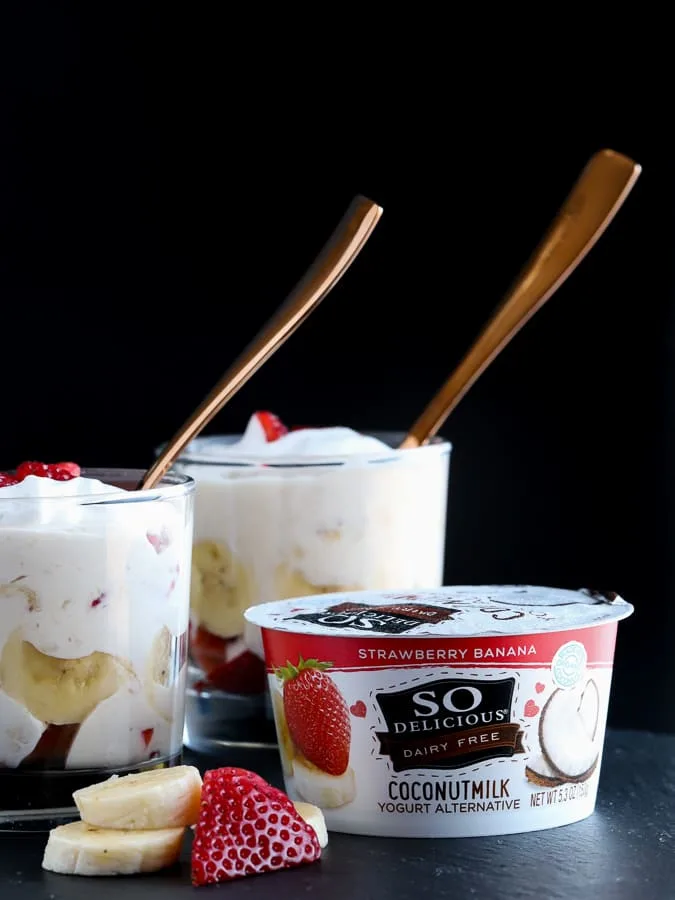 What is a fruit fool dessert?
My husband introduced the idea of a strawberry fool to me. He is English and his mother would make this type of dessert for their family when he was younger. A fruit fool is a simple concept—stewed fruit is combined with cream whipped to soft peaks and served as a chilled dessert.
The same approach is used here to create a dairy free, gluten free, vegan dessert with So Delicious® yogurt alternative and coconut whipped topping along with fresh fruit and a touch of coconut sugar. All the ingredients can be purchased from Sprouts.
A make-ahead, no-bake dessert that looks elegant and tastes great is a home entertainer's dream. A strawberry banana fool checks off all of those boxes!
How do you make a vegan fruit fool?
Prepare your fruits—here we use organic fresh strawberries and organic bananas
Combine So Delicious® strawberry banana yogurt alternative with Cocowhip™ coconut whipped topping
Layer fruit and the yogurt mixture in glass cups or mason jars, top with a dollop of Cocowhip™
Serve chilled
Let's look into each step:
First prepare your fruit. A fruit puree or stewed fruit is traditional in a fool. Instead of stewing the fruit, let's take the short cut and macerate the strawberries. Macerating might sound fancy but it is simply the process of adding sugar or liqueur to fresh fruit and letting it marinate so that the berries' natural juices are drawn out and the flavor deepens in the sauce.
Use coconut sugar to make these macerated strawberries. You'll use half of your strawberries in this step. Fifteen minutes is all it takes to go from ordinary strawberries to juicy, decadent strawberries!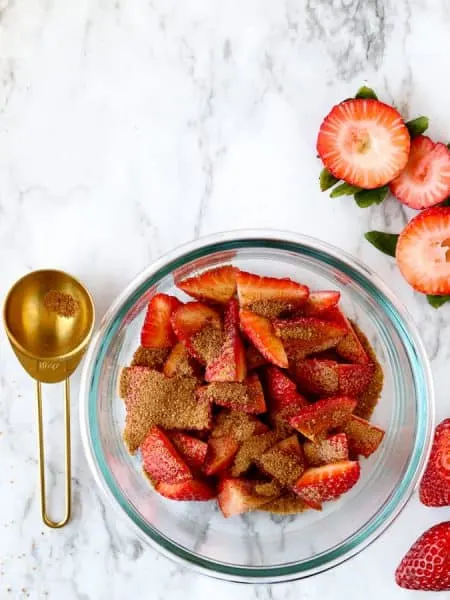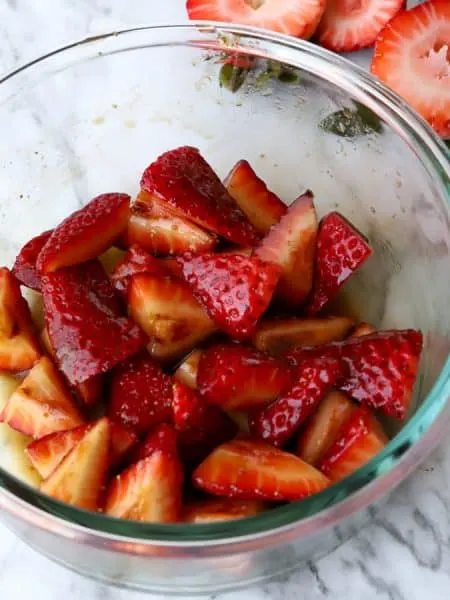 Meanwhile, slice and mash the half of the bananas then set aside. This is your banana puree.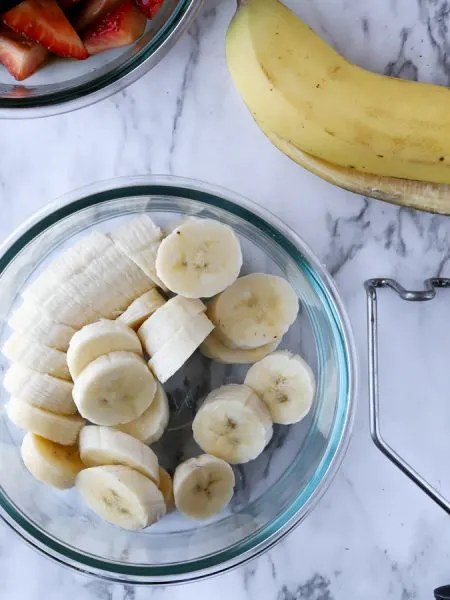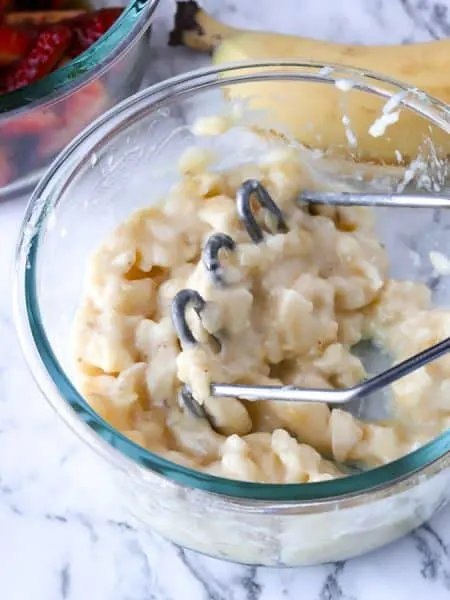 Next combine the yogurt alternative and whipped topping. Simply fold the yogurt and whipped topping together in a large bowl.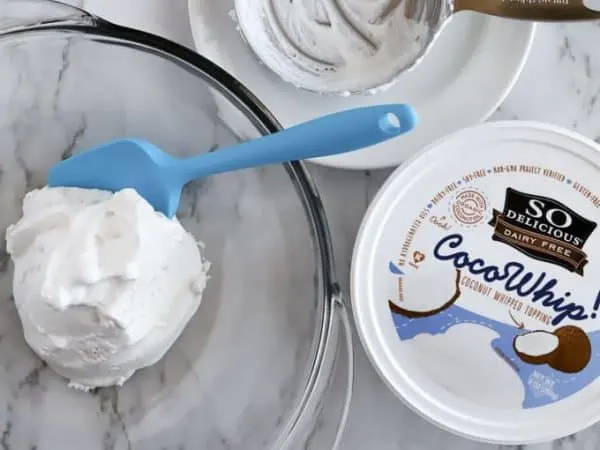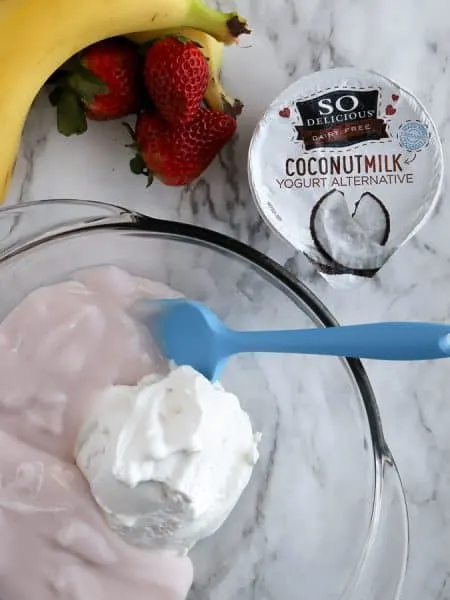 To make the fool, fold the macerated strawberries and the banana puree into the yogurt mixture. The fool mixture doesn't have to be completely blended together. It is perfect if you can see some of the banana puree and some of the strawberries running throughout the fruit mixture.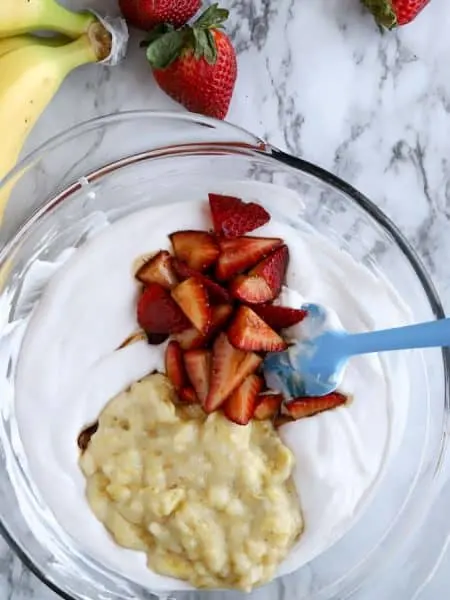 Slice the remaining strawberries and bananas. Layer a few slices strawberries and a few bananas in the bottom of your single serving glass or dish. Pour some of the fool mixture into the glass. Top with a dollop of Cocowhip™ and a few more chopped strawberries. Serve chilled.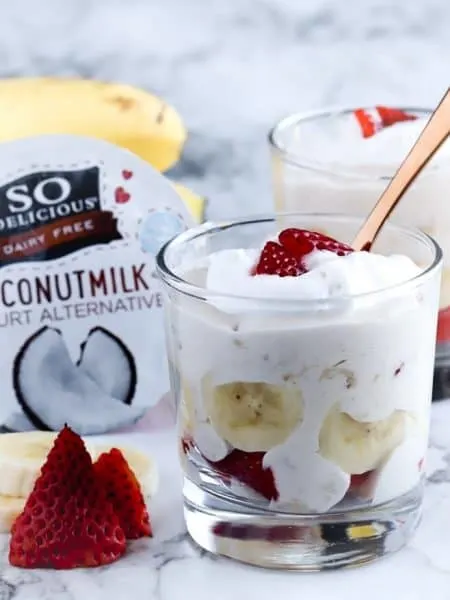 So Delicious Dairy Free Yogurts
This coconutmilk yogurt alternative is offered in ten flavors so you could modify this fruit fool to make variations like a mango fool, a blueberry fool or a raspberry fool. The yogurts are Non-GMO Project Verified, Certified Gluten Free, and Certified Vegan.
I love desserts with fresh fruit as we head towards spring. Simply switch up the fresh fruits and the flavors of So Delicious yogurt alternative and you'll have a light and airy, vegan dessert for any occasion!
Fruit fools are so easy to make and the recipe doubles with very little effort. Preparing dessert ahead of time makes this recipe a great choice for entertaining. Sometimes it can be hard to know what foods to serve to friends and family who have dietary concerns that may be different than yours. I bet this fruit dessert will do the trick!
Yield: 4 servings
Strawberry Banana Fool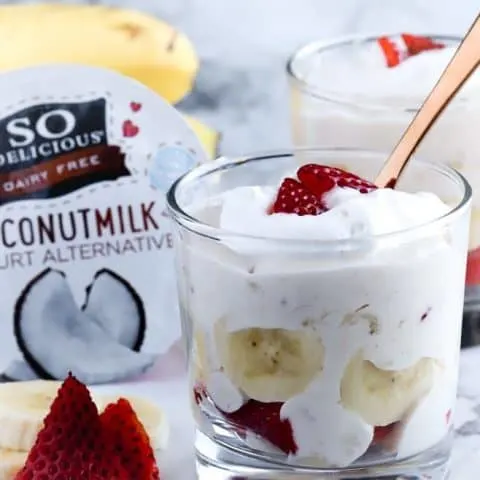 This strawberry banana fool recipe featuring So Delicious® dairy free yogurt alternative is a twist on the traditional English fruit fool dessert that combines a fruit puree with whipped cream. Easy no-bake, make ahead dessert is vegan, dairy-free, and gluten free!
Ingredients
16 oz organic strawberries
1 tablespoon organic coconut sugar, vanilla
3 bananas
2 packages (5.3 oz) So Delicious® Strawberry Banana Dairy Free Yogurt Alternative
1 ¼ cup So Delicious® Cocowhip™ topping, divided
Instructions
1. Slice the strawberries. Combine HALF of the strawberries with 1 tablespoon coconut sugar. Stir and let this mixture sit for 15 minutes. These are your macerated strawberries. Set aside the remaining sliced strawberries.
2. While the strawberries macerate, mash 2 bananas into a puree. Slice the remaining banana and set aside.
3. In a large bowl, combine the two packages So Delicious strawberry banana yogurt alternative with 1 cup So Delicious® Cocowhip™ topping. Fold in the macerated strawberries (and their liquid) and the banana puree.
4. Layer a few slices of strawberries and bananas in the base of your individual serving glass or dish. Pour the yogurt and fruit mixture into the glass. Top with a dollop of Cocowhip™ and any remaining strawberries. Serve chilled.
Nutrition Information:
Yield:
4
Serving Size:
1 serving
Amount Per Serving:
Calories:

190
Total Fat:

1g
Saturated Fat:

1g
Trans Fat:

0g
Unsaturated Fat:

1g
Cholesterol:

3mg
Sodium:

32mg
Carbohydrates:

44g
Fiber:

6g
Sugar:

27g
Protein:

4g
This data is provided by Nutritionix and is an estimate only.
Have you used the Sprouts Farmers Market App for digital coupons?
The Sprouts Farmers Market App is my first stop in planning my weekly grocery list. Open the app and look for the Digital Coupons and the Weekly Ad.
I appreciate knowing what is on sale before I get to the store. Here is a Sprouts Farmers Market shopping tip—Sprouts Farmers Market weekly ad prices run from Wednesday to Wednesday. If you shop on a Wednesday you'll have double the offers on sale!
From February 28th, 2019 through March 15th, 2019 there is a great deal on So Delicious yogurts—Buy 4 5.3 oz yogurts and receive the 5th FREE!
Sample a new flavor or buy your usual favorites with this promotion. Flavors like key lime, peach, and passionate mango sound exciting!
The Sprouts Farmers Market App is a free download. You can choose your local store and stay in touch with current specials. Click here to find a Sprouts Farmers Market store near you!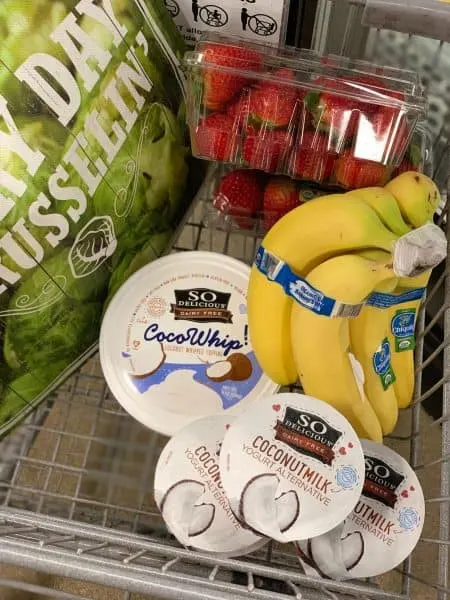 Want more dessert ideas using So Delicious®?
Check out the Thrive section of the So Delicious® site where recipes for every day dairy free living desserts are shared.
So Delicious® products give me dairy-free alternatives to many dairy products that I thought would be difficult to remove from my diet. Whether you are vegan or eat dairy-free due to choice or an allergy, you'll find delicious solutions.
More vegan desserts:
I'd love to hear how and why you select So Delicious® and Silk products. What type of recipes would you find helpful for me to share? Breakfasts, desserts, drinks? Let me know!
You can leave a comment or get in touch via email at [email protected] or on Instagram @abakershouse.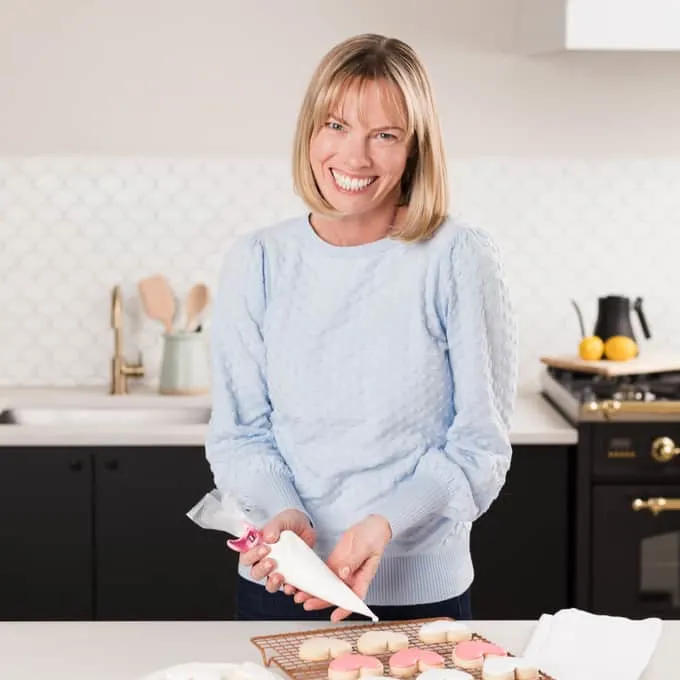 Holly Baker started the food blog, A Baker's House, in 2011. She is the writer, recipe creator, and photographer for the site. Holly loves to bake and shares recipes for gluten free food, canning recipes, as well as traditional desserts too. Her recipes and food photography have been highlighted by BuzzFeed, Reader's Digest, and She Knows.