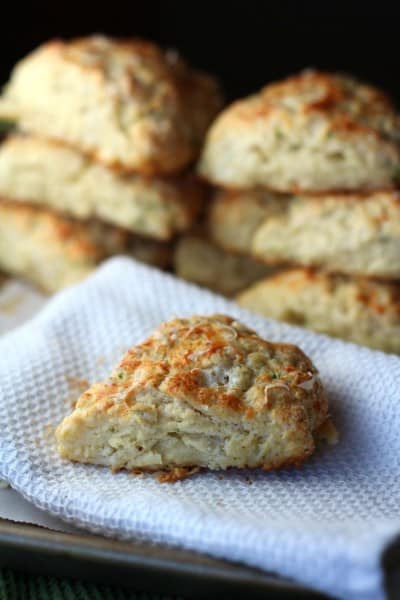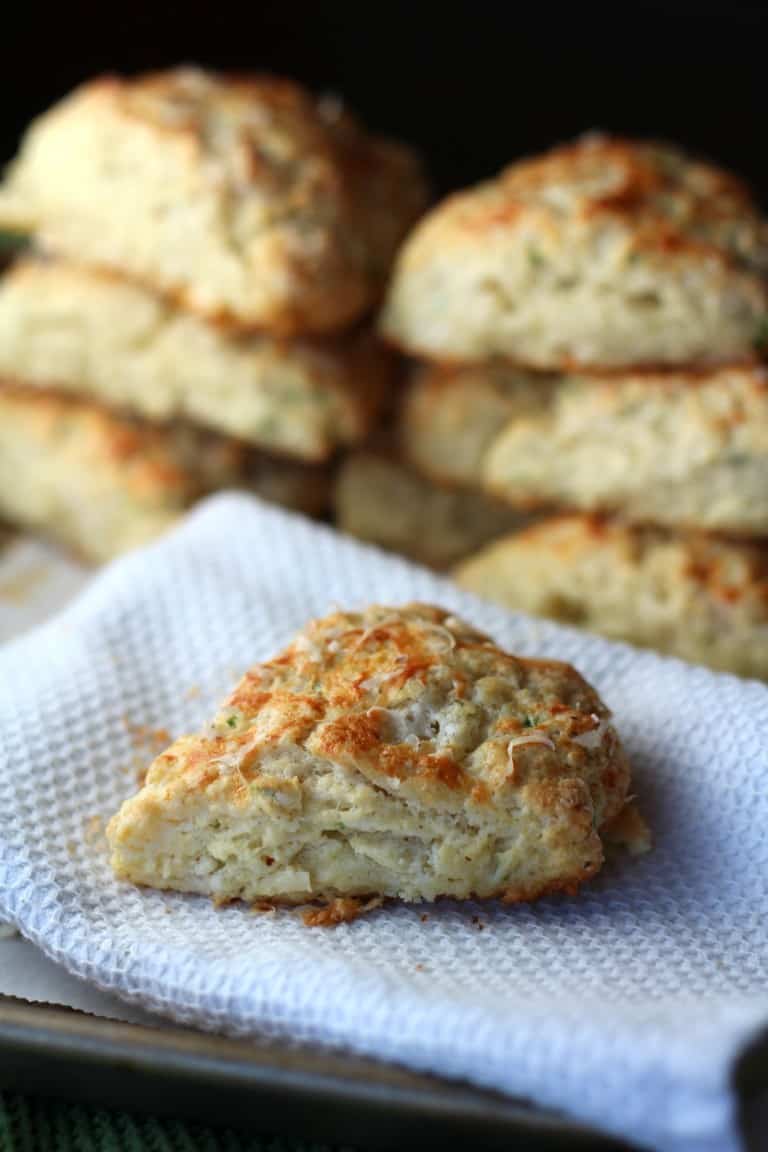 Cheese and Chive Scones: I could have these for breakfast, lunch, or dinner. Their delicate and layered interior makes them more biscuit-like and the cheesy crust and golden outside brings these back into the world of savory scones. Make these scones to serve as a side dish with soup and chili this season or serve with a salad to round out a meal. You could even gently cut them in half and fill with sliced turkey and avocado for a small sandwich. The secret to this version is the type of cheese. I baked with a combination of cheddar and Parmesan in the dough and topped with a layer of Parmesan for a nutty, salty finish.
Be gentle with the dough as that is a key to tender scones. I always find the directions of "don't overmix" less than helpful because if you are new to scones then you won't know you've overmixed until it is too late. Overmixing results in a rubbery dough and you can't reverse the damage by adding more flour or other ingredients. To get this right the first time look for the phase in your dough when you still see some of the dry ingredients separate from the wet ingredients. Fold once more then stop. Don't worry that you can still see bits of flour, just stop! Empty the somewhat loose dough onto a parchment covered baking pan and carefully form it into a round, flattened ball. Use a floured knife to slice the dough into 6-8 wedges and pull each wedge backwards slightly to give each scone room to bake and brown evenly. Brush the top with milk or cream, sprinkle with more Parmesan and bake until golden brown.
Using high quality ingredients will impact your end result too. Whole Foods offers Sartori Parmesan cheese. Sartori Parmesan comes in a variety of flavors; I baked with the classic BellaVitano Gold. Look for these varieties this month as well. They are beautiful on a cheese plate and interesting in baked goods too.
Rum Runner – A Whole Foods Market Exclusive!

Buttery and slightly sweet, soaked in locally made rum.
Pairs with: Dark beers, smoked meats, and red grapes

Merlot BellaVitano

Berry and plum notes!
Pairs with: Crusty bread, dried fruit, and hoppy beer

Raspberry BellaVitano

Bright notes of raspberry combine with hazelnut and brown-butter flavors.
Pairs well with nuts, chocolate, or light Italian red wine
Please click through to the Whole Foods website here for the recipe for Cheddar and Chive Scones. To incorporate the Parmesan Cheese reduce the cheddar cheese to 1 cup and add 1/2 cup of Parmesan cheese. Top the scones with Parmesan as well before baking.
Print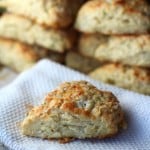 Cheese and Chive Scones with #WholeFoods
---
Ingredients
1/2 cup milk (plus 2 tablespoons for brushing over scones), divided
2 large eggs
2 tablespoons finely chopped chives
2 cups all-purpose flour, plus more for shaping scones
1 tablespoon baking powder
1 teaspoon fine sea salt
1/2 teaspoon ground black pepper
6 tablespoons (3/4 stick) cold unsalted butter
1 cup grated sharp or aged cheddar, divided
1/ cup Parmesan Cheese
---
Instructions
Click through to Whole Foods site for full recipe.
Recipe Card powered by
Thanks to Whole Foods for partnering in this blog post. I participate in the Whole Foods Blogger Ambassador Program. Ingredients were provided free of charge but I was not compensated for this post. All opinions are my own.