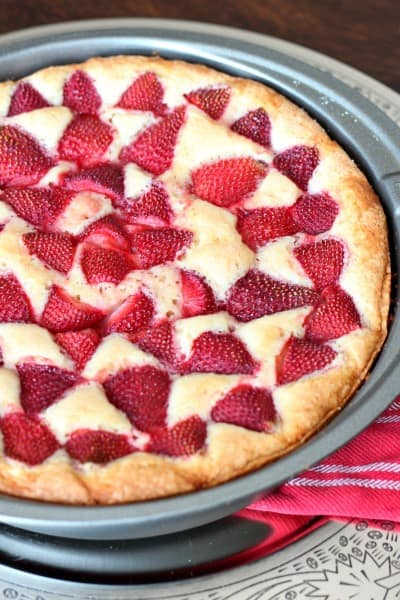 Strawberry cake takes a basic cake recipe and brightens it up with the addition of berries. Backyard barbeques and neighborhood get-togethers are upon us and there is always a need for someone to bring dessert to these special gatherings. You'll need a dessert that is both easy to make and simple to serve to a crowd as well as one that travels well. Gooey, fragile desserts need not apply!
Try this basic strawberry cake, a Martha Stewart recipe, which highlights seasonal berries combined with a traditional plain cake. I stuck with the strawberries in the original recipe but I'll surely expand it this summer to include other fruits like blueberries, raspberries and even peaches and plums.
Arrange the berries in a pattern or gently scatter them on top of your cake batter. The berries will move slightly during baking so don't fret if your carefully arranged pattern takes an artistic turn in the oven! I served this cake just as it looks with no additional toppings but you could certainly dress it up with a dollop of whipped cream or a scoop of ice cream.
Click through here for the full recipe.
Print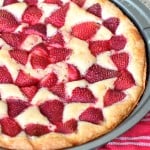 Strawberry Cake
---
Ingredients
6 tablespoons unsalted butter, softened, plus more for pie plate
1 1/2 cups all-purpose flour
1 1/2 teaspoons baking powder
1/2 teaspoon salt
1 cup plus 2 tablespoons sugar
1 large egg
1/2 cup milk
1 teaspoon pure vanilla extract
1 pound strawberries, hulled and halved
---
Recipe Card powered by