Chocolate peppermint crinkle cookies should be on your holiday baking list of goodies. They bring together the flavors of the season– chocolate with soft peppermint bits that melt in your mouth. Santa might request these chocolate peppermint cookies as his goodnight snack on Christmas Eve or at least that is what I am telling my boys!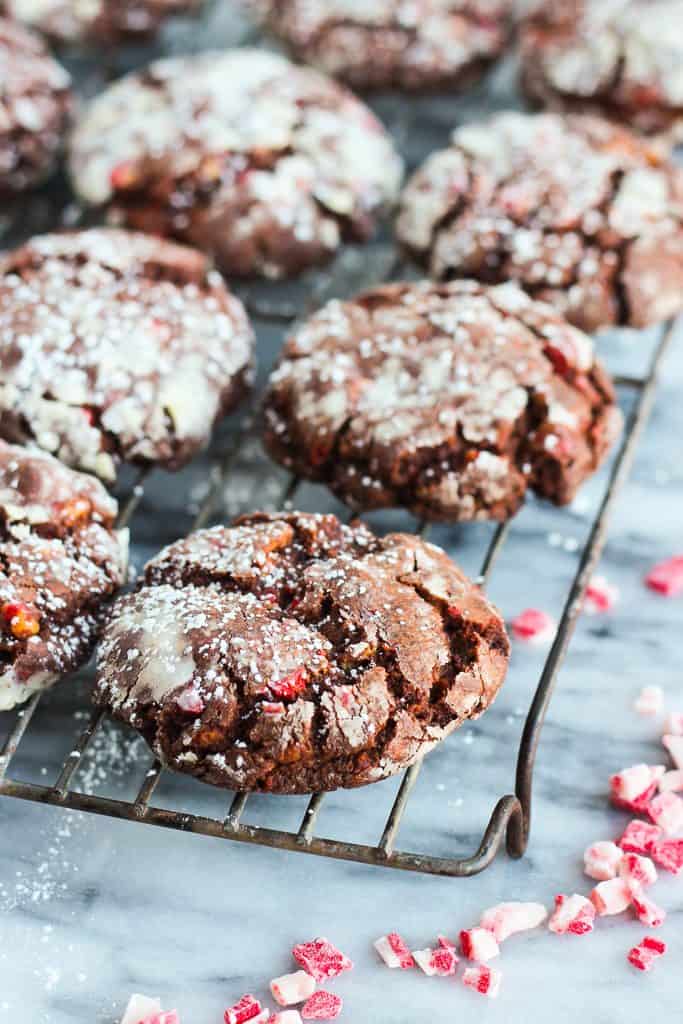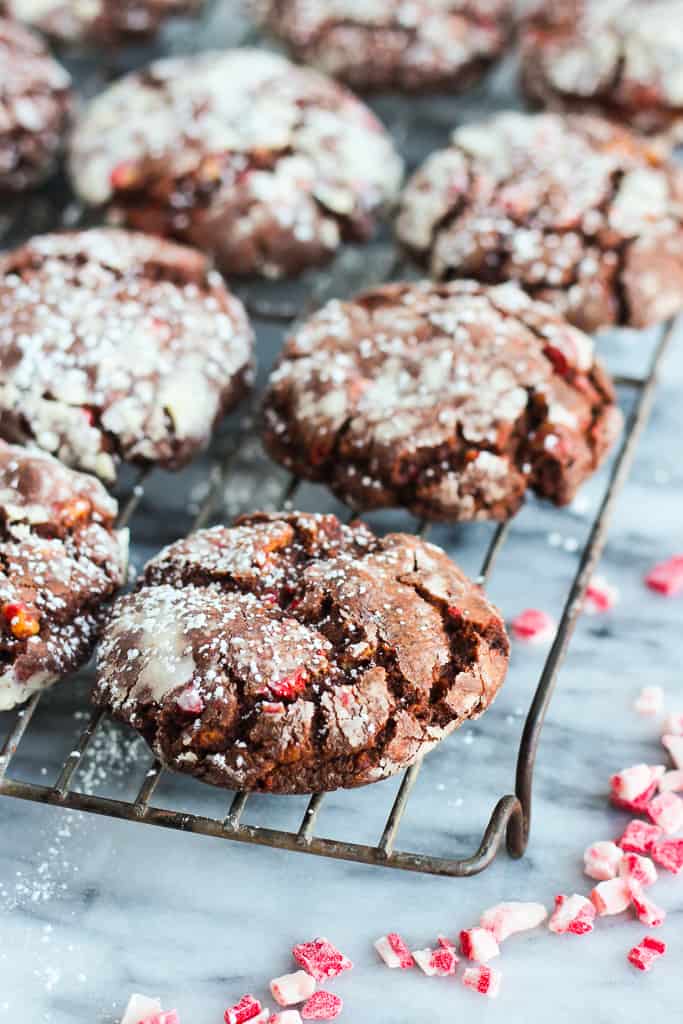 Crinkle cookies are easy to bake and make a big impact with their festive sprinkling of powdered sugar. Let it snow! Coffee crinkle cookies are right up there on my long list of favorite cookies too.
Melted chocolate adds to the deep flavor of these chocolate peppermint crinkle cookies. This cookie is perfect for holiday baking and belongs on any list of the best holiday cookies!
Speaking of chocolate, if you have a craving for a more traditional chocolate chip cookie with a gluten free twist, try this almond flour chocolate chip cookie recipe!
Peppermint chips are a seasonal item at the grocery store. Or buy these Andes Peppermint Crunch Chips here online.
What are crinkle cookies?
Crinkle cookies are a type of cookie that has a cracked or crinkled effect on its surface after baking.
That cracked effect is created by rolling the raw cookie dough into granulated sugar or confectioners sugar before baking.
Sometimes you can add to the festive look and dust your crinkle cookies with more powdered sugar after baking too. It looks like freshly fallen snow!
How do I make crinkle cookies?
Prepare the cookie dough: beat the sugar, butter, add the eggs. Add the melted chocolate. Fold in the dry ingredients. Mix in the peppermint chips.
Refrigerate the cookie dough.
Make small balls of dough and roll in confectioners' sugar.
Bake and sprinkle with more confectioners' sugar after baking if needed.
So make these cookies with your family or make a batch for a holiday cookie exchange. The recipe doubles easily and the finished cookie dusted with powdered sugar makes a festive treat inside a cookie tin too.
Do I have to refrigerate cookie dough before baking?
Crinkle cookies tend to spread while baking like many other cookies. If you don't care what size your cookies are when they finish baking then you can skip the refrigeration step.
If you DO care that your cookies stay a consistent shape batch to batch, please refrigerate the dough before baking. Cooled cookie dough means that the butter is also cooled and won't melt the instant that your cookie dough balls hit the hot oven.
You can even freeze the cookie dough ahead of time and then bake directly from frozen. This is great for time management or for portion control– only bake what you want to eat! If you bake your frozen dough just add another 3-5 minutes onto the baking time.
What kitchen items do I need to bake cookies?
As an Amazon Associate I earn from qualifying purchases.
I originally made these chocolate peppermint crinkle cookies in 2013 for a cookie with the #CreativeCookieExchange and have updated the recipe and photos for this 2017 season.
My cookies were shared at a church potluck. Festive and bright, these chocolate peppermint crinkle cookies are easy to share with a crowd and they travel well. Print the recipe to have ready to share.
Can I store cookies in a tin?
If you are storing these cookies in a cookie tin it's nice to place each one in a cupcake baking cup to keep the cookies from moving all over the place while you transport them. Last year I used Pringles containers to store, gift and ship my cookies.
Brownie Cookies and rugelach are more tasty options for cookies that travel well. How do you like to wrap homemade gifts? Try these 12 Cookies to Bake this Season for more ideas. These fun winter snowmen cookies make great holiday cookies too.
Are these cookie good for cookie exchanges?
Yes! I think peppermint crinkle cookies check all the right boxes for a cookie exchange. These classic Christmas cookies will be requested year after year. Here is why:
These cookies are festive. Peppermint is perfect for the holiday season.
You can double the recipe easily. This cookie recipe is not fussy and no special equipment is needed. Just roll up your balls of dough, dust them with sugar, and get baking.
Join me on Pinterest and

save this pin

for later!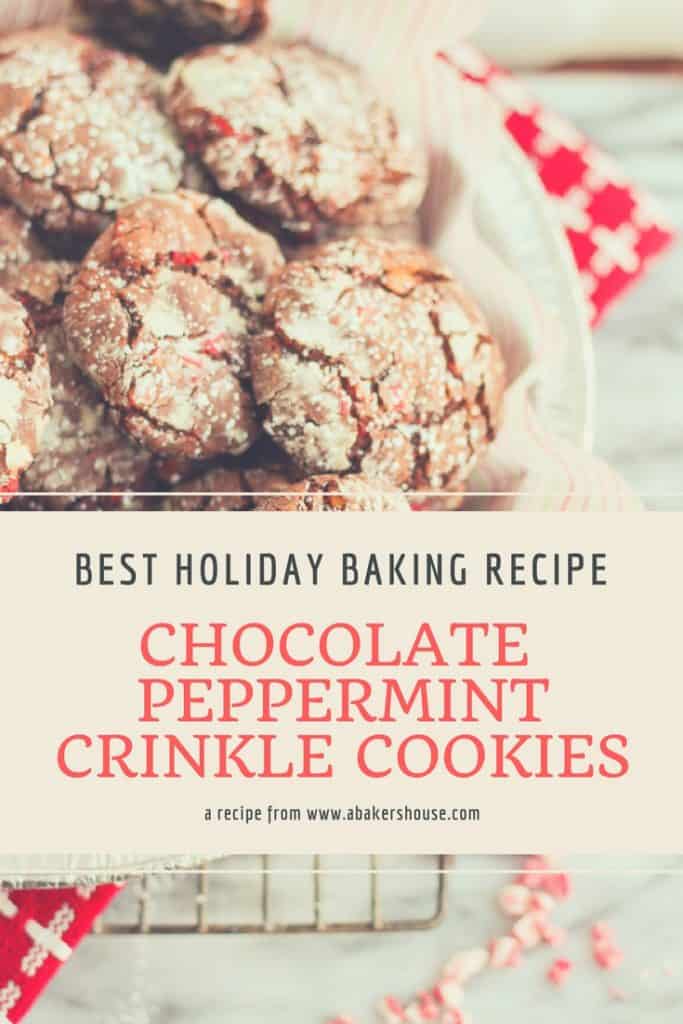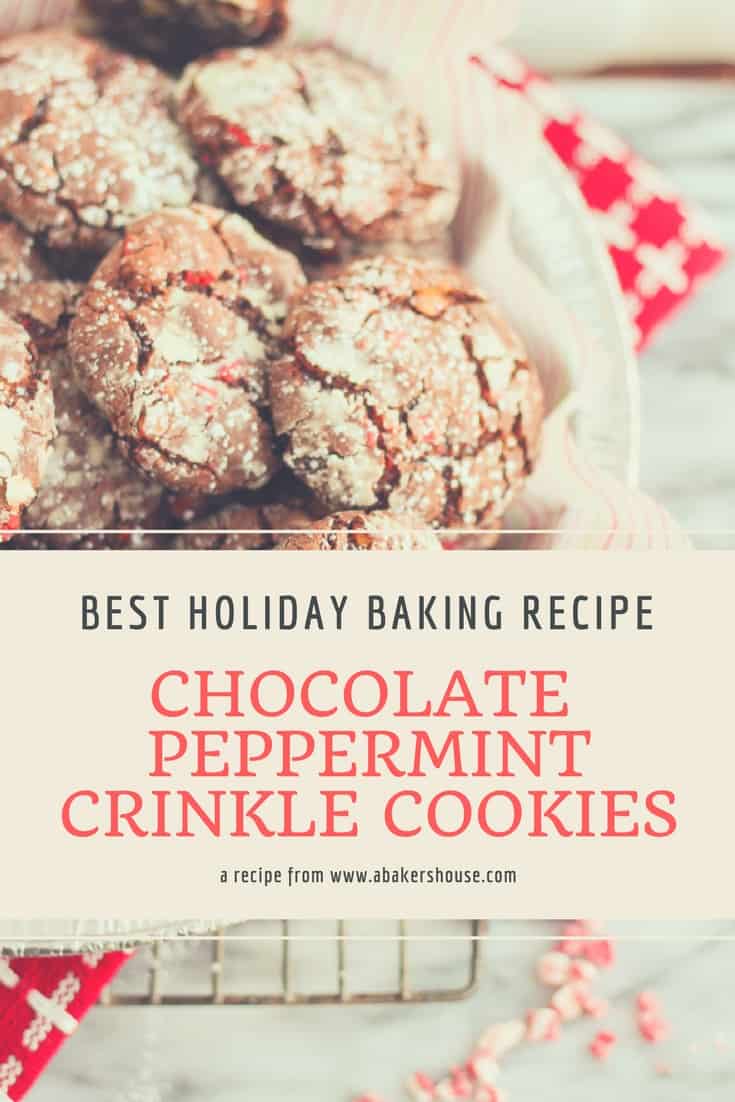 Post updated in November 2019.