Ginger Pear Jam is a small batch, old fashioned homemade jam made with no added pectin. Ginger and pear come together to make a warmly spiced jam. Use this pear jam on toast, with meats, or as a substitute for applesauce.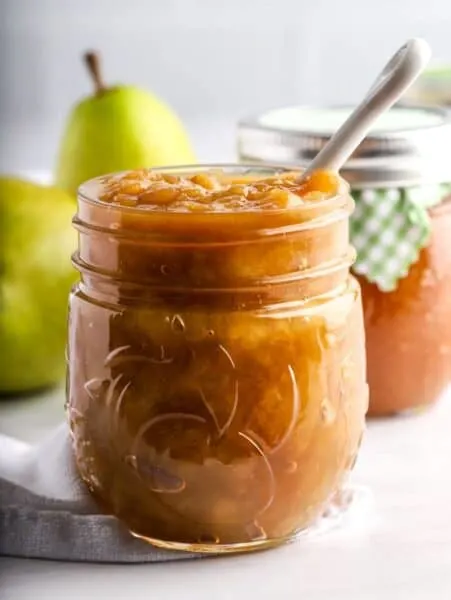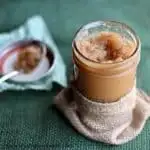 This post was originally published in November 2012 and was updated in November 2019.
Ingredients for ginger pear jam
pears
brown sugar
fresh ginger
lemon juice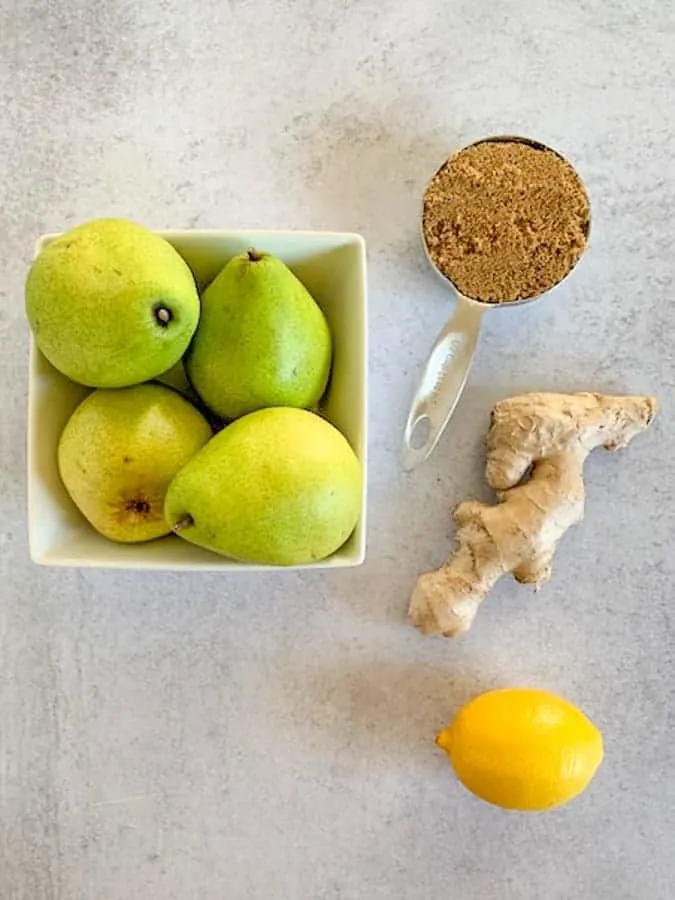 Types of pears for jam
What kind of pear is best for making an easy pear jam? You can use any firm pear for making jam. Bartlett, Bosc, and Anjou pears are the three types of pears that I commonly buy for making jam and for baking with pears.
Are pears high in pectin?
Pears are high in pectin. The level of pectin will vary from fruit to fruit but pears generally have a good amount of pectin.
Do you know why you need pectin in making jam? It is the natural substance that helps jams and jellies come together to gel.
This easy pear and ginger jam is make without added pectin. You'll notice that the amount of sugar is not as high as usual in making jam. Using less sugar does effect the jam's ability to gel together but I have found that in this small batch jam, that the pears break down easily and the jam thickens.
In the Ball canning jam recipe there is a lot more sugar in the ingredients. That recipe is for a more traditional jam which sets easily. This recipe will result in a slightly more loose setting jam– almost like a pear and ginger chutney.
Do you have to peel pears for jam?
You do not have to peel pears for jam, although I do recommend doing so. Pears are a thin-skinned fruit and there is added pectin in the peel, so feel free to leave the peel on for this jam.
I prefer a smoother texture in my finished jam so I peel the pears.
How do you peel pears?
Watch the video to see how I peel pears with a vegetable peeler. The peel of the pears comes off easily and the process is a quick one.
If you have a lot of pears to peel at once, just out this video showing how to use boiling water to peel pears. When I first saw this Youtube video I was really surprised that pears could be peeled the same way I would peel tomatoes and peaches. Really interesting!
How to make pear jam
Combine all of the ingredients in a sauce pan.
Bring to a boil then simmer.
Mash with a potato masher to break down the pears.
Ladle into sterilized mason jars.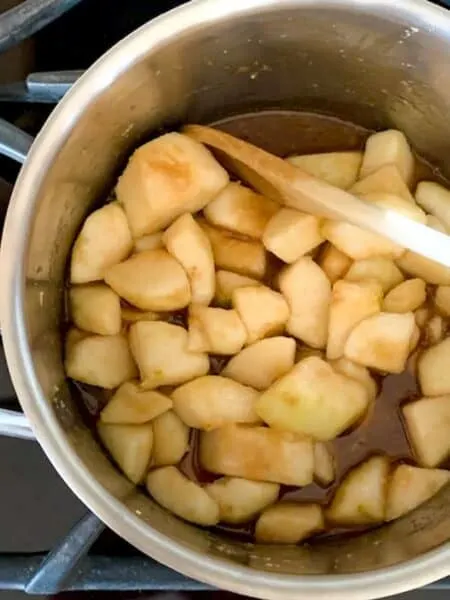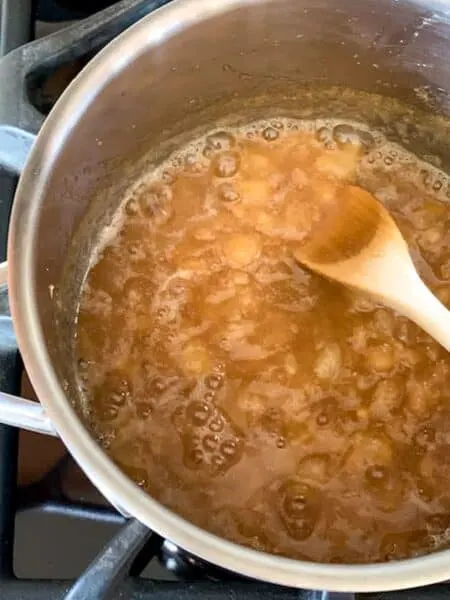 How to use ginger pear jam:
Make this pear ginger jam once and I know that you will be surprised by how many uses you find for it: serve it with a beautiful cheese platter, eat it for lunch in a panini of brie and jam, bake this Ginger Pear Bundt Cake, or give jam as gifts.
This easy jam may be one flavor combination that you haven't found on the shelves of your local grocery store but it is one that you won't forget. With a short list of ingredients you can make this pear-ginger jam then preserve it with a water bath canner then enjoy the fruits of your labor for months to come.
Variations for pear jam
Tips for making small batch jam at home
Making homemade preserves is very rewarding. You'll need canning supplies to get started. Read this information about beginner canning supplies to get you up and running quickly.
There are differences between jams, jellies, chutneys, fruit curds, and other homemade preserves. Find canning recipes on my site and learn how to make many types of fruit preserves in your own kitchen.
Ginger Pear Jam Recipe
This is recipe is adapted from Williams-Sonoma's book, The Art of Preserving by Rick Field, Lisa Atwood and Rebecca Courchesne. I've used this book enthusiastically to make hot pepper jelly, plum jam, and more. The photos in the book are gorgeous and the recipes seem endless.
Click the photo of this canning resource to see the book on Amazon. It is my favorite book on canning and preserving and makes a lovely gift!


Yield: 10 ounces
Pear Ginger Jam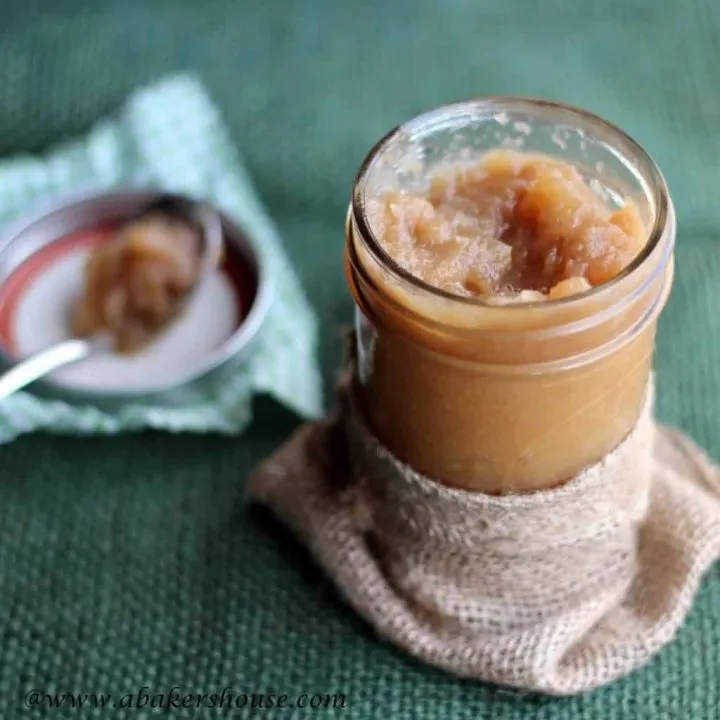 Make this easy jam at home-- only 4 ingredients!
Ingredients
4 to 5 pears, peeled, cored and cut into small cubes
1 Tablespoon peeled and finely grated fresh ginger
1/2 cup light brown sugar
1 lemon
Instructions
In a large pot, combine the pears, fresh ginger, sugar and juice from one lemon.
Bring to a boil over medium-high heat them reduce the heat to medium. As you cook the jam for 10-15 minutes, it will thicken.
Use a potato masher to help break down the fruit if necessary. If you want to make more of a sauce similar to an applesauce, you could puree the jam before canning it.
When the jam is the consistency you prefer, ladle it into jars leaving 1/4 inch headspace.
Process the jars for 10 minutes in a water bath canner (adjust for your altitude as needed). Or you could store the jam in the refrigerator for about a month.
Notes
Recipe adapted from the book, The Art of Preserving
Try other flavor with this jam-- vanilla or cinnamon are good additions.
Recommended Products
As an Amazon Associate and member of other affiliate programs, I earn from qualifying purchases.
Nutrition Information:
Yield:
20
Serving Size:
1 tablespoon
Amount Per Serving:
Calories:

40
Total Fat:

0g
Saturated Fat:

0g
Trans Fat:

0g
Unsaturated Fat:

0g
Cholesterol:

0mg
Sodium:

2mg
Carbohydrates:

11g
Fiber:

1g
Sugar:

8g
Protein:

0g
This data is provided by Nutritionix and is an estimate only.
How long do pear preserves last?
Pear jam lasts about three months in the refrigerator.
If you use a water bath canner and create a shelf stable jam, it will last up to a year. As soon as you open a jar or jam, it must be stored in the refrigerator.
What can I make with lots of pears?
Do you have a pear tree? Or an abundance of pears? I've got your covered! Try these pear recipes:
Other Jams and Jellies you'll enjoy Making at Home:
Tools you will use in this recipe:
We are a participant in the Amazon Services LLC Associates Program, an affiliate advertising program designed to provide a means for us to earn fees by linking to Amazon.com and affiliated sites.
Pin with me!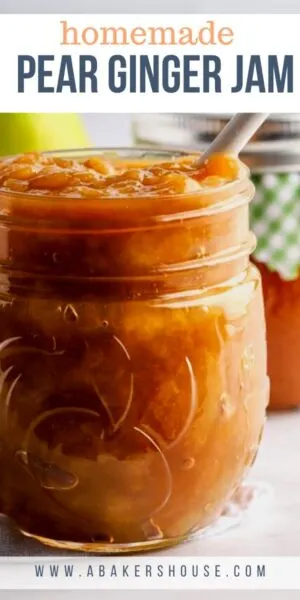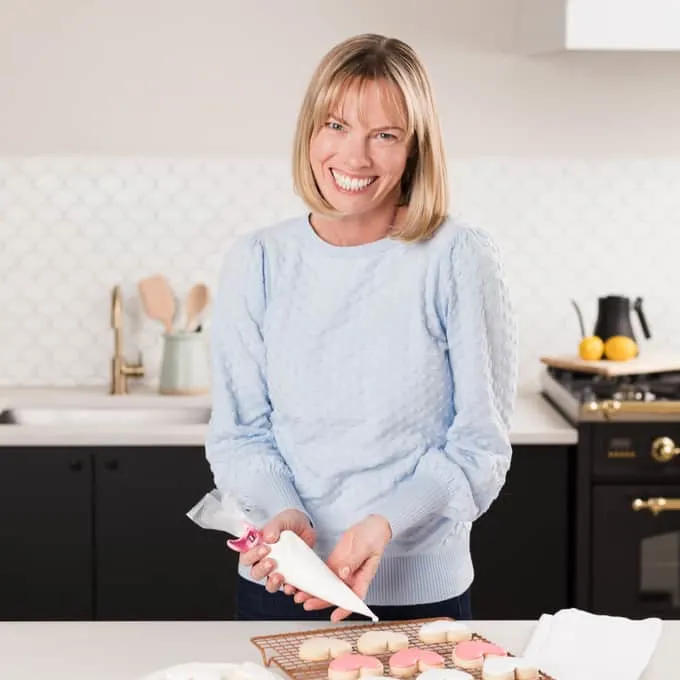 Holly Baker started the food blog, A Baker's House, in 2011. She is the writer, recipe creator, and photographer for the site. Holly loves to bake and shares recipes for gluten free food, canning recipes, as well as traditional desserts too. Her recipes and food photography have been highlighted by BuzzFeed, Reader's Digest, and She Knows.