Change up your traditional Thanksgiving desserts with this Ginger Pear Bundt Cake. This warmly spiced cake is topped with a cream cheese frosting.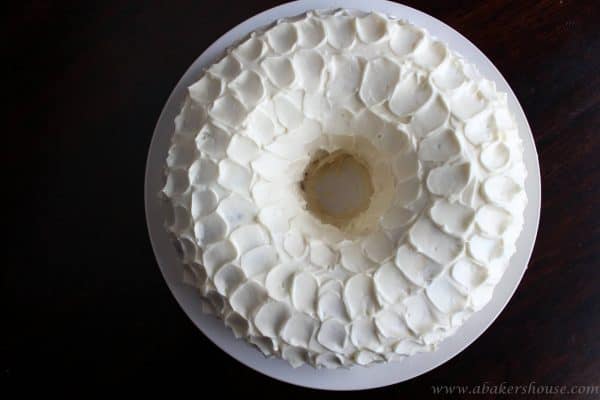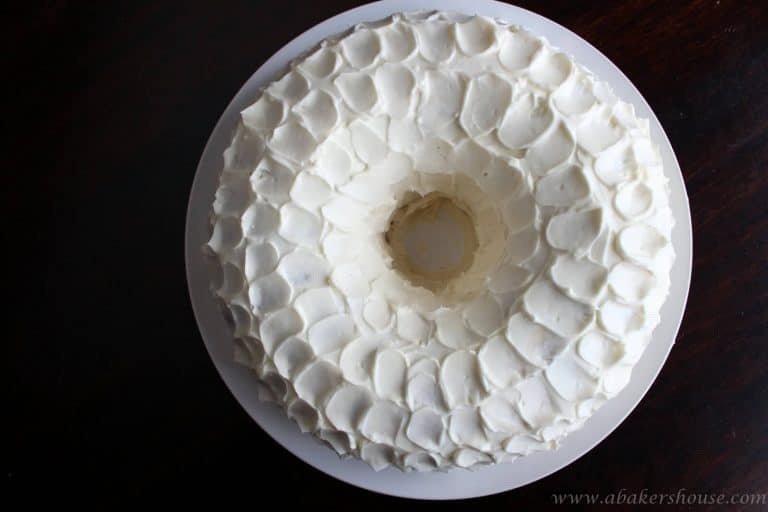 Welcome to November! This month's bundt-baking-get-together, hosted by Baker Street and Cake Duchess has the theme of SPICE.  When I came across this recipe for a pear-spice bundt cake by Martha Stewart, I knew I was ready to start baking! The recipe was based on a caramel-pear sauce that was made with fresh pears and sugar then it was incorporated into the cake batter. I was one step ahead of the game as I had a ginger-pear sauce that I made with this great recipe. I changed the spices slightly but basically stuck with the cake recipe and then finished with a cream cheese icing. The cake was dense but in a good way, filled with bits of pear and hints of ginger then cooled with the cream cheese frosting. This would be perfect to serve on a Thanksgiving dessert buffet as an alternative to the traditional pies. You'll find it will be requested for years to come!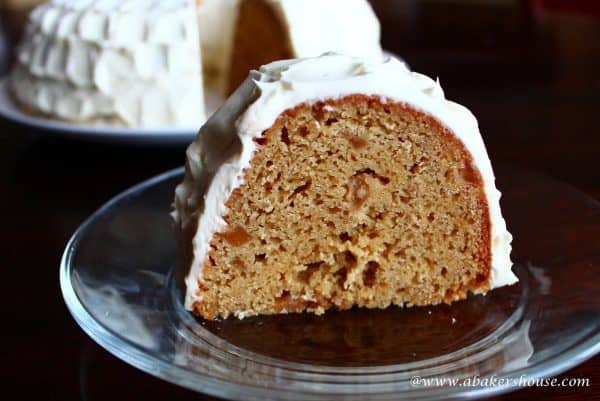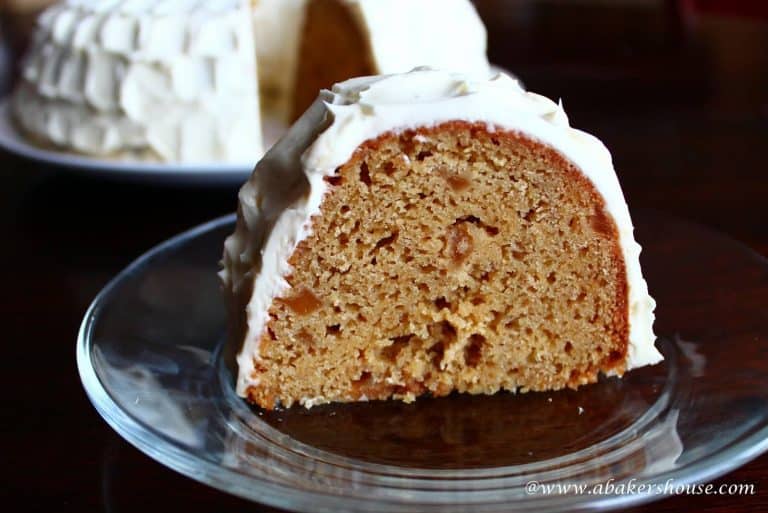 You won't want to miss these beautiful Bundt cakes contributed by the rest of the Bundt-A-Month group. Join us and link up your own!
Apple Bundt Cake with an Attitude by Deb | Knitstamatic
Blueberry Cinnamon Bundt Cake by Anuradha | Baker Street Cardamom Bundt Cake with Rosewater Glaze by Paula | Vintage Kitchen
Cinnamon Crown Bundt Cake
by Renee |
Magnolia Days
Ginger Pear Bundt Cake
by Holly |
A Baker's House
Gingerbread Apple Cake
by Lora | Cake Duchess
Gram's Fig Spice Bundt Cake with Buttermilk Glaze
by Stacy |
Food Lust People Love
Italian Anise Bundt Cake
by Karen |
In The Kitchen with KP
Maple Pecan Bundt with Maple Glaze
by Jennie |
The Messy Baker Blog
Mexican Chocolate Bundt Cake
by Alice Choi |
Hip Foodie Mom
Moroccan Inspired Olive Oil Bundt Cake with Ras El Hanout
by Laura | The Spiced Life
Nutmeg Bundt Cake
by Dorothy |
Shockingly Delicious
Peach and Roasted Cinnamon Bundt Cake with Cinnamon Sugar
by Kim |
Cravings Of A Lunatic
Spiced Dark Chocolate with Cinnamon Glaze by Kate | Food Babbles
Spicy Chocolate Bourbon Bundt Cake
by Carrie |
Poet In The Pantry
Kitchen Tools I used in this Recipe:
Please note that A Baker's House, LLC uses affiliate links which means that I earn a commission if you use the links provided. This is at no additional cost to you.